The Yogöts (King Woderick and the Yogöts)
Musical Genre/Type: Yogötism
Formed: 1983 Split: 1990
Band Members
Lead Vocals/Guitar: Jon Lanz (Polesworth)
Lead Guitar/Backing Vocals: Simon Byford (Polesworth)
Bass Guitar: Simon Rollin (Polesworth)
Drums: Tim Byford (Polesworth)
Keyboards: Dan Lee/ Matthew Harper (Polesworth)
Other Band Members/Instruments:
Wilf...scrotchy bits...bass Ben...Bark...Clark...tamborine Crockett...roadie Tench...artwork.
Memories:
The Yogöts were more of a society than a band...a group of no hopers with a mission. They came...They saw...they conquered...then they split up and went their separate ways. The music flowed...the words flowed...often in different directions but sometimes together…for a fleeting moment harmony occurred and the song was sung.
Ian Gibbons was The Yogöts refined manager...the gigs were always ...shall we say...different...but successful!
Songs
Mind Disease (Lanz/ Byford)
Strange Zoological Pretext (Lanz/ Byford)
She's Gone (The Yogöts)
Don't Ignore My Pain (Lanz/ Byford)
Mr. Rainbow (Lanz/ Byford)
The Scottish Song (The Yogöts)
The New Song (The Yogöts)
Je Suis (Lanz/ Byford)
Other Songs: I can't remember any more it's such a long time ago!
Gigs
First Gig: Tamworth Arts Centre
Last Gig: Tamworth Arts Centre - circa 1991
06/11/88
Rape in Yellow
King Woderick and the Yogots
Psychedelicatessen
The Cuckoo Spits
Tamworth Arts Centre
16/12/88
King Woderick and the Yogots
Tamworth Arts Centre
18/12/88
DHSS
King Woderick and the Yogots
Soil Brothers
Stench (Banned)
Tamworth Arts Centre
05/02/89
Rape in Yellow
King Woderick ad the Yogots
Psychedelicatessen
New Puritans
Tamworth Arts Centre
26/02/89
Tamworth Rock Festival - Indoor Festival
DHSS
Space Seeds
Never Say Die
King Woderick
Tamworth Arts Centre
30/03/90
King Woderick and the Yogots
Shock Culture
Shakespeare Monkey
The Fireflies
Tamworth Arts Centre
06/05/90
New Fast Automatic Daffodils
The DHSS
King Woderick and The Yogots
Night Moves
28/05/90
Tamworth Indoor Rock Festival
Fat Moggy
Naked Touch
Never Say Die
The Magnets
King Woderick and the Yogots
Vindaloo Breakfast
Banned in Yellow
Rhythm Damage
Night Moves
26/07/90
The Senseless Things
The Yogots
The Moneygods
Loaded
The Rathole
16/08/90
Spiral Eye
The Yogots
Bash Out The Odd
Vindaloo Breakfast
Sherbert Trees
Shakespeare Monkeys
The Rathole
06/09/90
Spiral Eye
The Yogots
Moy Club (Hope and Anchor)
Islington
15/10/90
The Yogots
The Hare & Hounds
Kings Heath, Birmingham
27/10/90
The Yogots
The Fireflies
Leicester Polytechnic
02/11/90
The Yogots
Golden Cross
Aston
18/12/90
The Yogots
Crystal Injection
The Sherbert Trees
Fly on the Wall
The Jolly Sailor
Other Gigs:
Wolverhampton Polytechnic - 1991
London - several venues - 1991
Various Midland venues - 1991
Tamworth Herald - 12/08/88
Musicbox – Introducing an odd Yogöt!
Sam Holliday reviews a trio of local demos
King Woderick and The Yogöts – First Demo
A lot of cynics say that Tamworth area bands are all the same. The critics complain loudly that all the local acts can be pigeon-holed far too easily and that nothing very different ever emerges from these environs. Well I wish they could hear THIS.
The word 'strange' appears very often in the lyrics of this tape and it appeared very often in my mind as I listened to the thing. There are simply no pigeon-holes which would comfortably accommodate this band and all I can suggest is that they sound like their name i.e. odd. It was recorded, quite clearly, in a living room or the like and that rough edge to the 'production' merely helps to make the tape's direction still more inexplicable. There are six tracks in all, my favourite of which is the catchy 'Mind Disease'. This short, sharp, shock tells the woeful tale of the singer's relatives being stark-raving mad and is put to a thumping backbeat which sounds not unlike The Fall in their early days. Elsewhere there is the headscratching opener 'Strange Zoological Pretext', two more commercially orientated off-beat numbers 'Lady Blanc' and 'Chapel Street' and two very unusual closing tracks including the bizarre 'Unicorn'. At times the impressive lead vocal reminds me of a demented Pete Shelley meets an undemented Mark. E. Smith and if you can get your ear around the musical melee you will spot some quite stunning guitar work and some very experimental keyboard work that sounds like B52s without the pop senseability.
Overall I get good vibes from this tape. I am not sure how it would transfer to a stage but I am convinced if an experienced producer got hold of some of this material it could be very interesting indeed. As it is it remains an exciting curiosity, a quirky snippet of crazed sound which will divide listeners and confuse them all. From such seeds, strangely hypnotic plants can grow.
Tamworth Herald - 09/09/88
Musicbox – "I-I want to be, Anarchy!"
A sonic noise happening – Tamworth Arts Centre
FIFTY-pence to get in, a large crowd of like-minded people (me included), a seedy looking Arts Centre and a tiny vocal P.A. This is what we want. The first band, The Outside, were playing their first gig and cam from Yardley, Coventry and wait for it Sutton Coldfield, they town where you're an anarchist if you've only got a six-bedroomed house. They were quite exciting.
Second band on stage were The Yogots, in my opinion the highlight of the evening. Another debut band, brought in at the last minute, their sound was different and new and single like 'Wildlife', 'Mind Disease' and 'Chapel Street' stood out from everything else. I don't really think The Yogots fitted in perfectly with this 'happening'. They played too well.
I couldn't find out the name of the third band, but a suitable name would be 'Black ****'…while the fourth band, I can't remember their name which shows how forgettable they were.
And now, what should have been for me, the highlight, Emma Gibbs loves Badges. This was a real disappointment. Besides only doing two songs, this was 'Emma Gibbs Go Folk'. I expected Lee Revelle to stick a finger in his ear, put on a pair of moccasins and start brewing apot of dandelion tea. He denied afterwards , but I can exclusively reveal, that Lee Revelle sings in an American accent, I was appalled.
And finally, Ferocious Apaches. The band were absolutely brilliant. For me they can't do a thing wrong, their music is so full of youth, enthusiasm and arrogance and other important punk ideals, which seem to have been forgotten in a fashionable haze of studded leather and spiky hair. The anarchic aura that shines from them clearly proves that these are people who, even though they were only eight or nine years old at the time, were there in 1977.
As a postscript to the fine performance of the Ferocious Apaches, will Rob Cross have to get a new guitar and white polo neck jumper out of his Mum's catalogue? (He actually changed into his stage gear before playing – anarchic or what!)
And as for Gavin Skinner, as nobody know who he is anyway, what's the point of wearing a wig?
In conclusion, I am sure the members of the festival bands would be interested in knowing what their critics can do themselves. I went to this 'happening' with a totally open, unbiased mind as, although I am part of a festival band, I do regard the true ideals of punk as being paramount in one's life. It encouraged me to see such a large audience of young enthusiastic people at the Arts Centre, but the bigoted, patronisingly aloof and arrogant attitude of certain people is frankly, embarrassing. It is true that the Tamworth music scene is not the most innovative, enlightening or radical scene there is, but enthusiasm cannot be labelled apathy, surely blanket criticism is more apathetic.
EDWARD IAN ARMCHAIR
Tamworth Herald - 28/10/88
Musicbox – SNIPS
The Soil Brothers, DHSS and The Yogots will combine to play a special Christmas Party night at the Arts Centre at the tailend of December. More details when we have them.
Tamworth Herald - 04/11/88
Musicbox – Hail the Kings
TAMWORTH Arts Centre opens its doors on Sunday night to be a very unusual looking quartet of bands.
Local favourites Rape in Yellow will team up with local bands comprising King Woderick and the Yogots, Psychedelicatessen and The Cuckoo Spits.
These three new acts represent a refreshing outbreak of new talent during a generally quiet time on the local scene.
The one band you probably will know are Rape in Yellow who are positive OAP veterans alongside the other three. Heir appearances this year have been few and far between and they will be looking to re-establish themselves in a major way at Sunday's special party.
Best known of the new trio are King Woderick and The Yogots. This combo of extremely nice people (i.e. Dan Lee, Jon Lanz, Simon Byford and Tim Byford) emerged earlier this year with a cracking demo and followed it with a much admired Arts Centre show. This is their biggest date yet and the band are clearly looking forward to the challenge and proving once again that in their words they are 'unpigeonholeable'.
Teaming up with the Kings boys (dinky little thing they sent in above) are two bands this column knows admirably nothing. Psychedelicatessen who boat a truly marvellous name have played before at the Arts Centre under another equally strange name and they are a complete mystery while the Cuckoo Spits are described affectionately by King Woderick as being a 'total Smiths rip-off'. Whether they would agree with this billing is uncertain but it makes them sound intriguing does it not?
A four band tally then for just one pound. With the scene enjoying its customary pre-Christmas snooze an exhibition of three new bands and one good old one must surely tickle your fancy so make your way to the Arts Centre on Sunday and indulge in a spot of BOPPING!
Apolgies to king Woderick for the lack of the umlout on the second 'o' of Yogots, The band told me it was absolutely essential to the history of mankind that it wasn't missed out. Hence I missed it out.
Tamworth Herald - 11/11/88
Musicbox – No pigeons please we're British!
Good night this. Here we had four original and enterprising bands none of whom could be conveniently slotted into those clichéd old MUSICBOX pigeonholes we all love so much. It made a nice refreshing change indeed and the size of the spikey leather-clad poseur crowd indicated that there are a lot of punters out there looking for a breath of air that doesn't feature a solitary pigeon.
First up were the Kuku Spits who lasted about as long as your average Milky Way. Their three song set was enough to indicate that when they start churning out one or two more ditties they may well be worth another much extended look. As it was they featured just about the sexiest drummer I have ever seen.
Next up were Psychedelicatessen who probably edged the whole evening as far as most people were concerned. They were a real triumph to these ears, all loud guitars, powerful screams and well-layered melodies. The influences were so numerate I won't waste time or space listing them but I was inextricably struck by the feeling that the lead guitarist and impressive motormouth played his axe very much like latter day Joy Division. Am I totally wrong? Maybe but I think I am right in saying that this is a very strong and exciting band indeed one who I feel will benefit enormously from repeated trips to the Arts Centre and one who should get better and better.
Third course on this elaborate menu was Rape in Yellow. And what a shock that turned out to be. Gone is the Bros look and the happy smiles and in has come an altogether more aggressive, powerful and modern sound. At times it was surprisingly punkish (far cry from 'Jivin' Jane' chaps!) and at others the bleak boldness of their sound was alarmingly strong. It wasn't a flawless show but it was a very brave one and if the band carry along this road with renewed enthusiasm I see a brighter future from their broader appeal. And who yes it was very pleasing to see the booming Batman behind the skins again. This man remains one of the best drummers ever to come out of Tamworth and his recent stick silence has been sadly deadening.
Completing the night was those nice men, very, very nice men from King Woderick. As predicted in this very column not seven days ago they were about as easy to define as the appeal of Marillion.
SAM HOLLIDAY
Tamworth Herald – 20/01/89
Musicbox – A Fab Feb ahead!
TAMWORTH's rock fans are in for a real treat throughout February when the Arts Centre hosts a sparkling indoor festival.
Three top quality concerts will be on offer featuring the best of the area's older acts and some brand new local talent.
And to top off the whole indoor extravaganza it is hoped that Wolfsbane will kick off their major UK national tour by concluding the festival on Sunday March 5.
Plans for the indoor festival were sorted out on Sunday night when Tamworth's main outdoor festival for 1989 was launched. Once again a huge crop of bands registered interest in the 89 outdoor festival and at least 14 of these will be involved in the indoor festival in February/March.
At the moment the line-ups are strictly provisional but here they are as they stand at time of going to press. Please note the line-ups could change dramatically and you will have to keep reading this column to find out exactly who is playing and when. Assuming everything does go according to plan here are the line-ups for Tamworth's 1989 Indoor Rock Festival.
Sunday February12
CATCH 23 will headline with the support of one 'oldie' Emma Gibbs Loves Badges and two 'newies' Big Noise and Shock Culture.
Sunday February 19
SCREAM DREAM will headline with Mike Fleming's act Nightshade and two relatively new acts – The New Puritans and Double Vision.
Sunday February 26
DHSS will top-off a line-up featuring The Space Seeds, Never Say Die and King Woderick.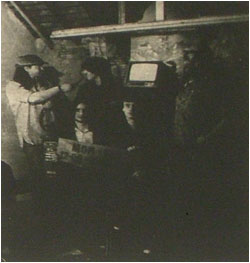 Sunday March 5
WOLFSBANE (contract permitting) will kick off their UK/USA tour by headlining alongside Spiral Eye and Kraze. If the Wolfies can't make it Spiral Eye and Kraze with team up with A.N. Other band.
As you can see from the above, many new bands have already emerged for this year's festival and in addition to those listed look out for several other new groups who have set their sites on the Castle Grounds for July.
In the meantime, pencil the above dates in your diary now. With the first three shows all the money raised will go towards the outdoor festival so they are vital fundraisers as well as tremendous concerts.
All the line-ups will be finalised in the next few days/weeks so keep your eyes peeled on this column. This indoor festival will prove a very exciting sampler for what you can expect this summer so get set for a Fab Feb and hopefully a marvellous start to March.
Tamworth Herald – 20/01/89
Musicbox – Snips
Among demos which have just been recorded or are in the process of recording are The First Conspiracy, The Searching, Big Noise and King Woderick. Reviews and more details as and when we get them.
Tamworth Herald – 27/01/89
Musicbox – The Action Men Are Back!
RAPE IN YELLOW return to live action again next Sunday (Feb 5) when they team up with three other acts at a special Arts Centre show.
With Indoor Festival gigs dominating the rest of the Sunday's in February it means that no-one can complain about the lack of good music on the near horizon.
Next week's line-up (which should be confirmed in the Herald of Feb 3) should feature Rape in Yellow, King Woderick ad the Yogots, Psychedelicatessen and The New Puritans.
For Psychedelicatessen it will be a real relief because they were due to be at the Arts Centre this Sunday under their own steam but that gig has now been cancelled.
Rape in Yellow meanwhile will see the gig as a launch pad for a busier next few months which includes the recording of a brand new demo with the assistance of former Terroah men Pete Wright and Batman.
Rape in Yellow's action men and Cindy squad are pictured above.
Tamworth Herald – 03/02/89
Musicbox – Newsbeat
Four Play on Sunday
King Woderick and The Yogots return to the Arts Centre stage again on Sunday night when they spearhead a four-band show.
The Yogots will be joined by Rape in Yellow, Psychedelicatessen and The New Puritans in a repeat for the show which attracted a lively audience pre-Christmas.
The Wods, who have just produced a demo described by Catch 23 bassist Neil Gordon as 'brilliant' are looking forward to the gig which will spearhead a wave of exciting concerts at the Arts Centre. You should by now know something about all the bands involved and in case you're confused, The New Puritans are the old KuKu Spitz who brought a touch of la Morrissey to the stage when they last played the Arts Centre.
All four bands can loosely be plopped into the alternative/indie basket and an audience made up of a similar ilk can be expected on the night in question. Don't forget it's at the Arts Centre on Sunday night starting at 7.30pm.
Tamworth Herald – 17/02/89
Musicbox – Musicbox Demo Choice
King Woderick – Privy Door
The first I heard of the Woders was when I received a bedroom version of this tape. That was one of those terrific little tape-it-live-and-hope-the-phone-doesn't-go jobs, and it worked extremely well. This is the big brother of that, a professionally recorded version of the band's more sociable bedroom habits and jolly fun it is too. Despite adding a professional approach to this tape they have lost none of their quirky charm and are still prepared to do things a little differently from the norm. The opening track for example 'Strange Zoological Pretext' is the least commercial of the four when it is essential that the most commercial goes first, and the closing track 'Don't Ignore My Pain' is very stark and broody and has lost none of it's eerie feel via the studio. The ace in the pack is till 'Mind Disease' which positively chortles along with some fine Skids style guitar work. Elsewhere I was impressed with the occasionally Bowie-style vocal (a spacey-oddity?) and the unexpected appearance of the harmonica midway through 'Chapel Street'. Criticisms? Well 'Don't Ignore My Pain' is a trifle depressing if you're not in the right mood and perhaps the arrangements of the toons need improving a wee bit but that apart this tape reinforces my first, gut feeling when I heard that bedroom tape – i.e. there's something rich in this vault.
Review: Sam Holliday
Tamworth Herald – 24/02/89
Musicbox – Get set for a good bash!
Tamworth's Indoor Rock Festival reaches its third exciting night on Sunday when four very different bands tread the boards.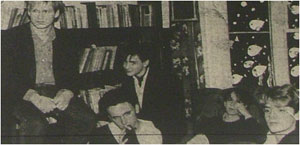 Sadly, as you will see in our story below, the original headliners DHSS have had to pull out. They will clearly be missed a great deal but fear not – we still have a very nice package indeed for your palates to taste.
The new headliners will be the band formerly known as The Space Seeds – Bash out The Odd. They will join up with Tamworth's most popular new group of recent months, King Woderick, old favourites Never Say Die and the newly revamped Rape In Yellow.
Together it represents a very strong line-up and one which should appeal to music listeners covering a very wide spectrum.
Bash out The Odd will certainly bring with them a large, curiosity-filled audience. The band have been away from our sights for some time and have undergone both personnel and sound alterations. The personnel has had many changes most noticeably in that Mark Brindley has now taken the complete frontsman role while former Orange, Sitting Pretty and Great Express guitarist Julian Amos is now back with avengeance. In addition the brass crew has been revamped to include some very major talents and the whole sound has moved a little bit closer to the musical ideals of band instigator Mark Mortimer.
"It's retained its commercial feel but is a lot harder now. We are all very happy about the sound."
It's hard to know what to expect with Bash Out The Odd, but look for a more powerful version of the oldpop-sounds of The Space Seeds.
Teeming up with the Bash Street Kids will be three equally unpredictable acts. Never Say Die are undeniably the most traditional rock outfit on the line-up, boasting a guitar-based sound which combines the best of the mid-Seventies and mid-Eighties and personnel who are literally weighed down with bags of experience. They don't play too many shows and for that reason those that do are always worth watching. See what you think.
The Wodericks on the other hand seem to be the Arts Centre's most regular visitors these days. They have launched themselves on the scene in a very big way a fact illustrated by a sell out Arts Centre show a few weeks back, a top 20 placing in the MUSICBOX poll and a highly-praised demo. Their sound? Don't ask me, I've tried (and failed) to describe them several times now, all I can say is that they are fun, fun and more fun.
And so to Sunday's fourth outfit – Rape in Yellow. They have nicked DHSS's Sunday slot by virtue of being the festival's 'first reserve' and they are delighted to have done so. The band are now full of renewed confidence and enthusiasm a fact highlighted by the faith they feel in their new demo. If you want to see if their faith is justified then trot along on Sunday.
As usual the proceedings start at 8pm, entry fee is an embarrassingly cheap £1 and all the profits will go towards making YOUR Tamworth outdoor rock festival the best yet. Get a Grip on Yourselves and Get it On.
Tamworth Herald – 03/03/89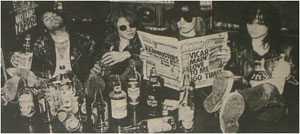 Musicbox – Wolfies launch their mega World Party!

TAMWORTH'S biggest and ugliest group, the almighty Wolfsbane launch their World Tour 1989 with an unmissable Tamworth Arts Centre concert on Sunday night.
The band, due to release their eagerly awaited album in two months, will be in action throughout Britain and Europe before heading for a seemingly endless tour across the seemingly endless expanse of America.
The whole never-ending tour will be filled with big gigs and big venues but at none of them will Wolfsbane be so warmly received as at Tamworth on Sunday night.
For here, alongside the relative wonders of Spiral Eye and Lyve, Tamworth will welcome Wolfsbane back as the all-conquering heroes. They have put the town on the map already and this will be the chance for you, the punter, to give them the best possible send off for their massive tour.
Sunday's gig, the concluding show of the Tamworth Indoor Rock Festival will be the first of an as yet unknown amount of Wolfsbane shows. British gigs of all shapes and sizes are being added as we speak and there is also talk of Irish, French and German dates in advance of the long haul across the United States.
For it to be starting at Tamworth is wonderful news but according to bassist Jeff Hateley the group wouldn't have it any other way…
"No matter how far we go we will always come back because we love it here," he said. "Everyone we know is already talking about the Tamworth gig and no matter what the music is like it will be a night to remember."
As Jeff points out, Wolfsbane plus support acts Spiral Eye and Lyve are all capable of selling out the Arts Centre on their own, so one of the largest ever Arts Centre shows is assured. Memories of Wolfsbane's 'sweat-pouring-down-the-walls' Battle of Bands victory a couple of years ago are expected to be revived and the atmosphere promises to be red-hot.
Wolfsbane haven't played live for several months and for that reason they are itching to get back into the frame. Their set should be a curious mixture of those their fans will know and love and some that will be totally alien to everyone outside the immediate Wolfsbane camp. Their album is littered with new material and it will be a set full of both old raves and pleasant new shocks. Any Wolfsbane fan worth his or her salt would be a complete and utter luck to miss this one. Anyone that does have better have a good excuse ready.
As if the Wolfies wasn't enough to drag you out of your home son Sunday, both Spiral Eye and Lyve have plenty to make you get your frame moving. Lyve, who look set to lose 'Glen Hoddle' shortly, have adequately filled the Wolfie-gap with their driving metal music and their huge audience alone would make the Arts Centre full without the aid of the other two on the night. And Spiral Eye? Well they are just sooooooooo good that the paltry £1.50 entry fee (the cheapest you will be able to see Wolfsbane ANYWHERE) is warranted by Baz's boys alone and I have a sneak feeling they will go down a wow with the metal-dominated audience.
The conclusion from all this is clear. Along with the Rock Festival this is probably the most eagerly awaited and exciting concert of the year. Coming in the same weekend as Tamworth FC play in one of their most important games of their history this is one hell of a weekend for the Town.
Get along to both if you can and cheer all these genuine local heroes to inevitable success.
Sunday night at Tamworth Arts Centre. Miss it and regret it.
Tamworth Herald – 03/03/89
Musicbox – Gig Review
King Wodericks
Short, but extremely manic set from the student Kings. Every time I see them they seem to add a new element and this time it was a strangely psychotic one whereby the vocals (and indeed the music) went occasionally loopy and bedlamic especially on 'Don't Shout Taxi' which is almost as bizarre as its title. The set unfortunately had to be trimmed a bit, but there was enough in it to please the band's massive travelling support which seems to include a plethora of adoring females. Just which one of them is the sex symbol? I want to know.
Tamworth Herald - 24/03/89
Musicbox – DHSS to do a gig shock horror shock?
First there was the Sunday Sport story that Hitler was a woman. Then the tale that Elvis was alive and working as a taxi driver in hull. And now, more sensational than all of that is the claim that DHSS are to do a gig!!
The band, who by their own admission have played less gigs in the last couple of years than the Beatles, are rumoured to have booked a gig at the Arts Centre on April 9. The MUSICBOX phone has been red hot all week as journalists from all around the globe have rang to see if this seemingly impossible story could be true.
In an exclusive interview at the Tavern in the Town the band's sex-change keyboard player Ridiculous Quay confirmed the amazing story.
"Yes, we are playing." Said the suspect one. "And what is more we are gonna blow the *** of every *** that ever *** walked the *** earth," he said.
The rumour is that *** (I can't even bring myself to say their name) will be playing on April 9 with King Wodericks, Chemikill and The First Conspiracy.
I'll believe it when I see it, but if it comes off you have been warned. Stay clear of the Arts Centre on that night at all costs.
Tamworth Herald – 14/04/89
Musicbox – On the ball!
The Town's biggest pop band – DHSS – are to perform a special Wembley song for the Town's biggest football club – Tamworth FC
The town's favourite shock-rockers are to re-write their chirpy anthem 'Ooh, Ooh, Ooh, La, La, La' with a football theme to mark Tamworth FC's first ever trip to a Wembley cup final. It was hoped that last night (Thursday) one or two of Tamworth FC's big stars would descend on the Expresso Bongo studio to add their vocal skills to the track which will then be rush released.
In the meantime the band are still celebrating a highly well attended Arts Centre show which brought a massive crowd through the doors on Sunday night. Here is how it went…
Chemikill
Excellent debut set from a band who are noisy, nasty and nicely Neanderthal. They call this speed thrash metal, but to my old punk schlonk ears it sounded like a vicious variation on Sham 69, Anti-Nowhere League and The Ramones. They looked a lean, mean fighting machine and their attitude and language prove that they clearly came from the Wolfsbane charm school. Horribly attractive stuff.
King Wodericks
Regular readers will note that I have said that the Wodericks add a new dimension very time they play. This time round it was dance-ability. The normally erratic rhythm base was replaced by a kind of fledgling funk and the new tunes produced showed that the band are making more commercial, dance-orientated music these days. A good, well-balanced set highlighted for me by some truly wicked and wild keyboard work. Mention of this show cannot pass without commenting on one of the biggest and loudest supporters. Karen…who verbally attacked me afterwards on everything from God to sexism. Nice girl I'm sure but the sort who belongs behind bars instead of in front of them. Long live Ghandi hey Karen!
The First Conspiracy
Strong set from a band whose epic themes and epic sounds still go down well with their home audience. Their lack of recent live action made them sound hungrier and angrier and even though they still weren't exactly leaping around the stage, their visual impact was stronger than in recent gigs. Best thing of all was the way the relative newies (Beyond the Pale' and 'Touch My Heart' for example) came over more powerfully than the golden oldies, which shows that the band have moved on well and can now look forward with confidence, safe in the knowledge that their songwriting ability is continuing to improve.
DHSS
OK, I'll admit it, this wasn't the best DHSS gig I've seen. It ended up in somewhat of a triumph with the bands many delights pouring out of the speakers with increasing degrees of smileability, but it just took too long to get going. A slight error in the first song seemed to weaken the band's confidence and it wasn't until they reached the mid-point of the set that they began to climb back to the top of Division One with their sound. The last 30 minutes f the set was extremely enjoyable …absence from our stages for several months made them lose their killer edge. A couple more (quick) concerts under their belts and the band will be back on course for world domination but this show proved that there is no substitute for live experience and the band need to find the same sort of love for the stage as they have for the studio. Right, there goes my free drinks in the Tavern!
Review by Sam Holliday
(curiously described on the night as looking like a 'vampire from the Lost Boys) and having a 'footballers haircut' and from Quay at least as being 'a total ***head'!
Tamworth Herald – 16/06/89
Musicbox – SNIPS
Who wants what and why…
KING Woderick and the Yogots are looking to take their brand of whimsy pop outside of Tamworth and are on the hunt for gigs. Anywhere outside the Tamworth area (Birmingham, Coventry, Nuneaton etc.) will do, and the lads are looking for their own gigs or the chance to support someone else.
Tamworth Herald – 23/06/89
Musicbox – Snips, News
King Woderick are still looking out for out-of-town gigs and are looking for suggestions and/or support slots.
Tamworth Herald – 25/08/89
Musicbox – STOP PRESS GIG NEWS
Brilliant alternative comedian Frank Skinner joins King Woderick and The Yogots, Also Smith and Jones (ex-Royal family), Jed The Poet and Armchair Thrash in a unique five act show at Corvettes Winebar on Tuesday night. A cracking night in prospect there, it costs just £1.50 on the door, 8pm is Tuesday's kick-off time at Corvettes.
Tamworth Herald – 08/09/89
Musicbox – Gig Reviews
All Reviews by SAM HOLLIDAY
King Wodericks – Corvettes
Blindingly good bash this . Faced with a cramped stage and even more cramped audience, the Yogots went on to offer a cut-price ear-piercing service. They turned everything up and blasted the ear-oles of the Corvettes nation with wild and unabated GLEE. The end result was a spiffing 25 minutes or so that earned them a massive roar of approval from what must be one of the largest and loyallest cult followings for any newish band in the area. What made the short but well-filled set so satisfying was that there were no fillers, just a handful of diverse quirky pop blasts which had plenty to recommend them 'Chapel Street' was the pick of the oldies but even that had to take second place to the stylish 'She's Gone' which had a magical keyboard sound and an eminently hummable chorus. Individual star of the show was definitely Jon Lanz on vocals whose performance revealed hitherto unrealised traits of a major lune and whose sound and look reminded me very much of king Tamworth nut, Saint Julian. Great gig and AT LAST my ears are pierced.
Tamworth Herald – 20/10/89
Musicbox – Loadsagigs
IT'S a busy week gig-wise with a host of the area's best bands in action in venues as diverse as the Tavern in the Town and the Mean Fiddler, London. Here is a quick gig-guide so you know where to go and what to look out for…
Sunday – Tamworth Arts Centre
A good night out for those of the gothic persuasion as Curious Oyster steam in for their first headlining show at the Centre. They were hoping to have local support but at time of going to press we could not confirm who that was. It starts at 8pm.
Tuesday – The Mean Fiddler, London
Around 150 fans are expected to make the convoy to London to cheer on Catch 23 in this their second appearance in Das Kapital. The band, fresh from more TV appearances than Jason Donovan, expect to premier some new material including the 215th remix of the classic 'Love Explosion'.
Thursday – The Tavern in the Town
The Magnets return to the scene of their former crimes for a nostalgic night of fun. A band borne out of the Tavern they return home after a couple of useful recent shows much raved about by my old mate Jack Napier. Expect electricity and check out the excellent Manns Brown Ale.
Tuesday (Oct 31) – Corvettes
A fine looking line-up here a week on Tuesday as Bash Out The Odd and The Big Noise team up with King Woderick and The Yogots for a show that promises to fill Corvettes completely. All three bands are bursting with quality and a super sweaty night is definitely in prospect. Advance warning on this one because it looks like packing out!
Tamworth Herald – 27/10/89
Musicbox – Big night at Corvettes
CORVETTES Winebar will host a positive feast on Tuesday night when Bash Out The Odd, Rape in Yellow and the King Woderick crew pack 'em in.
With a fourth band also expected to be involved a decent sized crowd is expected so quite how we are all supposed to squeeze in this fine drinking establishment remains a mystery. But, squeeze in people undoubtedly will do to watch a show full of strong, modern pop. The Yogots currently enjoying airplay in France would you believe, will be back with their barmy sounds. Rape in Yellow will be out to blast 'em while Bash Out The Odd will make their first Tamworth appearance for quite some time to offer the cleanest pop of the evening.
Tamworth Herald – 10/11/89
Musicbox – Gig Reviews
Freelance correspondent ROBERT HODDLE kindly supplied me with reviews of these two gigs last week. Our thanks to him and on with the show(s)…
King Woderick and the Yogots (Corvettes)
Predictably the younger sixth form female part of the audience went for these though I noticed there was less screaming than I've witnessed before. Tonight they revel in this adoration they've come to expect, which is OK for Tamworth, but what about outside?
The wonderful out of tune harmonica along with the singers' voice sound totally detached from the rest of the band has almost become their trademark. Many of the songs merged into one and I personally found the set far too long. With groups around such as the Stone Roses, (though by no means am I comparing the Yogots to these) I this kind of music leaves me quite cold.
All reviews by ROBERT HODDLE
Tamworth Herald – 17/11/89
Musicbox – Gig Reviews
Another Big weekend
WE have two nifty looking local gigs to tell you about this week.
Tonight (Friday) the legend that is Spiral Eye returns to Tamworth when they play a special show at the Chequers, Hopwas. This, part of a regular series f rock shows at the venue comes complete with a rock disco and admission is £1.50.
Then, but 48 hours later, Sunday night's venue is the Arts Centre for a splendid four band show of raw young talent.
The Big Noise will spearhead proceedings and they will be joined by The New Puritans (hurrah!), King Woderick and The Yogots and the delightfully named Fudge Tunnel.
Such a line-up would be worthy 50,000 pfennigs of anybody's dosh but it costs just £1.50 so anyone not tempted enough to go will be hung, drawn, quartered and forced to watch Beadles About for two hours a night.
That's it in a nutshell – tonight Spiral Eye at the Chequers and Sunday night The Big Noise, King Wodericks, The New Puritans and Fudge Tunnel at the Arts Centre.
Laugh? I almost did.
Tamworth Herald – 24/11/89
Musicbox – A fine bag of goodies
Fudge Tunnell/Big Noise/New Puritans/King Wodericks – Tamworth Arts Centre
Is this 1977 or 1989? Well, with the Buzzcocks reforming, UK Subs, 999, The Vibrators and TRB also gigging again and The Banshees, The Ramones, The Stranglers, Joe Strummer and The Damned all still around one can get a feeling that the white riot is still on. The Fudge Tunnell clearly believe this and their punchdrunk powerplay harks for the days of pins and passion once again. Personally I can't get enough of 77isms and all we need now is Sid to be dragged from the grave, NME to wise up and Callaghan to get back into number ten and we will have gone back to the future. Wistful thinking or the deranged rambling of a boring old hippy? You choose.
The Big Noise
Another positive, well-executed set from a group with considerable charisma and quality. They bop about with a sureness of purpose and poise and make up for a lack of drumkit with on-stage powerhouse performances best characterized in the song 'Volatile' which is as unpredictable as its title.
King Wodericks
The stars of the night – and that's no mean compliment in such a strong line-up. This was the best I have seen The Yogots and they have clearly cleaned up and matured their act considerably in the past few months. The songs, especially one or two of the newies, have real style and substance and every musician now plays his part in a strangely unnerving sound which has strands of two of my very favourite bands, The Psychedelic Furs and Spiral Eye. Quite magical.
The New Puritans
A fine end to a fine night. The Puritans were at their hearty best again, pouring forth with a selection of killer tunes and delicious guitar work that made everybody smile. Onesofter-than-yer-average number (the title of which I didn't catch) was tearjerkingly lovable and there were other moments of fire and fizz. One of the undoubted finds of 1989. Pure.
Sam Holliday
Tamworth Herald – 01/12/89


Musicbox – What a Blowout!
Great Stan's Weekend Blowout

TAMWORTH will this weekend host three unique concerts to raise money for the town's ambitious alternative-comic project.
Three shows – one concentrating on r 'n' b, one on alternative comedy and one on top quality local music – will combine during the course of the next three days in a unique moneyraiser.
Tonight the Old Liberal House in Amington will host 'a stompin', gut rockin', hard drivin' rootsy rhythm and blues' session, on Saturday night the venue is the Castle Hotel for a special alternative comedy show and then on Sunday night Lakins will stage a splendid Indie rock bash bringing the likes of Bash Out The Odd and the Yogots alongside Birmingham favourites Korova Milkbar.
All the shows, plus one held at Manhattan's last night (Thursday) are designed to bring money pouring into the coffers of Tamworth's alternative comiczine 'The Great Stan's Comic'. It is hoped that the first edition packed full of silly comic strips, attacks on the local and national music and arts scene and much else will be out in January and the success of this weekend will really get it moving.
"We are all very ambitious about this," said organiser Chris Gould. "We want to make the comic as professional as possible and we need the money to do so. Hopefully these three shows can really help us."
So what exactly can you feats your ears on this weekend. Well, read on and find out…
R and B Special
Tonight (Friday) – Amington Liberal House
If you like to boogie woogie to foot-stomping r and b then the only place to be tonight is the Amington Liberal House in Woodhouse Lane. Our own Also Smith and Jones and the spiffing Eight Ball Joe will team up with the classy no messing style of the Pink Cadillacs and the excellent Mighty House Rockers. The Rockers are regarded as real floorshakers and they already have an album and radio work to their credit. Put together this is a night which should really get the r and b crazies going and it costs a mere £3.50 for four top class outfits. Worth it to see Dave Smith's wincing alone but you will get even more for your money than that. Starts 7.30pm, ends 11.
Comic Show
Saturday night – The Castle Hotel
It's smile time again as the Great Stan spearheads a four comedian (and one band) show at the Castle Hotel. Billed as The Blowout Party it features comedians Terry Cavell, Tim Lacy, Ken Bell and the Great Stan alongside Little Terry's Blues Band. Terry Cavell is described as 'libellous humour', Tim Lacy is regarded as THE man to watch on the Midlands scene and Ken Bell is a fast moving and original comedian. As for Stanley he is doing his 'best of Stan routine' a collection of (and I quote) 'the world's greatest comedy routines'. Sounds are provided by r n b men the Little Terry's Blues band and it starts at 8pm costs £2.50.
Indie Bash
Sunday night – Lakins nightclub
A unique Sunday night venue for a rather unique collection of bands. Lakins opens its doors on the night to welcome in local heroes, Bash Out The Odd, King Wodericks and the Herb Garden and fast-rising Birmingham squad Korova Milkbar. You don't need any introductions to the three local bands except for they are all very good indeed, while Korova Milkbar are made up of ex-members of Wunderstuff stablemates The Surf Drums. Much noise is being made about the Korovas and remember it is in Tamworth where the Wunderstuff started to blossom so you could be on the groundfloor of another major success story. The whole bash costs just £2.50 so get along (and remember it is LAKINS) and have a boogie. Starts 7.30pm.
Got all that? Right, get along to as much of the above as you can and give the comic a boost. You'll die laughing if you don't.
Tamworth Herald – 15/12/89
Musicbox – FESTIVE FUN!

WE have plenty of pre-Christmas shows to tell you about this week so feast your eyes on the collection of goodies below and get set for plenty of smiles in the next few days…
Tonight (Friday) – Tamworth Arts Centre
A hastily arranged show this which sees Whats This Heads Down Mindless Boogie About Nothing team up with Shock Culture for a Friday night bonanza. With the possible addition of Special Mystery Guests this promises to be a tempting alternative to Friday night pub crawling and it starts at 8pm.
Sunday Night – Tamworth Arts Centre
You are cordially invited to the Bignewyogotsherbert Christmas Show which offers you four top quality local bands and the possibility of a few carols! As the rather long title may suggest the four bands you can see are The Big Noise, The New Puritans, King Woderick and The Yogots and The Sherbert Trees all of whom have more fizz and bubbles than a bucket full of coke. It costs a mere £1.50 and apparently fancy dress is optional. I'm not sure about the Christmas Carols but I am sure this will be a heap of fun gig-goers!
Monday Night – The Castle Hotel
Another happy collection of mirth and music is in view as the meaty, beaty big and bouncy Also Smith and Jones spearhead 'A Silent Night'. As well as enjoying the Smithies, you can laugh to the likes of Frank Skinner, Terry Cavelle, Shaun Percival and the amazing Jed 'Everton nil' Moore. Music is also provided by former Strap on Jack men, True Grit and Nick Lowe and all told this promises to be a riotous night of debauchery. It's at the Castle Hotel remember and it should set Christmas off with a bang.
Monday Night – The Mean Fiddler, London
Catch 23 return to their London base again on Monday as part of the Best Band of the Year series. The boys will be taking a horde of their t-shirted fanatics again and if you want to see if there are any seats left ring. Could be a big night for the band this so here's hoping for real festive cheer!
Tamworth Herald – 15/12/89
Musicbox – Review
Neat Night in Night Club!
The Great Stans Indie Bash (Lakins)
LAKINS is not the most obvious place to go to see live music in Tamworth. More associated with using your ears for music and your eyes for lust instead of all your senses for pop music, it is a strange feeling to see people hit the Lakins floor for anything other than the latest Madonna single. But, Lakins does suit live music quite perfectly. The bar is in such a position that you can order your pint while still eyeballing what the guitarist is doing to his axe and there are nice comfy chairs at the back when the going gets tough and the tough get a headache.
The only drawback I found from this surprising expedition was the fact that in a bizarre Freudian twist, the groups played on the floor while the audience were raised above them on a stage of sorts. Such a swap has a therapeutic effect on those of us without the gall to hit the stage on your own merits, but does tend to mean that any musician under seven feet tall struggle to assert themselves.
Lisa, the talented singer from the Herb Garden, is certainly not seven feet tall and not only did she have to face everybody's kneecaps before anyone else, but she was also saddled with a pretty dreadful opening number which gave no hint of the many wonderments to come. For there were certainly Herb Garden wonderments to behold, oh reader. There were one or two songs that were straightforward pop gems and one or two tunes which swayed the audience with a gentle but commanding force. Also wonderful was the guitar work of in particular Mr. Rob Kinson, Esq. A man who has clearly found his niche, found his confidence and found a skilful and original touch. With Lisa improving by the second and ending on an absolute peak, I was left feeling there were roses in bloom in this quickly blossoming Herb garden.
Equally impressive were The Yogots, a band for whom no superlative is now an over-statement. They were simply excellent again showing melodic strength and understanding, and a very keenly developed sense of audience pleasing. The keyboard work by the charismatic new key tinkler was first-class throughout bringing the inevitable Holliday adulation of being 'Stranglerish' while the vocals leapt out of the speakers and grabbed every available organ with venom. Truly one of the great bands of this area, and any group that can afford to leave out a classic like 'Mind Disease' simply must be contenders. Wickedly good.
Third up were Korova Milkbar, who were an altogether calmer experience. They had real touch of class, showing their ability to use the best ideas that new Order have created in their own brand of modern pop. The New Order cloud hung over their whole set, but the quality of their own tunes was like a ray of sunshine bursting through the plagiarism. A fine band and let's face it, if you are going to try and copy anyone, it may as well be one of the all-time greats.
And so to the finale, the ever-popular Bash Out The Odd. It had been eons since I last saw them and by the end of the night. I wondered why it had taken me so long to lap up their bountiful wares again. The band hasn't changed a great deal in recent months, but they have certainly improved and diversified to the point that the set is beautifully executed and includes nothing remotely like a filler track. Every precious tune and riff has to prove its worth in a Bash out song and there is no room for anything without the hallmark of pop quality. Relative oldies sit happily next to new and vital numbers and they all share the same ingredients of melody, musical power and blistering brass. Vocal king Mark Brindley continues to hypnotise as his Copeish overtones reach the parts other singers cannot reach, while Stu Blane once again proved that on his day he is in a class of his own.
Overall, this was a heady mixture of pop sensibility and soaring, searing guitars all of which combined to delight a partisan, but clearly impressed, Lakins crowd. End result? Four good bands, one good venue and one very pleasant evening indeed.
SAM HOLLIDAY
Tamworth Herald – 22/12/89
Musicbox – Sunday View
King Woderick and the Yogots
THESE boys don't need silly fancy dress and deliberately awful renditions of Christmas carols to do something strange for Christmas, because they're so weird all year round. The best indication of how good they (or any band) are is that the set is over before you know it. They'd ran through a few old favourites, performed a couple of songs I wasn't so familiar with, played 'Mind Disease' and went off stage. In one of the last Arts Centre gigs of an eventful decade (all very historic, isn't it?) The Yogots have proved to be one of the most promising Tamworth bands of the 90s.
Sean Atkins
Tamworth Herald – 05/01/90
Letterbox - Big Moans from the Big Noise Man



Hello Sam/Martin,
This might be a long letter but please bear with me because I am quite annoyed.

Firstly, our gig with The Yogots and Sherbet Trees. Mr Martin Warrillow, who reviewed it seemed to think it was 'dodgy', 'shambolic', 'sacrilege' and not 'sensible'. What we tried to do (my idea originally) was to do something 'different', but as I have learned in 1989, a band can't do 'different' things, even in Tamworth because of people like Mr. Warrillow.

'Whatever happened to conventional gigs?' he says. I may be wrong, but I thought it would be boring to see The Big Noise and The New Puritans yet again, so we tried to enjoy ourselves, in an original way- something Mr. Warrillow obviously has no perception of at all.



'Better audience reaction than Catch 23 last week.' He said. It's so difficult for Martin to understand, it's a week before Christmas, the last gig of the year for most people, balloons, a Christmas tree, a vicar, a monk, a nun, etc…on stage, everyone just wanted to party, which they did, I've never seen so many people dancing at the Arts Centre.

Admittedly, we played not very well, but live gigs are not about musical ability: the Musicbox poll would be very different if this was the case. (Editor's Note: You came fifth, remember!).

Obviously, Mr Warrillow would enjoy himself more at a 'Bash Out The Odd' gig, where they play their instruments properly, note perfect and technically good.

I know what you're thinking, if you've read this far- it was Mr. Warrillow's personal opinion, yes, and this was mine!

Secondly, this Arts Centre business. The band was playing for the paying of the lights and the stage. Well, perhaps I'm being very cheeky, but I think it's a disgrace. New bands often make a loss on gigs there, £40 for an acoustically awful room, and a bar (which they must make money on). It doesn't open until after 5 o'clock, so you have to rush to get the gear in, set up the PA and sound-check four bands (expected by Tamworth for some reason). Fortunately, the new bar staff are very helpful. The best thing that could be done is for the money 'raised' to be spent on polystyrene tiles or old carpet for the walls, to get rid of the dreadful reverb of the room.

I know that all this bitching is not your scene at all, but too many people just accept everything as they are. I don't want to sound like a ******* but I am!

As for Mr. Warrillow, I don't want him to come to any more of our gigs, because he will definitely be appearing in future handouts.

Yours,
Carl (The Big Noise)
(P.S. This is all my view only, not The Big Noise or the New Puritans.)

Sam Holliday replies…

- In defence of Martin Warrillow – I thought this review was quite fun and conveyed to those who missed the gig that it wasn't your average Arts Centre bash. I thought his tongue was in his cheek and his comments were fair, and I'm amazed you took so much offence. Perhaps, bands in Tamworth are so used to getting 'nice', 'positive' reviews from me that when someone even slightly criticises, they can't cope. Sad really.

- In defence of the Arts Centre – The debate around the Arts Centre has not fallen on deaf ears, and I have been impressed by the genuine desire to improve matters shown by manager Dave Fortune. Many groups, Catch 23, Kraze, Fetch Eddie, etc. – have rallied around since the last public attack and I for one feel that the criticism is a little unfair while they are trying to change things. Ask yourself this Carl, where would The Big Noise (or for that matter any local band) be without the place? Not fifth in the poll, that's for certain!

Love, Sam, XX
Tamworth Herald – 23/03/90
Musicbox – Snips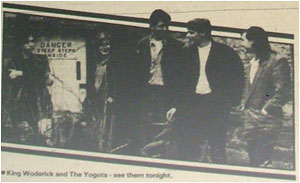 King Woderick and the Yogots are the first local band to be featured on an exciting new tape project. Limelight, which has been in the planning for several months, is a cassettes only release which features a host of unsigned bands every month and is sent on to record companies and management teams. Having seen the first issue I can assure you that it is a quality release which features a glossy sleeve offering each band a page of information apiece. Buyers of the tape are then invited to choose their favourite tracks and to subscribe to the venture. The first, ground breaking copy of Limelight, costs £4.50. I have a sneak feeling it is going to be a winner so the Yogots are VERY handily placed indeed.
Tamworth Herald – 30/03/90
Musicbox – One week, One Town, FIVE gigs!
TAMWORTH elevates itself to the status of a major gigging City this week when no less than FIVE local concerts aim to grab your interest.
With one tonight (Friday), a further three on Sunday and then a fifth on Thursday night Tamworth's gig-goers look set to be bamboozled and broke by this time next week.
And, it is not as if it is easy choosing which one, two or three gigs you are going to see. Big national names like Carter The Unstoppable Sex Machine, the Penny Candles and Benny Profane will be vying for your 'wad' against the debut of the all new DHSS and the return of the Yogots, and local gig-goers have every right to feel truly confused.
MUSICBOX is equally under pressure at the moment to try and give a fair and representative view of who is doing what and it seems to me that this is all getting a little bit silly. It is great for Tamworth to have so much going on but there surely isn't the audience to justify all these gigs.
Some very big names are going to play to some very small audiences in the next few weeks and that will do Tamworth no good at all. Still, gripe over, here is a broad view of what is going on. We don't have enormous amounts of details on some of the gigs but we hope at least that this will give you a bit of a guide as to where to spend your hard earned cash. Here is the list of who is doing what, followed by a more details breakdown.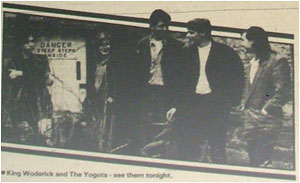 Tonight (Friday) – Tamworth Arts Centre: King Woderick and the Yogots/Shock Culture/Shakespeare Monkey/The Fireflies
Sunday – The Rathole (Lincolns): Carter The Unstoppable Sex Machine/Support
Sunday – Tamworth Arts Centre: The DHSS/The First Conspiracy/Vindaloo Breakfast
Sunday – Night Moves: Penny Candles/Hallelujah Trail
Thursday – Night moves: Benny Profane/Support.
Right, now for it all in a BIT more detail.
King Woderick and The Yogots/Shock Culture/Shakespeare Monkey/Fireflies
Tamworth Arts Centre (Friday)
A very important night for The Yogots for whom a great deal is happening at the moment. I will take a bit of a liberty with their excellent press release to fill in the story…
"Lots of good things have been happening to The Yogots camp over the period from Christmas. The bands management have so far secured the group with a host of major University shows and on the night there should be several VIPs watching them who can further help their career. This showcase gig gives them the opportunity to perform a lot of the new material unfamiliar to fans who have seen their set in the past."
In support of the Yogots will be Shock Culture, fresh from their triumph in Bradford, a new Polesworth band with the excellent name of Shakespeare Monkey and London-based crew The Firefllies. The fiery ones already have a single out and are well known on the Capital circuit. All together it makes for a sparkling four band Arts Centre show which will cost you a mere £2.
Dear Sam,
After going to see The Yogots again on March 30th, I don't feel it's safe to go and see them anymore.
The Yogots were fantastic as usual, brilliant drumming from Tim and Jonathon's hypnotising eyes did their job.
It's not them, it's the part of the audience who they bring along. Who the hell do they think they are? I was standing at the side watching what they were doing. I witnessed one punch two people in the face for accidentally knocking him when dancing and another swore profusely at someone who moved to stand at the front.
It's getting worse at every one of their gigs, people are too scared to dance in case they get punched in the face, including me.
Come on Yogots do something about them, you know who they are and they're ruining your gigs. They act like your minders or more realistically your owners.
A Yogots Fan
Tamworth Herald – 20/04/90
Musicbox – Local gig reviews and comments
King Woderick and The Yogots/Herb Garden/Benny Profane (Night Moves)
THE Yogots were on stage five minutes after the doors opened due to the fact that the lead vocalist had to be at the airport for 9pm, which is why they cut short their set.
Despite that, their performance wasn't rushed, and they delivered an impressive set that received an enthusiastic response from the handful that had arrived promptly.
The Yogots certainly have the foundations of a strong pop sound and are creating a certain originality in their music. They have plenty of good tunes but they should be wary of trying to do too much at once.
Next up were the Herb Garden, although the vocalist, Lisa, has a distinctive voice and their songs make a pleasing sound, they have yet to capture that sparkle that will make them stand out from the crowd.
By the time headliners Benny Profane came on Nightmoves had a healthy crowd in attendance. Both of the previous bands could learn a lesson from a band that have been causing quite a stir.
Report by Belvedere.
Tamworth Herald – 11/05/90
Musicbox – The Fast Risers!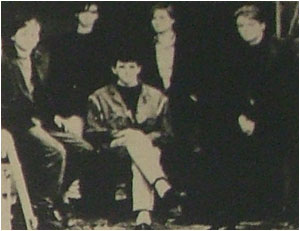 NIGHTMOVES proudly opens its doors on Sunday to one of the hippest Manchester bands of the moment. The group, The New Fast Automatic Daffodils are currently sitting very nicely thank-you in the Top Five of the National Indie charts and they are a band who are really buzzing.
Their appearance in Tamworth is quite a coup for Nightmoves and the fact that two of the area's most popular bands – King Woderick's and DHSS – are in support implies that this will be a packed-to-the-rafters affair.
For those that don't know, The New Fast Automatic Daffodils are what is generally regarded as a happening act. Here is just a selection of some of the national press they have already received….
*"This is prime, gritty Indie noise." (Sounds July89)
*"The New Fads are the current leaders in the annual 'death of rock' sweepstakes. Best seen while still fresh." (Melody Maker)
*"The New Fads are uniquely derivative, but clearly special." (NME July 89)
The comparisons role on and among the many press reports I have seen, I have heard the band compared to (get ready…) The Sisters of Mercy, Pop Will Eat Itself, The Fall, Big Flame, The Talking Heads, The Pop Group and more.
Publicity types are tripping over each other to find the right comparisons and to make you feel that this band is going to be BIG so we might as well jump on the bandwagon and tell you that this lot look to be real likely lads and are well worth an eye or two.
And what of the support bands? Well, if you were going to put two bands on with an out-of-town act to ensure a big turn out you probably wouldn't have to go much further than DHSS and The Yogots.
For DHSS this will be their third Tamworth venue in their short career and it will be another chance to prove to the doubting Thomases that they have the touch of greatness. What that now legendary first gig proved was that DHSS can no longer be placed in their former pigeon hole and indeed they have moved very much into an indie sphere. It divorces them from the late Eighties and takes them more into the realms of perhaps the Fast Daffs with more than a touch of the late 70s thrown in. The poor reaction to their first gig (we asked for positive letters of support and never received any) has certainly strengthened the band's resolve and they remain as committed as ever. Sunday would be a nice platform indeed to regain the main territories.
King Woderick and The Yogots should have no such problems as they remain on of the finest collections of musos within sight of the Peel statue. Now playing less gigs locally than in recent months, every Yogotty flavoured gig has become a treat and their popularity seems to be growing all the time. They have been working very hard in the studios as well as cultivating important links out of it and their hard working management crew have been lining up some very tasty morsels indeed. Catch them in Tamworth while you still can.
That's the line up then. Daffodils, DHSS and The Yogots. It makes for a formidable line up and one which I am sure will have them piling into Nightmoves on the night. Sadly your friendly neighbourhood MUSICBOX Editor will be away all week so I will have to miss it but the rest of you have no excuse whatsoever. It should be a very jolly happening indeed.
King Woderick and the Yogots – Night Moves
Once again The Yogots storm the battlements of stardom and confirm their status as one of the finest young bands in Tamworth.
Trying to define what they do is pointless because it's so varied, so different and so good.
Parts of it are classic indie pop with or without the trademark jangly guitars (including 'Mind Disease' which should be one of the songs of this year or any other year), and parts of it (like the excellent 'Leading from Behind') can only be described as 'theatrical' pop (in the nicest sense of the word), of the very highest order.
They held a capacity crowd in awe for half an hour, and grabbed a well-deserved encore.
Martin Warrillow
Tamworth Herald – 25/05/90
Musicbox – The indoor gig of the year
NIGHTMOVES stages a Bank Holiday bonanza on Monday when no less than eight bands combine for an all-day indoor festival.
Top groups such as Rhythm Damage, The Yogots and Banned in Yellow combine with several new acts in a special gig which is designed specifically to raise money for the Tamworth Rock Festival in July. As you know the outdoor festival needs every penny it can get to ensure it stays free to you the punter and so Monday's multi-band extravaganza is one of the key fundraisers of the year.
For just £2 you will be able to taste a huge variety of different musical styles from indie-flavoured lasts, via traditional pop and rock to touches of AOR. It will exactly like the normal Tamworth Rock Festival except this one will have a roof over its head and drinks on tap!
There will be debut performances from the likes of Fat Moggy. Tamworth-returns for the likes of Naked Touch and The Magnets and a thrilling finale which features the quality of Banned in Yellow, Vindaloo Breakfast and The Yogots.
The whole day will be run very much like the outdoor festival. All the bands involved will have just 20 short snappy minutes to perform and with only ten minute breaks between the sets the music should be running smoothly throughout the session. And there is also the considerable advantage that if the festival runs a bit late we can keep going until midnightish so there could be solid musical entertainment for five long hours.
Musically you can expect a complete varied package as befits the Rock festival principal. It all begins at 7pm with the Birdland inspired FAT MOGGY a band of Atherstonians who promise to be wild, wacky and about as far away from music as it is possible to be. Expect chaos. Following on a 7.30 will be the all together calmer sounds of THE NAKED TOUCH who will be combining their show on Monday with a gig at the NEC for Telethon on the same day. It's modern, stylish soul music and you should find it a restful relief after the hazards of the Moggy men. 8.00pm brings NEVER SAY DIE to our stages for one of their all too rare Tamworth shows. The guitar-wizzards with added OOOMMPPHH!!! Have long been servants of the Tamworth music scene and this will be an important gig for them. Swiftly following on at 8.30 will be another Tamworth legend in the shape of THE MAGNETS. Nothing needs to be said about this lot because frankly if you don't know them you wouldn't be reading this page anyway. 9.00pm brings to the stage one of the area's best bands for many years, KING WODERICK AND THE YOGOTS. A band of immense power and character they have come on bundles in recent months and their 20 minute blast on Monday is certain to be one of the highlights of the whole night. At 9.30 VINDALOO BREAKFAST enjoy a high profile slot to play one of their biggest shows to date. The band are a distinctive and unique agit-pop lot who combine late 60s and late 70s influences is a set of grizzly smiles. At 10.00 we then welcome the all too wonderful BANNED IN YELLOW who have certainly began the 1990s with a very loud bang indeed. I am particularly looking forward to their many joys which will followed finally by RHYTHM DAMAGE who are the ideal closing act of a very mixed package. What can we say about the Damage men that hasn't already been said about Eric Honeker? Nothing, just enjoy the anarchy.
That's yer lot then, and what a package it is. Eight very different bands, five hours of music and all for a ridiculous £2. We must stress again that all the money raised on the night will go towards the very needy coffers of the Tamworth Rock festival so as well as having a truly enjoyable night you will also be helping keep the event on an even keel.
Don't miss this gig. It's Bank Holiday Monday there is practically nothing else to do so you have no excuses. Get along and enjoy yourselves enormously.
*All bands please note the comments at the bottom of the line-up.
Monday Line Up
Tamworth Indoor Rock Festival 1990
(Nightmoves, Monday 28th May, 6pm-12pm)
7.00 – The Fat Moggy
7.30 – The Naked Touch
8.00 – Never Say Die
8.30 – The Magnets
9.00 – King Woderick and The Yogots
9.30 – Vindaloo Breakfast
10.00 – Banned in Yellow
10.30 – Rhythm Damage
*All bands to report to Nightmoves at 4pm on Monday. Twenty minute sets with ten minute changeovers.
Tamworth Herald – 29/06/90
Musicbox – The Kings have abdicated
King Woderick and the Yogots no longer exist.
This most popular of local bands have gone through a major transformation which will cause shockwaves throughout the musical area.
Have they split up like The First Conspiracy and The Herb Garden? Have they lost their key guitarist like Fetch Eddie or have they lost all their sense and employed George the Roadie as new manager?
No, nothing as catastrophic as that, the band have just dropped the first three words in their name. As of now King Woderick and The Yogots have become simply The Yogots. The reasons for this involve the fact that record companies and agents didn't like the longer name and MUSICBOX Editors continually referred to them as The Kings, The Wods, The Wodders and more. Now all we can call them is The Yogots.
Seems fair enough, so keep your eyes peeled here for more info on The Yogs.
Tamworth Herald – 20/07/90
Musicbox – Senseless Smiles
ONE of the hottest young bands in the UK – The Senseless Things – team up with the mighty Yogots for an explosive show on Thursday night at the Rathole.
The duo, along with Lichfield outfit The Moneygods, combine their considerable talents for a show that promises to be one of the very best the Town has seen this year. The Senseless Things are a serious happening act. They have been booked to play the Reading Festival this year as proof and they have been in and out of the Indie charts for eons and have had more appearances in NME than Prince. They are excellent and fully recommended by this column.
Such sentiments also apply to those loveable Yogots. Despite missing out on the Festival they remain one of the best things that Tamworth has to offer and they produce cracking music and an electric atmosphere. They shone with the New Fast Automatic Daffodils and they will shine with the Senseless Things as well. With both these and The Moneygods, Thursday night is UNMISSABLE. It's at the Rathole, it costs £2 so be there!
*Sunday night sees the dark and broody Hunters Club in Rathole action. They have hit the Rathole before and went down a storm. Sunday should show why.
Tamworth Herald – 27/07/90
Musicbox – Yogots demo will stay on the decks!
The Yogots – Demo reviewed by Sean Atkins
The fact that I'll still be listening to this demo tape long after I've reviewed it is an indication of how good it is. This collection of four of The Yogots songs is so enjoyable that I've been playing it through choice and not – as is sometimes the case – out of devotion to duty to MUSICBOX.
'Don't Shout Taxi', 'Je Suis', 'She's Gone' and 'Mr. Rainbow' are usually among the highlights of any Yogots gig and the tracks sound better than ever on this tape. The songs all sound very polished but thankfully, the Yogots distinctive brand of insanity remains an important aspect.
And this is just the story so far from the Yogots…I'm sure there's a lot more to look forward to.
Sean Atkins
Tamworth Herald – 03/08/90
Musicbox – Brilliant Yogots inspire sheer AWE!
The Moneygods/Loaded/The Yogots/Senseless Things – The Rathole, Tamworth.
THE LAST time I came out of a Tamworth gig feeling this good was way back in 1981 when, after seeing a wild and wonderful Classified Ads performance, I walked home sufficiently motivated and inspired to want to form a band myself. (Whether that was a good thing or not is beside the point!)
But as I came away from what was supposed to be a Senseless things event, I couldn't help but marvel at the sense of real excitement and sheer awe that Tamworth's home grown Yogots expel. This show at the ever-improving Rathole venue, marked the coming-of-age of one of the finest young bands I have ever seen.
Their arrival on stage quite literally sent an absolute buzz about the place. Helped by a batallion of inflatable bees. The Yogots pounced on the platform and proceeded to blow open a real hornet's nest of a set featuring old and new material, played with such ferocious energy and verve, that most of the audience was left simply staggered by such a captivating and enigmatic performance.
New tracks like 'Falling Down' show that the band's songwriting ability is getting better all the time, and one now wonders just how long The Yogots are going to remain a 'local band'. On this performance, they won't have long to wait.
Their stable-mates The Money Gods, in comparison, were just another brick in the wall that's now been reduced to rubble. About 13 years ago they may have been considered as a half-decent band, but with each song possessing just one good line that they then dragged out to last three minutes, just isn't good enough anymore.
Loaded were an improvement but failed to ignite any real passion.
The Senseless Things are good, but not that good! To think that they're on the bill at reading this year, should give the Yogots much hope for what they are capable of achieving this time next year. They can now bask in what must be the satisfying knowledge that they have supported two 'happening' band sin Tamworth and stung them both.
Mike Turner
Tamworth Herald – 10/08/90
Musicbox – Gig bonanza!
Tamworth turns into a 'four gig' Town again this week with two contrasting Sunday night shows, a Wednesday night Chequers gig and then a remarkable six band local event on Thursday night.
THURSDAY
The Rathole – Spiral Eye/The Yogots/Bash Out The Odd/ Vindaloo Breakfast/ Sherbert Trees/Shakespeare Monkeys
Spiral Eye/The Yogots/Bash Out The Odd/Vindaloo Breakfast/Sherbert Trees/Shakespeare Monkeys – The Rathole, Thursday
A hugely ambitious Thursday night project this one, but one which is certain to be a sell out success. Designed as a special bonanza-show the promoters believe is the strongest local line up (outside of the festival) witnessed in years and that would certainly take some arguing with. The real beauty of this show is the combination of the old established class acts Yogots/Bash Out The Odd and the Spirals) with three of the best up and coming bands to make for a line-up that should please the older scene-follower and the new young blood that has poured into Tamworth in recent months.
Not to much needs to be said about the three 'star acts' Spiral Eye and Bash Out The Odd were two of the best four bands at the Festival and they are bands that seem to get better and better all the time. The Yogots missed out on the Fest but made up for it with a killer show with the Senseless Things last week and the noise around them is quite deafening. Of the newer bands, Vindaloo Breakfast are the MUSICBOX hit of the year combining old-time power with new-time realism while the Sherbert Trees (in spite of a rather iffy Festival show) have all the charisma and style to be one of the foremost members of the new wave of Tamworth music. And the Shakespeare Monkeys? Promoter Gibbo takes up their story…'they played at their debut with confidence and self belief which generated great excitement. They are a creative band with lots of 'unusual ideas'. A good combination of qualities that, and one which could help propel the band upwards and onwards. Six bands in all then and each one of them having their own following which should ensure that this is one of the best attended Tamworth gigs of the year. It's a Thursday night, it's a most reasonable £2.00 and it is pretty strictly timed with the first band on at 8 and the final act (Spiral Eye) hitting the stage at 11.30. Enjoy yourself.
Tamworth Herald – 17/08/90
Musicbox – Letters Special
Yogots were good but not THAT good
We have received the following three letters about our recent review of the Yogots/Loaded/Moneygods/Senseless Things gig. As they all appear to take a similar tone – and all have arrived from out of Town – it seems like a bit of a conspiracy but as we are always prepared to print relatively constructive criticism we will leave you to make your own mind up on the views expressed…
Dear Sam
Wasn't Mike Turner's Yogots review in last week's Music Box just a little over the top? To say that people were 'staggered by such a captivating and enigmatic performance' and filled with 'awe' is taking things just a little too far surely?
Yes, the Yogots put on a fair show, but so did the Moneygods, who were dismissed out of hand in the review and yet their set was the topic of conversation and yes 'disbelief' by many seemingly impressed punters at the bar afterwards.
The crowd reaction to them and the Senseless Things was not a million miles away from that of the Yogots, but I don't recall any ridiculous adjectives describing their performance in the article.
Personally I enjoyed all four of the bands on the bill and surely even the most ardent Yogots fan would have to agree that the three other groups didn't deserve the criticism given to them by Mr. Turner, who I suggest climbs down from 'cloud cuckoo land' and starts telling things how they really are instead of attempting to brainwash people with his over-enthusiastic propoganda.
Yours 'awe-inspiringly',
M. Smith, Manor Road, Burntwood
Dear Sam Holliday
On Thursday July 26, I attended the 'Rathole', but after reading Mike Turner's review in last weeks 'Herald', I am beginning to wonder if we actually went to the same gig.
Never before have I witnessed such bias towards a band (The Yogots) in an article that blatantly dismissed the other three bands on the bill.
His beloved Yogots performed an average set of dated keyboard influenced songs that couldn't fail to please their partisan followers – turning up was enough to do that.
The Loaded received two lines and despite going down like a lead balloon surely deserved more of Mike's attention than that and The Senseless Things received criticism for a performance that the other 150 people at the Rathole lapped-up.
My biggest complaint though is about Mike's treatment of the Moneygods. Here was a band playing too a totally new audience (unlike The Yogots and The Senseless Things) whose efforts resulted in roars of approval from the crowd and a well-deserved encore. There was no mention of this is the article.
The bands lyrics and tunes were inventive and entertaining and the energy they put into their show on a sweltering night was remarkable. To say that 13 years ago they may have been a 'half decent band', is a totally insulting statement. – they were far less dated that the Senseless Things and look where they are now!
By all means Mike Turner, support your local scene, but please take off your blinkers.
Simon Vincent, Hammerwhich, Walsall
Dear Musicbox
I'm a keen fan of The Moneygods and was rather surprised when I saw the review of them in last weeks Musicbox.
Was Mr. Turner wearing ear plugs during the gig to state in his column that their songs possessed just one good line and that they were 13 years too late?
Is this the same band who received an encouraging response from the big Tamworth crowd.
Is this the same band who's 'dated' sound led to them getting regular airplay on local and now National radio and who were voted 'Best Live Band 1989' in the West Midlands by the Walsall Musicians Collective?
Is this the band who despite being 'just another brick in the wall' have played all over the country with many top bands, who make jingles for radio stations, who recorded a World Cup song for Radio WMs Tony Butler, on request and who recently signed a record deal and who's single has won 'single of the week' on Radio Trent's Indie Show two weeks before its release?
Mr. Turner was definitely in the minority with his views – take your earplugs out mate!
Su Evans,
Handsworth, Birmingham
Mike Turner Replies…
I can only review what I see. In my opinion The Yogots were by the far the most exciting group on stage that night and I stand unashamedly by what I wrote in my review. I must say that many other people I spoke to at the gig after The Yogots' set, were similarly well impressed by what they had just seen.
I came away from that gig genuinely feeling that something really was happening in Tamworth again, something I haven't honestly felt for a number of years. In fact I think that The Yogots probably account for much of my re-enthusiasm for the local scene.
I did say that The Senseless Things were good, 'but not that good'. I didn't think they were anything out of the ordinary, but they were OK. There are other people out there doing the same stuff and doing it better.
As for The Moneygods, well it's a bit of a shame that I've upset their family and friends so much that they felt compelled to write in. Maybe I caught the band when they were having a bad night. Perhaps if I'd have had 15 pints by the time they came on stage I might have enjoyed them more.
I was merely expressing (for what it's worth) a purely personal view. If they can't cope with someone not liking them at this level, how are they going to react if ever a 'serious' music critic didn't like them?
If The Moneygods were the best live band in the West Midlands in 1989 then I assume they were competing against brass bands. Give me back my ear plugs matey!
Mike Turner
Tamworth Herald – 24/08/90
Musicbox – Fine bash from six of the best
Rathole Review
Shakespeare's Monkey/Sherbert Trees/Bash Out The Odd/Vindaloo Breakfast/The Yogots/Spiral Eye – Thursday
Helluva night this. With a mighty six bands on offer it could easily have disintegrated into an over-long and under-satisfying parade of the undistinguishable but remarkably everything went delightfully smoothly. Six bands of kindred spirit (and surprisingly kindred sound) combined to provide a real barnstormer of a gig for a huge audience that was positively-spilling out of the door. The mini-festival nature of the gig was matched by the mini-festival size of the crowd and the major-festival attitude of all competing. It was well arranged, well staged and well pleasing and it's epic finale (Spiral Eye at around 12.15am) there was still a huge amount of people there lapping up every one of Barry Fox's blood-curdling screams. It all began some four hours earlier with Shakespeare's Monkey. This was my first viewing of the Hamleteers and I came out of it feeling they are a very bright prospect indeed. They boast a very strange collection of influences – and a host of contrasting and occasionally conflicting directions – but wrap them all up in a sound that is overtly entertaining and surprisingly professional. A number of songs caught the eye (or should that be the ear?) but one of them stood out like a tank in a greenhouse – a little gem of a tune called (I think!) 'You're So Bizzare'. A fine way to start the night. Second on the bill was the Sherbert Trees who completely blew away their rather disappointing Festival show. They are certainly one of the most creative, unusual and deliberately uncomfortable bands in the area, resembling something like the early days of Spiral Eye/Thirteenth Reunion or a more psychedelic version of the Damage Boys. With keyboards doing their own thing, Ian Curtis vocals haunting every melody and guitars going off at wonderful tandems, it is a sound that isn't to everyone's taste but is not actually designed to so be. It got a little bit self-indulgent towards the end to be honest but such imaginative ideas should be encouraged rather than doubted. Bash Out The Odd bravely took to the stage next. I say bravely because all but two or three of the members of the band were missing through various reasons and it took a lot of guile for those remaining to not let down their many supporters on the night. As it was, the sparse sound actually helped in a way to show the sheer depth and strength of the band's melodies and the sudden and unexpected appearance of the brass crew for the last number made for a rousing end to a generally uplifting 20 minutes or so. Vindaloo Breakfast hit the stage next and immediately – and angrily – stated their claim to be THE band of the night. There is a raw and uncompromising edge to the band's sound these days and I love the way they attack their instruments as if they want blood out of them. The effect of that is to produce a sound packed with spirit and not inconsiderable venom – a sound today's wishy washy pop world needs more than it knows. And so to The Yogots a band who clearly have local audiences eating out of their hands these days. They received their usual adoring reaction but in truth this wasn't the best Yogots show I have seen. The band looked to be a little less buoyant and 'good blokey' than usual and that onstage lack of 'fun' reflected in their sound. In spite of that there were occasional glimpses as to what makes them so precious – a wicked version of 'She's Gone' and an admirable 'Mr. Rainbow' for example – and if a band can be this good on an off-night one can only realise how GREAT they can be at other times. Spiral Eye concluded the night in real style. They play nowadays with the arrogance and commitment of a band who know they have got something special and want all the world to share in it. Musically they are getting more and more difficult to accurately define but I do suspect that they are moving a little more into the mainstream in their old age. Every song has it's own fresh and original direction and best of all was a track which I think goes by the grandiose title of '4 x 12 Groove Machine' which was simply gorgeous. It all climaxed with a quite stunning three-track encore which had people bouncing around with unashamed glee. It was a nice final sight to take back home with me and it is one that has stayed in my rather hung-over mind as I sit and bash this out the morning after. Few gigs get people dancing and fewer still get people dancing to all the groups on offer. This did exactly that and as such was a night to treasure.
Sam Holliday
Tamworth Herald – 31/08/90
Musicbox – Yogs and Eye hit London
THURSDAY night is a big night for both Spiral Eye and The Yogots as the duo hit London for a double-header.
The gig at the Moy Club in Islington is being watched by a couple of very major record companies and it is hoped it will also be watched by a lot of local gig-goers as well. A special coach has been organised to ferry local fans to the gig and for an all-in price of £6 you can watch a very impressive looking concert.
The Moy Club is famous for its 70s connections and the way it proved a central part of the punk scene means it is clearly a respected venue which will do The Yogots and the Eye no harm whatsoever.
Tamworth Herald – 14/09/90
Musicbox – Gig Reviews
The Yogots/Spiral Eye – Hope and Anchor, London
THE last time I saw Tamworth have such a stranglehold on a London venue was when Graham Smith's red and white army took over Wembley Stadium some 16 months ago. Although then it took a replay for Tamworth to win, The Yogots and Spiral Eye scored a resounding victory in just one foul swoop.
First up were The Yogots, who huddled onto a stage so small that the Rathole must have felt like the Hummingbird in comparison. Yet this proved to be both theirs and Spiral Eye's advantage. The 'intimacy' of such a venue gave both bands the opportunity to really play upfront to an audience and those in the room that could be described as impartial locals, were treated to two powerfully sweaty sets, by two bands very much on song.
By the time The Yogots were through, the place was smoking, after Spiral Eye had put their trance on everyone, the Hope and Anchor was in need of a fire brigade. Hit stuff? You better believe it, London was burning.
The scene outside the venue afterwards, was more reminiscent of Church Street, Tamworth on a Thursday night, than a North London high street – everyone standing around, dripping with sweat, enjoying the cosmopolitan mixture of merry banter and wonderful after-gig chips.
Tamworth or London, both acts have proved themselves capable of delivering the goods anywhere. From small seeds etc, etc. Tonight the hope was well and truly anchored. The boys did good!
Mike Turner
Tamworth Herald – 28/09/90
Musicbox – Bash Out star in six-band bash
GIG OF the week in the area is the six-band bash at the Rathole on Thursday highlighting groups featured on the forthcoming Reptile Records LP.
The album, which also features Spiral Eye and The Yogots, was put together by The Rathole and Ian Gibbons's Magic Rear Outfit.
Headlining the special preview night are the ever-improving Vindaloo Breakfast, whose brand of listenable hardcore noise is drawing increasing praise.
Apart from Bash Out The Odd, the rest of the bill is made up of non-Tamworth bands.
Peter Tuesday, Crystal Injection and The Big Trip, all hail from Lichfield, while guests, The Lost Forest are an up and coming Birmingham-based band.
Ian Gibbons, of Magic Ear said: "As the LP includes bands from all over the area, the idea was to play a number of gigs around the place with some of the out-of-town bands, introducing them to other audiences and other audiences to them.
"Vindaloo Breakfast are strong contenders to established bands like Spiral Eye and The Yogots, so they got the headline slot. Bash Out The Odd are better than ever now, and at long last they seem to be delivering what everyone expected of them. It looks like being a really good night, I think people will be pleasantly surprised by what they see."
The show runs from 7.30pm – 1.00am and admission is a mere £2.50.
This Sunday there is a two-band line-up at the Rathole featuring Beef and Born Blind. Times are 7.30pm-10.30pm and admission is £2.
Tamworth Herald – 05/10/90
Musicbox – Roll out the Barrel!
SPIRAL EYE and The YOGOTS headline a showcase gig on Thursday, October 25. at The Barrell Organ, Birmingham.
The gig, organised by Reptile Records, whom both bands are signed to, will also feature stable-mates THE MONEYGODS from Lichfield and Birmingham outfit THE GIFT FACTION.
The Moneygods have recently released their 'All Roads Lead To Sedgley' single which apparently sold so well initially that it only just missed out on entering the Indie charts.
Both The Yogots and Spiral Eye have singles scheduled for release by the label early next year. Said a spokesman: "We believe in the old-fashioned way of promoting an act, treading the boards and raising awareness of the bands before the singles are launched. Both The Spirals and The Yogots are due to do a lot of live work out of the area between now and Christmas."
Baz, from Spiral Eye is enjoying the attention Reptile are giving the band. He said "It's really good. There's this little man at Reptile Records whose sole job it to run up a gigantic phone bill for us and The Yogots. Gigs, press, publishers, you name it, and he phones it. That gives us time to just concentrate on being a band."
A 53-seat coach has been hired to transport people to and from the Barrel Organ gig. Cost is £3, which includes admission. Tickets must be bought at least seven days prior to the date and as a packed coach is anticipated it's first come first served. Tickets can be obtained from Spiral Eye or Yogots HQ.
Tamworth Herald – 12/10/90
Musicbox – See the Spirals squat to stardom!
THERE'S still a few seats left on the coach trip to see SPIRAL EYE, THE YOGOTS and THE MONEYGODS at Birmingham Barrel Organ on Thursday, October 25. Tickets, which are £3, include admission and return coach travel, and are available from Spiral Eye or The Yogots.
THE YOGOTS have released details of a few more up and coming dates. As well as the above-mentioned Barrel Organ bash, Yogot-ites can catch them at The Hare & Hounds, Kings Heath on October 15, then at Leicester Poly (supporting The Fireflies) on the 27th and at the Golden Cross, Aston on November 2,
SPIRAL EYE will this weekend play a gig at a London squat allegedly in a police 'no-go' area. One agent who had expressed an interest in seeing the band live was invited to attend but when told of the venue replied 'no way!'.
Tamworth Herald – 12/10/90
Musicbox – Gig Guide
Monday
The Yogots – The Hare & Hounds, Kings Heath, Birmingham.
Emma Gibbs Loves Badges – Norwich Arts Centre

Tamworth Herald – 09/11/90
Musicbox – Dance to the Tamworth Sound!
Tamworth's inevitable conquest of the musical world has taken another major step forward.
In recent weeks we have seen Wolfsbane play 20 sell-out concerts with Iron Maiden, Emma Gibbs earn national praise for their debut single, Spiral Eye grab a three-album deal and Atherstone's Catch 23 take an almighty step towards Gazza-size fame.
And now comes another boost. Last week's influential rock paper Sounds sent along respected hack Adrian Goldberg to watch Spiral Eye and The Yogots in action and returned with a report warning the world of the imminent Tamworth invasion. Mr. Goldberg said…
"Roll over Manchester, tell Seattle the news…Tamworth is back and tilting at pretenders to it's rock and roll crown. Already home of Wolfsbane, Saint Julian and Warlord Edwinn Starr, the Staffordshire groove garden has sprouted another healthy crop ripe for label plucking.'
Mr. Goldberg then went on to describe the Spiral Eye/Yogots and Moneygods show at the Barrel Organ last week and we are going to print some of his comment on these alongside other reviews of the same gig we have received from Lisa Roberts of the Lichfield Mercury and MUSICBOX correspondent 'J.C.F'. Here are a selection of their views on the three bands in question…
THE YOGOTS
Adrian Goldberg's View "A well-fried quintet of student dropout types. Dance-able and fanciable. These synth-swamped New Romantics have that rare enough combination of lovelorn innocence and instinctive pop nous to have the A&R men reaching for their cheque books".
Lisa Roberts' View "This band will be bigger than Cyril Smith's underpants. No, they weren't thick and creamy, they were nice 'n' natural and had the added tang to succeed in the wacky world of music. These guys proved they can hold their own."
J.C.F's View – "The Yogots are always good these days and the Birmingham audience is becoming used to their quality. One new fan compared them with early Duran Duran which may be good, may be bad."
THE MONEYGODS
Adrian Goldberg's View – "The Moneygods only play at coming from Tamworth but no matter they capture that crucial 'Tamworth Sound'. Hardcore lunacy renovating effortlessly the gone but not forgotten punk pathetique genre."
Lisa Roberts' View – "Definitely a live band these, they have to be seen to be believed'"
J.C.F.'s View – "They have their roots in '76 new wave explosion but unfortunately for them nobody has told them you don't have to be obnoxious anymore."
SPIRAL EYE
Adrian Goldberg's View – "Rampant funkaholics, schooled in the subtler arts of wah wah and mainlining on Led Zep, they hit the perfect 90s note of retro/revisionism."
Lisa Roberts' View – "I wasn't quite old enough to be caught up in the 70s music scene but the Spirals gave me a taste of what it might have been like – mellowing out round a candle with a group of scantily-clad psychedelics."
J.C.F.'s View – "Although the Spirals have their roots in the hippy drugs era of the Early 70s, they have a dance element that makes them as up to date as tomorrow."
Great praise I am sure you will agree and further proof that Tamworth is now in serious danger of having more credibility than it has had before. Wonderful.
Tamworth Herald – 14/12/90
Musicbox – What a week!
Tamworth's music lovers are set for a real Christmas treat this week with no less than FOUR major concerts on offer.
Everyone from firm favourites like The Yogots and Rhythm Damage to the all-new Foundation and the revamped Scream Dream will be in action this week in easily the busiest week since the Festival.
In a nutshell here is what is happening, where and when…
SUNDAY NIGHT
Tamworth Arts Centre
The Foundation/Empire Falls plus Special Guests.
The Rathole
Scream Dream plus Guests
TUESDAY NIGHT
The Jolly Sailor
The Yogots/Crystal Injection/The Sherbert Trees/Fly on the Wall
THURSDAY NIGHT
The Rathole
Rhythm Damage/Catch 23/Emma Gibbs Loves Badges/Vindaloo Breakfast/Big Noise/Guilty Party/Sindy's Sonic Garden
Here in a bit more detail is what you can expect to see on the various nights, so take your pick of the shows on offer and get your dancing boots on.
Tuesday – The Jolly Sailor

The Yogots/Crystal Injection/The Sherbert Trees/Fly On The Wall
A big night for the Yogites as this is the highly popular band's Christmas party! The Jolly Sailor is a suitably jolly venue to round off the very jolly year for The Yogots which has seen them support the New Fast Automatic Daffodils and the Senseless Things, cut a single and earn mass press acclaim. New songs are promised and a jolly night is assured. In support are the weird and wonderful Sherbert Trees, those likeable, those likeable noise-mongers from the Birdland and Mary Chain school called Crystal Injection and finally Fly On The Wall a fresh-faced pop band with plenty of quality. It kicks off at 7.30 and don't forget the venue – the Jolly Sailor.
Tamworth Herald – 28/12/90
Musicbox – Bags of smiles at festive shows
PRACTICALLY every local band worth is (or her) salt has been in action over the Festive period and here we try and catch up with two of the biggest shows on offer.
The first was the Jolly Sailor Yogots bash to which we dispatched Sean Atkins and the second was the Rathole Christmas Bonanza watched by both Mr. Atkins and Mr. Holliday. Here are our views on what we saw in no particular order…
Tamworth Herald – 28/12/90
Musicbox – Bags of smiles at festive shows
PRACTICALLY every local band worth is (or her) salt has been in action over the Festive period and here we try and catch up with two of the biggest shows on offer.
The Yogots – Jolly Sailor
Despite the patchy quality of the other three bands at the Sailor I knew The Yogots wouldn't disappoint. They put in a great performance which included all the faves such as 'Mr. Rainbow', 'Don't Shout Taxi', 'She's Gone', plus one or two new tracks. 1990 has been a good year for the Yogs, hopefully they're in for a prosperous New Year as well.
Sean Atkins
---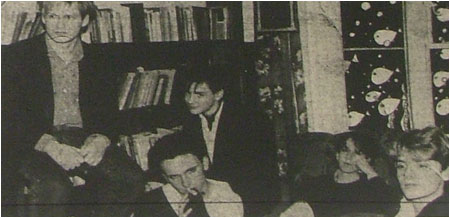 King Woderick and the Yogöts