Emma Gibbs Loves Badges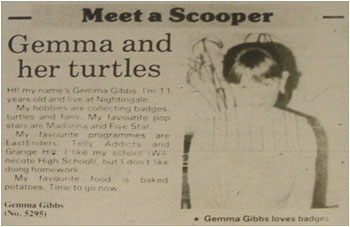 Caption: Gemma Gibbs loves badges
Photograph courtesy: Tamworth Herald
The Gallery
Musical Gentre/Type: Pop
Formed: 1987
Band Members:
Lee Revelle - Vocals
Spencer Ireland - Bass Guitar
Andrew Hyde - Guitar
Nichola Musgrove - Guitar
Paul Byrne - Drums
Gigs
31/05/87
Wonderstuff
Fetch Eddie The Babies Gone Blue
Emma Gibbs Loves Badges
The Rathole
02/09/88
Sonic Noise Happening
Emma Gibbs Loves Badges
Ruby Blaze
The Outside
Flowers in the Attic
The Eppies
Ferocious Apaches
Tamworth Arts Centre
22/12/88
Sonic Noise Happening
Emma Gibbs Loves Badges
Fetch Eddie
Psychedelicatessen
The Believers
Tamworth Arts Centre
12/02/89
Tamworth Rock Festival - Indoor Festival
CATCH 23
Emma Gibbs Loves Badges
Big Noise
Shock Culture
Tamworth Arts Centre
20/02/90
Emma Gibbs
New Puritans
Flowers in the Attic
Hare and Hounds
Birmingham
13/05/90
The Honey Smugglers
Emma Gibbs
Moneygods
Litany of Fear
The Rathole, Lincolns
29/07/90
Teenage Fan Club
Emma Gibbs Loves Badges
The Rathole
07/09/90
Glascote Heath Vibe in the Area
Emma Gibbs Loves Badges
Sindy's Sonic Garden
Perfect
Bagpuss
Tamworth Arts Centre
14/10/90
Two Lost Sons
Emma Gibbs Loves Badges
The Rathole
15/10/90
Emma Gibbs Loves Badges
Norwich Arts Centre
28/10/90
Phoenix Concerts
Emma Gibbs Loves Badges
Fly on the Wall
Crystal Injection
The Jim Durkins
E-Culture Cast Off
Tamworth Arts Centre
20/12/90
Rhythm Damage
Catch 23
Emma Gibbs Loves Badges
Vindaloo Breakfast
Big Noise
Guilty Party
Sindy's Sonic Garden
The Rathole
You need to upgrade your Flash Player.
Tamworth Herald – 16/01/87
Musicbox – SNIPS
Reaction to the MUSICBOX poll result was very encouraging with most bands pleased with how they have done, and some not to happy with the way I stitched up Genesis and Marillion! Local freebie fanzine 'Panic' has just released its own review of the local year naming Emma Gibbs as the best hope for '87. Duane as the 'coolest dude' and Julian Amos as the best guitarist.
Among its other awards, I was given worst haircut (this rare beasty hasn't seen scissors in five years!) 'Clutching At Straws' won the worst song; Neil Sheasby won the biggest ego; Rikk was voted Grandaddy of Rock and I was delighted to receive the 'Best Runner Around and Get things Organised For Other People Who Don't Appreciate It One Little Bit' award. I will even forgive the 'Worst Haircut' jibe for that chaps.
Tamworth Herald – 13/02/87
Musicbox – GOSSIPBOX
It was very pleasing to see so many people turn up for heat one of the Battle of the Bands – and also pleasing to see all three bands given a warm and enthusiastic response. Not so warm and enthusiastic response. Not so warm and enthusiastic, however, was the response to cleaning up afterwards and it was left to myself, the Byfields, Emma Gibbs Loves Badges and amazingly Murray 'Not So Metallic' Pickett to the dirty work.
Tamworth Herald – 20/02/87
Musicbox – Metal me ready for needle match
Battle of the Bands
In addition, on the night, there is a chance that the neo-legendary Emma Gibbs Loves Badges may well play a short acoustic-based set to add an extra dimension to an already exciting night.
Tamworth Herald – 13/03/87
Musicbox – MORE bouquets for Wolfsbane
THE 'BATTLE OF THE BANDS" obviously provoked a lot of comments – most of which were as ecstatic as my own. We even received a couple of letters about the whole concert, one of which expressed an alternative viewpoint on the proceedings.
Mark Hyndes said of the bits he saw…"Every might seemed to feature another load of the old HM musicians with only Wolfsbane being able to breathe life into the old. As for the others, well there were the Cheesy Helmets and Emma Gibbs although Emma's set was spoilt by a beer monster!"
Mark described the 'best' band as being Wolfsbane (does ANYONE dislike them?) the 'brightest' being Catch 23 (although he felt they fell between the Dream factory and Dance Stance stools) and the saddest, being Breaking Point. Mark concludes by saying 'at the moment I can't wait for the Great Express who I think will be the most exciting prospect from Tamworth this year' Interesting…Another letter came from someone else who was completely bowled over by Wolfsbane.
After criticising me for calling the band 'thrash metal' ( he felt they were closer to Kiss than Metallica) David Lee Roth's Jockstrap (that's what he called himself) praised Wolfsbane to the skies "Jeff came on grinning and went off grinning and who wouldn't. I really hope Wolfsbane keep the faith and push on because one day they will succeed and they dominate the world, nay the universe," he says.
Such unbridled enthusiasm, I can handle, but Mr. Jockstrap blew it all with his P.S.; "Your jokes stink." How dare he!
MUSICBOX is always happy to receive letters on anything to do with the music scene locally or nationally, so keep them coming!
Tamworth Herald – 08/05/87
Musicbox – Emma Gibbs Loves Copey!
CUDDLY Lee Revelle of Emma Gibbs Love Badges notoriety, has recently been 'doing' the Julian Cope tour. Here is his on-the-road report of the proceedings.
Tamworth Herald – 22/05/87
Musicbox – Vile, but pretty interesting
THE freebie 'Panic' fanzine is back in business under the new name of 'Get Out Of My Way You ******!' The four-sided freesheet, put together by the likes of Rob Cross and Scarlet Fever includes…
Once again they named Emma Gibbs Loves Badges as the area's best band, followed by Love On Board, World Intelligence Network, The Great Express and The Soil Brothers. Elsewhere the named Duane's navel and Mike Fleming's baldspot as the best places to play in Tamworth and went on to batter local Goths, "Lost Belongings" and a local MP.
Tamworth Herald – 29/05/87
Musicbox – More Wonderstuff!
ANOTHER topflight band descend on the Rathole on Sunday night to be joined by two intriguing and unusual Tamworth support acts.
Heading the bill are Birmingham popsters Wonderstuff who will team up with the eagerly-anticipated Fetch Eddies the Baby's Gone Blue and the enigmatic Emma Gibbs Loves Badges.
Wonderstuff are another of the new wave of alternative strong pop bands who have taken over the Midlands lately. They have already trod the famous Rathole boards before when they outplayed fellow stablemates The Surf Drums. They are considered to be one of the hottest bands around and a trip to the Arts Centre on Sunday should reveal why.
Another bands who have been catching the headlines are Fetch Eddie who make their Tamworth debut on Sunday. The band are looking forward to the show almost as much as the audience and their mixture of bright, original Squeeze-orientated pop, is sure to make them an immediate hit in the town. So far they have picked up acclaim and great reviews in Birmingham and beyond, but now Aaron and the boys are coming 'home' – and are determined to do well. It should be a memorable performance.
Completing the line-up are the unique Emma Gibbs Loves Badges – so unique that even their name comes from a 'Scooper heading!' Emma Gibbs play modern acoustic pop which owes much to the heritage of Aztec Camera and more modern bands like the Bodines, their sounds is full of curiously, unfolding melodies and very strong lyrics, and if they create the sort of impact they did at their …show, ANYTHING can and probably will happen.
So three great bands which add up to one great evening. And the three bands will be relatively new to Tamworth ears so if you want to get one step ahead get to the Arts Centre on Sunday.
Tamworth Herald – 05/06/87
Musicbox – SNIPS
THIRTEENTH Reunion drummer Duane can breathe a sigh of relief at last – there is a worse drummer in the universe. His name is Mr. John Reeman who took the sticks for Emma Gibbs' extraordinary show on Sunday and did quite dreadfully. John cheerfully admits he isn't trained as a drummer but he didn't really need to say that.
Tamworth Herald – 05/06/87
Musicbox – Emma Gibbs Loves Badges – The Rathole
LIKE it or not – and most people didn't – Emma Gibbs have an inherent sense of style. Their belligerent, arrogant approach to this concert was based on a thinly-disguised contempt for most of the music that emanates from the stage they made their own.
They produced a set that left most people quite bemused.
They reminded me very much of Thirteenth Reunion, challenging the safe, comfortable music and musicians around them, and doing so in a way that begged respect if not adulation. Lee Revelle's Morrissey cum Morrison impression was horribly riveting (pity about the nipples though) and the rest of the band went through the Jesus and Mary Chain motions without any compromises to normality whatsoever.
Emma Gibbs are in a different ball park to every other band around and they have every right to feel proud of that fact. A musical holocaust.
Tamworth Herald – 05/06/87
Musicbox – Tamworth All Stars – Kettlebrook
A VERY unusual Friday night concert this, featuring various members of Catch 23, Wolfsbane, Great Express, The Calling, Thirteenth Reunion, XPD, Sitting Pretty, Emma Gibbs, The Sexy pistols, The Calling et al. Catch 23 were best of all playing throughout the night, while Wolfsbane played a short but sweet set.
Tamworth Herald – 12/06/87
Musicbox – Rathole dates
HERE'S some future Rathole dates to put down in your diary. We will give more details about each show in future MUSICBOX'S but in the meantime skip these down in your little black books…
June 28: Tamworth Showcase featuring WIN/Fetch Eddie and Emma Gibbs Loves Badges.
Tamworth Herald – 26/06/87
Musicbox – Tasty mix of new talent FOUR of the area's most exciting new bands team up at the Rathole on Sunday night for a unique Tamworth 'Showcase'.
The very different but very entertaining acts on view are – Fetch Eddie The Baby's Gone Blue, World Intelligence Network, Emma Gibbs loves Badges and The Pakistani Brothers. All four of the groups offer local audiences original and innovative sounds, and if you want proof of the continuing success of the local scene, Sunday night should not be missed.
Fetch Eddie for example are certainly the band of the moment. They are currently earning big concerts and big praise at every turn and their sophisticated blend of modern and not-so-modern pop has already won many converts.
Basically it is energetic, tuneful pop music which spans everything from rip-roaring dance tracks to well-balanced reggae. The overall mixture is very palatable indeed, and if they make the same sort of impact they did at their recent 'Rathole' debut they could well steal the show. A very good band indeed.
Another of my favourite new acts are World Intelligence Network - a band who bristle with confidence and commitment. The outfit play alternative pop music which leans towards the likes of New Order, Chameleons and Psychedelic Furs and is based on a manic sound and Mark Brindley's manic vocals.
They have several priceless tracks in their repertoire – particularly 'Memories', 'Disguises' and 'Steamroller' – and they deserve to be mega-mega.
Also on view will be the extraordinary Emma Gibbs Loves Badges. As I get eaten alive every time I try to describe or review the band. I won't even try this time. Let's just say, those people who know Emma Gibbs know that they have a certain in-bred indignant style, and those who don't know them are in for a shock. As I don't want Lee Revelle and Rob Cross to chew my ears off. I will say no more. Emma Gibbs will speak for themselves.
Completing the line-up are the Pakistani Brothers – making their first-ever Tamworth appearance. The group who have been spawned out of the members of The Sway, feature our very own Rikk Quay – the only man to have been in Musicbox more than The Stranglers!
The Brothers made their Dudley debut a fortnight ago and earned the high praise of all the people who travelled over to hear their unique and uplifting new sound. It will be as new to my ears as yours, bit I have heard so many praise-ridden descriptions that I, for one, predict, The Pakistani Brothers will not be the sort of band you can ignore.
So, Fetch Eddie, WIN, Emma Gibbs and The Pakistani Brothers all on the same stage on the same night. It should be a great night indeed, so forget about 'Anzacs' and get your rocking shoes down to the Rathole on Sunday night for a tasty showcase of Tamworth talent.
Tamworth Herald – 03/07/87
Musicbox – The good times roll in a concert full of contrasts
Tamworth Showcase – The Rathole
SUNDAY NIGHT at the Rathole confirmed what many of us had long suspected, Tamworth's new breed of bands are providing a fresh and exciting sound and perspective. This was undoubtedly one of the most absorbing concerts I have seen in eons. So let the good (and bad) times roll.
Emma Gibbs Loves Badges
Or out it another way, Emma Gibbs Loves Emma Gibbs. For here is a band not without innovation or intelligence who decide to mask both these qualities behind a suffocating student ego which is pitiful to behold. In their 'unique' attempt to be totally different, confrontational and adverse. Emma Gibbs merely comes over as ignorant, stupid and indefensibly churlish. They shock no-one and fool only themselves and there is simply nothing more mutually embarrassing than watching over-the-top students trying to impose their over-developed egos on the world. They can give Tamworth what Tamworth can give them – rien. Bad karma maan.
Tamworth Herald – 10/07/87
Musicbox - SNIPS
My thanks to B. Plant from Elford who sent in a very well written and thoughtful case for Emma Gibbs Loves Badges as I condemned them, to an egocentric death last week. The Elford music fan said: "There is a distinct lack or originality in Tamworth's bands and now when a band arrives with imagination and their own individual style, everyone jumps down their throats! Why? Are they not sick to death of all those boring rock bands that Tamworth seems to be so good at producing? Without necessarily agreeing with the sentiments, I respect the thought behind them and I am always grateful for readers' comments about any of our local acts.
Tamworth Herald – 24/07/87
Musicbox – Here it is: the best festival line-up ever
HERE IT IS the final line-up for this year's eagerly awaited Tamworth Rock Festival again the Festival throws up an amazing range of old and new acts covering just about every musical genre possible. Many of the names will be familiar to most local rock fans but some will be new to everyone.
The tasty mixture offers the possibility of one of the finest festivals yet, so here it is the full blow-by-blow agenda of what your eyes and ears will witness over the August Bank Holiday weekend.
Friday August 28: Tamworth Arts Centre, 8pm, Admission 50p. Emma Gibbs Loves Badges, The Sexy Pistols, Pakistani Brothers, Stranger Than Life.
Saturday August 29 (Tamworth Arts Centre, 8pm, Admission: 50p) The Final Line, The Jim Crows Blues Company, New Age Gypsies, The Ferocious Apaches.
Sunday August 30: (Castle Grounds 12 midday – 7pm, Admission: Free) (In this order) Kubla Khan, The Searching, A5, World Intelligence Network, Catch 23, Rape In yellow, Zealout, Platinum hi, The Great Express.
Monday August 31: (Castle Grounds, 12 midday – 7pm, Admission: Free) The Pink Tomatoes, Future Field, Shellshock, Jabberwockie, Wolfsbane, Fetch Eddie The Baby's Gone Blue, Depth Charge, Ruffian On The Stairs, Breaking Point.
That's a grand tally of 27 bands covering everything from punk to pop, synthesisers to sickness and power to purity. The whole festival bandwagon is now well on the road so get ready for a T-shirt, poster and sticker blitz as the town's musicians prepare for their biggest weekend of the year. The Tamworth Rock Festival represents everything that is positive and strong about the local music scene and if the enthusiasm so far generated by the event is anything to go by, get set for a rock and roll extravaganza.
Tamworth Herald – 07/08/87
Musicbox SNIPS
Still with the Festival. Emma Gibbs Loves Badges have pointed out that they will now be known under a new name – Anne Magrock Experience. Lee and the boys are also due to enter the world of the demo tape shortly, and have attracted the interest of at least one big name.
Tamworth Herald – 14/08/87
Musicbox – Rathole explodes in real style.
THE RATHOLE proudly gives a platform to one of the most exciting new bands on the Indie Scene – on Sunday night – Blow Up.
Joining them on a fairly impressive bill are The Rosehips, Emma Gibbs loves Badges and The Ferocious Apaches. Rosehips are described by no less a mortal than Rob Cross as 'fairly standard indie music' but it is fairly standard indie music that has attracted considerable attention.
Also having attracted a lot of attention – most of it unfortunate – are the dual Tamworth Angels – Emma Gibbs loves badges and The Ferocious Apaches. To be honest I am not sure if both bands or a single mixture of the two will be playing as those boys talk so quickly all the time. Whatever the case, get ready for some MaryChainBunneymenIndieRock madness.
Tamworth Herald – 21/08/87
Musicbox – Festival Fever
THE Tamworth Rock Festival is now just seven days away and the final preparations for the extravaganza are almost complete.
Excitement for this year's festival has reached a new peak and with coverage in magazines as varied as Brum Beat and Sounds, it seems more people than ever will know what Tamworth has to offer for four fun-packed days.
Musically, the whole event seems to be more varied than ever. Bands who seem to play everything from mid-Sixties to post-Eighties music will be involved, with most of them regarding the festival as their gig of the year.
One of the most inspiring things about the 1987 Festival is the massive amount of new bands who have been signed up to play. Groups such as The Conspiracy, Future Field, Final Line, New Age Gypsies, Zealout and Kubla Khan have played a handful of concerts between them and they should prove an interesting foil to the more experienced outfits such as Breaking Point, Wolfsbane and Catch 23.
The Festival is divided into two sections once again – two hectic nights at the Arts Centre and then two long languid days in the Castle Grounds sun.
At the Arts Centre on Friday August 28, Stranger Than life top off the bill which also features Emma Gibbs, The Pakistani Brothers and a band who trade under the name of The Sexy Pistols and of whom nothing is known. 24 hours later at the same venue, Atherstone will once again invade Tamworth bringing them the New Age Gypsies and The Final Line to team up with The Jim Crows Blues Co. The Ferocious Apaches and the eagerly awaited Conspiracy.
With the two Arts Centre nights completed, the rock and roll revolution will carry on at the Castle Grounds. Festival organisers are currently deeply in prayer that the sun will decide to bless the Castle Grounds with its presence again, and if so around 1,000 people are expected to lap up the varied delights on offer.
The outdoor section of the festival starts at 12/30 on Sunday with Kubla Khan and is then followed by (in this order at 40 minute intervals) The Searching, A5, World Intelligence Network, Catch 23, Rape in Yellow, Zealout, Platinum Hi and The Great Express. On Monday the festival concludes with nine more stylish, varied bands that should attract another bumper audience. The pink Tomatoes kick it all off swiftly followed by Future Field, Shellshock, Jabberwocki, Wolfsbane, fetch Eddie, Depth Charge, Ruffian on the Stars and Breaking Point.
That's a grand total of 27 bands – 20 of whom have never played the festival before showing the continued strength and vitality of the area's lively music scene. Cancel all other minor distractions (Reading Festival, wedding, funerals etc.) and get ready for fun, fun, fun.
*Will all musicians attend a final 'briefing meeting' on Sunday night at the Tavern in the Town. It starts at 7.45 and everyone is urged to attend.
Tamworth Herald – 06/11/87
Musicbox – Just good friends (LETTER)
IT IS WITH the utmost sadness and greatest regrets that I must inform you of the sudden demise of the amazing Emma Gibbs Loves Badges.
The band intended to use the inadequate 'musical differences' to describe their reasons for the collapse but on further consideration decided that it would be in their interests to reveal the truth.
Unfortunately, this is that after many years of friendship, certain member(s) have developed a crazed loathing for the others to the extent that violent verbal and physical attacks were becoming a frequent occurrence.
The news of this…ecstacy among a number of Tamworth…personages whose hostility merely displays their inability to appreciate Emma Gibbs gargantuan talent and innovative style. Though at least this reaction shows Tamworth is not totally apathetic, if nothing else.
Nevertheless, without intending to distress those sceptics unnecessarily, the band members do intent to continue in their illustrious musical careers in the face of all adversity. We are sure that this factor should placate those, famous and infamous alike, who had realised the immense potential of this remarkable group.
EMMA GIBBS LOVES BADGES
Tamworth Herald - 28/02/88
Musicbox – Rocked to the Rafters
Gig Reviews
More news and reviews from around the area produced a host of different Musicbox scribes. Take it away critics…
Emma Gibbs – Last week's Battle of the bands
The guitarist's dad wouldn't let him come out to play but nevertheless the band played the best set of the night. Local music needs something to shake it up and if Emma Gibbs stay together maybe they'll do just that.
EDWARD IAN ARMCHAIR
Tamworth Herald - 02/09/88
Musicbox – Six band show for new sensation seekers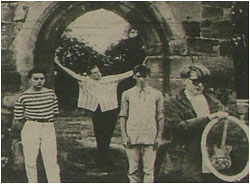 TAMWORTH Arts Centre tonight (Friday) stages a unique six-band show aimed at anyone who rejects the established town music scene and craves for something different.
Actually LIKE the local scene, it would be unfair of me to attempt to describe or dilute what the concert IS about so I will leave it up to Rob Cross and Mark Hynds to give you the details.
The floor is yours boys to SPOUT!
Hello Sam,
After this year's Festival (undoubtedly the worst ever) it seems the Town's music scene is slowly grinding to a halt with the same old people under different labels but none the less desperate for new ideas, decent tunes and above all enthusiasm.
In an attempt to remedy this we are organising a 'sonic noise happening'. On September 2 at Tamworth Arts Centre, bringing together six groups who all share a similar attitude to music endorsing youth, enthusiasm and arrogance, and other important punk ideals which seem to have been forgotten in a fashionable haze of studded leather and spiky hair.
Six bands are involved including four making their first live appearance. The bands are:
Ruby Blaze: Young, enthusiastic rock noise, with a telling edge.
The Outside: Hard, satanic, fumbling guitar blast.
Flowers in the Attic: Hurtling guitar meets Velvets trash melodies.
The Eppies: Howling mad avant garde dirge trash scuze.
Emma Gibbs Loves Badges: True pop with arrogant appeal, something to make you think you saw God.
Ferocious Apaches: Sonic metals sub-catatonic soundheads.
The whole things starts at seven and costs just 50p, because there are six bands playing be early – first band on stage about 7.30. Also free magazine explaining the ideology behind the night and future hopes.
Could you please give this as much space as possible as it is the only new thing to happen in Tamworth for ages.
It's a direct response to the apathy in the local music scene and all those people content to wait until the next festival and their fifteen minutes of 'fame' in the Castle Grounds.
Participate, organise, get involved or get out of the way.
Sonic love.
Mark and Rob
Tamworth Herald - 09/09/88
Musicbox – "I-I want to be, Anarchy!"
A sonic noise happening – Tamworth Arts Centre
FIFTY-pence to get in, a large crowd of like-minded people (me included), a seedy looking Arts Centre and a tiny vocal P.A. This is what we want. The first band, The Outside, were playing their first gig and cam from Yardley, Coventry and wait for it Sutton Coldfield, they town where you're an anarchist if you've only got a six-bedroomed house. They were quite exciting.
Second band on stage were The Yogots, in my opinion the highlight of the evening. Another debut band, brought in at the last minute, their sound was different and new and single like 'Wildlife', 'Mind Disease' and 'Chapel Street' stood out from everything else. I don't really think The Yogots fitted in perfectly with this 'happening'. They played too well.
I couldn't find out the name of the third band, but a suitable name would be 'Black ****'…while the fourth band, I can't remember their name which shows how forgettable they were.
And now, what should have been for me, the highlight, Emma Gibbs loves Badges. This was a real disappointment. Besides only doing two songs, this was 'Emma Gibbs Go Folk'. I expected Lee Revelle to stick a finger in his ear, put on a pair of moccasins and start brewing apot of dandelion tea. He denied afterwards , but I can exclusively reveal, that Lee Revelle sings in an American accent, I was appalled.
And finally, Ferocious Apaches. The band were absolutely brilliant. For me they can't do a thing wrong, their music is so full of youth, enthusiasm and arrogance and other important punk ideals, which seem to have been forgotten in a fashionable haze of studded leather and spiky hair. The anarchic aura that shines from them clearly proves that these are people who, even though they were only eight or nine years old at the time, were there in 1977.
As a postscript to the fine performance of the Ferocious Apaches, will Rob Cross have to get a new guitar and white polo neck jumper out of his Mum's catalogue? (He actually changed into his stage gear before playing – anarchic or what!)
And as for Gavin Skinner, as nobody know who he is anyway, what's the point of wearing a wig?
In conclusion, I am sure the members of the festival bands would be interested in knowing what their critics can do themselves. I went to this 'happening' with a totally open, unbiased mind as, although I am part of a festival band, I do regard the true ideals of punk as being paramount in one's life. It encouraged me to see such a large audience of young enthusiastic people at the Arts Centre, but the bigoted, patronisingly aloof and arrogant attitude of certain people is frankly, embarrassing. It is true that the Tamworth music scene is not the most innovative, enlightening or radical scene there is, but enthusiasm cannot be labelled apathy, surely blanket criticism is more apathetic.
EDWARD IAN ARMCHAIR
Tamworth Herald - 16/09/88
Musicbox – Review Special
Emma Gibbs Loves Badges – Sonic Noise Happening
More Roddy Frame than Ian McCulloch. Lee Revelle wooed the audience with his own luscious brand of pop. The band have developed considerably since their last appearance and should no longer be labelled petulant schoolboys. Undoubtedly the best performance of the evening. They are better than sex.
LIZZIE FISH
Tamworth Herald - 23/09/88
Musicbox – SNIPS
A few demos are beginning to stockpile in my bedroom again and I hope to review them shortly. Among them is the one you knew I would love (DHSS) and the one you probably thought I would hate (Emma Gibbs) which turns out to be quite fab.
Tamworth Herald - 14/10/88
Musicbox – Demo Selection
Emma Gibbs – Circles
Sensitive, almost shy offering which is highly personal and highly impressive. Taken away from the arrogant stage posturings it shows Lee Revelle at his warmest and most musically intelligent and is a perfect if somewhat unexpected accompaniment to the act of verbal love-making. 'You'll Enjoy It When you Get There' is cute and classy but 'In Circles' is even better and is dramatically effective in the three forms it is here presented. A major surprise of major standing.
Tamworth Herald - 04/11/88
Musicbox – SNIPS
The cute-kings Emma Gibbs are on the lookout for a new guitarist – and a punk cellist. If this sounds as interesting as it oughta contact Spencer.
Tamworth Herald - 02/12/88
Musicbox - SNIPS
Fetch Eddie have been confirmed to play the Sonic Noise event on Thursday December 22 at the Arts Centre. They will join Emma Gibbs plus two other as yet unnamed bands. The following night (Friday Dec 23), A5 will team up with the Space Seeds and The First Conspiracy.
Tamworth Herald - 09/12/88
Musicbox – SNIPS
The line-up for the 'Placid House' show at the Arts Centre on Thursday December 22 continues to grow. Emma Gibbs and Fetch Eddie will team up with Indie pop faves Psychedelicatessen as well as the new band featuring Neil Jones (and I think Samantha Law) – The Believers. A fifth band will be added and to give it a real Christmas feel, a local music personality will act as Santa.
Tamworth Herald - 16/12/88
Musicbox – Placid house anyone?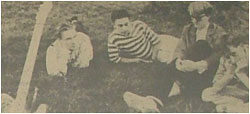 Tamworth Arts Centre comes alive again on Thursday night when five local bands indulge in some 'Placid House' noises…
Established local faves Fetch Eddie, Emma Gibbs and the Ferocious Apaches will team up with new Indie boys Psychedelicatessen and debut-makers The Believers.
The gig which trades under the name of 'The Placid House' show has been put together by loveable Lee Revelle of Emma Gibbs who thinks that the show will have something for everyone.
For pure pop fans it will be your first chance in quite some time to catch Fetch Eddie, a band who have been gaining ever increasing radio and newspaper coverage and who are said to be far better these days now they have former Musical Youth drummer Brendon behind the skins. The band are keenly looking forward to this Christmas show and they are sure to go down a storm with their large army of local supporters from both Tamworth and Atherstone.
Emma Gibbs should also appeal to those pop-seekers. Their new atmosphere, though not quite one of wine and roses, is a lot more commercially orientated and their last demo was a cracker which ranked as one of the tapes of the year. They have discovered an all new pop senseability and when added to that essential Emma Gibbishness it will make them an interesting Christams spectacle. The Ferocious Apaches have also been added to the bill at the last moment and they (as you know) can be full of 'fun'.
Joining these three on the bill are The Believers, a new band formed out of the embers of The Macoys and making their debut show. Sadly, rumours that they feature that almost legendary female singer Samantha Law have been denied but come Friday morning we may be a lot more knowledgeable about what this COMBO does have to offer.
Completing the Placid House collections are The Psychedelicatessen who made such an exciting appearance at the Arts Centre a few weeks ago. Their indie based sound is fast, loud and brash and leads to a host of differing comparisons – all I might add with pretty cool bands. They promise to be the hardest band of a pop-based line-up and their added aggression should give the show an extra ingredient.
With five bands of quality and other Christmas joys promised it should be a fun night out.
Don't forget this show is on Thursday night (I know it's a long tome until then but it will be worth the wait honest!) so destroy Thursday blues and enjoy a placid house Christmas cracker.
Tamworth Herald – 20/01/89
Musicbox – A Fab Feb ahead!
TAMWORTH's rock fans are in for a real treat throughout February when the Arts Centre hosts a sparkling indoor festival.
Three top quality concerts will be on offer featuring the best of the area's older acts and some brand new local talent.
And to top off the whole indoor extravaganza it is hoped that Wolfsbane will kick off their major UK national tour by concluding the festival on Sunday March 5.
Plans for the indoor festival were sorted out on Sunday night when Tamworth's main outdoor festival for 1989 was launched. Once again a huge crop of bands registered interest in the 89 outdoor festival and at least 14 of these will be involved in the indoor festival in February/March.
At the moment the line-ups are strictly provisional but here they are as they stand at time of going to press. Please note the line-ups could change dramatically and you will have to keep reading this column to find out exactly who is playing and when. Assuming everything does go according to plan here are the line-ups for Tamworth's 1989 Indoor Rock Festival.
Sunday February12
CATCH 23 will headline with the support of one 'oldie' Emma Gibbs Loves Badges and two 'newies' Big Noise and Shock Culture.
Sunday February 19
SCREAM DREAM will headline with Mike Fleming's act Nightshade and two relatively new acts – The New Puritans and Double Vision.
Sunday February 26
DHSS will top-off a line-up featuring The Space Seeds, Never Say Die and King Woderick.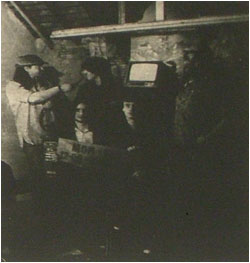 Sunday March 5
WOLFSBANE (contract permitting) will kick off their UK/USA tour by headlining alongside Spiral Eye and Kraze. If the Wolfies can't make it Spiral Eye and Kraze with team up with A.N. Other band.
As you can see from the above, many new bands have already emerged for this year's festival and in addition to those listed look out for several other new groups who have set their sites on the Castle Grounds for July.
In the meantime, pencil the above dates in your diary now. With the first three shows all the money raised will go towards the outdoor festival so they are vital fundraisers as well as tremendous concerts.
All the line-ups will be finalised in the next few days/weeks so keep your eyes peeled on this column. This indoor festival will prove a very exciting sampler for what you can expect this summer so get set for a Fab Feb and hopefully a marvellous start to March.
Tamworth Herald – 03/02/89
Musicbox – Festival set for powerful launch
Tamworth Indoor Rock Festival 1989
THE Tamworth Indoor Rock Festival begins a month long stint at the Arts Centre on Sunday with a tempting looking concert combining the old and the new of the local music scene.
Over the next four Sundays, 15 bands will play under the Indoor Festival banner concluding on Sunday March 5 with the eagerly awaited return of the mighty Wolfsbane.
Before then however there are bags of goodies to look forward to. Scream Dream, DHSS, Bash Out The Odd (ex-Space Seeds) Never Say Die, Spiral Eye, Kraze and several brand new bands will combine their talents for the festival and on Sunday the whole rambling charabang gets off to a powerful start.
The four acts who will hit the Arts Centre stage this week are the award-winning Catch 23, the much-admired Emma Gibbs Loves Badges and two brand new groups – The Big Noise and Shock Culture.
For Catch 23, the show will be a triumphant homecoming. The band have not headlined the Arts Centre for many moons and they are keen to show their natural audience just what has made them one of the most talked about young bands in the country. For the past two years they have been chosen as the best school/college age rock band in the whole of the Midlands and this year they are hoping to extend that to the whole country by winning the final of the TSN Rockschool contest. They have powerful allies to that end – dj Mike Read is an acknowledged example – and if you want to see why, then just stand back and listen on Sunday night. Their all new set will include the three songs that won them the TSB regional heat, including MUSICBOX song of year 'Hangin' On' plus many, many more that may be unfamiliar to those who haven't caught the band in a long time. Expect to be impressed.
The other established band on the line-up are Emma Gibbs Loves Badges, who specifically requested to play alongside Catch 23. Lee Revelle's band have undergone somewhat of a transformation since their early days and the increased profile and popularity of their performance indicates that it is a change that has been welcomed by the masses. I have become an admirer but being as I was slagged of for disliking them in the start and then slagged off for LIKING them in their last gig-fanzine I will offer no opinion at all because it would obviously be invalid. Suffice to say that they are very watchable these days. Try not to miss them.
Teaming up with these two old bands (seems daft calling Catch 23 old doesn't it!) are two brand new acts – The Big Noise and Shock Culture. The latter, Shock Culture are a complete mystery to me unfortunately, and all I can say is that they are ideal festival material. By that I mean something which you can watch without any preconceptions allowing YOU to pigeon-hole them (if you must) before I do (if I must). There, that was a good way of hiding my ignorance wasn't it.
Interesting
Completing the show is The Big Noise. This outfit made up of Ben Machin, Carl Harris and Ana Situnyake say they are influenced by the likes of That Petrol Emotion, Teardrop Explodes and Captain Beefheart.
"The band are crispy in a crunchy sort of way." Insists their manifesto. "You'll have to listen to see what you think."
Actually they sound pretty interesting and they are almost certain to get a good review because Ben Machin's sister Helen is a Herald scribe who will no-doubtedly beat me up if I dare to dislike them."
That's the line-up then, pop kings Catch 23, the unique Emma Gibbs, the mysterious Shock Culture and the alt-popsters The Big Noise. It is a very entertaining looking line-up and at just £1 per person entry it represents the best value of the year.
The proceeds from the show (starts 8pm) will go towards this years Tamworth (outdoor) Rock Festival so that's another good reason not to miss it. We're looking for a capacity crowd on the night, you won't let us down will you?
Tamworth Herald – 17/02/89
Musicbox – The first (fab) instalment
Gig Review
The Tamworth Indoor Rock Festival got off to a cracking start on Sunday night. A huge 200+ crowd, a marvellous sound (best ever methinks from Den and Gaz Byfield) and four cracking sets. They went something like this…
Emma Gibbs Loves Badges
Easily the best set yet from Tamworth's most transformed outfit. The band have really discovered a pop sensibility and purist direction and the result is a highly entertaining, crisp and lively sound. All the musicians played with style (special word for the excellent Jim on drums) but they eyes were still drawn like a magnet to lead singer Mr Lee Revelle. He is not Emma Gibbs on his own but his tremendous charisma and articulate, melodic vocal make him one of the most watchable and original lead singers in the whole area. His lyrics impressed me enormously, his delivery even more so and I was more satisfied after this set than I have been from any previous Emma Gibbs shows. Most pleasing.
Review – Sam Holliday
Tamworth Herald – 28/04/89
Musicbox – Never Walk Alone!
TAMWORTH Arts Centre looks set to be packed-to-bursting on Sunday when several of the area's greatest bands combine their talents for a special Hillsborough benefit.
The gig has been put through by Emma Gibbs' man Lee Revelle and his contribution cannot be under-stated. He also deserves praise for writing the report below. He actually asked for anonymity, but I felt the report was so good that I would deny his request.
Catch 23, Emma Gibbs Loves Badges, DHSS, Scream Dream, World Intelligence Network and Shock Culture are among the bands participating in a benefit for the Hillsborough Relief Fund at The Arts Centre this Sunday.
In a magnificent gesture, Dave Fortune, the Arts Centre supreme has give free use of the hall for the evening ensuring all of the £1.50 entrance fee goes directly to the Fund.
Likely headliners Catch 23, oozing megastar confidence, have promised a mixture of old classics, interspersed with the odd cover version. Do not expect to leave The Arts Centre on Sunday without having heard the Catch lads blitz The Beatles and The Bunneymen.
Emma Gibbs Loves Badges will be parading an expanded line up for the first time, willing to impress all with a combination of fragile pop songs and massive stage presence. Guitarist Rob Kinson hinted that the bands recent songwriting flurry will be in evidence along with a couple of golden oldies.
One of the first groups to be involved were demonic metallists Scream Dream, who offer a raucous variation to the pop-drenched songs that make up the rest of the evening. Stephen king and his hairy bunch have undertaken to give a no holds barred performance which should delight all those with even slightly greasy tendencies.
Most unusual attraction of the evening will be an acoustic (yes!) stint by certain members of DHSS. Edward ian Armchair was a co-instigator of the event and welcomes the chance to (finally) let his intelligent songwords be heard, feeling that they are sometimes lost in the synth-based racket that is standard DHSS.
Shock Culture made their Tamworth debut a couple of months ago and are steadily improving with age. Expect a refreshing set from the Smiths-influenced pop kids.
Latest addition are W.I.N. performing for the second time in as many months. For anyone too young to remember them, if your pleasures include Cope, The Chameleons and songs about steamrollers, W.I.N. are good for you.
Although it was initially hoped for a full Fetch Eddie set, pod has 'nipped off on his hols'. However, the bands cherubic guitarist Aaron James has pledged his support to the cause and is currently using his connections to form some sort of supergroup. What this entails is anyone's guess but miss it at your peril!
All in all this show has event written all over it. There is a high possibility of more bands being added to the vastly impressive line up, but that this is already (excepting the festival( Tamworth's gig of the year is quite beyond dispute. The running order is to be fought over on the night. So ensure you have a foothold in the door by 7.30, you might miss something historic.
Reporter by Lover-Lee Revelle
Tamworth Herald – 12/05/89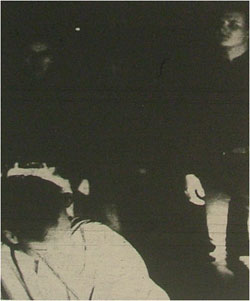 Musicbox – Disaster leads to glory
Hillsborough Benefit Gig
And once again Tamworth's gig-goers prove themselves to be generous sorts. More than £370 was raised from this excellent show and it further illustrated the point that when the chips are down Tamworth area bands are always happy to try and put the coffers up. This show for Hillsborough was good because it was designed for helping those in tragedy but it never dwelt upon pain. We all knew why we were there but we all enjoyed the gig as well. That's the best recipe for charity events – pleasure through pain equals success.
It all began with WIN who went on at a ridiculously early time and were therefore missed by these eyes. Lead singer Mark Brindley said it wasn't much cop but then again he always was a modest kinda chap. Next up were Shock Culture who played a short but tantalising set which was much enjoyed by their lusty young following. The highlight for me was a splendid rip-roaring version of 'Going underground'. There is still hope for our future when young bands choose to cover songs like THAT. Fetch Eddie were next to present themselves and a powerful set was then produced. It was a mix of one or two golden oldies and a couple of strong new numbers with the undoubted key point being a superb finals track called 'Dance' which featured a fine old tune and some marvellous dancing from Phyllis. Emma Gibbs followed and they gave a harder attack than we have been used to, and a very successful one at that. The band are becoming very much guitar orientated these days and those six stringers carry forth some of the sweetest melodies these ears have encountered of late. All together different were Armchair Thrash (that's DHSS minus Rikk and Anice) who turned in the most surprising but also one of the most enjoyable sets of the night. It was basically Ed pontificating on how own curious and somewhat perverted past, future and present with the mad axe man Rocking Reeman for once cooling down and playing some skilful accompaniment. I thought it worked magically. And so to the finale – and what a finale. Catch 23 played a short but dynamic set full of bravado and spirit. Their new tracks showed a maturing songwriting awareness while their oldies were given a new lease of life. 'Gotta Get out Of Here' was the song of the set, the night, the week, the month, the year while the joint tracks with Fetch Eddie's Aaron showed that the band are as versatile as they are skilful. They rounded off a superb night excellently and showed that as Liverpool FC have proved universal sadness can lead to a new sense of universal community.
Review – Sam Holliday.
Tamworth Herald – 09/06/89
Musicbox – Oh what a night!
FETCH EDDIE/DOODLEBUGS/EMMA GIBBS – Tamworth Arts Centre
A HUGELY uplifting night that restored my faith in Tamworth rock music. A good crowd, three splendid bands and some very pleasant surprises.
EMMA GIBBS
Back in the days when these boys were Lee Revelle, Rob Cross and slabs of pointless wailing noise, I'd have been headed for the bar after the first two seconds.
But things in the Gibbs camp have changed – and here they produced a tasty set of classy pop tunes that was very well worth listening to. Despite Lee's Morrissey-style frontman tendencies, reference points included everything from Deacon Blue, through Aztec Camera and Prefab Sprout and the whole thing was really rather fun. I must admit I was quite disappointed when the set ended abruptly. Twelve out of ten for effort (and for the tasteful on-stage surgical collar).
DOODLEBUGS
BIRMINGHAM-based pals of Fetch Eddie's who had obviously bought a big chunk of the audience with them, but still managed to win over the Tamworth half of the crowd.
Musically and particularly towards the end of an all-action set, they came across as slightly Wonderstuff-ish, with thrashing indie-pop guitar, witty lyrics and some rather tasty keyboard effects. But throughout they looked like a band with considerable stage presence (thanks to the talented female vocalist and a guitarist who looked disturbingly like Vince Watts, in a ridiculous ankle length coat and green fez) and some style. As indie-pop bands go (which quite clearly is not my scene) they were thoroughly enjoyable, and I'd definitely like to see them again.
FETCH EDDIE
ONE MORE tiny step up the road to fame and fortune for Phyllis's lads if I'm not very much mistaken.
Tonight, they were in vibrant mood, before an audience that plainly wanted to party, so what we got was a selection of Fetch Eddie's finest dance tunes from 'If I Were You', through the reggae of 'Too Much To Ask For' and new stuff like 'In With the out crowd' and the set-closer, best described in these pages as 'Dance'.
At times they remind me of '77-style Undertones pop, but with the sort of lyrics that can have you bopping uncontrollably one minute, and put a lump in your throat with their poignancy the next. If songwriting quality had anything to do with being stars (which of course it doesn't) Fetch Eddie would be massive tomorrow. As it is they've also got oodles of professionalism, class and star quality that poured out of every second of a bouncy, exciting, smile-inducing set, and which should definitely help them on their way. Absolutely marvellous.
Martin Warrillow
Tamworth Herald – 16/06/89
Musicbox – Eddie's off to Brum
FETCH EDDIE obviously enjoyed their recent Arts Centre show with Emma Gibbs Loves Badges and they are set to perform with the lads again at Sinatras in Birmingham on June 22. The Gibbs Boys are still said to be reeling from their rave review in these columns last week.
Tamworth Herald – 16/06/89
Musicbox – Reviews
EMMA GIBBS LOVES BADGES – Second City/Worship***
IF you still think Emma Gibbs is a female solo artist by now you ought to be ashamed of yourself. From fairly confusing beginnings the band have carefully and consistently developed to the point where they can write and perform great pop songs.
Their recent Arts Centre show proved that Emma Gibbs have matured into their own distinctive style and this is supported by these two tracks which sound very polished and professional.
If anything, they sound a bit like Aztec Camera but it is definitely Emma Gibbs, it's good and they look certain to win over yet more fans with their festival appearance.
S.A.
Tamworth Herald – 30/06/89
Musicbox – Your (moaning) letters
Dear Musicbox,
Regarding the recent review of Emma Gibbs Loves Badges at the Arts Centre. Please check your facts on why the surgical collar was worn as it is not to be taken lightly, as it was worn for a genuine reason not just for 'onstage'. We think an apology is needed.
Yours
Sandra Brown, Helen Clements and Sue Farley
Reply by Martin Warrillow who reviewed the gig…
"Honestly, some people have no sense of humour. That was the first time in recorded history the Gibbs lads have ever got anywhere near a favourable review out of these columns. (Nonsense, Ed.) I thought they were absolutely wonderful, thoroughly enjoyed them and look forward to seeing them again. If this is the thanks I get from their supporters I might go back to calling them tuneless rubbish again…
Seriously though, I've suffered in a surgical collar and anybody who can stand on stage and play a guitar while wearing one deserves considerable credit. I can think of a number of bands (no names, no pack drill) who would have used it as an excuse to pull out of the gig.
Can I come out of the corner now?
Martin Warrillow
Editor's comment – that's not TH Helen 'Bay City roller' Clements is it?
Tamworth Herald – 04/08/89
Musicbox – All change in the Emma Gibbs camp
EMMA GIBBS LOVES BADGES, voted by many people as the surprise hit of the Tamworth Rock Festival, have made an appeal for three new musicians to join their combo.
The sons of Aztec, want a guitarist, cellist and keyboard player to join them following the departure of established guitar man Rob Kinson, The reason for Rob's departure was something to do with him forgetting songs (well, SOMETHING like that) meaning that the man described by the band as 'that notorious surgical collar siren of the six strings' is no longer a badge-lover.
If you want to play guitar, keyboards or cello for this excellent collection of humans then ring Martin or James.
*The band's next major venture will be an Arts Centre show with Fetch Eddie on Sunday Sept 10. It really will be 'show' as other acts on the bill will include a comedian, a magician and (wait for it) a fire-eater. Sounds fun, more details later.
Tamworth Herald – 08/09/89
Musicbox – Cheesy Fun
THE 'POST-FESTIVAL' no-pop silly season, officially ends this Sunday, when the Arts Centre houses 'A Cheese & Wine Party'. It is headed by Emma Gibbs Loves Badges who will be ably supported by Armchair Thrash, Fetch Eddie and a new band to Tamworth eyes: One Happy Song. This line up, at the time of going to press, was incomplete and it is a near certainty that more bands shall be added to make a pulsating party night.
Opening proceedings will be Sutton Coldfield's One Happy Song, who whack out drum machine orientated Cole-esque pop toons by the binfull and will doubtlessly appeal to the gentle Indie fan bred in the area.
Two Bob Ted is the rather silly name given to three members of Fetch Eddie upon ditching of their trademark dance-beat and reaching for the most primitive of weapons…acoustic guitars. It will be the trio's first Tamworth appearance under this guise and is the perfect opportunity to witness the awesome songwriting talent of the gorgeous, pouting (etc) Aaron James.
Next in line are Armchair Thrash, alias Armchair and Reeman from Musicbox poll-toppers DHSS. You know that overused simile about an eagle in full flight…? Well, it has nothing whatsoever to do with the Thrashies, who are more like a charity-shop Fall, with a bit more raunch (courtesy of Reeman's axe-lickin'), a bit more sauce (ooer!) and a lot of very strange tales that have gained this duo rave reviews and a reputation for being ever-so-slightly odd.
Finishing the show will be Emma Gibbs, a band who manage to be DEEP and WIDE and TALL all at once. Their skilful Aztec meanderings and basic pop sensibility make for a set full of pure pop sounds which have started to warm the cockles of everyone's hearts. An enlightening experience is assured.
ANYONE willing to stay and party following the 'Gibbers' will be given free wine and some of those sticks with cheese and pineapple on them that you always had at school Christmas discos. The music played will be a mixture of indie, house, hip-hop and anything vaguely dance-inspiring, the idea being that a good time should be had even if the evening's bands have not been enjoyed (of course they WILL be, so it should be a double good night). Anyone attempting this in the past has been greeted with standard Tamworth apathy, and the big fun good times will only commence if the 24-hour party people are out in force, uninhibited and ready for…euphoria. The doors open at 7.20 and, if enough people meet the challenge, the fun starts immediately.
Reports by JO MARSH.
Additional reporting by Sam Holliday
Tamworth Herald – 15/09/89
Musicbox – Sunday View
The Cheese and Wine Party – Tamworth Arts Centre
TWO BOB TED
First off, apologies for missing One Happy Song, but we arrived a little late just in time for this combo. The silly name thinly disguised the fact that we were being treated to a performance by the majority of Fetch Eddie early in the evening. They ran through acoustic versions of a umber of old faves which came as a refreshing spin-off to their usual shows. Hopefully this style will win over some of the Tamworth people who are automatically put off Fetch Eddie by their irrational fear of pop music.
ARMCHAIR THRASH
Another acoustic spin-off from a big local band, but in this case the novelty is wearing off. For the first few times this was good for a laugh but there can be surely no future in it when DHSS is bursting with such potential. It is great what two men and a guitar can do – but it is no more than busking and can be done just as easily in a Tamworth street.
EMMA GIBBS
A couple of gigs ago it became clear to me that Emma Gibbs are good – and now they are just getting better. They put in another professional performance which went down well at a considerably less-than-full Arts Centre. Emma Gibbs are now a very well established band with a number of catchy tracks that really stand out. And best of all, it wasn't an acoustic set – the first two were good but quite enough thanks.
Review by SEAN ATKINS
Tamworth Herald - 26/01/90
Musicbox – SNIPS
Emma Gibbs have been voted near the top in a national music poll! But, all is not as it seems for Emma Gibbs Loves BADGERS (note the spelling mistake!) have been votes as having one of the silliest names in the business according to the musicians magazine Making Music. This odd item was spotted by Mike Fleming who never mentioned whether his former cohorts Ruffian on the Stairs also got mentioned.
Tamworth Herald - 16/02/90
Musicbox - A 'mere' two gigs!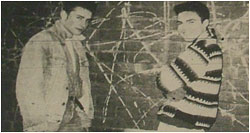 Tamworth has another two gigs on offer this weekend - but thankfully they are two days apart.

Tonight (Friday) Emma Gibbs are spearheading the Euphoria extravaganza at the Arts Centre and then on Sunday night The New Puritans team up with Infinity at Lincolns. There is no conflicting Arts Centre show on that night so here are the two to choose from...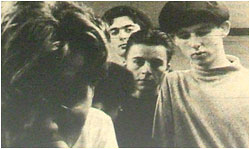 Euphoria (Arts Centre, Friday)
Jo Marsh writes...'The ever expanding and ecstatic euphoria continues tonight offering, in addition to the usual strobe-crazy raving, a rare Tamworth appearance from the ineffable Emma Gibbs Loves Badges. The last Euphoria was an unparalleled success for both dancing and live music and the format remains unchanged with an 8 o' clock commencement and entry a mere Pound until 9.30, and £1.50 afterwards. Emma Gibbs add live music to the night and have got dancier, happier, sexier and even well-travelled since their last Tamworth show. This Arts Centre gig comes amidst a series of dates that takes them among others to the Far East (Norwich). Be early - for Tamworth's growing clan of 24 hour party people- the weekend starts here.
Tamworth Herald- 16/02/90
Musicbox – Snips – News
Emma Gibbs, New Puritans and Flowers in the Attic are staging a Euphoria trip to Birmingham on Tuesday Feb 20. You MUST book tonight at the Arts Centre's Euphoria bonanza. Coach and entrance is a ludicrously low £3.
Tamworth Herald – 09/03/90
Musicbox – SNIPS
The whole Tamworth music scene was put firmly under the microscope in the national music press last week. For in a huge two-page article in Melody Maker, writing duo The Stud Brothers went on a tour-de-Tamworth as part of a Wolfsbane article. The end result was an article all about Tamworth and a little bit about the Wolfies which made for fascinating and hilarious reading. Rikk Quay was mentioned nearly every paragraph while the immensely immense Buttercup went one step further by having his face splattered all over the page. In addition Emma Gibbs were given a plug as were Kraze and the whole article gave a massive thumbs up to the lovely watering hole known as The Tavern in the Town. The Stud Brothers clearly caught the spirit of Tamworth in their amazing article and their perceptions that everyone in the town seems to be in a band and everyone in the Tavern swears at one another shows a deep sense of understanding about just what this area is all about. Great stuff and proof positive that Buttercup is a major star of this parish.
Tamworth Herald – 27/07/90
Musicbox – Metalmen take on the Fan Club
Tamworth returns to being a two-gig Town this weekend when metal takes over the Arts Centre and a mixture of power and dance descends on 'The Rathole'.
Teenage Fan Club/Emma Gibbs Loves Badges – The Rathole
A popular pairing this one which is likely to keep them piling into The Rathole from early on. The Teenage Fan Club are regular visitors to the national Indie chart although according to my spy Mr. Revelle they are a little harder than your traditional indie chart acts. I have a huge book of reviews on the band which says among other things that they are 'absolutely vital' (Melody Maker), 'their potential is stunning' (NME) and they are 'distressingly appealing' (Sounds). Variously described as being the Glaswegian equivalent of Dinosaur Jnr. And having being accredited with making an album that Primal Scream and The Pastels would be proud of, the Teenage Fan Club promise to be hot. Supporting them are a band we already know to be H.O.T. The Emma Gibbs Loves Badges crew were one of the best things about the Tamworth Festival 1990 and even if lead singer Lee Revelle did upset a few people via the programme, the band upset nobody at all with a distinguished and disciplined show of dance-pop which had them raving in the aisles. Expect a number of new converts at the Rathole on Sunday and expect a fine double-header.
Tamworth Herald – 10/08/90
Musicbox – Local Live Review
It's Emma that deserve the Fan Club!
Emma Gibbs Loves Badges/Teenage Fan Club
Apart from their recent Festival appearance, it has actually been a long time since Emma Gibbs actually played in Tamworth. And, it is clear that since the last time I saw them, the music has moved on once again.
The Manchester influence is there but, as with all good bands, the influences are combined with the inventiveness which gives Emma Gibbs a sound of their own. They are a band who are constantly changing but it is done in such a way that you don't feel that they've abandoned their old sound or that they switched to a new direction just for the sheer hell of it. And, just to remind us that some things never change, singer Lee Revelle still seems to be wearing the same old shirt.
Emma Gibbs didn't appear to me to be one of the most outstanding bands of the Festival but this show at the Rathole proved that they are as good as ever.
I'm sure that bands find it difficult to know how often to play in Tamworth and I also know that many bands can outstay their welcome but Emma Gibbs don't play locally enough.
This bigger-than-average crowd at The Rathole showed that apart from the Emma Gibbs following, a lot of people had come especially to see the Teenage Fan Club. But the reputation that preceeded the promising Indie band was much more than the band could live up to and, quite honestly, it was all a bit of a disappointment.
The people that had come to see the Teenage Fan Club seemed to enjoy the gig, but I didn't know if the band will win over any new converts. One observer (Tamworth's Old Kid On the Block, Rikk Quay) said he's seen it all done better in '78.
The Teenage Fan Club have got a busy schedule at the moment, supporting the Soup Dragons and maybe this was just an off night. But on the strength of this performance, I'm in no hurry to see them again.
Sean Atkins
Tamworth Herald – 07/09/90
Musicbox – Glascote Heath's big night out!
FOUR of the allegedly sexiest bands ever to come out of Glascote Heath unite tonight (Friday) for a glorious show at the Arts Centre.
The gig features a debut performance from the wonderfully-titled Bagpuss, the first opportunity to see the perfectly-named Perfect, a welcome return from Sindy's Sonic Garden and a table-topping show from those masters of the universe Emma Gibbs.
The 'Glascote Heath Vibe in the Area' kicks off with Bagpuss who are on the Indie side of the fence but boast a Paul McCartney lookalike on bass! Another new band on the night are Perfect, a fresh combination of the various talents of Mark Hynds, John Popstar and the astonishingly sexy Wilf Williams. In between them will be Sindy's Sonic Garden a band who frighten the life out of any lovers of the safe sound and who are described in my press release here as the 'most exciting, genuine rock experience to have hot Tamworth in the last two years'.
Completing the night will be Emma Gibbs in what is a desperate and unashamedly attempt to plug their excellent (MUSICBOX's word not theirs) new single 'Assured/Patience'. The gig is seen as a warm up for the band's Islington Powerhaus show on September 10 and if it is half as good as their Fest show, it will be a boster! It starts at 8, costs £1.50 (£1 to UB-40 holders) and looks like FUN.
Tamworth Herald – 21/09/90
Musicbox – Snips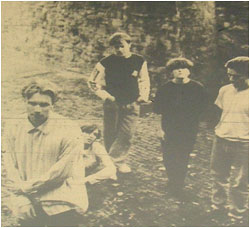 Everybody's favourite dance men, Emma Gibbs Loves Badges, hit the airwaves for the first time last week when their debut single was played on John Peel's Radio One show. 'Assured' (which includes a naughty four-letter word or two) was played to the nation's youth on Thursday night and it left the Glascote Heathites absolutely BUZZING.
"I think we have reached the pinnacle of our career now we have has a real life Peel rambling about us," enthused lovely Lee.
The fabbo record, which I saw Steve Danger of Wolfsbane clutching with sheer pride on Thursday is now available locally although Lee bitterly regrets that they haven't as yet been able to set up a signing session at Inner Sleeve…
Tamworth Herald – 21/09/90
Musicbox – Reviews, reviews and yet more reviews
Glascote Heath Rave – Tamworth Arts Centre
The Arts Centre once again staged one of those gigs that prove what an undiscovered fem Tamworth is in the national music scene – if only for its diversity of quality and style. Fly On The Wall opened the evening with a sparkling debut set of refreshing quality played with unpretentious confidence which quickly won over an enthusiastic crowd. A band to see again at all costs. (Yogots please attend and take note).
Unfortunately, Sindy's Sonic Garden soon dispersed the crowds with a noise in praise of the great God of Feedback celebrated through an angel Wah-Wah pedal. I yawned into oblivion. Next came Perfect, a duo that came across as having real potential, good ideas and great guitar work. Pity about the drum machine though. Good but not Perfect. Emma Gibbs were the cream on the trifle. Lee Revelle's pyjama jacket looked cleaner and more immaculately pressed than ever before and so were the band. People danced to a set that is strong enough to play anywhere at anytime. Hopefully they will.
Adam Taylor
(I think the surname is Taylor but his name was hard to read. His report however wasn't so send more reports Adam!!)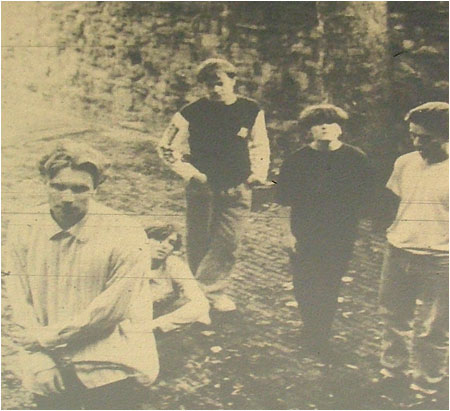 Tamworth Herald – 12/10/90
Musicbox – Gibbers Assured of Success!
LOVEABLE MOPTOPS (and the only band in the world named after a headline on the page opposite) Emma Gibbs Loves Badges release their debut single next Monday (October 15) on the Utiopia label – with rave reviews pouring out from the press already.
Issued on good old fashioned 7-inch vinyl and distributed by Backs/Rough trade, the single, a two-track affair consisting of 'Assured' and 'Patience', has already caused quite a buzz with the staff of the NME who voted it as being 'last week's single that should have been single of the week', and went on to describe it as an 'effortless piece of crooning indieness with ragged intrusions of wah-wah guitars.' The also placed it number five in the 'What's going on the NME's stereo' chart, behind The Charlatans and The Happy Mondays, but on front of Pop Will Eat Itself! High praise indeed for Lee Revelle and co.
On Monday, to celebrate the release of the single, Emma Gibbs loves badges will be heading out into the wilds of deepest Norfolk and playing a gig in Norwich.
Look out for an interview with lead crooner (and ace Tamworth Rock festival author), Lee Revelle in next week's MUSICBOX.
Tamworth Herald – 12/10/90
Musicbox – Gig Guide
Sunday
Two Lost Sons/Emma Gibbs Loves Badges – The Rathole, 7.30pm-10.30pm. Admission £2.
King Pleasure and the Biscuit Boys – Lichfield Arts Centre, 7pm. Admission: £5.
Monday
The Yogots – The Hare & Hounds, Kings Heath, Birmingham.
Emma Gibbs Loves Badges – Norwich Arts Centre
Tamworth Herald – 26/10/90
Musicbox – Phoenix hosts Emma and Co.
The Phoenix Concert series hits the Arts Centre on Sunday once again fulfilling it's mix of blending established Tamworth bands with those previously unseen writes Jo Marsh.
Single giants Emma Gibbs are joined by new boys Fly On The Wall and Crystal Injection and the line-up is completed by The Jim Durkins and E-Culture Cast Off making their Tamworth debut.
Emma Gibbs will be making their final appearance in the Town for what could be a very long time as they concentrate on plugging their debut single throughout the land. Avid BOX readers will know all about this lot and people who aren't BOX readers won't be reading this anyway so onto the rest of the team…
Fly On The Wall are fast establishing a reputation for enthusiastically brittle pop and return to the Arts Centre with a view to impressing both their large and getting-larger following and non-believing newcomers alike. Just one of many new bands that have recently revived the fortunes of an ailing Tamworth music scene. Fly On The Wall have enough individuality to stand out from the common herd. The Jim Durkins meanwhile boast above average lyrics, a regard for Stone Rose socking and an enormous following in their native Manchester and their adopted Birmingham. The Jim Durkins could just be the biggest and best kept secret currently residing in the West Midlands.
Completing the line-up are Crystal Injection. A band who have already woo-ed Arts Centre audiences with their striking new wave sound. Crystal Injection should immediately appeal to those of a spooooky nature although they will be trying to take their alternative onslaught still further than that.
Good line up methinks. See what you feel.
It's at the Arts Centre, it's on Sunday, it's an 8pm start and it's a snip at £1.50 a head.
Tamworth Herald – 09/11/90
Musicbox – A fine Phoenix foursome
PHOENIX CONCERT SERIES – Fly On The Wall, The Jim Durkins Band, Crystal Injection and Emma Gibbs Loves Badges (Arts Centre)
Fly On The Wall
An impressive show from a band of young and enthusiastic pop-pickers. Their tender collective age was not reflected in a mature and accomplished sound which had touches of Echo and the Bunnymen at times and remained melodious, intelligent and stylish throughout. A little shy onstage at the moment but that will change in time and they clearly have a lot going for them; not least a good vocalist and a very tight and professional sound. One to watch.
The Jim Durkins Band
One of the most experienced bands on the line-up but ultimately the least riveting. The reason was that they started with a killer opening track but then went on to attempt to repeat it with every other track sounding like a poor replica of the opener. One tone, one speed and one basic good idea. I would buy a single but not an album.
Crystal Injection
Wonderful stuff. The most genuinely EXCITING new band I have seen at the Arts Centre for quite some time. They hit the stage – and hit is the operative word – with a blistering opener that raced on at eight million miles an hour and had all the anger and venom of a Rotweiller stung by a wasp. Never let up from the first note and despite ending in acute chaos they were very, very watchable. Reminded ,e of The Mary Chain meets Tamworth's own Birdland and left most of the audience open-mouthed. Nice one boys.
Emma Gibbs Loves Badges
Drummer Jim's last show – and what a way to bow out. What we have here is a pure pop band of immeasurable quality who have a real understanding of BEAT but retain their post-pink sensibilities as well. It's dance music with a cutting edge, suitable for practically everybody's ears and sounding for all the world like a band who know their time (and sound) has come. Strangely it still harked back occasionally to the Aztec Camera comparisons of old but this sounds far more relevant in 1990 than Roddy Frame does unfortunately. It'[s been a long time coming but they have finally arrived at the very top of the First Division. Dance, dance, dance, dance to the radio.
All reviews by Sam Holliday.
Tamworth Herald – 07/12/90
Musicbox – Snips
The winners of our recent Emma Gibbs and Rhythm Damage competitions were Hester Trivent from Ratcliffe Culey and my good friend Emma Storer from Gillway. Emma is a committed Tamworth F.C., Steve Webster and Licquorish Allsorts fan and as they are three things that I like as well she simply had to win didn't she?
Tamworth Herald – 14/12/90
Musicbox – What a week!
Tamworth's music lovers are set for a real Christmas treat this week with no less than FOUR major concerts on offer.
Everyone from firm favourites like The Yogots and Rhythm Damage to the all-new Foundation and the revamped Scream Dream will be in action this week in easily the busiest week since the Festival.
In a nutshell here is what is happening, where and when…
SUNDAY NIGHT
Tamworth Arts Centre
The Foundation/Empire Falls plus Special Guests.
The Rathole
Scream Dream plus Guests
TUESDAY NIGHT
The Jolly Sailor
The Yogots/Crystal Injection/The Sherbert Trees/Fly on the Wall
THURSDAY NIGHT
The Rathole
Rhythm Damage/Catch 23/Emma Gibbs Loves Badges/Vindaloo Breakfast/Big Noise/Guilty Party/Sindy's Sonic Garden
Here in a bit more detail is what you can expect to see on the various nights, so take your pick of the shows on offer and get your dancing boots on.
Thursday – The Rathole
Rhythm Damage/Vindaloo Breakfast/Catch 23/Guilty Party/Emma Gibbs Loves Badges/Big Noise/Sindy's Sonic Garden
Some big names here on what should be a big night – with all proceeds going to the Rock Festival Fund. Catch 23 will be dropping in just to play three quick tracks from their new demo. Rhythm Damage will be cranking it up to ruin everyone's Christmas and The Guilty Partner will be shooting down from Manchester to razzle , dazzle 'em. In addition The Big Noise will be providing just that. Emma Gibbs will be laying on the sweet pop-tones and Sindy's Sonic Garden will be planting some splendid blooms. Completing a hectic crazee line-up will be the lovely Vindaloo Breakfast who will blast their way to more undoubted glory on a night brimming with noise and quality. The actual line-up won't be known until the night but all proceeds will go towards the Tamworth Rock festival fund.
Tamworth Herald – 28/12/90
Musicbox – Bags of smiles at festive shows
PRACTICALLY every local band worth is (or her) salt has been in action over the Festive period and here we try and catch up with two of the biggest shows on offer.
Emma Gibbs Loves Badges – The Rathole
The problem with a seven-band line-up is that whoever comes on seventh is usually left playing just to bar staff and the p.a. men. The fate looked set to befall Emma Gibbs when they hit the Rathole stage at a looney 1am but surprisingly and of great tribute to Emma, there was still a fair crop of people left and all were thoroughly entertained by what they saw. Frankly I thought the band were tremendous and for me they took the best band of the night award for a set which showed their modern relevance and their assured dance sensibility. More 'guitary' than usual and hence somewhat powerful, Emma Gibbs peaked with a tingling version of 'Patience' but that was just one major highlight in a set of substance and quality. A fine way to end what has been an excellent year for the band and all credit to the insomniacs, dropouts and blitzed types who stayed the long and winding road.
Sam Holliday
---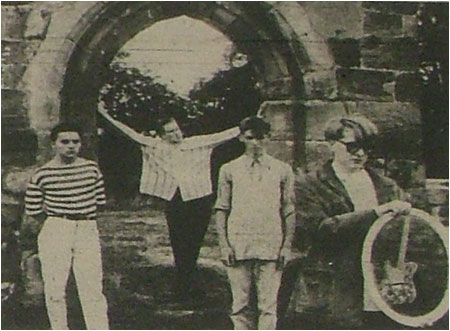 Caption: Emma Gibbs…yes, they're back.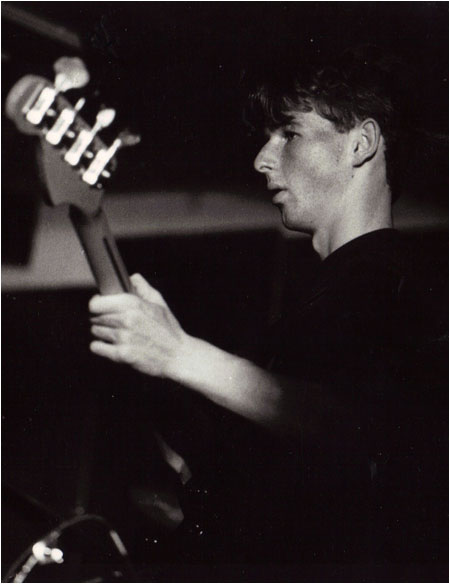 Spencer Ireland