W.I.N. (World Intelligence Network)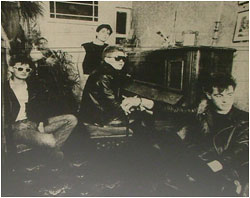 WIN
left to right Andy Simmons, John Bates, Richard Deane, Mark Brindley (Richard Cuttler lurking in the background)
Photograph courtesy: Steve Ellis
Gallery
Musical Genre/Type: Alternative
Formed: 1987
Band Members:
Mark Brindley - Guitar / Vocals
Richard Cuttler - Bass Guitar
John Bates - Keyboards
Richard Deane - Drums
Additional Band Member:
Andy Simmons: guitar
Gigs:
03/05/87
Rumblefish
W.I.N.
The Rathole
08/05/87
The First
World Intelligence Network
Tamworth Arts Centre
28/06/87
Tamworth Showcase featuring
WIN
Fetch Eddie
Emma Gibbs Loves Badges
03/05/87
Rumblefish
W.I.N.
The Rathole
Tamworth Herald Articles:
Tamworth Herald – 01/05/87
Musicbox – Rumbling Rats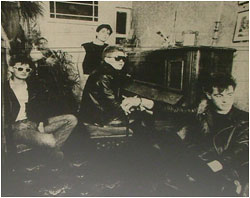 Caption: W.I.N. – winning form
THE RATHOLE this week throws its doors open to welcome Rumblesfish, one of the most exciting and unusual bands in the Midlands.
Joining them will be one of Tamworth's best new bands – World Intelligence Network. If the name doesn't mean too much, it is probably because you know them as The Cheesy Helmets although I am reliably informed that W.I.N. is the FINAL name.
For those who don't know (where have you people been?) W.I.N. play modern pulsating music which draws much from the likes of the mighty Chameleons, New Order and Julian Cope.
The band have an aggressive approach somewhat reminiscent of the late, great Seventies and they have already received interest from record companies and bands alike. The outfit recently made their first demo. "Disguises", which is one of, if not the, best demo I have heard for a long time. It perfectly illustrates the band's powerful, commercial outlook and there is no doubt that they can W.I.N. over Rumblefish on Sunday night, they may get some more work there…
So a tremendous double bill once which promises to delight anyone interested in new, strong pop music. It costs just £2 at the Arts Centre on Sunday night (8.30pm). Don't miss.
Tamworth Herald – 29/05/87
Musicbox – SNIPS
Another band who are currently on the glory train are World Intelligence Network who are hoping to play their first London shows in the near future. Anyone wishing to hear the band's brilliant new demo incidentally can do so by going to the Arts Centre at virtually any hour because it ALWAYS seems to be on when I'm there!
Tamworth Herald – 26/06/87
Musicbox – Tasty mix of new talent FOUR of the area's most exciting new bands team up at the Rathole on Sunday night for a unique Tamworth 'Showcase'.
The very different but very entertaining acts on view are – Fetch Eddie The Baby's Gone Blue, World Intelligence Network, Emma Gibbs Loves Badges and The Pakistani Brothers. All four of the groups offer local audiences original and innovative sounds, and if you want proof of the continuing success of the local scene, Sunday night should not be missed.
Fetch Eddie for example are certainly the band of the moment. They are currently earning big concerts and big praise at every turn and their sophisticated blend of modern and not-so-modern pop has already won many converts.
Basically it is energetic, tuneful pop music which spans everything from rip-roaring dance tracks to well-balanced reggae. The overall mixture is very palatable indeed, and if they make the same sort of impact they did at their recent 'Rathole' debut they could well steal the show. A very good band indeed.
Another of my favourite new acts are World Intelligence Network - a band who bristle with confidence and commitment. The outfit play alternative pop music which leans towards the likes of New Order, Chameleons and Psychedelic Furs and is based on a manic sound and Mark Brindley's manic vocals.
They have several priceless tracks in their repertoire – particularly 'Memories', 'Disguises' and 'Steamroller' – and they deserve to be mega-mega.
Also on view will be the extraordinary Emma Gibbs Loves Badges. As I get eaten alive every time I try to describe or review the band. I won't even try this time. Let's just say, those people who know Emma Gibbs know that they have a certain in-bred indignant style, and those who don't know them are in for a shock. As I don't want Lee Revelle and Rob Cross to chew my ears off. I will say no more. Emma Gibbs will speak for themselves.
Completing the line-up are the Pakistani Brothers – making their first-ever Tamworth appearance. The group who have been spawned out of the members of The Sway, feature our very own Rikk Quay – the only man to have been in Musicbox more than The Stranglers!
The Brothers made their Dudley debut a fortnight ago and earned the high praise of all the people who travelled over to hear their unique and uplifting new sound. It will be as new to my ears as yours, bit I have heard so many praise-ridden descriptions that I, for one, predict, The Pakistani Brothers will not be the sort of band you can ignore.
So, Fetch Eddie, WIN, Emma Gibbs and The Pakistani Brothers all on the same stage on the same night. It should be a great night indeed, so forget about 'Anzacs' and get your rocking shoes down to the Rathole on Sunday night for a tasty showcase of Tamworth talent.
Tamworth Herald – 03/07/87
Musicbox – The good times roll in a concert full of contrasts
Tamworth Showcase – The Rathole
SUNDAY NIGHT at the Rathole confirmed what many of us had long suspected, Tamworth's new breed of bands are providing a fresh and exciting sound and perspective. This was undoubtedly one of the most absorbing concerts I have seen in eons. So let the good (and bad) times roll.
Emma Gibbs Loves Badges
Or out it another way, Emma Gibbs Loves Emma Gibbs. For here is a band not without innovation or intelligence who decide to mask both these qualities behind a suffocating student ego which is pitiful to behold. In their 'unique' attempt to be totally different, confrontational and adverse. Emma Gibbs merely comes over as ignorant, stupid and indefensibly churlish. They shock no-one and fool only themselves and there is simply nothing more mutually embarrassing than watching over-the-top students trying to impose their over-developed egos on the world. They can give Tamworth what Tamworth can give them – rien. Bad karma maan.
World Intelligence Network
A band full of warmth, charm and exhilarating melodies who can do no wrong in my book. Even without two members they attempted a Billy Bragg meets Chameleons approach and showed that the weight of charisma can triumph over the weight of drumbeats. Lovely boys.
The Great Express
And how they justified that 'Great' tag tonight. Even compared to their first uplifting 'Rathole' show this was a revelation and proved that the Great Express are an almighty force for Tamworth to be proud of. Gone are any tracks that were less than 100 per cent dynamite and in comes powerhouse full of unrestrained anger and menacing guitars. One of two of the tunes are priceless and the band's stage show is now dramatic and immensely watchable. Great performers, great show, great songs. Great Express. Brilliant.
The Pakistani Brothers
The musical equivalent of an acid trip. Three drunk adults, three drunken machines and several drunken songs which end up as a bizarre brazen brawl. Odder than odd, sort of odder still.
Fetch Eddie The Babies Gone Blue
Yep, pop stars. A spellbinding tuneful set which once again had the audience in a state of rapture. The general feeling that spread around the Arts Centre is that we were witnessing a piece of pure pop which if translated to vinyl could well make an unstoppable beeline for the top of the charts. Lead singer Pod is one of the most distinctive and original vocalist Tamworth has produced in years while guitarist Aaron is undoubtedly one of the best local songwriters I have EVER heard. This is a band with destiny and any group than can introduce a song as being a tribute to 'the late, great Ted Moult' simply cannot fail.
Tamworth Herald – 03/07/87
Musicbox – SNIPS
THE stylish World Intelligence Network are looking for a new drummer to complete their powerhouse alternative outfit. More info from Rich Cuttler.
Tamworth Herald – 21/08/87
Musicbox – Laughing all he way to the Rathole
ONE of Tamworth's best new bands team up with a major Manchester outfit on Sunday night for an exciting looking Rathole showcase.
The Mancunians on view are the highly-rated Laugh.
Joining these Northern warriors are WIN and…hopefully Fetch Eddie, a duo which has made this town sizzle over the past few months.
WIN who are one of the 'Rathole's' most prolific and consistent performers, offer a powerhouse of modern sounds which combine a plethora of slashing guitars, moody meandering vocal lines and enough rhythmic rumbles to make any self-respecting foot stomp. This most powerful of bands should feature (for the first time) Stuart Blane on drums on Sunday night. Stuart a veteran campaigner who has drummed with the good (One On One), the bad (Classified Ads) and the ugly (Aardwolf) should add some steel grit to a band who are on the verge of greatness.
Also in this top class vein are Fetch Eddie The Baby's Gone Blue. Their music is more of the whimsical pop variety, but is so full of majestic moments and happy harmonies that it can (and has) won over just about everybody. The band, who are currently recording a debut single, may play as a vital warm-up before their major appearance at the Tamworth Rock Festival next week.
All the elements combined led me to think this will be a special and enjoyable 'Rathole' show which should whet-our pre-festival appetites very nicely.
Tamworth Herald – 28/08/87
Musicbox – BIGGEST FESTIVAL YET OFFERS 27 GREAT BANDS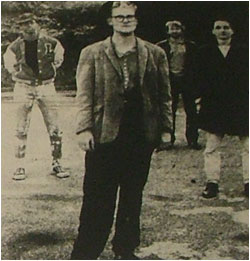 A rip-roaring weekend of rock
YES, IT'S HERE AT LAST! After all the months of planning and preparation, Tamworth will this weekend unveil it's biggest and best rock festival ever.
Over the next four days no less than 27 bands – not to say alternative poets, disc jockeys and general eccentrics – will combine their talents to give the town's pop pickers a week to remember.
Tonight (Friday) the whole event kicks off with an action-packed Arts Centre show to be followed on Saturday night with another night of new bands at the same venue. And then on Sunday and Monday, Tamworth Castle Grounds will be taken over for 16 hours for a massive live extravaganza of music covering 18 varied and exciting groups from all over the Tamworth and Atherstone area.
It all adds up to four hectic, juicy days so here is a blow-by-blow account of what to expect, where to expect it and where not to go if you want to avoid it!!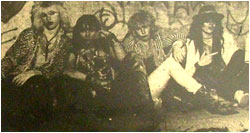 FRIDAY
Tamworth Arts Centre
WELL WHAT A START. For just 50p you can get to see five totally different bands who represent just about every form of musical extreme in this little old scene of ours. Heading the lot our The Wilsons who have been added as late festival funmakers and should provide many moments of bopping delight. Joining the Wilsons are the brash barmy boys known as The Pakistani Brothers, the all-new all-electric Stranger Than Life, the arrogant and animated Oliver Reed Combo and another late addition The Parade. That is five potentially explosive acts for less than the price of a Curly Wurly each. Be there early (8pm) 'cos it is going to be full.
SATURDAY
Tamworth Arts Centre
ANOTHER case of sheer daylight robbery when just 50p once again gets you masses of good original music. The Conspiracy, Tamworth's new alternative hopefuls make their eagerly awaited Arts Centre debut and are joined by the rocking, rollicking blues of Jim Crows, the powerful mid-Seventies attack of New Age Gypsies, and the passionate and highly-tipped indierockers Ferocious Apaches. The fifth band on the line-up is still to be confirmed as there is a possibility that The Final line may have split up. If that is so, new Burton FM soundalikes Vienna will be slotted in as special guests so whichever way you look at it your ears cannot fail! Remember it starts at 8pm and get there early.
SUNDAY
Tamworth Castle Grounds (11.30am-7pm)
AND SO, to the main course. Once again the festival will be sited at the top of the Castle Grounds, just in front of the tennis courts and once again it will all be totally FREE.
You will see no less than nine bands on Sunday and a further nine on Monday with the only sort of rock uncatered for being that horrible stuff that breaks your teeth at Blackpool. It all begins at 11am when the Reverb/Buttercup disco blares into action and then 90 minutes later the first band – Kubla Khan – hit the stage. This oh reader, is what happens next…
KUBLA KHAN (12.30) – A new and enthusiastic rock band with a slant to the mid-Seventies and wicked sense of humour. Should be very good scene setters.
THE SEARCHING (1.05) Another relatively new act whose own brand of rock searches across a broad spectrum enveloping influences that include The Damned and the Cure.
The A5 (1.40) – A tremendous unit who are improving all the time and have now acquired a harder more distinctive sound. Aggressive, tuneful and toe-tappable.
WORLD INTELLIGENCE NETWORK (2.15) – Totally fab, leather-jacketed bunch who manage to Cope with being compared to Cope all the time. WINners.
CATCH 23 (2.50) – Youthful, fanciful popsters with hope in their hearts and electricity in their blood. They make great pop music. It's as simple as that.
RAPE IN YELLOW (3.25) – Like Moses, this band have spent a long time in the wilderness and now return with a commanding set. They play original, whimsical Sixties based pop music.
ZEALOUT (4.00) – Another new band who walk on the Atherstone side of life. Zealout play broadly based rock music and regard this show as their first major introduction to the world.
PLATINUM HI (4.35) – Zooming all the way up from London this combo (who feature former Tamworth fave Rob Rea) play colourful metal music with brash style.
THE GREAT EXPRESS (5.10) – Concluding Sunday night's revels are one of Tamworth's hottest properties. The Express have already raced to the top of the league with their power charged, energetic and unusual creation. A great end to a great day.
MONDAY
Tamworth Castle Grounds (11.30am-7pm)
MRE MIRTH, music, magic and majesty on offer today with some of the best sounds outside of my record collection. As with Sunday, the bands will appear at roughly 40 minute intervals so you should never be very far away from something you are REALLY going to like. Here is the day's itinerary so get your Filofax out.
FUTURE FIELD (1.05) – A new intelligent AOR based rock band with a host of ideas and several accomplished local musicians. Soothing music for the fun.
SHELLSHOCK (1.40) – Pure, unashamed heavy metal from a band whose enthusiasm is a refreshing as Brew X1 in the Sahara. Loud, proud and metallic.
JABBERWOCKIE (2.15) – Original unit who play music like of which Tamworth has never seen before, multi-instrumentalists overflowing with notes and notions.
WOLFSBANE (2.50) – The kings, the bosses, the boys. Wolfsbane's dictionary definition is 'everything that is good about heavy metal music'. They've got the LOT.
FETCH EDDIE (3.25) – Clean, loveable pop music which is as pure as the average Vestal Virgin. Ace tunesmiths who could set the afternoon alight.
DEPTH CHARGE (4.00) – One of Tamworth's old favourites with new life and a new line-up. Look out for guitarist 'Tanya' (See rock festival t-shirts for more info on that!)
RUFFIAN ON THE STAIRS (4.35) – Commercial pleasing soul sounds from a band who combine the best of Tamworth and Lichfield. Promise to be quite special.
BREAKING POINT (5.10) – Longstanding heroes, who combine the powerful with the passionate and have been sorely missed from our stages of late. But absence makes the heart grow fonder they say, so get set for some nostalgic cheer.
So that's the whole line-up. In betweens each band you will see and hear djs, comperes and poets like Buttercup, Edward ian Armchair, Dave Hewitt, Kevin McGough, Bue, Rikk Quay et al and there may also be some surprise guest celebrities popping up as well. In the event of rain over Sunday and Monday there may be alternative arrangements but you must be at the Castle Grounds to find out what they are.
Whatever happens this is Tamworth's biggest musical event of the year and one which every music-loving person from 6-66 should enjoy immensely. So clear your weekends, clear your heads and get set to be bombarded from every possible angle by every possible sound.
*Festival t-shirts will be available tonight Friday (£3.50) and programmes at a mere 25p).
Tamworth Herald – 04/09/87
Smiles galore greet four days of rockin' revels
Rock feast is a real sunshine tonic
MUSICBOX Special by Sam Holliday
TAMWORTH 'S massive army of music-lovers mobilised in great force at the weekend to enjoy the finest August Bank Holiday Rock Festival yet.
The four-day rock and roll bonanza was, in every sense, a sunshine success. There were large crowds at both the Arts Centre and Castle Grounds shows, with good feeling among all the bands and organisers, and even a rare and shocking outbreak of warm weather!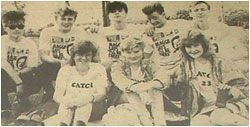 The whole event was voted a big hit by both the crowds and the crowd pleasers and by the time everyone gathered together on Monday night in the Tavern in the Town for a post-festival party, most of the talk was about what would happen NEXT year.
The four days of rock revelry began on Friday night at the Arts Centre with the first of the two new band showcases.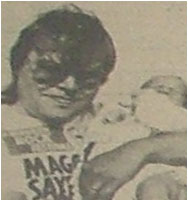 As with the whole weekend all the bands on view stemmed from the Tamworth and Atherstone areas showing the amazing wealth of youthful musical talent that has been banked in this area.
The four bands that kicked off the first night set the pattern for the rest of the weekend – they were all totally different and yet they all won over large sections of a lusty audience which had packed the Arts Centre to capacity.
On the night returning heroes The Parade stole the show to my ears with a powerful burst of new wave energy although the people's choice was certainly the demonic Pakistani Brothers who took every known musical artform and perverted them beyond belief. They went down like beer at a wedding and deservedly so.
Also on the night The Magnets made their stage return complete with that age-old Magnets problem – the keyboards packing in – and some of those old excellent numbers like 'Breath on Breath' which had a dreamy, pleasant effect on a hot, sweaty audience.
Completing the line-up were The Oliver Reed Combo, a band who are undeniably brave and committed and certainly misunderstood.
Their staunchly honest set met with a mixed response but if there was any other reaction The Oliver Reed Combo would probably have felt people had missed the point.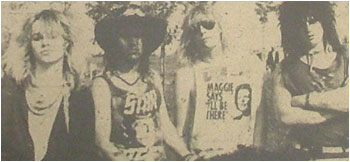 Saturday night continued the lively atmosphere with five more Arts Centre bands getting into that festival spirit. The venue was even sweatier than the night before and by the end of the night most people were forced to prize their t-shirts off with paint-strippers.
My favourites on the night were the fresh and distinctive Conspiracy who have a winning formula of a good guitarist, good songs, pretty, punchy female singer and an ability to make you want to hear more.
The Ferocious Apaches also turned in a surprising, powerful set which I enjoyed tremendously and despite their audience-baiting, it was also pretty hard to dislike the sleazy sounds of New Swan inn kings, Jim Crows.
Party
Also on the night we were treated to a hard-as-nails and just as dangerous show from the New Age gypsies, and a rebel-rousing slice of unashamedly pure plagiarising pleasure from The Wilsons. Put those five varied ingredients together and you had cooked one hell of a party cake, and a perfect appetiser for the two days that followed in the Castle Grounds.
Tamworth Herald – 04/09/87
Pick of the songs
AND THE SONGS of the Festival? Well this year I had to plump for 'Get Up' by Wolfsbane, 'Disguises' by WIN and ironically 'Come The Day' by Breaking Point. I say ironically because that song wasn't even played until the disco after the event, but it contained a line that summed up that whole thing 'come the day we will sing our song in tune – and together'.
Well the day(s) came this weekend, Tamworth's music showed itself to be united as never before and everyone from the ever-busy Bayley Cooke to the bizarre roadie 'George' deserves credit for a festival that provided heroes without villains.
Next year cannot come quickly enough.
Tamworth Herald – 04/09/87
Musicbox – Gig reviews
WIN – The Rathole
MORE powerhouse stuff from a band whose greatness is only just being realised. Some of their newer numbers were especially impressive but it was two oldies 'Rain' and 'Disguises' which stole a mesmerising set. Mark Brindley is one of the most distinctive and impressive singers' around and the band he fronts are amongst the best we have on offer. Cherish them and watch them grow.
Tamworth Herald - 15/01/88
Musicbox – SNIPS
Mark Brindley, who was surprisingly dropped by WIN over the festive period is auditioning as the new lead singer of indie band The Weeping Mescherschmitts.
Tamworth Herald – 03/02/89
Musicbox – Newsbeat
World Intelligence Network are keen to get back into full live action – but they are still searching for a singer. The band have tried one or two combinations but they are still looking for the final piece of the jigsaw.
Tamworth Herald – 24/02/89
Musicbox – SNIPS
World Intelligence Network are hoping to headline a special Comic Relief gig at Tamworth Arts Centre on Friday March 10. Richard Cuttler is currently organising the Red Nose affair although those old technical problems will probably rule out his hoped-for co-stars DHSS. More details as and when we get them.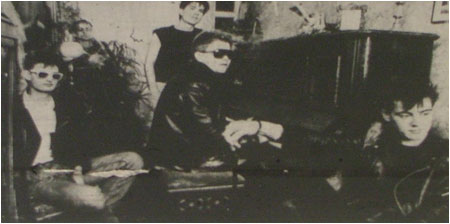 Tamworth Herald – 10/03/89
Musicbox – Comic Winner
Tamworth Arts Centre opens its doors this weekend to two top quality concerts – including one for the special Comic Relief campaign.
Tonight (Friday) red noses will be in abundance as World Intelligence Network make a one-off return to live action alongside Rape in Yellow and a Coventry-based alternative act called 'The Fat Controller'.
And then on Sunday night, former Best Band in Brum finalists The Searching will take to the Arts Centre stage with the support act of a top out of town new wave act – Limited Edition from Nuneaton.
First we look at tonight's three band Comic Relief show.
WIN/Rape in Yellow/Fat Controller – Tamworth Arts Centre, tonight (Friday)
This second successive Comic Relief concert aims to bring a smile on your face as well as put some money in the coffers. It has been arranged by Richard Cuttler from WIN who has got his old band together including former singer and new Bash Out the Odd frontsman, Mark Brindley. The band who will be keenly welcomed by their old followers (me, very much included!) will be playing a set of classics including former MUSICBOX song of the year 'Disguises'. Those that remember WIN will remember they play superb modern guitar music with an alternative feel and a Chameleons base. I loved em and I suspect many of the more recent alternative converts in the town will enjoy them equally tonight. Joining them are the harder and hardened Rape in Yellow who have a new found love of live action and potentially are going to create an entirely new audience. Completing the comic line-up is The Fat Controller, an experienced Coventry outfit featuring a Tamworth-based chappie named Steven who has very much wanted to play at the Arts Centre for some time. As the band are already at Poly and University gigging standards, this could turn out to be a very interesting night indeed and although I wouldn't like to put too strict a label on them, the Fats do have very much an alternative look and feel and should appeal to spikey tops and Indie listeners alike.
Tamworth Herald – 17/03/89
Musicbox – A comic review…
The legendary George The Roadie was the MUSICBOX spy on Friday night at Tamworth's Comic Relief show. As his review was a little 'unusual' I have had to summarise it thus. I hope you understand what is left, but I sometimes wonder if our lovely George is really on our lovely planet…
Fat Controllers
This was a journey to nowhere without Thomas, Terence and Bertie. The Fat Controllers, that was their name – hence Thomas. (What the hell does THAT mean! Ed)
Rape in Yellow
Fresh from their appearance at the Indoor Festival, RIY played a good set. You've got to give 'em credit they were absolute nutters on the night 'Nellie The Elephant', 'Micky Mouse' and all that.
The Cheesy Helmets (WIN)
Long haired yobboes in suspenders no less. All credit to Richard's pinky toilet, hoping to fill it we made a little donation. We should have filled it, know what I mean?
George went on to talk about a 'scrap', praise last week's letter writer 'Goose' and describe the gig as 'a hell of a night'.
Thanks George. Don't give up your day job.
Tamworth Herald – 28/04/89
Musicbox – Never Walk Alone!
TAMWORTH Arts Centre looks set to be packed-to-bursting on Sunday when several of the area's greatest bands combine their talents for a special Hillsborough benefit.
The gig has been put through by Emma Gibbs' man Lee Revelle and his contribution cannot be under-stated. He also deserves praise for writing the report below. He actually asked for anonymity, but I felt the report was so good that I would deny his request.
Catch 23, Emma Gibbs Loves Badges, DHSS, Scream Dream, World Intelligence Network and Shock Culture are among the bands participating in a benefit for the Hillsborough Relief Fund at The Arts Centre this Sunday.
In a magnificent gesture, Dave Fortune, the Arts Centre supreme has give free use of the hall for the evening ensuring all of the £1.50 entrance fee goes directly to the Fund.
Likely headliners Catch 23, oozing megastar confidence, have promised a mixture of old classics, interspersed with the odd cover version. Do not expect to leave The Arts Centre on Sunday without having heard the Catch lads blitz The Beatles and The Bunneymen.
Emma Gibbs Loves Badges will be parading an expanded line up for the first time, willing to impress all with a combination of fragile pop songs and massive stage presence. Guitarist Rob Kinson hinted that the bands recent songwriting flurry will be in evidence along with a couple of golden oldies.
One of the first groups to be involved were demonic metallists Scream Dream, who offer a raucous variation to the pop-drenched songs that make up the rest of the evening. Stephen king and his hairy bunch have undertaken to give a no holds barred performance which should delight all those with even slightly greasy tendencies.
Most unusual attraction of the evening will be an acoustic (yes!) stint by certain members of DHSS. Edward ian Armchair was a co-instigator of the event and welcomes the chance to (finally) let his intelligent songwords be heard, feeling that they are sometimes lost in the synth-based racket that is standard DHSS.
Shock Culture made their Tamworth debut a couple of months ago and are steadily improving with age. Expect a refreshing set from the Smiths-influenced pop kids.
Latest addition are W.I.N. performing for the second time in as many months. For anyone too young to remember them, if your pleasures include Cope, The Chameleons and songs about steamrollers, W.I.N. are good for you.
Although it was initially hoped for a full Fetch Eddie set, pod has 'nipped off on his hols'. However, the bands cherubic guitarist Aaron James has pledged his support to the cause and is currently using his connections to form some sort of supergroup. What this entails is anyone's guess but miss it at your peril!
All in all this show has event written all over it. There is a high possibility of more bands being added to the vastly impressive line up, but that this is already (excepting the festival( Tamworth's gig of the year is quite beyond dispute. The running order is to be fought over on the night. So ensure you have a foothold in the door by 7.30, you might miss something historic.
Reporter by Lover-Lee Revelle
Tamworth Herald – 12/05/89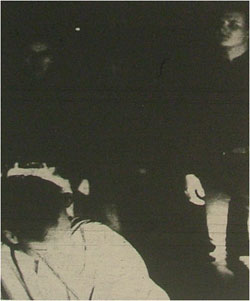 Musicbox – Disaster leads to glory
Hillsborough Benefit Gig
And once again Tamworth's gig-goers prove themselves to be generous sorts. More than £370 was raised from this excellent show and it further illustrated the point that when the chips are down Tamworth area bands are always happy to try and put the coffers up. This show for Hillsborough was good because it was designed for helping those in tragedy but it never dwelt upon pain. We all knew why we were there but we all enjoyed the gig as well. That's the best recipe for charity events – pleasure through pain equals success.
It all began with WIN who went on at a ridiculously early time and were therefore missed by these eyes. Lead singer Mark Brindley said it wasn't much cop but then again he always was a modest kinda chap. Next up were Shock Culture who played a short but tantalising set which was much enjoyed by their lusty young following. The highlight for me was a splendid rip-roaring version of 'Going underground'. There is still hope for our future when young bands choose to cover songs like THAT. Fetch Eddie were next to present themselves and a powerful set was then produced. It was a mix of one or two golden oldies and a couple of strong new numbers with the undoubted key point being a superb finals track called 'Dance' which featured a fine old tune and some marvellous dancing from Phyllis. Emma Gibbs followed and they gave a harder attack than we have been used to, and a very successful one at that. The band are becoming very much guitar orientated these days and those six stringers carry forth some of the sweetest melodies these ears have encountered of late. All together different were Armchair Thrash (that's DHSS minus Rikk and Anice) who turned in the most surprising but also one of the most enjoyable sets of the night. It was basically Ed pontificating on how own curious and somewhat perverted past, future and present with the mad axe man Rocking Reeman for once cooling down and playing some skilful accompaniment. I thought it worked magically. And so to the finale – and what a finale. Catch 23 played a short but dynamic set full of bravado and spirit. Their new tracks showed a maturing songwriting awareness while their oldies were given a new lease of life. 'Gotta Get out Of Here' was the song of the set, the night, the week, the month, the year while the joint tracks with Fetch Eddie's Aaron showed that the band are as versatile as they are skilful. They rounded off a superb night excellently and showed that as Liverpool FC have proved universal sadness can lead to a new sense of universal community.
Review – Sam Holliday.
Tamworth Herald – 15/09/89
Musicbox – Snips
WIN emerge from a period of quiet industry with a CD and single next month. More details on this very exciting news as and when we get it.
---
WIN
Left to right Andy Simmons, John Bates, Richard Deane, Mark Brindley (Richard Cuttler lurking in the background)
Photograph courtesy: Steve Ellis