Fetch Eddie The Baby's Gone Blue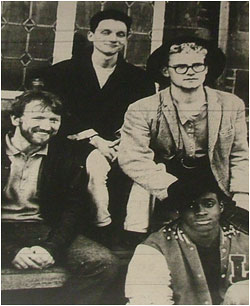 Fetch Eddie The Baby's Gone Blue
Photograph courtesy: Tamworth Herald
Gallery
Musical Type/Genre: Pop
Formed: 1987
Band Members:
Aaron - Guitar
Pod - Vocals
Gigs:
31/05/87
Wonderstuff
Fetch Eddie The Babies Gone Blue
Emma Gibbs Loves Badges
The Rathole
28/06/87
Tamworth Showcase featuring
WIN
Fetch Eddie
Emma Gibbs Loves Badges
02/03/88
Kubla Khan
Racer
Fetch Eddie
Spiral Eye
Kraze
Tamworth Arts Centre
03/07/88
Fetch Eddie
Piranhas
10/07/88
Fetch Eddie
Catch 23
Tamworth Arts Centre
17/07/88
Tamworth Rock Festival
Cuddly Spiders
Rape in Yellow
Future Field
Fetch Eddie
Catch 23
Kraze
Scream Dream
Breaking Point
A5
Castle Grounds
Admission fee 11am-7pm
30/07/88
Wolfsbane
Catch 23
Fetch Eddie
Tamworth Arts Centre
04/09/88
Fetch Eddie
A5
Sa Sa
Tamworth Arts Centre
06/10/88
Fetch Eddie
Ozone Farm
Watch With Mother
Hummingbird
22/12/88
Sonic Noise Happening
Emma Gibbs Loves Badges
Fetch Eddie
Psychedelicatessen
The Believers
Tamworth Arts Centre
27/01/89
Fetch Eddie
Lyve
Lichfield Arts Centre
20/01/90
Spiral Eye
Fetch Eddie
Big Noise
Tamworth Arts Centre
06/05/90
Fetch Eddie
The Magnificent Lkage
Nightmoves
03/06/90
The Moment
Fetch Eddie
Good Question Derek
The Rathole
Tamworth Herald – 06/02/87
Musicbox - SNIPS
Plumbing Eddie's Depths
A NEW BAND, sporting the name 'Fetch Eddie The Baby's Gone Blue' made their first demo on Saturday and we hope to look at them in more detail shortly. Among their tasteful numbers is one called "He'll Love You 'Til You're Pregnant". Lovely.
Tamworth Herald – 29/05/87
Musicbox – More Wonderstuff!
ANOTHER topflight band descend on the Rathole on Sunday night to be joined by two intriguing and unusual Tamworth support acts.
Heading the bill are Birmingham popsters Wonderstuff who will team up with the eagerly-anticipated Fetch Eddie the Baby's Gone Blue and the enigmatic Emma Gibbs Loves Badges.
Wonderstuff are another of the new wave of alternative strong pop bands who have taken over the Midlands lately. They have already trod the famous Rathole boards before when they outplayed fellow stablemates The Surf Drums. They are considered to be one of the hottest bands around and a trip to the Arts Centre on Sunday should reveal why.
Another bands who have been catching the headlines are Fetch Eddie who make their Tamworth debut on Sunday. The band are looking forward to the show almost as much as the audience and their mixture of bright, original Squeeze-orientated pop, is sure to make them an immediate hit in the town. So far they have picked up acclaim and great reviews in Birmingham and beyond, but now Aaron and the boys are coming 'home' – and are determined to do well. It should be a memorable performance.
Completing the line-up are the unique Emma Gibbs Loves Badges – so unique that even their name comes from a 'Scooper heading!' Emma Gibbs play modern acoustic pop which owes much to the heritage of Aztec Camera and more modern bands like the Bodines, their sounds is full of curiously, unfolding melodies and very strong lyrics, and if they create the sort of impact they did at their …show, ANYTHING can and probably will happen.
So three great bands which add up to one great evening. And the three bands will be relatively new to Tamworth ears so if you want to get one step ahead get to the Arts Centre on Sunday.
Tamworth Herald – 05/06/87
Musicbox – Eddie pops in with a tonic but Emma plays it cool
Fetch Eddie The Baby's Gone Blue – The Rathole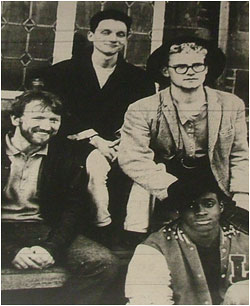 WELCOME back to pop music. For far too long, pop has been either embarrassing or irrelevant in Tamworth but now at last we have a good, strong commercial band who play sheer unadulterated pop music.
This set by Fetch Eddie ranks as one of best Tamworth debuts I have seen in years and proves that the band's growing Birmingham reputation is no fluke. Based around Aaron's meandering, solid guitar and the first class vocal work of Pod. Fetch Eddie play crisp, invigorating music that is jam-packed with luscious melodies and superb arrangements.
The songs are short, direct and very catchy and lead to a host of comparisons including Squeeze, The Beatles, Feargal Sharkey, The Police and The Records. Every song had it's merits but the reggae-based 'Too Much To Ask For' and the sprightly 'He'll Love You 'Til Your Pregnant' were the outstanding songs of a quite outstanding set.
Several top local singers told me afterwards that in Fetch Eddie the area has a very impressive and promising band indeed, and it was hard to find anyone who could muster up a word of criticism once the band had left to tumultuous applause. It was a superb set by a great new band and the first really decent pop music in Tamworth since Sitting Pretty at their latter-day peak. The baby may have gone blue but the future looks very bright indeed. A wonderful find.
Tamworth Herald – 26/06/87
Musicbox – Tasty mix of new talent FOUR of the area's most exciting new bands team up at the Rathole on Sunday night for a unique Tamworth 'Showcase'.
The very different but very entertaining acts on view are – Fetch Eddie The Baby's Gone Blue, World Intelligence Network, Emma Gibbs Loves Badges and The Pakistani Brothers. All four of the groups offer local audiences original and innovative sounds, and if you want proof of the continuing success of the local scene, Sunday night should not be missed.
Fetch Eddie for example are certainly the band of the moment. They are currently earning big concerts and big praise at every turn and their sophisticated blend of modern and not-so-modern pop has already won many converts.
Basically it is energetic, tuneful pop music which spans everything from rip-roaring dance tracks to well-balanced reggae. The overall mixture is very palatable indeed, and if they make the same sort of impact they did at their recent 'Rathole' debut they could well steal the show. A very good band indeed.
Another of my favourite new acts are World Intelligence Network - a band who bristle with confidence and commitment. The outfit play alternative pop music which leans towards the likes of New Order, Chameleons and Psychedelic Furs and is based on a manic sound and Mark Brindley's manic vocals.
They have several priceless tracks in their repertoire – particularly 'Memories', 'Disguises' and 'Steamroller' – and they deserve to be mega-mega.
Also on view will be the extraordinary Emma Gibbs Loves Badges. As I get eaten alive every time I try to describe or review the band. I won't even try this time. Let's just say, those people who know Emma Gibbs know that they have a certain in-bred indignant style, and those who don't know them are in for a shock. As I don't want Lee Revelle and Rob Cross to chew my ears off. I will say no more. Emma Gibbs will speak for themselves.
Completing the line-up are the Pakistani Brothers – making their first-ever Tamworth appearance. The group who have been spawned out of the members of The Sway, feature our very own Rikk Quay – the only man to have been in Musicbox more than The Stranglers!
The Brothers made their Dudley debut a fortnight ago and earned the high praise of all the people who travelled over to hear their unique and uplifting new sound. It will be as new to my ears as yours, bit I have heard so many praise-ridden descriptions that I, for one, predict, The Pakistani Brothers will not be the sort of band you can ignore.
So, Fetch Eddie, WIN, Emma Gibbs and The Pakistani Brothers all on the same stage on the same night. It should be a great night indeed, so forget about 'Anzacs' and get your rocking shoes down to the Rathole on Sunday night for a tasty showcase of Tamworth talent.
Tamworth Herald – 03/07/87
Musicbox – The good times roll in a concert full of contrasts
Tamworth Showcase – The Rathole
SUNDAY NIGHT at the Rathole confirmed what many of us had long suspected, Tamworth's new breed of bands are providing a fresh and exciting sound and perspective. This was undoubtedly one of the most absorbing concerts I have seen in eons. So let the good (and bad) times roll.
Emma Gibbs Loves Badges
Or out it another way, Emma Gibbs Loves Emma Gibbs. For here is a band not without innovation or intelligence who decide to mask both these qualities behind a suffocating student ego which is pitiful to behold. In their 'unique' attempt to be totally different, confrontational and adverse. Emma Gibbs merely comes over as ignorant, stupid and indefensibly churlish. They shock no-one and fool only themselves and there is simply nothing more mutually embarrassing than watching over-the-top students trying to impose their over-developed egos on the world. They can give Tamworth what Tamworth can give them – rien. Bad karma maan.
World Intelligence Network
A band full of warmth, charm and exhilarating melodies who can do no wrong in my book. Even without two members they attempted a Billy Bragg meets Chameleons approach and showed that the weight of charisma can triumph over the weight of drumbeats. Lovely boys.
The Great Express
And how they justified that 'Great' tag tonight. Even compared to their first uplifting 'Rathole' show this was a revelation and proved that the Great Express are an almighty force for Tamworth to be proud of. Gone are any tracks that were less than 100 per cent dynamite and in comes powerhouse full of unrestrained anger and menacing guitars. One of two of the tunes are priceless and the band's stage show is now dramatic and immensely watchable. Great performers, great show, great songs. Great Express. Brilliant.
The Pakistani Brothers
The musical equivalent of an acid trip. Three drunk adults, three drunken machines and several drunken songs which end up as a bizarre brazen brawl. Odder than odd, sort of odder still.
Fetch Eddie The Babies Gone Blue
Yep, pop stars. A spellbinding tuneful set which once again had the audience in a state of rapture. The general feeling that spread around the Arts Centre is that we were witnessing a piece of pure pop which if translated to vinyl could well make an unstoppable beeline for the top of the charts. Lead singer Pod is one of the most distinctive and original vocalist Tamworth has produced in years while guitarist Aaron is undoubtedly one of the best local songwriters I have EVER heard. This is a band with destiny and any group than can introduce a song as being a tribute to 'the late, great Ted Moult' simply cannot fail.
Tamworth Herald – 28/08/87
Musicbox – BIGGEST FESTIVAL YET OFFERS 27 GREAT BANDS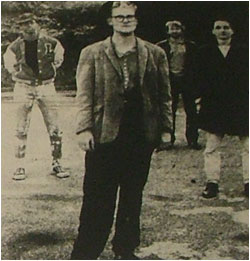 A rip-roaring weekend of rock
YES, IT'S HERE AT LAST! After all the months of planning and preparation, Tamworth will this weekend unveil it's biggest and best rock festival ever.
Over the next four days no less than 27 bands – not to say alternative poets, disc jockeys and general eccentrics – will combine their talents to give the town's pop pickers a week to remember.
Tonight (Friday) the whole event kicks off with an action-packed Arts Centre show to be followed on Saturday night with another night of new bands at the same venue. And then on Sunday and Monday, Tamworth Castle Grounds will be taken over for 16 hours for a massive live extravaganza of music covering 18 varied and exciting groups from all over the Tamworth and Atherstone area.
It all adds up to four hectic, juicy days so here is a blow-by-blow account of what to expect, where to expect it and where not to go if you want to avoid it!!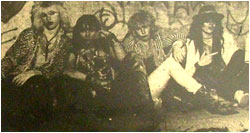 FRIDAY
Tamworth Arts Centre
WELL WHAT A START. For just 50p you can get to see five totally different bands who represent just about every form of musical extreme in this little old scene of ours. Heading the lot our The Wilsons who have been added as late festival funmakers and should provide many moments of bopping delight. Joining the Wilsons are the brash barmy boys known as The Pakistani Brothers, the all-new all-electric Stranger Than Life, the arrogant and animated Oliver Reed Combo and another late addition The Parade. That is five potentially explosive acts for less than the price of a Curly Wurly each. Be there early (8pm) 'cos it is going to be full.
SATURDAY
Tamworth Arts Centre
ANOTHER case of sheer daylight robbery when just 50p once again gets you masses of good original music. The Conspiracy, Tamworth's new alternative hopefuls make their eagerly awaited Arts Centre debut and are joined by the rocking, rollicking blues of Jim Crows, the powerful mid-Seventies attack of New Age Gypsies, and the passionate and highly-tipped indierockers Ferocious Apaches. The fifth band on the line-up is still to be confirmed as there is a possibility that The Final line may have split up. If that is so, new Burton FM soundalikes Vienna will be slotted in as special guests so whichever way you look at it your ears cannot fail! Remember it starts at 8pm and get there early.
SUNDAY
Tamworth Castle Grounds (11.30am-7pm)
AND SO, to the main course. Once again the festival will be sited at the top of the Castle Grounds, just in front of the tennis courts and once again it will all be totally FREE.
You will see no less than nine bands on Sunday and a further nine on Monday with the only sort of rock uncatered for being that horrible stuff that breaks your teeth at Blackpool. It all begins at 11am when the Reverb/Buttercup disco blares into action and then 90 minutes later the first band – Kubla Khan – hit the stage. This oh reader, is what happens next…
KUBLA KHAN (12.30) – A new and enthusiastic rock band with a slant to the mid-Seventies and wicked sense of humour. Should be very good scene setters.
THE SEARCHING (1.05) Another relatively new act whose own brand of rock searches across a broad spectrum enveloping influences that include The Damned and the Cure.
The A5 (1.40) – A tremendous unit who are improving all the time and have now acquired a harder more distinctive sound. Aggressive, tuneful and toe-tappable.
WORLD INTELLIGENCE NETWORK (2.15) – Totally fab, leather-jacketed bunch who manage to Cope with being compared to Cope all the time. WINners.
CATCH 23 (2.50) – Youthful, fanciful popsters with hope in their hearts and electricity in their blood. They make great pop music. It's as simple as that.
RAPE IN YELLOW (3.25) – Like Moses, this band have spent a long time in the wilderness and now return with a commanding set. They play original, whimsical Sixties based pop music.
ZEALOUT (4.00) – Another new band who walk on the Atherstone side of life. Zealout play broadly based rock music and regard this show as their first major introduction to the world.
PLATINUM HI (4.35) – Zooming all the way up from London this combo (who feature former Tamworth fave Rob Rea) play colourful metal music with brash style.
THE GREAT EXPRESS (5.10) – Concluding Sunday night's revels are one of Tamworth's hottest properties. The Express have already raced to the top of the league with their power charged, energetic and unusual creation. A great end to a great day.
MONDAY
Tamworth Castle Grounds (11.30am-7pm)
MRE MIRTH, music, magic and majesty on offer today with some of the best sounds outside of my record collection. As with Sunday, the bands will appear at roughly 40 minute intervals so you should never be very far away from something you are REALLY going to like. Here is the day's itinerary so get your Filofax out.
FUTURE FIELD (1.05) – A new intelligent AOR based rock band with a host of ideas and several accomplished local musicians. Soothing music for the fun.
SHELLSHOCK (1.40) – Pure, unashamed heavy metal from a band whose enthusiasm is a refreshing as Brew X1 in the Sahara. Loud, proud and metallic.
JABBERWOCKIE (2.15) – Original unit who play music like of which Tamworth has never seen before, multi-instrumentalists overflowing with notes and notions.
WOLFSBANE (2.50) – The kings, the bosses, the boys. Wolfsbane's dictionary definition is 'everything that is good about heavy metal music'. They've got the LOT.
FETCH EDDIE (3.25) – Clean, loveable pop music which is as pure as the average Vestal Virgin. Ace tunesmiths who could set the afternoon alight.
DEPTH CHARGE (4.00) – One of Tamworth's old favourites with new life and a new line-up. Look out for guitarist 'Tanya' (See rock festival t-shirts for more info on that!)
RUFFIAN ON THE STAIRS (4.35) – Commercial pleasing soul sounds from a band who combine the best of Tamworth and Lichfield. Promise to be quite special.
BREAKING POINT (5.10) – Longstanding heroes, who combine the powerful with the passionate and have been sorely missed from our stages of late. But absence makes the heart grow fonder they say, so get set for some nostalgic cheer.
So that's the whole line-up. In betweens each band you will see and hear djs, comperes and poets like Buttercup, Edward ian Armchair, Dave Hewitt, Kevin McGough, Bue, Rikk Quay et al and there may also be some surprise guest celebrities popping up as well. In the event of rain over Sunday and Monday there may be alternative arrangements but you must be at the Castle Grounds to find out what they are.
Whatever happens this is Tamworth's biggest musical event of the year and one which every music-loving person from 6-66 should enjoy immensely. So clear your weekends, clear your heads and get set to be bombarded from every possible angle by every possible sound.
*Festival t-shirts will be available tonight Friday (£3.50) and programmes at a mere 25p).
Tamworth Herald – 04/09/87
Smiles galore greet four days of rockin' revels
Rock feast is a real sunshine tonic

MUSICBOX Special by Sam Holliday
TAMWORTH 'S massive army of music-lovers mobilised in great force at the weekend to enjoy the finest August Bank Holiday Rock Festival yet.
The four-day rock and roll bonanza was, in every sense, a sunshine success. There were large crowds at both the Arts Centre and Castle Grounds shows, with good feeling among all the bands and organisers, and even a rare and shocking outbreak of warm weather!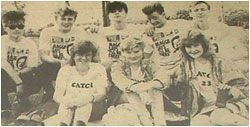 The whole event was voted a big hit by both the crowds and the crowd pleasers and by the time everyone gathered together on Monday night in the Tavern in the Town for a post-festival party, most of the talk was about what would happen NEXT year.
The four days of rock revelry began on Friday night at the Arts Centre with the first of the two new band showcases.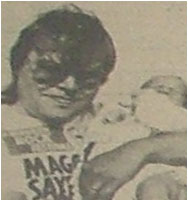 As with the whole weekend all the bands on view stemmed from the Tamworth and Atherstone areas showing the amazing wealth of youthful musical talent that has been banked in this area.
The four bands that kicked off the first night set the pattern for the rest of the weekend – they were all totally different and yet they all won over large sections of a lusty audience which had packed the Arts Centre to capacity.
On the night returning heroes The Parade stole the show to my ears with a powerful burst of new wave energy although the people's choice was certainly the demonic Pakistani Brothers who took every known musical artform and perverted them beyond belief. They went down like beer at a wedding and deservedly so.
Also on the night The Magnets made their stage return complete with that age-old Magnets problem – the keyboards packing in – and some of those old excellent numbers like 'Breath on Breath' which had a dreamy, pleasant effect on a hot, sweaty audience.
Completing the line-up were The Oliver Reed Combo, a band who are undeniably brave and committed and certainly misunderstood.
Their staunchly honest set met with a mixed response but if there was any other reaction The Oliver Reed Combo would probably have felt people had missed the point.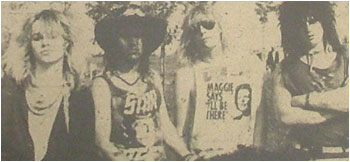 Saturday night continued the lively atmosphere with five more Arts Centre bands getting into that festival spirit. The venue was even sweatier than the night before and by the end of the night most people were forced to prize their t-shirts off with paint-strippers.
My favourites on the night were the fresh and distinctive Conspiracy who have a winning formula of a good guitarist, good songs, pretty, punchy female singer and an ability to make you want to hear more.
The Ferocious Apaches also turned in a surprising, powerful set which I enjoyed tremendously and despite their audience-baiting, it was also pretty hard to dislike the sleazy sounds of New Swan inn kings, Jim Crows.
Party
Also on the night we were treated to a hard-as-nails and just as dangerous show from the New Age gypsies, and a rebel-rousing slice of unashamedly pure plagiarising pleasure from The Wilsons. Put those five varied ingredients together and you had cooked one hell of a party cake, and a perfect appetiser for the two days that followed in the Castle Grounds.
Tamworth Herald – 04/09/87
Musicbox – Gig reviews
Fetch Eddie – The Rathole
TWO Eddies are better than none so we had Pod and Aaron doing their Billy Bragg bit while their bassist and drummer disappeared. Still worth it anyway because these boys have style.
Tamworth Herald – 18/09/87
Musicbox – SNIPS
Still with concerts, Fetch Eddie are in action at Aston University on October 2 and at Birmingham Town Hall later that same month.
Tamworth Herald – 02/10/87
Musicbox – Reggae bounces back
Reggae makes a swift return to the Rathole this weekend – and the venue itself makes a one-off switch to Saturday night.
Tomorrow's show will once again feature Wolverhampton rap-specialists Progression who this time will line-up with pop favourites Fetch Eddie The Babies Gone Blue.
Progression have been rebooked so quickly because their show two weeks ago was hailed as one of the best ever seen at the Rathole. Those who did turn up made the night a real party affair with dancing-a-plenty and an atmosphere which left all those who were …
Progression's music is a fusion of more commercialised reggae and clever dubwise sounds, which create a contrasting and powerful on and off stage feeling.
Completing the line-up are Fetch Eddie – who are also in action again tonight (Friday) at Aston university. Fetch Eddie have been picking up supporters at an alarmingly impressive rate and it is hoped a lot of them will turn out on Saturday night to enjoy their contribution to a fine evening. Fetch Eddie's sound starts as pop and goes through the whole musical range ending up at reggae – which is how they come to be on Saturday night's billing.
So a very good night in prospect and one in which The Rathole will test the waters of Saturday night concerts. And with only the slimy Jeremy Beadle on TV in opposition, is there really any reason to miss tomorrow's show?
Tamworth Herald – 02/10/87
Musicbox – SNIPS
Two of my favourite bands in the Universe – World Intelligence Network and Fetch Eddie the Babies Gone Blue – are in the middle of recording their debut singles. WIN have just re-recorded their classic 'Memories' which will be the 'A' side while Fetch Eddie are currently working on 'He'll Love You Till You're Pregnant' and reggae smash 'Too Much to Ask For'. Incidentally my very favourite band in the known Universe – The Stranglers – are also due to release a single soon. They will be releasing a cover version of The Kinks 'All Day And All Of The Night' which will be followed by a new live album before Christmas. This Stranglers info incidentally is a world exclusive first, which proves if you want to know tomorrow's news today, Musicbox is the space to watch.
Tamworth Herald – 16/10/87
Musicbox – The Last Blast
Rathole Review – Fetch Eddie/Progression – The Rathole
WELL, what a fitting end.
This was the last concert ever at 'The Rathole' but instead of it being a morbid wake, it was a triumph of hope and power.
The audience was as big as I have ever seen it in eons, but probably more importantly than its size, was the crowd reaction and participation.
Every single person brought with them their dancing shoes and by the end of the night the Arts Centre was a sea of moving, swaying bodies all being carried along by a reggae sound that was a pure delight to the ears. Fetch Eddie put everyone in the mood with another punchy, impressive set which reached its peak when it captured the mood of the audience with the classic thumping reggae sounds of "Too Much To Ask For" which was simply stunning.
Following Fetch Eddie's fresh and appealing set came Progression who turned in one of the most enjoyable performances I have seen at 'The Rathole'. The Wolverhampton reggae-warriors were as uplifting as a trampolene and just as bouncy. Their well balanced set ranged from fast – almost ska-style – boppers, to oh-so-sweet moments of melodic majesty, which kept the audience guessing and dancing throughout.
The reaction at the end of their set was the most enthusiastic I have ever heard at the 'Rathole' and the band's appealing lead singer couldn't even introduce the encore because of the huge shouts and claps which rebounded around the Arts Centre walls. But the end of the concert eventually came, and with it followed the end of 'The Rathole'.
It was the most suitable end I could have imagined. A truly excellent concert played and received with a spirit that symbolised 'The Rathole' at its best. Nights like these are nights to treasure. 'The Rathole' is dead, long live 'The Rathole'.
Sam Holliday
Tamworth Herald – 23/10/87
Musicbox – SNIPS 'N' GOSSIP
Fetch Eddie made some useful contacts at last week's important Birmingham Town Hall with three other Birmingham acts. Although the band were very upset about their sound. BRMB disk jockey Robin Valk…three tracks that were recorded on the night, over the airwaves. He also stressed that he thought the band had all the ingredients to make it…impressed with Fetch Eddie's biggest fan, wonderful Mrs. Phyliss James, another somewhat older teenager whose enthusiasm for the band is as infectious as the flu but far more pleasant.
29/01/88
A5
Fetch Eddie
New Age Gypsies
Tamworth Arts Centre
Tamworth Herald - 29/01/88
Musicbox – Triple attack of excitement
THREE of the area's most refreshing outfits team up tonight (Friday) for an exciting Arts Centre showcase. The rejuvenated, hard-hitting A5 will be joined by everyone's favourite pop-reggae combo Fetch Eddie and Atherstone's punch rock outfit New Age Gypsies. The triple attack of melodic pleasure was originally set up to be the first official parade of the debut singles by both A5 and Fetch Eddie.
Now, however, that seems unlikely although there is still a slight chance that Fetch Eddie's 'Too Much To Ask for', single may make its first appearance tonight.
When the Fetch Eddie single DOES appear, it is certain to make big waves both locally and beyond. The band have already gained a good reputation in Birmingham and their success in the MUSICBOX poll proves they have a lot of interest on the local scene.
As a live band they are strong and professional, and if you look good, entertaining pop then don't miss tonight's show.
Also bursting with confidence tonight will be headliners A5, the band who had hoped to release 'Society Girl' as their first 45 this month, have now put it out as a tape instead and it has already been played by the John Peel show. For those who don't know A5's music has a powerful new wave feel which mixes thumping bass lines with intelligent guitar work to produce a sound which leads to a plethora of comparisons. For the first time locally, the band will be introducing their two new female backing singers who have added a subtle edge to the raw, rock sound and should mean the band have even more to offer the listener.
Completing the show are Atherstonian's The New Age Gypsies, a band yet to play a bad concert at the Arts Centre. The group who came with a reputation as a 'hippy, hippy hooray' outfit have as much in common with groups like The Cult as with late-Sixties mindbenders and their overall attack is of meaty rock with unpredicatable edges.
The three band show (and remember it is tonight (Friday), not the traditional Sunday concert) looks set to be a highly-successful ear-battering covering everything from the pop lightweight to the Tyson heavyweight. It should be an enjoyable night out to get along and have a triple dose of delight.
Tamworth Herald - 29/01/88
Musicbox – Arts Centre stages new-look 'Battle'
Salute the best in new rock talent
TAMWORTH ARTS Centre is to stage a new version of the annual 'Battle of the Bands' in February – featuring only bands who are new to the scene. The idea was to turn the event into a 'Most Promising Band of the Year' contest and it has been thrown open to any group who have emerged since the last 'Battle' of 1987.
Already 15 groups have been nominated to take part over three heats in February. The winners on each night will then be invited to a gala final on Friday, march 4 with a £75 prize and Young People's Arts Festival awards for the eventual victors.
Among the better known bands who will be involved are Fetch Eddie, The Conspiracy and Kubla Khan, but the event will also be the platform for first ever concerts by groups such as The BBC, Mr. Cyn and DHSS.
Although there may be slight alterations before the finalised line-ups, the current running order and the new 'Battle of the Bands' is as follows:
SUNDAY FEBRUARY 7:
Torn in Tow, The Conspiracy, Scream Dream, The Cuddly Spiders and Future Field.
SUNDAY FEBRUARY 14:
New Age Gypsies, Mr Cyn, Fetch Eddie, Jim Crows, The Band With No Name.
SUNDAY FEBRUARY 28:
DHSS, Kraze, Kubla Khan, Spiral Eye, The BBC.
On each night the judges will be made up of members of longer-established Tamworth bands such as Wolfsbane, Catch 23, A5, Rape In Yellow, Depth Charge (now called Never Say Die) and so on. It will be their job to pick one winner from each night, who will go forward to a grand final along with the second highest-scoring group.
For the winners there will be cash and trophy prizes, but perhaps more importantly, the title of Tamworth's Most Promising Band of 1988.
On each of the heat nights the bands – who cover everything across the rock spectrum – will have just 20 minutes to impress the judges, and with five bands on each night no-one should have anytime to get bored!
We will give more details of each of the concerts in the next couple of weeks but for the time being clear your Sunday evenings in February and get ready to salute the best in new rock talent within this music barmy area.
Tamworth Herald - 28/02/88
Musicbox – Five of the best limber-up
Heat is on for final fling
THE final, exciting heat of Tamworth's 1988 Battle of the Bands takes place on Sunday night. Five varying local bands will take to the Arts Centre stage aiming to join The Conspiracy and the New Age Gypsies in the March 4 final to find the most promising new band of 1988.
This week's line-up offers a variety of musical styles and quality and should ensure a bumper crowd and a tremendous evening of entertainment.
Although one of the original 'starters' DHSS have had to pull out due to technical problems, their place has been eagerly snapped up by, Racer, who had to miss last week's show because of their drummer's arm injury.
The five bands on offer on Sunday will be…
Kubla Khan
An Atherstone outfit of definite quality but still something of an unknown quantity. Made an impressive Tamworth debut at the festival and have been backed by one or two people in the (rock and roll) know. Should prove interesting.
Racer
Making their second (and hopefully) successful attempt to join in the contest. Racer are a melodic but still heavy rock band who combine youth experience and add a tuneful touch to an aggressive sound.
Fetch Eddie
Regarded in some quarters as the favourite in the contest, Fetch Eddie are in the midst of a very successful period which has seen them triumph in concerts throughout the Midlands. Pop music so catchy it can leave your dancing feet with a permanent itch.
Spiral Eye
A brand new outfit making their world debut! All I can tell you at this stage is that they feature some always interesting musicians (Daz and Baz from 13th Reunion, Jim and Pete from Attica and Rem from The Calling) and according to Jim they play 'music to flinge to'. Suck it and see.
Kraze
One of the heaviest bands in the whole 'Battle of the Bands' who should bring some welcome, 'glam' to the proceedings. Heavy, steady, go!
That's the line-up to be judged this week by Jase the Ace (Wolfsbane), Graham Harwood (Rape in Yellow), Mark Brindley (WIN) and Steve Hayes (A5).
The winners
What makes Sunday's show even more interesting is that as well as the winners of the night going through to the March 4 final, the highest-scoring second-placed band from the WHOLE contest will also be revealed. They too will then be invite back on March 4 for the final which already features heat one winners Conspiracy and heat two victors The New Age Gypsies. So all the bands who have appeared so far in the contest – and the four that don't win on Sunday are still in with a chance of playing in the final but to find out if that means YOU, you will have to be there!
All the ingredients them of an excellent night. The bands are asked to reach the Arts Centre by 5pm, the judges by 7.45pm and the crowd by 8pm so we can attempt to get off to an early, ear-bashing start. It should be a great night so miss it at your peril!
Tamworth Herald - 15/04/88
Musicbox – SNIPS
The Fetch Eddie single 'He'll love You' is on sale now from the Tavern in the Town. The single – which is on sale at places such as Virgin at £1.99 – can be bought for just £1.50 from the Tavern.
Tamworth Herald - 27/05/88
Musicbox – Review Special
Fetch the record companies!
Fetch Eddie: New Swan, Atherstone
FETCH EDDIE have not had the best of luck so far this year – but anyone who thought they were losing their impact had better think again…
Fetch Eddie are back and the break has done them a power of good.
From "Mean Tin O Beans" through to their fifth encore "Keep on Running" everyone was transfixed by their tuneful and unbelievably contagious pop music.
The classic "No Good For Love" if properly produced could easily be a hit single and the same goes for "It's Your Turn" which sent tingles down my spine.
Fetch Eddie could well become the next local band to be promoted to the national league – so don't miss them next time round.
STEVE WEBSTER
Tamworth Herald - 17/06/88
Musicbox - SNIPS
Still with Fetch Eddie, they have been in the studio of late working on a new demo for CBS Records. Incidentally, it seems most local musicians regard Fetch Eddie as the area's best band. In the questions for the Tamworth Rock Festival programme, bands were asked to name their favourite other local group. All the groups went heavily in favour of Fetch Eddie with the likes of Wolfsbane, Scream Dream, Kraze, New Age Gypsies and Kubla Khan also mentioned.
Tamworth Herald - 24/06/88
Musicbox – SNIPS, SNIPS, MORE SNIPS!
FETCH Eddie have unveiled shows for the next few weeks. They will be at the Piranhas on July 3, the Arts Centre with Catch 23 on July 10, the New Swan, Atherstone on July 14, the Festival, July 17 and as part of the Wolfsbane Farewell Bash at the Arts Centre at the end of July.
Tamworth Herald - 08/07/88
Musicbox – Pop Supremos back in Town
TWO of the area's greatest bands join forces on Sunday night for an enjoyable-looking Arts Centre concert.
Reggae supremos Fetch Eddie will line up with Atherstone's pop warriors Catch 23 in what should be one of the most pleasurable concerts of the year so far.
For Catch 23 it will be their first major show since they won TV and press acclaim for their performance in the national final of the TSB rockschool contest.
Proud
Then, Steve, Ray, Neil, Jase and Nick won over judges such as Phil Oakey, Robert Plant and Toyah and were chosen as the third best school-age rock band in Britain.
Since that time, the Atherstone outfit have been busy writing new material, all of which they are very proud of. Particularly look out for a stunning newie called 'You Keep Me hanging On' a major pop classic which the band have so much faith in they have approached Paul Weller with a view to producing it as a single.
The group, who classify their sound as 'power pop' are very excited about playing live to their 'home' audience once again and they see Sunday's show as perfect preparation for the Rock Festival the following week. I for one am keenly looking forward to seeing the boys once more especially since rumours abound that two of them are so old now that they have started to shave.
Teaming up with the Atherstone aces will be everyone's favourite pop/reggae act, Fetch Eddie. Pod and the crew have had so many off-stage problems of late that they have had to miss a number of billed shows but they hope to make up for that with a vengeance on Sunday night.
Oldies
Like Catch 23 the band – currently being chased by CBS Records – will be parading some relatively new material alongside their famous golden oldies like 'Too Much Too Ask For' and the anthemic 'He'll Love you 'Til You're Pregnant'.
Fetch Eddie remain one of the most innovative and exciting bands around and alongside their friends and fellow soulmates Catch 23, they look set to produce another cracking performance on the night.
It should be one of the best gigs of the year – don't miss it!
Tamworth Herald - 05/08/88
Musicbox – Sad farewell – and the best is yet to come
WOLFSBANE Tamworth Arts Centre, Saturday and Sunday, with Fetch Eddie, Catch 23, Scream Dream and DHSS.
And so the end is nigh…The end of four wonderful years in which Wolfsbane moved from being just another young metal band into potentially one of the biggest bands in Britain, and certainly Tamworth's biggest ever offering to the national music scene.
Their mega-bucks deal with US giants, Def-Jam Records means Bayley, Jase, Steve and Jeff jet off to Los Angeles later this month to record their first album and hopefully hit the road to stardom.
It means we won't see them in this country again for a very long time, and who knows when, if ever, they will play in Tamworth again.
Indeed the odds of seeing Wolfsbane in a venue the size of Tamworth Arts Centre again are about the same as Tamworth signing Tony Cottee.
So their final farewell gigs, the first-ever two-night stand at the Arts Centre pulled a packed audience out of Tamworth's finest musos and the varied assortment of crazies from all over the country who travel to see the Wolfies these days. MUSICBOX writers and Martin Warrilow and Ray Clenshaw (who also starred in Catch 23 on the Saturday night) were there to record the proceedings, on two very different but brilliant events.
SATURDAY…The punters were arriving in Tamworth at about midday for this, and the Arts Centre was white-hot by the time openers Fetch Eddie hit the stage.
You could tell it was going to be a great weekend as Aaron and the boys turned in a sparkling set of quality pop that stood out as a diamond in the dirt that stands for music these days. From the opening strains of 'Mean Tin O' Beans' through a selection of Fetch Eddie faves, and a newie entitled 'One Two Feet' they sounded considerably better than their outdoor festival set and won a fine reception from the Wolfsbane-supporting audience. Quite simply, with a little more refinement in the presentation there is nothing to stop these boys from becoming the next big Tamworth band and making the wonderful Phyllis James the happiest woman in Britain. Marvellous.
Old faves
Catch 23 caught the mood superbly with a blasting set of their old faves and some classic covers "Tears of a Clown", "Fever", "Heatwave", were all churned out with style along with "This Day and Age" and "Twisted Mind" dedicated as usual to George who as usual, loved it. Steve Webster in a Howling Mad t-shirt was in fine form and proved that he might well be Tamworth's next star front-man. I happen to know they thought they were awful. I thought they were brilliant.
I wish I could say the same for Wolfsbane. Although they got considerably better for Sunday's show, which tragically I missed. I have to say that Saturday's set was ragged, untidy, overlong and rambling. The band is all about power, excitement, drive and catchy tunes. All that disappeared in a morass of wordy between-song raps from an over-emotional Bayley and some unnecessary clowning. When they finally got down to music they were spectacular, but there just wasn't enough of it to keep the crowd interested. I've never been bored in almost three years of watching Wolfsbane. I was nearly bored by this. Oh, how I wish I had been able to see Sunday's set. As it is, I'll just remember them wowing the crowds at the Festival. Until that is, we all rush down to our local record store to buy the album. The end of an era.
MARTIN WARRILOW
SUNDAY…Well what a farewell for Wolfsbane. The show opened with the DHSS who produced their special helping of sadistic pleasures with a frenzy of synthesisers, the best example of which was "Vicar's Hand" showing up Edward ian Armchair for the sick man he undoubtedly is. Crazed but fun.
Great blast
Next up were Scream Dream, a truly nice bunch of lad who produce a great blast of noise on stage. "Dreams" was once again the best tune of an exciting set although "Obsession" came a close second.
Then came Wolfsbane for their last-ever Tamworth Arts Centre show. This was a sleazy bonfire of metal madness of the very best sort. I've watched them since they started and this was the dirtiest and most anarchic set I've ever seen from them. They have now reached a peak of rage, and this was far more than four guys just getting on a stage and playing songs. This was a testament to Tamworth and its musicians. Wolfsbane have reached new heights, have progressed beyond their past and gelled into a big loud sleazy ball of power. In the limited range of heavy metal they just get better and better. I have never heard them produce such gut-busting metal power before and an emotional 'Clutching at Straws' was the highlight of a white hot set. And then they were gone, leaving us with a sense of past successes and anticipation of the future. Because undoubtedly the best is yet to come.
RAY CLENSHAW
Tamworth Herald - 19/08/88
Musicbox – Snips
Will the two Fetch Eddie fans who are still waiting for their ordered t-shirts following the Rock festival please ring…The Fetch Eddie sales team have lost your address so give them a buzz to sort it all out.
Tamworth Herald - 26/08/88
Musicbox – Snips
Tamworth pop band Sa Sa have announced details of their first ever concert. The group, whose commercial and intelligent tape impressed me a great deal , will team up with classic pop act Fetch Eddie and Atherstone favourites A5 for the show which which will take place at the Arts Centre on Sunday September 4.
Tamworth Herald - 02/09/88
Musicbox – Fetch the pop
TWO of the area's most established bands – Fetch Eddie and A5 – team up with a new Tamworth pop group on Sunday night for an interesting looking three band show at the Arts Centre.
The new band making their Town Centre debut are Sa, Sa, a four piece with a whole host of influences from Tamla Mowtown to modern day chart music.
For Sa, Sa it will be a very interesting and nervous night, but for the other two bands it will be somewhat of a less daunting experience.
Fetch Eddie of course have grown from strength to strength over the past few months and they now have a large and loyal following among Tamworth, Atherstone and Birmingham audiences. Only last week they played their second show at the famous Hummingbird (alongside Rape in Yellow and The Searching) and they are currently recording a special demo for CBS Records.
A5 will also prove a draw on the night. Their appearances in the Town are less frequent than in the past which mean they always tend to bring a surprise or two when they hit the stage. Basically, it is commercial guitar-driven post-punk sounds with a cutting edge and some very nice toons.
As for Sa, Sa, well they prefer to let people make their own mind up than put themselves in any convenient box. A couple of the members have been playing in bands for a long time but guitarist and singer Steve Holland finds it hard to put his finger on what makes Sa, Sa tick…
"I can't really describe our sound and it will be interesting to see what Tamworth audiences make of it," said Steve.
The rest of the band is made up of Steve Parkin (bass), Mark Ransome (keyboards) and a newcomer to the local scene, Lee Preece, who hails from one of Tamworth's most famous footballing families.
Sa, Sa. Fetch Eddie and A5 can e seen together at the Arts Centre on Sunday night and fine show in prospect. Get along and get smiling.
Tamworth Herald - 23/09/88
Musicbox – SNIPS
Fetch Eddie duo, Aaron and Pod played a special duet show at Sinatra's Nightclub in Birmingham last weekend. The duo who had been invited to do a tape of their moody classic 'Sunny Child' played under the name of 'Two Bob Ted' and played a quartet of sings. Fetch Eddie have apologised for their recent omission from a billed Arts Centre show and hope to be back at the Arts Centre shortly for a double-header with Catch 23.
Tamworth Herald - 30/09/88
Musicbox – SNIPS
Fetch Eddie have been booked to play a couple more Hummingbird Shows. They are hoping to take a Tamworth/Atherstone coach to one of them on Thursday October 6 when they team up with Ozone Farm and Watch With Mother. Incidentally the band's demo arrived on my desk this week – encased in a tin of beans. The demo 'A Mean Tin Of Beans' – features three tracks and is being sent to various record companies encased in it's rather odd shell which s pretty damn eyecatching.
Tamworth Herald - 14/10/88
Musicbox – Demo Selection
Fetch Eddie – Mean Tin O' Beans
It's took a very long time for this new demo to finally surface but all the wait seems worthwhile. This new four tracker will further convince those of us that are committed to the band and should hopefully win over many that are not. Best of the four are the two tracks in the middle – 'Teachers Lemonette' and 'I Think That I Love You'. The former is an unexpected joy, a bubbling 50s rockabilly jaunt with some stylish rhythm work, the usual amazing vocal and a surprise burst of harmonica at the end, 'I think That I love You' is let down slightly by a lack-lustre muffled production but still retains its basic high-energy, high-jinks sound and remains to my ears the nearest thing any local band has come to a piece of pure pop. The tape is completed by the punchy title track and a splendid acoustic version of 'Mar. Sharp'. All in all a perfect introduction into the multi-faceted talent of a multi-faceted band. The business.
Tamworth Herald - 21/10/88
Musicbox – SNIPS
Fetch Eddie have parted company with drummer Johnny Rimshot. The decision made by the band is said to be one of the hardest they have ever had to make and they have wished John all the best for the future. The band are now rehearsing several possible replacements, more details as and when we get them.
Tamworth Herald - 28/10/88
Musicbox – SNIPS
Fetch Eddie are auditioning a trio of top class drummers as a replacement for Johnny Rimshot. The trio are all from top bands including the former drummer of Musical youth of 'Pass the Duchy' fame who became childhood megastars. We will have details of the finals election when we get them but in the meantime here are one or two Fetch Eddie dates for your diaries – Nov 6 The Hummingbird, Birmingham, Nov 11 – Birmingham Poly, Nov 15, The Sir Robbie, Finsbury Park, London, Nov 20 – piranhas. A date in Wellingborough of all places is also in the offing.
Tamworth Herald - 04/11/88
Musicbox – SNIPS
Fetch Eddie have appointed their new drummer and as mentioned in last week's MUSICBOX he is Brendan the former sticksman of Musical Youth. The band are planning another coach to a forthcoming Birmingham show.
Tamworth Herald - 25/11/88
Musicbox – SNIPS
Fetch Eddie and Catch 23 are joining forces on Sunday night for a special and major Birmingham show. Our details this end are a bit sketchy.
Tamworth Herald - 02/12/88
Musicbox – Eye-lashing!
Fetch Eddie – Cod Club (Birmingham)
On a night like this, you realise just how special a band like Fetch Eddie really are. From the riotous joy-funk of 'Mean Tin 'O Beans' to the melancholy whirlpool of 'No Good For Love' from the sight of Pod (looking all the world like a Hovis advert reject, overcome with Crocodile tears) to Aaron and Lucy's hilarious manic Chuck Berryisms from influences as diverse as Rem and Blondie, the Railway Children and Bacharach to the ecstatic original exclamation of 'Too Much To Ask For' from the whispers to the screams, from the cradle to the grave, from Birmingham's COD club to the Hollywood Bowl. Do not be surprised for this is no paradox of Fetch Eddie. Quite simply (and for them this was average) they knock the spots off other bands.
LEE REVELLE
Incidentally Lee did not say knock the 'spots' off but you know what he means…
Tamworth Herald - 02/12/88
Musicbox - SNIPS
Fetch Eddie have been confirmed to play the Sonic Noise event on Thursday December 22 at the Arts Centre. They will join Emma Gibbs plus two other as yet unnamed bands. The following night (Friday Dec 23), A5 will team up with the Space Seeds and The First Conspiracy.
Tamworth Herald - 16/12/88
Musicbox – Placid house anyone?
Tamworth Arts Centre comes alive again on Thursday night when five local bands indulge in some 'Placid House' noises…
Established local faves Fetch Eddie, Emma Gibbs and the Ferocious Apaches will team up with new Indie boys Psychedelicatessen and debut-makers The Believers.
The gig which trades under the name of 'The Placid House' show has been put together by loveable Lee Revelle of Emma Gibbs who thinks that the show will have something for everyone.
For pure pop fans it will be your first chance in quite some time to catch Fetch Eddie, a band who have been gaining ever increasing radio and newspaper coverage and who are said to be far better these days now they have former Musical Youth drummer Brendon behind the skins. The band are keenly looking forward to this Christmas show and they are sure to go down a storm with their large army of local supporters from both Tamworth and Atherstone.
Emma Gibbs should also appeal to those pop-seekers. Their new atmosphere, though not quite one of wine and roses, is a lot more commercially orientated and their last demo was a cracker which ranked as one of the tapes of the year. They have discovered an all new pop senseability and when added to that essential Emma Gibbishness it will make them an interesting Christams spectacle. The Ferocious Apaches have also been added to the bill at the last moment and they (as you know) can be full of 'fun'.
Joining these three on the bill are The Believers, a new band formed out of the embers of The Macoys and making their debut show. Sadly, rumours that they feature that almost legendary female singer Samantha Law have been denied but come Friday morning we may be a lot more knowledgeable about what this COMBO does have to offer.
Completing the Placid House collections are The Psychedelicatessen who made such an exciting appearance at the Arts Centre a few weeks ago. Their indie based sound is fast, loud and brash and leads to a host of differing comparisons – all I might add with pretty cool bands. They promise to be the hardest band of a pop-based line-up and their added aggression should give the show an extra ingredient.
With five bands of quality and other Christmas joys promised it should be a fun night out.
Don't forget this show is on Thursday night (I know it's a long tome until then but it will be worth the wait honest!) so destroy Thursday blues and enjoy a placid house Christmas cracker.
Tamworth Herald – 13/01/89
Musicbox – SNIPS, SNIPS, SNIPS
Fetch Eddie who were delighted with their fifth position in this MUSICBOX Poll, have announced three more dates on the road to inevitable world conquest. On January 13 they are at Newman College, Bartley Green on January 15 they are at The Cod Club, Birmingham and then on 21 January they make the short journey to play at Lichfield Arts Centre.
Tamworth Herald – 20/01/89
Musicbox – STOP PRESS
Fetch Eddie's concert at Lichfield Arts Centre is on January 27th and not the 21st as previously mentioned.
Tamworth Herald – 27/01/89
Musicbox – SNIPS
Two of Tamworth's most popular bands Fetch Eddie and Lyve will attempt to win over the Lichfield crowds tonight (Friday). The rather unusual pairing of the king popsters and the metalmen (and women) is further supplemented by the inclusion of r and b outfit The Sleaze Bros inc. The Sleaze Bros are a Lichfield based outfit who have a string of successful home town shows already under their belts. A good-looking line-up this, costing just £2 (doors open 7.30) at Lichfield Arts Centre.
Tamworth Herald – 03/02/89
Musicbox – Newsbeat
Bit if stop press news here, it seems Fetch Eddie were talking to a major record company on Monday. A phone call inviting them to an interview arrived out of the blue and it follows a stretch of major radio and press coverage. The next band to get signed? The bets are being taken now.
Tamworth Herald – 10/03/89
Musicbox – SNIPS
Fetch Eddie have announced a number of concerts for the next few weeks. The band who are deliberately stepping up their campaign to get a contract start with a big concert tomorrow (Saturday) at The Arts Centre, Golden Hillocks Road, Small Heath in a show which has been organised by Birmingham City Council as part of their 'Arts Alive' campaign. On Tuesday 28 March, Aaron's army are at the Irish Centre alongside highly-raved Chapter 22 band The Fanatics and Fetch Eddie are also playing at March 18 – Lichfield Arts Centre, March 25 – Wellingborough, April 21 – Palace Theatre, Redditch and April 28 – Aston university. More dates will be added soon.
Tamworth Herald – 24/03/89
MUSICBOX – IT'S A DEMO BLITZ
Yes at last! After months of hording two million local demo tapes in my bedroom, I have finally allowed ten or so to escape to be reviewed. With the help of fellow MUSICBOX scribes Martin Warrilow and Helen Machin we have sifted our way through all the demos listed below and given your our individual guide to each.
The star rating for each is given out of five and is personal to the individual reviewer but as a guide it is…
*****…Mega, Mega
****…Mega
***…Quite Mega
**…Not Mega
*…Mega Crud
Fetch Eddie – Introducing (****)
Slick and classy two tracker from a band who are so close to fame now they must actually be tasting it. This beautifully produced demo includes two lovely songs – 'No Good For Love' and 'Ambition' – which prove that the band know exactly how to write simply but dazzlingly effective pop songs. 'Ambition' has a tremendous lyric and a powerful Undertones sound while 'No good For Love' is laid back, dreamy and full of quality. No god for love perhaps, but plenty good for your ears.
Sam Holliday
Tamworth Herald – 14/04/89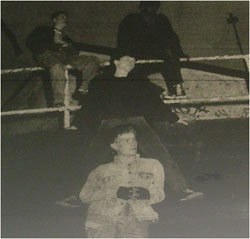 Musicbox – EP plan for the Fetch Eddie squad
THE rejuvenated Fetch Eddie are hoping to record a new EP in the summer.
The group, who made a vinyl debut last year with 'He'll Love You Till Your Pregnant', have been busy writing new material and have a dozen songs in the pipeline. Four of these hopefully will be put together on one EP which will be available towards the end of the summer, hopefully in time for the Festival.
In the meantime the group are planning a number of shows in places as far apart as Coventry and Putney and on June 4 they are hoping to return to Tamworth to headline an Arts Centre show. Support acts have not yet been announced although stablemate Catch 23 and Emma Gibbs are thought to be in the running again.
Tamworth Herald – 12/05/89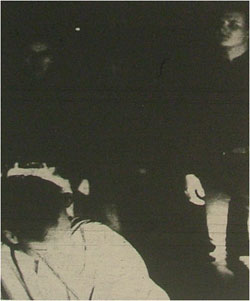 Musicbox – Disaster leads to glory
Hillsborough Benefit Gig
And once again Tamworth's gig-goers prove themselves to be generous sorts. More than £370 was raised from this excellent show and it further illustrated the point that when the chips are down Tamworth area bands are always happy to try and put the coffers up. This show for Hillsborough was good because it was designed for helping those in tragedy but it never dwelt upon pain. We all knew why we were there but we all enjoyed the gig as well. That's the best recipe for charity events – pleasure through pain equals success.
It all began with WIN who went on at a ridiculously early time and were therefore missed by these eyes. Lead singer Mark Brindley said it wasn't much cop but then again he always was a modest kinda chap. Next up were Shock Culture who played a short but tantalising set which was much enjoyed by their lusty young following. The highlight for me was a splendid rip-roaring version of 'Going underground'. There is still hope for our future when young bands choose to cover songs like THAT. Fetch Eddie were next to present themselves and a powerful set was then produced. It was a mix of one or two golden oldies and a couple of strong new numbers with the undoubted key point being a superb finals track called 'Dance' which featured a fine old tune and some marvellous dancing from Phyllis. Emma Gibbs followed and they gave a harder attack than we have been used to, and a very successful one at that. The band are becoming very much guitar orientated these days and those six stringers carry forth some of the sweetest melodies these ears have encountered of late. All together different were Armchair Thrash (that's DHSS minus Rikk and Anice) who turned in the most surprising but also one of the most enjoyable sets of the night. It was basically Ed pontificating on how own curious and somewhat perverted past, future and present with the mad axe man Rocking Reeman for once cooling down and playing some skilful accompaniment. I thought it worked magically. And so to the finale – and what a finale. Catch 23 played a short but dynamic set full of bravado and spirit. Their new tracks showed a maturing songwriting awareness while their oldies were given a new lease of life. 'Gotta Get out Of Here' was the song of the set, the night, the week, the month, the year while the joint tracks with Fetch Eddie's Aaron showed that the band are as versatile as they are skilful. They rounded off a superb night excellently and showed that as Liverpool FC have proved universal sadness can lead to a new sense of universal community.
Review – Sam Holliday.
Tamworth Herald – 02/06/89
Musicbox – Fetch the new member please!
Fetch Eddie return to their favourite Tamworth Arts Centre haunt on Sunday night – bringing with them a brand new member of the group.
The Fetch Eddie lads have joined forces with female backing singer Roselyn who supplements her vocals with keyboard playing to add a whole new aspect to Fetch Eddie's sound.
The band are delighted with their new acquisition and feel that things generally are moving very nicely indeed for them. They continue to gig prolifically in the Midlands and beyond and they are hoping by the time they headline the Rock Festival on Saturday July 15 that they will have made significant progress towards national recognition.
Joining the band on Sunday night will be a highly-rated support group called Doodlebug. The Doodlers have played with Fetch Eddie before, and although they are not known to this office the word from glamorous grannie and Fetch fanatic Phyliss James is that they are very good indeed.
That's two good bands then, both in action on Sunday night at the Arts Centre and both worth a look methinks.
Tamworth Herald – 09/06/89
Musicbox – Oh what a night!
FETCH EDDIE/DOODLEBUGS/EMMA GIBBS – Tamworth Arts Centre
A HUGELY uplifting night that restored my faith in Tamworth rock music. A good crowd, three splendid bands and some very pleasant surprises.
EMMA GIBBS
Back in the days when these boys were Lee Revelle, Rob Cross and slabs of pointless wailing noise, I'd have been headed for the bar after the first two seconds.
But things in the Gibbs camp have changed – and here they produced a tasty set of classy pop tunes that was very well worth listening to. Despite Lee's Morrissey-style frontman tendencies, reference points included everything from Deacon Blue, through Aztec Camera and Prefab Sprout and the whole thing was really rather fun. I must admit I was quite disappointed when the set ended abruptly. Twelve out of ten for effort (and for the tasteful on-stage surgical collar).
DOODLEBUGS
BIRMINGHAM-based pals of Fetch Eddie's who had obviously bought a big chunk of the audience with them, but still managed to win over the Tamworth half of the crowd.
Musically and particularly towards the end of an all-action set, they came across as slightly Wonderstuff-ish, with thrashing indie-pop guitar, witty lyrics and some rather tasty keyboard effects. But throughout they looked like a band with considerable stage presence (thanks to the talented female vocalist and a guitarist who looked disturbingly like Vince Watts, in a ridiculous ankle length coat and green fez) and some style. As indie-pop bands go (which quite clearly is not my scene) they were thoroughly enjoyable, and I'd definitely like to see them again.
FETCH EDDIE
ONE MORE tiny step up the road to fame and fortune for Phyllis's lads if I'm not very much mistaken.
Tonight, they were in vibrant mood, before an audience that plainly wanted to party, so what we got was a selection of Fetch Eddie's finest dance tunes from 'If I Were You', through the reggae of 'Too Much To Ask For' and new stuff like 'In With the out crowd' and the set-closer, best described in these pages as 'Dance'.
At times they remind me of '77-style Undertones pop, but with the sort of lyrics that can have you bopping uncontrollably one minute, and put a lump in your throat with their poignancy the next. If songwriting quality had anything to do with being stars (which of course it doesn't) Fetch Eddie would be massive tomorrow. As it is they've also got oodles of professionalism, class and star quality that poured out of every second of a bouncy, exciting, smile-inducing set, and which should definitely help them on their way. Absolutely marvellous.
Martin Warrillow
Tamworth Herald – 16/06/89
Musicbox – Eddie's off to Brum
FETCH EDDIE obviously enjoyed their recent Arts Centre show with Emma Gibbs Loves Badges and they are set to perform with the lads again at Sinatras in Birmingham on June 22. The Gibbs Boys are still said to be reeling from their rave review in these columns last week.
Tamworth Herald – 23/06/89
Musicbox – Snips, News
Fetch Eddie's continuing high profile has been reflected with yet more dates. On June 30th the band are at The Flag, Wembley, then at Snooty Fox, Solihull on July 6, Nobbies, Coventry on July 7th and then back to London on July 31st to play at 'Opera On the Green' in Shepherd's Bush.
Tamworth Herald – 25/08/89
Musicbox – SNIPS…NEWS
Fetch Eddie have lined up a major show in London on September 9. They will be playing alongside The Wickermen and Doodlebug in a major three-band show at Opera On The Green, Shepherds Bush. A coach will be travelling to the gig, picking up at Tamworth Arts Centre at 4.45pm on the day. If you want to book on it please ring David. In the meantime, the band are in action at the Irish Centre on August 31 when they join These Tender Values.
Tamworth Herald – 01/09/89
Musicbox
Fetch Eddie have lined up a major show in London on September 9. They will be playing alongside The Wickermen and Doodlebug in a major three-band show at Opera On The Green, Shepherds Bush. A coach will be travelling to the gig, picking up at Tamworth Arts Centre at 4.45pm on the day. If you want to book on it please ring David. In the meantime, the band are on action at the Irish Centre on August 31 when they join These Tender Values.
Tamworth Herald – 08/09/89
Musicbox – Cheesy Fun
THE 'POST-FESTIVAL' no-pop silly season, officially ends this Sunday, when the Arts Centre houses 'A Cheese & Wine Party'. It is headed by Emma Gibbs Loves Badges who will be ably supported by Armchair Thrash, Fetch Eddie and a new band to Tamworth eyes: One Happy Song. This line up, at the time of going to press, was incomplete and it is a near certainty that more bands shall be added to make a pulsating party night.
Opening proceedings will be Sutton Coldfield's One Happy Song, who whack out drum machine orientated Cole-esque pop toons by the binfull and will doubtlessly appeal to the gentle Indie fan bred in the area.
Two Bob Ted is the rather silly name given to three members of Fetch Eddie upon ditching of their trademark dance-beat and reaching for the most primitive of weapons…acoustic guitars. It will be the trio's first Tamworth appearance under this guise and is the perfect opportunity to witness the awesome songwriting talent of the gorgeous, pouting (etc) Aaron James.
Next in line are Armchair Thrash, alias Armchair and Reeman from Musicbox poll-toppers DHSS. You know that overused simile about an eagle in full flight…? Well, it has nothing whatsoever to do with the Thrashies, who are more like a charity-shop Fall, with a bit more raunch (courtesy of Reeman's axe-lickin'), a bit more sauce (ooer!) and a lot of very strange tales that have gained this duo rave reviews and a reputation for being ever-so-slightly odd.
Finishing the show will be Emma Gibbs, a band who manage to be DEEP and WIDE and TALL all at once. Their skilful Aztec meanderings and basic pop sensibility make for a set full of pure pop sounds which have started to warm the cockles of everyone's hearts. An enlightening experience is assured.
ANYONE willing to stay and party following the 'Gibbers' will be given free wine and some of those sticks with cheese and pineapple on them that you always had at school Christmas discos. The music played will be a mixture of indie, house, hip-hop and anything vaguely dance-inspiring, the idea being that a good time should be had even if the evening's bands have not been enjoyed (of course they WILL be, so it should be a double good night). Anyone attempting this in the past has been greeted with standard Tamworth apathy, and the big fun good times will only commence if the 24-hour party people are out in force, uninhibited and ready for…euphoria. The doors open at 7.20 and, if enough people meet the challenge, the fun starts immediately.
Reports by JO MARSH.
Additional reporting by Sam Holliday
Tamworth Herald – 06/10/89
Musicbox – SNIPS
Fetch Eddie are in action twice this weekend. On October 6 you can catch them at North Staff Poly and on October 7 you can see them again at Ackers Trust Centre, Birmingham alongside The Stuff, Pushing and Little Red Schoolhouse.
Tamworth Herald – 27/10/89
Musicbox – SNIPS
Fetch Eddie who have had more than their fair share of bad luck in recent years, have suffered another disaster. Guitarist Aaron James was involved in a car crash recently and as well as suffering facial injuries he also hurt his guitar playing fingers. As a result Fetch Eddie have had to cancel one or two future concerts and their plans have been thrown somewhat into disarray. Our best wishes to Aaron and here's hoping he gets back on stage SOON!
Tamworth Herald – 15/12/89
Musicbox – SNIPS
Fetch Eddie may be out of sight at the moment but they're not out of action. They are planning to go to Ireland to record new material in the studio used by well-known folk duo Foster and Allen.
The band are crossing the Irish Sea to take advantage of an offer from Ross's uncle Dave Allen (not the comedian, I think!) to use these facilities in the new year.
Completing the picture is the news that Aaron's hand is now fully repaired.
Tamworth Herald- 19/01/90
Musicbox – Arts Centre stages fundraising gigs – and discusses new hire charges for bands
TAMWORTH Arts Centre will host a trio of fund-raising concerts next weekend – at a time when it is considering new charges for local concerts.
The centre came under fire recently for the state of its stage and it responded by putting a brand new one in with some extra lights. The costs however were quite expensive, so without being asked, metal kings Kraze came forward and offered to set up shows to raise money to pay for the developments. Since then the likes of Catch 23 and Fetch Eddie have also pledged to play and with a Euphoria gig also taking place on Friday it will make for a weekend of fundraising for Tamworth's most famous venue.
Details
We hope to have more details in next week's paper of who will be playing and when, but in the meantime bands may like to know that the Centre sis considering drastic changes to its hire fees. Dave Fortune is toying with the idea of installing an in-house P.A., abolishing the hire fee and then taking a bigger percentage of the door. This would certainly aid new bands who may not be able to guarantee a large crowd and would not have to worry about actually losing money. This is the practise in most venues throughout the country and Dave now wants to know YOUR views on the idea. Contact him directly at the Centre – or via MUSICBOX – to let us know what you think about the possible change.
Tamworth Herald- 19/01/90
Musicbox - Art for Arts sake!
Tamworth- Arts Centre this weekend stages three cracking fund-raising concerts with some of the biggest names on the local scene.

Catch 23, Kraze, Fetch Eddie, Spiral Eye and a 'Euphoria' rave are just a few of the delightful events planned to raise money for the centre this week and it promises to have all the feel and fun of a festival.

All three shows are designated to help finance the various improvements at the Arts Centre in recent months and all the bands have offered their services free of charge.

Six great bands will be playing over Saturday and Sunday- Spiral Eye, The First Conspiracy, Kraze, Fetch Eddie, The Big Noise and Catch 23 - but the whole thing kicks off tonight (Friday) with a Euphoria rave. Here is what is happening when, starting with a preview of the Euphoria gig by Ms. Jo Marsh…

Tonight (Friday) Euphoria Dance Event
'Euphoria' does its humble bit for stage salvation tonight by holding the second of many happenings. The previous December event was considered an astonishing success by the organisers, if only for the realised vision of a strobe flickering Arts Centre jammed solid with sweat-soaked dancers. The very few murmurings of discontent received on the night have been accounted for and thus the musical cross section covered will be broader than before, catering for the more discerning (i.e. whinging) 'Indie Fan', although dance is still the key word of the night. The message is clear: 'do the magic boogie till we all black out.' The rave is on! (7.45-Midnight, cost £1.50)

Saturday Night - Spiral Eye/ Fetch Eddie/ Big Noise
In real 'Festival' style, a very diverse trio indeed. The Spiral Eye boys are currently on a major national tour, picking up friends as they go with their rambling psychedelic rockslog and they will no doubt receive a big welcome from their hometown crowd. Fetch Eddie have also been away from these shores for a some time and will also be welcomed back with open arms by their Tamworth followers while The Big Noise make a bravely early return to the Arts Centre considering recent events! All told however it makes for a cracking three band line up and one which is likely to bring in a big Saturday night crowd.

Sunday Night - Catch 23/ Kraze/The First Conspiracy
Another splendid and highly varied line up comprising everything from pure metal to pure pop. At the metal end of the spectrum we have Kraze who deserve enormous credit for putting this whole Arts Centre fundraising event together. Kraze will continue to pull the crowds in with great regularity as do Catch 23 of course who will be looking for a celebratory concert for winning the MUSICBOX Band Of The Year accolade. Completing another spiffing line up are The First Conspiracy, a group who will use this important show as a major comeback gig after a recent line up change. They have been much missed and their re-appearance is just one more reason why you shouldn't miss Sunday's bash.

So there you have it, three good nights with, I am certain you will agree, something for just about everyone. All the funds raised will go towards the Arts Centre and as all the bands have volunteered to help and shown their concern for the place, surely YOU can do the same by getting along on one, two or three of the nights. It costs £1.50 on each occasion and starts 7.45-8 pm Friday, Saturday and Sunday.

The weekend starts (and ends) at the Tamworth Arts Centre. Are you ready for it?
Tamworth Herald – 16/03/90
Musicbox – SNIPS
Fetch Eddie have just grabbed a new manger who has fallen in love with the band. They are currently rehearsing new material and are hoping to release a new demo at the end of this month. Watch this space.
Tamworth Herald – 30/03/90
Musicbox – Snips, news and more
Fetch Eddie have secured a new one-year management contract which has hopefully laid the foundations for some very nice things indeed. The band are currently in the midst of recording a brand new demo and they return to local live action on May 6 at Night Moves.
Tamworth Herald – 04/05/90
Musicbox - Sunday Gig Spotlight
It's Pure Eddie
TWO of the area's hottest properties Fetch Eddie and the New Puritans are among the band's featured in this Sunday's gig bonanza.
For the Puritans it will be the latest in a series of local shows while for Fetch Eddie it will be their first for a relatively long period of time.
Sadly the two bands are playing at separate gigs on Sunday as Tamworth becomes a two gig town yet again. Thankfully their appears to be no concert at the Arts Centre but the choice between the main two events is enough to cause confusion in itself.
The two concerts feature…
The Rathole (Lincolns) – The Moment/The New Puritans/Peter Tuesday
Nightmoves – Fetch Eddie/The Magnificent Linkage
You want more info? Well, to quote Roy Orbison 'anything you want, you got it…'
Nightmoves – Fetch Eddie/Magnificent Lkage
A lusty cry of 'welcome back to Fetch Eddie' rings around the Town! Yes these most endearing of popsters are back in Tamworth and by all accounts they're raring to go. They have been away from these shores for a little while due mainly to recording studios and a baby but they are now keen to step up their activity again and show their loyal Tamworth watchers just what they have been missing. Sunday's appearance will be their first in Tamworth for several months and as a result one or two new tracks are almost certain to find their way out of the amps. Fetch Eddie are rarely less than a treat and they are sure to receive a hero's welcome again. Supporting them will be a respected Birmingham dance/pop band called the Magnificent Lkage. Having already trod the Tamworth boards to good effect they are sure to bring an enthusiastic response from local gig-goers again and their link up with Fetch Eddie like a musical marriage of great note. Venue: Nightmoves, start 8.00pm, expectation: high.
Tamworth Herald – 18/05/90
Musicbox – Review…Review…Review
Fetch Eddie/Magnificent Lkage – Night Moves (Sunday)
A long-awaited gig, this. A big crowd, a terrific sound system thanks to those fine chaps at Diamond PA, lots of anticipation – and in the end a considerable disappointment.
Fetch Eddie hit the Tamworth stage again after much too long away, and to be quite honest didn't pull up trees in the way I expected them to.
Whether it was the venue, the crowd or what, there was something that wasn't quite there.
Don't get me wrong, I still came away humming "Too Much To Ask For" and all the other Fetch Eddie classics, but somehow something seems to have gone wrong during their time away.
The new songs didn't quite have the impact I was hoping for, and somehow these days there seem to be too many slow ponderous, romantic songs in the set.
I remember reviewing Fetch Eddie at the Arts Centre a while back, and raving about the party atmosphere as they bombarded a massed crowd with a string of surefire dance tunes.
This time it simply didn't happen. Whether this is the wrong venue to play these sort of tunes I'm not quite sure, but something was sadly awry.
I'd like to see them again very shortly in an effort to prove that this wasn't the best they can do. Don't leave it six months before playing here again lads.
The bright spot was Magnificent Lkage, quite possibly the best Birmingham band to venture across the boundaries since True Grit.
A varied collection of grotty pop songs, fine tunes and power performing that left me extremely keen to see them again (or indeed see them at all given the tight confines of the stage at Night Moves!).
Martin Warrillow
Tamworth Herald – 01/06/90
Musicbox – Mr. Sam Holliday is doing a good job at Musicbox shock horror claim
Dear Sam
Each week when I read the Musicbox page I realise more and more how much you help and encourage local bands. I know this applies to Fetch Eddie because I am involved with them. All the other bands know as I do that you care.
What I would like to see, is a few 'thank you Sam' letters on the Musicbox page.
Here is mine.
Thank you Sam for everything. Let's see a lot more added to mine.
Sincerely and gratefully yours,
Phyllis,
Stonydelph
Tamworth
Tamworth Herald – 01/06/90
Musicbox – News and Snips
TWO great out of town bands – The Moment and The Heart Throbs form the basis of an impressive week at the Rathole.
The Moment, the stylish Clash/Dexys combo, will headline a three band Rathole show on Sunday which also features Fetch Eddie and Good Question Derek.
The Moment, who had their earlier Rathole gig cancelled at the last moment after the singer had a throat injury, will bring their brass dominated sounds to the Lincolns venue for a keynote show.
In support will be our very own Fetch Eddie, of whom few superlatives are over-estimations, and a well respected Birmingham pop band with the excellent name of Good Question Derek. T runs from 7.30-11 on Sunday and looks a pretty epic show.
On Thursday the Rathole hosts one of its biggest gigs yet in the shape of The Heart Throbs. This is a very key gig for the venue as the Heart Throbs represent one of the best young bands in the country at the moment. Support comes from The Trudy and the night runs from 8-1.
Tamworth Herald – 08/06/90
Musicbox – Aaron James quits Fetch Eddie in shock move
AARON James, Fetch Eddie's guitarist and main songwriter has surprisingly quit the band.
Aaron, who has been the mainstay of the band for four years, decided to throw in the towel last week meaning the cancellation of Sunday night's proposed show at the Rathole.
Fetch Eddie are intending to carry on without Aaron but there is no doubt that the loss of the man who penned all their greatest tunes will be a major blow to their credibility and sales appeal.
Fetch Eddie The Baby's Gone Blue burst onto the scene four years ago and first caught my attention when they sent me a copy of their debut demo which I reviewed enthusiastically in MUSICBOX.
Mixture
Their mixture of Squeeze-style pop and gentle white reggae proved an unusual and compelling sound and they began to play live to increasingly enthusiastic responses. By the time they played their second Tamworth Festival they had become established as one of the area's finest groups and their massive impact on the MUSICBOX poll proved that they had a two-way love affair with Tamworth audiences.
Aaron, who became a father earlier this year, decided to quit the group because he felt unhappy with their present direction. And, in addition he was a little disappointed with the speed in which the band were not progressing.
Aaron has said he will take time off now before considering his future, but he has made it clear he wants to stay in the manic world. As for Fetch Eddie, the word is that they are carrying on with new musicians but here at LE BOX we wonder if they will ever be the same without their main and very, very talented songwriter.
Or indeed without their main fan – the lovely Phyliss, Aaron's grandmother – who is very sad about Aaron's departure and views it with the same sadness as everyone who has at one time fell under the band's hypnotic spell.
---
Fetch Eddie the Baby's Gone Blue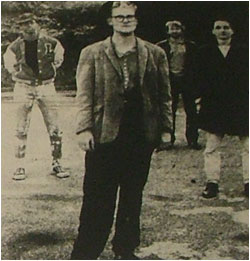 Fetch Eddie the Baby's Gone Blue