The Conspiracy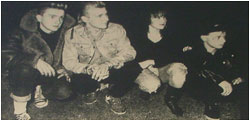 The Conspiracy
Photograph courtesy: Tamworth Herald
Gallery
Musical Genre/Type: Punk
Formed: 1987
Band Members:
Break it Beth - Bass Guitar
Lisa Cooke - Vocals
Roger Moore - Guitar
Simon - Drums
Gigs:
27/08/87
The Conspiracy
Tavern in the Town
02/11/87
Wolfsbane
Catch 23
The Conspiracy
20/11/87
The Conspiracy
Enots Lichfield
27/11/87
Breaking Point
Great Express
The Conspiracy
Tamworth Arts Centre
14/02/88
Battle of the Bands
The Conspiracy
Mr Cyn
Torn in Two
Scream Dream
Future Field
Tamworth Arts Centre
04/03/88
Battle of the Bands – FINAL
The Conspiracy
New Age Gypsies
Kraze
Scream Dream
Tamworth Arts Centre
12/04/88
The Conspiracy
New Swan, Atherstone
17/06/88
The Conspiracy
University of Birmingham
16/07/88
Tamworth Rock Festival
Torn in Two
Shellshock
The Searching
DHSS
Wolfsbane
The Conspiracy
Never Say Die
Kubla Khan
Castle Grounds
Admission free 11am-7pm
Tamworth Herald – 03/07/87
Musicbox – SNIPS
IT'S nice to see that former Restricted guitarist Roger Moore has got together a new band, The Conspiracy. The outfit are hoping to gig in the near future and have been enlisted into the Arts Centre section of the Rock Festival.
Tamworth Herald – 24/07/87
Musicbox – SNIPS
New punk-based outfit The Conspiracy were due to make their first trip to the recording studio tonight (Friday). The band who will be making their Tavern in the Town debut on August 27, will be recording a number of tracks at Expresso Bongo. Other local acts who have recently been into the studio include New Age Gypsies and The Pakistani Brothers.
Tamworth Herald – 07/08/87
Musicbox – it's black magic for the punks
The Conspiracy – In the Beginning (Demo)
PUNK ROCK has had a somewhat chequered history in this area. Despite the mass of black-clad types who abound, there hasn't been a great deal to cheer about. Many bands have tried to master the alternative act – DHSS, The Reliants, Femme Fatale, The Calling, Terroa, The Classified Ads among them – but very few have stayed the course, leaving the Town's men in black frustrated and bedroom-ridden.
Well now we have a band who could well institute a return call to arms, a group who have zest, power and the sort of punch which Mike Tyson would be proud of.
The Conspiracy – a name taken from 1977 if ever there was one – have been together for just a few short months but the excellent debut demo shows they have already perfected a style and personality all of their own. It is based around the splendid guitar work of Roger Moore - an always innovative and positive musician who has been on the rock and roll shelf for far too long.
Roger, who used to create 100mph rants along with Andy Tuffield, Brian Pear and Andy Wiggall (collectively The Restricted) has taken his early earthy roots and combined them with modern-day Cult-style influences to create a never-predictable and always interesting new sound.
The first track of this five-song demo (which I rate as one of the finest Paul Speare produced is the crunch de la crunch. 'Passions Burning' is a real bone-shaker of a track combining Roger's Ruts-style guitar work with Lisa Cooke's impressive lead vocal which reminds me of the lovely Pauline Murray of Penetration fame.
Amazing
The song has a rip-roaring riff, a spacy drum sound and a tune which sticks to the brain and is as hard to remove as a spider from a bath. Next up is 'Blood and Roses' where the inevitable Siouxsie and the Banshees comparison becomes relevant.
The song swirls along dreamily with the help of some…style acoustics and another dance floor beat which is sure to get the Doc Martens stomping when played live. After this track the tape descends into the world of The Cult – a world I actually feel rather depressing but one in which The Conspiracy seem to hold a strong and powerful position.
The two tracks which swim in this water – 'Just look Around' and 'Little Children' – both have an energetic atmosphere of their own and should please the many black 'n' proud types who have fallen for the Cult one-trick.
In the latter track Roger's amazing leaps and bounds guitar improvement becomes glaringly obvious as he goes on how own magical mystery tour while bassist Sonny – both cut a slogging onslaught which Killing Joke would be proud of.
The tape finishes with an extended remix of my favourite track 'Passions Burning'. This has an even better intro and a sound which stays at a high peak from the first bar to the last. Extended or at its original short length, this is one hell of a track.
All in all this is a tape which I can't recommend highly enough. It seems to work on every level and shows remarkable confidence and purpose for a band so relatively young and fresh. It achieves the goals that Femme Fatale were always searching for but rarely reached and should give Tamworth's (horrible word coming up) 'alternative' types a real reason to smile.
You can catch The Conspiracy at the Tavern in the Town shortly and I would urge you to make sure you don't miss them. If – as I spend long wistful hours wishing – a punk revival is the next big thing, The Conspiracy could well have timed their entry to the world perfectly. Let the revolution begin.
Tamworth Herald – 21/08/87
Musicbox – SNIPS
The Conspiracy make their debut performance next Thursday (August 27) at the tavern in the Town. Tamworth's newest, brightest punk popsters will also be in action two days later at the Festival.
Tamworth Herald – 28/08/87
Musicbox – BIGGEST FESTIVAL YET OFFERS 27 GREAT BANDS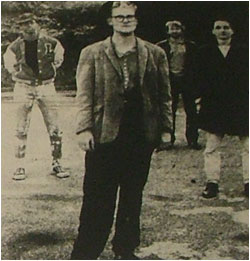 A rip-roaring weekend of rock
YES, IT'S HERE AT LAST! After all the months of planning and preparation, Tamworth will this weekend unveil it's biggest and best rock festival ever.
Over the next four days no less than 27 bands – not to say alternative poets, disc jockeys and general eccentrics – will combine their talents to give the town's pop pickers a week to remember.
Tonight (Friday) the whole event kicks off with an action-packed Arts Centre show to be followed on Saturday night with another night of new bands at the same venue. And then on Sunday and Monday, Tamworth Castle Grounds will be taken over for 16 hours for a massive live extravaganza of music covering 18 varied and exciting groups from all over the Tamworth and Atherstone area.
It all adds up to four hectic, juicy days so here is a blow-by-blow account of what to expect, where to expect it and where not to go if you want to avoid it!!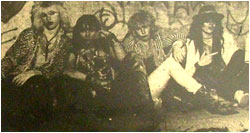 FRIDAY
Tamworth Arts Centre
WELL WHAT A START. For just 50p you can get to see five totally different bands who represent just about every form of musical extreme in this little old scene of ours. Heading the lot our The Wilsons who have been added as late festival funmakers and should provide many moments of bopping delight. Joining the Wilsons are the brash barmy boys known as The Pakistani Brothers, the all-new all-electric Stranger Than Life, the arrogant and animated Oliver Reed Combo and another late addition The Parade. That is five potentially explosive acts for less than the price of a Curly Wurly each. Be there early (8pm) 'cos it is going to be full.
SATURDAY
Tamworth Arts Centre
ANOTHER case of sheer daylight robbery when just 50p once again gets you masses of good original music. The Conspiracy, Tamworth's new alternative hopefuls make their eagerly awaited Arts Centre debut and are joined by the rocking, rollicking blues of Jim Crows, the powerful mid-Seventies attack of New Age Gypsies, and the passionate and highly-tipped indierockers Ferocious Apaches. The fifth band on the line-up is still to be confirmed as there is a possibility that The Final line may have split up. If that is so, new Burton FM soundalikes Vienna will be slotted in as special guests so whichever way you look at it your ears cannot fail! Remember it starts at 8pm and get there early.
SUNDAY
Tamworth Castle Grounds (11.30am-7pm)
AND SO, to the main course. Once again the festival will be sited at the top of the Castle Grounds, just in front of the tennis courts and once again it will all be totally FREE.
You will see no less than nine bands on Sunday and a further nine on Monday with the only sort of rock uncatered for being that horrible stuff that breaks your teeth at Blackpool. It all begins at 11am when the Reverb/Buttercup disco blares into action and then 90 minutes later the first band – Kubla Khan – hit the stage. This oh reader, is what happens next…
KUBLA KHAN (12.30) – A new and enthusiastic rock band with a slant to the mid-Seventies and wicked sense of humour. Should be very good scene setters.
THE SEARCHING (1.05) Another relatively new act whose own brand of rock searches across a broad spectrum enveloping influences that include The Damned and the Cure.
The A5 (1.40) – A tremendous unit who are improving all the time and have now acquired a harder more distinctive sound. Aggressive, tuneful and toe-tappable.
WORLD INTELLIGENCE NETWORK (2.15) – Totally fab, leather-jacketed bunch who manage to Cope with being compared to Cope all the time. WINners.
CATCH 23 (2.50) – Youthful, fanciful popsters with hope in their hearts and electricity in their blood. They make great pop music. It's as simple as that.
RAPE IN YELLOW (3.25) – Like Moses, this band have spent a long time in the wilderness and now return with a commanding set. They play original, whimsical Sixties based pop music.
ZEALOUT (4.00) – Another new band who walk on the Atherstone side of life. Zealout play broadly based rock music and regard this show as their first major introduction to the world.
PLATINUM HI (4.35) – Zooming all the way up from London this combo (who feature former Tamworth fave Rob Rea) play colourful metal music with brash style.
THE GREAT EXPRESS (5.10) – Concluding Sunday night's revels are one of Tamworth's hottest properties. The Express have already raced to the top of the league with their power charged, energetic and unusual creation. A great end to a great day.
MONDAY
Tamworth Castle Grounds (11.30am-7pm)
MRE MIRTH, music, magic and majesty on offer today with some of the best sounds outside of my record collection. As with Sunday, the bands will appear at roughly 40 minute intervals so you should never be very far away from something you are REALLY going to like. Here is the day's itinerary so get your Filofax out.
FUTURE FIELD (1.05) – A new intelligent AOR based rock band with a host of ideas and several accomplished local musicians. Soothing music for the fun.
SHELLSHOCK (1.40) – Pure, unashamed heavy metal from a band whose enthusiasm is a refreshing as Brew X1 in the Sahara. Loud, proud and metallic.
JABBERWOCKIE (2.15) – Original unit who play music like of which Tamworth has never seen before, multi-instrumentalists overflowing with notes and notions.
WOLFSBANE (2.50) – The kings, the bosses, the boys. Wolfsbane's dictionary definition is 'everything that is good about heavy metal music'. They've got the LOT.
FETCH EDDIE (3.25) – Clean, loveable pop music which is as pure as the average Vestal Virgin. Ace tunesmiths who could set the afternoon alight.
DEPTH CHARGE (4.00) – One of Tamworth's old favourites with new life and a new line-up. Look out for guitarist 'Tanya' (See rock festival t-shirts for more info on that!)
RUFFIAN ON THE STAIRS (4.35) – Commercial pleasing soul sounds from a band who combine the best of Tamworth and Lichfield. Promise to be quite special.
BREAKING POINT (5.10) – Longstanding heroes, who combine the powerful with the passionate and have been sorely missed from our stages of late. But absence makes the heart grow fonder they say, so get set for some nostalgic cheer.
So that's the whole line-up. In betweens each band you will see and hear djs, comperes and poets like Buttercup, Edward ian Armchair, Dave Hewitt, Kevin McGough, Bue, Rikk Quay et al and there may also be some surprise guest celebrities popping up as well. In the event of rain over Sunday and Monday there may be alternative arrangements but you must be at the Castle Grounds to find out what they are.
Whatever happens this is Tamworth's biggest musical event of the year and one which every music-loving person from 6-66 should enjoy immensely. So clear your weekends, clear your heads and get set to be bombarded from every possible angle by every possible sound.
*Festival t-shirts will be available tonight Friday (£3.50) and programmes at a mere 25p).
Tamworth Herald – 18/09/87
Musicbox – SNIPS
Breaking Point and The Conspiracy are hoping to team up soon for some special concerts. Meanwhile Breaking Point have organised a concert at The Mermaid in Birmingham with old rock legends The Groundhogs at the end of October. A coach should be going and more info is available from band members.
Tamworth Herald – 02/10/87
Musicbox – SNIPS
Congratulations corner this week starts with Conspiracy bassist Paul who has just walked down the aisle and into unchartered shark infested water known as 'marriage'. Also congrats to former pop celeb Ian 'Poge' Harding who has walked away from London University clutching a First Class Honours Degree. Poge, who was involved in a host of bands at the start of the Eighties, was also a leading exponent of a unique Tamworth sport known as 'wicketball' much favoured by past and present members of Thirty Frames A Second, Classified Ads et al.
Tamworth Herald – 30/10/87
Musicbox – The boys are back in Town!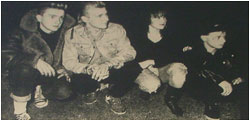 TAMWORTH'S music scene will explode into life again on Sunday night when all-conquering Wolfsbane headline an exciting show with two first-class support acts – Catch 23 and The Conspiracy.
The three band line-up promises to be a tremendous concert and a real celebration of the amazing strength of the local scene.
For Wolfsbane – who have literally been 'slaying 'em' wherever they go – the gig will be a keenly-awaited and very exciting homecoming. Wolfsbane have gone from strength to strength on a national basis, but have never forgotten their Tamworth roots and they regard Sunday's Art Centre show as one of the most important of their current batch of prestigious gigs. The Town's most outrageously loveable quartet are almost certain to be snapped up by a record company very shortly, and they have reached the stage where virtually every gig they do is received somewhere with the sort of review which makes my ecstatic MUSICBOX comments on the band seem positively hostile!
Their set, their look, their appeal and their strength seem to be growing and maturing by the minute, and even the band seem a little taken aback at the mass adulation that has been apparent at all their shows of recent months. Tamworth has every reason to be very proud of these hell-raising, heavy metal heroes and there is no better way of demonstrating that pride than y packing the Arts Centre to the rafters and giving these boys the sort of reaction that will be heard in the ivory towers of EMI, CBS and the rest.
Wolfsbane (however far they go) will never forget Tamworth – on Sunday we can show that Tamworth will never forget them.
Joining Bouncing Bayley and his Bad Boys on Sunday will be two other groups who have that ability to make you tingle in places you didn't tell your grandmother about. Catch 23 are of course about as essential to the scheme of things as breathing, and their high-powered, high-energy sound shows no sign of diluting even as the boys reach their relative old age of the mid-late teens. Catch 23 are a tremendous bunch of people who also harbour a tremendous sense of purpose. Their purpose on Sunday will be simple – to entertain the hordes who have given them the incentive to carry on. It is an ambition they will find easy to realise.
Completing a tremendous line-up are Tamworth's newest cult band The Conspiracy. The band - who have only been with us a matter of months – have already become established as one of Tamworth's brightest new hopes and have given the Town's alternative and punk fans a new spark of life after a somewhat barren time. Their sound – a kind of Siouxsie and the Banshees meets The Cult affair – is till just being formulated but it has already shown enough ingredients to make me feel it could be as vital and strong as Mike Tyson.
With Wolfsbane's power, Catch 23's energy and The Conspiracy's style, the show on Sunday night looks set to be one of the highlights of this hectic rock and roll year. If you want to see how good this area is musically get yourselves along to the Arts Centre on Sunday and let those wonderful bands do the rest.
Classic entertainment this way cometh.
Tamworth Herald – 06/11/87
Musicbox – Snap, crackle, crunch
Wolfsbane/Catch 23/The Conspiracy
AS my love of all three bands here is hardly a state secret, I will keep this review brief and to the point. So without much ado about nothing here is my view of a very hot evening…
THE CONSPIRACY
Any view I could give here is surely prejudiced by the fact that I only managed to see about three numbers and one of them – yuk, yuk, - was a Cult cover. Still the little bit my ears caught sounded very fine indeed and judging by the enthusiastic comments of virtually everyone afterwards, it seems Roger's Rockers have carved an ever-lasting niche on the local scene. Music to bop to, music to make you smile.
CATCH 23
An all-together harder and more direct set from a band who were in energetic, enthusiastic form. Their pop sensibility was replaced with a more raw and angrier attack with Steve Webster in dynamic form and bassist Jason Notman producing some excellent power-bass playing which once again reminded me of the Grandmaster JJ Burnel.
Highlight of the tracks was the priceless 'No More Lights' which is a modern-day new wave classic if ever I heard one.
WOLFSBANE
Heavy man. All together more ear-crunching set from a band whose talent knows no bounds. In comparison to recent Wolfsbane shows, it was heavier, sweatier, punchier, gaudier, smellier, noisier, nastier, naughtier, haughtier, angrier, sexier and more gauche.
Anyone who leaves a Wolfsbane concert and doesn't feel as though they have swallowed a Bunsen-burner simply isn't playing attention.
Sam Holliday
Tamworth Herald – 13/11/87
Musicbox – The Conspiracy, fresh from recent triumphs in the Tavern in the Town and the Arts Centre, spread their wings a little to Lichfield next week. The band will be in action at Enots on Friday, November 20 and would greatly appreciate travelling Tamworth support.
Tamworth Herald – 27/11/87
Musicbox – Here Comes Two Cracking Nights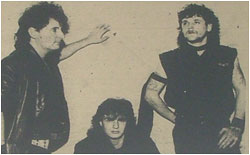 TAMWORTH'S music scene bursts into life again this weekend with two cracking concerts at the Arts Centre.
Tonight (Friday) powerkings Breaking Point spearhead an alternative bash which features The Great Express and The Conspiracy and then on Sunday, rock music takes over with metal men Shellshock teaming up with Atherstone twosome The New Age Gypsies and Kubla Khan.
Both concerts offer a mixture of new and old favourites and both offer the respective audiences a wide range of exciting modern music.
Let's start by looking at tonight's show. Topping off the bill are Breaking Point who are looking to tonight's concert as an important new starting point in their long and enjoyable career.
As well as parading many of their oldies and goldies, the band will be serving up several new tunes all of which they passionately believe stand up to the best of the rest. Breaking Point have, in former times, produced some of the greatest ever Arts Centre concerts, where their mixture of dynamic, power, skilful songwriting and often moving melodies have slayed their audience unmercilessly.
If they can play to their crunching best tonight – as they sincerely hope to do – it could turn out to be a very special set indeed.
Also hoping to turn on the style will be two new bands who have made a big impact on Tamworth this year – The Great Express and The Conspiracy. The Express and now back in business after a lay-off of several months, and they are returning with virtually a brand new set of songs which have been conceived while the band have been away from our stages.
All the new material has fired the group's enthusiasm and when it is supplemented by the likes of 'Over and Out' and 'You Are My World' it should make an excellent set. Completing tonight's intriguing trio will be The Conspiracy, a group who have been busy with live work since their first dramatic attack on the local scene at the Rock Festival. The groups new-wave-based modern rock sound should fit the bill perfectly tonight, and they have the ability to grab the attention and keep it riveted.
Their appeal is wide-ranging, their sound is strong and their talent is obvious. Long with Breaking Point and The Great Express they represent some of the best and most original music Tamworth has enjoyed and all three groups together should make an irresistible treat.
It starts at around 8pm, the entry fee is very modest and it should be a great night out for local music fans at the Arts Centre tonight.
Then, just 48 hours later, there are yet more tasty morsels on offer. The bands on view at Sunday night's Arts Centre bash – Shellshock, Kubla Khan and New Age Gypsies - are all hoping to have a real rock and roll party, which should appeal to everyone who likes their music hard and punchy.
Shellshock are a band who play far too few concerts in my opinion, but always impress o, the occasions they do hit the stage. Their last powerful bash at the Rock Festiival earned them praise from all sides and when coupled with their recent thundering demo it shows a band very much alive and kicking. Musically, the band produce meaty metal with a commercial edge.
It has all the ingredients you expect from metal but has those cute tunes and stylish arrangements that are less familiar in the land of blood, guts and axes. The New Age Gypsies, meanwhile have a reputation as a late-Sixties hippy band but their sound owes much to the likes of The Cult as it does to the likes of Love.
Hard rock
It is hard rock with psychedelic overtones – a neat blend of Sizties abd Eighties which happens ironically to sound very Seventies-ish! If that's confusing, go along on Sunday and you may just see what I mean.
Competing Sunday's show are the highly-likeable Kubla Khan.
Their music has a lot of touches of the immortal Spirit of Water, a sort of anthemic rock sound with sweeping melodies, brash rhythms and glitzy guitars. Their whole sound is influenced by so many different musical strands it unsurprisingly ends up feeling very original. Such was the impression they made at the Tamworth Rock Festival, that they are certain to be lapped up on Sunday.
So that's the second of two fine shows this weekend. Both offer three good strong local bands at knock-down, value for money prices. Both should offer local music fans a real plethora of delights so put your dancing shoes on and head for the Arts Centre tonight and Sunday.
Tamworth Herald – 04/12/87
Musicbox – Gems among a week of gigs
MUSICBOX reviewers have been out and about in the last week or so catching up on a host of bands at various venues. Here is a selection of their comments with the code to the reviewers being SH – Sam Holliday; DC – Dan Collins; HM – Helen Machin and DR – David Reeves.
The Conspiracy – Tamworth Arts Centre
Another uptempo, powerful set from a band who clearly have a lot going for them. Strong songwriting and excellent musicianship were especially in evidence, particularly from the understated and under-rated Paul bethel on bass. The band's main problem is their lack of onstage presence and confidence. Vocalist Lisa Cooke has a good voice and a good image but she needs to look more lively on stage because a bored-looking singer is the quickest way to a bored-looking audience. The Conspiracy's problem is surmountable and if tackled the sky is the limit for this enjoyable quartet.
Tamworth Herald - 29/01/88
Musicbox – Arts Centre stages new-look 'Battle'
Salute the best in new rock talent
TAMWORTH ARTS Centre is to stage a new version of the annual 'Battle of the Bands' in February – featuring only bands who are new to the scene. The idea was to turn the event into a 'Most Promising Band of the Year' contest and it has been thrown open to any group who have emerged since the last 'Battle' of 1987.
Already 15 groups have been nominated to take part over three heats in February. The winners on each night will then be invited to a gala final on Friday, march 4 with a £75 prize and Young People's Arts Festival awards for the eventual victors.
Among the better known bands who will be involved are Fetch Eddie, The Conspiracy and Kubla Khan, but the event will also be the platform for first ever concerts by groups such as The BBC, Mr. Cyn and DHSS.
Although there may be slight alterations before the finalised line-ups, the current running order and the new 'Battle of the Bands' is as follows:
SUNDAY FEBRUARY 7:
Torn in Tow, The Conspiracy, Scream Dream, The Cuddly Spiders and Future Field.
SUNDAY FEBRUARY 14:
New Age Gypsies, Mr Cyn, Fetch Eddie, Jim Crows, The Band With No Name.
SUNDAY FEBRUARY 28:
DHSS, Kraze, Kubla Khan, Spiral Eye, The BBC.
On each night the judges will be made up of members of longer-established Tamworth bands such as Wolfsbane, Catch 23, A5, Rape In Yellow, Depth Charge (now called Never Say Die) and so on. It will be their job to pick one winner from each night, who will go forward to a grand final along with the second highest-scoring group.
For the winners there will be cash and trophy prizes, but perhaps more importantly, the title of Tamworth's Most Promising Band of 1988.
On each of the heat nights the bands – who cover everything across the rock spectrum – will have just 20 minutes to impress the judges, and with five bands on each night no-one should have anytime to get bored!
We will give more details of each of the concerts in the next couple of weeks but for the time being clear your Sunday evenings in February and get ready to salute the best in new rock talent within this music barmy area.
Tamworth Herald - 29/01/88
Musicbox – Stunners – and the stunning apathy
Gig Review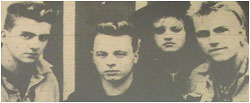 The Conspiracy – The Arts Centre
A MORE aggressive, punchy set this from a band who now seems more aware of what they want and how they can achieve it. Visually they have improved (the excellent Paul Bethel bounces around like the stage is made of rubber) and musically they have turned individual talents into united strength.
Best song of the night was the mesmerising 'Innocents' which combined their modern day …with their heady-day punk sound. It featured some frenetic work by Sonny on drums and some subtle touches by singer Lisa Cooke. A strong intelligent set from one of Tamworth's greatest recent finds.
SAM HOLLIDAY
Tamworth Herald - 12/02/88
Musicbox – Weekend Power Battle
OUR TEAM of reviewers have been out and about again this weekend concentrating on two gigs in particular – the special Comic Relief show on Friday night and the highly successful 'Battle of the Bands' show on Sunday which brought over 200 people to the Arts Centre – the biggest attendance at the venue since last year's battle.
The Conspiracy – Battle of the Bands
TIGHT, well-performed and well received set which saw Paul, Sonny, Roger and Lisa all produce the goodies with increasing confidence and power. Roger's guitar continued to be the guiding light but the quality of the songs themselves overshone even the individual instrumental abilities. It made for a clean, satisfying set.
Sam Holliday
Tamworth Herald - 28/02/88
Musicbox – Rocked to the Rafters
Gig Reviews
More news and reviews from around the area produced a host of different Musicbox scribes. Take it away critics…
The Conspiracy - New Swan, Atherstone
Atherstone's newest venue for live bands was rocked to the rafters by these four musicians who produced a highly-entertaining hour-long set. The audience soon warmed to songs like 'Passion Burning' and 'innocence' and the band were called back several times. A great gig and let's hope there are more like it to come.
PHIL OWEN
Tamworth Herald - 04/03/88
Musicbox – How the Battle lines are drawn…
Four turn up the power on finals night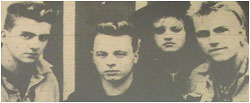 TAMWORTH'S highly successful Battle of the Bands reaches its exciting climax tonight (Friday) at the Arts Centre. Four bands will line-up in the event aiming to win the award as Tamworth's most promising new band for 1988.
So far the contest has provoked good crowds, fine concerts and its usual share of elation, disappointment and controversy. Tonight promises to be just as tense and exciting as four bands attempt to win the overall award won in past years by One On One, Breaking Point and most recently Wolfsbane.
To decide who should win the prizes there will be ten judges. They are: Steve Webster and Nick Smith (Catch 23), Graham Walters (Shellshock), Pam Patten and Ian Gibbons (Rathole), John Reeman (DHSS), Ian Harwood (Rape in Yellow), Chris Edden (A5), Dave Caswell (Jabberwockie) and Alan Bayliss (The Parade). They will be judging the following four bands.
THE CONSPIRACY
Heat One winners and a group who have made a dramatic impact locally since their formation some months ago. After first conquering Tamworth, they have now earned praise in both Atherstone and Lichfield and are soon to spread their wings further. Their passionate new-wave-based Cult-rock had been compared to many bands but still has that extra, vital ingredient of originality. If they win tonight it will be the icing on a bountiful cake of recent success.
NEW AGE GYPSIES
Heat Two winners and another group who have developed very quickly since their early beginnings. Starting originally as a hippy band, the group soon smashed this concept with a sound that was far heavier and more direct that the whimsical late Sixties image they attempted to portray. Solidly supported in Atherstone and increasingly popular in Tamworth, they have a vitality and enthusiasm which could well be rewarded with victory tonight.
KRAZE
In as winners of Sunday's heat and having attained the highest marks in the contest so far, could well be THE band to beat. Strong, powerful metal music from a band with a hallmark of quality.
SCREAM DREAM
Probably my favourite new band (along with Spiral Eye) to have emerged from the contest, the Dreamers have taken their place for being the highest scoring throughout the four weeks. Modern influences abound but these boys are very much their own scene-setters and they could be dark horses for inevitable glory.
All four bands will be given their usual 20 minutes to win over the Arts Centre judges and the corwds before the eventual winner is chosen. They will be awarded the title Tamworth's Most Promising Band 1988 – Battle of the Bands Winners for the Tamworth Young people's Arts Festival and will join the hall of fame with Breaking Point, One On One and Wolfsbane.
In addition to carrying the title for 12 months the winners will pick up a cash prize of £75 and individual 'Battle of the bands' trophies which will be theirs to keep. In addition of all goes to financial plan there should be one or two extra goodies on offer to winners and losers alike because above all, the final of the 'Battle of the Bands' is always a fun night and a cracking concert to boot!
If the past couple of 'Battle' finals is anything to go by, tonight will be packed to the rafters and the atmosphere will be red-hot. Get along at 8pm (any later and you may miss a moment which you shouldn't) and get set for a wonderful exhibition of the very best of new music in the local area. The winners will have a marvellous title to carry around with them for 12 months. The losers will have the satisfaction of knowing they at least reached the last four, and all the punters should have a night to remember for the rest of the year.
The battle lines are drawn – let battle commence.
Will all bands get to the Arts Centre by 5pm. Will judges arrive by 7.45pm.
Tamworth Herald – 08/04/88
Musicbox – SNIPS
THE Conspiracy return to the scene of a former success next week, when they play at the New Swan, Atherstone on Tuesday, April 12. The last time Lisa and the chaps played in Atherstone they went down a storm and will be looking to do so again on the night.
Tamworth Herald - 10/06/88
Musicbox – Conspiracy against students!
THE CONSPIRACY have been lined-up for one of their biggest concerts yet.
The powerful quartet – who played alongside The Snap Dragons on Monday – will travel to Birmingham University next Friday (June 17) to take part in the 'end-of-term' ball.
This is basically where students celebrate the end of another really, really hard long term (excuse me while I choke) by having a lot of loud music and a lot of cheap beer. The Conspiracy will team up with a host of other bands at the sell-out show and they are looking forward to slaying the massed ranks.
Tamworth Herald - 17/06/88
Musicbox – Gigs galore for a weekend of action
FOUR varied local bands in live action this weekend during one of the busiest weeks on the local scene for some time.
Tonight (Friday) Spiral Eye and Scream Dream team up for an exciting-looking Arts Centre double bill which is certain to attract a large local audience.
Also tonight The Conspiracy take their power-rock to the virgin territory of Birmingham University and to complete the picture an all-new group The Ravens, appear at Tamworth Arts Centre on Sunday.
Here is a brief resume of what to see and where…
THE CONSPIRACY – Birmingham University tonight (Friday)
Lisa, Roger, Paul and Sonny will attempt to teach university students something about real life tonight at this end-of-term ball. The seering sounds of Conspiracy music will combine with that of other outfits in an attempt to entertain the boffins and the BOFs (Do people still say BOFs by the way?) A big night for The Conspiracy, ten out of ten for getting this one.
---
The Conspiracy