Shellshock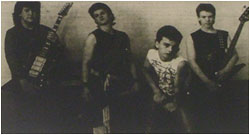 Caption: Shellshock…they will be a breath of fresh air for rock fans.
The Gallery
Musical Genre/Type: Rock
Formed: 1986 Split: 1988
Band Members:
Woll - Guitar
Matt - Bass Guitar
Bruno Edwards - Drums
Jase Tinsley – Vocals
Gigs:
22/08/86
Tamworth Rock Festival Party
Wolfsbane
Shellshock
Ivory
Tamworth Arts Centre
24/08/86
Tamworth Rock Festival
Castle Grounds
Freefall
Attica
Shellshock
Soil Brothers
One On One
Kara
XPD
Catch 22
The Magnets
14/01/87
Shellshock
Café D'Armour, Burton
14/02/87
Battle of the Bands
Catch 23
Depth Charge
Shellshock
Tamworth Arts Centre
20/03/87
Lichfield Battle of the Bands
Wolfsbane
Shellshock
Storm
Roma
Earthquake
Cerebus
Enots
28/02/88
Shellshock
The Chequers
29/02/88
Shellshock
Kubla Khan
Brooklyn Dogs
Tamworth Arts Centre
24/04/88
Shellshock
Kubla Khan
Tamworth Arts Centre
16/07/88
Tamworth Rock Festival
Torn in Two
Shellshock
The Searching
DHSS
Wolfsbane
The Conspiracy
Never Say Die
Kubla Khan
Castle Grounds
Admission free 11am-7pm
Tamworth Herald – 02/05/86
Musicbox – SUNDAY CALL-UP FOR BANDS ON FESTIVAL TRAIL
EVERY BAND involved in the 1986 Tamworth Festival is urged to attend a full and important meeting at the Tavern, Tamworth on Sunday night. All the bands will be told when and where they will be playing and there will also be a full discussion about costs, times and equipment.
The 18 bands who will be playing on the main tow days are (in no particular order) Wolfsbane, Breaking Point, Dance Stance, The Parade, Candle Dance, Caprice, Soil Brothers, Depth Charge, Burnin' Sky, Femme Fatale, The Magnets, The Cradle, One On One, Spirit Lake, Kara, Orange, Catch 22 and Beyond Elysium.
In addition, The Green Swings (see you at the Embassy lads!) and Shellshock have been confirmed as among the Arts Centre acts, before the 'main' event.
Will all these bands please attend on the night – sending at least one member. Any of the aboce bands who cannot attend should contact Sam Holliday before Sunday night. The meeting is due to start at 8pm.
Any more new acts – especially Roger Moore's new band – who would like to take part in the Arts Centre stage of the event should also attend.
Tamworth Herald – 20/06/86
Musicbox – SNIPS
A fine festival line-up
THE final line-up for the Tamworth Bank Holiday Rock Festival in the Castle Grounds has now been worked out. After the splits of Femme Fatale, The Parade and Spirit Lake. The Green Swings, Shellshock and the wonderful Royal Family have stepped in to make the final line-up:
Sunday – 12.30, CandleDance; 1.05pm, Green Swings; 1.40pm, Shellshock; 2.15pm, Soil Brothers; 2.50pm, One On One; 3.25, Kara; 4.00pm, XPD; 4.35pm, Catch 22 and headlining at 5.10pm, The Magnets. Then on Monday it's: 12.30pm, Burnin' Sky; 1.05pm, Beyond Elysium; 1.40pm, Cuddly Spiders; 2.15pm, Breaking Point; 2.50pm, Wolfsbane; 3.25pm, Dance Stance; 4.00pm, Depth Charge; 4.35pm, Orange and headlining at 5.10pm, The Royal Family. The pre-festival Arts Centre line-ups are still uncertain but Ivory, Side Effect and Cradle are among those who should be involved. Official festival t-shirts (which are likely to cause a fair bit of controversy should be available soon.
Tamworth Herald – 18/07/86
Musicbox – Good news for the 'heavy' fans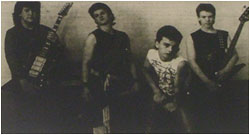 Caption: Shellshock…they will be a breath of fresh air for rock fans.
Are you ready for Shellshock?
A NEW YOUNG band have just burst onto the Tamworth scene determined to reverse the decline in heavy music in the area. A host of rock and metal bands have fallen by the wayside in recent years leaving a gap which Shellshock are eager to fill.
"I guess there is only Wolfsbane left now and although we are not like them, we do see ourselves as a heavy rock band," said guitarist Woll.
Shellshock have only been together in their present format for around three months, guitarist Woll and bassist Matt used to be in a band called Tygon, who played one show with the then Sacred Oath and after they broke up they were determined to get back into action as soon as possible.
They met up with Jase The Ace's brother Bruno who became the drummer and they finally completed the jigsaw by adding young singer Jase Tinsley – who has already been compared to Blaze Bayley.
"Things are going very well at the moment and we seem to get on really well with one another which is important," said Woll.
The band say they are influenced by a host of metal outfits including Wasp and Motley Crue and they also include an Iron Maiden standard in their set. Among their original numbers are "Running in Darkness" and "Visions Past" all of which went down well at the band's first ever concert in Lichfield recently.
"We were very pleased with how that concert went because we were so nervous," admitted Woll. "It must have gone quite well because we got called back for two encores."
All four members of Shellshock come from the Tamworth area as such are keen to play in the town as soon as possible. They are already looking for a slot at the Tamworth Castle grounds rock festival in August, but they hope to play in a show leading uo to the event.
"It would be nice to do a concert in Tamworth before the festival, I think the Tamworth scene is very healthy," said Woll.
Whenever Shellshock do surface, there is no doubt that their existence will come as a breath of fresh air to the area's rock fans – many of whom have been walking round looking rather deprived of late!
Tamworth Herald – 15/08/86
Musicbox – Countdown to a wild weekend
EXCITEMENT for this year's Tamworth Rock Festival is now reaching fever pitch.
With just one week and all the pre-festival problems cleared up, more than twenty bands are now putting the finishing touches to the sets they will be delivering over the four days of the festival fun.
Once again the festival has been divided into tow distinct halves – inside and outside. The inside will see two nights at the Arts Centre next Friday and Saturday, and then an alternative disco party at the Rathole on Bank Holiday Monday night. And once again the outside section will bring together 18 bands over Sunday and Monday all playing in the Tamworth Castle Grounds for free.
This is basically how the festival will look:
FRIDAY, AUGUST 22
Tamworth Arts Centre will play host to a triple bill of music headlined by metal favourites Wolfsbane. Joining them will be Shellshock and possibly Lichfield group Ivory. The final line-up should be announced next week.
SATURDAY, AUGUST 23
Breaking Point will headline the second festival party night at the Arts Centre with new alternative band Thirteenth Reunion in support. Another group will be added to the line-up this week.
SUNDAY, AUGUST 24
All attention switches to the Castle Grounds where once again the bands will play on front of the main tennis courts area. The festival starts at about 11.445 with a disco and the first band The Pink Tomatoes follow at 12.30. The rest of the line-up (who should follow at 35 minute intervals) is Attica, Shellshock, Soil Brothers, One On One, Kara, XPD, Catch 22 and finally The Magnets. It should all finish between 6.25 and 7pm.
MONDAY, AUGUST 25
Once again the disco starts the day off and leads into the first band Burnin' Sky who will be on stage at 12.30. They will then be followed by Beyond Elysium, Cuddly Spiders, Breaking Point, Dance Stance, Wolfsbane, Depth Charge, Orange and finally The Royal Family.
Then at about 8.30pm on Monday all attention switched to the Rathole for s special alternative disco party night with Paul Clements. The disco is designed as a post festival party for all the musicians to enjoy, but will be open to everyone to make for a late-night treat.
All in all it makes for the best festival line-up yet – and certainly the most varied. Metal, alternative, skiffle, pop, r 'n' b and many more styles are covered, so there really is something fro everyone. So forget what you may have heard elsewhere the festival is on and the spirit among the town's musicians is as good as ever. Cancel all your plans and get ready for four days of fun!
PS if anyone knows a cure for rain please give me a ring!
SAM HOLLIDAY
Tamworth Herald – 22/08/86
Musicbox – Here's the fabulous festival line-up
TAMWORTH'S fourth annual Bank holiday rock festival blazes into action this weekend and promises to be the biggest and best the Town has ever seen.
Eighteen bands will take to the Castle Grounds stage on Sunday and Monday offering a varied and exciting package of local talent.
And, to give the festival the best possible start, Tamworth Arts Centre will tonight (Friday) and tomorrow stage two festival party nights featuring among others Wolfsbane, Breaking Point and a one-off show from Love On Board.
All in all it looks like being a festival to remember and here in full details is what is happening where and when.
Tonight
The festival starts with an Arts Centre triple bill featuring three bands from the heavier side of life. New boys Shellshock will join up with not-so-new boys Kara and positively-old boys Wolfsbane for a sparkling three band show. As with last years, the Arts Centre pre-festival nights are designed to be party-style events and everyone petting into the spirit (and spirits) of the weekend. It starts at 8pm costs 50p and should be excellent.
Saturday
ANOTHER enticing triple bill will especially interest people of an alternative (sic) persuasion. Breaking Point, who hope to have their debut single out this week, will headline the show and in support will be two unusual acts. First is 13th Reunion featuring the immortal Gerald on bass and second is Love On Board making a special one-off comeback gig to join in the party atmosphere. It adds up to a superb bill which marks the debut show for 13th Reunion, and once again is a meagre – nay, measly! – 50p
Sunday
AND SO to the main event. Two days of exciting, varied rock music in the Castle Grounds. Once again the stage will be set up in front of the tennis courts at the far end of the Castle Grounds, and as with the past couple of years, it will cost you nothing to watch. Here is a quick one-line description of all the bands on show and their (approximate) appearance times…
Heavy
Freefall (12.20) A Coventry heavy band (that's all I know!)
Attica (1.05) Powerful bass-driven combo who crimp their hair and slice their guitars.
Shellshock (1.40) Young lusty metal sound, who smile a lot.
Soil Brothers (2.15) Skiffle-style pop played with coconuts, cardboard and oodles of enthusiasm.
One On One (2.50) Nose-perfect rock music played by soon-to-be superstars.
Noise
Kara (3.25) loud Americanised noises played by local Anglicised noise-makers.
XPD (4.00) Stylish alternative pop music, which cab be summed up as 'ego-shock' rock.
Catch 23 (4.35) Pure-punk-period pop music with panache, power and passion.
The Magnets (5.10) Modern synthesised pop music played by modern synthesised pop people.
Monday
ONCE MORE the Castle Grounds plays host to nine more varied outfits who line up like this.
Burnin' Sky (12.30) Coleshill-based r 'n' b band who revel in the smoky, sleazy way of life.
Beyond Elysium (1.05) Dark sombre sounds with a modern appeal and feel.
Funky
Cuddly Spiders (1.40) Laid-back harmless flares rock.
Breaking Point (2.15) Passion-packed soaring, roaring rock music.
Dance Stance (2.50) Tight, funky nouveau-pop with a burning soul.
Wolfsbane (3.25) Gentle, middle of the road folk band made up of four charmingly polite young boys. A mud afternoon break from all this rock nonsense.
Depth Charge (4.00) Cuddly rock and roll pirates bursting with good times.
Orange (4.35) Deceptively light pop music with a telling edge. Bright, breezy, orangey.
The Royal Family (5.10) regal r 'n' b with guaranteed dance-ability and toe-tapping tendencies.
Tamworth Herald – 05/09/86
Musicbox – GOSSIPBOX
Well waddya know…
THERE has been so much pre-festival. post-festival and festival-festival gossip that we could cover all this page and lovely old Scooper's too, so here is a short, snappy 'did you know' session. Did you know that…
Catch 22 changed their name to Catch 23 because of a misprint in the Herald.
The engaging Buttercup has recorded a tape called 'Buttercup Live at Kimberleys'.
Edward ian Armchair sold more than 100 festival t-shirts.
'Clawing at Angels' and 'Kicker Conspiracy' the two new local fanzines, were both released last week and were immediately sold out.
The fanzine writers Rob and Mark nominated Dance Stance's Neal Sheasby as number one in the Tamworth Ego Chart. Neil loved it…
New Single
13th reunion drummer Duane actually liked being called the world's most awful drummer.
Attica roadie and ace poet Kevin KcGeough is lining up an alternative poetry night at the Arts Centre with Jed Moore and Edward ian Armchair.
Mike Fleming has now left the Cuddly Spiders and is after a new band.
Dream Factory bassist Mark Mortimer is getting married next month.
Awful
Julian Cope's new single "World Shut your Mouth" is out in a couple of weeks and the very wonderful Donald Skinner plays all guitars on it.
Wolfsbane are planning a mega-launch for their new single in the next couple of weeks.
Shellshock's young talented singer Jason has had to leave the band because his family has moved away from the area.
Festival stage manager Denis Byfield loved the event so much that he is already counting the days to the next one.
Orange should be changing their name to Orange Blossom Special shortly.
Well did you know all that?
Tamworth Herald – 26/09/86
Musicbox – SNIPS
YOUNG heavy band Shellshock are on the lookout for a new singer. Anyone interested should contact Matt.
Tamworth Herald – 24/10/86
Musicbox – SNIPS
SHELLSHOCK, a young heavy metal band, are still after a singer/frontman of any age to join their enthusiastic combo. They are particularly interested to hear from Danny from Atherstone…
Tamworth Herald – 09/01/87
Musicbox – Gigs
SHELLSHOCK make a return to the gigging scene on Wednesday proudly parading new singer Andy. The group along with a disco will be at the Café D'Armour in Burton which is just around the corner from Central Park. Entry is a mere 25p.
The Infamous Sleaze Brothers, a local Feelgoods style outfit, will team up with Earthquake, The Artful Dodger and the excellent Falling Boys in a special four-band show at Lichfield Arts Centre on Friday night. The doors open at 7.15 and there is a tremendous variety of music on offer for just £1.150 or £1 for the unwaged.
Tamworth Herald – 13/02/87
Musicbox – Charge of a Valentine massacre
THE SECOND HEAT of the Tamworth Battle of the Bands blazes into action tomorrow night (Saturday), when Atherstone favourites Catch 23 take on the might of two rock outfits – Depth Charge and Shellshock.
All three bands have every reason to feel confident of success on the night and on paper it seems the Arts Centre concert is wide open.
Staring proceedings on Saturday will be Depth Charge, who are looking forward to this their first concert for some time.
The band – who recently flirted with names like The Muff Doctors and Caging The Raven before returning wisely to their original monicker – were desperately unlucky not to win their 'Battle ' heat last year, when they were just edged out by Wolfsbane.
Then, like now, Depth Charge played the sort of music people like me hate – i.e. the sort that is very difficult to label. It is rock in essence, but rock owing more to the spirit of the mid-late Seventies rather than the mid-late Eighties.
It has a popular edge and a well-disciplined sound and Depth Charge earn almost universal respect among the town's musicians.
Accolade
A rare accolade and an enjoyable band who will kick off Saturday's Arts Centre proceedings at around 8.30pm.
Next up will be Shellshock, playing their first Tamworth concert with new lead singer Andy Mottram. Andy who hails from Measham, has already impressed many people after fronting the band at three Burton shows and Tamworth's rock fans will be able to make their minds up tomorrow.
The band say their music can best be summed up as heavy rock with an occasional metal edge, and they are confident that it has improved and refined since their last appearances around the time of the Rock Festival.
The group have also expanded their set somewhat and are confident that their songs are now more complete and well-structured. They are keenly awaiting their show which comes hours after their gig at Burton tonight.
Completing the three-band extravaganza are Catch 23 who really made their name by appearing in last year's 'Battle'. Since then the band have been regularly in action and have made friends with every single show.
According to the band, their music is 'pop with aggression', an all-embracing term which shows their all-embracing appeal. It is stylish, spirited and polished power pop and the band will approach Saturday's show with their normal enthusiasm and determination.
A quick head-count with some local music-watchers made Catch 23 favourites to win the heat but as any good bookmaker will tell you the favourites don't always win.
Great
So there it is – another fine, varied and enjoyable concert. One winner will be chosen by the three judges – Martin Warrilow, former Orange singer Anice Byfield and XPD man John Reeman – but in the real tradition of the 'Battle of the Bands' this is not just about competition.
It is about bringing together three different bands to produce one great night out for local gig-goers. It costs just £1 to enter (starts at 8 and finishes at 11) and as it is Valentine's Night why not be romantic and bring a friend?
After all what could be more romantic than spending Valentine's day in a sweaty little room full of loud noises, screaming singers and pulsating speakers? Answers on a postcard please to St. Valentine's Day Massacred, Tamworth Herald, etc. etc.
N.B. Will all bands please arrive at the Arts Centre at 5.45 – and be prepared to stop and sort out the stage at the end of the evening.
Tamworth Herald – 20/02/87
Musicbox – Exciting time with the famous five…
THE SECOND night of the 'Battle of the Bands' was yet another exciting, powerful night of pop fun. All three groups – Depth Charge, Shellshock and Catch 23 – played as well as I have seen them play before, and the large, good-humoured audience gave each of the bands an enthusiastic response. And, it all went like this…
DEPTH CHARGE
Back with a new line-up and back with a bang. The group have obviously spent a long time sprucing up their image and sound, and effect certainly worked.
Opening up with the excellent 'Back on my feet again', the group soon settled down to turn in a professional, enjoyable and very uplifting set. Trevor and John Muggleston combined for a superb joint-guitar attack and with good work from Gary, Steve and the ever-improving Mick Goodby, Depth Charge proved they are well on course in their masterplan to take over the universe as we know it!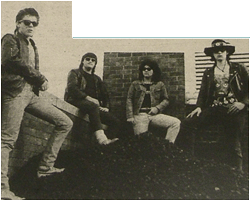 SHELLSHOCK
Another honest and pulsating set from a band who have tightened up beyond belief since their pre-Christmas days. Andy Mottram adds a strong dimension to the overall attack with the powerful vocals and full credit to drummer Bruno Edwards whose technique and confidence seem to have improved beyond recognition. Although this is obviously metal music, the opener in particular showed that the band have the ability to cross over strict metal barriers and appeal to an even wider audience. The best Shellshock set I have seen to date.
CATCH 23
Well, what can say? This was simply outstanding and ranks as one of the finest set I have EVER seen a local band perform. The group were confident, stylish, musically ambitious and literally oozing with potential and promise. They have matured from a good young band into a great young band, and they never put a foot wrong all night. I felt rather as I did last year when I saw Dance Stance play at the Rathole and came out saying 'that's it, they are going to make it." Catch 23 I salute you. Your time has come – and this was a magnificent set.
THE JUDGE'S VERDICT
Had Depth Charge and indeed Shellshock played on any other night they may have made the final. But against Catch 23 in this form they were always on an uphill struggle. Catch 23 scored what I think is the highest mark ever seen in a Battle of the Bands heat and their overall sound and impact seemed to hit the judges right between the eyes. The opening two bands both excelled themselves, but even Shellshock singer Andy Mottram knew that the young Atherstonians had snatched it. The judges were – unlike last week – unanimous.
MY VERDICT
Well this week I had to agree with the judges. I stood with my mouth open from the first until the last note of Catch 23's set and everything about this exciting quintet impressed me. ON Saturday I could see the band maturing before my eyes and it was a maturing process I found very, very exciting. Worthy winners and I would say a good bet for next week's final.
Tamworth Herald – 13/03/87
Musicbox – SNIPS
The Lichfield Battle of the Bands will be running throughout May and bands from the Tamworth and Atherstone areas are being sought to take part. Tetley's contest offers a £300 prize for the winners so there really is nothing to lose and everything to gain. If you are interested contact Tetley…
In the meantime our own Battle of the bands winner, Wolfsbane, will join Shellshock and three Lichfield bands in a special Enots show on Friday, March 20. More details nearer the time…
Tamworth Herald – 05/06/87
Musicbox – Metal monsters pile on the noise
Trio launch some Rathole mayhem
HEAVY METAL returns to Tamworth with a bang tonight when Wolfsbane, Shellshock and Vengeance launch a ballistic music-missile on an unsuspecting Arts Centre audience.
The metal-mayhem looks set to produce another jam-packed Arts Centre attendance to watch three bands of contrasting but determined metallic style.
Heading the bill of course are the four-headed monsters known as Wolfsbane. The group have been playing a massive amount of gigs lately to ever-increasing acclaim and last week's birthday boy Blaze Bayley keeps hinting that something very big indeed is on the horizon.
After tonight's undoubtedly wonderful set, Wolfsbane travel to General Wolf (Coventry) tomorrow and then on to Edwards Number Eight (Birmingham) on Sunday. The latter gig is free as is the Birmingham outdoor rock festival in July which is to be headlined by Wolfsbane.
Teaming up with Tamworth's titans are Shellshock, a band who have developed into something very impressive indeed. Their music begins at straight pop/rock crossover and travels all the way along the metal line ending up as frantic and furious. It is exciting both to watch and to listen to and if they hit top form tonight, Tamworth is in for a treat.
Completing tonight's metal triple bill are Vengeance a Nottingham-based bands who come with the Wolfsbane seal of metallic approval. It adds up to a metal night to match any of the town's rock fans have seen on a long time, so if you want to be deaf on Saturday morning the Arts Centre is the only place to be tonight. Get out the crimpers, get out the leathers and GET ALONG!
Tamworth Herald – 05/06/87
Musicbox – Shock it to them
Shellshock – Demo
WELL, what a (shell) shock. There I was expecting a straightforward burst of heavy metal and instead Shellshock have produced a very varied four-track tape which shows remarkable maturity for a band who are still relative novices.
This entertaining first demo combines the expected metallic fire with some surprising, attractive pop touches which combine to give the band a far bigger potential audience than I think any of us believed.
It starts with a thundering melodic number "You've Got Another Thing Coming" which sounds like a cross between Wolfsbane and Motorhead, but then straight afterwards comes a spirited pop song called 'Jericho'.
On the flip side the divergence continues with a lengthy, moody number called "Stay Until Night Comes", which starts like big country and then travels into Mid-Seventies Country. Then to complete the whole confusing picture we have my favourite track of all, the energetic rock/pop-punk of "Duty Calls" an instantly likeable and accessible and likeable number.
I have been shellshocked by Shellshock and if you go along to the Arts Centre tonight, you might be also…
Tamworth Herald – 24/07/87
Musicbox – SNIPS
Established rock band Shellshock are on the look out for a new vocalist and lead guitarist to join their powerful outfit. Experience is preferred but not essential.
Tamworth Herald – 07/08/87
Musicbox SNIPS
Shellshock are still on the lookout for a permanent singer to replace the soon to depart Andy Mottram.
Tamworth Herald – 21/08/87
Musicbox – SNIPS
Shellshock are STILL looking for a new metal lead singer. Give them a break and ring Graham…
Tamworth Herald – 18/09/87
Musicbox – Dressed to Kill…stone dead
Review: Heavy Metal Night – The Rathole
I DON'T THINK I am cut out for heavy metal. I don't think my mind is complex, enlightened or intellectually tuned enough to appreciate the sheer quality of bands who 'like to rock'. Therefore I felt somewhat out of it in Sunday night.
Sadly I missed the opening but by all accounts very impressive set by Shellshock and my only smile of the night was reserved for the next act, New Age Gypsies. They played with gusto and spirit and although they were the least 'heavy' band on the line-up, they had the most powerful effect on my ears.
The third outfit on the stage were Nuneaton fave raves Dressed To Kill. They were alright I guess (at a bit of a push) bit it sounded about as fresh and new as an eight-day old bread. Dressed to Kill dressed to please and on both accounts failed somewhat.
And so to the main band on the night – Briar. Briar as you may know, previously won the Birmingham Pernod 'Hottest band' contest and all I can say is, if this is the hottest outfit in Brum, it must be one hell of a cold city. Don't get me wrong – Briar weren't a bad band, they were just so mind-numbingly ORDINARY.
Wolfsbane have more charismatic style in one verse than these boys could produce in their whole set, and they were about as 'hot' as ice. Ok, they look pretty I guess and can play a mean cover version, but if this is the best Birmingham can offer, it just makes me realise how good Tamworth and Atherstone's music scene really is.
Sam Holliday
Tamworth Herald – 04/12/87
Musicbox – Gems among a week of gigs
MUSICBOX reviewers have been out and about in the last week or so catching up on a host of bands at various venues. Here is a selection of their comments with the code to the reviewers being SH – Sam Holliday; DC – Dan Collins; HM – Helen Machin and DR – David Reeves.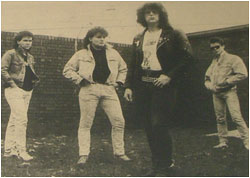 Shellshock – Tamworth Arts Centre
I was told that this band were 'very heavy'. It was a lie. They were even heavier. A wild flashing beat with thundering vocals that all but converted a long-time heavy metal hater like myself. Shellshock were superb and enthralled the crowd with a powerful, deafening metal mixture that was actually tuneful. I can still hear them now.
HM
Tamworth Herald - 29/01/88
Musicbox – Stunners – and the stunning apathy
Gig Review
Shellshock – The Arts Centre
Like a bottle of decent wine, Shellshock have certainly improved with age. What started off as an enthusiastic if occasionally hit-or-miss HM crew has developed into an independent, ambitious and highly entertaining metal outfit.
As musicians they have come on leaps and bounds (Graham's guitar work is particularly accomplished these days) and as songwriters they have improved and perfected their craft at an admirably consistent rate.
Two outstanding tracks in my mind, one the catchy 'Givin' It All' the other the very strong 'One Way love' but these were the mere peaks of a range of successful ideas. An admirable set from a band to admire.
SAM HOLLIDAY
Tamworth Herald - 28/02/88
Musicbox – Rocked to the Rafters
Gig Reviews
More news and reviews from around the area produced a host of different Musicbox scribes. Take it away critics…
Shellshock – Tamworth Arts Centre
A pleasant half-hour stroll through the furnace with Shellshock, a band who never let their musical deficiencies get in the way of a good time. An all-action performance from the boys although the music does sound the same after a while. Not brilliant bit not as awful as some people thought.
MARTIN WARRILOW
Tamworth Herald - 15/04/88
Musicbox – SNIPS
Shellshock are in action again next Sunday (April 24) when they team up with the all-new Kubla Khan at Tamworth Arts Centre.
Tamworth Herald - 03/06/88
Musicbox – HE'S ARMLESS
GRAHAM WALTERS was completely Shellshocked recently.
For the guitarist with prime HM movers Shellshock, injured his fingers and found his arm slung in a sling.
For any musicians that is some problem, but for a guitarist it is worst of all. It means that shady figure on the left has been unable to pluck his strings of late, much to the consternation of his fellow metal merchants.
But Shellshock fans fear not, Graham is confident he will be all repaired again in time for the festival otherwise get set for Def Leppard part two…
Tamworth Herald - 24/06/88
Musicbox – Hop On the Demo Coach
A LICHFIELD studio is hoping to make major inroads into the Tamworth scene.
The Coach House Studios based at Neterstowe, has already been responsible for first-class tapes from the likes of Shellshock, Ruffian on the Stairs and Racer and they now hope to attract still more talent.
The man behind the drive to grab the Tamworth bands is Rob Hall. He already has a great deal of experience of the Tamworth scene, having played for The Ruffians in last year's Festival and he may well appear alongside Norman Yates in this year's show with the Cuddly Spiders. Now he wants to extend an invite to other Tamworth acts to sample his wares over the next few months.
"I have done a lot of production work most notably with Glory Glory, Jon Crossley and Steve Sutton achieving in the process a deal for Glory Glory and a lot of interest from the BBC towards Steve Sutton," he said.
Among his many production credits are the finest acts from the Lichfield/Burntwood and Cannock areas including several groups very well known to Tamworth audiences such as Roma, Storm, Three In A Bed and Ivory.
The studio is an eight-track with a larger facility with the use of computer sequencing. If all this sounds interesting make a not of the Coach House number.
Tamworth Herald - 26/08/88
Musicbox – Snips
Shellshock (as was) are still on the lookout for a new drummer. The metal men, who are to change their sound and their name now that Bruno Edwards has left, are looking for an enthusiastic and talented drummer to complete their line-up. If this sounds like you and want to find out more…
Tamworth Herald - 16/09/88
Musicbox – NEWSBEAT, BEATNEWS
The former Shellshock members are still looking for a drummer.
---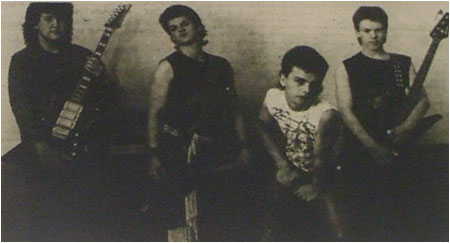 Caption: Shellshock…they will be a breath of fresh air for rock fans.