The Magnets
Musical Genre/Type: Electronic
Formed: 1984
Band Members:
Andy Baldwin
Gary Overton
Martin Woodings
Rikk Quay
Paul Killick
Gigs:
25/05/84
The Magnets
Select Elect
Tamworth Arts Centre
26/04/85
Breaking Point
The Sway
The Magnets
Tamworth Arts Centre
30/06/85
Breaking Point
The Magnets
28/05/90
Tamworth Indoor Rock Festival
Fat Moggy
Naked Touch
Never Say Die
The Magnets
King Woderick and the Yogots
Vindaloo Breakfast
Banned in Yellow
Rhythm Damage
Night Moves
Tamworth Herald Features:
Tamworth Herald – 18/05/84
Musicbox - Snips!
The Magnets (Formerly Those Attractive Magnets) will be returning to the Tamworth music scene with a vengeance next week when they are headlining at the Arts Centre (see next week's Musicbox). In the meantime in an effort to show how the band is changing they have this week launched an appeal for a guitarist (preferably who can play keyboards) to join the line-up. If you like the idea but would like to see the band in action first, they will be at the Arts Centre on Friday, May 25. More details from any of the band members via the Tavern in the Town pub.
Tamworth Herald – 25/05/84
Musicbox - Curtain up on a busy weekend
Band box full of tricks…
TAMWORTH Arts Centre will be under the spotlight again over the weekend when it plays host to two of the most intriguing gigs in the town for many months.
Tonight sees the welcome return to the town stage of The Magnets who will be playing with enterprising young synth duo Select Elect. And just 24 hours later the hard working Sitting Pretty will be joined by new outfit Love On Board who will be making their first town centre appearance.
Tonight's concert will be particularly interesting for it will be the first time the immensely popular Magnets will be playing live since reducing their line-up – and their name.
Rikk Quay has left, the words Those Attractive have been dropped from the moniker, and The Magnets are now a totally different proposition.
The once-familiar backing tracks have been dropped and the band are now going to play their new-look set totally live.
As an indication of what the listener can expect, the band have just released a new two-track demo recorded recently at Steve Adams' studio.
Both songs reveal a new depth and commercial aspect to the Magnets' sound and both – particularly the magnificent 'Breath On Breath' – show that the band has been given a whole new lease of life and should soon be chasing once again the crown as the town's top band.
Alongside the Magnets will be kindred spirits Select Elect, a band whose confidence and enthusiasm has never faltered since their first impressive gig last November.
Good reaction
The band whose music sounds at times like early Human league, now have several more songs at their disposal and with the right mix and a good reaction from the crowd, Select Elect can do their career a power of good by turning in an entertaining set tonight.
Another band who will be keen to win over the town's audiences are the new quartet Love On Board who are literally bursting with anticipation to play at the Arts Centre.
The group, who had to delay their debut concert when guitarist Nick Read was involved in a serious road crash earlier this year, have already won a local talent contest although they see Saturday's gig as their first real test in Tamworth terms.
"We are hoping that Tamworth will like what we have to offer and we are very keen to see how we go down on Saturday," said Nick.
The band who were recently strengthened by the addition of the energetic Glenn Lewis on bass, say their sound is similar in parts to modern pop outfit Orange Juice and Friends Again.
It is certainly a sound that will never have been heard in Tamworth before and for that reason alone, Love On Board are guaranteed a captive audience.
Also guaranteed an enthralled audience are Sitting Pretty. The band who are now coming under close scrutiny from the record companies, should be releasing their debut single in a couple of weeks and Tamworth fans will be able to hear the contents in their live form by popping along to see the group in action tomorrow.
The weekend's gigs conclude four such events in the space of just three days. At one time it would have seemed impossible in a place like Tamworth and shows just how the town scene has improved over the past few months.
All it will take is two big audiences at these gigs (which both start at 8pm) to confirm that the Tamworth scene is now healthier than it has ever been.
Sam Holliday
Tamworth Herald – 08/06/84
Musicbox – Select pair turn in the surprises
The Magnets/Select Elect – Tamworth Arts Centre
ALTHOUGH ON a national basis synth music seems to be very much in decline, in Tamworth at least there are still bands trying to make mileage and careers out of much-heralded 'techno-revolution'.
Of these bands, The Magnets and Select Elect are probably the best known – but judging by the smattering of empty seats at the Arts Centre it seems as if even these groups are finding it difficult to convince would-be gig-goers that the musical statement they are trying to make is still a valid one.
Fans seem to have turned their back on this style of music over the past few months which is a shame as both The Magnets and Select Elect have a lot to offer.
The Magnets particularly come over as a band who, if given the right break, could be very big indeed. With Rikk Quay no longer part of the set-up the band have decided to completely change direction – but have managed to stay on the right road.
Their new material seemed as strong as any from the past and certainly seems less simplistic and straightforward than more traditional Magnet creations.
The rather seductive 'Breath On Breath' is a notable highlight where Andy's vocals add an attractive sideline to a very well written and spacious tune.
Even better was the group's last composition – an off-the cuff epic-length track which built up gradually and ended on a musical and vocal crescendo unlike anything the band has previously produced. It rounded off their short set nicely and convinced any doubters in the audience that the Magnets are back fresher and more committed than ever.
After a short break, headliners Select Elect took to the stage and delivered their longest set to date. Having seen the band several times, I had a general idea of what they would be like but they still turned in a few surprises. Foremost among these was the sudden appearance of female bassist Joanne Caloon who played in one of the band's newest and more subtle numbers.
It turned out to be easily the best number Select Elect played all night because whereas the rest of their numbers are a little predictable, the dual guitars used added an extra dimension and point of interest to their set.
The band clearly still have a long way to go but now they are experimenting with new instruments and new ideas, things should soon start to move for them.
For both acts the next few months could be crucial so we must hope that local people will start returning to see synth-orientated music to give this always interesting musical style the sort of reaction it deserves.
SH
Tamworth Herald – 29/06/84
Musicbox – Snips
SIMON Hewin, the former Ethis and Anti-Dote guitarist has joined The Magnets in an attempt to change the band's emphasis on a totally keyboard sound. Simon, best known for his work with Rupert Dale and Gary Preece in the Anti-Dote, will be playing live with the band later in the summer.
Tamworth Herald – 05/04/85
Musicbox – Gossip Box
As one old band dies, another old one looks set to spring up again. The Magnets, who have had a voluntary exile for several months are looking to get things moving again, as is their former keyboard player Rikk Quay whose band The Sway play their first gig at JB's Dudley on Tuesday April 16.
Tamworth Herald – 19/04/85
Musicbox – Grabbed…by gutsy rock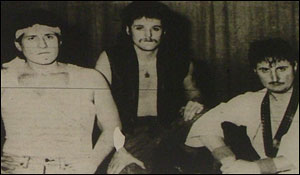 I CAN STILL remember the first time I heard Breaking Point's debut demo. It had me recharged with belief and hope for Tamworth's music scene and I felt the whole town should go and buy the tape. And I feel exactly the same about this demo.
Quite simply, it is magnificent and is so full of potential that you can just sense the imminent arrival of something very big indeed. What makes it so good is the sheer tour-de-force of the music.
Jealous cynics often dismiss Wolfsbane as tarted-up rock parodies but on this tape all you get is the sheer guts of their rock and roll which is spellbinding.
It leaps out of the cassette deck and grabs you by the neck and rubs your nose in the splendid power of their sound.
Take 'G.S.B' a catchy chorus, a Hanoi Rocks guitar line, a thumping melody and a wonderful middle section – just four reasons why 'G.S.B.' means great stuff boys to my ears.
Entertaining
"Manhunt" and "The Followers" are also powerful, dynamic and entertaining but the best of all is the rousing "Clutching at Straws". Here vocalist Blaze Bayley sings with an emotion most 'rock' singers would be too embarrassed to attempt.
Throw in another catchy tune (a Wolfsbane hallmark) and best of all a tear-jerking Jase the Ace guitar solo and you have a masterpiece to be put alongside "Ode to Nicholas Romanov", "Wine and Roses", "A Kind of Loving" and "Silent World" is the best ever vocal song section.
The excitement I feel about this tape is boundless. Wolfsbane have the live presence, the image and the charisma to go a long way. Now they have the tape to set them off. Put me on the guest list for the Birmingham Odeon lads!
SAM HOLLIDAY
Tamworth Herald 03/01/86
Musicbox – Factory floor the opposition to make a hat-trick…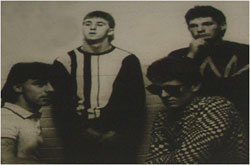 THE Dream Factory have done it again! Yes, for the third year in succession, Tamworth's favourite soul men have pipped all opposition to once again claim the top local band slot in the Musicbox poll.
They did so despite a fantastic turnout of votes for new boys Terroa, who just lost out by virtue of the masses of votes the Factory received not only for first place (which was worth three points) but also for second (two points) and third (one). Wolfsbane, Breaking Point and Royal Family fans by the score put the Factory as their second choice and as the poll entered its last frantic days, it was clear the band were going to do it again.
Landslide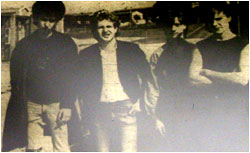 But that was not the only joy for the band. Because they have had such a big national profile all year I allowed them to be included in the Top National Band sector – and they won that with a landslide.
And the same went for the band's tremendous 'Wine and Roses' single which floored all the opposition.
Just to complete the (wine and ) rosy picture, the group had four songs in the top twenty local song section, and also had Mark Mortimer and Tim Goode voted into the top five local personality section.
Dream factory take a bow – you have won it again and you have deserved to do so.
It wasn't only The Dream Factory's poll though. Terroa as well as scooping the runners-up slot in the top local band, also won the best local song award with the excellent 'Thunder and Lightening'. If the views of the hundreds of people who voted (we passed the 500 vote mark with ease) are anything to go by, Terroa are the group you think are going to make it next year.
Still in the local band section, The Royal Family finished a strong third well ahead of the bands beneath them. Like The Factory they seem to have universal support from people of all musical tastes and there is no doubt their popularity is now at an all-time peak.
It should bring a smile of Steve Martin-style proportions from Dave Smith and Eddie Blunt!
Places four and five went to two bands from the Atherstone area Dance Stance and The Me, a band who seem pretty big in North Warwickshire and will be investigated further in the near future.
It was nice to see Dance Stance up there – and also the likeable Paul Hanlon in the personality section – and with Nick Reed now in their line-up, I have a sneak feeling '86 will be very good indeed for the Atherstone band.
Elsewhere, Freight Train showed they have made considerable impact and Wolfsbane proved that their appeal goes far beyond strict heavy metal types judging from the people who voted for Jeff, Bayley, Jase and Stakk.
Breaking Point also had their best ever poll result and it was very nice to see the now defunct Love On Board still hold a special place in a lot of people's hearts.
Delighted
Completing the top ten are Femme Fatale who will be delighted with their debut show in the poll, and then the next five or six bands all came very close indeed to one another. The Sway, Magnets and Sitting Pretty all started well but faded somewhat but overall it was nice to see that virtually every band in the whole district had some supporters.
Just missing the top twenty, for example, were Depth Charge, Banned Wagon, Scarab, Boozy Brothers and Pulsebeat.
The local songs section was pretty reflective of the local band poll but it was pleasing to see people voting for songs that were not by their favourite band, which showed there is a lot of unbiased 'general' listeners among local rock fans.
Perhaps the only surprise was that Breaking Point only managed a top twenty placing (and that was at 17) but you can't have everything.
In conclusion, everyone who votes, many thanks and to all the bands who have made the year so exciting, a double-dose of thanks. Let's now make '86 even better.
Top local band
1. The Dream Factory
2. Terroa
3. The Royal Family
4. Dance Stance
5. The Me
6. Freight Train
7. Wolfsbane
8. Breaking Point
9. Love on Board
10. Femme Fatale
11. The Sway
12. Spirit of Water
13. The Parade
14. Sitting Pretty
15. Trout Meets The Cavalry
16. Dickens
17. Judas Cradle
18. The Magnets
19. Powerplay
And no here's how I'd have voted
Just to complete the overall local music award section, here are the people, the musicians and bands that I think deserve credit in '85:
Top Band – Breaking Point
Top Local Song – 'Come The Day' – Breaking Point
Guitarist – Jase The Ace/Tim Latham/Nick Reed
Drummer – Stuart Blane/Steve Quilton
Bass – Daydo/Mark Mortimer
Keyboards – Rikk Quay
Vocalists – Dave Ingham/Dave Smith/Debbie Whitty
Best Live Band – Wolfsbane
Most Improved Band – Dance Stance
Most Likely to Make it in '86 – Dream Factory
Best Gig – Breaking Point, The Sway, The Magnets Tamworth Arts Centre
Best Demo – Wolfsbane
Best DJ – Buttercup
Best Songwriters – Kevin Briggs/Bryan Lacey/Jase The Ace/John Reeman
Best Lyricist – Bryan Lacey
Haircut – Mick Rutherford
Best Dressed Person – Jeff Hateley
Saying of the Year – "I can't get me breath' – Buttercup
Personalities of local music scene – Ian Gibbons, Tim Goode, Rikk Quay, Eddie Madden, Blaze Bayley, Dave Ingham, Mike Turner, Paul Speare, Phil Smith, John Reeman, John James, Mike Fleming, Sage Side Psycho, Mark Mortimer, Jeff Hateley, Kevin Briggs, Star Trek, Trevor Muglestone, Dave Smith, Mick Goodby, Buttercup and everyone else I've missed.
SAM HOLLIDAY
Tamworth Herald – 21/03/86
Musicbox – Succeeding with talent and mouth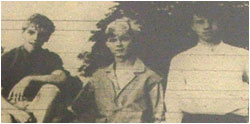 I HAVE recently been filing all my old MUSICBOX columns from the past three years or so and as one of those academic exercises, I decided to see just who has been the most featured band in the column over that time.
People often accuse me of bias in various directions but I think the 'top ten' of mentions shows that I have managed to cover the whole spectrum of local music from the 'lightest' to the 'heaviest'.
This was not a scientific exercise, I merely flicked through the columns and noted the names of bands whenever I saw them. So a 'mention' could be just one line or a full feature. Anyway here's the top ten from 1983.
1. The Dream Factory (60 mentions), 2. Sitting Pretty (57), 3. Breaking Point (53), 4. Wolfsbane (52), 5. BHX (51), 6. Love On Board (49), 7. One On One (37), 8. The Magnets (32), 9. Sacred Oath (25) and The Cradle (25), 10. The Royal Family (20).
Outside of this batch as a matter of interest were Terroa, Dance Stance, A5 and Caprice. At the other end of the scale there were local bands whose name were featured only once such as Alibi, The Fashionable Gents, Bambu Curtain and The Time Bandits.
Tamworth Herald – 22/08/86
Musicbox – Here's the fabulous festival line-up
TAMWORTH'S fourth annual Bank holiday rock festival blazes into action this weekend and promises to be the biggest and best the Town has ever seen.
Eighteen bands will take to the Castle Grounds stage on Sunday and Monday offering a varied and exciting package of local talent.
And, to give the festival the best possible start, Tamworth Arts Centre will tonight (Friday) and tomorrow stage two festival party nights featuring among others Wolfsbane, Breaking Point and a one-off show from Love On Board.
All in all it looks like being a festival to remember and here in full details is what is happening where and when.
Tonight
The festival starts with an Arts Centre triple bill featuring three bands from the heavier side of life. New boys Shellshock will join up with not-so-new boys Kara and positively-old boys Wolfsbane for a sparkling three band show. As with last years, the Arts Centre pre-festival nights are designed to be party-style events and everyone petting into the spirit (and spirits) of the weekend. It starts at 8pm costs 50p and should be excellent.
Saturday
ANOTHER enticing triple bill will especially interest people of an alternative (sic) persuasion. Breaking Point, who hope to have their debut single out this week, will headline the show and in support will be two unusual acts. First is 13th Reunion featuring the immortal Gerald on bass and second is Love On Board making a special one-off comeback gig to join in the party atmosphere. It adds up to a superb bill which marks the debut show for 13th Reunion, and once again is a meagre – nay, measly! – 50p
Sunday
AND SO to the main event. Two days of exciting, varied rock music in the Castle Grounds. Once again the stage will be set up in front of the tennis courts at the far end of the Castle Grounds, and as with the past couple of years, it will cost you nothing to watch. Here is a quick one-line description of all the bands on show and their (approximate) appearance times…
Heavy
Freefall (12.20) A Coventry heavy band (that's all I know!)
Attica (1.05) Powerful bass-driven combo who crimp their hair and slice their guitars.
Shellshock (1.40) Young lusty metal sound, who smile a lot.
Soil Brothers (2.15) Skiffle-style pop played with coconuts, cardboard and oodles of enthusiasm.
One On One (2.50) Nose-perfect rock music played by soon-to-be superstars.
Noise
Kara (3.25) loud Americanised noises played by local Anglicised noise-makers.
XPD (4.00) Stylish alternative pop music, which cab be summed up as 'ego-shock' rock.
Catch 23 (4.35) Pure-punk-period pop music with panache, power and passion.
The Magnets (5.10) Modern synthesised pop music played by modern synthesised pop people.
Monday
ONCE MORE the Castle Grounds plays host to nine more varied outfits who line up like this.
Burnin' Sky (12.30) Coleshill-based r 'n' b band who revel in the smoky, sleazy way of life.
Beyond Elysium (1.05) Dark sombre sounds with a modern appeal and feel.
Funky
Cuddly Spiders (1.40) Laid-back harmless flares rock.
Breaking Point (2.15) Passion-packed soaring, roaring rock music.
Dance Stance (2.50) Tight, funky nouveau-pop with a burning soul.
Wolfsbane (3.25) Gentle, middle of the road folk band made up of four charmingly polite young boys. A mud afternoon break from all this rock nonsense.
Depth Charge (4.00) Cuddly rock and roll pirates bursting with good times.
Orange (4.35) Deceptively light pop music with a telling edge. Bright, breezy, orangey.
The Royal Family (5.10) regal r 'n' b with guaranteed dance-ability and toe-tapping tendencies.
Tamworth Herald – 14/04/89
Musicbox – SNIPS
The Magnets have returned back to live action in recent weeks. The band, now made up of Gary Overton, Martin Woodings and Andy Baldwin were in action at The George on Sunday, their second appearance their in recent weeks. For those that don't know, The Magnets are THE oldest current Tamworth band who were playing gigs and making tapes when most of the current new breed were still soiling nappies.
Tamworth Herald – 18/08/89
Musicbox – That old Magnetic magic…
The Magnets (The George)
The Magnets, written off in some quarters as has-beens gave Tamworth a confident performance last week, producing some excellent pop music.
After a shaky start, the band showed they've still got a lot to offer.
Baldrick Baldwin gave a most impressive vocal show backed by Martin Mayhem on drums and Gary 'I Can touch The Root' Overton on keyboards. The band overall have certainly updated their sound and deserve a music-loving live audience as a result.
Negatives? Well, 'Love Is Sadness' seemed a bit slow and my gosh 'Have It All' sounded like that thing they play at 4.30am before JobFinder on ITV.
Any doubts though were eliminated as the band hit back with the hard, strong sound of 'no Shelter' (real single material that) and the climax of the show, the classic 'Nightlife' given a 1989 feel with a much fuller sound. With the right production the band have enough material for a very good album and three singles. The Magnets are back in business – don't ignore them!
Review – Jack Napier
Tamworth Herald – 20/10/89
Musicbox – Loadsagigs
IT'S a busy week gig-wise with a host of the area's best bands in action in venues as diverse as the Tavern in the Town and the Mean Fiddler, London. Here is a quick gig-guide so you know where to go and what to look out for…
Sunday – Tamworth Arts Centre
A good night out for those of the gothic persuasion as Curious Oyster steam in for their first headlining show at the Centre. They were hoping to have local support but at time of going to press we could not confirm who that was. It starts at 8pm.
Tuesday – The Mean Fiddler, London
Around 150 fans are expected to make the convoy to London to cheer on Catch 23 in this their second appearance in Das Kapital. The band, fresh from more TV appearances than Jason Donovan, expect to premier some new material including the 215th remix of the classic 'Love Explosion'.
Thursday – The Tavern in the Town
The Magnets return to the scene of their former crimes for a nostalgic night of fun. A band borne out of the Tavern they return home after a couple of useful recent shows much raved about by my old mate Jack Napier. Expect electricity and check out the excellent Manns Brown Ale.
Tuesday (Oct 31) – Corvettes
A fine looking line-up here a week on Tuesday as Bash Out The Odd and The Big Noise team up with King Woderick and The Yogots for a show that promises to fill Corvettes completely. All three bands are bursting with quality and a super sweaty night is definitely in prospect. Advance warning on this one because it looks like packing out!
Tamworth Herald- 02/02/90
Musicbox - Great bands of the Eighties- Part Four

BHX
A band of many members but the same unified ideal - to put metal into the forefront of the Tamworth music scene.

Starting around the same time as the Wolfies, BHX included many notable musicians over the years including Sitting Pretty and Great Express man Julian Amos, LO Girls star Rob Rea and current Ark sticksman Richard Deane. The man usually at the helm was vocalist Mick Goodby who held together a very tight and successful ship indeed.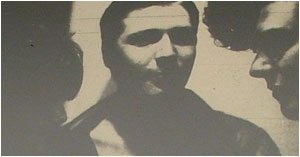 The Magnets
The Magnets are another group who have had more members than the SDP (not hard really). They started as just a tricky twosome in Andy Baldwin and Rikk Quay and although they went through many, many formations, Andy was always the man who kept the synth outfit buzzing. Currently still battling away they have a special place in most peoples hearts as one of the forerunners of the current exploded music scene and the only exponents of Tamworth, new romanticism. A very old and unusual pic the one above [taken by me – Ed!], and just look at Rikk Quay's quiff...
Tamworth Herald – 25/05/90
Musicbox – The indoor gig of the year
NIGHTMOVES stages a Bank Holiday bonanza on Monday when no less than eight bands combine for an all-day indoor festival.
Top groups such as Rhythm Damage, The Yogots and Banned in Yellow combine with several new acts in a special gig which is designed specifically to raise money for the Tamworth Rock Festival in July. As you know the outdoor festival needs every penny it can get to ensure it stays free to you the punter and so Monday's multi-band extravaganza is one of the key fundraisers of the year.
For just £2 you will be able to taste a huge variety of different musical styles from indie-flavoured lasts, via traditional pop and rock to touches of AOR. It will exactly like the normal Tamworth Rock Festival except this one will have a roof over its head and drinks on tap!
There will be debut performances from the likes of Fat Moggy. Tamworth-returns for the likes of Naked Touch and The Magnets and a thrilling finale which features the quality of Banned in Yellow, Vindaloo Breakfast and The Yogots.
The whole day will be run very much like the outdoor festival. All the bands involved will have just 20 short snappy minutes to perform and with only ten minute breaks between the sets the music should be running smoothly throughout the session. And there is also the considerable advantage that if the festival runs a bit late we can keep going until midnightish so there could be solid musical entertainment for five long hours.
Musically you can expect a complete varied package as befits the Rock festival principal. It all begins at 7pm with the Birdland inspired FAT MOGGY a band of Atherstonians who promise to be wild, wacky and about as far away from music as it is possible to be. Expect chaos. Following on a 7.30 will be the all together calmer sounds of THE NAKED TOUCH who will be combining their show on Monday with a gig at the NEC for Telethon on the same day. It's modern, stylish soul music and you should find it a restful relief after the hazards of the Moggy men. 8.00pm brings NEVER SAY DIE to our stages for one of their all too rare Tamworth shows. The guitar-wizzards with added OOOMMPPHH!!! Have long been servants of the Tamworth music scene and this will be an important gig for them. Swiftly following on at 8.30 will be another Tamworth legend in the shape of THE MAGNETS. Nothing needs to be said about this lot because frankly if you don't know them you wouldn't be reading this page anyway. 9.00pm brings to the stage one of the area's best bands for many years, KING WODERICK AND THE YOGOTS. A band of immense power and character they have come on bundles in recent months and their 20 minute blast on Monday is certain to be one of the highlights of the whole night. At 9.30 VINDALOO BREAKFAST enjoy a high profile slot to play one of their biggest shows to date. The band are a distinctive and unique agit-pop lot who combine late 60s and late 70s influences is a set of grizzly smiles. At 10.00 we then welcome the all too wonderful BANNED IN YELLOW who have certainly began the 1990s with a very loud bang indeed. I am particularly looking forward to their many joys which will followed finally by RHYTHM DAMAGE who are the ideal closing act of a very mixed package. What can we say about the Damage men that hasn't already been said about Eric Honeker? Nothing, just enjoy the anarchy.
That's yer lot then, and what a package it is. Eight very different bands, five hours of music and all for a ridiculous £2. We must stress again that all the money raised on the night will go towards the very needy coffers of the Tamworth Rock festival so as well as having a truly enjoyable night you will also be helping keep the event on an even keel.
Don't miss this gig. It's Bank Holiday Monday there is practically nothing else to do so you have no excuses. Get along and enjoy yourselves enormously.
*All bands please note the comments at the bottom of the line-up.
Monday Line Up
Tamworth Indoor Rock Festival 1990
(Nightmoves, Monday 28th May, 6pm-12pm)
7.00 – The Fat Moggy
7.30 – The Naked Touch
8.00 – Never Say Die
8.30 – The Magnets
9.00 – King Woderick and The Yogots
9.30 – Vindaloo Breakfast
10.00 – Banned in Yellow
10.30 – Rhythm Damage
*All bands to report to Nightmoves at 4pm on Monday. Twenty minute sets with ten minute changeovers.
Tamworth Herald – 08/06/90
Musicbox – Those Festive fundraisers
HUNDREDS of pounds were raised last week by two special concerts to raise money for the Tamworth Rock festival.
The major event was the eight band show at Nightmoves which was a huge success and that was followed on Sunday by another good fundraiser at the Arts Centre.
We haven't got space to do an in-depth report on both shows but using what I have heard and what I have seen here is a brief resume of what took place.
Friday, Monday began with Fat Moggy who delighted most of the audience with a show full of originality and wild abandon. Even Mike Fleming said they could potentially be a BIG cult band. The Naked Touch were apparently quite sedate and calms as were Never Say Die who boasted some fine guitar work. The Magnets weren't too happy with their sound but it seemed OK to most people while the Yogots also came off stage with a frown despite one or two absolute gems including a relative newie which was good. Vindaloo Breakfast were mine and many people's band of the night with a killer show of attacking guitars and punchy vocals that brought back happy echoes of 1977. Excellent. Banned in Yellow stunned my 'oppo' Sean Atkins but didn't quite reach their Mean Fiddler heights in my opinion although 'going Green' was CRUCIAL. Finally, Rhythm Damage played a hugely popular set of anarchic pop which delighted most. Personally I thought they were far better at the Arts Centre on Sunday where they played what I regarded as their best set yet. Even technical hitches couldn't ruin a set in which two songs – 'Energise' and 'Taste the Rod' were absolutely magical. Also at the Arts Centre, Flowers in the Attic showed that they have become a bit more sombre in recent months and have perhaps lost some of their angelic charms while Chemikill played with stunning precision and ear battering power with Bayley's contribution adding sugar to the metal strawberries. End result, two successful nights and a lot of much needed DOSH.
Sam Holliday