Select Elect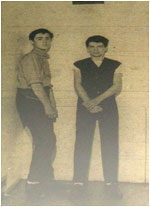 Select Elect
Photograph Courtesy: Tamworth Herald
The Gallery
Musical Genre/Type: Electronic
Formed: 1982 Split: 1984
Band Members:
Mark Brindley - Lead Vocals and Guitar (Glascote)
[Also in: Bash Out The Odd v.1, Bash Out The Odd v.2, Bash Out The Odd v.3, The Cheesy Helmets, W.I.N.]
John Bates – Keyboards/Backing Vocals (Glascote)
[Also in: Bash Out The Odd v.2]
Other Band Members/Instruments:
Rikk Quay for his support, help, incredible imagination, enthusiasm and programming / recording skills,
Memories:
Recording in the back of the Tavern in the Town in the summer holidays from school. Tamworth Rock Festival 1984. Stripes Nightclub
Gigs:
02/09/83
Select Elect
Those Attractive Magnets
Tamworth Arts Centre
23/10/83
Tamworth Young People's Arts Festival
Sitting Pretty
Select Elect
BHX
Tamworth Arts Centre
04/05/84
Sitting Pretty
Select Elect
Tamworth Arts Centre
25/05/84
The Magnets
Select Elect
Tamworth Arts Centre
17/08/84
Elusive They
Select Elect
Tamworth Arts Centre
First Gig: Glascote Comprehensive School - 1983
Last Gig: Tamworth Arts Centre Theatre - 1984
Tamworth Herald – 05/08/83
Musicbox – A Select company
MUSICAL duets are currently proving to be very popular indeed. Yazoo, Wham and Blancmange have all shown that in musical terms two is a rock band but three can be a crowd! And one young Tamworth band certainly hope that duets stay in fashion.
They are Select Elect formed by two ambitious pupils at Belgrave Comprehensive School.
With a combined age of only 29, 15-year-old Mark Brindley and 14-year-old John Yates may not be the oldest group in the town but they display an impressive amount of confidence and maturity.
Already they have released a two-track demo tape, recorded by their mentors Those Attractive Magnets.
And now they are looking to do a series of dates throughout the town.
"We haven't got many songs at the moment, but we hope to have a big enough set by the end of the summer," said Mark.
The band list their influences as the Human league, Thompson Twins, Heaven 17 – and Those Attractive Magnets.
"We saw the Magnets live and really enjoyed their performance, so we gave them a tape we did at home," said Mark.
Following this Rikki of the Magnets asked the band to record two of their numbers on their own portable recording studio.
The songs – "We Live in Silence" and the excellent "Modern Land" – took 25 hours to record and show a great deal of promise.
"We are very pleased with the overall sound. And we hope to do some more recording soon," said John.
The band's sound is very synthesiser orientated and is likely to go down well with a wide audience.
"We would like to do it full-time one day, but we are taking one step at a time," said Mark.
And the next step after a couple of dates at school is a busy summer break writing songs.
Tamworth Herald – 02/09/83
Musicbox – Synth or rock…it's a night to note
TAMWORTH's once-decaying rock scene seems to be finally coming to life. Not only did we have a bumper concert at the Castle Grounds on Monday but tonight fans have a choice of two great gigs to attend.
The first is at the Arts Centre where Those Attractive Magnets are playing with the new electronic duo Select Elect, in what promises to be an exciting night for fans of synth music.
But if more traditional rock is more to your taste, then the place to be is the Masonic Rooms in Lichfield Street where the Classified Ads will be lining up with Sitting Pretty in a gig to launch Tamdisk records.
Both gigs will be a perfect combination of the old and the new. The Magnets are one of the town's oldest groups who now seem to be having a rebirth with the release of their excellent debut single 'Nightlife'. And in contrast it is the first time 'Select Elect', the young electronic duo, will take to a main town stage.
Meanwhile over the road at the Masonic Rooms, Tamworth veterans the Classified Ads – who were twice voted Tamworth's top band in the fanzine 'Tambeat' – will provide a nice balance with Sitting Pretty who made their debut on Monday.
The Ads play new wave orientated pop music whereas Sitting Pretty describe their sound as 'music of the 80s with 60s overtones'.
Both gigs look intriguing and they reflect a general reawakening of the Tamworth music scene. All we need now is two bumper crowds to support these gigs so we can really get things moving again.
FOOTNOTE: The Ads will be back in action on Monday evening when they play at the popular Tavern in the Town.
Tamworth Herald – 14/10/83
Musicbox – Sounds on Sunday
TAMWORTH rock fans can kiss goodbye to Sunday afternoon boredom this weekend when four of the town's young bands will be appearing in a special free concert at the Arts Centre.
The indoor festival is all part of the Young People's Arts Festival and the emphasis has been on relatively new groups. The four acts playing on Sunday are Sitting Pretty, the Mandettas, BHX and Select Elect.
Refreshments are available at the gig – which begins at 2pm and the organisers are hoping for a bumper turnout to ensure that rock music stays permanently on the Arts Festival line-up.
Tamworth Herald – 28/10/83
Musicbox – Suddenly Sunday's a whole lot brighter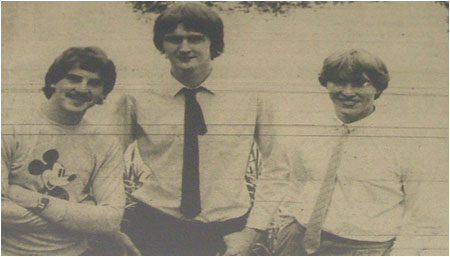 SUNDAY is traditionally known as a day of rest, peace and hangovers. It is also – frequently – extremely boring and so the decision to stage Tamworth's first-ever indoor rock festival on Sunday afternoon was a master stroke.
A healthy sized crowd turned up for the Arts Centre concert which – marred only by the non-appearance of the Mandettas – was a highly enjoyable showcase of new Tamworth music.
First up were Sitting Pretty who have done so much since forming a few months ago that they already seem like local veterans. The set they delivered – although perhaps not quite as sharp as previous performances – was extremely impressive and you could not help but be engulfed by their all-consuming enthusiasm.
Awesome
The best song on the day was a moving, slow ballad called 'Inspiration' which showed that the band are already diversifying from the clean pop sound that dominates their set.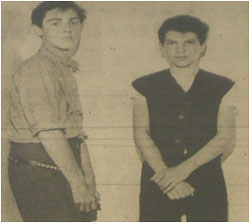 Next up were the undoubted show-stealers Select Elect. For a band so young – the duo are aged 14 and 15 – their short set was quite a revelation. Their songs were tuneful, well structured and very accessible.
With youth, a nice modern image and confidence on their side, the potential of Select Elect is awesome. If they can continue to build on the great strides they have already made, there is no reason why they should not become one of the top bands in the area.
Finally up came BHX for another powerful assault on the listeners' ears. Despite an extremely poor PA system, BHX battled on and clearly won over the large group of rockers in the audience.
Message
All five members of the band performed creditably with songs such as 'Tales of Modern Romance' and 'Superstar' in their set. BHX really have thrown down the gauntlet to other heavy rock bands in the area. Their message is clear – beat that!
BHX's energetic performance closed a unique and enjoyable afternoon. Outside it was still boring old Sunday but somehow with all the energy, spirit and potential of the three acts on view it didn't seem to matter any more…
SAM HOLLIDAY
Tamworth Herald – 27/01/84
Musicbox
FOLLOWING last week's highly-successful 'rock' concert, the Arts Centre tonight plays host to two of the town's most-enterprising young pop bands.
Electronic duo Select Elect will join forces with 'video-superstars' Sitting Pretty for a gig that promises to be as entertaining as it will be varied.
Select Elect have only a small number of gigs under their studded belt but their youthful enthusiasm and attractive sound make them an extremely tasty prospect.
After Select Elect the Arts Centre will come alive to the sounds of Sitting Pretty – now with new keyboard player Greg Stevenson. The doors open at 8pm and there are a few tickets still left on the door at 50p.
The Dream Factory, who are just about to embark on their biggest ever tour, have added the services of two new brass players, Stuart Ashmore and Robin Maxwell.
Tamworth Herald – 03/02/84
Musicbox – What a great show
Select Elect/Sitting Pretty – Tamworth Arts Centre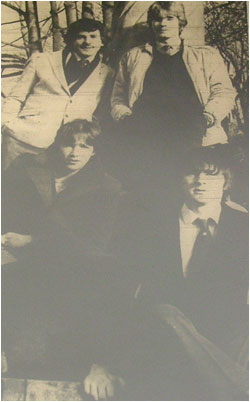 IF anyone needed proof that Tamworth's music scene is now in a healthier state than ever they should have been at the Arts Centre on Friday.
For on that night two of the area's most exciting prospects – Select Elect and Sitting Pretty – turned in a great show to a large crowd that was noisy and enthusiastic,
Four months ago – the two acts – plus BHX – played a free concert at the Arts Centre which managed to fill only half the theatre.
But now with tickets costing 50p apiece and with one less group on offer – Tamworth's music fans piled into the Arts Centre making the night a hugely successful sell-out.
Select Elect were first on stage and after beginning with a quite disastrous mix they soon settled down to play an entertaining and always interesting set of modern synth pop.
They are clearly a duo that are maturing all the time and their adventurous approach to songwriting makes them a potentially winning force.
Mark Brindley, who looks like a trainee Paul Young and sounds like a trainee Phil Oakey has a very strong voice indeed and a great line in off-the-cuff chatter between songs.
After a break Sitting Pretty – who must be congratulate for a quite splendid programme – took the stage to an unprecedented crescendo of applause from the audience.
They burst straight into a set brimming over with great tunes and sheer unrestrained energy. The band had certainly taken to the idea of sharpening their stage presence and now with talented Greg Stevenson on keyboards Sitting Pretty are almost like a totally different act.
The keyboards give the sound a new dimension which manages to fill the gaps that guitars inevitably leave. The best example of all comes in the moving 'Inspiration' where Greg must take credit from turning a very good song into a truly great one.
The biggest surprise of the night came when the band encored with the Classified Ads standard 'Black is the Night', Ironically perhaps this shows that the new guard may well be taking over where the older bands left off. In the end however – nobody loses – only music wins.
Tamworth Herald – 04/05/84
Musicbox – Snips
DON'T forget Sitting Pretty will be in action again tonight for their second consecutive appearances at the Arts Centre. Supporting will be exciting synth duo Select Elect who have promised a new look set. Tickets for the gig cost 50p and the doors will open around 8pm.
Tamworth Herald – 25/05/84
Musicbox - Curtain up on a busy weekend
Band box full of tricks…
TAMWORTH Arts Centre will be under the spotlight again over the weekend when it plays host to two of the most intriguing gigs in the town for many months.
Tonight sees the welcome return to the town stage of The Magnets who will be playing with enterprising young synth duo Select Elect. And just 24 hours later the hard working Sitting Pretty will be joined by new outfit Love On Board who will be making their first town centre appearance.
Tonight's concert will be particularly interesting for it will be the first time the immensely popular Magnets will be playing live since reducing their line-up – and their name.
Rikk Quay has left, the words Those Attractive have been dropped from the moniker, and The Magnets are now a totally different proposition.
The once-familiar backing tracks have been dropped and the band are now going to play their new-look set totally live.
As an indication of what the listener can expect, the band have just released a new two-track demo recorded recently at Steve Adams' studio.
Both songs reveal a new depth and commercial aspect to the Magnets' sound and both – particularly the magnificent 'Breath On Breath' – show that the band has been given a whole new lease of life and should soon be chasing once again the crown as the town's top band.
Alongside the Magnets will be kindred spirits Select Elect, a band whose confidence and enthusiasm has never faltered since their first impressive gig last November.
Good reaction
The band whose music sounds at times like early Human league, now have several more songs at their disposal and with the right mix and a good reaction from the crowd, Select Elect can do their career a power of good by turning in an entertaining set tonight.
Another band who will be keen to win over the town's audiences are the new quartet Love On Board who are literally bursting with anticipation to play at the Arts Centre.
The group, who had to delay their debut concert when guitarist Nick Read was involved in a serious road crash earlier this year, have already won a local talent contest although they see Saturday's gig as their first real test in Tamworth terms.
"We are hoping that Tamworth will like what we have to offer and we are very keen to see how we go down on Saturday," said Nick.
The band who were recently strengthened by the addition of the energetic Glenn Lewis on bass, say their sound is similar in parts to modern pop outfit Orange Juice and Friends Again.
It is certainly a sound that will never have been heard in Tamworth before and for that reason alone, Love On Board are guaranteed a captive audience.
Also guaranteed an enthralled audience are Sitting Pretty. The band who are now coming under close scrutiny from the record companies, should be releasing their debut single in a couple of weeks and Tamworth fans will be able to hear the contents in their live form by popping along to see the group in action tomorrow.
The weekend's gigs conclude four such events in the space of just three days. At one time it would have seemed impossible in a place like Tamworth and shows just how the town scene has improved over the past few months.
All it will take is two big audiences at these gigs (which both start at 8pm) to confirm that the Tamworth scene is now healthier than it has ever been.
Sam Holliday
Tamworth Herald – 08/06/84
Musicbox – Select pair turn in the surprises
The Magnets/Select Elect – Tamworth Arts Centre
ALTHOUGH ON a national basis synth music seems to be very much in decline, in Tamworth at least there are still bands trying to make mileage and careers out of much-heralded 'techno-revolution'.
Of these bands, The Magnets and Select Elect are probably the best known – but judging by the smattering of empty seats at the Arts Centre it seems as if even these groups are finding it difficult to convince would-be gig-goers that the musical statement they are trying to make is still a valid one.
Fans seem to have turned their back on this style of music over the past few months which is a shame as both The Magnets and Select Elect have a lot to offer.
The Magnets particularly come over as a band who, if given the right break, could be very big indeed. With Rikk Quay no longer part of the set-up the band have decided to completely change direction – but have managed to stay on the right road.
Their new material seemed as strong as any from the past and certainly seems less simplistic and straightforward than more traditional Magnet creations.
The rather seductive 'Breath On Breath' is a notable highlight where Andy's vocals add an attractive sideline to a very well written and spacious tune.
Even better was the group's last composition – an off-the cuff epic-length track which built up gradually and ended on a musical and vocal crescendo unlike anything the band has previously produced. It rounded off their short set nicely and convinced any doubters in the audience that the Magnets are back fresher and more committed than ever.
After a short break, headliners Select Elect took to the stage and delivered their longest set to date. Having seen the band several times, I had a general idea of what they would be like but they still turned in a few surprises. Foremost among these was the sudden appearance of female bassist Joanne Caloon who played in one of the band's newest and more subtle numbers.
It turned out to be easily the best number Select Elect played all night because whereas the rest of their numbers are a little predictable, the dual guitars used added an extra dimension and point of interest to their set.
The band clearly still have a long way to go but now they are experimenting with new instruments and new ideas, things should soon start to move for them.
For both acts the next few months could be crucial so we must hope that local people will start returning to see synth-orientated music to give this always interesting musical style the sort of reaction it deserves.
SH
Tamworth Herald – 15/06/84
Musicbox – Chat-show turn off on a night of fun
Delusions of Grandeur/The Elusive They/Rikk Quay (Tamworth Arts Centre)
In the mid-Seventies rock and roll became a paralysed, stagnant art-form because of the elitist attitude of the bands of the time.
Groups had an arrogant self-importance that led to a severe lack of communication between group and fans. But the revolution in the mid Seventies changed all that as, suddenly, bands did not want to be put on a pedestal any more and their fans were accorded respect and equality.
So it was with a certain amount of discomfort and dismay that I had to watch Burton trio Delusions of Grandeur.
For although their sound is very much of the Eighties their attitude is so mid-Seventies that watching them was like being forced to take another look at the horrendous 'Old Grey Whistle Test' circa 1974.
Between every song the band indulged in verbose self-important speeches about what THEY like, what THEY think and what THEY feel about everything from love to soap operas. It was as if the band thought the audience was completely gaga and needed smothering. It was also very insulting.
But all this is a great pity because the band so clearly have plenty of technical merit. Their songs are tight, well-written and enthusiastically performed, particularly by the multi-talented Geoff Noble.
Most of their tunes are immediately accessible and for a synth-based band that means one thing above all – HITS!
The lick professionalism of Delusions of Grandeur proved a marked contrast to support acts The Elusive They and Rikk Quay. Both acts were bountiful in their off-the-cuff good humoured spirit and for that reason alone they both provided great entertainment value.
The Elusive They never stopped smiling and dancing, implying they had something far more sinister than ants in their pants. The sound was very reminiscent of Soft Cell – that is, synth music with a telling punch.
It made you smile and tap your feet all at once and with so many serious bands around, that is a rare and very pleasant mixture.
The occasional hiccup – for example treading on someone else's drum machines and getting an additional unrequested rhythm section – only served to make their set even brighter and I for one will be keenly awaiting the trio's next manic and highly enjoyable set.
And Rikk? Well as usual the maestro of rhythm and dance was in top form bouncing around the stage with an urgency and buoyancy that quickly won over the audience.
Ever since his Magnets days, live work had always been Rikk's forte and the more I see of his stage show, the more I'm convinced he should go solo.
The way he is all his own boss and there are no bodies to bump into as he strides, jumps and plunges from one side of the stage to the other.
The songs are well delivered, always interesting and have a strong beat which never stops drilling into the listener's ears. The music like Rikk's image has that often craved but rarely achieved quality – style.
He should not waste it for it is a precious commodity and one that has always impressed the legions of record company personnel whose interest Rikk has been trying to cultivate.
So an overtly interesting night which showed that synth-based music can still be fun. Its halcyon days may be in the past nut is a music form that can still make for great entertainment and Delusions of Grandeur's verbal onslaught apart, that is exactly what this trip to the Arts Centre turned out to be.
Tamworth Herald – 17/08/84
Musicbox - Snips
THE ELUSIVE THEY will be making a return trip to the Arts Centre tonight alongside Select Elect.
For the Elusive They the gig will be a nice warm-up for the festival and for Select Elect it will hep to introduce Joanne Calcott to the band's sound. Select Elect say they will be playing more live than they normally do, and are looking forward to their gig which is their first at the Centre for a couple of months. Tickets for tonight's show are available on the door.
A5, the unique combo formed out of the members of Lambent Lamella, have just released an excellent new demo track which MUSICBOX hopes to review in the next couple of weeks. The tape is an experimental and very adventurous four track collection which encompasses influences as varied as The Banshees and The Police. Copies of the tape are now available at the Tavern in the Town where all four tracks are currently hyped beyond proportion by the town's top DJ Buttercup.
WILL all the musicians who are due to play in the outdoor festival please attend the final meeting about the event this Sunday at the Tavern in the Town at 8pm. As this will be the very last meeting we will be able to discuss exactly everything that will happen over the two days and so it is vital that every musician involved – not just committee members – attend.
SPACES ARE STILL AVAILABLE for the Tamworth Herald/LK Records pop quiz which has now been pencilled in to take place on Thursday, September 27 at the Embassy Suite.
Tamworth Herald – 22/02/85
Musicbox – Shock waves on battleground
Smashing time as riot hits stage
TOMORROW night Tamworth Arts Centre will play host to the final of the keenly-fought 'Battle of the Bands' contest.
The final, featuring five groups will be the culmination of four strong heats, the last of which is at the Arts Centre tonight (Friday),
Already the contest has attracted great interest and has been packed full of surprises and controversy.
It all began last Thursday when three very different acts – Dance Stance, One On One and The Original Royal Family took to the stage.
Controversy started to rage however, when one of the five judges was disqualified for walking out half-way through the gig of the last band The Royal Family. The disqualification gave One On One a clear victory, making them the first band into the final – and therefore the Bank Holiday rock festival.
Overflowing
Twenty-four hours later at the Arts Centre a packed-to-overflowing audience saw an amazing four-band contest. Childs Play opened the proceedings with their former guitarist, who had been dragged out of the bar because their normal player had disappeared!
The shock continued when Vicious Malicious – an unholy alliance of Select Elect and The Elusive They took to the stage and proceeded to smash up guitars and tape recorders as well as run riot with a chainsaw. The word was bizarre. All part of the act, of course.
And, if that wasn't enough of a culture shock to the audience, then the new Pulsebeat, who after starting cautiously, had the whole crowd on their feet with some brilliant, individual guitar playing.
By now nothing could be surprising – but last band Scarab almost were. They came on and gave a blinding show bashing out 100mph rock anthems which sent their loyal fans into a state of acute frenzy. They threw in volcano-style fireworks, flashing lights and fake blood to provide a riveting performance. Needless to say they won, so booking their automatic place in tomorrow's final.
The third heat was held last night (Thursday) and one of the following four acts will be in tomorrows final – Ideal Standard, Spirit of Water and Sitting Pretty.
The final heat will be tonight when Breaking Point, BHX, Sacred Oath and Caprice will battle it out.
Each of the acts has a lot going for them and predicting the result is extremely difficult.
BHX have proved their status by being offered several dates all round the country; Sacred Oath are now back fresher and more determined; Caprice get more confident with every gig and Breaking Point are Breaking point.
Surpassed
Don't forget there will also be a place in tomorrow's final for the highest scoring runner-up during the whole contest.
On the first two heats, Childs Play and Pulsebeat both with 59 points held second equal though it is likely that this total will be surpassed tomorrow night.
So an extraordinary night is in prospect. The finalists will be given only 20 minutes to impress the judges that they are Tamworth's top band. The overall winner will be invited to play at the Young People's Arts festival night in March where they will also be presented with their winning trophy.
Saturday's final starts at around 8pm and entry is 60p. it is going to be packed to the rafters so people are advised to arrive early to enjoy this potentially tremendous occasion.
SAM HOLLIDAY
---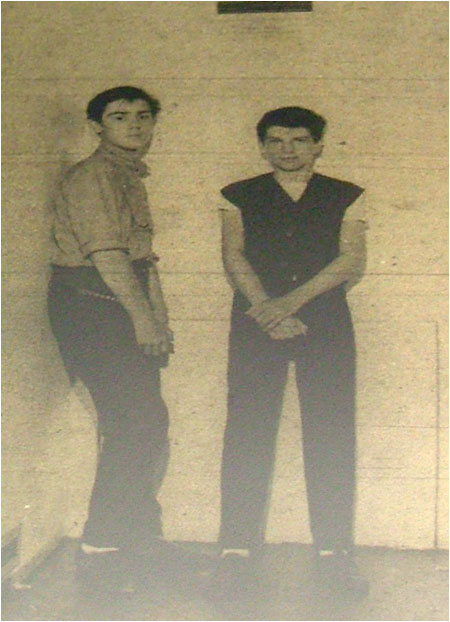 Mark Brindley, 15 and 14-year-old John Bates who comprise Tamworth's newest duet Select Elect.
The full profile and history of Select Elect has yet to be added to TamworthBands.com Call back soon to read the full band details.
If you have any further information about this band please email: info@tamworthbands.com