Scarab
Musical Genre/Type: Heavy Metal
Formed: 1979 Split: 1989
Band Members
Paul Britton - Lead Guitar/Vocals
Dave Parrish - Rhythm Guitar/ Backing Vocals
Nigel Shaw - Bass Guitar
Steve Riley - Drums
Other Band Members/Instruments:
Paul Brooks - Drums
Songs
You need to upgrade your Flash Player.
| | |
| --- | --- |
| Poltergeist - Britton/Parrish | Hell on Weels - Britton/Parrish |
Rock Don't Live Here Anymore - Britton
Take No Prisoners - Britton
Vampire - Britton
For Whom the Bell Tolls - Britton
Paranoid – Osbourne/Iommi/Butler/Ward
Acid Trap - Britton
The Plague - Britton
Gigs
06/12/82
Scarab
Polesworth Working Mens Club
17/01/83
Scarab
Witch Craft
Polesworth Working Mens Club
07/02/83
Scarab
Polesworth Working Men's Club
14/03/83
Scarab
Polesworth Working Mens Club
25/08/84
Sacred Oath
Scarab
Tamworth Arts Centre
12/10/84
BHX
Scarab
Tamworth Arts Centre
09/11/84
Scarab
Sacred Oath
Tamworth Arts Centre
21/12/84
BHX
Scarab
Tamworth Arts Centre
09/02/85
Sacred Oath
Scarab
Tamworth Arts Centre
08/03/85
Scarab
Tamworth Arts Centre
06/04/85
Scarab
Tamworth Arts Centre
25/05/85
Scarab
Tamworth Arts Centre
18/10/85
Scarab
Coach and Horses
West Bromwich
07/02/86
Scarab
China White
Tamworth Arts Centre
Last Gig: Tamworth Arts Centre
Other Gigs: Loads of gigs at The Arts Centre; Coach and Horses, West Bromwich; The Railway Tavern, Birmingham; JBs, Dudley.
Additional Info: Support Bands: Sacred Oath, BHX, Wolfsbane, China White.
Recordings
Title: Poltergeist
Label: Pharaoh Records
Track List: Poltergeist / Hell on Wheels
Format: 7" 45rpm single for sale
Tamworth Herald – 04/02/83
Musicbox – 'Top club' gigs
FOLLOWING their considerable coup in attracting Harvest Moon to Polesworth Top Club organisers have lined up two more entertaining gigs.
On Monday (February 7) Scarab are on the bill and Tamworth band Badger follow them on February 14.
Tamworth Herald – 01/07/83
Musicbox – Bands in carnival mood
Scarab/BHX : Sutton Carnival
BHX came on stage for their support slot to an almost empty marquee but the numbers gradually built up as they played their own self-written songs like 'Mad Jack', '25th Century' and 'I Wanna be Alive'.
The band seem to have a new confidence in themselves and their music, which is aided by the addition of ex-Badger drummer Stuart Pickett to the line-up.
They introduced two new numbers 'Dance' and 'Straight to Hell' which had great promise for the future.
The PA was loud and clear and the band played their best set so far – all of them getting in the carnival spirit.
Scarab played their own brand of heavy metal which anyone who saw them at Polesworth Top Club will remember.
The lead guitar work was particularly impressive and they finished with a version of 'Love Potion No.9' and came back for two encores.
A.G.
Tamworth Herald 12/10/84


Musicbox – Rock solid and real heavy…
FOUR hard-hitting rock bands will descend on the Arts Centre this weekend for two power-packed concerts.
Tonight promises to be a fierce assault on the ears as highly rated Birmingham band Scarab and ever-active Tamworthian BHX.
Then, 24 hours later, just as your ears have stopped ringing, relative new boys Caprice will be handing out their own brand of rock alongside passion-wielding Breaking Point.
Tonight's double-header looks set for another Arts Centre sell-out date due to the increasing popularity of both bands on view.
Scarab have done what few non-Tamworth bands have managed to do in the town by picking up quite a following. Their fans are bowled over by the band's manic and very powerful sound.
One reliable gig watcher told me that Scarab were the best heavy band that has ever played at Tamworth, the group's own determination to play gigs in this area shows that they really have built up a goods rapport with Tamworth crowds.
As well as promoting themselves, Scarab should be promoting their new single 'Poltergeist', and so anyone who wants to hear good heavy metal tonight – and then take some of it home with them – is urged to bring some extra cash for the single!
BHX, of course, need no introduction, having spent the last 12 months picking up fans with every gig they do. Their last powerful performance at the Arts Centre revealed how direct and menacing their sound has become and one thing that fans can always find comforting about the band is that they rarely – very rarely – disappoint.
Dynamic
Another band for whom disappointment is a null word, is tomorrow night's headliners Breaking Point. They stole one of the best reactions at the Bank Holiday Festival and have a thumping, dynamic sound full of modern influences such as U2, The Alarm and New Model Army.
It is, in essence, a rock-orientated sound with a heavy dose of passion and spirit. Guitarist and vocalist Kevin Briggs has promised a new and exciting show tomorrow, bursting with energy and musical vitality. And Kevin is the sort of man you believe.
New trio, Caprice made their debut show at the Festival several weeks ago. Caprice are an amiable trio who find it very difficult to describe exactly what they sound like.
"I suppose it is Seventies music which will particularly appeal to the older generation, as well as Breaking point fans," said bassist, cat-fanatic and well-known wit Mike Fleming.
Caprice's 'Seventies sound' incorporates everything from Santana and Dire Straits to much harder songs. Even the odd bit of pop is thrown in to surprise people.
Helping out in the pop department are 'The Girls From The Bus Stop' – the girlfriends of guitarist Steve Shepherd and drummer Adrian Goodman, who provides the occasional backing vocals.
Caprice believe they should appeal to quite a wide audience and I, for one, will be keen to see how their lively, endearing sound is received by the Arts Centre crowd.
So there we have it, two very entertaining-looking gigs which promise a lot and will no doubt deliver the goods. Both gigs begin at 8pm and two sell-out concerts seem likely.
Tamworth Herald 26/10/84
Musicbox – Roaring in with the fun
SCARAB/BHX Tamworth Arts Centre
SCARAB'S lead vocalist, recently said: "A boring band get a boring audience, and a boring audience get a boring band." I don't think that either of the two bands double heading this show could be described as being boring.
The first band to assault our ears was the experienced Tamworthians BHX, lead by black haired Mick Goodby on vocals and Peter the Python on lead guitar.
They burst into a powerful heavy rock set which put paid to any claims that they are a gentle Rush type band. Of course, they do have their Rush leanings, as was shown in "Journey to Asgard", now a BHX classic, (ever heard of "La Villa Strangiato"?)
Their new songs, the dramatic "Sudden Curve" and the powerful "Alienation" give hope for a new era of metallic classics for the band.
The band finished with the manic "Flashing Knife" and unfortunately were allowed to leave the stage without an encore.
I haven't seen BHX so powerful and confident in a long time and I think that their future is looking brighter than ever.
There was no doubt about Scarab. For a band who play 'only for fun' and who have recently discovered that they don't have to change their name after all, they have certainly reached a standard of excellence which is capable of putting them among the top national bands.
They roared through a powerful set with such old favourites as "Hell Hotel" and "For Whom The Bell Tolls" until they were brought to a halt by the PA system, which was silence by an Arts Centre plug blowing a fuse. Unperturbed, they went ahead with a drum solo while roadies struggled to get the sound back.
Problems over, Scarab hammered their way into the new single "Poltergeist" due for release next week.
The set continued and ended with a total of three well-deserved encores.
K.E.V
Tamworth Herald 02/11/84
Musicbox – Snips
ONE of Tamworth's favourite heavy bands, Scarab have now released their debut single which MUSICBOX will be reviewing in the near future when we will also have five copies of the single to give away. In the meantime the band are planning a double-decker coach to take fans to a special party gig at The Coach and Horses at West Bromwich on December 1. For just £2 fans will be taken to and from the gig and will be allowed to get into the concert free to see Scarab and support act After Eden. Tickets are available from the Arts Centre next Friday when Scarab will be playing alongside Sacred Oath.
Tamworth Herald 09/11/84
Musicbox – Scarab throws down the challenge…#


ROCK returns to the Arts Centre with a vengeance tonight, when the mighty Scarab will hit the stage along with kindred spirits Scared Oath.
Both bands have been busy building up a following in Tamworth for several months and they are confident that a packed Arts Centre crowd will reflect just how much work they put in so far.
For Scarab the occasion will be an excellent one to promote their new single 'Poltergeist/Hell On Wheels' which the band are hoping will finally break them into the big time.
The single, which comes in an attractive sleeve, was written, arranged and produced by Scarab and will come under the Musicbox microscope next week. In the meantime the band have kindly handed over five singles for readers to win a simple contest.
All you have to do to win a Scarab is to say what a scarab is? Send your entries as soon as possible to Sam Holliday.
For those of you who don't know the answer – or want to get your hands on the single straight away – copies should be available at tonight's show. As usual Scarab will be dishing out their normal high-voltage, high-energy performance which will no doubt be matched by the ever-enthusiastic Sacred Oath.
This youthful power outfit have had considerable success already and their impressive ability to combine hard-hitting numbers with subtle melodies is sure to endear them to Tamworth's massive rock following. So another night of eardrum popping is in prospect and the fun starts at 8pm.
Memories
The first ever gig in Tamworth was at the Tavern, it was played outside and the police turned up to say it was too loud and could be heard all over Tamworth.
Getting played on The Friday Rock Show with Tommy Vance (RIP) and he gave his thoughts afterwards and he rather liked it. Getting reviewed in a Brazilian rock music mag - how that happened God only knows!
Tamworth Herald 21/12/84
Musicbox – Big bands set for seasonal sound-off
MUSICBOX is having a seasonal break this week in preparation for a bumper full page special next week which will give you all the details of who has won what in out record breaking poll.
The polls have been piling in since Day One and we have now passed the magical figure of 500 votes – including those for 20 different local bands.
Everything will be revealed next week but in the meantime there are three good gigs to put I your diary over the Christmas period.
'Rock' ranks
Tonight (Friday), rock hits the Arts Centre in the shape of two of the areas biggest and boldest outfits – BHX and Scarab.
And then tomorrow, the outrageously wonderful Wolfsbane will join up with the equally wonderful One On One for a Christmas special that promises a lot. Wolfsbane who were delighted to be banned from The Railway tavern for being too outrageous – have promised their normal high spirits, and with One On One's consistent style, the Arts Centre looks like being packed to the rafters.
Better late…
And finally The Dream Factory will be playing a belated Christmas show on December 27 at Grendon Working Men's Club. The Factory are expecting hordes of people to turn up to a gig that will be the culmination of a year that the band are unlikely to forget.
It just remains for me to wish all Tamworth's musicians and music fans and MUSICBOX contributors a very happy Christmas packed full of your favourite Yuletide spirit.
SAM HOLLIDAY
Tamworth Herald – 11/01/85
Musicbox – Ideal set for home debut
IT'S A big night for Coleshill music fans tonight with the first 'home' appearance by promising outfit Ideal Standard. The band who were drafted in as late support for Scarab last week, will be in action tonight at Coleshill Town Hall.
The band, who boast U2 and The Jam as their two greatest influences, will be playing alongside the excellent Parade in a night that promises to be very enjoyable.
So don't miss out – show that Coleshill wants to get something going, and support both these bands tonight.
Tamworth Herald – 08/02/85
Musicbox – All change as bands zoom into overdrive
TWO OF TAMWORTH'S best-known heavy bands will hit the Arts Centre stage tomorrow night – both sporting line-up changes.
For Sacred Oath, voted in the Musicbox poll as the top heavy band in the town, there will be a brand new line-up following the recent 'abdication' of vocalist Star Trek and drummer Vicky the Viking.
The group have lost none of their enthusiasm however, and are bursting to return to the stage tomorrow night.
Also bristling with enthusiasm are tomorrow night's other band Scarab who have probably played more gigs in town recently than anyone else.
Scarab will be playing with a new drummer who they confidently believe is the best that Tamworth will have heard for a long time.
Paul Brooks, formerly a session musician has joined Scarab after spending a while teaching young drummers. His hallmark are special drum solos one of which is compared favourably to Motorhead's "Overkill".
So another meaty, beaty big and bouncy sound can be expected and tomorrow's rick double bill gets under way at 8pm.
Tamworth Herald – 22/02/85
Musicbox – Shock waves on battleground
Smashing time as riot hits stage
TOMORROW night Tamworth Arts Centre will play host to the final of the keenly-fought 'Battle of the Bands' contest.
The final, featuring five groups will be the culmination of four strong heats, the last of which is at the Arts Centre tonight (Friday),
Already the contest has attracted great interest and has been packed full of surprises and controversy.
It all began last Thursday when three very different acts – Dance Stance, One On One and The Original Royal Family took to the stage.
Controversy started to rage however, when one of the five judges was disqualified for walking out half-way through the gig of the last band The Royal Family. The disqualification gave One On One a clear victory, making them the first band into the final – and therefore the Bank Holiday rock festival.
Overflowing
Twenty-four hours later at the Arts Centre a packed-to-overflowing audience saw an amazing four-band contest. Childs Play opened the proceedings with their former guitarist, who had been dragged out of the bar because their normal player had disappeared!
The shock continued when Vicious Malicious – an unholy alliance of Select Elect and The Elusive They took to the stage and proceeded to smash up guitars and tape recorders as well as run riot with a chainsaw. The word was bizarre. All part of the act, of course.
And, if that wasn't enough of a culture shock to the audience, then the new Pulsebeat, who after starting cautiously, had the whole crowd on their feet with some brilliant, individual guitar playing.
By now nothing could be surprising – but last band Scarab almost were. They came on and gave a blinding show bashing out 100mph rock anthems which sent their loyal fans into a state of acute frenzy. They threw in volcano-style fireworks, flashing lights and fake blood to provide a riveting performance. Needless to say they won, so booking their automatic place in tomorrow's final.
The third heat was held last night (Thursday) and one of the following four acts will be in tomorrows final – Ideal Standard, Spirit of Water and Sitting Pretty.
The final heat will be tonight when Breaking Point, BHX, Sacred Oath and Caprice will battle it out.
Each of the acts has a lot going for them and predicting the result is extremely difficult.
BHX have proved their status by being offered several dates all round the country; Sacred Oath are now back fresher and more determined; Caprice get more confident with every gig and Breaking Point are Breaking point.
Surpassed
Don't forget there will also be a place in tomorrow's final for the highest scoring runner-up during the whole contest.
On the first two heats, Childs Play and Pulsebeat both with 59 points held second equal though it is likely that this total will be surpassed tomorrow night.
So an extraordinary night is in prospect. The finalists will be given only 20 minutes to impress the judges that they are Tamworth's top band. The overall winner will be invited to play at the Young People's Arts festival night in March where they will also be presented with their winning trophy.
Saturday's final starts at around 8pm and entry is 60p. it is going to be packed to the rafters so people are advised to arrive early to enjoy this potentially tremendous occasion.
SAM HOLLIDAY
Tamworth Herald – 01/03/85
Musicbox – Cream of the bands surfaces in fine battle
LAST SATURDAY saw the climax of one of Tamworth's biggest ever rock contests – with the trio, Breaking Point, being hailed as the town's top band.
Fore the past fortnight, Tamworth's music scene has been monopolised by the "Battle of the Bands" competition. It has been a full-blown fight between 16 competitors to find out the cream of the local groups.
After a series of heats which have seen musicians smashing up their instruments on stage, lead singers "bleeding" fake blood, a judge being disqualified for seeking refuge in the bar during the heat of the action and the Arts Centre filled to the brim night after night, there was no knowing what would appeal to the judges of the final.
Breaking Point did. The three musicians delivered a potent package with professional verve. Where other bands leaned heavily on the impact of barrages of sound, they concentrated on detail. Vocals were clear and rhythm and bass powerful and gripping.
Breaking Point were awarded 88 points out of a possible 100 and will receive their trophy at the Young People's Arts Festival night later this month.
Five bands qualified for the last leg of this sonic spectacular. The five brought with them the crowds of faithful fans who were packed like sardines into the rainbow-lit auditorium.
Unlike sardines they represented five wildly different types of music. The discrepancies of opinion in the audience were mirrored in the judges' panel…each judge showed a tendency towards extreme reaction to the bands – they loved them or hated them.
Poor imitation
Joint fifth place went to BHX and Spirit of Water. BHX were the first to perform and it was a disappointing start to the evening. The band were a poor imitation of some of the more forgettable heavy-metal groups.
No matter how much the vocalist screamed and bawled, he didn't manage to put himself over at all. I did detect a melody at one point but it fizzled out pretty soon beneath the drummer's monotonous onslaught. I hear BHX have a national tour on the cards. Perhaps they were having an off night?
I was surprised that Spirit of Water didn't do better. There was plenty of variety in their performance and the group had the advantage of a talented vocalist. They were seen at their best in their final number called The Fox.
One On One were placed next. They produced a well rounded sound though unfortunately the performance was a little disturbed by microphone trouble.
The outrageous Scarab were the runners-up. If there had been a prize for the highest number of decibels achieved, they certainly would have won. After the fireworks, the fake blood, the amazing verbal ad-libbing from the band and the blatant flouting of the 20-minute time limit. I scarcely noticed the music. But frenzied fans seemed to like it. And that, as the lead singer pointed out in no uncertain terms, is what it's all about.
Tamworth Herald – 08/03/85
Musicbox – Scarab's 'thanks'
SCARAB, the runners-up in the Tamworth Battle of the Bands contest, play their last gig for several months in the town tonight.
The band have a heavy schedule ahead of them. They regard Tamworth audiences as their favourite and most loyal and have plans including producing a video and they area treating tomorrow's finale at the Arts Centre as a 'thank you' show to their fans.
In case you still don't know, Scarab play very heavy, powerful music, If they play as well as they did during The Battle of the Bands (Friday) looks like being an exciting night and the action starts at 8pm.
Tamworth Herald – 05/04/85
Musicbox – Gossip Box
SCARAB will be playing a surprise concert at the Arts Centre tomorrow (Fri.) – when they intend to reveal some sensational news.
The band, who were hoping for a rest, have had to revise their plans in light of 'things that could completely change their future'. These 'things' have not been revealed as yet so if you want to exactly what is going on in the cryptic world of Scarab, make sure you head for the Arts Centre tomorrow night.
Tamworth Herald – 24/05/85
Musicbox – Scarab leap in with a metal blast
TOP ROCKERS Scarab will play a very special concert tomorrow night (Saturday) – dedicated to recently split kindred spirits BHX.
Scarab say that they have always had great respect for BHX – particularly their frontman Mick Goodby – and now they want to show their appreciation with a unique show.
The band feel that BHX's recent split was bad news for the town's heavy metal followers – and they see it as their role to keep metallic music alive and kicking in the town.
Just to make the show even more of a thank you to BHX, it is rumoured that Scarab will resurrect some of BHX's former standards.
As well as being a BHX special, Scarab have also promised another two unusual items on the gig menu.
First of all, they expect tomorrow's show will be the loudest the Arts Centre has ever heard, because they are using a thumping 3,500 kw pa setup.
And secondly, the band are supported by a previously unknown band called Nothing – of whom I know less than nothing about.
The whole concert sounds like being one of Scarab's tastiest treats in a long time, so if you are in the mood to be vamped, deafened and BHX'ed make your way to the Arts Centre tomorrow night. The fun starts around 8pm.
Tamworth Herald – 21/06/85
Musicbox – A kaleidoscope of sounds – despite PAs!
There have been several interesting gigs in the town recently and Musicbox has been keeping tabs on most of them. Sam Holliday took a look at the Dickens/Gaf The Horse in Tears and Love On Board show; metal correspondent Kev Unwin saw Scarab's BHX benefit and the ever-enthusiastic Martin Webster put pen to paper about The Folk Circus. Here are a few snippets of opinions on these very different gigs…
SCARAB – Opening with 'Tonight We Take No Prisoners' they played their usual set in a different order. After a brief moment when lead singer Paul tried to excuse the rather expensive entry price, the audience lapped it up. The flame fountain was there again as was the 'gas mask'.
Unfortunately the power of Mick Goodby's voice was too much for the Scarab P.A. and it blew a fuse, 20 seconds into the song.
LOVE ON BOARD – Not even an extremely and unhelpful and stubborn PA could stop Love On Board impressing me that they have improved greatly recently. The old numbers seemed insignificant next to new powerblasts like 'Responsible For this' which was as exciting as it was memorable. Particularly impressive was the general musicianship of Nick Reed, Neil Jones and Glen 'Lofty' Lewis all played skilfully but the real honours were won by drummer John twist who was simply superb and sounded better than he has ever done.
GAF THE HORSE IN TEARS – Despite the fact that Tony Cole was still wearing THOSE shorts, Gaf turned in another interesting, varied set. They have so many facts and influences in their sound, that tying them down to one musical style is like trying to climb up a wall covered in grease. You get so far towards your goal and then you slip down again. Best number was a newie with an unpronounceable German title although I still have a soft spot for the catchy 'Machine motion' which was given two refreshing airings.
Friendly
FOLK CIRCUS – Perhaps Folk Circus is not such an apt title for this motley crew because you will never hear 'Greensleeves' or 'Wild River' at this gathering. No, mainly it is a celebration of what is good about modern contemporary acoustic music where all styles, blues, country, rock and roll and so on are covered. It's free, fun and friendly and yet further proof of Tamworth's rapidly expanding kaleidoscope of modern music.
DAN (part of Folk Circus)
All the way from the wilds of Canada we have Dan who is easily the most popular performer ever to grace the Tavern in the Town stage. He sung of "Wildwood Wood" and "Two Women Blues" with an infectious good humour that touches your heart and makes your soul sing.
DICKENS – With a spirit and enthusiasm that has always been Mick's hallmark, Dickens took to the stage. The set (I had to leave early unfortunately) was largely made up of the band's fine album 'Standing Out' and was for me dominated by 'Hit and Run' a show stealer if ever there was one. The sound coming out of the PA speakers, however, was not nearly as sharp as the one that comes out of the speakers of your record player and some of the more delicate touches that symbolise the band's panorama of sound were perhaps sadly lost in the vast Assembly Rooms arena. Still a very enjoyable set and let us hope it helps them to conquer the world as they begin their epic global adventure.
Tamworth Herald – 28/06/85
Musicbox – SNIPS
SCARAB have lost two of their members and their immediate future could be in jeopardy unless they can find high-calibre replacements. The band, who are probably the town's most popular Arts Centre visitors, lost drummer Paul Brookes a couple of weeks ago due to his heavy work commitments. Then last week they herd the shock news that their bassist was also throwing in the towel. Now they are urgently seeking replacements.
Tamworth Herald – 13/09/85
Musicbox – SNIPS
Scarab are back. The band who made the Arts Centre their metallic shrine have re-formed as a three-piece with Paul Britton moving to bass and vocals and Dave Parrish and Paul Brooks staying at their old instruments. They have already lined-up a gig at the Coach and Horses, West Bromwich with Sacred Oath and a coach is being laid on for Tamworth fans. Tickets cost £2 and can be bought from the Arts Centre. If you are wondering, by the way, whether Scarab have softened up while they have been away, think again! According to group secretary Angela Parrish "their new image makes Metallica sound like the Dooleys".
Tamworth Herald – 11/10/85
Musicbox – GOSSIPBOX
And finally, the loveable Scarab will be back this weekend selling tickets for their show at the Coach and Horses, West Bromwich, next week. They will visit the Arts Centre on Saturday night and for a mere £2 you will get a seat on the coach, entry to the gig and a free Scarab single.
Selling tickets
All that for just £2! If this wave off goodwill continues, Mike Fleming might volunteer to have a haircut, Ian Gibbons might have a shave and Love On Board might even buy me a drink!! No, that would really be asking too much.
Tamworth Herald – 18/10/85
Musicbox – Scarab back in power

METALLIC madmen Scarab are back! The group play their first gig in months tonight and included in their new repertoire will be a song written for – and about Tamworth.
The group have inherited the town as their own and have been touched by the loyalty of their fellowship here, so much that they have written the song – "When You Rock, Rock With Pride" – especially for their Tamworth fans.
"The people over here don't care about what other people think, they just come to our concerts to enjoy themselves. We have been slagged off by some people before, but our Tamworth crowd don't seem to mind," said lead singer Paul Britton.
The band, who are at the Coach and Horses in West Bromwich tonight, have been away for so long because of a split-up that nearly killed them off altogether.
Drummer Paul Brookes left and was then followed by bassist Neil, leaving just the exhuberent duo of Dave Parrish and Paul Britton.
Things looked grim, until Paul Brookes agreed to rejoin. Mr. Britton swapped his lead guitar for a bass, and Scarab Mark Two were born.
"We are only a trio now but I think we are more powerful than before," said Paul Britton. "I am doing all the things I was doing on my lead guitar on bass now, making for quite a dynamic sound," he said.
And Paul was quick to stress that although the band has lost a quarter of its membership, it hasn't lost any of its ear-shattering qualities.
"If anything we are now faster, louder and noisier. We haven't softened up or anything like that, we are still, and always will be, a heavy metal band."
And you can't get a bolder statement of intent than that. A coachload of Scarab fans from the town will be taking the trip across to West Bromwich tonight and the band have promised that they will be returning to their favourite venue – Tamworth Arts Centre – very shortly.
Tamworth Herald – 08/11/85
Musicbox – GOSSIPBOX
Shock-rockers, Scarab meanwhile, are meandering once again to West Bromwich's Coach and Horses' venue because their last venture there was a massive success. Apparently loads of Tamworthians joined the Scarab coach and enjoyed a great night out, so the band are repeating the head-banging exercise on November 30. A coach will leave the Arts Centre at 7pm on the night and it will cost £1 for the trip there and back,a nd another £1 to get into the club. Scarab will be selling tickets tomorrow (Saturday) November 9, at the Arts Centre and other places, but if you would like to book your seat over the phone, ring Angela.
Tamworth Herald – 29/11/85
Musicbox – SNIPS
SCARAB take their mighty stage show to the Coach and Horses, in West Bromwich again tomorrow night (Saturday) with a coach going from Tamworth Arts Centre at 7pm. For just £1, fans of the metal marauders are promised the band's most powerful and explosive show, not for those of a nervous disposition. They intend to blind, deafen and dazzle their audience and warn people not prepared to undergo a complete transformation to stay in bed.
Tamworth Herald – 06/12/85
Musicbox – SNIPS
HEAVY metal outfit Scarab have sent out an apology to all their fans following the cancellation of their Coach and Horses gig at West Bromwich last week. Fans who went to the Arts Centre to catch the coach to the gig, were told it had had to be postponed due to an illness to Paul Brookes. The group say tickets will be valid for their Christmas bonanza at the Arts Centre on December 22 and they hope all their many fans in the town will accept their apologies for missing out on a potentially explosive night.
Tamworth Herald – 20/12/85
MUSICBOX – Scarab Delay
SCARAB have had to postpone their eagerly-awaited Christmas gig at the Arts Centre due once again to the illness of drummer Paul Brookes. The band have sent out a sincere apology to their loyal fans and they hope to get everything back in order before their February show when current tickets will be valid. Don't forget however that on December 23, Depth Charge, Earthquake and the Boozy Brothers (hope you liked the Alarm gig guys!) will be at the Arts Centre. P.S. to all Musicbox readers, have a very spirited Christmas and a loud new year.
1986
Tamworth Herald 03/01/86
Musicbox – Factory floor the opposition to make a hat-trick…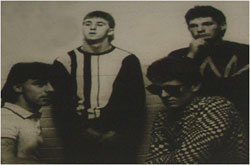 THE Dream Factory have done it again! Yes, for the third year in succession, Tamworth's favourite soul men have pipped all opposition to once again claim the top local band slot in the Musicbox poll.
They did so despite a fantastic turnout of votes for new boys Terroa, who just lost out by virtue of the masses of votes the Factory received not only for first place (which was worth three points) but also for second (two points) and third (one). Wolfsbane, Breaking Point and Royal Family fans by the score put the Factory as their second choice and as the poll entered its last frantic days, it was clear the band were going to do it again.
Landslide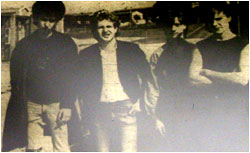 But that was not the only joy for the band. Because they have had such a big national profile all year I allowed them to be included in the Top National Band sector – and they won that with a landslide.
And the same went for the band's tremendous 'Wine and Roses' single which floored all the opposition.
Just to complete the (wine and ) rosy picture, the group had four songs in the top twenty local song section, and also had Mark Mortimer and Tim Goode voted into the top five local personality section.
Dream factory take a bow – you have won it again and you have deserved to do so.
It wasn't only The Dream Factory's poll though. Terroa as well as scooping the runners-up slot in the top local band, also won the best local song award with the excellent 'Thunder and Lightening'. If the views of the hundreds of people who voted (we passed the 500 vote mark with ease) are anything to go by, Terroa are the group you think are going to make it next year.
Still in the local band section, The Royal Family finished a strong third well ahead of the bands beneath them. Like The Factory they seem to have universal support from people of all musical tastes and there is no doubt their popularity is now at an all-time peak.
It should bring a smile of Steve Martin-style proportions from Dave Smith and Eddie Blunt!
Places four and five went to two bands from the Atherstone area Dance Stance and The Me, a band who seem pretty big in North Warwickshire and will be investigated further in the near future.
It was nice to see Dance Stance up there – and also the likeable Paul Hanlon in the personality section – and with Nick Reed now in their line-up, I have a sneak feeling '86 will be very good indeed for the Atherstone band.
Elsewhere, Freight Train showed they have made considerable impact and Wolfsbane proved that their appeal goes far beyond strict heavy metal types judging from the people who voted for Jeff, Bayley, Jase and Stakk.
Breaking Point also had their best ever poll result and it was very nice to see the now defunct Love On Board still hold a special place in a lot of people's hearts.
Delighted
Completing the top ten are Femme Fatale who will be delighted with their debut show in the poll, and then the next five or six bands all came very close indeed to one another. The Sway, Magnets and Sitting Pretty all started well but faded somewhat but overall it was nice to see that virtually every band in the whole district had some supporters.
Just missing the top twenty, for example, were Depth Charge, Banned Wagon, Scarab, Boozy Brothers and Pulsebeat.
The local songs section was pretty reflective of the local band poll but it was pleasing to see people voting for songs that were not by their favourite band, which showed there is a lot of unbiased 'general' listeners among local rock fans.
Perhaps the only surprise was that Breaking Point only managed a top twenty placing (and that was at 17) but you can't have everything.
In conclusion, everyone who votes, many thanks and to all the bands who have made the year so exciting, a double-dose of thanks. Let's now make '86 even better.
Top local band
1. The Dream Factory
2. Terroa
3. The Royal Family
4. Dance Stance
5. The Me
6. Freight Train
7. Wolfsbane
8. Breaking Point
9. Love on Board
10. Femme Fatale
11. The Sway
12. Spirit of Water
13. The Parade
14. Sitting Pretty
15. Trout Meets The Cavalry
16. Dickens
17. Judas Cradle
18. The Magnets
19. Powerplay
And no here's how I'd have voted
Just to complete the overall local music award section, here are the people, the musicians and bands that I think deserve credit in '85:
Top Band – Breaking Point
Top Local Song – 'Come The Day' – Breaking Point
Guitarist – Jase The Ace/Tim Latham/Nick Reed
Drummer – Stuart Blane/Steve Quilton
Bass – Daydo/Mark Mortimer
Keyboards – Rikk Quay
Vocalists – Dave Ingham/Dave Smith/Debbie Whitty
Best Live Band – Wolfsbane
Most Improved Band – Dance Stance
Most Likely to Make it in '86 – Dream Factory
Best Gig – Breaking Point, The Sway, The Magnets Tamworth Arts Centre
Best Demo – Wolfsbane
Best DJ – Buttercup
Best Songwriters – Kevin Briggs/Bryan Lacey/Jase The Ace/John Reeman
Best Lyricist – Bryan Lacey
Haircut – Mick Rutherford
Best Dressed Person – Jeff Hateley
Saying of the Year – "I can't get me breath' – Buttercup
Personalities of local music scene – Ian Gibbons, Tim Goode, Rikk Quay, Eddie Madden, Blaze Bayley, Dave Ingham, Mike Turner, Paul Speare, Phil Smith, John Reeman, John James, Mike Fleming, Sage Side Psycho, Mark Mortimer, Jeff Hateley, Kevin Briggs, Star Trek, Trevor Muglestone, Dave Smith, Mick Goodby, Buttercup and everyone else I've missed.
SAM HOLLIDAY
Tamworth Herald – 07/02/86
Musicbox – Scarab plus China equals hearing aid
THE powerful Scarab return to live action tonight (Friday) with a show they promised will be the ultimate Heavy Metal barrage.
After a number of setbacks. Scarab are now back and raring to go and they have lined up an impressive stage show for the Tamworth fans they hold in great respect.
The gig will see the debut for new drummer Rick Horton who comes in as a replacement for Paul brooks. The night is expected to be put on video for posterity, so fans who go along can become screen stars at the same time as having their eardrums pummelled.
Support act on the night will be China White.
Tamworth Herald – 28/03/86
Musicbox – SNIPS
Dave Parrish the talented HM guitarist has left Scarab and is keen to join a new band.
---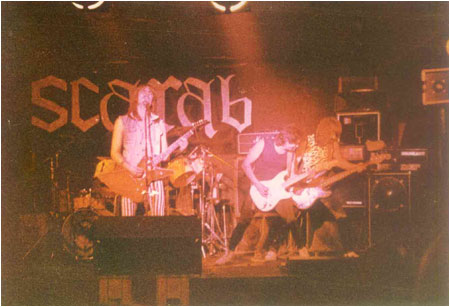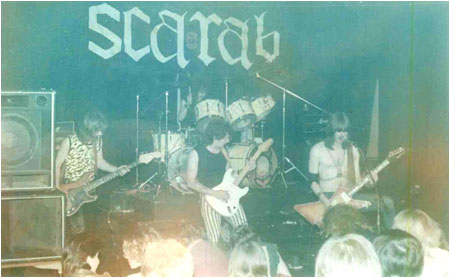 Scarab 'live' at Tamworth Arts Centre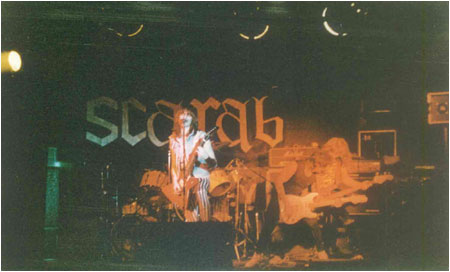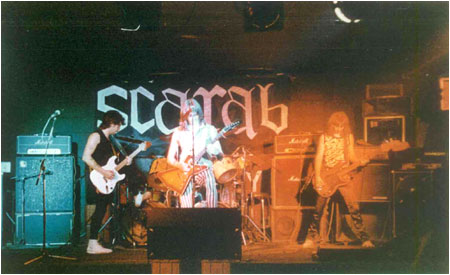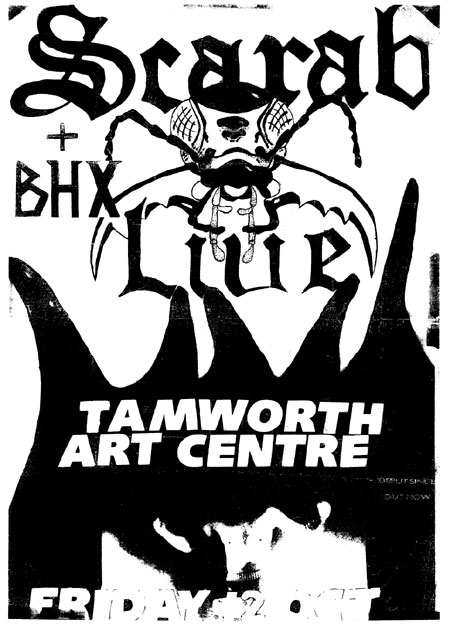 Scarab with BHX, Tamworth Arts Centre, 12/10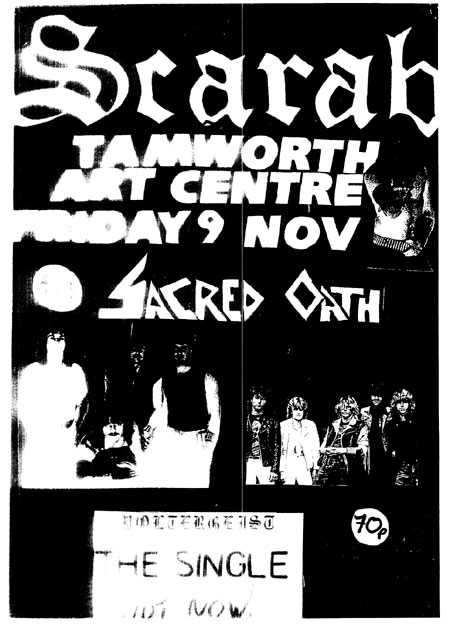 Scarab with Sacred Oath, Tamworth Arts Centre - 09/11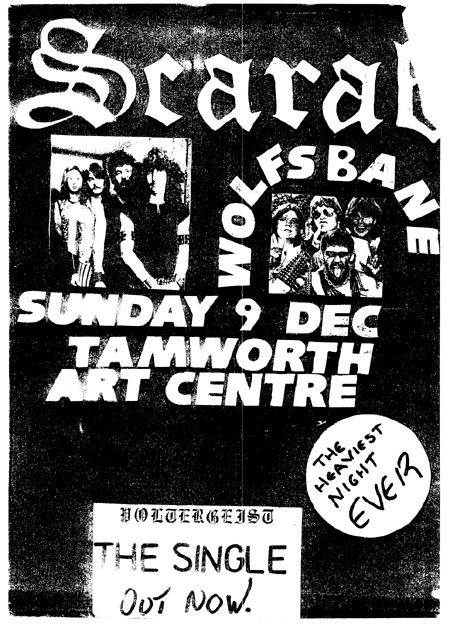 Scarab with Wolfsbane, Tamworth Arts Centre, 09/12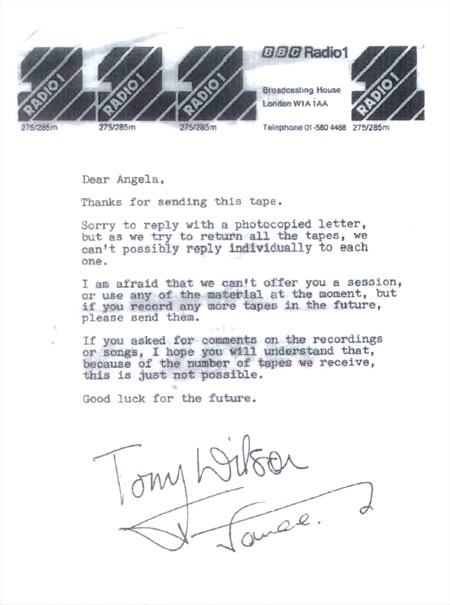 Scarab letter from Radio 1.
They did receive airplay on the Friday Rock Show with Tommy Vance a few months later.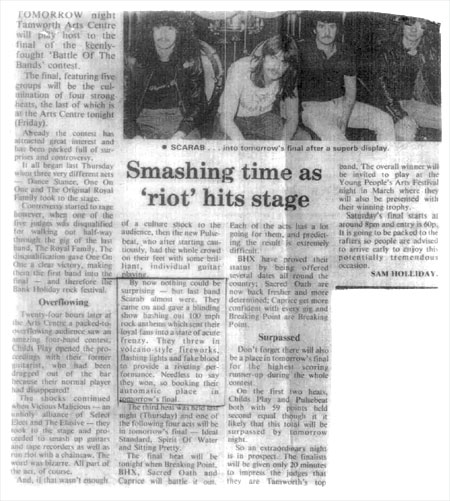 Scarab in the first-ever Tamworth Battle of the Bands - they only entered once.
Who needs a Frankie T-shirt when Caprice are so much nicer? Caprice, making their Arts Centre debut tomorrow night.
Thanks to: Steve Parrish (pictures courtesy of Steve Parrish)
If you have any further information about this band please email: info@tamworthbands.com