Freight Train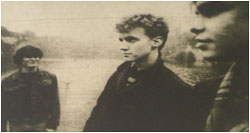 Caption: Three members of the Freight Train…(from left) Barry Douce, Donald Skinner and Jos Cope.
The Gallery
Musical Genre/Type: Indie
Formed: 1984
Band Members:
Donald Skinner - Vocals/Guitar
Barry Douce - Vocals/Bass Guitar
Joss Cope - Keyboards
Gigs:
05/05/86
Freight Train
Duel
Femme Fatale
The Rathole
07/11/86
Freight Train
The Rathole
Tamworth Herald Features
Tamworth Herald – 13/04/84
Musicbox – Snips
DONALD SKINNER'S new band Freight Train are on the look-out for an ambitious and dedicated keyboard player to complete their line-up. Donald who, you may remember has been closely involved in Julian Cope's recent work – wants a keyboard player to join him and bassist Barry Douce in their original and creative band. The duo have already had a sniff of a record contract with ex-Teardrop Explodes player David Ballfe and national gigs are now ready in the pipeline. If you think you are good enough – and committed enough – to join Donald and Barry.
Tamworth Herald – 31/05/85
Musicbox – Freight in train?
SITTING PRETTY return to the Arts Centre stage tonight (Friday) and there are strong rumours that they will have a very impressive support act.
For although it was not confirmed at time if going to press, there is a good possibility that Freight Train, featuring Donald Skinner, Barry Douce and Josh Cope will line up with Pretty's. Donald who has been working hard with Julian Cope of late, is said to see the Sitting Pretty date as the first step in a masterplan to take his band to the top. If it goes ahead the band (who already have a record contract virtually signed and sealed) will be making their first Tamworth appearance in their present guise.
But if you particularly want to see them, MUSICBOX suggests you ring the Arts Centre just before leaving home to make sure the Train is stopping at the venue.
For Sitting Pretty there are no such doubts – they will be ready and raring to go. Since their new line up came together the band's desire to work has grown and grown and they will be out to give another professional performance featuring a mixture of old and new tunes. The gig starts at 8pm.
Tamworth Herald – 28/06/85
Musicbox – SNIPS
HIGHLY-RATED trio Freight Train, who recently amazed many people by playing a gig with Sitting Pretty, have sent out an appeal for more local concerts. The group who feature Donald Skinner (ex-Thirty Frames A Second, Fretz and Julian Cope (guitarist), Josh Cope (producer, songwriter and Julian's younger brother) and Barry Douce (ex-DHSS and Dead Captain Speaks) want to play a series of local shows to build up a strong live set. The band have a single out shortly.
Tamworth Herald – 15/11/85
Musicbox – Freight train on right track
TAMWORTH'S top psychedelic outfit, Freight Train are all set to release a new and very impressive single.
The band are currently using the precious few test copies of 'Man's Laughter' to try and secure them contracts and concerts around the country.
And on the strength of the record, they look likely to be very successful in both departments.
The record is a vibrant, bubbly single which has the unmistakable feel of Julian Cope stamped all over it.
This of course should come as no surprise as Freight Train guitarist Donald Skinner worked on Cope's last album and organist Joss is of course Julian's brother.
But there is far more to both tracks than simply Cope-s influences. The 'A' side has a nifty tune and a tasty modern pop feel which could bubble its way right into the hit parade.
'Well-crafted'
It combines, poppy keyboards with Barry Douce's solid bass and some slicing, enticing guitar work from Donald. The overall effect is of a very well crafted and very intelligent number. Pop music for adult mind sin teenage bodies no less.
The 'B' side, 'Head On A Plate' is far less commercial – but strangely endearing. It is a haunting, dreamy landscape of sounds that revels in a lack of distinctive form. It goes through several moods before appearing to fade out completely. An appearance that is inevitably deceptive.
All in all it makes for an incredible single from Tamworth's best kept secret. When it comes out (shortly I understand) make sure you don't miss it. Freight Train are almost certain to 'break' very soon and it would be sad if they broke without their home town first appreciating this rare and inspiring outfit.
Freight Train are looking for a dedicated, permanent drummer to join them. This is a unique chance to join a group who are already nearly 'there' so if you think you are up to the challenge and you enjoy psychedelic – orientated modern music then this could be your lucky day.
Tamworth Herald 03/01/86
Musicbox – Factory floor the opposition to make a hat-trick…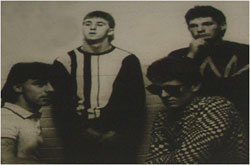 THE Dream Factory have done it again! Yes, for the third year in succession, Tamworth's favourite soul men have pipped all opposition to once again claim the top local band slot in the Musicbox poll.
They did so despite a fantastic turnout of votes for new boys Terroa, who just lost out by virtue of the masses of votes the Factory received not only for first place (which was worth three points) but also for second (two points) and third (one). Wolfsbane, Breaking Point and Royal Family fans by the score put the Factory as their second choice and as the poll entered its last frantic days, it was clear the band were going to do it again.
Landslide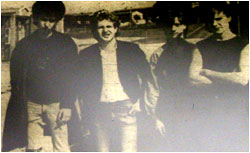 But that was not the only joy for the band. Because they have had such a big national profile all year I allowed them to be included in the Top National Band sector – and they won that with a landslide.
And the same went for the band's tremendous 'Wine and Roses' single which floored all the opposition.
Just to complete the (wine and ) rosy picture, the group had four songs in the top twenty local song section, and also had Mark Mortimer and Tim Goode voted into the top five local personality section.
Dream factory take a bow – you have won it again and you have deserved to do so.
It wasn't only The Dream Factory's poll though. Terroa as well as scooping the runners-up slot in the top local band, also won the best local song award with the excellent 'Thunder and Lightening'. If the views of the hundreds of people who voted (we passed the 500 vote mark with ease) are anything to go by, Terroa are the group you think are going to make it next year.
Still in the local band section, The Royal Family finished a strong third well ahead of the bands beneath them. Like The Factory they seem to have universal support from people of all musical tastes and there is no doubt their popularity is now at an all-time peak.
It should bring a smile of Steve Martin-style proportions from Dave Smith and Eddie Blunt!
Places four and five went to two bands from the Atherstone area Dance Stance and The Me, a band who seem pretty big in North Warwickshire and will be investigated further in the near future.
It was nice to see Dance Stance up there – and also the likeable Paul Hanlon in the personality section – and with Nick Reed now in their line-up, I have a sneak feeling '86 will be very good indeed for the Atherstone band.
Elsewhere, Freight Train showed they have made considerable impact and Wolfsbane proved that their appeal goes far beyond strict heavy metal types judging from the people who voted for Jeff, Bayley, Jase and Stakk.
Breaking Point also had their best ever poll result and it was very nice to see the now defunct Love On Board still hold a special place in a lot of people's hearts.
Delighted
Completing the top ten are Femme Fatale who will be delighted with their debut show in the poll, and then the next five or six bands all came very close indeed to one another. The Sway, Magnets and Sitting Pretty all started well but faded somewhat but overall it was nice to see that virtually every band in the whole district had some supporters.
Just missing the top twenty, for example, were Depth Charge, Banned Wagon, Scarab, Boozy Brothers and Pulsebeat.
The local songs section was pretty reflective of the local band poll but it was pleasing to see people voting for songs that were not by their favourite band, which showed there is a lot of unbiased 'general' listeners among local rock fans.
Perhaps the only surprise was that Breaking Point only managed a top twenty placing (and that was at 17) but you can't have everything.
In conclusion, everyone who votes, many thanks and to all the bands who have made the year so exciting, a double-dose of thanks. Let's now make '86 even better.
Top local band
1. The Dream Factory
2. Terroa
3. The Royal Family
4. Dance Stance
5. The Me
6. Freight Train
7. Wolfsbane
8. Breaking Point
9. Love on Board
10. Femme Fatale
11. The Sway
12. Spirit of Water
13. The Parade
14. Sitting Pretty
15. Trout Meets The Cavalry
16. Dickens
17. Judas Cradle
18. The Magnets
19. Powerplay
And no here's how I'd have voted
Just to complete the overall local music award section, here are the people, the musicians and bands that I think deserve credit in '85:
Top Band – Breaking Point
Top Local Song – 'Come The Day' – Breaking Point
Guitarist – Jase The Ace/Tim Latham/Nick Reed
Drummer – Stuart Blane/Steve Quilton
Bass – Daydo/Mark Mortimer
Keyboards – Rikk Quay
Vocalists – Dave Ingham/Dave Smith/Debbie Whitty
Best Live Band – Wolfsbane
Most Improved Band – Dance Stance
Most Likely to Make it in '86 – Dream Factory
Best Gig – Breaking Point, The Sway, The Magnets Tamworth Arts Centre
Best Demo – Wolfsbane
Best DJ – Buttercup
Best Songwriters – Kevin Briggs/Bryan Lacey/Jase The Ace/John Reeman
Best Lyricist – Bryan Lacey
Haircut – Mick Rutherford
Best Dressed Person – Jeff Hateley
Saying of the Year – "I can't get me breath' – Buttercup
Personalities of local music scene – Ian Gibbons, Tim Goode, Rikk Quay, Eddie Madden, Blaze Bayley, Dave Ingham, Mike Turner, Paul Speare, Phil Smith, John Reeman, John James, Mike Fleming, Sage Side Psycho, Mark Mortimer, Jeff Hateley, Kevin Briggs, Star Trek, Trevor Muglestone, Dave Smith, Mick Goodby, Buttercup and everyone else I've missed.
SAM HOLLIDAY
Tamworth Herald – 24/01/86
Musicbox – Train to the 'Pool?
FREIGHT TRAIN seem to be getting the sort of national spotlight they richly deserve.
Their new single 'Man's Laughter' has been reviewed favourably in both 'Sounds' and 'Smash hits' and the band are now hoping for a bandwagon effect.
One thing the group are now considering is making a permanent move to Liverpool, where they have already been well-received.
Tamworth Herald – 14/02/86
Musicbox – Gossipbox
THE LOVEABLE Freight Train can be heard through the Radio One airwaves tomorrow night on the 'Saturday live' show. Apparently the band tickled the fancy of Richard Skinner (in the nicest possible way of course) and for that reason they have earned their slot on tomorrow's show which kicks off at 5.00pm.
Tamworth Herald – 28/03/86
Musicbox – Talented, Commercial and it's The First…
The First – Demo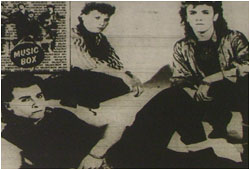 Caption: The First…not just a trio of pretty faces
FOR A BAND of such (relatively) young me, The First have a daunting and impressive pedigree. Vocalist Paul Edwards has appeared at the Reading Festival, guitarist Mark Gemini has been recording in Canada and drummer Richard Deane has appeared live on Radio One with our very own Freight Train.
They are all clearly individuals with talent and commitment – and when welded together into a group, that sense of professionalism and purpose is all too apparent.
Live, they only hint at their true potential – this tape goes much further revealing just what The First are really about.
The thing that strikes me most about the tape is its startling innovation and overriding sense of maturity and clearness of vision. The influences are all too obvious (U", INXS, Simple Minds) but as this is very much the style of the Eighties, it can only help rather than hinder The Firsts concerted aim to breakthrough.
Sweeping
The opening track is probably the most memorable initially. 'Shine' has Aussie-favourite INXS written all over it, was a sweeping dominant vocal and a chorus that just keeps growing.
It varies from post-Punk atmosphere to powerful rock than their live show suggests.
"Bittersweet" has a Mark Betts bassline that reminds me of The Cure "A Forest" and once again has the sort of Paul Edwards vocal that cannot fail to impress.
He is clearly a singer of exceptional talent and his breathy Bono-esque performance on "Walk The Line" is riveting.
"Walk The Line" is very much a dance number with a searing chorus line and some tremendous guitar playing from Mark Gemini whose sparse impressionism is quite dynamic.
Finishing the tape is the long, mesmerising "This Time Forever" a song that is haunting, undisciplined and very atmospheric. This is still U2 land to my ears, but it is the land occupied by the uncommercial "Unforgettable Fire" songs, rather than the more basic pop of "Boy".
In fact the whole thing about this tape is that it remains commercial and innovative without being self-indulgent. It is a very good tape indeed and the type record company losses are likely to lap. Remember where you read it First…
Tamworth Herald – 28/03/86
Musicbox – GOSSIPBOX
FREIGHT TRAIN favourite Donald Skinner is currently enjoying a week long tour in Italy as lead guitarist for a certain Julian Cope. Meanwhile I have heard devilish rumours that Julian's brother joss is currently working with a new outfit called The Claydermen who are hoping to play a one-off gig in the Town.
Joss recons they are going to be the greatest thing ever to hit Tamworth and will sound like U2/Simple Minds.
Tamworth Herald – 25/04/86
Musicbox – GOSSIPBOX - Set for a deal with Wakeman
QUITE an epic amount of gossip this week involving singles, national tours and even support slots to Rick Wakeman! Don't believe it? Well read on.
The single news is that despite trying to keep it quiet, Wolfsbane have just recorded their first single – 'Clutching at Straws' – which should be out in a month.
It has been put together and sponsored by their manager Phil Ball, and an excellent choice for a single it is to.
On the tour front, Freight Train (who will be playing at The Rathole on Monday May 5) have won an excellent support slot to The Woodentops which will give them their biggest spotlight yet. Hopefully we will have more details next week.
Also, joining Freight Train on May 5 will be Duel – the band featuring Alan Watkins of old Talk Back fame – and these are the chaps who have got a Rick Wakeman support slot later this year.
The band have been working secretly like slaves and are now ready to emerge from the darkness and into the light. We shall be charting their progress with keen eyes. And finally just a word about last week's highly successful 'alternative' disco show at The Rathole.
The place was packed to the rafters and I am sure everyone who went enjoyed it as much as I did. It shows that the call for music like this is stronger than ever and to hear the sounds of The Stranglers, Clash, Generation X, Ramones, Boys, Damned et al coming out of a disco unit in Tamworth brought nostalgic tears to my eyes.
As Richard Burton once said to Liz Taylor – "Let's do it again!"
Tamworth Herald – 02/05/86
Musicbox – Catch this cool train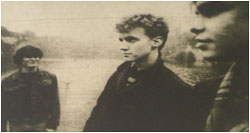 Caption: Three members of the Freight Train…(from left) Barry Douce, Donald Skinner and Jos Cope.
TWO EXCITING bands with high national profiles top off a special Bank Holiday concert at the Rathole on Monday.
Freight Train – all set to go on a nationwide tour with The Woodentops – will be joined by the much-vaunted Duel, the band who have lined up that remarkable show with keyboard wizard Rick Wakeman.
And if these two intriguing acts are not enough to have the crowds swarming to The Rathole, there is also, the considerable attraction of the entertaining Femme Fatale and perhaps a reunions show by The Royal Family.
The concert promises to be one of the Rathole's biggest to date. As it is a Bank Holiday the evening will go on until 1.00am although people are warned that there will be no admittance after 10.30.
For most Tamworth people, it will be the first time they have been able to see Freight Train since they set off on their national success journey.
The band are an enthusiastic quartet built around the two strong personalities of Donald Skinner and Jos Cope. Already they have released an excellent single 'Man's Laughter' and their success in the MUSICBOX poll shows that their local absence has made hearts grow fonder.
Later this month they will tread the boards with Rough Trade outfit The Woodentops involving gigs at Sheffield, Manchester, Oxford, Liverpool and many others. Locally fans will be able to catch them at the Birmingham Triangle on Saturday May 24, Coventry Poly on May 13 and North Staffs Poly on May 14.
The most glamorous of the dates however, is the London Camden Electric Ballroom on May 29 which wraps up the tour.
All in all an exciting time for this exciting band and if you want to see why they are causing such a national fuss, the Rathole is the place to be on Monday.
Also exciting will be the Tamworth debut of Duel – fronted by Alan Watkins and Ian Pritchard. The band have spent a long time working on getting everything just right and with enthusiastic support by the Secs company from Birmingham they have already built up enough contacts to earn themselves a support slot to Rick Wakeman and a headline slot at the Powerhouse in June.
Musically they are still something of an unknown quantity but Alan assures me that they are far different from his old act Talk Back – although remaining basically commercial.
Joining Duel and Freight Train will be Femme Fatale – enjoying their second show of the weekend (see separate story).
The Femmes should go down well in the Rathole atmosphere and they are keenly awaiting the show. Finally there is a chance that the night will be made extra-special by a one-off reunion show by the Royal Family.
At the time of going to press it was still uncertain whether they would be playing but just the possibility of Tamworth's ultimate good time band is likely to swell the attendance on the night.
So a marvellous occasion in prospect and with all the funds once again heading for the worthy John Hodgetts fund, everyone wins.
It all starts at 8pm – but remember no admittance after 10.30pm.
Tamworth Herald – 09/05/86
Musicbox – Triple tonic at late, late, show
Freight Train/Femme Fatale/Duel – The Rathole
IT IS only a few short weeks since The Rathole tentatively opened its doors for the first time. Before it opened no-one was quite sure how it would take off, but even the most optimistic couldn't have suspected it could have done so well, so quickly.
Bank Holiday Monday's late night shindig was just the latest enjoyable chapter in a very entertaining success story. It wasn't just that the room was full (that is almost obligatory) but the sheer camaraderie and spirit among both audience and band members, was something that is a rare and pleasurable sight in Tamworth.
'The Rathole' has succeeded in bringing together young people of like minds in a way we haven't seen before and I can't help feeling this is a very good time to be young, and musically aware in Tamworth. 'The Rathole', I salute you. As to the gig that was pretty good too!
It all began with Freight Train, who turned out to be my favourite band of the three. Despite not hitting the stage until 10.30 they enjoyed a large receptive audience not made any less entertaining by the odd heckler (apart from the National Front supporter who was about as welcome as a gigolo in a convent).
Freight train's sound owes as much to the late Sixties as to anything currently coming out of the radio airwaves. Jos Cope's keyboards occasionally lead in a Ray Manzanarek direction while the slicing, menacing guitar work of Donny Skinner has a Velvet(s) touch.
The two outstanding features for me were the sheer quality of Freight Train's songs ('Hill' is a minor masterpiece) and the fact that Jos' deadpan negative keyboard act reminds me of the ludicrous old coot from Sparks.
The band went down very well indeed and I for one am looking forward to seeing them again on their tour with the Woodentops.
Next up after another long delay were Femme Fatale. Their main problem is one that is not really of their own making. They spend so much time apart that although it gives them time to perfect their individual musicianship their essential "togetherness" suffers as a result.
It means they cannot write a great deal of new material which is sad because there is something curiously endearing about their 'dead souls' sound.
It is sparse, defiant and powerful with Debbie's vocals reaching new peaks and Mark Poyner's guitar cutting through the sound like a scythe through wheat.
Visually, bassist Martin Higgs still holds my attention for reasons, that should be obvious to anyone who knows what MIB stands for, but overall the band come across as confident, strident and committed. I just wish they were together a bit more and that they trimmed the length of their exhausting set as well.
Finally, after another very long break while the disco became a rather monotonous barrage, Duel tool to the stage. It was by now 12.45 and at this time most people were normally in bed or incapable.
I felt one and felt like the other, so I only managed to stay for about half a dozen songs before walking and took the rest o my body with me.
Business
In those half a dozen songs it quickly became apparent that Duel mean business. Their sound has tinges of Howard Jones and Paul Young and is both visually and material-wise very commercial indeed.
The tunes come thick and fast, each retaining a simplicity that bodes well for a bright future in Hitsville UK. Best of the numbers I saw was 'New Love'.
Alan Watkins and Ian Pritchard worked together well on the vocals of a bubbling and extraordinary catchy number.
Yet another great night at The Rathole and another great concert for its loyal punters. Only about five weeks ago concerts like this would have seemed impossible, now they are almost an everyday Tamworth occurrence. Rattus Norvegicus indeed!
Tamworth Herald – 07/11/86
Musicbox – Train's heading back with its star aboard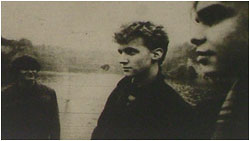 Caption: Wot no Gavin? Barry, Donald and Jos. Freight Train, minus Gavin Skinner.
FREIGHT TRAIN - the band formed by Julian Cope's brother Joss and Cope's guitarist Donald Skinner – make their second appearance at the 'Rathole' on Saturday night.
The group will team up with an outfit called The Sherbert Monsters who I am not allowed to tell you anything about other than that they are very big indeed – under a different name.
The double-header (which also may include recent Rathole faves Wonderstuff) is being see by the venue as one of their biggest shows yet and a suitable tantaliser before the Feelgoods Assembly Rooms show on November 23.
Freight Train already have one single under their belts, the entertaining 'Man's Laughter' and they have just finished a recording follow-up 'Hill'. That latter song was the undoubted highlight of Freight Train's last gig at the Rathole where they received a very encouraging response.
In the meantime the band have been on a national tour supporting the Mighty Lemon Drops and have achieved considerable record company interest. The first single sold 2,000 copies with minimal promotion and with Donald Skinner's recent mini-stardom interest is expected to grow.
And as well as frontman Donald and Joss (not Josh as some idiot MUSICBOX editor used to call him) former DHSS bassist Barry Douce and young drummer Gavin Skinner complete a strong all-round line up.
As for the Sherbert Monsters – well, as I say, I am not able to divulge exactly who they are publicly but they will be known to an awful lot of modern music followers. Suffice to say this one gig which you cannot under any circumstances miss. I have been on holiday all week and I'm coming back for it, so you can at least make the effort of dragging yourself away from the hideous 'Blind Date' enjoying a Saturday night to remember.
Entry is expected to be between £1.50 and £2.00 and it is set to start at around 7.30 and go on well into the night.
Tamworth Herald – 14/11/86
Musicbox - Concert Reviews
On the right Train tracks!
Freight Train – The Rathole
QUITE immense. After all the speculation, hype and expectations, Freight Train more than lived up to their reputation with a short, powerful burst which brought warm applause from a large, boisterous and (in all honesty) very drunken audience. Choosing to go straight for the throat the band played a collection of fast ear-bending numbers with the two singles and the amazing cover version 'Psycho' standing out as notable highlights. All four of the musicians played well although Jos could have done with being a bit louder. Still a fine set enjoyed by just about everybody who slurred their appreciation afterwards.
Tamworth Herald – 09/01/87
Musicbox – Gigs
Freight Train have had to postpone a special headlining tour for January because of the extra-curricular activities of guitarist Donald Skinner. His brother, Gavin seemed particularly peeved about this, because it was he who rang up to confirm the dates in the first place. And then had to ring back and cancel!
---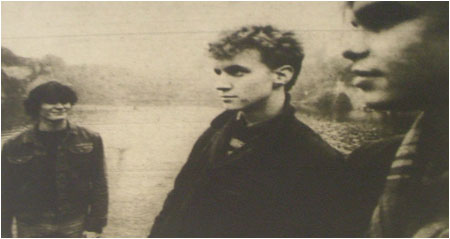 Caption: Three members of the Freight Train…(from left) Barry Douce, Donald Skinner and Jos Cope.