Terroa (AoTerroa)

Terroa
Photograph courtesy: Tamworth Herald
The Gallery
Musical Genre/Type: Alternative Rock 'n' Roll
Formed: 1985
Band Members:
Eddie Madden : Lead Vocals/Guitar
John Reeman : Guitar
Batman : Drums
Pete Wright : Bass Guitar
Gigs:
07/09/85
Ao Terroa
Femme Fatale
Tamworth Arts Centre
23/02/86
Breaking Point
Terroa
The Cradle
Spirit Lake
Battle of the Bands
Tamworth Arts Centre
24/02/86
Wolfsbane
Terroa
Bubbles Hinckley
Tamworth Herald – 06/09/85
Musicbox – Fast, furious and all set to dazzle you
Ao Terroa…powerful, bold and very ambitious
SAM HOLLIDAY Gets out his hair crimpers and makes for the band with the amazing name …
TAMWORTH'S punk and new wave fans will be out in force tomorrow night (Saturday) for an exciting double-bill of powerful alternative sounds.
Headlining the show will be the already well-liked Femme Fatale who will be joined by another Tamworth band bursting with ambition and enthusiasm – Ao Terroa.
Ao Terroa (which apparently means the Land of the Long White Clouds) made their first appearance at the Arts Centre during the August festival under the guise of the Total Anarchy Blues Band.
Dazzled
To put it mildly, that one short, sharp shock of a set dazzled everyone who witnessed it. The packed crowd gave the band a reception that few in the town can match – and in turn the band produced a set that even fewer in the town could possibly equal.
The music was powerful new wave embracing all the group's influences including The Sex Pistols, The Alarm, U2, The Stranglers and most noticeably of all, New Model Army.
It was music that the group are happy to categorise in that all-embracing term "alternative rock and roll".
"Basically we like to keep it simple and keep it fast," said lead guitarist John Reeman.
On my one scant viewing of the band, I would say that was a pretty fair description although another of their most exciting features is the ability to write very strong melodies which stick in the mind long after the amps have been switched off.
In many senses they are like a new Breaking Point – powerful, bold and very ambitious.
"We think we are good," said John. "We're not just mucking about, we fit together really well."
The rest of the band – drummer Batman, bassist Pete Wright and guitarist and extremely powerful vocalist Eddie Madden – are all, like John, keenly anticipating Saturday's Arts Centre show. After their last set brought almost universal praise from everyone from Breaking point to Wolfsbane – and back again – the group are hoping to use the show as a powerful thank-you to the people who have supported them so far.
Following this new and exciting outfit will be another group who server up a musical brew unlike anything else in the town. Femme Fatale aim more for the Banshees/Cult side of life, but manage to induce plenty of smiles through their grimacing music.
Experience
They have already got the relative experience of a small handful of well-received gigs under their belt, and while nerves are now a thing of the past there is no reason why they shouldn't blitz the Arts Centre tomorrow evening making it a double-bill to remember.
So, if you're the sort of person who prefers back combing to back-biting, tomorrow night looks like a real treat. The sparkling fun is dues to start at 8pm so get the hair crimpers, brush down the leather jacket and make a beeline for Tamworth Arts Centre. It should prove to be one of the most enjoyable concerts this year.
Tamworth Herald – 18/10/85
Musicbox – Looking out and listening in…
AO Terroa are in the process of arranging an alternative night at Tamworth Assembly Rooms designed to be a showcase for all the bands who are trying to produce music that does not fit into the mainstream of rock and pop.
They are in need of bands to complete the line-up and anyone who can help can ring John. Poison Passionade are expected to make their debut at the show.
Tamworth Herald – 22/11/85
Musicbox – SNIPS
Terroa who played a show at Wilnecote earlier this week, have sent out a public thank-you to all the people who have shown such an interest in their brief career to date. The group have been overwhelmed at the support, and they are now hoping to try and play a Wolfsbane-style downstairs show at the Arts Centre in the near future.
Tamworth Herald 03/01/86
Musicbox – Factory floor the opposition to make a hat-trick…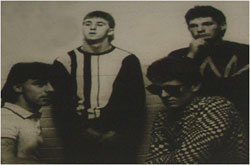 THE Dream Factory have done it again! Yes, for the third year in succession, Tamworth's favourite soul men have pipped all opposition to once again claim the top local band slot in the Musicbox poll.
They did so despite a fantastic turnout of votes for new boys Terroa, who just lost out by virtue of the masses of votes the Factory received not only for first place (which was worth three points) but also for second (two points) and third (one). Wolfsbane, Breaking Point and Royal Family fans by the score put the Factory as their second choice and as the poll entered its last frantic days, it was clear the band were going to do it again.
Landslide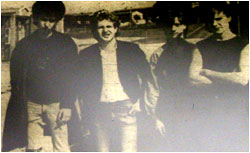 But that was not the only joy for the band. Because they have had such a big national profile all year I allowed them to be included in the Top National Band sector – and they won that with a landslide.
And the same went for the band's tremendous 'Wine and Roses' single which floored all the opposition.
Just to complete the (wine and ) rosy picture, the group had four songs in the top twenty local song section, and also had Mark Mortimer and Tim Goode voted into the top five local personality section.
Dream factory take a bow – you have won it again and you have deserved to do so.
It wasn't only The Dream Factory's poll though. Terroa as well as scooping the runners-up slot in the top local band, also won the best local song award with the excellent 'Thunder and Lightening'. If the views of the hundreds of people who voted (we passed the 500 vote mark with ease) are anything to go by, Terroa are the group you think are going to make it next year.
Still in the local band section, The Royal Family finished a strong third well ahead of the bands beneath them. Like The Factory they seem to have universal support from people of all musical tastes and there is no doubt their popularity is now at an all-time peak.
It should bring a smile of Steve Martin-style proportions from Dave Smith and Eddie Blunt!
Places four and five went to two bands from the Atherstone area Dance Stance and The Me, a band who seem pretty big in North Warwickshire and will be investigated further in the near future.
It was nice to see Dance Stance up there – and also the likeable Paul Hanlon in the personality section – and with Nick Reed now in their line-up, I have a sneak feeling '86 will be very good indeed for the Atherstone band.
Elsewhere, Freight Train showed they have made considerable impact and Wolfsbane proved that their appeal goes far beyond strict heavy metal types judging from the people who voted for Jeff, Bayley, Jase and Stakk.
Breaking Point also had their best ever poll result and it was very nice to see the now defunct Love On Board still hold a special place in a lot of people's hearts.
Delighted
Completing the top ten are Femme Fatale who will be delighted with their debut show in the poll, and then the next five or six bands all came very close indeed to one another. The Sway, Magnets and Sitting Pretty all started well but faded somewhat but overall it was nice to see that virtually every band in the whole district had some supporters.
Just missing the top twenty, for example, were Depth Charge, Banned Wagon, Scarab, Boozy Brothers and Pulsebeat.
The local songs section was pretty reflective of the local band poll but it was pleasing to see people voting for songs that were not by their favourite band, which showed there is a lot of unbiased 'general' listeners among local rock fans.
Perhaps the only surprise was that Breaking Point only managed a top twenty placing (and that was at 17) but you can't have everything.
In conclusion, everyone who votes, many thanks and to all the bands who have made the year so exciting, a double-dose of thanks. Let's now make '86 even better.
Top local band
1. The Dream Factory
2. Terroa
3. The Royal Family
4. Dance Stance
5. The Me
6. Freight Train
7. Wolfsbane
8. Breaking Point
9. Love on Board
10. Femme Fatale
11. The Sway
12. Spirit of Water
13. The Parade
14. Sitting Pretty
15. Trout Meets The Cavalry
16. Dickens
17. Judas Cradle
18. The Magnets
19. Powerplay
And no here's how I'd have voted
Just to complete the overall local music award section, here are the people, the musicians and bands that I think deserve credit in '85:
Top Band – Breaking Point
Top Local Song – 'Come The Day' – Breaking Point
Guitarist – Jase The Ace/Tim Latham/Nick Reed
Drummer – Stuart Blane/Steve Quilton
Bass – Daydo/Mark Mortimer
Keyboards – Rikk Quay
Vocalists – Dave Ingham/Dave Smith/Debbie Whitty
Best Live Band – Wolfsbane
Most Improved Band – Dance Stance
Most Likely to Make it in '86 – Dream Factory
Best Gig – Breaking Point, The Sway, The Magnets Tamworth Arts Centre
Best Demo – Wolfsbane
Best DJ – Buttercup
Best Songwriters – Kevin Briggs/Bryan Lacey/Jase The Ace/John Reeman
Best Lyricist – Bryan Lacey
Haircut – Mick Rutherford
Best Dressed Person – Jeff Hateley
Saying of the Year – "I can't get me breath' – Buttercup
Personalities of local music scene – Ian Gibbons, Tim Goode, Rikk Quay, Eddie Madden, Blaze Bayley, Dave Ingham, Mike Turner, Paul Speare, Phil Smith, John Reeman, John James, Mike Fleming, Sage Side Psycho, Mark Mortimer, Jeff Hateley, Kevin Briggs, Star Trek, Trevor Muglestone, Dave Smith, Mick Goodby, Buttercup and everyone else I've missed.
SAM HOLLIDAY
Tamworth Herald – 17/01/86
Musicbox – Bands tune up for five nights
TAMWORTH'S second annual Battle of the Bands contest looks set to be a great success with 16 groups – some completely new to the scene – taking part. The event has been stretched over five nights, with four heats and a final which will possibly be judged by a celebrity.
And as well as winning the accolade of Tamworth's best band, and a Young People's Arts Festival trophy, the successful band will also win £50 worth of recording time at the Expresso Bongo studios.
The whole event will get underway two weeks on Sunday at Tamworth Arts Centre.
Sunday February 2 – Caprice and Femme Fatale take on the unknown quantities of Coleshill's Burnin' Sky and new Anice Byfield group Precious Toys.
Sunday February 9 – The Australians, One On One, Dance Stance and another new one, Drowning Pool.
Sunday, February 16 – Depth Charge, Wolfsbane, The Me and The Parade.
Sunday, February 23 – Terroa, Spirit Lake, Judas Cradle and Breaking Point.
Friday February 28 – The Final.
Tamworth Herald – 14/02/86
Musicbox – Terroa turn on the style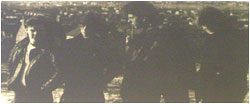 Caption: Terroa…a tremendous first demo
YOU can normally guess how good a demo is going to be by the reaction of the people who have made it.
Some bands try to keep their trips to the recording studio as quiet as possible while others seems positively embarrassed to admit they have been tinkling with demos. And then of course there is the third type. This type – who we shall call the Terroa type – are the sort who could take out TV adverts to let people know they have been in the recording studio. And if you manage to spend thirty seconds in their company without hearing about the demo you are either very lucky or very deaf.
Well (for once) all the screaming and blatant self-confidence from this Terroa-type is worth it. If I had made this tape I think I would have been inclined to scream about it as well – it really is very good indeed. Recorded recently at the failsafe Expresso Bongo studios the tape reveals Terroa at their meaty and melodic best, combining their many original ideas with often subconscious influences from a shot of old 'new' wave favourites.
It all begins with 'Burning It Down' an anthemic number which replaces power with a firm musical edge. It is the only one on the tape that really does sound like the band's greatest influence New Model Army and particularly impressive is bassist Pete Wright whose broody bassline dominates the song. Layered on top of that is a very strong vocal from Eddie Madden who proves conclusively on this tape that underneath that occasionally aggressive tone is a well-crafted singing voice.
From 'Burning It Down' we move into the MUSICBOX song of the year 'Thunder and Lightning' which is as good as you think it will be. Starting and ending just like SLF's 'Wait and See' the song boasts arguably the catchiest tune in Tamworth and has an excellent all round feel. The chorus obviously dominates the whole song but the verse is nicely understated which just serves to whet the listener's appetite for the chorus in a similar way to New Model Army's 'Vengeance'.
Third up on the tape is 'The Last Time' the song that really struck me on first few hearings. It is an anti-drug number which is as catchy as herpes. It starts off powerfully and then bursts into another fully-fledged sing-along chorus which positively booms out of the speakers. Particularly 'natty' is the false ending on the song which is very powerful indeed, as a surprising and entertaining guitar-break from the talented fingers of John Reeman. Finally on the tape is 'Running Scared' a song that takes a little time to engrave itself on the memory but is well worth the repeated playings. It begins in classic 'Is Vic There' style, and slowly develops into another of those rampant Breaking Point style choruses that have you whistling in the bath. This contrast between a bright chorus and a dank – almost seedy – verse is somewhat of a hallmark for Terroa and a pleasing hallmark at that.
So four fine songs from a band who excite me more every time I hear them. For once all the 'hype' is true, they really are a band to savour. As musicians they are a good working unit (drummer Batman turns in some occasionally tremendous flicks) and as songwriters there aren't many better around at the moment. This tape should be available for public consumption in the next few weeks and I would strongly recommend you raid the piggy bank to find out what all the fuss is about. After all, it is the Terroa types that make it in the end. And when the Terroa types are as good as this type of Terroa, they really cannot fail.
Tamworth Herald – 21/02/86
Musicbox – Battle of the giants is full of promise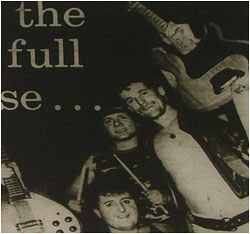 THE most eagerly-awaited heat of the 'Battle of the Bands' blazes into action on Sunday night when the mighty Breaking Point take on the powerful trio of Terroa, The Cradle and Spirit Lake.
The heat has been the source of fierce debate and speculation among local rock fans for some weeks, and with all four bands confident of doing well, the atmosphere promises to be white-hot.
Breaking Point, who of course are holders of the Battle of the Bands trophy, undoubtedly start the heat as favourites – but guitarist Kevin Briggs is not as convinced as some people that their success is assured.
"I honestly think Terroa will win our heat and probably the whole contest," said Kevin last week, "It should be a very good night."
Whether Kevin is bluffing or displaying false modesty remains to be seen but there is no doubt that the night looks like being one of the best on the local scene for months.
Kicking off the Arts Centre package will be Terroa. After their excellent show in the MUSICBOX poll – and the recent triumphs of their first demo – things are going very well indeed for the band, and many local rock watchers have tipped them as the band to steal Breaking Point's 'Battle of the Bands' crown.
Lead singer Eddie Madden admits that this puts the band under a pressure they can do without, but they have promised to go all out for victory and with the songs they have chosen to play, they could well do it.
They have also promised a unique start to the show so if you're not there at 8pm to witness it, that is your fault!
Second up will be Spirit Lake, a band of Davids, who are quietly confident of beating the Goliaths. Built around the songwriting skills of former Spirit of Water leader Dylan, the band contains a host of respected musicians including Norman Yates and Tim Burgess and according to the normally calm Norman the sound that is being produced by the band is very good indeed.
They are the surprise package of the night and for that reason they certainly cannot be dismissed – particularly by the other three bands.
Next up will be the band that has had everybody talking recently; The Cradle. The band who have now buried their former heavy metal tag forever, have taken a walk on the wild side and discovered the likes of The Cult.
They have also discovered Rikk Quay who makes his first appearance as the band's frontman on Sunday. Rikk (surprise, surprise) is very enthusiastic about it all and has told Terroa and Breaking Point that the game is up – the is The Cradle's year. To put it mildly they should be very interesting indeed.
And so to Breaking Point, the last band in the whole competition and the one most people feel will become the first band. The group, who recently recorded a tantalising demo, are as determined and buoyant as ever, and they will aim to take the contest by storm.
Knowing Breaking Point I think they will, but like most people, I am not going to bet on anyone.
So a concert you simply cannot miss. It is free entertainment of the finest sort and should leave no-one disappointed. If you miss this one you will regret it for a long time.
*Sunday night's judges will be Paul Spear, Phil Smith and The Dream Factory's Mark Mortimer. Only one winner can go through to next Sunday's final which already includes Burnin' Sky, One On One and Wolfsbane.
Tamworth Herald – 21/02/86
Musicbox – Sounds out of town
FIVE of Tamworth's top bands have just lined up out of town concerts – and they are all planning coaches to ferry supporters to the shows.
First on the agenda is a terrific double bill on Monday night, featuring the varied dynamics of Wolfsbane and Terroa. The show is at Bubbles in Hinckley, and it promises to be a very enjoyable night out. Tickets – costing £2 – are available from any band member of the two groups or by contacting Brian Edwards.
Then, on Thursday night (February 27), kindred spirits Femme Fatale and The Parade have been lined up for a winebar concert in Coventry. Once again, the two bands are hoping to generate enough support to be able to run a coach to the gig.
Finally the very tasty One On One are lining up another show at Bubbles at Hinckley – this one is on March 1.
Tamworth Herald – 14/03/86
Musicbox – New faces put Factory on its feet
THE DREAM FACTORY have recruited the two new members that will put them back on form. Joining bassist Mark Mortimer and vocalist Tim Goode are former Terroa drummer And 'Batman' Holt and Catch 22 guitarist Dave Stevenson.
The Factory are delighted with their new acquisitions and they are hoping they will be able to get back to live work and recording as soon as possible.
The first new member to join was Dave Stevenson who Mark feels is a tremendous guitarist.
"When Tim and I went to see him we couldn't believe it. We had heard a lot of good reports about him, but he was even better than we thought. His parents are also very supportive and I am confident we have made the right choice," said Mark.
Catch 22 will be carrying on without Dave although it is not known whether they will replace him or promote Ray Clenshaw to lead guitar.
Dedicated
'Batman' joined the Factory on Sunday after an audition which involved five other drummers. Tim and Mark were keen to find someone who fitted in with their personalities as well as having drumming ability and Batman won on both counts.
"He is a really likeable person and he seems quite dedicated to the idea," said Mark. "We think with time he could become a very good drummer indeed."
Tarroah are said to be rather upset at Batman's decision to leave, said singer Eddie Madden. Although quit before joining The Factory, he told Terroa he wanted to be in a reggae band. Terroa are now looking for a new drummer (see Sits Vac on this page).

So, the Factory are now virtually back together again and back on course. Greg Stevenson is staying as keyboard player, Paul Stansfield remains as trombonist and Neil Gledhill has joined on sax.
There is still a vacancy for a trumpeter and anyone who wants to fill this gap in the Factory jigsaw should ring Mark.
Tamworth Herald – 28/03/86
Musicbox – The Dream that finished a sad Terroa
POWERFUL new wave outfit Terroa have split up. The shock news comes just three weeks after drummer, Batman, let to join The Dream Factory.
At the time Terroa said they would carry on with a new sticksman but late last week they decided this would be impossible.
"It just wasn't going to be the same," said sad leader singer Eddie Madden. "We always secretly knew when one of the original four members left, that would probably be it."
Terroa have been together for just a few short months but in that time they have exploded to prominence on the local scene.
Their debut gig at the run up to the Bank holiday Festival was a sell-out success and the band mobilised massive support in the 1985 MUSICBOX poll.
But, recently the band had suffered a number of problems and last week they decided to finally throw in the towel.
"Things have gone terribly wrong of late and it was becoming very disillusioning," said Eddie. "We haven't been able to play any gigs in three months and all the old fire and spirit was slowly going away."
Prestigious
The first of the band's problems was an injury to guitarist John Reeman's hand. This caused the band to pull out of the 'Battle of the Bands' and also to withdraw from a prestigious 'bubbles' show alongside Wolfsbane.
"When you have to miss gigs like that, it makes you wonder if it's all worth it, and when Batman left it meant out future plans were all messed up," said Eddie.
The band's initial anger at Batman's decision to quite has considerably cooled down. Eddie says they are still good friends with batman although he admits that the young drummer's decision to leave was probably the last nail in Terroa's coffin.
"We always said it would be alright, that we would soon find another drummer, but things didn't work out that way. Without Batman it was never going to be the same and we realised this last week."
In their brief six-month life, Terroa released one exceedingly good demo and played a number of fine shows – most notably alongside punk poetess Joolz who has become a friend of the band.
They have made very useful contacts in their time and Eddie has said that whatever band he reappears with, he wants to re-establish these links.
"I don't quite know what to do in the future nut I am sure we will try and keep in bands. I have made too many good contacts and had too many good times already to want to give it all up".
Terroa's 'passing' is a rather sad event for the local scene, ever since their first triumphant show they have made many friends among the public and on the local music scene. They were due to open 'The Rathole' and were also included in plans for the 1986 Festival.
With The Dream Factory already having had a radical split down the middle, 1986 has started off somewhat ominously. Let's just hope we have some better news in the future…
Tamworth Herald – 04/04/86
Musicbox – SNIPS
John Reeman, the talented guitarist and songwriter of the now defunct Terroa is interested in writing for and helping out bands in the area. John is still incapacitated with a hand injury but he would like to help bands out by providing material and helping with arrangements and other off-stage activity.
---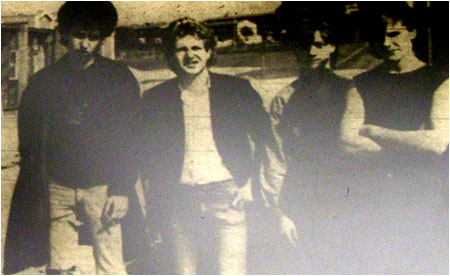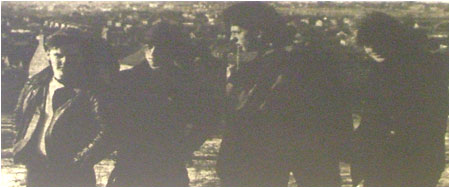 Caption: Terroa…a tremendous first demo
If you have any further information about this band please email: info@tamworthbands.com