Tamworth Herald – 17/01/86
Musicbox – Bands tune up for five nights
TAMWORTH'S second annual Battle of the Bands contest looks set to be a great success with 16 groups – some completely new to the scene – taking part. The event has been stretched over five nights, with four heats and a final which will possibly be judged by a celebrity.
And as well as winning the accolade of Tamworth's best band, and a Young People's Arts Festival trophy, the successful band will also win £50 worth of recording time at the Expresso Bongo studios.
The whole event will get underway two weeks on Sunday at Tamworth Arts Centre.
Sunday February 2 – Caprice and Femme Fatale take on the unknown quantities of Coleshill's Burnin' Sky and new Anice Byfield group Precious Toys.
Sunday February 9 – The Australians, One On One, Dance Stance and another new one, Drowning Pool.
Sunday, February 16 – Depth Charge, Wolfsbane, The Me and The Parade.
Sunday, February 23 – Terroa, Spirit Lake, Judas Cradle and Breaking Point.
Friday February 28 – The Final.
Tamworth Herald – 24/01/86
Musicbox – Rikk Rocks a Happy Cradle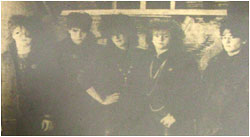 The enigmatic Rikk Quay is back in business – as singer and frontman of new-look outfit, The Cradle.
Rikk, who only left The Sway a fortnight ago, was snatched up by The Cradle immediately. And the rather surprising marriage has pleased both partners.
"I am really happy," said Rikk. "I went to see them practice and I thought they were tremendous. Now I think we can be even better."
The Cradle is the new name of Sacred Oath, or more recently, The Judas Cradle. The band had been striving for moths to get rid of their highly inappropriate heavy metal label, and now with Rikk joining, they are hoping to bury the HM ghost forever.
"This finally proved we are not a heavy metal band," said the always enthusiastic guitarist Paul Keeton. "Now perhaps people will see us in a different light."
Rikk first noticed Sacred Oath as they were then, when they played a very enjoyable set at last year's festival. Like many people, he was impressed with their growing maturity over the past 12 months and so when they approached him to join, it didn't take them long to agree.
"At the practice, they were even better that at the festival, and I am convinced that we can go further now," said Rikk.
Rikk will be joining The Cradle as lead singer, frontman and keyboard player. It is the first time he will have actually led a band as the main singer, but his on-stage charisma and style ensures that the band will become eminently watchable.
Different
"If he acts anything like he did at the practice, things should be very different indeed for us," said Paul. "We are all really happy."
The original…The Cradle had all been going in a Cult Direction, and with the extravagant, fashion-blitzed Rikk joining their image should become much sharper all round. And with his experience and contacts, he will be able to push The Cradle much quicker.
Already he is planning trips to the studio for the band, and it was his idea to drop the 'Judas' from the title and thus leave the heavy metal ancestry well behind.
The former Judas Cradle singer Star Trek apparently wanted to continue to play more heavy music. The band admit he will be sadly missed…to scoop one of Tamworth's hottest properties.
The new band should make their first appearance as the Battle of the Bands on Sunday, February 23, where they will take on the might of Terroa, Breaking Point and Spirit Lake.
Tamworth Herald – 31/01/86
Musicbox – 'Save hall' bid
TWO NEW bands from North Warwickshire play a special 'Save Hurley Village Hall' concert tonight (Friday).
The bands – The Me and Spirit Lake – will both take part in the Battle of the Bands later this month, but in the meantime, they are urging all local rock fans to support what they see as a very important cause.
"This is a venue where local bands can play and we must make sure it stays open." Said a spokesman for The Me. "We hope people will come and support the gig because we are in danger of losing all our venues."
The concert – which runs from 7.30-11pm at the Hurley venue, also features a disco and it promises to be an interesting night out for anyone who enjoys live rock music and wants to help a good cause at the same time. Tickets are £1 on the door.
Tamworth Herald – 21/02/86
Musicbox – Battle of the giants is full of promise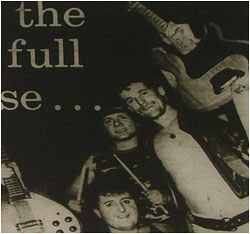 THE most eagerly-awaited heat of the 'Battle of the Bands' blazes into action on Sunday night when the mighty Breaking Point take on the powerful trio of Terroa, The Cradle and Spirit Lake.
The heat has been the source of fierce debate and speculation among local rock fans for some weeks, and with all four bands confident of doing well, the atmosphere promises to be white-hot.
Breaking Point, who of course are holders of the Battle of the Bands trophy, undoubtedly start the heat as favourites – but guitarist Kevin Briggs is not as convinced as some people that their success is assured.
"I honestly think Terroa will win our heat and probably the whole contest," said Kevin last week, "It should be a very good night."
Whether Kevin is bluffing or displaying false modesty remains to be seen but there is no doubt that the night looks like being one of the best on the local scene for months.
Kicking off the Arts Centre package will be Terroa. After their excellent show in the MUSICBOX poll – and the recent triumphs of their first demo – things are going very well indeed for the band, and many local rock watchers have tipped them as the band to steal Breaking Point's 'Battle of the Bands' crown.
Lead singer Eddie Madden admits that this puts the band under a pressure they can do without, but they have promised to go all out for victory and with the songs they have chosen to play, they could well do it.
They have also promised a unique start to the show so if you're not there at 8pm to witness it, that is your fault!
Second up will be Spirit Lake, a band of Davids, who are quietly confident of beating the Goliaths. Built around the songwriting skills of former Spirit of Water leader Dylan, the band contains a host of respected musicians including Norman Yates and Tim Burgess and according to the normally calm Norman the sound that is being produced by the band is very good indeed.
They are the surprise package of the night and for that reason they certainly cannot be dismissed – particularly by the other three bands.
Next up will be the band that has had everybody talking recently; The Cradle. The band who have now buried their former heavy metal tag forever, have taken a walk on the wild side and discovered the likes of The Cult.
They have also discovered Rikk Quay who makes his first appearance as the band's frontman on Sunday. Rikk (surprise, surprise) is very enthusiastic about it all and has told Terroa and Breaking Point that the game is up – the is The Cradle's year. To put it mildly they should be very interesting indeed.
And so to Breaking Point, the last band in the whole competition and the one most people feel will become the first band. The group, who recently recorded a tantalising demo, are as determined and buoyant as ever, and they will aim to take the contest by storm.
Knowing Breaking Point I think they will, but like most people, I am not going to bet on anyone.
So a concert you simply cannot miss. It is free entertainment of the finest sort and should leave no-one disappointed. If you miss this one you will regret it for a long time.
*Sunday night's judges will be Paul Spear, Phil Smith and The Dream Factory's Mark Mortimer. Only one winner can go through to next Sunday's final which already includes Burnin' Sky, One On One and Wolfsbane.
Tamworth Herald – 28/02/86
Musicbox – Thunder, fog and buckets of hair gel…
Heat rises and the victors live up to their name
Battle of the Bands – Heat Four – Review
BREAKING POINT squeezed into the final of the 'Battle of the Bands' on Sunday night in another absorbing and contrasting night of local music. They won their heat by just one point in another show which was packed to the rafters with sweat-soaked, rock-hungry spectators.
Biggest disappointment of the night was that the injury to John Reeman's hand meant the much tipped Terroa were forced to pull out. It was a blow, but in the true spirit of the local scene new band Kara agreed to step in and were sent scuttling back home to get their guitars after they had arrived for a peaceful night out.
Opening the show were Spirit Lake, who attempted, and to a large extent succeeded – to create the feel of the early 70s. Comparisons with Deep Purple and even from one judge, Jimi Hendrix, showed the direction the band were clearly trying to go and there was no doubt they worked together well as a tight professional combo.
Lungs
Keyboard player Tim Burgess came in for a lot of well-deserved praise, but the highlight of the set was undoubtedly a tremendous number called 'Armageddon' complete with a sparkling smoke effect which embraced everybody's lungs and made the atmosphere even thicker.
Next up were The Cradle – and what a revelation they were. When they came on the stage (leaving behind buckets of hair gel) they looked and …stamped all over it, with that man Quay racing around the stage like a headless chicken.
The opening number 'A State Of Mind', was quite brilliant and although the band were a little rough around the edges, they were extremely promising. I have no doubt their Cult-style sound will soon give them a cult following and it certainly was a spine-tingling show. The haircuts were pretty irresistible too.
Kara came next and turned in a very tight and powerful show which brought wide applause from the audience. Kara displayed none of the nerves you would expect from a band who had been in the competition for just two hours.
The swing
Best number of a well played set – a special credit to the male and female vocalists and the group's new guitarist, Paul – was 'Promises' which had a thunderingly good chorus and a clean, likeable sound.
Closing the contest were heat winners Breaking Point. Despite having a slightly under-stated sound, they soon got into the swing of things and somebody walked past me after two minutes and said "They've won it – no contest!".
Well, in the end, it didn't quite work out that way, as the band managed just a one point victory, but there is no doubt they will take some beating tonight (Friday).
So Terroa or not Terroa (that was the sadness) with was a fine all-round show, loudly applauded and supported by the biggest audience yet. The three judges Paul Speare, Phil Smith and the Dream Factory's Mark Mortimer, were clearly impressed with the overall standard.
Tamworth Herald – 18/04/86
Musicbox – Fine spirits lurk in the fog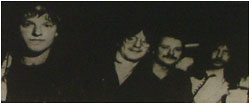 Caption: Spirit Lake…A good sound amid the smog
WELL, he did it again! I refer of course to that man Titch and his manic smoke bombs. There we were enjoying Spirit Lake's set and Titch set off a bomb that turned the Rathole 1986 into London 1886 – smog, smoke and hearty coughing all round.
Titch eventually emerged smiling but for Spirit Lake it meant that their set was brought to a (sadly) premature end. But there's no smoke without fire and Spirit Lake certainly produced a fair bit of that in their short set.
Unfortunately due to circumstances beyond my control (the guilty people know who they are) Spirit were the only band I was able to catch in Sunday's impressively-attended show, but they certainly did enough to prove they are moving forward all the time.
Without Tim's keyboards, Spirit Lake sounded all together more powerful and it was good strong rock music with a toe-tapping appeal that 'heavy metal (which this certainly wasn't) never manages to provide.
Dylan's vocal remains one of the best parts of the groups sound but I would make one suggestion that songs with titles like "Sexy Woman" are perhaps slightly passé these says and could well detract from some of the other far better lyrics that Dylan has come up with.
It was hard to make any real assessment of the band because like the sun last summer it was all over before it started. It literally all went up in smoke. But before it did, Spirit Lake did enough to show they are a strong, intelligent band who have a bright future.
Tamworth Herald – 18/04/86
Musicbox – SNIPS
KAREN, the long-suffering wife of Spirit Lake singer Dylan, has appealed for fellow rock and roll widows to help form a new all female band in the area.
---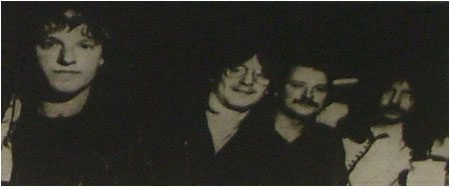 Caption: Spirit Lake…A good sound amid the smog