Kubla Khan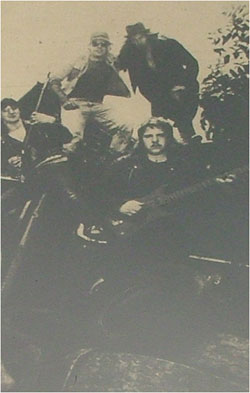 Musical Genre/Type: Rock
Formed: 1983
Split: 1986
Band Members
Brad Riley - Lead Vocals/Guitar (Atherstone)
Phil Smith - Lead Guitar (Atherstone)
Emo - Bass Guitar/Backing Vocals (Witherly)
Adie Cheshire - Drums (Atherstone)
Chad - Keyboards/Backing Vocals (Atherstone)
Songs
Cos I Love You (Brad Riley)
E.E.U (Brad Riley)
Man of Vengeance (Brad Riley)
Gigs
First Gig: Tamworth Arts Centre - 1983
Last Gig: The Star, Croydon
29/02/88
Shellshock
Kubla Khan
Brooklyn Dogs
Tamworth Arts Centre
02/03/88
Kubla Khan
Racer
Fetch Eddie
Spiral Eye
Kraze
Tamworth Arts Centre
24/04/88
Shellshock
Kubla Khan
Tamworth Arts Centre
16/07/88
Tamworth Rock Festival
Torn in Two
Shellshock
The Searching
DHSS
Wolfsbane
The Conspiracy
Never Say Die
Kubla Khan
Castle Grounds
Admission free 11am-7pm
Memories:
Getting the Festival started at the Castle Grounds with Butty DJing, red hot day, Breaking Point headlining - magic. Butty thought Cos I Love You was the bollocks - good enough for me!!!!
Thanks to: Dave Mercer
Tamworth Herald – 07/08/87
Musicbox SNIPS
More details have filtered through about new Atherstone-based band Kubla Khan. The group who are made up of Brad Riley, Mark Emerson, Dave Merrca and Tez Smith were all once involved with the popular Spirit of Water and have adopted many of their ideals and styles. "We are aiming to be a bit of a mystery band and when we start gigging, the punters will be pleasantly surprised" said bassist 'Emo'.
Tamworth Herald – 13/11/87
Musicbox – Kubla Khan at home
The hugely likeable Kubla Khan will tonight be making their first appearance in their native Atherstone since the Tamworth Rock Festival.
The band who made an impressive debut at the festival will be in action at the Tudor Rose, starting at 7.30pm – and entry will be free. Emo the charming bassist and proud Dance Stance roadies says – "Who needs Drayton Manor when Kubla Khan are playing? It's a day out for all the family!"
Tamworth Herald – 27/11/87
Musicbox – Trio of Tasty Morsels
MUSICBOX always welcomes reviews sent in by you, the readers. It helps us to comment on the concerts we missed and also gives you the chance to show your journalistic talents. Here we have three reviews by Musicbox readers of concerts in the last couple of weeks.
If you ever want to send in local – or occasionally national – reviews, please keep them as brief as possible and please be patient as we have masses of material to get into the column and can't always guarantee immediate publication.
The following reviews are all snippets of their original length, which we hop gives an indication of the respective band's merits…
Kubla Khan – The Tudor Rose
Phil Smith's guitar was a highlight all of its own and with Emo's bass and Chad's keyboards it gave the group a very Spirit of Water sound. In front of an audience containing seemingly all of Atherstone's music fanatics (even Dance Stance) they played a great set even dragging the New Age Gypsies vocalist out of the crowd for one number. It was a very good gig by a very good band – and there is certainly something here to watch out for in the future.
James Chick
Tamworth Herald – 04/12/87
Musicbox – Gems among a week of gigs
MUSICBOX reviewers have been out and about in the last week or so catching up on a host of bands at various venues. Here is a selection of their comments with the code to the reviewers being SH – Sam Holliday; DC – Dan Collins; HM – Helen Machin and DR – David Reeves.
Kubla Khan – Tamworth Arts Centre
This was a great stage performance and a lot of credit must go to the amazing lead singer who had enough energy for 50 and managed to persuade a mixed Arts Centre audience that this is what they came for. Wonderful.
HM
Tamworth Herald - 29/01/88
Musicbox – Arts Centre stages new-look 'Battle'
Salute the best in new rock talent
TAMWORTH ARTS Centre is to stage a new version of the annual 'Battle of the Bands' in February – featuring only bands who are new to the scene. The idea was to turn the event into a 'Most Promising Band of the Year' contest and it has been thrown open to any group who have emerged since the last 'Battle' of 1987.
Already 15 groups have been nominated to take part over three heats in February. The winners on each night will then be invited to a gala final on Friday, march 4 with a £75 prize and Young People's Arts Festival awards for the eventual victors.
Among the better known bands who will be involved are Fetch Eddie, The Conspiracy and Kubla Khan, but the event will also be the platform for first ever concerts by groups such as The BBC, Mr. Cyn and DHSS.
Although there may be slight alterations before the finalised line-ups, the current running order and the new 'Battle of the Bands' is as follows:
SUNDAY FEBRUARY 7:
Torn in Tow, The Conspiracy, Scream Dream, The Cuddly Spiders and Future Field.
SUNDAY FEBRUARY 14:
New Age Gypsies, Mr Cyn, Fetch Eddie, Jim Crows, The Band With No Name.
SUNDAY FEBRUARY 28:
DHSS, Kraze, Kubla Khan, Spiral Eye, The BBC.
On each night the judges will be made up of members of longer-established Tamworth bands such as Wolfsbane, Catch 23, A5, Rape In Yellow, Depth Charge (now called Never Say Die) and so on. It will be their job to pick one winner from each night, who will go forward to a grand final along with the second highest-scoring group.
For the winners there will be cash and trophy prizes, but perhaps more importantly, the title of Tamworth's Most Promising Band of 1988.
On each of the heat nights the bands – who cover everything across the rock spectrum – will have just 20 minutes to impress the judges, and with five bands on each night no-one should have anytime to get bored!
We will give more details of each of the concerts in the next couple of weeks but for the time being clear your Sunday evenings in February and get ready to salute the best in new rock talent within this music barmy area.
Tamworth Herald - 28/02/88
Musicbox – Five of the best limber-up
Heat is on for final fling
THE final, exciting heat of Tamworth's 1988 Battle of the Bands takes place on Sunday night. Five varying local bands will take to the Arts Centre stage aiming to join The Conspiracy and the New Age Gypsies in the March 4 final to find the most promising new band of 1988.
This week's line-up offers a variety of musical styles and quality and should ensure a bumper crowd and a tremendous evening of entertainment.
Although one of the original 'starters' DHSS have had to pull out due to technical problems, their place has been eagerly snapped up by, Racer, who had to miss last week's show because of their drummer's arm injury.
The five bands on offer on Sunday will be…
Kubla Khan
An Atherstone outfit of definite quality but still something of an unknown quantity. Made an impressive Tamworth debut at the festival and have been backed by one or two people in the (rock and roll) know. Should prove interesting.
Racer
Making their second (and hopefully) successful attempt to join in the contest. Racer are a melodic but still heavy rock band who combine youth experience and add a tuneful touch to an aggressive sound.
Fetch Eddie
Regarded in some quarters as the favourite in the contest, Fetch Eddie are in the midst of a very successful period which has seen them triumph in concerts throughout the Midlands. Pop music so catchy it can leave your dancing feet with a permanent itch.
Spiral Eye
A brand new outfit making their world debut! All I can tell you at this stage is that they feature some always interesting musicians (Daz and Baz from 13th Reunion, Jim and Pete from Attica and Rem from The Calling) and according to Jim they play 'music to flinge to'. Suck it and see.
Kraze
One of the heaviest bands in the whole 'Battle of the Bands' who should bring some welcome, 'glam' to the proceedings. Heavy, steady, go!
That's the line-up to be judged this week by Jase the Ace (Wolfsbane), Graham Harwood (Rape in Yellow), Mark Brindley (WIN) and Steve Hayes (A5).
The winners
What makes Sunday's show even more interesting is that as well as the winners of the night going through to the March 4 final, the highest-scoring second-placed band from the WHOLE contest will also be revealed. They too will then be invite back on March 4 for the final which already features heat one winners Conspiracy and heat two victors The New Age Gypsies. So all the bands who have appeared so far in the contest – and the four that don't win on Sunday are still in with a chance of playing in the final but to find out if that means YOU, you will have to be there!
All the ingredients them of an excellent night. The bands are asked to reach the Arts Centre by 5pm, the judges by 7.45pm and the crowd by 8pm so we can attempt to get off to an early, ear-bashing start. It should be a great night so miss it at your peril!
Tamworth Herald - 04/03/88
Musicbox – A hot time with some cool sounds
Battle of the Bands – Final Heat
WELL, what a night this turned out to be. Around 200 sweaty punters, four sweaty bands and a marvellous good-humoured atmosphere that was a pleasure to be part of. And here is how it all went…
Spiral Eye
My favourite band of the night and a group for whom I predict great things in the future. An amazing introduction set the scene for 20 minutes of Velvet-clad Sixties drug-culture pop with Floydisms everywhere and even a touch of mid-Seventies Swell maps. Baz, who I once described as the coolest man in the universe, remains in that exalted position and has more charisma than an American TV evangelist. And no doubt just as many skeletons. Each track was different but all retained that same mesmerising, meandering mood. More of an experience than a show. Absolutely ace.
Kraze
Professional, punchy and laden down with natural style. I always had more than a sneakig admiration for Kara and Powerplay and this new combo have taken the best of both those and added new impressive touches. The girls provided talent as well as the inevitable glamour and the band emerged with a rousing finale which totally won over the audience. And – oh yes – a mention to the remarkable, wonderful and incredible Carl Anthony has had his name left out in the past and I was threatened with a chainsaw if I did not put his name in lights. So there you are Carl, now put away that chainsaw.
Kubla Khan
Compared afterwards by one of the judges as sounding like Bruce Springsteen, which is probably the second greatest compliment you can give to mortals (no prizes for guessing the first). It didn't sound that Brooce-like to me but there were definite classy mid-Seventies, mid-American touches in there with some impressively produced guitar work spotlighting a dreamy feel. A tight, well-rounded commercial set from a band who have a real dollop of class.
Racer
Maybe I had seen 'Bad News' just a little too soon before this but Racer came over as a rather undramatic heavy band whose charisma didn't shine as it did on their impressive demo. To their credit they played a solid, administered set and produced one gem in the slower 'Feelings Never Change'.
SAM HOLLIDAY
Tamworth Herald - 06/05/88
Musicbox – SNIPS
Lichfield-based rock band Roma, who are keen to make an inroads into the Tamworth scene, have lined up a couple of concerts in the near future. The powerful rockers will be in action next Friday (May 13) at Enots alongside our very own Kubla Khan and latest Kerrang-faves Cry. Then on May 19, Roma line-up with Split In Two for a special double-header at Brownhills Community Centre.
Tamworth Herald - 01/07/88
Musicbox – SNIPS
KUBLA KHAN (whose festival album song is a scorcher) are on the lookout for a new lead singer. The band comprising Phil 'wha wha' Smith, Emo Emerson and Adie Cheshire seek a permanent singer with a powerful voice.
Tamworth Herald - 25/11/88
Musicbox – SNIPS
The hugely likeable Kubla Khan are back!! The band have been busy lately auditioning new drummers and they have finally found one if the form of Jason Bedford from Atherstone. They are now looking for a male or female singer and they are keen to find out more about the legendary undiscovered talent of Samantha Law. The band add that they are already looking forward to next year's Festival. Hopefully we will hold a meeting straight after Christmas to talk all about that!