Caprice
Musical Genre/Type: Rock
Formed: 1983 Split: 1985

Band Members:
Mike Fleming - Bass Guitar/Lead Vocals (Belgrave)
[Also in: Childs Play, Wild Child]
Steve Shepherd - Lead Guitar (Birmingham)
Adrian Goodman - Drums (Tamworth)
Gigs:
13/10/84
Breaking Point
Caprice
Tamworth Arts Centre
02/02/86
Caprice
Orange Blossom Special
Burnin' Sky
Battle of the Bands
Tamworth Arts Centre
Songs:
Girl at the bus stop (Mike Fleming)
Love lies bleeding (Mike Fleming)
Vigilante force (Mike Fleming)
Tamworth Herald 12/10/84
Musicbox – Rock solid and real heavy…
FOUR hard-hitting rock bands will descend on the Arts Centre this weekend for two power-packed concerts.
Tonight promises to be a fierce assault on the ears as highly rated Birmingham band Scarab and ever-active Tamworthian BHX.
Then, 24 hours later, just as your ears have stopped ringing, relative new boys Caprice will be handing out their own brand of rock alongside passion-wielding Breaking Point.
Tonight's double-header looks set for another Arts Centre sell-out date due to the increasing popularity of both bands on view.
Scarab have done what few non-Tamworth bands have managed to do in the town by picking up quite a following. Their fans are bowled over by the band's manic and very powerful sound.
One reliable gig watcher told me that Scarab were the best heavy band that has ever played at Tamworth, the group's own determination to play gigs in this area shows that they really have built up a goods rapport with Tamworth crowds.
As well as promoting themselves, Scarab should be promoting their new single 'Poltergeist', and so anyone who wants to hear good heavy metal tonight – and then take some of it home with them – is urged to bring some extra cash for the single!
BHX, of course, need no introduction, having spent the last 12 months picking up fans with every gig they do. Their last powerful performance at the Arts Centre revealed how direct and menacing their sound has become and one thing that fans can always find comforting about the band is that they rarely – very rarely – disappoint.
Dynamic
Another band for whom disappointment is a null word, is tomorrow night's headliners Breaking Point. They stole one of the best reactions at the Bank Holiday Festival and have a thumping, dynamic sound full of modern influences such as U2, The Alarm and New Model Army.
It is, in essence, a rock-orientated sound with a heavy dose of passion and spirit. Guitarist and vocalist Kevin Briggs has promised a new and exciting show tomorrow, bursting with energy and musical vitality. And Kevin is the sort of man you believe.
New trio, Caprice made their debut show at the Festival several weeks ago. Caprice are an amiable trio who find it very difficult to describe exactly what they sound like.
"I suppose it is Seventies music which will particularly appeal to the older generation, as well as Breaking point fans," said bassist, cat-fanatic and well-known wit Mike Fleming.
Caprice's 'Seventies sound' incorporates everything from Santana and Dire Straits to much harder songs. Even the odd bit of pop is thrown in to surprise people.
Helping out in the pop department are 'The Girls From The Bus Stop' – the girlfriends of guitarist Steve Shepherd and drummer Adrian Goodman, who provides the occasional backing vocals.
Caprice believe they should appeal to quite a wide audience and I, for one, will be keen to see how their lively, endearing sound is received by the Arts Centre crowd.
So there we have it, two very entertaining-looking gigs which promise a lot and will no doubt deliver the goods. Both gigs begin at 8pm and two sell-out concerts seem likely.
Tamworth Herald 14/12/84
Musicbox – Snips
SPIRIT of Water currently lining up a gig with Caprice have sent out a call for a new drummer and guitarist. Spirit whose primary influence is T. Rex , want people who are totally dedicated and willing to give 100 per cent to the band.
Talking of Caprice, they too are keen to expand their line-up and are seeking another guitarist to supplement their sound. Preferably the band want someone who could double up on keyboards to broaden their sound.
Tamworth Herald – 18/01/85
Musicbox – Mature rockers all set for a mystic night
TWO BANDS who are desperate to make a big impact on the Tamworth scene, team up tomorrow for an Arts Centre gig with a difference.
Spirit of Water and Caprice may not be the most fashionable of bands in the current Tamworth atmosphere, but both have promised to try and win over neutral spectators with a show of original talent.
Democratically there will be no 'headlining' outfit but by virtue of Spirit of Water's reduced set, they will be going on first.
The reason for the set shortening is the loss of the Spirit keyboard player who contributed enormously to the band's excellent first demo tape.
To any of you who may not know the sound they aim for is a T-Rex/Springsteen feel which blends the old rockist traits of the Seventies, with the more passionate moods of the Eighties.
With two such superb influences, the band can hardly go wrong and they certainly won over many people at their last Tamworth appearance – at the Bank Holiday festival.
They are a band with a future and they are hoping many people will go along tomorrow and give them a boost in the hope of bringing that future just a little bit closer.
A band also waiting to springboard into your hearts are the cheery trio, Caprice. The group, a sort of serious man's good time rock and roll band, play a set that is as diverse as a box of liquorice allsorts – but not half as sickly.
At times they are intense, at others frivolous, but they are always very enjoyable.
In many senses this will be something of an old fashioned rock gig – both bands feel they attract quite a mature audience – but there is still plenty in their sets to appeal to the younger elements.
According to Caprice captain, Mike Fleming, this will be an 'amazing mystic experience – a blending of the spirits, that of the forest of Pan and the Spirit of Water.'
If you want to know what the blazes that means make sure you get along to the Arts Centre tomorrow night at 8.15 for a very intriguing looking gig.
S.H.
19/01/85
Spirit of Water
Caprice
Tamworth Arts Centre
Tamworth Herald – 25/01/85
Musicbox – Tasty mixture on this menu full of variety
Spirit of Water/Caprice – Tamworth Arts Centre
Is it fair to judge a sandwich after only tasting its filling? This was the vexing question that was on my mind after only seeing the middle bit of the concert. Should I review it even if I missed out on the first and last course.
I decided Yes because although I caught only half of both band's sets, there was plenty in them to give me a firm indication of what both outfits have to offer.
The first thing that strikes you about Spirit of Water is that they seem to belong to a long gone generation – each one looks like a member of the Charles Manson family and lead singer The Witch Doctor could have stepped right out of the flower power era. But the image is not sustained musically.
Slicing guitars and melodious vocals combine to produce a sound that has as many modern influences as it has psychedelic connotations.
The T Rex feel is strong throughout and occasionally the band dip into almost gothic new wave rhythms and ideas. It is all a very enjoyable mixture played by four very professional musicians who obviously know exactly what sound they want – and frequently achieve it.
They are definitely a band to look out for, and their impressive reception proves that people are already starting to listen.
Caprice also look as if they stepped out of the pre-punk world, unashamedly sporting long haircuts and even – wait for it – flared trousers!
But their sound is far from archaic. It appears to cover a very wide spectrum starting at one extreme with Dire Straits AOR and switching at the other to buoyant rock and roll which could easily make a stake in the pop world.
Musically the band seemed a lot tighter – and more confident – than I have ever seen them before, and they were helped even more by the increasingly positive visuals of "The Girls From The Bus Stop" who are playing an ever growing part in building up the band's image.
The best number I heard was a touching – and obviously heartfelt – song called 'Love Lies Bleeding' (which has nothing to do with the Breaking point song of the same name.
Fiery
Here the seductive guitar sound, almost whispered vocals and female harmonies help to create an infectiously romantic mood. But typically, caprice went straight into a ripping onslaught on a fellow Tamworth bands, with a fiery version of 'Snake In the Grass' which illustrated perfectly the two extremes that make Caprice such an entertaining outfit.
So, an incomplete sandwich but still nevertheless a tasty one. Next time, I may try to catch the other ends of both sets, then I can really make a meal of the review.
Tamworth Herald – 22/02/85
Musicbox – Shock waves on battleground
Smashing time as riot hits stage
TOMORROW night Tamworth Arts Centre will play host to the final of the keenly-fought 'Battle of the Bands' contest.
The final, featuring five groups will be the culmination of four strong heats, the last of which is at the Arts Centre tonight (Friday),
Already the contest has attracted great interest and has been packed full of surprises and controversy.
It all began last Thursday when three very different acts – Dance Stance, One On One and The Original Royal Family took to the stage.
Controversy started to rage however, when one of the five judges was disqualified for walking out half-way through the gig of the last band The Royal Family. The disqualification gave One On One a clear victory, making them the first band into the final – and therefore the Bank Holiday rock festival.
Overflowing
Twenty-four hours later at the Arts Centre a packed-to-overflowing audience saw an amazing four-band contest. Childs Play opened the proceedings with their former guitarist, who had been dragged out of the bar because their normal player had disappeared!
The shock continued when Vicious Malicious – an unholy alliance of Select Elect and The Elusive They took to the stage and proceeded to smash up guitars and tape recorders as well as run riot with a chainsaw. The word was bizarre. All part of the act, of course.
And, if that wasn't enough of a culture shock to the audience, then the new Pulsebeat, who after starting cautiously, had the whole crowd on their feet with some brilliant, individual guitar playing.
By now nothing could be surprising – but last band Scarab almost were. They came on and gave a blinding show bashing out 100mph rock anthems which sent their loyal fans into a state of acute frenzy. They threw in volcano-style fireworks, flashing lights and fake blood to provide a riveting performance. Needless to say they won, so booking their automatic place in tomorrow's final.
The third heat was held last night (Thursday) and one of the following four acts will be in tomorrows final – Ideal Standard, Spirit of Water and Sitting Pretty.
The final heat will be tonight when Breaking Point, BHX, Sacred Oath and Caprice will battle it out.
Each of the acts has a lot going for them and predicting the result is extremely difficult.
BHX have proved their status by being offered several dates all round the country; Sacred Oath are now back fresher and more determined; Caprice get more confident with every gig and Breaking Point are Breaking point.
Surpassed
Don't forget there will also be a place in tomorrow's final for the highest scoring runner-up during the whole contest.
On the first two heats, Childs Play and Pulsebeat both with 59 points held second equal though it is likely that this total will be surpassed tomorrow night.
So an extraordinary night is in prospect. The finalists will be given only 20 minutes to impress the judges that they are Tamworth's top band. The overall winner will be invited to play at the Young People's Arts festival night in March where they will also be presented with their winning trophy.
Saturday's final starts at around 8pm and entry is 60p. it is going to be packed to the rafters so people are advised to arrive early to enjoy this potentially tremendous occasion.
SAM HOLLIDAY
Tamworth Herald – 08/03/85
Musicbox – SNIPS
Caprice lead singer Mike Fleming is looking for a female singer to help him work on a solo project.
Tamworth Herald – 24/05/85
Musicbox – SNIPS
A new rock band influenced by acts such as Def Leppard has sent out an urgent appeal for a vocalist and a drummer. The group is all set to get things moving but is finding no luck at all in recruiting the final spokes in the wheel. If you think you can provide those final spokes, ring Steve.
Caprice who were once a trio, now seem to have lost two members leaving ever-enthusiastic Mike Fleming as the only man. Undeterred Mike says the 'band'(?) are still playing music that is 'uncategorisable' and refuses to touch heavy metal at all.
What Mike needs is more musicians to stop him being a one-man band. He is looking for drummers and guitarists interested in doing something different.
Tamworth Herald – 01/11/85
Musicbox – SNIPS
Caprice are still trying to recruit a drummer. The current duo of Steve Harrop and the neo-legendary Mike Fleming are looking for someone interested in playing blues-based rock, with interest and enthusiasm being the two keywords. If you think you can fill this, contact Mike.
Tamworth Herald – 17/01/86
Musicbox – Bands tune up for five nights
TAMWORTH'S second annual Battle of the Bands contest looks set to be a great success with 16 groups – some completely new to the scene – taking part. The event has been stretched over five nights, with four heats and a final which will possibly be judged by a celebrity.
And as well as winning the accolade of Tamworth's best band, and a Young People's Arts Festival trophy, the successful band will also win £50 worth of recording time at the Expresso Bongo studios.
The whole event will get underway two weeks on Sunday at Tamworth Arts Centre.
Sunday February 2 – Caprice and Femme Fatale take on the unknown quantities of Coleshill's Burnin' Sky and new Anice Byfield group Precious Toys.
Sunday February 9 – The Australians, One On One, Dance Stance and another new one, Drowning Pool.
Sunday, February 16 – Depth Charge, Wolfsbane, The Me and The Parade.
Sunday, February 23 – Terroa, Spirit Lake, Judas Cradle and Breaking Point.
Friday February 28 – The Final.
Tamworth Herald – 07/02/86
Musicbox –REVIEW
SKY HIGH IN THE SAUNA!
TAMWORTH'S second annual Battle of the Bands contest got off to a superb start on Sunday, when a packed-to-bursting Arts Centre watched new outfits Burnin' Sky become the first group to qualify for grand final.
With Femme Fatale forced to pull out and horrendous weather being served up outside, the Tamworth public could have been forgiven for forgetting all about the show. But scores turned up and the Arts Centre's new band room was turned into a veritable sauna as the huge crowd watched well-tested Caprice take on the fresh challenge of Orange Blossom Special and Burnin' Sky.
Caprice were first up and they caused a ripple by producing a new member who was even better looking than bassist Mike Fleming. She was Karen Nicholls, a powerful and confident singer who added a raunchy touch to Caprice's OR sound.
She looked good, sounded good and I have no doubt that with her in the line-up, attendances at Caprice gigs will start to rise appreciatively.
With new drummer Dean Cox also sounding useful, Caprice looked a virtually new band and with a little more time they could become quite a force.
Admiring
Next up were Coleshill's Burnin' Sky, who turned on an intriguing 20-minute burts that was very well received. Their sound is closer to progressive rock than R 'n' B I was expecting, but it has a nice sleazy feel all of its own.
Maurice Collins (vocals), Pete Whipps (drums) and the wonderfully-named Keith Richards (bass) are all musicians of note, but for me, the band's biggest bonus is lead guitarist Nig Allen.
He handled a couple of long breaks very effectively indeed, and received admiring glances from many of the musicians who were sunbathing in the equator-like temperatures.
To add spice to the night, Tamworth's premier poet Jed Moore took to the stage for another scurrilous, irreverent and downright disgusting burst of filth-prose. He was extremely funny and even when he viciously destroyed every band's ego with a send up of the Tamworth scene, he kept everyone smiling. I have said it before and I will say it again – this guy is a star!
Very bright
Last on were Orange Blossom Special, who turned in a very entertaining debut set. Their sound was smooth, well-crafted and very melodious and was as passionately played as you would expect from the people involved.
Everyone did their bit to give the sound its well-rounded edge, but a special mention must go to Julian Amos who I thought was tremendous.
As a band their future looks very bright. They have a nice image, they are all very likeable personalities and with the tireless Mr. Byfield as manager, their potential should be exploited to the full. After all, if they can sound this good after one concert, what will they sound like after 10?
So closed a very enjoyable night's entertainment. The final result was very close and the announcement that Burnin' Sky had won was greeted with a loud roar from their large band of followers.
If the next three weeks are as good as this, the contest will have been a very great success indeed. And, after the steamy atmosphere of that band room, we will all end up several stones lighter by the end of this enjoyable event!
Sam Holliday
Tamworth Herald – 28/02/86
Musicbox – SNIPS
Caprice are on the look out for a new singer – preferably a female one – to replace Karen.
The band also had several small items of equipment taken during the Battle of the Bands and they have urged the offender to bring the items back to the Arts Centre and the subject will be closed.
Tamworth Herald – 21/03/86
Musicbox – Succeeding with talent and mouth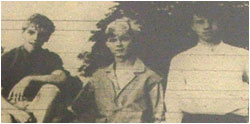 I HAVE recently been filing all my old MUSICBOX columns from the past three years or so and as one of those academic exercises, I decided to see just who has been the most featured band in the column over that time.
People often accuse me of bias in various directions but I think the 'top ten' of mentions shows that I have managed to cover the whole spectrum of local music from the 'lightest' to the 'heaviest'.
This was not a scientific exercise, I merely flicked through the columns and noted the names of bands whenever I saw them. So a 'mention' could be just one line or a full feature. Anyway here's the top ten from 1983.
1. The Dream Factory (60 mentions), 2. Sitting Pretty (57), 3. Breaking Point (53), 4. Wolfsbane (52), 5. BHX (51), 6. Love On Board (49), 7. One On One (37), 8. The Magnets (32), 9. Sacred Oath (25) and The Cradle (25), 10. The Royal Family (20).
Outside of this batch as a matter of interest were Terroa, Dance Stance, A5 and Caprice. At the other end of the scale there were local bands whose name were featured only once such as Alibi, The Fashionable Gents, Bambu Curtain and The Time Bandits.
---

Who needs a Frankie T-shirt when Caprice are so much nicer? Caprice, making their Arts Centre debut tomorrow night.

If you have any further information about this band please email: info@tamworthbands.com