(Original) Royal Family

The Royal Family
Photograph courtesy: Tamworth Herald

The Gallery
Musical Genre/Type: Rhythm and Blues
Formed: 1983
Band Members:
Dave Smith (Vocals and Harmonica)
Gary Bell (Rhythm guitar)
Eddie Blunt (Bass Guitar)
Les Jones (Guitar)
Nick Jones (Drums)
Additional Band Members:
Jem Scarr - Drums
Gigs:
06/06/83
Royal Family
Tavern in the Town
29/08/83
Tamworth Rock Festival
Sitting Pretty
Those Attractive Magnets
Hardware
Royal Family
Omen 2
Time Bandits
Tamworth Castle Grounds
29/02/85
Original Royal Family
Talk Back
Sitting Pretty
Jolly Sailor
13/09/85
The Royal Family
Certain Circles
Tamworth Arts Centre
27/09/85
Love On Board
Breaking Point
The Royal Family
Tamworth Arts Centre
20/11/86
Dr. Feelgood
Strap On Jack
The Royal Family
Tamworth Assembly Rooms
13/12/86
Royal Family
Bue
Prince of Wales
26/12/86
Royal Family
The Rathole
Tamworth Herald – 03/06/83
Musicbox – 'Royals' – at the Tavern
THE Royal Family will be appearing at Tamworth's Tavern in the Town pub on Monday evening.
But don't worry, this is no trip from the folks from Buckingham Palace, nor will Corporation Street be full of security guards and jostling press photographers.
This version of the Royal Family is a new Tamworth band with some faces familiar to regular Musicbox readers and some perhaps not quite so well-known.
The band's line up is: Dave Smith, vocals and harmonica; Gary Bell, rhythm guitar; Graham Blunt, bass and Les and Nick Jones on guitar and drums respectively.
The Jones brothers have both been on the local scene in various bands before, but for the others, the debut at the Tavern recently was their first gig.
Rhythm and blues is the band's speciality with the bulk of their set coming from the catalogue of bands like Dr. Feelgood and The Blues Band.
"We play other people's material, but it's strictly our own interpretation of it," explains Dave.
Opinions very within the band about the seriousness of their approach to the whole project, with "just for a laugh" being the most popular answer.
Don't forget Monday night (June 6) at the Tavern in the Town.
Tamworth Herald – 01/07/83
Musicbox – Three plan a night full of fresh sounds
THREE OF the new bands who have emerged locally in the last few months are joining forces for a major concert at Tamworth Arts Centre.
Wild Child, the Royal Family and Marcus are appearing at the always popular town centre venue on Friday July 8.
At their gigs at the Tavern in the Town, Wild Child have impressed with their own brand of melodic rock with a hard edge provided by the guitar of Norman Yates and the vocals of Roger 'Budgie' Bird.
The Royal Family have also used the tavern as their stomping ground and they too have received favourable responses to their straight-down-the-line R 'n' B approach.
Marcus, on the other hand are an unknown quantity – see story on this page fort more details.
Tamworth Herald – 29/07/83
Musicbox – Review: Marcus/Royal Family/Wild Child : Tamworth Arts Centre
THIS triple bill featured three bands recently featured in the Herald with Marcus leading off, followed by the Royal Family and Wild Child topping the bill.
Marcus would benefit from some moths of practice and somewhat more imagination.
Royal Family, playing to a packed theatre, ran through their now familiar set of high energy R 'n' B to an enthusiastic response.
The band looked somewhat happier than in the cramped space of the Tavern in the Town, with Dave Smith having more room to mix his powerful vocals with his Quasimodo impressions.
Wild Child's set was well received by a small group of headbanging HM freaks, but the band's undoubted ability was not matched by their material.
A mention also for Dave Hewitt who assisted the Royal Family on harmonica.
Crink
Tamworth Herald – 26/08/83
Musicbox – Local line-up for a holiday rock special
THE Castle Grounds is the setting on Monday for the biggest rock event in Tamworth this year.
Five local bands have already been confirmed for a Bank Holiday rock festival – the first in the town for four years.
And the formidable line-up promises to make it an afternoon that has something for everyone.
Hardware will be headlining the show and they have already enlisted Those Attractive Magnets, The Royal Family, Omen 2 and Sitting Pretty as support.
The whole event has been organised by Hardware and Gary Holt from the Arts Centre.
"We decided it would be nice to get a few bands together and we just hope there will be a lot of people there," said Garry Norris of Hardware.
The gig begins at 2pm and is completely free. No running order has yet been made but there is likely to be a DJ to host the afternoon and introduce the bands.
The afternoon promises to be extremely varied ranging from the synth pop of Those Attractive Magnets to the more traditional rock of Hardware.
As well as these two well-known local bands, the festival will also provide an excellent opportunity for three newer outfits to make an impression on the local scene.
Great acclaim
Omen 2 are the follow-up to the once popular men and they have promised a totally new sound.
The Royal Family are a talented blues rock band who have already gained great acclaim following performances at the Tavern.
And the gig will be the first major outing for Sitting Pretty, a new band recently formed by 'Tambeat' editor Mike Turner.
There is also a chance that other bands will be added to the line-up – the Classified Ads have still to confirm – and it all looks set to be an excellent afternoon for the town's rock fans.
All it needs is for Tamworth people to pack the Castle Grounds and ensure that the Bank Holiday festival becomes a firm date for the local music scene.
Tamworth Herald – 18/11/83
Musicbox – Come on, join the bands
SEVEN Tamworth bands will be battling next week to win the prestigious Burton Musicians Union rock and pop contest.
This year the contest – which has included several top Tamworth bands over the years – features 24 groups from all over the East Midlands.
The contest is divided into four separate heats from Monday to Thursday and the top two bands on each night will be asked to appear at the grand final on Friday.
The amount of competitors from Tamworth is the highest ever – reflecting the increasingly healthy local scene.
On Monday night the town's sole representatives are Talk Back who with their professional and commercial sound are sure to take some beating.
The following day tow Tamworth bands will be opening the proceedings – Vince Watts' new band Formaldehyde and the rock band Prophecy, who line up alongside two bands oddly-named A5 and Minnus Tyreth.
Final
On Wednesday night two of the town's top bands, Laughter in Heaven and the Royal Family, should guarantee that at least one local act makes the final. Laughter's gothic sound and the Royal Family's blues could not be further apart musically but they are both certain to excite the panel of judges.
Thursday night throws up a very unusual coincidence. BHX and Eyes will both be appearing – the night before the two groups will be playing together in a previously arranged gig at the Arts Centre.
With such a varied selection of local bands playing, by the time you read this it is possible that three or four Tamworth bands will be getting ready to play at the grand final for a variety of prizes.
One things that all bands could certainly do with is support. In previous years Tamworth acts have suffered because they took no followers with them while groups from Burton and Derby particularly seemed to bring armies of fans.
Entrance to the Burton Town Hall on all five nights is just 50p – a remarkably small sum to see six new bands a night in action. It would do the Tamworth music scene enormous good for one of our bands to win 'away from home' and we must all keep our fingers crossed for local success.
SAM HOLLIDAY
Tamworth Herald – 15/06/84
Musicbox – Snips
The Original Royal Family – who brought pleasure and mirth to millions – played their last gig recently at the Tavern in the Town. By all accounts it was a great night and a fitting farewell to one of the most original and refreshing bands the town has seen. They will be sorely missed!
Tamworth Herald – 01/02/85
Musicbox – TOWN'S OWN BAND AID PROVES SUCCESS
ALTHOUGH Musicbox has decided not to do a full scale review of last week's Ethiopia concert, we would like to take the opportunity to praise everyone involved in the epic event.
All the organisers did a superb job but their task was made all the more easy by six bands who showed an unselfish and very co-operative desire to make the event run as smoothly as possible.
Hence the times were adhered to, the bands performed with enthusiasm and every one of the acts played well.
The Royal Family delighted everyone who saw them, Breaking Point turned in perhaps their greatest set ever (no small feat) and there were also rave reviews for all the bands with a special mention going to Love On Board who really turned on the style.
So for every person that helped to make the event such a success Musicbox can only say a sincere 'well done'. It's not very often we can feel so proud to live in Tamworth, but last Tuesday night we certainly could.
Tamworth Herald – 01/02/85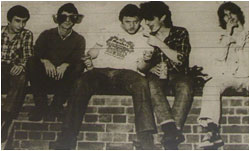 Musicbox – Bands get set to do battle in gig five-nighter
TAMWORTH is to stage its first-ever 'Battle of the Bands' competition next month. The contest, to find Tamworth's top group, is part of the Young People's Arts Festival event which is held in the town every two years.
The contest will stretch over five nights at the Tamworth Arts Centre and 16 bands have been lined up to chase the first prize of a special trophy.
The way the contest is run is simple. There will be four qualifying heats with the winners of each earning themselves a guaranteed place in the final.
In addition, there will be a place for the best runner-up, to make a five-band final on Saturday February 23.
The idea for the contest has been around for a long time, following the repeated success of a similar venture in Burton. When the idea was put before Tamworth's bands, the contest was greeted with universal enthusiasm.
The award follows hot on the heels of Musicbox's own popular top band contest in which Dream factory took first place.
Competing
The contest gets underway on Thursday, February 14, when Dance Stance, One On One, Love On Board and The Original Royal Family will be competing for a final place.
On each of the four nights each band will be given a maximum of 25 minutes to impress the five judges, who will each give points on content, presentation and, in tru 'New Faces' style, star quality.
The acts will be marked out of 10 for content and five for the other two categories, enabling the five judges to award a maximum of 100 points between them.
For the overall winner in each heat, their place in the final is ensured, but for the second-placed bands there will be a nail-biting wait to see which runners-up have the highest points.
As an added incentive, all the five finalists have been guaranteed a place in the August Bank Holiday Festival.
Each of the qualifying heat concerts will cost just 50p admission, and the final, on February 23, will cost 60p. For the bands themselves it will be a unique chance to see who is the local 'top of the pops', but for the Tamworth public, it will mean five very good – and very cheap – concerts.
The full night by night line-up is printed below.
Thursday 14th
Dance Stance, One On One, Love On Board, Original Royal Family
Friday 15th
Child's Play, Wolfsbane, Pulsebeat, Scarab
Saturday 16th
A5, Spirit of Water, Ideal Standard, Sitting Pretty
Friday 22nd
Breaking point, BHX, Caprice, Sacred Oath
Tamworth Herald – 22/02/85
Musicbox – Shock waves on battleground
Smashing time as riot hits stage
TOMORROW night Tamworth Arts Centre will play host to the final of the keenly-fought 'Battle of the Bands' contest.
The final, featuring five groups will be the culmination of four strong heats, the last of which is at the Arts Centre tonight (Friday),
Already the contest has attracted great interest and has been packed full of surprises and controversy.
It all began last Thursday when three very different acts – Dance Stance, One On One and The Original Royal Family took to the stage.
Controversy started to rage however, when one of the five judges was disqualified for walking out half-way through the gig of the last band The Royal Family. The disqualification gave One On One a clear victory, making them the first band into the final – and therefore the Bank Holiday rock festival.
Overflowing
Twenty-four hours later at the Arts Centre a packed-to-overflowing audience saw an amazing four-band contest. Childs Play opened the proceedings with their former guitarist, who had been dragged out of the bar because their normal player had disappeared!
The shock continued when Vicious Malicious – an unholy alliance of Select Elect and The Elusive They took to the stage and proceeded to smash up guitars and tape recorders as well as run riot with a chainsaw. The word was bizarre. All part of the act, of course.
And, if that wasn't enough of a culture shock to the audience, then the new Pulsebeat, who after starting cautiously, had the whole crowd on their feet with some brilliant, individual guitar playing.
By now nothing could be surprising – but last band Scarab almost were. They came on and gave a blinding show bashing out 100mph rock anthems which sent their loyal fans into a state of acute frenzy. They threw in volcano-style fireworks, flashing lights and fake blood to provide a riveting performance. Needless to say they won, so booking their automatic place in tomorrow's final.
The third heat was held last night (Thursday) and one of the following four acts will be in tomorrows final – Ideal Standard, Spirit of Water and Sitting Pretty.
The final heat will be tonight when Breaking Point, BHX, Sacred Oath and Caprice will battle it out.
Each of the acts has a lot going for them and predicting the result is extremely difficult.
BHX have proved their status by being offered several dates all round the country; Sacred Oath are now back fresher and more determined; Caprice get more confident with every gig and Breaking Point are Breaking point.
Surpassed
Don't forget there will also be a place in tomorrow's final for the highest scoring runner-up during the whole contest.
On the first two heats, Childs Play and Pulsebeat both with 59 points held second equal though it is likely that this total will be surpassed tomorrow night.
So an extraordinary night is in prospect. The finalists will be given only 20 minutes to impress the judges that they are Tamworth's top band. The overall winner will be invited to play at the Young People's Arts festival night in March where they will also be presented with their winning trophy.
Saturday's final starts at around 8pm and entry is 60p. it is going to be packed to the rafters so people are advised to arrive early to enjoy this potentially tremendous occasion.
SAM HOLLIDAY
Tamworth Herald – 22/02/85
Musicbox – SNIPS
DON'T forget Thursday night is another big gig night. The Jolly Sailor is throwing open its doors for a major three-band show featuring The Original Royal Family, Talk Back and Sitting Pretty. Entry to the gig is just £1 with proceeds going to the Ethiopia Fund.
Tamworth Herald – 10/05/85
Musicbox – GOSSIPBOX
EVERYONE likes sax. It adds a certain beauty and feeling to any music and yet it seems for every good sax-man in the town there are at least ten good axe-men.
So it is refreshing to hear that Tamworth's leading exponent of the instrument has decided to start teaching it so you can learn everything you always wanted to know about sax but were afraid to ask.
Harry The Sax, who has played with The Royal Family and a host of other local bands thinks it's time that the traditional sax teaching (making people play 'Coming Round The Mountain', 100 times according to Harry) should be stopped in favour of letting people learn how to play soul and rock.
It all sounds very interesting so if you have a sax and want to learn how to play it give Harry a ring.
Tamworth Herald – 13/09/85
Musicbox – SNIPS
The Royal Family, fresh from their triumph at he August Bank Holiday festival, hit the Arts Centre tonight with the highly-rated Certain Circles. Certain Circles have influences including The Talking Heads and Simple Minds and they impressed everyone who saw them when they recently paired up with Femme Fatale. The fun starts at 8pm.
Tamworth Herald – 13/09/85
Musicbox
The Royal Family have lined-up a major gig at Peacocks in Birmingham on Saturday playing alongside The Prehistoric Pets. The band have also managed to find support slots with long haired hippies, Balaam and The Angel and filth punk rockers Conflict. More details later.
Tamworth Herald – 20/09/85
Musicbox – LOVE'S LABOURS ON SHOW…


Love On Board have been lined-up as one of three bands in a special labour Party benefit show at the Arts Centre next week. The gig on Friday, September 27 will feature not only Love On Board (above) but also Breaking Point and The Royal Family in one of the first ever political gigs in the town. More details about this unique Arts Centre line-up in next week's Musicbox.
Tamworth Herald – 27/09/85
Musicbox – Tuning up for Party time…
THE PARTY political conference season may be in full swing, but more unusually Tamworth hosts two party political concerts!
For the Arts Centre is staging a tremendous three-band line-up under the Rock Against The Dole banner, organised and funded by the Tamworth Borough Labour Party.
And just up the road on the same night, Femme Fatale will be joining rock and roll eccentrics Jet Morgan and the Phantoms in a St. John's Hall show in aid of the Ecology Party.
Both concerts look like being very entertaining but according to a MUISCBOX opinion poll, Labour has a slight percentage lead over the Ecology Party. The reason is that they have Breaking Point, The Royal Family and Love On Board rocking on their behalf.
The Royal Family, who have started to make a name for themselves out of town, bring their inspired lunacy to the Arts Centre at a time when interest in the group is at a new peak. And with love On Board, bringing their bubbling cocktail of talent and enthusiasm to the show it promises to be a night for literally rocking against the blues.
Up the road at the same time, you can rock for the greens with Femme Fatale's black melancholy sound providing the perfect foil for the rock and roll extravaganza that Jet Morgan and the Phantoms serve up.
Tamworth Herald – 18/10/85
Musicbox – Only The Sway was left at breaking point!
IAN GIBBONS has been roving outside the town recently watching three of the areas top bands, Breaking Point, The Sway and The Royal Family, take on new audiences in London, Birmingham and Dudley respectively. Here are a few of the comments he made about these very contrasting gigs:
The Royal Family – (playing with hardcore punk band Conflict). Dave Smith looked scared to death and come to think of it, I don't blame him…The Royal Family firmly stamped their blend of R 'n' B on the anarchist punk audience who just looked on spellbound as the band went from strength to strength.
Fun approach
In a night of political anarchistic numbers, the audience really appreciated this type of fun approach and it seemed that every member of the band grew in confidence as the set went on – my only criticism of the band is that I would like to see them write some of their own numbers, but thanks anyway lads for a good night out!
The Sway – Birmingham would not know a good band if it trod them on the foot…It soon became apparent to the band that this was going to be hard work and after their best number "The Sea", lead singer Chris asked when they would start the bingo which summed up the whole situation perfectly…It seemed a great shame that the small and boring audience didn't seem to want to listen, but don't worry lads, the music was fine – though not the ideal sound for a funeral parlour.
Breaking Point – I was left completely overwhelmed by the performance of Daydo and company…Breaking Point looked and sounded hungry and raw, they worked hard for their applause and looked genuinely grateful when they received it. 'Ode to Nicholas Romanov" was performed with conviction and feeling which in turn produced a strength, power and raunchiness miles above the other two bands that were to follow.
A new band with a Cramps feel sent out an urgent appeal for a new guitarist. The unnamed band can be contacted via Simon Mills.
Tamworth Herald – 08/11/85
Musicbox – A night to remember


THE final details about Tamworth's exciting 12-hour musical marathon for Ethiopia have just been released.
The show on Saturday December 21, will feature among others, The Dream Factory, Wolfsbane, Breaking Point, The Royal Family, The Sway and Femme Fatale.
It will also include the first – and probably the last – live appearance pf 'TamAid' and as a whole it promises to be a night which musicians and spectators alike will not forget.
"This is our way of saying thank-you to Bob Geldof, all the artists involved in Band Aid and relief agencies all round the world who are trying their best to stamp out poverty," said crusading organiser Ian Gibbons.
As many of you may know, the show which can virtually be seen as a festival, is the centre of a nationwide 'Live Aid' bonanza which promises to raise thousands of pounds.
On the same night as the Tamworth show, there will be similar gigs all round Britain with around 30 or 40 other towns expected to take part. As an example Leatherhead this week sold out ALL of its 2,000 £8.50 tickets showing just how the idea has caught on nationally.
"Everything is going very well but we must make sure Tamworth which started the whole thing off, id the best of all," enthused Ian. "It is going to be a brilliant night."
The show has been given the full support of Band Aid – who have said they will try and fix a rock VIP to visit the town on the day to give the campaign a boost.
Also on the same day, the Ethiopian Committee are calling on all nightclubs, working men's clubs and a multitude of other organisations to join in a day of action for Ethiopia. Whatever happens it is going to be a night where a lot of money is going to be made for famine victims, and a night when Tamworth can hold its head up high."
"I am sure we will sell all our tickets in Tamworth, and as it is just £2 for the whole twelve hour show I am sure people will take part in raffles and put money in buckets," said Ian.
For that meagre £2, people can enjoy the spectacle of not only six brilliant rock bands but also the more diverse sounds of The Banned Wagon and The Trout Brothers. In addition there will be lots of good disco courtesy of Beuwey and the much-loved Buttercup and raffles, speeches and numerous other sidelines.
The doors open on the event at 11.30am and musically it gets off to the most powerful start with Wolfsbane at 1pm. The Banned Wagon appear an hour later, Femme Fatale are set for 3.30pm and then The Trout Brothers hit the stage at 5pm. At 6.30 Breaking point step out to do their passionate parade, and an hour later Rikk Quay and the boys are up on stage. The Dream Factory are due on at around 8.45 and then The Royal Family get into the swing of things at about 10.15, 'Tam Aid' are expected to hit the stage after 11.30 to round off a day that already looks exhausting just thinking about it!
Tickets should be available soon from Tamworth Ethiopia Committee members or members of the individual groups. They are expected to sell out quickly so be warned. It is a night which you simply cannot date to miss.
Tamworth Herald – 08/11/85
Musicbox – GOSSIPBOX
Queen to visit her Royal Family?
THE Queen looks set to visit Tamworth. She is coming to meet The Royal Family – probably at Tamworth Castle. Amazed? Well things are not quite what they seem…The 'Queen' in question is world-famous look-alike Jeannette Charles, the woman who has appeared on countless TV programmes and adverts as Queen Elizabth II.
Although nothing is as yet confirmed, it seems Tamworth's own Original Royal Family want to make a video to complement their first-ever demo, and who better to appear in it than the natural head of the Royal Family herself? Negotiations are still at a tender stage, but if it all comes off, it promises to be a very intriguing session indeed…
Tamworth Herald – 29/11/85
Musicbox
APOLOGY to anyone who was waiting to see particular items in this week's Musicbox – i.e. Royal Family demo tape and Ian Mead's Hawkwind review – but the poll has obviously taken precedence. We hope to include these items soon.
Tamworth Herald – 06/12/85
Musicbox – Royal Feast
The Original Royal Family – Demo
IT is a well-known fact that live on stage there are few bands to match The Royal Family. You would have to be deaf, cynical or completely out of your tree to come out of a Family gig without a wide-berth smile all over your face. There R 'n' B sounds reach parts other bands cannot reach and whenever they hit the stage, the floor starts to gyrate under the pressure of mass dancing.
Well now you can have this bubbly and loveable sound right in your own living-room, bedroom or airing cupboard. For the group have just released a smashing new demo tape which perfectly translates their stageshow onto your sideboard, OK, so you don't get the infamous Dave Smith facial tricks but the sounds are like music to your ears.
The tape is five tracks long and contains the first recorded 'original' by the band. Up to now they have been content to play cover material, well aware of its customer appeal, but as they are getting gradually bigger and more noticed, they wisely see the need to pen their own music. Their track is 'It's My Own Fault' a sweet little love song that wallows in its own sleaze. It has a neat atmosphere and to my mind should have been the first track on the tape.
The covers are all Royal Family classics the best of which is probably 'I Can Tell' which positively chortles along and is so irresistibly catchy you find yourself strutting around the bedroom like Mick Jagger gone do-wally.
Musically it is almost faultless, Dave Smith as always has been one of the town's greatest singers, and his tremendous vocalisms never let up once. Also there is some very impressive guitar work, by Les Jones, one of those truly annoying musicians who seem to do extremely good things but makes them look a relative doddle, and fine back-up by Nick Jones on drums, Harry Facer on sax, Steve Sutherland on harmonica and Daydo who guest-starred on bass in the temporary absence of full-time member Eddie. Oh yes, Paul Speare also chipped in with some baritone sax but then again a tape without him on it somewhere has yet to be released in Tamworth! Still in his other role as co-producer with Phil Smith, Paul has shone again proving the increasingly high standard of work to come out of the Expresso Bongo stable.
All in all a fine tape which couldn't be more timely. This is ideal Christmas music to dance, sing and make a fool of yourself to. Go buy yourself a smile…
Tamworth Herald – 20/12/85
MUSICBOX – Big hearts fine sounds unite
Tonight we have the excellent Terroa lining up with alternative poet Joolz at the Arts Centre and then tomorrow night at the Assembly Rooms, we have probably the greatest local gig ever seen in Tamworth.
The Dream Factory, Royal Family, Breaking Point, Wolfsbane, The Sway and many more will present a 12-hour Christmas present for the town's rock fans and the silent millions such concerts are designed to help.
The doors open at 11.30am and after a nice session with that most impressive of DJs Buttercup, it is straight onto Wolfsbane at 1pm.
After the marvellous slice of ear-bashing, there is more disco and then it is the turn of the Banned Wagon to do their bit for charity and musical culture.
Femme Fatale hit the stage at 3.30pm to be followed by the DJ with impeccable taste Beuwey and then it is time for Trout Brothers. By now it will be time for Breaking Point…The Sway…The Dream Factory…The Royal Family.
During the day there is the possibility of a few star guests, new bands, raffles, competitions and fun by the literal bucketful.
Tickets for the event are a mere £2 and that entitles you to come and go as you please – although it would be better if you stayed of course!
It looks like being the best day of the year for the areas music scene, and one which will show that for thousands of people up and down the country the Ethiopia tragedy is still very much on our minds.
On a personal note. I would like to express a vote of thanks to everyone – especially Ian – who has helped to arrange this marvellous weekend.
Tamworth Herald – 27/12/85
Guitar thieves who soured charity special
MEAN-MINDED thieves soured the charity event by walking off with a guitar belonging to Royal Family bass player Eddie Blunt.
The Royal Family were the final band and as the last cheers were dying away, thieves entered the dressing rooms and took Eddie's guitar – a Westone Thunder One valued at £150.
The shocked and saddened musician explained that he had become very attached to the guitar, "It was the best one I have ever owned," he said. "As I am on the dole, it is going to be very hard to replace.
"In the meantime, I will have to borrow a friend's. It will take me ages to buy another," he added.
Tamworth Herald 03/01/86
Musicbox – Factory floor the opposition to make a hat-trick…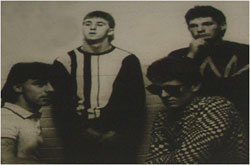 THE Dream Factory have done it again! Yes, for the third year in succession, Tamworth's favourite soul men have pipped all opposition to once again claim the top local band slot in the Musicbox poll.
They did so despite a fantastic turnout of votes for new boys Terroa, who just lost out by virtue of the masses of votes the Factory received not only for first place (which was worth three points) but also for second (two points) and third (one). Wolfsbane, Breaking Point and Royal Family fans by the score put the Factory as their second choice and as the poll entered its last frantic days, it was clear the band were going to do it again.
Landslide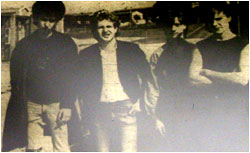 But that was not the only joy for the band. Because they have had such a big national profile all year I allowed them to be included in the Top National Band sector – and they won that with a landslide.
And the same went for the band's tremendous 'Wine and Roses' single which floored all the opposition.
Just to complete the (wine and ) rosy picture, the group had four songs in the top twenty local song section, and also had Mark Mortimer and Tim Goode voted into the top five local personality section.
Dream factory take a bow – you have won it again and you have deserved to do so.
It wasn't only The Dream Factory's poll though. Terroa as well as scooping the runners-up slot in the top local band, also won the best local song award with the excellent 'Thunder and Lightening'. If the views of the hundreds of people who voted (we passed the 500 vote mark with ease) are anything to go by, Terroa are the group you think are going to make it next year.
Still in the local band section, The Royal Family finished a strong third well ahead of the bands beneath them. Like The Factory they seem to have universal support from people of all musical tastes and there is no doubt their popularity is now at an all-time peak.
It should bring a smile of Steve Martin-style proportions from Dave Smith and Eddie Blunt!
Places four and five went to two bands from the Atherstone area Dance Stance and The Me, a band who seem pretty big in North Warwickshire and will be investigated further in the near future.
It was nice to see Dance Stance up there – and also the likeable Paul Hanlon in the personality section – and with Nick Reed now in their line-up, I have a sneak feeling '86 will be very good indeed for the Atherstone band.
Elsewhere, Freight Train showed they have made considerable impact and Wolfsbane proved that their appeal goes far beyond strict heavy metal types judging from the people who voted for Jeff, Bayley, Jase and Stakk.
Breaking Point also had their best ever poll result and it was very nice to see the now defunct Love On Board still hold a special place in a lot of people's hearts.
Delighted
Completing the top ten are Femme Fatale who will be delighted with their debut show in the poll, and then the next five or six bands all came very close indeed to one another. The Sway, Magnets and Sitting Pretty all started well but faded somewhat but overall it was nice to see that virtually every band in the whole district had some supporters.
Just missing the top twenty, for example, were Depth Charge, Banned Wagon, Scarab, Boozy Brothers and Pulsebeat.
The local songs section was pretty reflective of the local band poll but it was pleasing to see people voting for songs that were not by their favourite band, which showed there is a lot of unbiased 'general' listeners among local rock fans.
Perhaps the only surprise was that Breaking Point only managed a top twenty placing (and that was at 17) but you can't have everything.
In conclusion, everyone who votes, many thanks and to all the bands who have made the year so exciting, a double-dose of thanks. Let's now make '86 even better.
Top local band
1. The Dream Factory
2. Terroa
3. The Royal Family
4. Dance Stance
5. The Me
6. Freight Train
7. Wolfsbane
8. Breaking Point
9. Love on Board
10. Femme Fatale
11. The Sway
12. Spirit of Water
13. The Parade
14. Sitting Pretty
15. Trout Meets The Cavalry
16. Dickens
17. Judas Cradle
18. The Magnets
19. Powerplay
And no here's how I'd have voted
Just to complete the overall local music award section, here are the people, the musicians and bands that I think deserve credit in '85:
Top Band – Breaking Point
Top Local Song – 'Come The Day' – Breaking Point
Guitarist – Jase The Ace/Tim Latham/Nick Reed
Drummer – Stuart Blane/Steve Quilton
Bass – Daydo/Mark Mortimer
Keyboards – Rikk Quay
Vocalists – Dave Ingham/Dave Smith/Debbie Whitty
Best Live Band – Wolfsbane
Most Improved Band – Dance Stance
Most Likely to Make it in '86 – Dream Factory
Best Gig – Breaking Point, The Sway, The Magnets Tamworth Arts Centre
Best Demo – Wolfsbane
Best DJ – Buttercup
Best Songwriters – Kevin Briggs/Bryan Lacey/Jase The Ace/John Reeman
Best Lyricist – Bryan Lacey
Haircut – Mick Rutherford
Best Dressed Person – Jeff Hateley
Saying of the Year – "I can't get me breath' – Buttercup
Personalities of local music scene – Ian Gibbons, Tim Goode, Rikk Quay, Eddie Madden, Blaze Bayley, Dave Ingham, Mike Turner, Paul Speare, Phil Smith, John Reeman, John James, Mike Fleming, Sage Side Psycho, Mark Mortimer, Jeff Hateley, Kevin Briggs, Star Trek, Trevor Muglestone, Dave Smith, Mick Goodby, Buttercup and everyone else I've missed.
SAM HOLLIDAY
Tamworth Herald – 17/01/86
Musicbox – Never mind Heseltine, what about Rikk?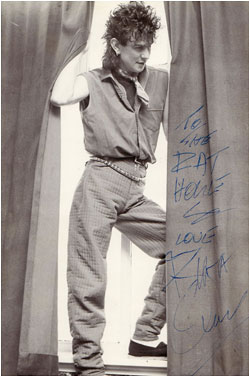 Caption: Rikk Quay…alone again naturally!!
WELCOME to the first Gossipbox of 1986 – a year in which we hope to be just as vicious and malicious as last year…
We start with two bits of news that makes the Michael Heseltine resignation pale into complete insignificance. Rikk Quay has left the Sway and Dave Smith has left the Royal Family.
These two bombshells have rocked the local scene that saw in The Family and The Sway two of its finest and most promising acts.
According to handsome teenager, Rikk, he has left The Sway because of a difference of 'reality'. Now I hope he will take up that solo career again because when it comes down to it he is one of the very best frontmen around.
That other great frontman Dave Smith apparently left the Family shortly after the new year following an argument. At first it was though the whole band would collapse but now it seems a replacement singer may take his place. We shall wait and see…
Tamworth Herald – 21/03/86
Musicbox – Succeeding with talent and mouth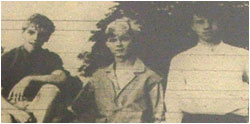 I HAVE recently been filing all my old MUSICBOX columns from the past three years or so and as one of those academic exercises, I decided to see just who has been the most featured band in the column over that time.
People often accuse me of bias in various directions but I think the 'top ten' of mentions shows that I have managed to cover the whole spectrum of local music from the 'lightest' to the 'heaviest'.
This was not a scientific exercise, I merely flicked through the columns and noted the names of bands whenever I saw them. So a 'mention' could be just one line or a full feature. Anyway here's the top ten from 1983.
1. The Dream Factory (60 mentions), 2. Sitting Pretty (57), 3. Breaking Point (53), 4. Wolfsbane (52), 5. BHX (51), 6. Love On Board (49), 7. One On One (37), 8. The Magnets (32), 9. Sacred Oath (25) and The Cradle (25), 10. The Royal Family (20).
Outside of this batch as a matter of interest were Terroa, Dance Stance, A5 and Caprice. At the other end of the scale there were local bands whose name were featured only once such as Alibi, The Fashionable Gents, Bambu Curtain and The Time Bandits.
Tamworth Herald – 30/05/86
Musicbox – SNIPS
THE Original Royal Family return to live action on Sunday with a special one-off gig with Depth Charge at The Rathole. It all starts at 8pm and a great night is in prospect.
01/06/86
The Original Royal Family
Depth Charge
The Rathole
Tamworth Herald – 22/08/86
Musicbox – Here's the fabulous festival line-up
TAMWORTH'S fourth annual Bank holiday rock festival blazes into action this weekend and promises to be the biggest and best the Town has ever seen.
Eighteen bands will take to the Castle Grounds stage on Sunday and Monday offering a varied and exciting package of local talent.
And, to give the festival the best possible start, Tamworth Arts Centre will tonight (Friday) and tomorrow stage two festival party nights featuring among others Wolfsbane, Breaking Point and a one-off show from Love On Board.
All in all it looks like being a festival to remember and here in full details is what is happening where and when.
Tonight
The festival starts with an Arts Centre triple bill featuring three bands from the heavier side of life. New boys Shellshock will join up with not-so-new boys Kara and positively-old boys Wolfsbane for a sparkling three band show. As with last years, the Arts Centre pre-festival nights are designed to be party-style events and everyone petting into the spirit (and spirits) of the weekend. It starts at 8pm costs 50p and should be excellent.
Saturday
ANOTHER enticing triple bill will especially interest people of an alternative (sic) persuasion. Breaking Point, who hope to have their debut single out this week, will headline the show and in support will be two unusual acts. First is 13th Reunion featuring the immortal Gerald on bass and second is Love On Board making a special one-off comeback gig to join in the party atmosphere. It adds up to a superb bill which marks the debut show for 13th Reunion, and once again is a meagre – nay, measly! – 50p
Sunday
AND SO to the main event. Two days of exciting, varied rock music in the Castle Grounds. Once again the stage will be set up in front of the tennis courts at the far end of the Castle Grounds, and as with the past couple of years, it will cost you nothing to watch. Here is a quick one-line description of all the bands on show and their (approximate) appearance times…
Heavy
Freefall (12.20) A Coventry heavy band (that's all I know!)
Attica (1.05) Powerful bass-driven combo who crimp their hair and slice their guitars.
Shellshock (1.40) Young lusty metal sound, who smile a lot.
Soil Brothers (2.15) Skiffle-style pop played with coconuts, cardboard and oodles of enthusiasm.
One On One (2.50) Nose-perfect rock music played by soon-to-be superstars.
Noise
Kara (3.25) loud Americanised noises played by local Anglicised noise-makers.
XPD (4.00) Stylish alternative pop music, which cab be summed up as 'ego-shock' rock.
Catch 23 (4.35) Pure-punk-period pop music with panache, power and passion.
The Magnets (5.10) Modern synthesised pop music played by modern synthesised pop people.
Monday
ONCE MORE the Castle Grounds plays host to nine more varied outfits who line up like this.
Burnin' Sky (12.30) Coleshill-based r 'n' b band who revel in the smoky, sleazy way of life.
Beyond Elysium (1.05) Dark sombre sounds with a modern appeal and feel.
Funky
Cuddly Spiders (1.40) Laid-back harmless flares rock.
Breaking Point (2.15) Passion-packed soaring, roaring rock music.
Dance Stance (2.50) Tight, funky nouveau-pop with a burning soul.
Wolfsbane (3.25) Gentle, middle of the road folk band made up of four charmingly polite young boys. A mud afternoon break from all this rock nonsense.
Depth Charge (4.00) Cuddly rock and roll pirates bursting with good times.
Orange (4.35) Deceptively light pop music with a telling edge. Bright, breezy, orangey.
The Royal Family (5.10) regal r 'n' b with guaranteed dance-ability and toe-tapping tendencies.
Tamworth Herald – 14/11/86
Musicbox - Get set to feel good!
TAMWORTH Assembly Rooms hosts the biggest concert the Town has seen in years on Thursday when the mighty Dr. Feelgood team up with Strap On Jack and The Royal Family for an r 'n' b extravaganza.
Rathole chiefs Ian Gibbons and Chippy have laid out a huge amount to bring the Feelgoods to the Town and they hope rock fans from all around Tamworth, Atherstone, Coleshill and beyond will fill the Assems to capacity.
Ian and Chippy know that it is a real gamble to bring such a big band to the Town, but they feel it is a gamble they had to take.
Amazing
"We are not sure how we are going to do on the night but we are still looking forward to it," said the amazingly enthusiastic Mr. Gibbons.
Already 100 advance tickets have been snapped up for the show, but the organisers expect most people will turn up on the night despite the tickets costing slightly more then.
The Feelgoods have been a rock and roll institution for …Their pulsating r 'n' b has inspired legions of pre-punk, post-punk and punk-punk bands and they have a reputation for producing amazing live shows.
It will be the first time they have played Tamworth although they are certainly no strangers to new venues. They have toured the unchartered waters of the Australian outback on many occasions and have also done concerts in Lapland (where Father Christama comes from I think).
Mainstay of the band is the legendary singer Lee Brilleaux who is joined by Gordon Russell, P.H. Mitchell and Kevin Morris. Their set includes everything from Undertones covers to their own hits 'Milk and Alcohol'. They are simply unmissable.
Joining them will be my Rathole faves, Strap On Jack and everyone's funtime faves The Royal Family, who are very excited to be playing with their Feelgood heroes. The whole night lasts between 7.30 and 12 on Thursday and it is the biggest and most important gig in Tamworth for a very long time.
If you want to see Tamworth continue to be a major rock venue then don't miss this Assembly rooms event. Advance tickets are available from Manhattan, Tamworth Arts Centre and Inner Sleeve at £3.50 or they cost £4 on the night. It may sound a lot, but believe me this will be one of the nights of the year. Let's all boogie-woogie!
Tamworth Herald – 28/11/86
Musicbox - Gigs galore…
SO MUCH has happened of late that I can only write very briefly about these gigs. Still, here goes…
The Royal Family – Assembly Rooms
Started coldly but soon warmed up and reached the parts other bands wouldn't even want to find. Despite an early start and a poor sound, the Family went from strength to r .n. b strength and were loudly called back for an encore, which they resisted. Dave Smith's T-Shirt stole the show and I hope one day he will explain it to me!
Tamworth Herald – 12/12/86
Musicbox – SNIPS
A right royal occasion!
THE RIOTOUS Royal Family bounces back into action on Saturday night when they spearhead a special concert in aid of the Labour Party. Dave and the boys will be at the Prince of Wales alongside immortal Buey who will be presenting his Redstar Roadshow. It will probably not be quite such a late night as your average Rathole bash – so get there early.
Tamworth Herald – 10/04/87
Musicbox – SNIPS
The Royal Family are back! The band are now back in the rehearsal room with a new singer in the hairy shape of Vic Taxi. Vic is an acknowledged fruitcake-lunatic, who loves music and drives around in a taxi scaring everyone to death. Eddie Blunt, the Family's bassist, is delighted with the group's new acquisition and Vic Taxi is equally enthusiastic. I for one am keen to see the patron saint of Taxi driving lunatics on the stage, because at least it will keep him off the roads!
Tamworth Herald – 26/06/87
Musicbox – SNIPS
Former Royal Family lead singer Dave Smith has proved his worth in a totally new field. For Dave has been starring with the Wiggy FC in a special five-a-side soccer contest at Bolehall and has been showing he is just as talented with the ball as he is with the blues.
Tamworth Herald – 10/07/87
Musicbox - SNIPS
Our congratulations to former Royal Family lead singer Dave Smith who won our recent Marillion competition. His clear, well-argued answer was far more coherent than Marillion's lyrics and he is a worthy winner. Thanks to all those others who entered including Steve Rattigan, PJ Rogers, Paul Evans, Mike Fleming and David Lee Rothes Jockstrap all of whom produced witty retorts and clearly got into the mood of the contest.
---
The Royal Family
If you have any further information about this band please email: info@tamworthbands.com