Talk Back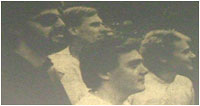 Talk Back
Photograph courtesy: Tamworth Herald

The Gallery
Musical Genre/Type: Pop
Formed: 1982
Band Members:
Nigel Dalton (Guitar and Lead Vocals)
Steven Mason (Bass Guitar)
Alan Watkins (Synthesiser)
Ian Pritchard (Drums)
Gigs:
10/08/84
Elusive They
Talk Back
Tamworth Arts Centre
11/01/85
Talk Back
Tavern in the Town
02/02/85
Sitting Pretty
Talk Back
Tamworth Arts Centre
29/02/85
Original Royal Family
Talk Back
Sitting Pretty
Jolly Sailor
Tamworth Herald – 24/06/83
Musicbox – A band to talk about
TALK BACK – an Atherstone-based band – are wasting no time making their mark on the music scene.
The four-piece outfit were formed about a year ago and already they have secured a place on a compilation album to be released shortly.
Talk back's line-up is Nigel Dalton, guitar and lead vocals, Steven Mason, bass, Alan Watkins, synthesiser and Ian Pritchard, drums.
All of the band members have played in other groups before, but have managed to keep pace with the times.
Their sound is much in keeping with what's happening on the music scene now – modern, uptempo and sometimes danceable.
They have recently recorded a two-track demo tape at a Midlands studio.
One of the songs 'Guessing Games', has been chosen for the aforementioned LP, which will feature up-and-coming bands from all over Britain.
It's by far the stronger of the two, benefiting from a solid rhythm and an instantly-recognisable hook line.
Drums and bass combine well and the presence of the synth gives the track its modernity. The guitar work and quality of Nigel Dalton's voice are also good.
'So Lonely' is similar in style, but falls way short of the mark. Musically and lyrically it's OK, but the song starts in a rut and never recovers.
The tape is a fine effort though and hopefully it will be a success for the band.
Tamworth Herald – 21/10/83
Musicbox – TALK-BACK MOVE INTO TOP GEAR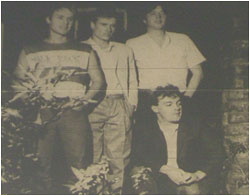 A TAMWORTH band who have been happy to stay on the sidelines until they were absolutely ready, have finally launched themselves on the local scene in a big way.
Talk Back introduced themselves to local people last week with a triumphant gig at the Tavern in the Town.
And now they are going to follow it up with a single, an appearance on a national compilation album and several prestigious gigs in Birmingham.
The remarkable speed with which things are now happening for the band is in sharp contrast to the last two years when the group have been happy to stay in the wilderness. But now they have decided to come out of the darkness because they believe they have seen the light at the end of the Tamworth music tunnel.
"We were never very interested in playing in the town, but there now seems a new mood around and we are looking for the support of people to help us on our way," said guitarist Nigel Dalton.
And they certainly got that support in their show at the Tavern. Playing a set full of originals, the band gave an energetic performance that shows them to be an exciting addition to the local scene.
Describing the band's sound is very difficult, but if you can imagine a bigamous marriage between Men at Work, Flock of Seagulls and Duran Duran you would come quite close to understanding Talk Back.
"We are very ambitious and we now want to go on to play more gigs and gain a good reputation," said Nigel.
And with a single due out shortly, and a track on an album that launched the Thompson Twins also set for release, the future can only be bright for Talk Back, the band who have finally decided to talk out.
SH
Tamworth Herald – 18/11/83
Musicbox – Come on, join the bands
SEVEN Tamworth bands will be battling next week to win the prestigious Burton Musicians Union rock and pop contest.
This year the contest – which has included several top Tamworth bands over the years – features 24 groups from all over the East Midlands.
The contest is divided into four separate heats from Monday to Thursday and the top two bands on each night will be asked to appear at the grand final on Friday.
The amount of competitors from Tamworth is the highest ever – reflecting the increasingly healthy local scene.
On Monday night the town's sole representatives are Talk Back who with their professional and commercial sound are sure to take some beating.
The following day tow Tamworth bands will be opening the proceedings – Vince Watts' new band Formaldehyde and the rock band Prophecy, who line up alongside two bands oddly-named A5 and Minnus Tyreth.
Final
On Wednesday night two of the town's top bands, Laughter in Heaven and the Royal Family, should guarantee that at least one local act makes the final. Laughter's gothic sound and the Royal Family's blues could not be further apart musically but they are both certain to excite the panel of judges.
Thursday night throws up a very unusual coincidence. BHX and Eyes will both be appearing – the night before the two groups will be playing together in a previously arranged gig at the Arts Centre.
With such a varied selection of local bands playing, by the time you read this it is possible that three or four Tamworth bands will be getting ready to play at the grand final for a variety of prizes.
One things that all bands could certainly do with is support. In previous years Tamworth acts have suffered because they took no followers with them while groups from Burton and Derby particularly seemed to bring armies of fans.
Entrance to the Burton Town Hall on all five nights is just 50p – a remarkably small sum to see six new bands a night in action. It would do the Tamworth music scene enormous good for one of our bands to win 'away from home' and we must all keep our fingers crossed for local success.
SAM HOLLIDAY
Tamworth Herald – 09/12/83
Musicbox – Success at a single stroke…


ONE OF TAMWORTH'S most exciting musical prospects – Talk Back – have just released their first, highly successful single. It comes out on the band's own Cottage Records label, and is a tight, punchy and very commercial release which could put the band well on the way to much-deserved recognition.
It has managed to translate Talk Back's impressive live sound into a rich, textured single full of life and promise.
The 'A' side, "Pleasure", is a soft, very intelligent song which manages to be both technically skilful and commercially accessible.
Nigel Dalton's strangely abstract voice sounds almost exactly like the Men At Work vocalist and when it is supplemented by the well-balanced rhythm section, the overall effect is very impressive.
The 'B' side, "Every Day", is perhaps even better with its slightly more aggressive edge. The song is on the much-worked theme of surviving the drudgery of the day with one eye on the night, and is once again superbly sung by Nigel Dalton.
One of the best aspects of the song is a brief but effective keyboard break by Alan Watkins which is very reminiscent of latter day Duran Duran.
Both songs show the group to be bursting with ideas and talent. Their sound is the sound of the 80s but their originality still manages to shine through.
It may not end up as the Christmas number one but I would urge all Tamworth music fans to buy the record.
Talk Back have a bright future ahead of them an this record can only help bring that glittering future all the closer.
SAM HOLLIDAY
Tamworth Herald – 10/08/84
Musicbox - Come join the bands
It's going to be another hectic week end for gig-goers, with five of Tamworth's top bands in action over the next two nights at the Arts Centre.
Tonight (Friday) The Elusive They will headline the first show alongside the rejuvenated Talk Back, who have promised a totally different set.
And the tomorrow night, ever active Love On Board will headline a show which will also feature the return of The Classified Ads and confident pop outfit Mystic Hero.
Tonight's two-band show looks interesting for a number of reasons. The Elusive They, who made such an impression with the loopy Delusions of Grandeur, have a rich synthesiser based sound which has more than a touch of Soft Cell about it. Avoiding many of the normal synth band clichés, the group play an enthusiastic set of originals which are made all the more palatable by the buoyant onstage antics of the trio.
They are the sort of band who are determined to enjoy themselves no matter what anyone else thinks and it is that easy-going attitude that will probably make them a big hit tonight.
Support act Talk Back, who are probably one of Tamworth's most consistent live acts, have promised a totally different set to what spectators may have been used to in the past. The band have spent a long time writing new material in time for the Bank Holiday Rock Festival and they are keen to test the water at the Arts Centre in advance.
The gig is set for an 8pm kick-off and tickets should be available on the door.
Twenty-four hours later on Saturday night, Love On Board will step out to headline at what is expected to be a capacity Arts Centre gig. The band, who have made the summer all their own, have a very broad-based appeal wrapping up several musical passages inside a commercial framework which guarantees a big following.
They have a sound that fits into the current wave of 'modern pop', an all-embracing term covering bands such as Aztec Camera, Orange Juice, Friends Again and The Farmers Boys. The band have several other elements creeping into their sound, chiefly a touch of the late 60s/early 70s, Lou Reed and Velvet Underground, which helps to add even more colour to their overall panorama.
The Velvets are a band who have also recently influenced support act the Classified Ads. The Ads who have gone through several waves and changes in their past four and a half years appear to be coming through their very black period and have added a touch more commerciality to their hard-edged new wave music. The band have promised a good visual display and are hoping to improve on what they see as their disastrous last appearance at the Centre.
Opening Saturday's show will be lively quartet Mystic Hero who are bursting with enthusiasm and seem to improve with every show. Mystic Hero can also boast a very broad appeal and have the ability to combine simplistic pop songs with more meaty numbers packed with a carefully concealed warmth.
Tamworth Herald 07/12/84
Musicbox – GOING SHARP SHOOTING IN THE WOODS
EVERYONE wants to make a video. For all the pleasure of doing concerts or making demos there is surely nothing that can beat the delight of seeing yourself jumping around on the tele.
Well for one Tamworth band the dram of being in a story-based video has just come true. Talk Back joined forces with local video David Tighe to make a visual accompaniment to their brand new excellent demo 'Get Up and Shout'.
SAM HOLLIDAY
Tamworth Herald – 04/01/85
Musicbox – Snips
Talk Back, fresh from their trip to video land, will return to 'normal activity' on Thursday when they will return to the Tavern in the Town for their first gig of 1985. Entrance, as with all Tavern gigs, is free and the event stars at around 8.30pm.
Mega-Motown star Edwin Starr is said to be coming to live in Tamworth. The enormously successful singer has apparently bought a large house on the outskirts.
Tamworth Herald – 01/02/85
Musicbox – Sitting Pretty's new faces
SITTING PRETTY will unveil their new line-up tomorrow when they line-up tommorow at the Arts Centre with kindred spirit Talk Back.
Pretty advertised in Musicbox last week for a new bassist and drummer, and although auditions were not held until Monday, the band hope to work flat out to get their new line-up ready for Saturday.
The last time the band played was as a trio at the Tamworth Rocks for Ethiopia concert. Pete long and Julian Amos both played guitar, with Mike Turner returning to his former position behind the drum kit.
The band, however, hope that normal service should be returned on Saturday, with two brand new members on stage taking the group into an entirely new phase.
Joining Sitting Pretty for tomorrow's gig will be Talk Back who have recently had a virtual re-launch in Tamworth and made many friends along the way.
The concert begins at around 8pm and tickets are available on the door for just 60p.
Tamworth Herald – 22/02/85
Musicbox – SNIPS
DON'T forget Thursday night is another big gig night. The Jolly Sailor is throwing open its doors for a major three-band show featuring The Original Royal Family, Talk Back and Sitting Pretty. Entry to the gig is just £1 with proceeds going to the Ethiopia Fund.
Tamworth Herald – 22/02/85
Musicbox – GOSSIPBOX
THIS column's debut was very well received last week and so we hope to make it a regular feature. If you have news about local bands or musicians be sure to let us know so the truth can be told!
Well we start this week with a happy rumour that Talk Back have been linked with no less a label than EMI. According to my reliable informant, the label are very interested in the ambitious quartet and are considering sending someone up to watch them in action.
On the subject of live action. Sacred Oath are apparently planning to ask Wolfsbane to another 'Battle of the Bands' at the Arts Centre. Although Wolfsbane did a similar highly successful thing with BHX last year, the indications are that they won't pick up the gauntlet. Sacred Oath however, claim that this would be an automatic victory for their outfit.
Sitting Pretty it seems are now 'back on course' according to lead singer Mike Turner. They have recruited former Breaking Point drummer Clark Stewart and experienced bass play Steve Parkin to the line-up and although it is the latest in a series of changes, there is a general feeling that this one is going to stick.
Talking of Sitting Pretty, what have their guitarist, Julian Amos, One On One drummer Stuart Blaine and Caprice singer Mike Fleming all got in common?
Well, strange as it may seem, they have all been members of heavy band BHX at one stage. This was just one of the fascinating facts I picked up when researching BHX's history for their forthcoming national tour programme. The tour has already started to blossom with venues as glamorous as Dudley, Blackburn and Stoke-on-Trent on the itinerary. More info later.
And finally this week, news that former Classified Ads members Derek Goodwin and Paul Clements have formed a new 'sexdeath' combo on Manchester. The duo's first manic performance was described as a 'hideous noise' which apparently pleased both members very much indeed. It's all a far cry from the Classified Ads playing 'Telephone' but then again who remembers the band anyway?
SAM HOLLIDAY
---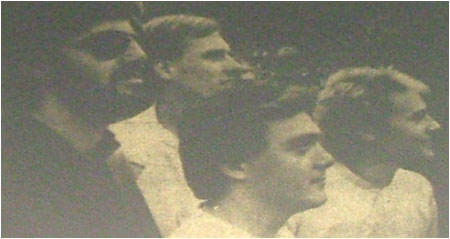 Atherstone-based band Talk Back look to the future.
From left are Steven Mason, Nigel Dalton, Alan Watkins and Ian Pritchard.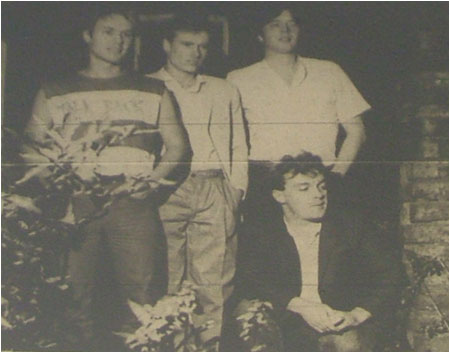 Out of the darkness and into the light…
Talk Back (left to right): Ian Pritchard, Nigel Dalton, Andrew Raddocks and Alan Watkins.
If you have any further information about this band please email: info@tamworthbands.com