Dream Factory - No.4
Musical Genre/Type: Pop / Soul
Formed: 1985 Split: 1985
Band Members:
Tim Goode - Lead Vocals (Gillway)
Lloyd Barnett - Lead Guitar/Backing Vocals (Polesworth)
Mark Mortimer - Bass Guitar/Backing Vocals (Gillway)
Steve Quilton - Drums/Backing Vocals (Polesworth)
Greg Stevenson - Keyboards/Backing Vocals (Dosthill)
Gigs
02/03/85
Dream Factory
Single Release Party
Polesworth Top Club
14/04/85
Dream Factory
Tamworth College
03/06/85
Dream Factory
Castle Donington
15/06/85
Dream Factory
Polesworth Top Club
27/09/85
Dream Factory
Tamworth Youth Centre
Brass:
Paul Langham : Tenor saxophone (Tamworth); Steve Hacking : Alto saxophone (Leyfields); Paul Stansfield : Tenor trombone (Gillway); Dave Laxton : Trumpet (Castle Gresley).
Songs:
The Beat Goes On - Mark Mortimer / Lloyd Barnett / Tim Goode
Feel Your Touch - Lloyd Barnett / Tim Goode / Mark Mortimer
Stop That Dragon! - Mark Mortimer
Love 15 - Lloyd Barnett / Tim Goode / Mark Mortimer
Mousetrap! - Mark Mortimer
Memory Lane - Mark Mortimer
Memories:
This brief line up came into being around the fall of 1985 when Tim Goode suffered his near fatal accident when his drunken high jinks on a mate's car bonnet led to him cracking his head against the pavement on the Leyfields one evening and this, in turn led to a blood clot on the brain which almost claimed his life. Thankfully, surgeons at the Midland Centre For Neurosurgery at Smethwick were just in time and the emergency surgery was successful.
Around this time Andy Codling quit the group to concentrate on playing jazz (his first love) with local combo TROUT but within a year he had teamed up with Atherstone mod band The Crowd who then changed their name to Dance Stance. To replace Codling, I revisited my earlier vision of a full-on Southern Soul styled horn section and after hunting high and low we unearthed Paul Langham on tenor sax, the very talented Steve Hacking on alto sax, Paul "Biffa" Stansfield on tenor trombone and Gresley-based Dave Laxton on trumpet. Occasionally Harry Facer (tenor sax) also chipped in but he was also playing with various other blues bands and didn't seem to want to commit. It started to sound like a real big horn section and it gave the Dream Factory a much "fatter" soul sound...rather like the Mar-Keys. Adding to this "soul" feel was the introduction of keyboards in the shape of Dosthill's Greg Stevenson who could certainly play and this made the group's sound even larger. Brass section-wise though, Dave Laxton didn't last too long and neither did Paul Langham and Steve Hacking but the highly amiable Biffa Stansfield stuck with The Dream Factory through thick and thin as this became the most unstable line up in the group's history with a number of line up changes coming fast and furious over the next 12 months.
The gigs continued to come in thick and fast still and although the national buzz generated by the "Wine & Roses" single was waiting there to be exploited, the band didn't quite kick on despite everyone's determination and commitment and VERY hard work. The situation with Tim's accident came as a severe blow (sic) and not only was it a scary and upsetting time but it seemed to steal the wind from our sails somewhat.
Thanks to: Mark Mortimer
Tamworth Herald – 18/01/85
Musicbox – Listen in…to a single with a big future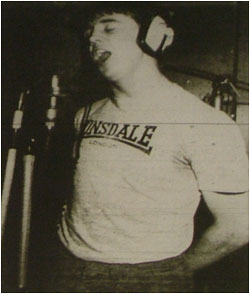 Factory's clocking in with a fine asset
The Dream Factory – Fashion Toys/Wine and Roses (single)
IF ANY OF YOU are still wondering how The Dream Factory managed to sweep the board in the Musicbox poll, can I tactfully suggest you give this record an airing.
For after all the speculation, hype and hope, The Factory have proudly emerged with the first demo copies of their debut single – and quite frankly, it's brilliant.
To people who already know and appreciate the band's music, this will come as no surprise, but I feel this is going to be a big winner with many people who normally wouldn't dream of listening to the Factory.
As a test I played the record to someone who doesn't particularly like the band without saying in advance who it was. The response was enthusiastic and it was only when I said "It's The Dream Factory" that the listener looked suitably aghast as if she had spoken out of turn.
For The Factory, this will come a great news. If their single can win over neutrals as well as fanatics, there is no reason why it shouldn't burst into Musician's Paradise – i.e. the charts.
The most wonderful thing about this single by a local band is that it doesn't sound like a local band at all. Some of the time local tapes are good – but only in the context of their environment.
This single however, would be good in any context. It is a double 'A' side comprising the funky "Fashion Toys" and the Musicbox song of the year the superlative "Wine and Roses".
Recorded in Handsworth in November, it boasts a clean, very well mixed production which perfectly seals all the bands musical assets.
Poseurs
"Fashion Toys" is a clever song about a certain pub in Tamworth, which the Factory says attracts poseurs, creeps and 'golden boys.' They don't need to name it – because we all know it anyway – but by keeping the identity guarded, it becomes a universal song – for every town has its public house black spots.
Musically it owes a lot to the funk of Frankie and the soul of the Sixties – a blending that should attract listeners from two very different musical cultures. Best of all, it has a high rating in the danceability stakes and from a purely artistic point of view, boasts some quite marvellous playing.
The 12-inch version of the single (yes they have even got those!) has an extended "Fashion Toys" which I am very much looking forward to hearing.
If "Fashion Toys" gets an 'A' rating, well "Wine and Roses" gets an 'A-plus'. No messing here, this is a wonderful Welleresque piece of Style Council pop which bounces along irresistibly.
Splattered with enticing backing vocals and brought on by a simple melody, the song is a triumphant burst which you have to be deaf – or ridiculously prejudiced – not to appreciate.
If Paul Weller had written it, it would go to number one so why should Factory writers Tim Goode and Lloyd Barnett be any less successful?
Seriously, it's great stuff and again for the purists there is an excellent sleazy jazz solo courtesy of Andy Codling.
Splendid
So, there you have it – a splendid 45 which should find its way into your record shops in the next few weeks. Personally I am going to hang on to my promo copy as long as possible and play it to as many non-Factory workers as I can.
My guess is that openly – or secretly – they are going to love it and my second guess is that The Dream factory have got a hit on their hands.
It makes you proud to think a product of the Tamworth music scene could produce such quality sounds – proud and very, very hopeful.
Tamworth Herald – 15/02/85
Musicbox
THE Dream Factory have announced a date for their 'single release party'. The band, whose superb 'Wine and Roses' single has been reviewed by such esteemed characters as Paul Weller, will be playing at the Polesworth Top Club on arch 2.
Entry to the gig will be £1 and there will be a support act, as yet unannounced.
As an indication of the band's growing stature, Britain's biggest selling rock weekly 'Sounds' will be doing a special feature on the group in the nest few weeks.
'Sounds' writer and 'Oh' poet Garry Johnson was due to spend several hours in the band's company yesterday (Thursday) and the results of his musings should be in the magazine in the next few weeks.
Tamworth Herald – 01/03/85
Musicbox - It's party time with a single message…
THE Dream Factory will be playing their eagerly-awaited single-release party tomorrow night.
The show at the Polesworth Top Club looks set to be a big sell-out as it is the band's first Tamworth area concert in a long time. Copies of the group's debut single 'Wine and Roses/Fashion Toys' will be on sale during the night when the band hope to dish out a number of new songs.
The Factory are promoting the gig as one of their most important yet and they see it as a way of saying thank-you to the hundreds of local people who have helped to push the band forward.
The group now regularly take coachloads of followers to each non-Tamworth gig, and so they are hoping this more central concert will bring in a bigger crowd still.
The single will be on sale at the gig at just £1.25 – the reduced price which people can also get the record at L.K. Records and Rock-It. The 12-inch single described by bassist Mark Mortimer as 'weird' will also follow two weeks later, and Musicbox hopes to have a longer look at this longer record when it is released.
Bit for now, all the factory's attentions are turned towards making tomorrow night's gig one of the best.
Colin Wall's disco will provide the support and tickets are just £1 on the door.
Tamworth Herald – 08/03/85
Musicbox – Factory act is a dream
TAMWORTH'S most popular band, The Dream Factory, played their single release concert at the weekend to a packed Polesworth Top Club.
The show was acclaimed a huge success and here is a review which shows the impact it made on one of the 400 viewers.
The first thing you notice about The Dream Factory at their gigs these days is that they are no longer a "local" band.
The 400 fans present were from all parts of the Midlands, confirming the band's mass appeal.
And what a gig it turned out to be! Mixing in an excellent batch of new songs with old favourites, the band got the audience moving right from the start with the wonderful "Writing's On The Wall" and kept them on the floor for an hour and a quarter.
The crowd revelled in the majestic and jazzy "Memory Lane" and went into a frenzy at numbers like "Belated Revenge" and the Northernish "Mouse Trap".
The classic "I Want To Tell You…" sounded better than ever, and the hard funky on songs such as "Game Of life" and the single "Fashion Toys" had the crowd peeling their shirts off as temperatures soared.
Everyone around me agreed that The Dream factory are now looking like the sort of band who are on the verge of challenging big 'name' bands on a national scale after being voted the area's most popular band for the past two years.
Dynamic
The set ended with Barnett's new and dynamic anthem "The Beat Goes On…" But the band were soon back on stage for two sets of encores, the highlights of which were the heavy psychedelia-tinged songs "Cold Turkey", and Mortimer's "Kings Evil". So closed a mind-blowing set!
The band have always been dynamic and exciting live, but these days the words 'professionalism' and 'quality' find their way in to any description of their shows.
With their first single, selling well, a 'Sounds' feature to follow, a g=huge and fanatical following, national gigs in the near future, The Dream Factory have, it seems, broken through the barriers of being a 'local' band, In short they were brilliant by any standard. Go and see them while Tamworth still houses them!
N.R.
N.B. Musicbox will be giving away copies of the band's debut single in a speciaol competition next week.
Tamworth Herald – 15/03/85
Musicbox – Band take a monster leap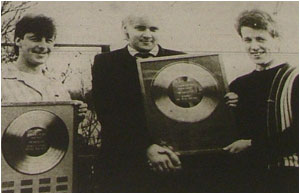 BAD MANNERS DATE IS A REAL DREAM!
THE DREAM FACTORY look all set to play to their biggest ever gig – supporting Bad Manners in front of a staggering 30,000 people. The concert in June is being billed as a "monsters of soul" event as it is being staged at the Castle Donington home of the 'Monsters of Rock' festival..
The whole event, which also features psychedelic outfit, The Meteors, is another of the popular scooter rallies which have grown in size and stature over the past two years. As with the halcyon days of 'mod' the rallies bring together thousands of scooter riders from all over the country to enjoy a weekend of music and festive fun.
The Factory have already played one such rally and now they have a single out, they have been invited to play several more.
At Easter they will be playing an all-nighter in Morecambe followed by a two-night headlining spot at Tiffany's in Great Yarmouth.
The first of these nights will be an Inferno Records promotion featuring to British soul DJs and the cult northern soul singer, J.J. Barnes.
Then two weeks later on June 8. The Dream Factory will be heading for Castle Donington for the three-day soul weekend. The band are under no illusions that this is going to be their most important concert yet – and the fact that they are on the bill at all confirms their growing status.
"This is obviously a big gig for us and there is talk of there being 30,000 people there." Said bassist Mark Mortimer.. "We are not, however, just concentrating on the scooter rallies. We are arranging other gigs at the moment," he added.
Eyebrows
The Factory's schedule has become more and more hectic now their debut single is in the shops. The single "Wine and Roses" and "Fashion Toys" has already raised many eyebrows and sales ate going very well.
The single is still available locally (L.K. Records and Rock-It for example) and a new improved 12-inch is set for imminent release.
As evidence of the way The Factory's tentacles are spreading far and wide, Sounds, Britain's best-selling rock weekly have just done a major interview with the band. It is hoped that the interview will appear in this week's issue. But if not, fans are asked to look out over the next two to three weeks.
Top song
And, just to complete The Factory's incredible run of events, this week they were presented with their first-ever "gold discs".
The records are actually the prizes the band received for winning both the Musicbox band of the year poll and the Musicbox top song award. The group expressed their delight at the prizes which they will be up for grabs again in the 1985 poll.
Tamworth Herald – 15/03/85
Musicbox – Win Factory's single
NOW here's your chance to win the Factory's excellent new single. We have five copies to give away to the first five correct answers to the following questions which have been set by the band's bassist Mark Mortimer. Send the answers to: Sam Holliday. If there are no totally correct entries – I couldn't even get one of them! – the singles will be presented to people with the highest number of correct answers.
Which Dream Factory song won the MUSICBOX best local song section in the 1984 poll?
Which of the following places was the first venue the Dream Factory ever played at under that name? A) Tamworth Arts Centre b)Tamworth Rugby Club c) Arley Youth Cub d) Tamworth Youth Centre e) Dordon WMC.
Which member of the band used to be a footballer for Aston Villa? Ws it: a) Andu Codling b) Lloyd Barnett c) Mark Mortimer d) Steve Quilton e) Tim Goode.
The Dream Factory's record company is Inferno records. Which if the following records hasn't been released by Inferno? A) "Out On The Floor" – Dobie Gray b) "Tainted Love" – Gloria Jones c) "Nobody But Me" The Human Beings d) "Queen of Fools" – Barbara Mills e) "A Good Thing Going" Phil Coulter and his Orchestra.
Tamworth Herald – 05/04/85
Musicbox – Fame
THE Dream Factory had to cancel their concert at Burntwood this week because the organisers thought they wouldn't be able to handle the size of crowd.
The Recreation Centre said that hundreds of people have enquired about the gig and as they were trying to limit the amount of people coming, they thought it best to postpone it.
What makes the Factory smile about all this is that chart-topping King played there a few weeks ago and they didn't seem to have too many problems.
Tamworth Herald – 17/05/85
Musicbox – Factory steps up power
THE Dream Factory are stepping up the pace in their determined bid to hit the charts.
The band who recently became the only Tamworth band ever to make the Independent Record Charts have lined up more dates, more major interviews and are planning a brand new single.
According to bassist Mark Mortimer, optimism in the Factory camp is at a new peak.
Tamworth Herald – 24/05/85
Musicbox – Factory clock-on for mini-tour
THE Dream Factory's mini-summer tour seems to be gaining momentum and here are a few more dates for your diary: Friday, May 31, The Racehorse Inn, Northampton; Friday June 14, The Crown Hotel, Worcester; Thursday June 20, Karns Wine Bar, Hinckley; Thursday July 4, St. John's Social Club, Tamworth; Thursday July 11, The Mackadown, Kitt's Green, Birmingham; Sunday August 11, Nuneaton Rock festival; Tuesday August 20, Blue Posts, Burton; Friday August 23, Queens Hotel, Wolverhampton; August Bank Holiday weekend, Isle of Wight Festival. More date should be known shortly.
Tamworth Herald – 07/06/85
Musicbox – What a Dickens of a good time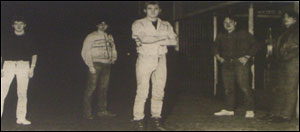 A HOST of Tamworth bands will be on show in the next few days in what promises to be the most exciting week so far this year.
The Dream Factory, Dickens, One On One, Gaf The Horse In Tears and Love On Board will all be in action in the next few days making it a week to remember.
Top 'billing' must go to The Dream Factory who on Saturday will step out in front of an amazing 20,000 at Castle Donington.
Major event
Then on Thursday the Dickens world tour comes to Tamworth Assembly Rooms for a three-band show which looks like being a major event in itself.
And finally tomorrow night sees One On One bringing their rich talents to the Arts Centre where they will be lining up with Birmingham outfit Chance.
For the Factory there is no doubt that their appearance at the Monsters of Soul event is a career highlight so far. The band were confirmed on to the bill two weeks ago and it means they will be playing with the burly, boisterous Bad Manners and the highly-rated Meteors. The event is seen as the scooter event of the year and there is no doubt that hundreds of local riders will travel along to cheer on their heroes.
Neo-legendary
The Factory, who looked in good form when I caught them at The Warren last week – should include the neo-legendary Dave Smith in their line-up making sure that one Royal Family – if not the other – is represented at the event.
The gig is the highlight of a spate of shows for the band and with all the expected media and spectator interest, it could really be a big break for the enthusiastic outfit.
Enthusiasm is also something which Mick Rutherford and Dickens will bring to the Assembly Rooms on Thursday. The band have many prestigious gigs lined-up all around the country but there is no doubt that there is something special about 'coming home'. The gig, to start at around 8pm costs £1.50 and punters will also have the chance to see two exciting support acts. They will be joined by the hard-to-define but easy-to-enjoy Gaf The Horse In Tears and the happy-go-lucky but determined-to-succeed Love On Board.
Dickens will be selling copies of their excellent album 'Standing Out' on the night and there is a good chance music company executives will be watching. EMI, CBS and Virgin have all confirmed they will be sending A and R men to watch the band on tour and the group have also heard that they are to get a half-hour show on the Steve Williams Radio Mercia show on June 16.
On film
As well as coming out of the airwaves Dickens may also come out of the little screen shortly as two gigs at Stafford and Nuneaton are being filmed for possible television shows. A Thursday night gig not to be missed.
Less grandiose maybe, but equally important to the group, is One On One's show at the Arts Centre tomorrow. There the band will be able to test out the numbers they are hoping to record on to new demo next week.
It will be the band's second trip into the studio following an excellent demo early last year. One On One will be playing with Chance a band who are not unfamiliar to me! Entry to this gig is just 60p and it looks like being another enjoyable night.
So a week full of excitement. For One On One to test out new material to be recorded. For Dickens a chance to get the 'home' verdict on 'Standing Out' and for The Dream Factory a chance to go further down the road to their inevitable success. It is further proof that Tamworth's music scene is buzzing at a wonderfully alarming rate.
Tamworth Herald – 14/06/85
Musicbox – GOSSIPBOX
TOMORROW night, local people will be given the chance to win something they have always dreamed of – yes, a scooter helmet with Paul Weller's autograph on it.
This bizarre prize is being raffled at the Dream Factory's long-awaited gig at the Polesworth Top Club. It was obtained by intrepid duo Ian Gibbons and Robert Bowker, who are still – very much to their credit – refusing to let us forget about the tragedy that is Ethiopia.
Tomorrow's show starts at around 8pm and judging by previous Factory shows at the Top Club, a great night is expected…
Still on the Factory, it seems their appearance at the Castle Donington scooter rally was a great success. The band earned an encore and widespread applause from an audience containing just about every youth cult conceived, except the Moonies. It should, hopefully, lead to bigger things.
On the subject of big things, all bands who are to play in the Tamworth Rock festival 1985 are reminded that there are just two weeks left to get in your £5-per-member levy. Afterwards, in true governmental style, we will start imposing financial penalties and, after that, you will become spectators instead of participants.
Drummer
Two bands desperate for new members have contacted Musicbox in search for elusive heavy personages. One band are after a vocalist (16-18) who wants to play loud heavy music and is reliable.
Another band desperate for a members is Steve Birch's Def Leppard style outfit.
Steve has been itching to get things moving longer than longevity and now all he needs is a drummer.
Finally, some very good news. A local person, Steve MacNamee, has been appointed as 'band booker' at the Cellar Bar in Birmingham University. And Steve wants Tamworth bands to go there. The Cellar Bar has featured groups like Duran Duran and The Beat in the past, so this really could be a big break for the town.
If you're interested, send tapes to Steve.
And if any band becomes bigger than Duran Duran, just remember GOSSIPBOX told you first!
Tamworth Herald – 02/08/85
Musicbox – Anyone for stardom?
A NUMBER of bands have contacted MUSICBOX in the hope of recruiting new members. So if you have nothing to do and fancy a trip on the road to stardom give the numbers below a ring. After all you never know what you are missing until you try it out…
THE DREAM FACTORY want a trumpeter. The band (in case you live on the moon and don't know) play hard-edged soul music that has earned them a local – and national reputation – for being one of the most exciting prospects on the current music scene. On the verge of recording a new single, the band want a trumpeter willing to give a lot of time and energy to the band.
LOVE ON BOARD also want someone who can play the trumpet – but they want something a bit more. They are hoping their trumpeter will also be able to do bits of percussion, keyboards and other instruments, making him an all-round utility musician to top off their lively modern pop.
BREAKING POINT are still looking for a permanent drummer to complete their line-up. They have a stand-in to help them through the transitional period but they want to find someone permanent as soon as possible.
TORTURED ARTISTS, a band from outside the Tamworth area but who would be interested to hear from someone local, have sent out an appeal for a vocalist into music which lists such varied influences as Billy Idol, U2, Sex Pistols, Dire Straits, Van Halen and Joy Division.
Tamworth Herald – 09/08/85
Musicbox – Snips…Snips…
The Dream Factory are also very busy at the moment as they get set to make their first trip to the recording studios since recording their highly-acclaimed single "Wine And Roses". A whole host of dates have been set up and included among them at this stage are Tuesday, August 20, The Blueposts, Burton (with Freight Train), Friday, August 23, Belgrave Sports Centre (for SPACE), Saturday, August 31, The Vine Inn, Rugeley, Monday September 2, The Malt and Hops, Stafford (with Freight Train), Friday, September 6, Kingsbury YC (with disco), Thursday, September 12, Karnes Winebar, Hinckley, Tuesday, September 17, HazelSlade YV, Hednesford, and Friday, September 20, Barton-under-Needwood YC.
Tamworth Herald – 09/08/85
Musicbox – Town out firmly on the map
IT'S been a good week for local bands trying to break out of the 'local scene'. On Monday the Dream Factory were given a large interview and photo in the three-million copy-selling Daily Mirror, and Breaking Point were given the possibility of playing a gig with the infamous Hawkwind.
In addition, another Tamworth band were having talks on Monday with one of the biggest labels in the world. At time of going to press the result of these talks was not know, but the band were keeping their fingers understandably well crossed…
Also spreading Tamworth's good name were Rock For Ethiopia organisers Ian Gibbons and Robert Bowker. The duo, who are now planning to extend their fundraising schemes further afield, were given a slot on BRMB Radio – who also interviewed the irrepressible Rikk Quay. The result of all these contributing factors is that Tamworth is suddenly becoming very much in the spotlight – which has got to be good news so near to the August Rock Festival . Festival fever is about to break out among the town's musicians but the only real worry at the moment id the dreadful 'summer' weather which threatens to sink the festival before it has even started.
And finally, this week, Gossipbox would like to apologise to the loveable Norman Yates for a couple of mistakes in the story about Lost Johnny which appeared last week. It seems we didn't get over the point that the band have changed their name from Wild Child and I also incorrectly said Chippy was the guitarist and Norman the bassist it is of course the other way round.
Tamworth Herald – 16/08/85
Musicbox – SNIPS
The Dream Factory, the only name Tamworth band to have the dubious distinction of not being involved in either "Tam Aid" or the August festival, have asked us to point out that next week's gig for the SPACE scheme at Belgrave is only for SPACE members. The groups fans who aren't involved in the scheme won't be allowed in, so cross the date from your diary now.
Tamworth Herald – 13/09/85
Musicbox – Star Trek boys head for home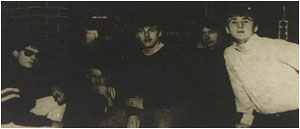 THE DREAM FACTORY have lined up a series of local concerts as they prepare to record their second single.
The band have booked to record the follow-up to the excellent "Wine and Roses" at the famous Abattoir Studios in Birmingham, where UB40 record their material.
The Factory, will be laying down a number of tracks and it is possible that they may come out of the Abattoir with enough material for a debut album.
"It could turn into anything, a single, an EP, an album or all of them," said bassist Mark Mortimer. "It is important however to keep the interest in the band that is growing all the time."
That "interest" includes interviews and photo-calls with a host of top magazines and papers. The group have so far been in "Sounds", "The Daily Mirror", "Scootering" magazine and a host of local newspapers stretching all over the country.
Their music continues to be played over the Radio One airwaves, and they have had a lot of interest from nationally recognised bands, not least The Style Council whose "spiritual Leader" Paul Weller has offered to design the band's next single sleeve.
With all the heady interest and claim that is coming in, it would be all too easy for the Factory to lose sight of their roots and turn their back on the area. But that is something they are determined not to do – hence the local gigs.
"I guess it will seem funny to some people that we are playing Tamworth Youth Centre, but we are ever-mindful of the fact that the town is our powerbase and even a concert like this will still be a challenge for us," said Mark.
The band will be returning to the scene of their former crimes, Tamworth Youth Centre on Friday September 27. Before then on Friday, September 20, they have lined up another concert at Polesworth Memorial Hall. Polesworth has become the heart of "Factory Mania" and the group know the place will be packed to the rafters on the night.
They will be at Polesworth again in October and over the next couple couple of weeks the Factory convoy will also be playing shows in places such as Hednesdford and Hinckley.
Brtightest record companies have also started to show a real interest in the group now and although no details can be released yet, a major national support slot could be on the way with one of Britain's brightest young groups
All in all, makes for a very busy, very exciting time for the Dream Factory. You can almost sense they will rise to further stardom and now it is just a frustrating wait for the inevitable to happen.
The Factory are beginning to fidget with anticipation, but they are determined to hang on until they can get the best possible deal.
But when it does come no-one can say they haven't deserved it. They have served their apprenticeship and now it is the time they were 'taken'.
Tamworth Herald – 20/09/85
Musicbox – Guide to the gigs
THE DREAM Factory return to their most popular venue tonight with a special show at Polesworth Memorial Hall. The gig kicks off at 8pm and a capacity crowd is once again expected.
Tamworth Herald – 27/09/85
Musicbox – Changing Fortunes down the Factory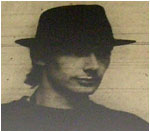 IT'S BEEN a strange week for the Dream Factory – with a mixture of very good and very bad news.
The bad news is that after the recording of their next single, sax player, Andy Codling is leaving the band after two years. Andy is to work with a new jazz outfit, Trout, but according to bassist Mark Mortimer the 'split' is entirely amicable.
"It's like losing a limb really but Andy is still out friend and always will be," said Mark. "We wish him luck in the future but it leaves us with a big problem."
The band have got to find a replacement quickly and anyone who thinks they can take on the role is urged to contact the band as soon as possible.
However, as one cloud descends another one rises. For the Factory look almost certain to be supporting the up-and-coming Faith Brothers on the Midlands leg of their British tour.
The Faith Brothers who have already been in the charts with their powerful 'Country of the Blind' have supported acts like The Alarm recently, although this will be their biggest tour under their own name.
Details of dates and venues are still unclear, but there is no doubt that if it all comes off the Factory are set for one of their biggest breaks yet.
"It's great news and the nice thing is that the Faith Brothers contacted us, not the other way round," said Mark.
Don't forget the Factory are at Tamworth Youth Centre tonight (Friday).
Tamworth Herald – 04/10/85
Musicbox – GOSSIPBOX
Also this weekend the Dream Factory begin work on their second single with a session at the Expresso Bongo studios. The band wants a few Tamworthians to go down and do a bit of backgound talking, so if you want to get yourself on vinyl no matter how, give Mark a ring.
Tamworth Herald – 11/10/85
Musicbox – GOSSIPBOX
Also enterprising is new Herald reporter Dan Collins who is about to unleash the first ever 'modzine' in the area called 'Shake-Up'. The first issue contains a number of news and reviews but the main feature is on our very own Dream Factory. More details about Dan 'The Face' Collins' venture shortly.
Tamworth Herald – 18/10/85
Musicbox – Looking out and listening in…
The Dream Factory play an historic concert at Polesworth Top Club on Saturday. It is important because it will be the last show with sax player Andy Codling who is leaving the band after a two-year stint.
He is to be replaced by Paul Stansfield (trombone ) and Steve Hacking (sax). The band have just completed their second single and more details about this will follow.
Tamworth Herald – 08/11/85
Singer in 'touch and go' surgery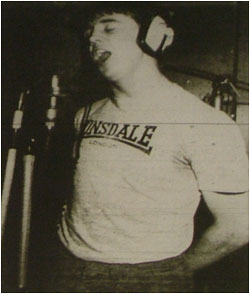 A MEMBER of Tamworth's top-rated band, The Dream Factory, is in hospital following a three-hour "touch-and-go" operation to remove a blood clot on the brain.
Tim Goode, of Hilltop Avenue Gillway, who is lead singer with the popular band, was said to have been in danger of being paralysed by the clot.
The operation came almost a week after a prank in which Tim was hurt when he fell off the bonnet of a moving van, being driven by a friend.
He was allowed home after spending a night in Sutton Coldfield's Good Hope Hospital but was taken to Smethwick Neurosurgical Unit five days later after he began to have headaches and was repeatedly sick.
There, a brain scan revealed a large blood clot which had formed at the back of his brain said his father, Mr. Terry Goode. "This is the area which affects movement – and already Tim had begun to lose the movement in his left side," he said.
Tapes
An operation to remove the clot was performed and doctors cautiously claimed it was a success, according to Tim's mother Valerie "So far it seems to have gone well, but we are watching to see if there will be any permanent damage," she said.
"The surgery was very serious according to the doctors, and Tim does seem a little jumbled up about things."
"It was touch-and-go for a while. We were very worried because there was a chance he might die. But at least now he's eating and recognises us all.
"He asked us to take in some of the group's tapes so that he can play them to the nurses," she said.
Tim's father said his son whose condition is "satisfactory" had lost weight, and added: "The doctors have told him he has to take care of himself."
Fellow band member Mark Mortimer who pays bass guitar, said: "Tim's accident has come as a terrible shock to us all.
"He's a great friend and we're all hoping he'll get well very soon. As soon as he recovers he'll be back with us.
The band recently went into the studios to record the follow-up single to their impressive debut, "Wine and Roses" called "Love 15", it will be available around Christmas time.
Tamworth Herald – 08/11/85
Musicbox – A night to remember


THE final details about Tamworth's exciting 12-hour musical marathon for Ethiopia have just been released.
The show on Saturday December 21, will feature among others, The Dream Factory, Wolfsbane, Breaking Point, The Royal Family, The Sway and Femme Fatale.
It will also include the first – and probably the last – live appearance pf 'TamAid' and as a whole it promises to be a night which musicians and spectators alike will not forget.
"This is our way of saying thank-you to Bob Geldof, all the artists involved in Band Aid and relief agencies all round the world who are trying their best to stamp out poverty," said crusading organiser Ian Gibbons.
As many of you may know, the show which can virtually be seen as a festival, is the centre of a nationwide 'Live Aid' bonanza which promises to raise thousands of pounds.
On the same night as the Tamworth show, there will be similar gigs all round Britain with around 30 or 40 other towns expected to take part. As an example Leatherhead this week sold out ALL of its 2,000 £8.50 tickets showing just how the idea has caught on nationally.
"Everything is going very well but we must make sure Tamworth which started the whole thing off, id the best of all," enthused Ian. "It is going to be a brilliant night."
The show has been given the full support of Band Aid – who have said they will try and fix a rock VIP to visit the town on the day to give the campaign a boost.
Also on the same day, the Ethiopian Committee are calling on all nightclubs, working men's clubs and a multitude of other organisations to join in a day of action for Ethiopia. Whatever happens it is going to be a night where a lot of money is going to be made for famine victims, and a night when Tamworth can hold its head up high."
"I am sure we will sell all our tickets in Tamworth, and as it is just £2 for the whole twelve hour show I am sure people will take part in raffles and put money in buckets," said Ian.
For that meagre £2, people can enjoy the spectacle of not only six brilliant rock bands but also the more diverse sounds of The Banned Wagon and The Trout Brothers. In addition there will be lots of good disco courtesy of Beuwey and the much-loved Buttercup and raffles, speeches and numerous other sidelines.
The doors open on the event at 11.30am and musically it gets off to the most powerful start with Wolfsbane at 1pm. The Banned Wagon appear an hour later, Femme Fatale are set for 3.30pm and then The Trout Brothers hit the stage at 5pm. At 6.30 Breaking point step out to do their passionate parade, and an hour later Rikk Quay and the boys are up on stage. The Dream Factory are due on at around 8.45 and then The Royal Family get into the swing of things at about 10.15, 'Tam Aid' are expected to hit the stage after 11.30 to round off a day that already looks exhausting just thinking about it!
Tickets should be available soon from Tamworth Ethiopia Committee members or members of the individual groups. They are expected to sell out quickly so be warned. It is a night which you simply cannot date to miss.
Tamworth Herald – 08/11/85
Musicbox – SNIPS
Musicbox would like to wish Dream Factory lead dinger Tim Goode a speedy recovery after his recent motor accident. Tim was rushed to Good Hope Hosiptal recently, and had an operation to remove a blood clot in his brain. The operation was a success, and on behalf of the entire TamworthTamworth Herald – 08/11/85
Musicbox – SNIPS music scene, I would like to wish Tim the quickest possible recovery so we can get him out of his hospital bed and onto a stage where he belongs.
Tamworth Herald – 08/11/85
Musicbox – GOSSIPBOX
Also intriguing are the former crimes of a new member of the Dream Factory. For Dave Laxton, the 24-year-old trumpet/cornet and keyboard player with the band, has previously made his mark on no less a record than 'The Floral Dance', that infamous little ditty which was all the rage in Derby and Joan clubs nationwide a few years ago. Now Paul is hoping for more success with the Factory, who also have more new brass players, Steve Hacking is handling alto-sax and clarinet, Paul Stansfield is playing trombone and Paul Langham is the new tenor-sax player. Anyone who can give me the lowdown on this trio's previous musical meanderings will be very welcome…
Tamworth Herald – 06/12/85
Musicbox – SNIPS
Trout Joins the Cavalry, a highly-rated jazz/blues outfit who already have their own residency, have sent out an appeal for a jazz influenced guitarist. The band who feature among others former Dream Factory sax player Andy Codling wants someone with a keen feel of the music and a professional attitude.
Tamworth Herald – 13/12/85
Musicbox – SNIPS
Tim Goode makes his Dream Factory return tonight when the band play a special pre-Christmas party concert at Wilnecote Youth Centre.
Tamworth Herald – 20/12/85
MUSICBOX – Big hearts fine sounds unite
Tonight we have the excellent Terroa lining up with alternative poet Joolz at the Arts Centre and then tomorrow night at the Assembly Rooms, we have probably the greatest local gig ever seen in Tamworth.
The Dream Factory, Royal Family, Breaking Point, Wolfsbane, The Sway and many more will present a 12-hour Christmas present for the town's rock fans and the silent millions such concerts are designed to help.
The doors open at 11.30am and after a nice session with that most impressive of DJs Buttercup, it is straight onto Wolfsbane at 1pm.
After the marvellous slice of ear-bashing, there is more disco and then it is the turn of the Banned Wagon to do their bit for charity and musical culture.
Femme Fatale hit the stage at 3.30pm to be followed by the DJ with impeccable taste Beuwey and then it is time for Trout Brothers. By now it will be time for Breaking Point…The Sway…The Dream Factory…The Royal Family.
During the day there is the possibility of a few star guests, new bands, raffles, competitions and fun by the literal bucketful.
Tickets for the event are a mere £2 and that entitles you to come and go as you please – although it would be better if you stayed of course!
It looks like being the best day of the year for the areas music scene, and one which will show that for thousands of people up and down the country the Ethiopia tragedy is still very much on our minds.
On a personal note. I would like to express a vote of thanks to everyone – especially Ian – who has helped to arrange this marvellous weekend.