Banned in Yellow

Musical Genre/Type: Pop
Former: 1990 Split: 1990
Band Members:
Ian Harwood - Keyboards
Graham Harwood - Vocals
Lee Partlow - Guitar
Gigs:
11/02/90
Motorcycle Boy
Banned in Yellow
Lincolns
29/03/90
Banned in Yellow
Lord Nelson
08/04/90
Banned in Yellow
Hare and Hounds
Birmingham
15/04/90
Catch 23
Banned in Yellow
New Puritans
Mean Fiddler
London
16/04/90
Banned in Yellow
Rock Against Meat
Derby
28/04/90
Banned in Yellow
Vonnies
Burton
29/04/90
Banned in Yellow
Good Question Derek
Sa Sa
Nightmoves
01/05/90
Banned in Yellow
Stoke
28/05/90
Tamworth Indoor Rock Festival
Fat Moggy
Naked Touch
Never Say Die
The Magnets
King Woderick and the Yogots
Vindaloo Breakfast
Banned in Yellow
Rhythm Damage
Night Moves
01/07/90
Banned in Yellow
Spiral Eye
Rhythm Damage
Mean Fiddler
London
06/09/90
The Brilliant Corners
Banned in Yellow
The Rathole
10/10/90
Banned in Yellow
The Slow Club
The Rathole
06/11/90
Banned in Yellow
Homeland
So They Say
Mean Fiddler
London
Tamworth Herald - 09/02/90
The toughest choice yet? Sunday Gig Previews
Tamworth's music followers have a real puzzling choice on Sunday as the Arts Centre and Lincolns really clash for the first time.
In recent weeks, the choice of bands has been so different at the venues as to make the audiences totally different. But this week the Arts Centre hosts the majestic psychedelia of Spiral Eye and new Tamworth loonies Vindaloo Breakfast while down the road at Lincolns acclaimed indie stars The Motorcycle Boy from Birmingham join up with Banned In Yellow (ex Rape In Yellow). Such is the potential similarity that Lincolns originally wanted Spiral Eye to the support the Motorcycle Boy and it means that followers of good quality non-mainstream pop are going to have to search their souls.
At Lincolns The Motorcycle Boys will line up with the newly revitalised Banned In Yellow/ The Motorcycle Boy are fronted by ex Shop Assistants vocalist Alex and their recorded output includes a top 75 single called 'Big Rock Candy Mountain'. They are regarded very highly by Indie circles and with the band now working with Wonderstuff's producer and claiming to be getting close to a New Order sound they are regarded as one of the Midlands brightest hopes for the 90s. Supporting them will be Banned In Yellow who, I am reliably informed, played their best ever gig at Lincolns a few weeks ago. They have re-established their sound and look in recent months and the end result is an all round entertainment force. The gig lasts between 7.30-10.30 at Lincolns.
Down the road at the Arts Centre, Spiral Eye hit the stage for the home town leg of their major British tour. The band fresh from their excellent result in the MUSICBOX poll, are clearly one of the favourite acts in the area and with the energy of manager Roger Clarke behind them they see a lot of good things on the horizon. In support are a band called the Atom Seed who are 'not from these parts' but who come highly recommended by the Spirallers. In addition the venue welcomes the debut show of Vindaloo Breakfast a band described as 'sarcastic but cool' and including four notable musos usually to be seen under the table at Hamlets. They should be interesting to put it mildly. This show is an 8-11 affair at the Arts Centre.
That's your choice then, the Motorcycle Boys and Banned In Yellow at Lincolns or Spiral Eye, Vindaloo Breakfast and Atom Seed at the Arts Centre. Even though I am the world's number one Spiral Eye fan, even I'm not sure which gig I'm going to watch which makes me wonder if it isn't all a bit ridiculous that the two venues are competing for the same Sunday night audience when there are six other perfectly reasonable nights in the week. Take your pick but this is one of those weeks when you simply MUST go to one of these gigs.
*As I genuinely haven't decided which gig I am going to; if you don't see my messy blonde locks at the gig you see, then please review it for this column!!!
Tamworth Herald - 09/02/90
Musicbox – NEWS – SNIPS
The all new Banned In Yellow are hoping to run a coach to a major show in Cannock later this month. For more info on the gig, the venue and the cost why not ring one of the Harwoods.
Tamworth Herald – 09/03/90
Musicbox – London Calling
THE TAMWORTH music scene is all set for a Capital Night Out.
For following Catch 23's recent triumphant appearance at the Mean Fiddler in London the band were asked to return to the venue and bring a couple of other bands from the area with them for a Tamworth showcase.
So, that is exactly what they have done and they have now booked Easter Sunday for a Tamworth Showcase Special which will also feature The New Puritans and Banned In Yellow.
What makes the event so special is that it is certain to be attended by a great deal of record company bigwigs. The usual crop of Catch 23ophiles will be there of course but both Banned in Yellow and The New Puritans should also benefit with the Wedding Present management for example coming along to have a look at the Puritans.
The whole evening will be promoted as a Tamworth bands night and it came about after a recent Catch 23 show at the prestigious Mean Fiddler which had the management there in raptures.
"Their set included three brand new songs all of which were very well received and by all accounts it was their best gig to date," said group manager Alan Webster. "As this new gig will be the night before the Mandela show at Wembley Stadium a sell out is assured and we hope to have one or two 'names' there so all the groups should benefit."
Catch 23 are now in the process of organising a veritable convoy of coaches. With the popularity of both the Yellowites and the Puritans around five or six coaches are expected to go from Tamworth and Atherstone and the whole cost is a mere fiver. I for one think this will be a great night out and if you do too why not ring Alan Webster and book your place. It will be a very big night for Tamworth's music scene – dare you miss it?
Tamworth Herald – 16/03/90
Musicbox – SNIPS
Banned In Yellow have a few nice shows on the horizon. On March 29 they visit the Lord Nelson, on April 8 they take the trek to the Hare and Hounds in Birmingham and on April 16 they join a Rock Against Meat festival at Derby. On April 28 they are at Vonnies in Burton and on May 1 you can catch them in Stoke. In between all these of course is the wonderful night out in London where they join Catch 23 and The New Puritans at the Mean Fiddler on Sunday April 15.
Tamworth Herald – 13/04/90
Musicbox – A big Easter bonanza!
It's another CRAZY week for local music fans who have so much entertainment to choose from it's mindboggling.
Catch 23/New Puritans/Banned In Yellow (The Mean Fiddler, London)
A big night this for all three bands and a real tribute to Tamworth. The Mean Fiddler which has been delighted with Catch 23's recent appearances offered the venue to the band for a night for a special Showcase and they invited two kindred spirits (i.e. the Puritans and Banned In Yellow) to join them in a bonanza of the best in local music. Five coaches will be travelling and some places should still be available. We won't be back until late but you haven't got to get up on Monday have you?
Tamworth Herald – 27/04/90
Musicbox – Gig of the year
Banned in Yellow/New Puritans/Catch 23 – Tamworth Showcase, Mean Fiddler, London
EVERY so often you go to a 'local' gig which makes you remember why you got involved in the local music scene at all. This was such a show.
For sheer quality and atmosphere I can only compare this amazing night to a Tamworth Rock Festival or perhaps a final of one of the Battle of the Bands events of old. It was a night when simply everything went right and it meant that this show must now go down as one of THE classic local gigs – and by far and away the best of 1990 so far.
For a start there was the crowd. Around 250 local people from Tamworth, Atherstone and their environs travelled down the M1 to view this gig and when supplemented by a few hardy Londoners they helped to create a wonderful atmosphere. Even though many people had gone to see one band specifically all three bands were accorded a respect and an enthusiasm that was very touching, and all (deservedly) received encores for killer shows. Throw in a great DJ, a splendid sound system and a hungry anticipation, and the stage is set for a cracking show. And oh boy did we get it.
First up were Banned In Yellow who were simply STUNNING. It had been a relatively long time since I had seen this bunch, and the transformation is quite mindnumbing. All of a sudden they seem to have come of age, musically and personally, and they now look and sound quite brilliant. Their set was laced with some of the sharpest, strongest and most naggingly loveable tunes my ears have been treated to in years, and with Graham Harwood dominating the stageshow they were as much a treat visually as they were soundwise. They were full of confidence, new found aggression and contemporary relevance and in the space of one 30 minute set they jumped from being a mid-table first division team to being right up there challenging for the championship. They were quite magnificent and if you don't believe me see them the next time they hit Town and I guarantee you will be as knocked out as I was. Welcome to the big time O'Yellow ones.
Following that mouth watering starter should have been difficult but The New Puritans made it look easy. They were relaxed and jovial throughout their snappy set and the power that they managed to produce would have blown the speakers of many a heavy metal act. Like Banned In Yellow, The New Puritans base their stance on strong, attractive melodies and powerful ear-grabbing presentation, and tonight was as good a set as I have seen from them. Relative oldies like 'The Jailer' and 'No Such Chance' were equalled by new material of a distinctly 1978 variety, but all had to take second place to that gorgeous ditty with the 'keep me in the circle' hook, that reminded me of early Balaam and the Angel. Another terrific show from a band who can do no wrong in my books. Apart from Rob's abysmal jokes that is!
And so to the grand finale – Catch 23. On any other night with any other support you would expect Webster's Warriors to wipe the floor with the opposition without really trying, but tonight they really had their work cut out to justify their headline slot. Well, surprise, surprise, they DID rise to the occasion. Despite starting weakly with the unsuitable opener 'What You Want' the band went from strength to strength and by the end of their powerful set they sounded as good as they have ever been. New material like 'I Believe' and the anthemic 'Pride and Joy' stuck in the mid long after the amps had been switched off, but the band's fresh approach to older songs like 'Catch This' and 'Stand Back' gave them a new burst of life that proves that you CAN improve on seeming perfection. As with both Banned In Yellow and The Puritans, they were as good to look at as to listen to and as with the two bands that preceeded them, they were called back for more and delivered in real style. Another killer show from a band who surely can do no more now but wait for the ink to dry on the paper of the record contracts.
Sadly Catch 23's departure saw the end of this quite magical night. For those of us lucky enough to be on Bayley Cooke's coach there was still the treat of a solo show by the Wolfie king on the way home but I am sure everyone else had enough magic moments of their own to reflect upon.
The Mean Fiddler is a tremendous venue which was graced with three tremendous bands on the night. I strongly urge these same three bands to get together again and arrange a return trip NOW. They may not be able to repeat the sheer joy of this night but if they produced a gig that was half as entertaining it would still be superior to most other local shows you will see this year.
When the Tamworth area can produce three bands as good as this, you are left wondering whether we really need top name out of Towners hitting the area. All three of these are serious challengers themselves and if they arrange a second trip to the mean City take a tip from a rejuvenated MUSICBOX Editor and don't miss it. It was a night to treasure.
Review by Sam Holliday
Tamworth Herald – 27/04/90
Musicbox – Sunday's Best
SOME of the area's top bands hit the Town this Sunday as local gig-goers have another crop of concerts to choose from.
Bands like Dance Stance, Rhythm Damage, Sa Sa, Banned In Yellow and a brand new combo called Trappzat will all be competing for your attentions at the three major venues in Tamworth ensuring another Sunday feast for the musical faithful.
Here are the line-ups in a nutshell followed by more detailed previews…
SUNDAY
Nightmoves – Banned in Yellow/Good Question Derek/Sa Sa
The Rathole, Lincolns – Dance Stance/Rhythm Damage
Tamworth Arts Centre – Trappzat
And now for some more information (where we have it) on what you can expect to see should you make the Sunday night move to the dancefloors.
Banned In Yellow/Good Question Derek/Sa Sa – (Nightmoves)
A timely appearance for Banned in Yellow who are in at the ideal time on their absolute triumph at the Mean Fiddler. Banned in Yellow, have transformed incredibly in recent months into an all-powerful modern pop combo who have more in common with the likes of The Stone Roses than of the old Rape in Yellow. There is great deal to admire in their grooves and following their glorious London show they can confidently expect a very warm homecoming on Sunday. Joining them will be kindred spirits Good Question Derek, a Birmingham-based band who have the same influences and musical motivation as the Yellowites. There is a bit of a buzz about Good Question Derek at the moment and you can find out why on Sunday. Completing the show will be Sa Sa who have been missing from the Tamworth shores for absolutely AGES. The band, one of the few unashamedly pop outfits in Tamworth, made quite an impact a couple of years ago with their well written pop and dance music and this will be their first Tamworth town centre platform since then. They should suit the upbeat mood of the night very well indeed. The venue is Nightmoves, the gig promises a lot. It starts at 8pm.
Tamworth Herald – 25/05/90
Musicbox – The indoor gig of the year


NIGHTMOVES stages a Bank Holiday bonanza on Monday when no less than eight bands combine for an all-day indoor festival.
Top groups such as Rhythm Damage, The Yogots and Banned in Yellow combine with several new acts in a special gig which is designed specifically to raise money for the Tamworth Rock Festival in July. As you know the outdoor festival needs every penny it can get to ensure it stays free to you the punter and so Monday's multi-band extravaganza is one of the key fundraisers of the year.
For just £2 you will be able to taste a huge variety of different musical styles from indie-flavoured lasts, via traditional pop and rock to touches of AOR. It will exactly like the normal Tamworth Rock Festival except this one will have a roof over its head and drinks on tap!
There will be debut performances from the likes of Fat Moggy. Tamworth-returns for the likes of Naked Touch and The Magnets and a thrilling finale which features the quality of Banned in Yellow, Vindaloo Breakfast and The Yogots.
The whole day will be run very much like the outdoor festival. All the bands involved will have just 20 short snappy minutes to perform and with only ten minute breaks between the sets the music should be running smoothly throughout the session. And there is also the considerable advantage that if the festival runs a bit late we can keep going until midnightish so there could be solid musical entertainment for five long hours.
Musically you can expect a complete varied package as befits the Rock festival principal. It all begins at 7pm with the Birdland inspired FAT MOGGY a band of Atherstonians who promise to be wild, wacky and about as far away from music as it is possible to be. Expect chaos. Following on a 7.30 will be the all together calmer sounds of THE NAKED TOUCH who will be combining their show on Monday with a gig at the NEC for Telethon on the same day. It's modern, stylish soul music and you should find it a restful relief after the hazards of the Moggy men. 8.00pm brings NEVER SAY DIE to our stages for one of their all too rare Tamworth shows. The guitar-wizzards with added OOOMMPPHH!!! Have long been servants of the Tamworth music scene and this will be an important gig for them. Swiftly following on at 8.30 will be another Tamworth legend in the shape of THE MAGNETS. Nothing needs to be said about this lot because frankly if you don't know them you wouldn't be reading this page anyway. 9.00pm brings to the stage one of the area's best bands for many years, KING WODERICK AND THE YOGOTS. A band of immense power and character they have come on bundles in recent months and their 20 minute blast on Monday is certain to be one of the highlights of the whole night. At 9.30 VINDALOO BREAKFAST enjoy a high profile slot to play one of their biggest shows to date. The band are a distinctive and unique agit-pop lot who combine late 60s and late 70s influences is a set of grizzly smiles. At 10.00 we then welcome the all too wonderful BANNED IN YELLOW who have certainly began the 1990s with a very loud bang indeed. I am particularly looking forward to their many joys which will followed finally by RHYTHM DAMAGE who are the ideal closing act of a very mixed package. What can we say about the Damage men that hasn't already been said about Eric Honeker? Nothing, just enjoy the anarchy.
That's yer lot then, and what a package it is. Eight very different bands, five hours of music and all for a ridiculous £2. We must stress again that all the money raised on the night will go towards the very needy coffers of the Tamworth Rock festival so as well as having a truly enjoyable night you will also be helping keep the event on an even keel.
Don't miss this gig. It's Bank Holiday Monday there is practically nothing else to do so you have no excuses. Get along and enjoy yourselves enormously.
*All bands please note the comments at the bottom of the line-up.
Monday Line Up
Tamworth Indoor Rock Festival 1990
(Nightmoves, Monday 28th May, 6pm-12pm)
7.00 – The Fat Moggy
7.30 – The Naked Touch
8.00 – Never Say Die
8.30 – The Magnets
9.00 – King Woderick and The Yogots
9.30 – Vindaloo Breakfast
10.00 – Banned in Yellow
10.30 – Rhythm Damage
*All bands to report to Nightmoves at 4pm on Monday. Twenty minute sets with ten minute changeovers.
Tamworth Herald – 08/06/90
Musicbox – Those Festive fundraisers
HUNDREDS of pounds were raised last week by two special concerts to raise money for the Tamworth Rock festival.
The major event was the eight band show at Nightmoves which was a huge success and that was followed on Sunday by another good fundraiser at the Arts Centre.
We haven't got space to do an in-depth report on both shows but using what I have heard and what I have seen here is a brief resume of what took place.
Friday, Monday began with Fat Moggy who delighted most of the audience with a show full of originality and wild abandon. Even Mike Fleming said they could potentially be a BIG cult band. The Naked Touch were apparently quite sedate and calms as were Never Say Die who boasted some fine guitar work. The Magnets weren't too happy with their sound but it seemed OK to most people while the Yogots also came off stage with a frown despite one or two absolute gems including a relative newie which was good. Vindaloo Breakfast were mine and many people's band of the night with a killer show of attacking guitars and punchy vocals that brought back happy echoes of 1977. Excellent. Banned in Yellow stunned my 'oppo' Sean Atkins but didn't quite reach their Mean Fiddler heights in my opinion although 'going Green' was CRUCIAL. Finally, Rhythm Damage played a hugely popular set of anarchic pop which delighted most. Personally I thought they were far better at the Arts Centre on Sunday where they played what I regarded as their best set yet. Even technical hitches couldn't ruin a set in which two songs – 'Energise' and 'Taste the Rod' were absolutely magical. Also at the Arts Centre, Flowers in the Attic showed that they have become a bit more sombre in recent months and have perhaps lost some of their angelic charms while Chemikill played with stunning precision and ear battering power with Bayley's contribution adding sugar to the metal strawberries. End result, two successful nights and a lot of much needed DOSH.
Sam Holliday
Tamworth Herald – 15/06/90
Musicbox – Mean night out in July
THREE of the area's best bands are joining forces for the Second Tamworth London Showcase in July.
The first London Showcase featuring Catch 23, Banned in Yellow and The New Puritans ranks as the best gig of the year to date and this second one on July 1 promises to be equally exciting,
This time Banned in Yellow will be joined by Spiral Eye and Rhythm Damage in a show full of quality and variety. The Spirals already have a base in London but one of the nicest things about this show is that after more than ten years in the local music business, Uncle Rikk Quay will be making his London debut. A very good reason to get along indeed.
It takes place on Sunday July 1 and tickets including coach and admission are a flat £5. The buses will run from the Assembly Rooms and possibly Atherstone and you MUST book in advance by contacting either Rikk at the Tavern, Neil at The Rathole, Lee at Notes or the Spirals probably at Hamlets.
Tamworth Herald – 22/06/90
Musicbox – SNIPS
Don't forget July 1 sees three of the area's best bands – Banned in Yellow, Spiral Eye and Rhythm Damage in action at the Mean Fiddler in London. Special coaches have been booked and to ensure you have a got a place on one of them contact either Neil at Nightmoves, Rikk at the Tavern or any of the Spiral men at Hamlets.
Tamworth Herald – 29/06/90
Musicbox – 'London calling to the faraway Town'
THREE of Tamworth's best bands combine their multi-faceted talents in London on Sunday night for a special Mean Fiddler bonanza.
Banned in Yellow, Rhythm Damage and Spiral Eye are the three bands who will be in live action on another night which is certain to help promote the good name of Tamworth in the capital of British music.
Last time a 'Tamworth Showcase' was staged at the Mean fiddler, Catch 23, Banned in Yellow and The New Puritans brought the house down with a classic combined show and there is every indication that Sunday's Capital-bash will be just as tasty.
This one has been put together by the Banned in Yellow who are confident they have produced a varied and exciting line-up.

Spiral Eye look set to headline the whole spectacular. These electrically-charged modern rocksters have been playing around the country with regularity and gaining good notices wherever they go. The simple reason for this is that quite simply they are brilliant and are almost as good as a Paul Gascoigne cross, a Des Walker tackle or a Stuart Pearce free-kick. (Yes, I've got World Cup fever too…)
Equally tasty are the two bands that will provide the powerful platform for the Eye boys. Rhythm Damage have played but a handful of concerts but have already established a formidable reputation. Their appeal lies in their originality, their brash and uncompromising stance and their love of the peculiar. There is a chance that Sunday's show will enjoy the added appeal of an appearance by rappers Suicide Petch and The Juice MCs in a sparkling combination of rap and rasp.
Competing a strike force almost as lethal as Platt, Lineker and Waddle (sorry, slipped again!!) will be Banned In Yellow. This show will be particularly poignant for the group because it was at the Fiddler last time where they really seemed to have come of age. There had been dark hints for some time that they had made a dramatic bid for world stardom and their Fiddler bash earlier this year proved that all the rumours were true. They were spellbinding that night and with the same wicked sound system and same enthusiastic support on Sunday they should be wicked again.
Quite a collection of talent I am sure you will agree. If you fancy getting along, tickets and coach details should be available from Neil at Lincolns, Rikk at the Tavern or any of the members of any of the bands involved.
It should be a great night out and it's about time that London experiences some REAL culture.
Tamworth Herald – 31/08/90
Musicbox – Well what a brilliant night
ONE of the biggest names to hit The Rathole arrives on Thursday night with the prestigious appearance of Indie kings The Brilliant Corners.
Support will be our very own Banned in Yellow a band who deserve such a high profile support because they are so blinking good themselves. It costs a mere £2 and runs from 8-12 on Thursday night. Get there!
Tamworth Herald – 05/10/90
Musicbox – Gig Guide
Saturday – THE EXPRESSO BONGO ORCHESTRA – The Embassy Suite, Admission £4 (before 10pm) £4.50 (after 10pm). No admission after 11pm. No jeans.
Sunday – THE WICKED THINGS (+ support), The Rathole, 7..30pm-10.30pm, Admission £2.
Sunday – FLY ON THE WALL, SHAKESPEARE'S MONKEYS, SATELLITE SPY, Tamworth Arts Centre, 8pm, Admission £1.50.
Wednesday – VESUVIUS – The Riftswood, 8pm, Admission free.
Thursday – BANNED IN YELLOW/THE SLOW CLUB (+ support), The Rathole, 8pm-1am, Admission £2
IRON MAIDEN/WOLFSBANE – Derby Assembly rooms. SOLD OUT
THE EXPRESSO BONGO ORCHESTRA should liven things up at The Embassy Suite on Saturday evening, while top Brummie funksters WICKED THINGS, hope to make their mark on Tamworth on Sunday night when they play The Rathole as part of a mini-UK tour. The bands last single 'Goodby to Her' although failing to make the top 40, won them a Radio One session and their first national TV appearance. A brand new single 'Wicked Things' will be released to coincide with the tour that also includes a date at Birmingham poly on October 26.
Also on Sunday, Phoenix Productions make their debut, with a three-band bill designed to highlight up and coming Tamworth bands.
On Wednesday, VESUVIUS, a band created through adverts place din MUSICBOX, play at The Riftswood. The band consists of former PLAN-B vocalist Rob Bell, Phil Smith, ex-Kubla Khan, Jon Fogan and Steve Claymore.
At The Rathole, the following night are BANNED IN YELLOW and The SLOW CLUB. While WOLFSBANE play Derby Assembly Rooms as part of their Iron Maiden tour.
Tamworth Herald – 26/10/90
Musicbox – Local live reviews and comments
Banned In Yellow/Sindy's Sonic Garden/The New Puritans plus more – The Rathole
Despite the presence of a couple of Birmingham bands, this was very much a Tamworth show. It was rather like being back at the Arts Centre but with wallpaper and carpet instead of NME's and cigarette ends.
The 9.00 explosion was Sindy's Sonic Garden, still regarded as a relatively new band although they made their debut over a year ago. Their youthful approach to music, fairly reminiscent of early Birdland, showed much promise but even more fulfilment . Unlike most bands of this genre, the varied sequence of 'wah' and 'eeeeekk' distinguish one three minute blast from another. Loud, harsh and vigorous, yet fresh, raw and almost kittenish, they're enticing of one lone self-mutilator was not a true reflection of the audiences opinion of those blooming Rupert Bear type musicians. Too flabbergasted to hurl while being seized by their melliferous toffee is an accurate appropriation. Follow with gusto.
Yet the next band didn't and followed almost immediately, sufficiently unnoticeable for our ears to recover from the atrocities inflated by the Sonics. The song construction was finely simplicite [sic. Ed] but the overall musical style seemed to have been taken from whoever or whatever was passing at the time.
The follow-up to this annoying disturbance comprised of more troops of Birmingham would-bes. A positive identification of Mick Jones, some funky bass, a wood-block and a couple of doo-be-dos thrown in for good measure – pesky me! Shouldn't be so pessimistic. After the feeble yawps of the previous Birmingham band I expected an equally dismal dismay [sic. Ed] from these but was slightly surprised.
And surprised again. Who was it that said 'I like watching the New Puritans because I haven't been lucky enough to see the Wedding Present yet? An ultimate quote but a little outdated. At least they have a sound all of their own and quite a pleasure! Did they unknowingly alter their monosyllabic monochordic ploddings or did one announce 'it doesn't go like that anymore, arrrghhh'. Whatever, here's hoping this change in originality is not monocarpic is just the beginning. They were alright before, but they have shown us they can be good.
Banned in Yellow however share a different opinion, the one which goes along the lines of 'if it worked once stick with it'. What's the betting they are the same songs as well. Their close set showed experience but they have had those uncountable years to perfect it. Whereas Munchies and Mr. Dog modify only the name, Banned in Yellow have incorporated this along with much time ad line-up transfiguration, yet neither succeed in altering the taste of composition. The one unsettling perplexity was the impressive vocals, capable of bewitching submission. Perhaps they had anaesthetised the accompanyist [sic. Ed] into a palsied repetition.
Melba Washington
An amazing review with occasional touches of brilliant insight and occasionally baffling analogies. Incidentally are MUSICBOX writers becoming steadily more intelligent or am I just slowly going senile? Whatever the case, intriguing stuff Melba. SH [Complete bollocks methinks – Ed.]
Tamworth Herald – 02/11/90
Musicbox – Snips
Banned in Yellow have lined up a prestigious gig at London's Mean Fiddler venue on Tuesday November 6, supporting highly rated bands Homeland and So They Say. The band have organised coach transport for followers who wish to see them in the capital and further details are available. Seats on the coach are expected to be £5 each plus £2 admission.
Tamworth Herald – 16/11/90
Musicbox – Permanent Ban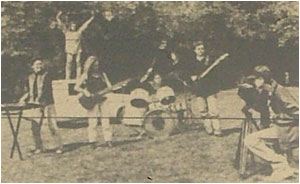 Banned in Yellow – one of Tamworth's brightest hopes for success – have surprisingly split up.
The shock split occurred just 24 hours before the band were due to play the prestigious Mean Fiddler in the presence of a host of record companies.
Lead singer and group founder member Graham Harwood said he no longer wanted to carry on with the project and as such the band were forced to cancel the Fiddler gig and then disband the group.
"To be honest, Graham was such an integral and important element within Banned in Yellow that without him there didn't seem to be any point in carrying on in that format." Said drummer Simon.
Banned in Yellow were originally formed as Rape in Yellow several years ago. I first became aware of them when I received their amazing 'Going Green' demo though my letterbox and I went on to declare it to be one of the best debut demos I had ever heard. By their own admission they never initially reached the same heights on stage as they did in the studio but in the past 12 months since they became Banned in Yellow and employed new musicians, new ideas and a new dance-sense their credibility improved enormously.
From the start of the year there had been mutterings that they had discovered something special and they proved it in dramatic fashion with an outstanding show at possibly the gig of the year alongside Catch 23 and The New Puritans at the mean Fiddler early in 1990. Since then their following has grown steadily as has the record company interest in them with Simon confirming that Rough Trade for example were within touching distance of signing them on a contract.
Now, however with fame really beckoning, Graham has left. Lee Partlow has decided to spend his time building up his shop and Banned in Yellow are no more.
"It is all very sad because we really felt we were close to something big," said Simon. "Ian, Dave and myself are carrying on but it will have to be with a new name, a new identity and a new crop of songs, banned in Yellow are finished."
MUSICBOX finds this all very sad indeed. Banned in Yellow had proven that if a band is talented and patient enough to wait for their time, the goods finally will arrive but now they appear to have waved goodbye to the chance of national success. They go however with the certain knowledge that they won't be forgotten by a host of local music fans and they leave behind them a legacy of a couple of cracking demos and several memorable live shows.
Gone but not forgotten, We will miss you Yellow-ones.
Sam Holliday
The three remaining members Ian, Dave and Simon are keen to hear from any musicians wanting to form a totally new band.
Tamworth Herald – 23/11/90
Musicbox – Snips
Following on from last week's story of the Banned In Yellow split, it is rumoured the band may play one final show in Tamworth in the next couple of months.
Watch this space.