The Great Express
Musical Genre/Type:

Indie-rock
Formed:

1986

Split:

1988
Lead Vocals/Guitar:
Julian Amos

(Stonydelph)
Lead Guitar/Backing Vocals:
Ted Wilson

(Dosthill)
Bass Guitar:
Mark Mortimer

(Gillway)
Keyboards/Backing Vocals:
Chantal Weston

(Bonehill)
Drums:
Dave Burgess

(Witherley)

From:

early 1988

to:

summer 1988
Same line up as above but in 1988 Dave Burgess left the band and he was replaced by Simon Harvey.

Graveyard Faces (Mark Mortimer)
Silent Head (Mark Mortimer)
Witch-Well (Mark Mortimer)
Miles High (Julian Amos)
Pieces (Ted Wilson)

(You Could) Change My World

(Mark Mortimer)
Heavenly, Heavenly (Mark Mortimer)

Firework

(Mark Mortimer)
Black Flower (Mark Mortimer)

Total Excess At 200 Yards

(Mark Mortimer)

The gigs were always real fun and quite intense in some ways. Remember we did a gig on The Isle of Wight, having played in Salisbury the night before and we also played in mid-Wales to abject ignorance from the audience. We did a number of university gigs including Leicester University and lots of local venues including the ubiquitous Tavern In The Town, the Rathole etc. Mark Mortimer
27/11/87
Breaking Point
Great Express
The Conspiracy
Tamworth Arts Centre
04/03/87
The Great Express
Kingsbury Youth Club
05/03/87
The Great Express
Blueposts Burton
06/03/87
The Great Express
Tamworth Youth Club
11/03/87
The Great Express
The Marmion
14/03/87
The Great Express
Stockingford Labour Club
18/03/87
The Great Express
Castle Club, Tattershall
22/03/87
The Great Express
Tunnel Club
London
03/03/87
The Great Express
Blacksmiths Arms
24/05/87
Mighty Mighty
The Great Express
The Rathole
28/05/87
The Great Express
Tavern in the Town
27/11/87
Breaking Point
Great Express
The Conspiracy
Tamworth Arts Centre
17/01/88
The Great Express
The Parade
Acoustic Shock
Tamworth Arts Centre

Recording 1 - Demo #1
Track List: Graveyard Faces (Mark Mortimer) / Total Excess At 200 Yards (Mark Mortimer)/ Climbing Pain Palm (Mark Mortimer)
Format: Demo

Recording 2 - Title: Witch-Well
Track List: Witch-Well (Mark Mortimer) / Pieces (Ted Wilson) / Heavenly, Heavenly (Mark Mortimer)
Format: Demo

Recording 3 - Title: (You Could) Change My World
Track List: (You Could) Change My World (Mark Mortimer)
Format: Demo

Recording 4 - Title: Black Flower
Track List: Black Flower (Mark Mortimer) / Silent Head (Mark Mortimer)
Format: Demo
You need to upgrade your Flash Player.
Silent Head was a second Great Express line-up recording done at the Expresso Bongo in 1988. It's a song I wrote and features, heavily, Chantal's keyboardy sitar sounds together with Ted Wilson's excellent 12-string guitar (what a great musician he was/is). Lead vocals were from Julian Amos. Chantal sang the backing vocals too - and it was my gibberish backwards vocals at the end of the track. The bass of course was also played by yours truly and the drums were by Simon Harvey. Mark Mortimer
All the demos were recorded at The Expresso Bongo Studios, Tamworth and engineered by Paul Speare. "(You Could) Change My World" was produced by the then Julian Cope guitarist Donald Ross Skinner (he also played keyboards on it). Paul Stansfield (ex-Dream Factory and Expresso Bongo Orchestra) played tenor trombone on the "Witch-Well" demo. Ex-Dream Factory and Terroah drummer Andy "Batman" Holt played drums on "Total Excess At 200 Yards", Brian Lacey was lead vocals and guitar on "Graveyard Faces."


The band began life as a "side project" to Mark Mortimer's successful other band The Dream Factory but when the Factory split late in 1986, the Great Express was off, full steam ahead. Initially the lead singer was Brian Lacey (ex-Private Property, The Parade) but he left after only a few weeks.

Thanks to:

Mark Mortimer

- www.jazzfish.co.uk
Tamworth Herald Articles
Tamworth Herald – 12/12/86
Musicbox – SNIPS
The Great Express
Mark Mortimer and Bryan Lacey – have recruited a new drummer from Witherley. He is 17-year-old Dave Burgess who has worked in the past with Europe After The Rain and The Australians.
Tamworth Herald – 09/01/87
Musicbox – FULL STEAM AHEAD FOR THE EXPRESS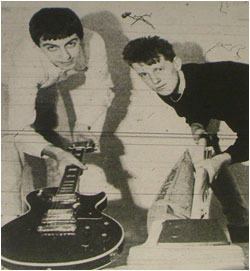 THE Great Express have lined up a whole series of spring concerts – including a prestigious London show – to launch themselves on the local and national scene.
The band – former Dream Factory man Mark Mortimer, ex-Parade singer Bryan Lacey and old Europe After The Rain drummer Dave Burgess – will play five local shows in eight days in March before moving to bigger venues outside the area in April.
The best concert of the whole mini-tour is on Wednesday April 22 when the Express will join two top Indie bands for a special three-band show at The Tunnel Club, Greenwich, London. The venue is one of the leading underground showcentres in London and has featured no less than the almighty Clash in its dim, distant past.
"We are particularly pleased to get that show," said Mark. "It is the first time I have played in London and it is quite a prestigious gig."
Low-key
The band hope to run a special coach to the Tunnel Club show, with fans being charged just £5, including all travel and entry fee.
Before then the band have arranged five low-key local concerts for March. They see the shows as useful warm-ups before a national assault later on and they hope it will give local people the chance to see what they are made of. They will begin their local express tour at the Blacksmiths Arms (March 3) followed by Kingsbury Youth Club (March 4), Blueposts Burton (March 5), Tamworth Youth Club (March 6) and The Marmion (March 11).
Once the band have got these local shows under their belts, they will begin a national campaign starting with a show at Stockingford Labour Club (Sat, March 14) then the Castle Club, Tattershall (Sat, April 18) and the London show on April 22.
"We will be adding a lot more shows around this time hopefully and the list is by no means complete," said Mark.
The band have only been together a short time but already they feel their sound is coming together very well. Mark and Bryan were determined to make their joint sound far removed from that of The Dream Factory and The Parade – and at this stage they seem to be on course.
"It almost sounds like the old DHSS," said Mark. "It is very trashy, powerful and loud with a strange bag of influences including The Byrds, Bob Dylan, psychedelia and new wave."
And Mark adds pointedly "It certainly is not mod!"
Tamworth Herald – 20/02/87
Musicbox – Brian makes tracks
BRIAN LACEY has surprisingly left The Great Express. Brian, who was both the group's lead guitarist and its singer walked out at the weekend after a disagreement about his role in the band.
The Express felt that Brian should concentrate on guitar playing and should find a new singer but the former Parade man did not agree and decided to quit. Both sides have stressed that the split is amicable and both say they have respect for each other's opinions.
"There is no animosity at all and the band will be carrying on without me" said Brian. "It's just a question of trust as I see it."
Bassist Mark Mortimer was also keen to stress that this is not the end of the line for the Great Express. "It means we will probably have to cancel some of our local dates in March but we are certainly staying together," he said. And he added jokingly – "It must be because I smell or something because people keep leaving me!"
If you would like to team up with Mark, Chantel and Dave, you can contact Mark.
Tamworth Herald – 13/03/87
Musicbox – SNIPS
The Great Express have finally settled on a new line-up. The highly-talented and much-respected Ted Wilson had joined the band on lead guitar, while the second guitar and lead vocal has been given to former Orange and Sitting Pretty favourite Julian Amos. The new line up is now working very hard on their material but it looks as if all the March/April concerts will have to be postponed.
Tamworth Herald – 03/04/87
Musicbox – Express tour is steaming ahead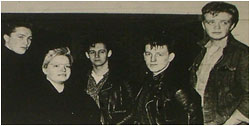 THE all-new Great Express have just announced details of a major low-key tour this spring.
The outfit, now with Julian Amos and Ted Wilson as fully-fledged members, will visit a host of small venues throughout May and June before playing several large concerts towards the end of the summer.
Among the band's latest crop of gigs is one at the Tavern in the Town on Thursday, May 28 and a visit to London's Tunnel Club where The Express will team up with Richard Dean's outfit The First.
The band's full itinerary at time of going to press takes them to Burton, Tamworth Arts Centre, London, Lichfield, Ward End, Baddesley, Nuneaton, Stockingford, Derby and Worcester. They will be joined by several support bands en-route including ex-Soul Exit outfit The Great Divide who will team up with the Express on a number of occasions.
Also in the pipeline are shows in Liverpool and several universities and according ti ever-enthusiastic bassist, Mark Mortimer, everything is going along the right tracks…
"I feel happier about this than I have done about anything before it." He said. "The sound we now produce is hard, aggressive and poppy and the contrast with The Dream factory is unbelievable."
Mark says the sound the band now produce is in the Cope/Lemon Drops ballpark, but he can't be more specific than that.
"It is really difficult to describe what we do, but it is hard, it is strong and we think it is very good," he said.
Mark, keyboard player, Chantal Weston and drummer Dave Burgess, are delighted with their new brace of members, Julian Amos and Ted Wilson. Mark admits to being very impressed with Julian's voice and stylish guitar work and he is delighted with Ted's whole approach.
"Ted is a tremendously innovative guitarist and I like that a lot. He really fits in well," enthused the Express bassist.
The band are now rehearsing hard in preparation for their forthcoming tour, and according to Mark they are certainly not short of confidence.
"Everyone seems really happy with our sound and direction and we are all looking forward to the future," he said.
Tamworth Herald – 17/04/87
Musicbox – SNIPS
The Great Express have added yet more dates to what is becoming their 'spring offensive' tour.
Tamworth Herald – 22/05/87
Musicbox – Salute the all mighty
THE RATHOLE stages one of its most eagerly-awaited concerts on Sunday night when Tamworth's most talked-about new band The Great Express team up with the might of Mighty Mighty.
The powerful double-header is certain to see one of the Arts Centres biggest attendances so far and spectators are promised an exciting, contrasting show.
Mighty Mighty…
…The Great Express. This will be the bands first major Tamworth town centre show and according to bassist Mark Mortimer it should be an interesting night for band and spectators alike.
"People who come along expecting a cross between Orange and The Dream Factory are in for a massive shock," said Mark. "We are very powerful and there is no other band I know what sounds like us."
For those who don't know, The Great Express began as a vision in the mind of former Dream Factory bassist Mark Mortimer. When the Factory split, he attempted to get that vision into clearer focus by recruiting drummer Dave Burgess and keyboard player Chantal Weston. Next, Mark teamed up with his ex-colleague singer/ guitarist Brian Lacey, but when the Mortimer/Lacey marriage ended in divorce, Julian Amos and Ted Wilson stepped in and the Express are now complete. Anyway that's the history, let's talk about the future.
"I feel like an alcoholic about this band – I just can't get enough of it and I just crave to do gigs," said Mark. "I feel very excited about the band, because it is close to my own true musical aims and those of everyone else in the band."
Influences such as Julian Cope and The Mighty Lemon Drops are obvious enough, but at the band's first concert at Nuneaton they were also compared to Crazyhead, The Jam and wait for it – AC/DC.
"AC/DC, can you believe it?" said Mark. "That made me laugh at the time because I think it shows that we're totally different and people will have to just come along and make their own minds up."
As well as Sunday's show at the Arts Centre, the Express will also be in action at the Tavern on Thursday night giving people a chance to make their mind up twice. I for one feel we are all in for a treat – and an unusual one at that.
Tamworth Herald – 29/05/87
Musicbox – Great Smiles
Concert Reviews – The Great Express – The Rathole
SO, at last, The Great Express has rolled in to town. After months of preparation and musical soul searching, the band has finally unveiled the sound they hope will bury their pasts and glitter their futures. And after just this one set, I think they are on to a real winner.
Like most of the large respectful audience, I was a little confused at the start of the band's set as their opening couple of numbers seemed to go off in a host of different and not always conclusive directions. But gradually the set warmed up, the band warmed up and the audience were treated to an original and very impressive show indeed.
To me the group came over as an aggressive version of the criminally under-rated Church wit touches of The Go-Betweens, The Jam and The Mighty Lemon Drops thrown in. For the most part it was hard-hitting and hard-sounding with the dual use of Julian and Ted's guitars creating a colourful, meandering wall of sound. Songs like 'Laughing House', 'Witch Well' and 'Pieces' fitted into this strong sphere, but just to confuse matters they added surprising pop touches like the elegant 'Heavenly, Heavenly' which sounded like a slice from the Jam's hallmark album 'The Gift'.
But the best was undoubtedly saved until last. The band finished their set with a riveting, brilliant number called 'Over and Out' which started like an early Pink Floyd number, and grew and grew into something large, colossal and quite mesmerising. The last minute or so as the whole band speeded the melody-up bar by bar was quite riveting and done with the sort of exact and exacting professionalism that is the outstanding feature of Mark Mortimer's work. The whole effect was almost numbing and I am convinced that in 'Over and Out', The Great Express have created a classic set-ender.
Confusion about the material on offer and what people thought of it was rampant after the band had gone off stage but I am convinced here is a band who need to be seen several more times to be fully appreciated. There is a lot of craft and skill going on within their music, and perhaps not all of it is discernible on one casual listen. What I do know however is that the band have created something they can feel very proud of, and something that I feel will have a lasting power. As musicians they are also to be commended. Julian Amos handled the taxing vocal lead very well indeed but for me the real star was Ted Wilson who gave an electric performance. For too long now, Ted has been a sleeping star, now he is a waking one, and it won't be long before he is once again challenging for the top local guitarist crown.
The Great Express have, when everything is taken into account, a lot going for them. They are young, powerfully minded and have arrived at exactly the right time. After just 45 minutes of their company I am convinced they are already major challengers.
Tamworth Herald – 12/06/87
Musicbox – SNIPS
The Great Express cross the waters tonight (Friday) for the latest in a series of top shows. The band play in the Isle of Wight tonight.
Tamworth Herald – 19/06/87
Musicbox – Festivals, fun, gigs galore
SNIPS
Don't forget The Great Express are at The Crown, Nuneaton on Saturday.
The Great Express
And how they justified that 'Great' tag tonight. Even compared to their first uplifting 'Rathole' show this was a revelation and proved that the Great Express are an almighty force for Tamworth to be proud of. Gone are any tracks that were less than 100 per cent dynamite and in comes powerhouse full of unrestrained anger and menacing guitars. One of two of the tunes are priceless and the band's stage show is now dramatic and immensely watchable. Great performers, great show, great songs. Great Express. Brilliant.
The Great Express – You Are My World
A STUNNING slice of modern pop which has realised its full potential under the skilful production of Donald 'Mollusc Number Ten' Skinner. The song breezes along brightly until suddenly turning loud 'n' nasty and leads to a satisfying forceful climax. Any song that features two pianos, six…a fab tune…
Tamworth Herald – 07/08/87
Musicbox SNIPS
The Great Express are on the look-out for a new drummer. Dave Burgess will be leaving for college in September and after that the band will need a full-time sticksman. Dave has said he will be happy to play at the band's next two concerts – at the Tavern and the Festival – but he will leave after that/ If you would like to team up with The Express ring Mark.
Tamworth Herald – 21/08/87
Musicbox – SNIPS
The Great Express have found a new drummer in Simon Harvey. Simon, who was originally from Shropshire, but is now Lichfield-based, will join the Express after the Festival which itself will be the last show from Dave Burgess.
Tamworth Herald – 04/09/87
Musicbox – Gig reviews
Express thunders in
The Great Express – Tavern in the Town
THE TAVERN was unthinkably small, agonisingly dark and hot as hell. But onward go the Great Express, hard as nails and heavy as lead – which is their only problem.
Soon the all-new drummer will tae Dave Burgess' place and maybe the sound will bounce again. On the whole the set is a power pop sandblast of flying red with the blue flashes of 'Firework' and 'Witch Well' that leave people wide-eyed and open to suggestion.
Tamworth Herald – 20/11/87
Musicbox – SNIPS
The Great Express return to local live action on Tuesday night when they start the first of what should be a regular series of concerts at Corvettes Wine Bar. The group's ever-active bassist Mark Mortimer has been asked by Corvettes co-owners Phil and Sara to organise special shows and discos at Corvettes and he will be delighted to hear from any band who wants to be involved. Mark has now formed a promoting agency called Wimple Sounds which he says is open to all local bands who want to be promoted. And has promised he can organise concerts for anyone, anywhere!
Tamworth Herald – 27/11/87
Musicbox – Here Comes Two Cracking Nights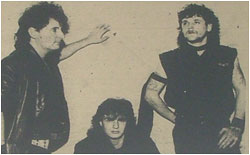 TAMWORTH'S music scene bursts into life again this weekend with two cracking concerts at the Arts Centre.
Tonight (Friday) powerkings Breaking Point spearhead an alternative bash which features The Great Express and The Conspiracy and then on Sunday, rock music takes over with metal men Shellshock teaming up with Atherstone twosome The New Age Gypsies and Kubla Khan.
Both concerts offer a mixture of new and old favourites and both offer the respective audiences a wide range of exciting modern music.
Let's start by looking at tonight's show. Topping off the bill are Breaking Point who are looking to tonight's concert as an important new starting point in their long and enjoyable career.
As well as parading many of their oldies and goldies, the band will be serving up several new tunes all of which they passionately believe stand up to the best of the rest. Breaking Point have, in former times, produced some of the greatest ever Arts Centre concerts, where their mixture of dynamic, power, skilful songwriting and often moving melodies have slayed their audience unmercilessly.
If they can play to their crunching best tonight – as they sincerely hope to do – it could turn out to be a very special set indeed.
Also hoping to turn on the style will be two new bands who have made a big impact on Tamworth this year – The Great Express and The Conspiracy. The Express and now back in business after a lay-off of several months, and they are returning with virtually a brand new set of songs which have been conceived while the band have been away from our stages.
All the new material has fired the group's enthusiasm and when it is supplemented by the likes of 'Over and Out' and 'You Are My World' it should make an excellent set. Completing tonight's intriguing trio will be The Conspiracy, a group who have been busy with live work since their first dramatic attack on the local scene at the Rock Festival. The groups new-wave-based modern rock sound should fit the bill perfectly tonight, and they have the ability to grab the attention and keep it riveted.
Their appeal is wide-ranging, their sound is strong and their talent is obvious. Long with Breaking Point and The Great Express they represent some of the best and most original music Tamworth has enjoyed and all three groups together should make an irresistible treat.
It starts at around 8pm, the entry fee is very modest and it should be a great night out for local music fans at the Arts Centre tonight.
Then, just 48 hours later, there are yet more tasty morsels on offer. The bands on view at Sunday night's Arts Centre bash – Shellshock, Kubla Khan and New Age Gypsies - are all hoping to have a real rock and roll party, which should appeal to everyone who likes their music hard and punchy.
Shellshock are a band who play far too few concerts in my opinion, but always impress o, the occasions they do hit the stage. Their last powerful bash at the Rock Festiival earned them praise from all sides and when coupled with their recent thundering demo it shows a band very much alive and kicking. Musically, the band produce meaty metal with a commercial edge.
It has all the ingredients you expect from metal but has those cute tunes and stylish arrangements that are less familiar in the land of blood, guts and axes. The New Age Gypsies, meanwhile have a reputation as a late-Sixties hippy band but their sound owes much to the likes of The Cult as it does to the likes of Love.
Hard rock
It is hard rock with psychedelic overtones – a neat blend of Sizties abd Eighties which happens ironically to sound very Seventies-ish! If that's confusing, go along on Sunday and you may just see what I mean.
Competing Sunday's show are the highly-likeable Kubla Khan.
Their music has a lot of touches of the immortal Spirit of Water, a sort of anthemic rock sound with sweeping melodies, brash rhythms and glitzy guitars. Their whole sound is influenced by so many different musical strands it unsurprisingly ends up feeling very original. Such was the impression they made at the Tamworth Rock Festival, that they are certain to be lapped up on Sunday.
So that's the second of two fine shows this weekend. Both offer three good strong local bands at knock-down, value for money prices. Both should offer local music fans a real plethora of delights so put your dancing shoes on and head for the Arts Centre tonight and Sunday.
Tamworth Herald – 04/12/87
Musicbox – Gems among a week of gigs
MUSICBOX reviewers have been out and about in the last week or so catching up on a host of bands at various venues. Here is a selection of their comments with the code to the reviewers being SH – Sam Holliday; DC – Dan Collins; HM – Helen Machin and DR – David Reeves.
The Great Express – Tamworth Arts Centre
Day by day (gig by gig) The Great Express seem to be moving further and further away from 'pop music'. In their early days it was the mixture of the melodic and the meaty that gave them their wide-ranging attack but now it seems the pop fizz has been replaced by a rock slug. The sound sis getting heavier all the time and although there are still many moments of magic within it, I occasionally wished they would turn down the guitars and aim to caress rather than batter the eardrums. The Great Express go thundering on, but their engine now seems to be being stoked from a different source.
SH
Tamworth Herald - 15/01/88
Musicbox – Kicking off with fine trio
Tamworth Arts Centre opens its doors on Sunday for the first major local concert of 1988.
Making their way to the venue will be Musicbox poll favourites The Great Express and The Parade and one of Lichfield's finest exports Acoustic Shock.
The three band line-up represents a very strong one, which should appeal to a wide-range of local music fans. The Great Express emerged as one of the best new bands of the year in '87 with their unique and powerful sound, and they are keen once again to show local audiences just how they have developed and diversified since their early appearances. Their sound is resilient and memorable and the size of their audiences imply they are a band who a lot of people take very seriously indeed.
Joining The Express will be fellow Tamworthians The Parade. The group – now back as a three-piece once again – made a triumphant return to the local scene at last year's Rock Festival and have since done a series of low-key gigs which have further sharpened their live capabilities. On their night, their high-energy pop can make them a classic, classy live act and they will be keen to make their night on Sunday.
Competing what looks to be a very strong trio will be Acoustic Shock. This Lichfield group have a strong following in their home town for their alternative-based power-sound which has more than the odd touch of the Buzzcocks and a lot of late Sixties influences.
Putting the three elements together, this looks to be a very god show indeed and will really set 1988 off to a bang at the Arts Centre.
---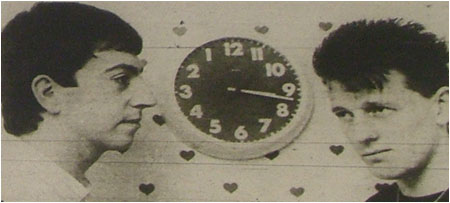 Caption: Bryan Lacey and Mark Mortimer…time for a change.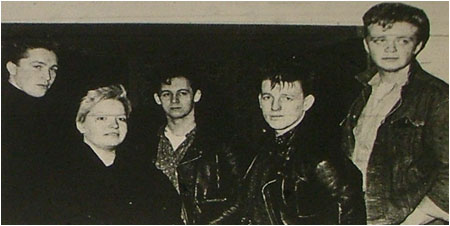 Thanks to:

Mark Mortimer

- www.jazzfish.co.uk