Those Attractive Magnets : Version 6
Musical Genre/Type: New Romantic
Formed: August 1981 Split: 1984
Band Members:
Rikk Quay - Keyboards
Andy Baldwin - Lead Vocals
Cris P. Kelloggs - Keyboards & Backing Vocals
Gary Garrie - Keyboards
Other Band Members:
Clive Starky - Keyboards/Bass Guitar
Martin Woodings - Drums
---
Gigs
09/09/81
Those Attractive Magnets
Faces Nightclub, Edgbaston
15/01/82
Those Attractive Magnets
Stripes
23/02/82
Those Attractive Magnets
Barry John Disco
Tamworth Progressive Club
02/03/82
Those Attractive Magnets
The Chequers
09/07/82
Those Attractive Magnets
Barry John Disco
Captain Green
Assembly Rooms
16/04/83 (Cancelled)
Those Attractive Magnets
Stripes
13/05/83
Those Attractive Magnets
Lambent Lamella
The Chequers
16/05/83
Those Attractive Magnets
Stripes
20/05/83
Those Attractive Magnets
Lambent Lamella
The Chequers
04/06/83
Those Attractive Magnets
Lambent Lamella
Nuneaton Arts Centre
29/08/83
Tamworth Rock Festival
Sitting Pretty
Those Attractive Magnets
Hardware
Royal Family
Omen 2
Time Bandits
Tamworth Castle Grounds
02/09/83
Select Elect
Those Attractive Magnets
Tamworth Arts Centre
14/10/83
Nick Lowe
Edward ian Armchair
Dead Captain Speaks
Those Attractive Magnets
Tamworth Arts Centre
19/11/83
Those Attractive Magnets
Faces
---
Tamworth Herald – 18/09/81
Musicbox – Magnets draw new praise
TAMWORTH futurist band Those Attractive Magnets continue to improve.
In July the band were a great success when they played the Faces nightclub in Edgbaston, Birmingham.
Last week they returned to the club to give what was their best all-round performance to date.
Playing six specially selected songs, they managed to win over a highly-knowledgeable audience.
The songs represented every phase of the Magnets' musical history with old favourites like "1500" and "Memories" finding a place in the running order alongside new material such as "Venus" and "Fade into Secret Silence".
Their performance also included one cover version – "Rock and Roll" – which proved to be the highlight of the night as far as the audience were concerned.
They looked stylish and their presentation was excellent.
The Magnets have come a long way since their early Tamworth gigs and hopefully they're on the brink of the big success they deserve.
Tamworth Herald – 06/11/81
Musicbox – Here's two for the album…
AT LAST…Tamworth futurist band Those Attractive Magnets have signed a recording contract.
For the talented three-piece outfit have signed up with the newly formed Ebony Records.
The Magnets have already recorded two tracks for a forthcoming album featuring a host of other futurist bands.
And the album – as yet untitled – should be in the record shops just after Christmas.
Original band member Rikk Quay said "It was very exciting recording the two tracks. The studio facilities were excellent."
And Gary Garrie (sic.), who joined the synthesiser group earlier this year, added: "The recording contract is the best thing that's happened to the Magnets and the Tamworth music scene."
The two album tracks "Fade Into Secret Silence" and "Go It Alone D5000" were both penned by Rikk and co-founder of the group Andy Baldwin.
They were recorded at a 24-track studio in Hull, the home of the independent Ebony label.
A SINGLE
Rikk explained that the Magnets could also have their own record on the market following the album release "Ebony are interested in putting out the two tracks as a single," he said.
Meanwhile, the band are busy preparing a new set for future gigs which will probably take place in Birmingham.
Tamworth Herald – 15/01/82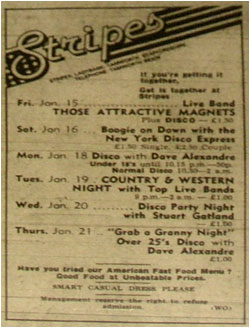 Musicbox – Stripes debut
TAMWORTH futurist band Those Attractive Magnets will be breaking new ground tonight (Friday) when they appear at the town's only night club – Stripes.
They will be the first-ever live band to perform at the venue.
Stripes' management are trying out new ideas to attract more people to the nightspot.
And the Magnets' performance could mark the start of regular live entertainment at the club.
It will be their first gig in Tamworth since they played at the Warren, Mile Oak, last summer.
Admission is £1.50 – be there!
Tamworth Herald – 22/01/82
Musicbox – Magnets' Stripes gig – just the start?
Those Attractive Magnets: Stripes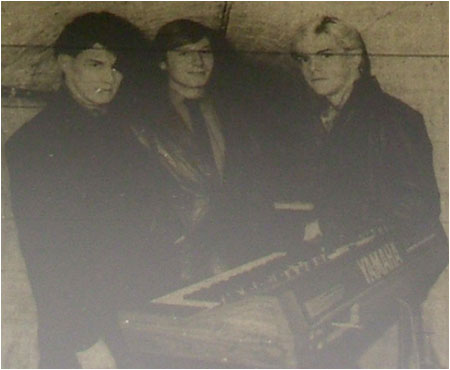 Caption: Those Attractive Magnets – minus Cris P. Kellogs – (left to right): Rikk Quay, Andy Baldwin and Gary Garrie.
IF you missed Those Attractive Magnets at Stripes on Friday, you missed, what I believe will be known as Tamworth's best gig for 1982 – even though we are only 22 days into the New Year – in a venue which has an exciting future potential.
It just couldn't have gone better for the band – Rikk Quay, Gary Garrie, Cris P. Kellogs (synth and backing vocals) and Andy Baldwin (synth and lead vocals).
The close, relaxed club atmosphere suited the group. They had most people on the dance floor to an unusual cover of Gary Glitter's "Rock 'n' Roll" – and kept them there.
And for people to dance to electronic/New Romantic music they have probably never heard before – and look as though they were enjoying it – shows the group's ability.
The crowd were just eating out of their hand. And that's because the Magnets at last seem to know what they are doing.
They look good, sound good, and by golly, it's easy to see why this talented group have been chosen out of hundreds to appear on a futurist compilation album due out at the end of this month.
The Magnets have gone through the post-punk and early romantic stuff, but still seem to keep their sound one step ahead of the rest of the music scene.
But the group sometimes get too concerned with minor technical details over the sound of a song.
"Fade into Secret Silence" – the album track – is one about which they always get paranoid.
Listen lads, your average punter isn't as clever, or worried, as you about that sort of thing.
Andy Baldwin's husky vocals seem to get better all the time.
Rikk Quay never fails to impress on stage.
The lad can certainly move.
And Gary Garrie's cool Gary Numan approach acts as a perfect foil to Rikk.
But they deserve a rap across the tape decks for not playing live very often. This was the first Tamworth gig for months.
The crowd got them back for an encore half-an-hour after the lads had left the stage and were about to settle down for a refreshing glass of beer, or two.
Credit must go to Stripes' manager John James, whose idea it was to bring live bands to the club. It must be the most professionally equipped and smartest venue in town.
It's the right size. The crowd can get close and bop if they want, yet there's also plenty of room for the band.
And the atmosphere was one of the best I've ever seen at a gig. It was electric.
In believe a permanent future for live bands – across all shades of the music spectrum – at Stripes depends – naturally enough – on audience response.
That means you, dear reader, getting up and going along to support the bands in future now that Tamworth has got another good live venue which it so desperately needs.
Tamworth Herald – 19/02/82
Musicbox – The Magnets
INSTEAD of pancakes, try the Magnets.
For a Shrove Tuesday disco at Tamworth Progressive Club will feature futurist band Those Attractive Magnets.
And despite the attraction of the Magnets there's no extra charge on the usual 7.30 start Barry John disco. It's all your for 50p.
And the Magnets will also be gigging at the Chequers, Hopwas, the following Tuesday, March 2.
Tamworth Herald – 05/03/82
Musicbox – What's holding back these Magnets?
Those Attractive Magnets : Tamworth Progressive Club
THOSE Attractive Magnets are resting on their laurels.
I just wish it was holly – because the group need to be pricked into action.
The verdict comes after seeing the band at Tamworth Progressive Club.
If you were seeing them for the first time you would have thought they were good – which they were.
But as someone who has seen them live several times I found their performance sub-standard.
They let their audience – and themselves – down.
Old favourites like: "Memories", "1500" and "Venus" were churned out in a too relaxed manner.
Even their normal excellent cover version of "Rock 'n' Roll" got little audience response.
And "Tainted Love" was a cringe-making mistake from start to finish.
On the plus side they were visually excellent – as ever. And they did seem to come to life with their latest number "Survivors".
Unfortunately it was the last one of the evening.
But the audience – and there were plenty of them – seemed to go away happy.
For the Magnets have a knack of being good even when they are bad.
I just hope the band throw out their old material and come up with a new set at their next gig at the Chequers on Tuesday March 9.
Tamworth Herald – 09/07/82
Musicbox – Magnetic sounds on showcase disc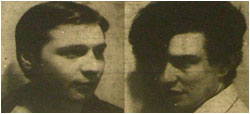 A NEW album – released this month – features tracks from two Tamworth bands.
The album entitled 'Synthetic Romance' features 11 groups and artistes from all over the country – among them local outfits Those Attractive Magnets and DHSS.
'Synthetic Romance' – released by Hull-based independent label Ebony Records – will appeal to fans of modern and futuristic music.
The groups featured are from all walks of life, but have one thing in common – the synthesiser.
The album is intended to promote new groups performing their own material.
'Fade Into Secret Silence' was the Magnets' choice for the LP while DHSS are to be heard playing 'Together'.
Robert Sly writes; 'Fade Into Secret Silence' has always been the Magnets' strongest song and was an obvious choice for the album.
It is probably the most commercial thing the group has ever done and deserves the privilege of being put out as a single rather than sandwiched between album tracks.
Nevertheless, it sounds as good as ever on 'Synthetic Romance' and is one of the brightest tracks on the album.
Richard Whitehead writes: 'Together' has undergone a total metamorphosis since I first heard it on the ban's three-track demo tape recorded at Steve Adams studio last year.
Sadly, though, the track doesn't appear to have progressed in any way at all.
The addition of a rather pale synthesiser for the album recording has taken away much of the passion which was a feature of the song and left it as little more that a shadow of its former self.
It's been hard work getting there, but at last two groups can now see their names on vinyl.
Three cheers for Those Attractive Magnets and DHSS is what we say – and let's hope they keep up the good work.
Tamworth Herald – 09/07/82
Musicbox – Band promise a fun night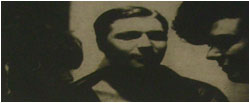 ELECTRONIC band Those Attractive Magnets make a return to Tamworth's live music scene tonight (Friday) with a gig at the Assembly Rooms.
The gig will be part of an evening of entertainment organised by top Tamworth DJ Barry John.
In between two sets by the Magnets, Barry John will be playing all the latest sounds – and there will be a special guest appearance by eccentric Tavern in the Town DJ Captain Green.
Doors open at 8pm and the fun lasts until 1am. Admission is £1 and there will be a licensed bar.
Tamworth's alternative poet Edward ian Armchair – who took our pictures of Magnet's songwriters Andy Baldwin and Rikk Quay (above) – will be making a video film during the night.
It will be the first gig in Tamworth by the new-look Magnets, Saxophonist Mick Duffy and percussionist Brett have been added to their line-up.
These are exciting times for the town's most original group.
A compilation album 'Synthetic Romance' featured above, includes one of their songs, and they now have a recording studio called Magnadrive.
The band will be shortly going into the studio to record a new 12-track tape which will go on sale in the town at £2.99
Rikk Quay said: "We hope there's going to be a great atmosphere at the gig and that everyone's in good spirits."
Tamworth Herald – 16/07/82
Musicbox – Nice colour, but where's the polish
Those Attractive Magnets : Assembly Rooms
IT promised to be a good night…and electronic band Those Attractive Magnets were not in a mood to disappoint.
The band overcame some drastic sound problems to serve up a gig full of colour, energy and originality.
They performed a largely new set of numbers, which had the audience on their feet from the start to finish.
Their music has become more commercial and danceable, but to these ears the best song of the night was the relatively old number 'Survivors'.
The Magnets have bags more stage presence with their expanded line-up – and the addition of saxophone and percussion has given their sound more depth.
But although their show was vivid, it lacked the sophistication of previous sets – a quality the Magnets' music demands.
Their act looked a little thrown together at times and the breaks between numbers were dire.
It was an enjoyable performance, but hopefully the band will exercise more control at future gigs.
Tamworth Herald – 06/08/82
Musicbox – In on the Park
Those Attractive Magnets : Park Avenue
CONGRATULATIONS to Tamworth electronic band Those Attractive Magnets on another ground-breaking achievement.
They recently became the first live band to perform at the plush Sutton Coldfield nightclub Park Avenue.
And what a performance it was.
Playing as a four-piece, the band served up their best-ever gig.
They made up for their scrappy live show at Tamworth Assembly Rooms by producing a musically-tight set which was warmly received.
The venue suited the band and they replied by coming up with the goods as we all know they can.
Tamworth Herald – 15/04/83
Musicbox – LETTER – THOSE BRILLIANT MAGNETS
Being a fan of Tamworth group Those Attractive Magnets, I wondered why I had never seen them featured in Musicbox in the Herald.
I have been a fan of the group ever since I saw them at the under 18s disco at Stripes nightclub in Tamworth.
They have once appeared there again, and I know I am not alone in thinking that they are brilliant. My friends and I can hardly wait until April 18 (next Monday folks) when they are doing another gig at Stripes.
A few weeks back, in Musicbox, they were mentioned for their appearance at the Tavern in the Town pub on a Monday night, but no report was given about them.
My friends and I would be more than pleased if they were featured in the paper as we read Musicbox every week.
I would be very much obliged if you could do this for us and I think that one of their gigs would make a very interesting feature.
I will of course be at Stripes on April 18, looking forward to an excellent performance from Those Attractive Magnets.
Your sincerely
TAM fan, Mile Oak
- TAM Fan – thank you for your interesting letter. But it must be pointed out that reports and pictures of Those Attractive Magnets have appeared in Musicbox on countless occasions.
The group have been one of the most popular in the Tamworth area over the past few years – and their activities, live shows and studio work, have been publicised accordingly.
Admittedly, they have not been featured recently – and that's a situation we would like to rectify. But it's up to all bands, not just the Magnets, to contact the Musicbox team at the Herald offices and tell us what they are doing – music editor.
Tamworth Herald – 29/04/83
Musicbox – A PRESENT WITH REAL MAGNETISM
HERE'S AN offer Those Attractive Magnets fans won't be able to refuse. The band are offering to tape for free their latest tracks if fans send a blank cassette to them at the Tavern in the Town, Corporation Street, Tamworth.
"Call it an early Christmas present," said band member Rikk Quay.
He apologised for the band not playing at a Stripes gig on April 16 due to the indisposition of vocalist Andy Baldwin.
But you'll be able to catch the band at Stripes on May 16 and at the Chequers on May 13 and 20.
At the Chequers the group will be headlining with Atherstone band Lambent Lamella
Equipment
The two groups will also be playing at Nuneaton Arts Centre on May 21 and June 4.
New sets are expected from the Magnets who say they have recently spent £2,000 on new equipment – drum machines and computers.
And they hope to have a single out on their own Magnadrive label within the next three months.
Tamworth Herald – 13/05/83
Musicbox – Chequers 'double'
A SPECIAL double-header gig takes places at The Chequers, Hopwas, near Tamworth tonight (Friday).
Tamworth electronic outfit Those Attractive Magnets will be appearing with Atherstone three-piece Lambent Lamella.
It's the first of a couple of gigs at the Chequers featuring both bands. The other is next Friday.
Look out for a Musicbox focus on Lambent Lamella in next week's Herald.
Tamworth Herald – 03/06/83
Musicbox – SUPERB MAGNETS
Those Attractive Magnets, Lambent Lamella: The Chequers
WHEN Those Attractive Magnets announced that the last song in their set at The Chequers was called 'We're Survivors', the irony of the title hit me immediately.
The Magnets are without doubt Tamworth's most resilient musical survivors. For seemingly years they have been trying hard to get the Tamworth public behind their own brand of synth-pop and they have stuck at their task with impressive determination.
And even more impressive than that is the fact that their sound, rather than decaying, really sounds fresher and more entertaining than ever. The performance at The Chequers, which incidentally, the band thought was below standard, was quite superb and certainly the most enjoyable concert I have ever seen from them.
The sound was skilfully layered and precisely mixed and they really appeared as a very tight and professional group. They also seemed to be more relaxed and positive about their music and clearly enjoyed the concert allowing their personalities to show through more than ever.
Rikk Quay even reminded me of Ten Pole Tudor at one stage with his lively banter and the enormous grin that was a permanent fixture on his face.
Success
The band's best numbers on the night were 'The Age of Innocence', 'Survivors' and best of all 'Nightlife' which was simply excellent.
I hope The Magnets continue to 'survive' because surely it is only a matter of time before they achieve the success they deserve.
I was looking forward to seeing Lambent Lamella, the second band on The Chequers' bill, for a number of reasons.
They have released a demo tape which I had been told was 'brilliant' and they listed among their influences Siouxsie and the Banshees and The Cure. Would they be another Unknown, I asked myself?
No, I answered shortly after. Lambent Lamella's half-hour set proved to be as exciting and inspiring as a visit to the Bull Ring.
They chose to hide a bunch of good ideas behind an ear-piercing wall of noise that succeeded in making about three-quarters of the audience head for the exit.
This was a shame because Lambent Lamella are a band with a lot of talent – if not at choosing a name for the group.
Guitarist Steve Fullylove is particularly promising and inventive and the band appear to have a good sense of togetherness and stage presence.
I think they should concentrate on getting the same effect live as apparently they do on tape.
Tamworth Herald – 24/06/83
Musicbox – Letters
AFTER reading the review in Musicbox (June 3) of the gig by Those Attractive Magnets at The Chequers, Hopwas, I would just like to say how much I agreed with Sam Holliday's comments.
After a superb performance, which I thoroughly enjoyed, his review contained the praise that the Magnets deserve.
I thought every word of it was true.
I also hope that the Magnets continue surviving until they achieve their well-deserved success.
L. Robinson, Tamworth.
Tamworth Herald – 01/07/83
Musicbox – MAGNETS ATTRACT A NEW RECORD DEAL
ENDURING Tamworth band Those Attractive Magnets are set to take two big steps forward in their career.
They are soon to release a single and hope to clinch a major record contract.
The Magnets are going into Steve Adams studio, Tamworth, at the beginning of July.
They have a distribution deal to get the record into the shops by early autumn.
The double-A-side will feature 'Night Life' and either 'Changed' or 'Love Chimes'.
The best
'Night Life is one of our more recent numbers and the best we have written," said Magnet Rikk Quay.
"Depending on how things go in the studio, we will choose the other A-side then.
"It's costing us £600 for the 1,000 copies but we feel we have more chance of getting noticed with something on vinyl.
"On top of that we are hoping to get a major recording contract sorted out.
"But we are not saying anymore about that for the moment."
In recent months the Magnets have been gigging in and around Tamworth and Nuneaton and have spent over £2,000 on new electronic equipment.
"The computers mean we can really do things with the sound," added Rikk.
"We also might be doing some more gigs locally.
"All in all the band's really gone forward in leaps and bounds in recent months and that's what we are going to continue to do."
Cathy Pettigrew
Tamworth Herald – 26/08/83
Musicbox – Magnet-ising offer from you-know-who
THOSE Attractive Magnets fans are being given the chance to tune in to the band's latest sounds.
The group is offering a free copy of their hot-off-the-presses single to the five people whose applications are opened first by Musicbox.
The disc features 'Night Life' on the A-side and 'Love Chimes'. It's available at Rock-it Records and W.H. Smith at £1.15 from today.
The single was recorded at Steve Adams studio, Tamworth and cut at Abbey Road Studios, London.
"It was a greta experience going to Abbey Road," said band member Rikk Quay.
"We hope that cutting the disc there will bring us as much lick as it did a certain other band who used to use the studio in the 60s."
To get your free copy of the disc, write to 'Musicbox', Tamworth Herald, 10 Aldergate and mark the envelope 'Magnets single'.
CATHY PETTIGREW
Tamworth Herald – 26/08/83
Musicbox – Local line-up for a holiday rock special
THE Castle Grounds is the setting on Monday for the biggest rock event in Tamworth this year.
Five local bands have already been confirmed for a Bank Holiday rock festival – the first in the town for four years.
And the formidable line-up promises to make it an afternoon that has something for everyone.
Hardware will be headlining the show and they have already enlisted Those Attractive Magnets, The Royal Family, Omen 2 and Sitting Pretty as support.
The whole event has been organised by Hardware and Gary Holt from the Arts Centre.
"We decided it would be nice to get a few bands together and we just hope there will be a lot of people there," said Garry Norris of Hardware.
The gig begins at 2pm and is completely free. No running order has yet been made but there is likely to be a DJ to host the afternoon and introduce the bands.
The afternoon promises to be extremely varied ranging from the synth pop of Those Attractive Magnets to the more traditional rock of Hardware.
As well as these two well-known local bands, the festival will also provide an excellent opportunity for three newer outfits to make an impression on the local scene.
Great acclaim
Omen 2 are the follow-up to the once popular men and they have promised a totally new sound.
The Royal Family are a talented blues rock band who have already gained great acclaim following performances at the Tavern.
And the gig will be the first major outing for Sitting Pretty, a new band recently formed by 'Tambeat' editor Mike Turner.
There is also a chance that other bands will be added to the line-up – the Classified Ads have still to confirm – and it all looks set to be an excellent afternoon for the town's rock fans.
All it needs is for Tamworth people to pack the Castle Grounds and ensure that the Bank Holiday festival becomes a firm date for the local music scene.
Tamworth Herald – 02/09/83
Musicbox – Synth or rock…it's a night to note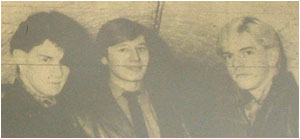 TAMWORTH's once-decaying rock scene seems to be finally coming to life. Not only did we have a bumper concert at the Castle Grounds on Monday but tonight fans have a choice of two great gigs to attend.
The first is at the Arts Centre where Those Attractive Magnets are playing with the new electronic duo Select Elect, in what promises to be an exciting night for fans of synth music.
But if more traditional rock is more to your taste, then the place to be is the Masonic Rooms in Lichfield Street where the Classified Ads will be lining up with Sitting Pretty in a gig to launch Tamdisk records.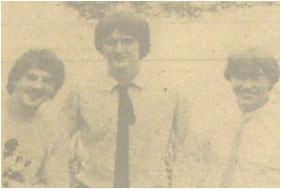 Both gigs will be a perfect combination of the old and the new. The Magnets are one of the town's oldest groups who now seem to be having a rebirth with the release of their excellent debut single 'Nightlife'. And in contrast it is the first time 'Select Elect', the young electronic duo, will take to a main town stage.
Meanwhile over the road at the Masonic Rooms, Tamworth veterans the Classified Ads – who were twice voted Tamworth's top band in the fanzine 'Tambeat' – will provide a nice balance with Sitting Pretty who made their debut on Monday.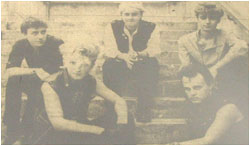 The Ads play new wave orientated pop music whereas Sitting Pretty describe their sound as 'music of the 80s with 60s overtones'.
Both gigs look intriguing and they reflect a general reawakening of the Tamworth music scene. All we need now is two bumper crowds to support these gigs so we can really get things moving again.
FOOTNOTE: The Ads will be back in action on Monday evening when they play at the popular Tavern in the Town.
Tamworth Herald – 09/09/83
Musicbox – Magnetic
THE debut single by Tamworth stalwarts Those Attractive Magnets has been selling like hot cakes throughout the town and looks set to be a successful venture for the town's top synth quartet. And the five free singles Musicbox offered readers have already been snapped up.
The lucky winners are: Margaux Brooks of Chestnut Avenue; Lucy Robinson of Mile Oak; Sally Caulkin of Telford Road; Paul Kowalski from Shelley Road and Derek Greenfield from Coton Green. All five winners will enjoy the exciting double 'A' side which comprises 'Nightlife' and 'Love Chimes'.
Tamworth Herald – 14/10/83
Musicbox – Bowing out – on a real treat of a night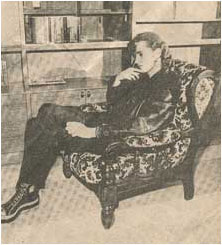 ONE of the Tamworth music scene's most colourful figures, Edward ian Armchair, will be playing his last gig in the town tonight.
And it could prove to be a nostalgic night for Edward who has been an active part of the local scene for more than six years after once singing with the legendary punk band The Reliants.
Edward, who is becoming well-known as an alternative poet, says he wants to concentrate on writing material but he has said his last live show will be a fitting farewell.
"I don't want to give too much away about my performance, but I would like to thank the Co-op for lending me the props." He said.
The gig also boasts the first live show by the Dead Captain Speaks.
The duo – Donald Skinner and Barry Douce – have been formed several months, but they have had to delay their debut because of various other commitments including Donald's much praised work with the Dream Factory.
Dead Captain Speaks are said to have an original sound which includes the use of backing tapes. If they are anything like the duo's former outfit – DHSS – then Tamworth fans are in for a real treat tonight.
And the treats continue with a headlining performance by local heroes Those Attractive Magnets.
The Magnets must be almost embarrassed at how well things are going for them at the moment, and they are sure to prove the night's biggest crowd pullers.
Line-up
The line-up is completed by Nick Lowe, the folk singer who has become a veteran of local gigs and seems to be an almost permanent fixture on certain stages.
With these four very different acts combining, there is no reason why the Arts Centre should not be packed to the rafters – and at 75p a ticket the gig is excellent value for money.
SAM HOLLIDAY
Tamworth Herald – 21/10/83
Musicbox – In the chair for a grand finale!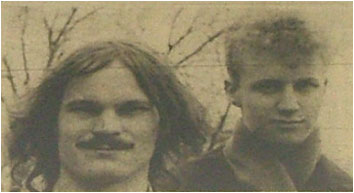 Edward ian Armchair/Those Attractive Magnets/Dead Captain Speaks/Nick Lowe : Tamworth Arts Centre
EDWARD Ian Armchair said goodbye to the Tamworth music scene in the best possible way on Friday night – with an excellent performance at the Arts Centre.
Edward gave a marvellously enlightening show of modern poetry, which delighted the audience and must have made him wonder whether he really should retire from live gigs.
His poetry was occasionally rude, occasionally witty and always perceptive. It revealed an incredibly alert mind at work and often delved into beautiful passages of prose.
Edward now looks forward to taking his poetry to a wider audience but his departure from Tamworth's music scene added a touch of sadness to an otherwise uplifting performance.
But such is the state of the local scene that as one flower dies another starts to bloom. The new bloom is the Dead Captain Speaks, a unique duo who played their first-ever set before Edward played his last.
The band gave a remarkable and intriguing show of music that has certainly never been heard in the town before. To put a label on their sound is as impossible as trying to describe the taste of water. Suffice to say this is not pop music!
But what certainly is pop music is the always interesting sound of Those Attractive Magnets. The Magnets had only 20 minutes to wind up the gig, but they did it magnificently. Every one of their five songs was a highlight in itself, but without doubt the outstanding track was "The Age of Innocence".
Straight after the gig and during the ensuing week-end there was unconfirmed rumours that the Magnets had split up. If this is true, it, will be a disaster for the town's music scene and we must just hope the band patch up their differences soon.
The evening was completed by another solo show by Nick Lowe who played an enjoyable, if perhaps overlong, set packed full of original folk numbers.
But the night undoubtedly belonged to Edward. It was a fitting end to a varied and enterprising live career and if he manages to translate his words into print we could have a major alternative star on our hands. In fact, this could just be the beginning…
SAM HOLLIDAY
Tamworth Herald – 04/11/83
Musicbox – Magnetic attraction
THOSE Attractive Magnets have got together again after a split-up lasting only 24 hours.
The band are now busy rehearsing for a prestigious gig at Faces nightclub on November 14 while their single 'Nightlife' has become a big hit on the dance floors of several of London's top nightspots.
Tamworth Herald – 25/11/83
Musicbox – Well, who's YOUR flavour of the year?
THIS week Musicbox is proud to launch what we hop will be one of the biggest tests of local musical taste seen in Tamworth. In former years we have been happy just to ask readers for their top five singles and albums of the year which has always produced a great amount of entries.
But this year, for additional interest, we are going to ask all poll-voters to name not only their favourite records of the year on the form printed below, but also their top national – and local – band or artiste.
So much has happened this year – many local tapes and records released and two Tamworth rock festivals for example – that the local scene now looks healthier than ever.
But after careful deliberation the Musicbox writers have chosen Those Attractive Magnets as our local band of the year. Their continued interest and participation in the Tamworth scene – as well as their excellent 'Nightlife' single – makes them worthy winners in our eyes.
Whether you agree with us or not, we hope you will react! Please fill in the form below and get those entries flooding in.
Tamworth Herald – 25/11/83
Musicbox – When a band on top form meets apathy…
How Magnets won over disco kids
Those Attractive Magnets : Faces Nightclub
WHEN Those Attractive Magnets made a return last week to one of Birmingham's top nightspots Faces' they looked all set for another triumph in what must be their best ever year.
They had a slightly different set, a large travelling contingent of followers and barrel-loads of confidence. Nothing, it seemed, could go wrong – and then they let the audience in.
The hordes of faceless people who poured in through the doors made it abundantly clear that they were here to 'disco' and the Magnets were very much a sideline.
They sniffed, yawned and scratched their heads while the Magnets gave an excellent performance deserving a far better reaction.
The set was the normal mixture of simplistic, well-executed pop songs plus more involved and hard-hitting numbers.
Particularly impressive was a new song 'Broken Man' – sung brilliantly by Andy Baldwin – which is certain to become a live favourite.
Dynamic
But once again the track that stood out above all was the cheering and dynamic 'Art of Innocence' which had Rikk Quay doing somersaults and the audience actually clapping!
Preparing
The Magnets are now preparing to record a second single in February but one thing is certain – it won't sell too well at Faces. Just to prove the fact, during the set the Magnets began throwing our free copies of their first single 'Nightlife'. One chap stepped out of the audience and gave his free copy back.
Laugh? I could have cried.
SAM HOLLIDAY
If anyone has further information or corrections, alterations or additions about this band including the numerous further line-up variations, please forward info to: info@tamworthbands.com