Tamworth Bands History : 1978
January to March

06/01/78
Switch-off for soccer club disco nights
OFFICIALS have pulled out the plug on Sunday night disco sessions at Tamworth FC Social Club.
They have switched off the "switched –on" sounds for a few weeks after police were called to a Boxing Day night disturbance and three people were arrested.
Club steward Brian Hilton, has now called a halt to the discos. "They will be stopping for a short period, possibly two or three weeks," he said.
OVERLAP
"We have decided to give the Sunday night discos a rest for a while before we bring them back," said Mr. Michael Tongue, chairman of Tamworth Football Club.
This is the first trouble we have had for some time. The last time we had any problems was a couple of years ago," he said.
"The Boxing Night discotheque was not the normal Sunday night show – it was a different type of show, but there could an overlap between the people who went on Sunday night and the Boxing Night disco," he said.
"The decision to give the disco a rest was taken by Brian Hilton with my blessing".
06/01/78
Musicbox
Bread
07/01/78
The Hobbits
Hurley Working Mens Club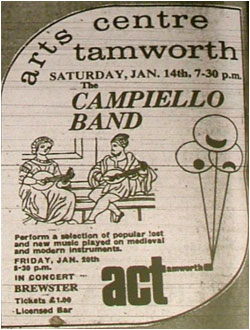 08/01/78
The Tranzit Rock 'n' Roll Show
Glascote Working Mens Club
12/01/78
Tranzit Rock Band
Polesworth Working Mens Club
Tamworth Herald – 13/01/78
Personal Platform by Andy Gough – Peace – a cause of violence in the 'spit 'n' kick' 70s
TAMWORTH saw its first real taste of football hooliganism a few weeks ago when marauding fans left a trail of destruction at a town pub.
…Nottingham Forest fans descended on the Mile Oak Hotel and smashed glasses, lamps and vandalised tables and toilets.
…perhaps a clue to the root of the evil can be found in the works of two members of the entertainments world – Shakespeare and the "Stranglers". Agreed they make an unlikely couple and some may find it hard to forgive ever mentioning the name of William Shakespeare in the same breath as that of one of today's controversial punk rock bands.
Both have expressed society's need for conflict – Shakespeare through war and the "Stranglers" through revolution.
…If the history book is anything to go by, Britain is well overdue a for a war. Shakespeare strengthened his argument…Hotspur in King Henry IV looked on conflict on the battlefield as an honourable sport and something to be greatly respected.
HEROES
And that is where the "Stranglers" join viewpoints with England's most noted playwright. War…breeds honour and pride for the victors, contempt and shame for the conquered. War breeds heroes.
And in the words of the punk rock band from their recent chart hit single: "There's no more heroes anymore."
Like many of my peers I have been subjected to the wafflings of old men and people who remember the last war.
GENERATION
Those people had their heroes. The generation now approaching manhood – the same generation that has been responsible for the marked rise in violence – have yet to see their own heroes.
Instead, they grasp on to the likes of Johnny Rotten and Sid Vicious – two grotesque members of the "Sex Pistols".
In the adapted words of the "Stranglers"…whatever happened to the Winston Churchills, the Henry Palmerstons, the Field Marshall Montgomerys.
13/01/78
Real Ale Evening – Tamworth Arts Centre
THE Tamworth and Sutton Coldfield branch of the Campaign for Real Ale (CAMRA) are holding a real ale and folk music evening at the Arts Centre on January 27.
It is the first such evening organised in the area and a selection of real ale not readily available in the town will be served – all cask conditioned and dispensed by gravity.
14/01/78
Kidda Band
Hurley Working Mens Club
19/01/78
Brewster
Polesworth Working Mens Club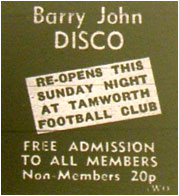 Every Thursday
Disco
Kippa
The Chequers, Hopwas
20/01/78
Barry John
Re-opens Tamworth FC Disco
20/01/78
Musicbox - Arts Centre rock tonight
TAMWORTH Arts Centre stages another rock concert tonight and officials hope that it will meet with improved success.
The few rock events so far held at the Arts Centre have attracted below par audiences but local band Brewster hope to change all that.
The local four piece hand is in action tonight (tickets £1.00) and will be treating rock fans to their own particular brand of funky music.
Brewster are: Gary Norris (drums), Ron Allcott (bass), Keith Buck (lead guitar) and Tony Beaumont (singer).
The band has been formed just over a year and has just completed a mini tour of the Midlands, ending at Stafford's Bingley Hall.
The band begin their first set at the Arts Centre tonight at 8.30 pm and there is a licensed bar.
20/01/78
Brewster
Tamworth Arts Centre
21/01/78
Beau Weavil
Elford Working Mens Club
22/01/78
Sticky Fingers
Glascote Working Mens Club
27/01/78
CRAFTS FAIR MAY BE REGULAR
NEW moves are under way to create a window-on-the-arts at Tamworth – and help local artists and craftsmen to set up "shop".
The success of the sale put on by the Friends of Tamworth Arts Centre just before Christmas has led to requests for a "craft fair" to be held on a regular basis – perhaps monthly to start with.
The Friends would like to hear from artists and craftsmen in the Tamworth area…letters can go to the Friends' committee, care of the Church Street Arts Centre.
RANGE
A whole range of small-scale craftwork could be considered – including pottery, silverware, jewellery, woodwork, ironwork, paintings, soft toys, macramé and all kinds of needlework.
The fair could be run so that the Friends received 10 per cent of gross takings, but paid for the hire of the room themselves and took care of advertising.
Success could bolster further attempts to take over vacant shop premises somewhere in the town, to provide a permanent sale and display centre.
27/01/78
Musicbox
Alessi Brothers
Written by Bob Patterson and Peter Brown
28/01/78
Bogart
Hurley Working Mens Club
29/01/78
Bandit
Glascote Working Mens Club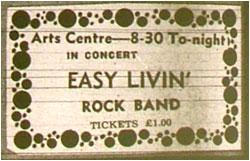 02/02/78
Tranzit
Polesworth Working Mens Club
03/02/78
Easy Living
Tamworth Arts Centre
Tamworth Herald – 03/02/78
Scene Around...
Spirit of the Arts Centre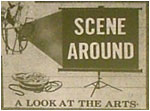 PLANS to install a permanent bar at Tamworth's Church Street Arts Centre, are going ahead.
At the moment, crates of beer and bottles have to be carried out and put away again when drinks are served during the intervals at public performances.
Friends of the centre, and the Arts Advisory Council, have already agreed to put up £250 each, and a brewery has confirmed its willingness to make a £500 interest-free loan.
Now shopfitters are to be called in to give an up-to-date estimate of the cost of installing the bar.
ARTS STORE HUNT BACK TO ACT ONE
IT'S back to square one in the hunt for a building where local arts groups can paint scenery and store their costumes.
Premises in the town are desperately needed by societies including the Arts Club's drama and opera groups.
Because of lack of space, they sometimes end up painting scenery on the Assembly Rooms car park.
Now Tamworth Arts Advisory Council has inspected another building which it was thought might solve the problem.
But the Borough council-owned property at Bell Corner – vacant for years – falls far short of requirements, members agree.
They have had to abandon it because it wouldn't really be large enough for people to work there and for storage as well.
And they heard that renovation could cost up to £1,000 – with running expenses on top. In addition, a proper access would have to be provided.
The advisory council is to continue looking for other central premises which may be suitable.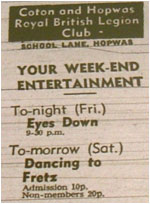 04/02/78
Fretz
Coton and Hopwas British Legion Club
05/02/78
Brewster
Glascote Working Mens Club
06/02/78
Idlevice
Prince of Wales
08/02/78
Rattler
Jolly Sailor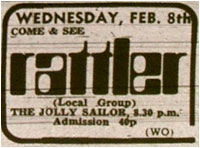 Tamworth Herald - 10/02/78
Scene Around...
Andy Dwyer and Alan Whittle
AIMING for a big name on the country music scene are Tamworth duo Andy Dwyer and Alan Whittle.
And they've just won themselves a regular nightspot in the town. The two singer-guitarists are playing on Monday nights at the Prince of Wales, Gungate.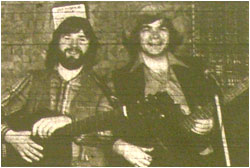 Calling themselves "Idlevice", 25-year-old Andy and 28-year-old Alan are aiming for a crisp, swinging country sound. But they also include old skiffle numbers and even a little rock occasionally.
Andy of Belgrave, is a full-time entertainer and already has a solo LP out. He won the outstanding soloist award in a Melody Maker folk rock competition.
Living at Coton Green, Alan teaches in Birmingham. He plays guitar, bass guitar, and five-string banjo, and he recently got through an audition for a spot on TV.
"We've both performed regularly at folk clubs in the Tamworth area for a long time, and now we're hoping to become established in the Midlands as a whole," said Andy.
11/02/78
Ragamuffin
Tamworth Progressive Club
11/02/78
Mothers Worry
Belgrave Sports and Social Club
12/02/78
Kwill
Glascote Working Mens Club
16/02/78
Brewster
Polesworth Working Mens Club
17/02/78
The Zoom Band
The Chequers
18/02/78
North Indian Traditional Music and Dance
Tamworth Arts Centre
19/02/78
Kidda Band
Dordon Working Mens Club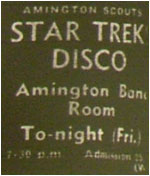 24/02/78
Star Trek Disco
Amington Band Room
Tamworth Herald – 24/02/78
'Best ever' bookings
ADVANCE booking for the evening of North Indian music and dance at Tamworth Arts Centre last weekend was the "best ever" for a professional show, Centre Manager Dave Armour says.
"It was very encouraging, and we were pleased with the number of people who turned up on the night," he said.
The show starred Alpana San Gupta, a world expert on the ancient dancing traditions of North India, and attracted people from as far afield as Coventry.
26/02/78
Convention
Dordon Working Mens Club
28/02/78
Tamworth Arts Centre (FACT) AGM
Tamworth Arts Centre
02/03/78
Kidda
Polesworth Working Mens Club
02/03/78
Quartz
Two Gates Working Mens Club
Tamworth Herald - 03/03/78
Tamworth record shop owners branded 'suspicious' – by the chart-riggers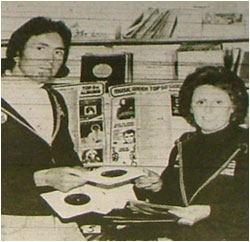 A TAMWORTH record dealer talked about his shop's "innocent" connection with the revelations of pop chart cheats – which has left the record world in a flat spin.
A national newspaper has unveiled a systematic rigging of Britain's pop charts over the past year.
It has been revealed that 38 records were fiddled – or to use the technical term "hyped" – into the top 50 chart used by the BBC.
"Top of the fixers" was a former public schoolboy who admitted hyping 29 records on ten different labels into the charts.
He used a market research company who in turn used housewives to rig the charts. The method used was to buy up records at chart return shops – those record dealers used by the British Market Research Bureau for the charts.
The rigged records were brought into the top 50 over a period of weeks and once in the charts left to make their way – either up or down.
There are some 375 chart return dealers in the UK who make returns each week to the BMRB on the most popular singles.
They get special treatment from record companies with free copies of records and some are even treated to "away from it all" week-ends.
Green's Music Shop in Tamworth has – due to the Daily Mirror expose – been uncovered as a chart return shop.
And in the Mirror investigation Green's were named as innocent victims of the chart rigging.
In a letter from the research company used in the "hyping" to the "top of the fixers", two of the field managers for the firm reported "suspicious staff" at Green's.
The letter said that a field manager for the company overheard the staff to the effect they had been warned to expect checks on certain records.
Mr. John Jackson, a 31-year-old joint owner of Green's shop with his wife, Hazel, said they recall the incident.
He explained that a woman had rung them asking for copies of an obscure record. Later the woman called in at the shop and bought the records.
"We probably said to her it seemed something of a coincidence that this obscure record had suddenly become popular. I she was one of the riggers – it's probably why they thought we were suspicious."
Mr. Jackson said it was unfortunate that this whole business had revealed that Green's was a chart shop. "It's supposed to be a secret – to prevent this kind of trouble."
He explained that each week the shop returned figures on the top selling singles, albums and a third category – the likely top 15 best selling singles.
"We return our figures to the British Market Research Board. There are 375 shops used – but they don't always use every shop's figures every week.
"We have had our suspicions over the last year. We used to have a woman call every week and buy two records which were obscure.
"We have had smart cars pull up outside the shop with a men wearing a pin striped suit and a London accent – buy records that we didn't consider would make it.
"Hazel and I have noticed records making the charts which we didn't think had a chance.
"One woman even came in with a sheet with the names of records on it. If we were at all suspicious of a record – we would put a ring round it on our chart returns."
Mr. Jackson said he and his wife were "totally opposed" to record hyping. "Obviously people have tried to buy singles up to a point where they 'air' play on radio and the public then start to buy.
"But I believe that their successes have been minimal. I personally think that we have seen the end of chart hyping in its present form.
"In believe that BMRB are planning to use a 1,000 shops for the charts and other forms of cross reference to stop this cheating."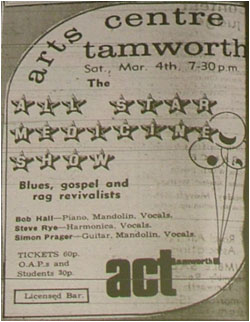 03/03/78
BACK ON STAGE – PLAYERS WITH TACT - "TACT" – Tamworth Arts Centre Theatre group
TACT – Tamworth Arts Centre Theatre group – are to return to the stage after a break of more than 12 months.
Including Arts Centre manager Dave Armour and his teacher wife Pauline, they're a band who get together just now and again.
"We don't have a regular programme and we don't work to a fixed schedule," said Dave.
"When we find a good play we're all interested in – something a bit different and quite demanding on the cast - we fit it in as and when we can."
Their latest choice is Steve Gooch's "Female Transport", adults-only drama about six women prisoners on a convict ship bound for Australia in the 1830's.
"It's not at all suitable for children, or for people who are easily offended by rough language, but it's a very good play," said Pauline, who's directing.
Performance dates are April 6, 7 and 8 at the Arts Centre.
Tamworth Herald – 03/03/78
Musicbox – EXCITING NEW BAND?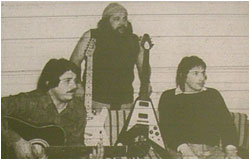 LOCAL Songwriters Mick Rutherford and Colin Richardson are aiming high in the music scene.
Both have been members of the fairly successful Willow rock band; both have songwriting contracts…and it all could lead to a top new rock band taking the road.
Willow, which played gigs in and around the Tamworth area and especially at the Arts Centre split in December. Members of the band were: Colin Richardson (bass) from Lichfield, Colin Stewart (guitar) Two gates, Andy Raddock (sic.) (guitar), Amington, Steve Sheldon (drums), Wilnecote, and vocalist Mick Rutherford from Tamworth.
Rutherford and Richardson continued their partnership and recently signed a five year songwriting contract with Patch Music, a London based company.
Part of that deal was for Patch to try and gain a recording contract for the duo. Meanwhile, they both decided to do a few gigs playing acoustic.
But, Richardson and Rutherford had another well deserved break. Exeter-based Tabitha Records offered them a three year recording contract for the Benelux countries with an option on Germany. They signed the contract and decided to form a new band.
"This will give us the chance to continue writing our own material, perform it and see it recorded," said Mick Rutherford.
Indeed, the duo already have one of their own compositions "Rock Band" included on a compilation album to be released at the end of April.
Tabitha Records are now attempting to set up a deal to distribute the duo's proposed new band's records in the United Kingdom.
"Obviously we would like our records to be released in the UK and not just in the Benelux countries, but we will have to wait and see," said Mick.
Rutherford and Richardson have already acquired a lead guitarist in the talented Paul Watts, a former member of the Five Knuckle Shuffle band, which won the TV programme "New Faces" two years ago.
Their aim is to form a talented electric rock band and incorporate an acoustic set into the gigs.
The new band – there's a shortlist of four drummers and two guitarists to be sorted out within the next week – could be on the road in September.
And Rutherford and Richardson are busy preparing a four track studio in Lichfield. It could be hired out to other music fans in the area.
The new band when it's finalised should be all set to record and release an album by the end of the year when it is hoped a European tour will be arranged.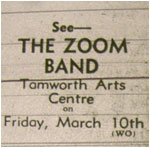 There's no doubting Mick Rutherford and Colin Richardson's dedication and determination…and then there's there talent.
The last word rests with Mick: "We are aiming to get a good band together and produce some original sounds. It takes time but we'll be up there in the end."
10/03/78
The Zoom Band
Tamworth Arts Centre
Tamworth Herald – 10/03/78
Spit and beer
While his Father relaxes to Beethoven and Chopin, surrounded by stately elegance. Hugh Inge-Innes Lillingston's musical talents are rewarded by fans spitting in his face and throwing beer.

Hugh has the most unlikely of backgrounds for a member of a "New Wave" group that attracts dozens of safety-pinned punk rockers to its concerts.
The 21-year-old drummer of "Rikki and the Last Days of Earth" was an Eton boy who gave up his education to play in the punk band.
The family's home is the 17th century Thorpe Hall, near Tamworth.
His father, Lieutenant Commander George Inge-Innes Lillingston, is a gentleman of the Crown Estates …and deputy president of the Country Landowners Association.
Hugh is a likeable rebel and…idealist. The lyrics of the groups records take quite a swipe at the established order of society.
Against bureaucracy, red tape and the continual infringement of people's freedom," he explained on a visit to his family's seat – sporting tight jeans and a Last Days of Earth badge and barefoot except for Jesus sandals.
He is convinced the world is heading towards chaos. "It's such a tragic story that we have made such a mess of our technological world," he said.
IMPALED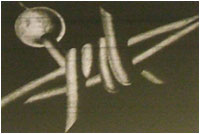 Copies of the group's records – two singles and now an album – show the Earth impaled on a piece of barbed wire.
And the traditions of Thorpe Hall would be impaled on Hugh's idealism if a long-term dream of his ever materialised.
He would like to see the hall and its huge estate used for a commune, with every inch of land being turned over to growing food and natural herbs.
"I've got enormous respect for my father as a farmer and think he's done a brilliant job there, but if ever I were in a position to take on the estate I would open it up to more people, " he said.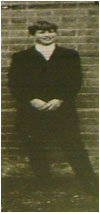 "It would be a commune for people prepared to work – and without the hangers-on and all the trappings. I wouldn't want to start a marijuana farm or anything like that.
"May parents haven't exactly said they dread the thought. But they are obviously sensitive about something which wouldn't fit in with their way of life."
Hugh, now a London maisonette dweller, can't see their way of life lasting very long anyway. He says that's because the Government sees land in private possession as representing power.
If the spectre of a Thorpe commune doesn't exactly appeal to father, the group's music seems to have brought a slightly warmer response.
DELIGHTED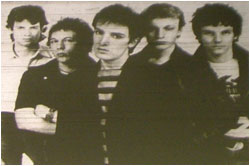 "He liked the beat – tapping his feet and slapping his thigh. But I don't think he pretends to understand," said the ex-public schoolboy who used to hit the drums with a pop group at Eton.
Mr. Inge-Innes Lillingston senior says he's delighted his eldest son is using his musical talent.
The group's album – Four Minute Warning – is rated by the country landowner as "interesting – as an exposition of what some young people enjoy.
"I must admit I don't understand a lot of it – as I don't understand a lot of modern music and modern art. None of it is my preferred music. But that doesn't mean I have to dislike it."
He reveals there was something of a musical split in his family when he was Hugh's age. His parents didn't like Victor Sylvester – but he did.
Of the punk rockers of today, Mr. Inge-Innes Lillingston is less tolerant, "I have seen their photographs and am not at all impressed. But I suppose it's a cult which comes and goes."
Hugh himself is not too happy about the punk's behaviour. When he first became a target for spit and beer – and had a beer container thrown at his head – he was furious.
APPROVAL
"We discovered afterwards that this was their sign of approval," he said. "If they hadn't been interested they would have turned their backs on us and read newspapers.
"But I still think it's ignorant to come to a rock concert and spend your time throwing expensive beer and spitting."
His father would be pleased with the news that the group are to progress from Four Minute Warning towards something "less raw and rough". But they want to take the punks with them.
Tamworth Herald – 10/03/78
Musicbox – TWO BANDS TO WATCH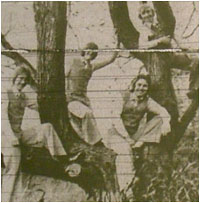 TWO exciting pop bands make appearances in the area later this month.
The first, a four piece band called Jentz, appear at Elford Club on March 18th.
The band, with Richard (keyboards), Ian (drums), Lee (vocals) and Mark (guitar) is comparatively young with ages ranging from 17 to 19.
Jentz write 90 per cent of their own material and are all set to sign to Splash Records.
Like Jentz, another band appears in the area this month. They are Nice Day, a five piece group, which plays more advanced pop music.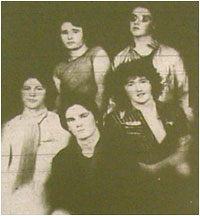 And Nice Day play at Kingsbury WMC on March 25th. They are also set to sign for Splash Records.
And the London-based company is planning to do demo albums on both bands and arrange a tour of Germany and France in June.
Both bands are extremely talented and well worth watching.
And Splash Records, which recently mounted a campaign in the area to encourage groups, solo artists and such like to contact them with the chance of recording contracts are still looking for acts.
Any band etc. interested in auditions should contact Nick Ingram at Tamworth 62957.
Musicbox - New band finalised
SONGWRITING duo Mick Rutherford and Colin Richardson have formed a new rock band.
The two who recently signed a five year writing contract with Patch Music and a three year recording contract with Tabitha Records, have finally acquired the new members.
The new line-up is Mick Rutherford, lead vocals, acoustic guitar, percussion, Paul Watts, electric and acoustic guitars, Colin Richardson, bass and acoustic guitars, Andy Radek, electric and acoustic guitars, Steve Sheldon drums, percussion and vocals.
The band starts rehearsing within the next few months and needs a roadie.
"Once our new recording studios are completed in Lichfield, we shall practice there, but meanwhile we need somewhere else," said Mick Rutherford.
Anyone interested in becoming the band's roadies or with premises to offer should contact Colin Richardson at Lichfield 55608.
And Mick and Colin have just signed separate five year publishing contracts with Tabitha Music.
16/03/78
Tranzit
Polesworth Working Mens Club
Tamworth Herald – 17/03/78
Palace – Abba – The Movie
17/03/78
The Fourmost
Glascote Working Mens Club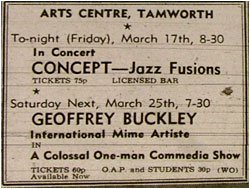 17/03/78
Concept
Tamworth Arts Centre
Tamworth Herald – 17/03/78
Scene Around
'Concept' return
Top jazz-and-rock group "Concept" are returning to Tamworth Arts Centre tonight, Friday – and it's hoped that, like last time, the concert will be a sell-out.
Six-piece Concept play all over the country – next month they're off to the North's premier jazz spot in Manchester and they hope to take part in the San Sebastian International Jazz Festival in Spain in July.
Their music ranges over the styles of the last 30 years. Fans can hear their interpretations of Charlie Parker, Thelonius Monk, Cannonball Adderley, Horace Silver, Gary Burton and Keith Jarrett, as well as their own originals.
19/03/78
Paradox
Tamworth Progressive Club
23/03/78
Bogart
Two Gates Working Mens Club
Tamworth Herald – 24/03/78
"Abba" top the lot
Abba – The Movie broke all box office records at the towns Palace Cinema, the film drew 4,100 people during it's 7 day run in the town.
Tamworth Herald – 24/03/78
Light-fingered theft
TAMWORTH police are hunting for a two-foot tall man with a lamp on top of his head.
He went missing from the lounge of the Tavern in the Town pub in Corporation Street over the weekend.
The item in question is a bronze statuette lamp standard.
"We haven't got a value for it," said a police spokesman. "The statue is described as wearing draped clothing."
25/03/78
Convention
Tamworth Working Mens Club
26/03/78
Tranzit
Dordon Working Mens Club
27/03/78
Kidda Band
Hurley Working Mens Club
26/03/78
Ric Simon Discosound
Tamworth Rugby Club
30/03/78
Convention
Polesworth Working Mens Club
31/03/78
Freddie and the Dreamers
Polesworth Working Mens Club
Tamworth Herald - 31/03/78
ALL-OUT BID FOR ARTS BUILDING
AFTER months of searching for a building where arts groups can store costumes and paint scenery, Tamworth Arts Club have drawn yet another blank – and they're not only fed up but alarmed as well.
They are launching an all-out campaign to find "desperately needed" premises – and say they will lobby the county council, MP Bruce Grocott and even the Arts Minister himself.
"The arts in Tamworth will suffer tremendously over the next few years unless we can get a building," Mr. John Lane warned the Arts Advisory Council, which has been helping in the hunt.
"Groups are operating under ridiculous conditions at the moment and things just cannot go on as they are."
BASIC
"We don't want anything palatial – just a basic place that is weather-proof and large enough for people to work on scenery for their shows."
Two months ago, the advisory body inspected a building at Bell Corner which it was hoped might be suitable.
But the property, owned by the Borough Council, fell far short of requirements. In addition, it was estimated that renovation could cost up to £1,000 with running expenses on top.
"The borough council didn't even seem to know the building was available until we started making enquiries, but then they wanted to charge an exorbitant rent for it," Mr. Lane said.
"Now we're really determined to do everything possible to get somewhere."
URGENT
Mr. Dennis Taylor, the Little Theatre's publicity officer, said that town council support for the arts was "minimal" compared with backing for sport.
"I don't think the urgent need for a place for scenery and costumes has really got through," he said. "People just do not seem to see the arts as part of the total leisure picture."
Arts Centre Manager Dave Armour said he too was in "dire straits" backstage as regards storage.
The advisory council agreed to discuss the problem again at its next meeting with a view to sending an open letter to the town council.
In the meantime members are to delve into borough records so they can come up with facts and figures to back their claim that the arts are getting a raw deal.
Tamworth Herald - 31/03/78
Centre of attraction
THE entrance to Tamworth's Church Street Arts Centre should soon be attracting passers-by with a bright new look.
A smart free-standing notice board, designed with three display panels, is to replace the centre's old billboards.
Part of the cost is being met by a £100 donation given to the Arts Centre some time ago by Tamworth Flower Club.
"The new notice-board will be brightly coloured and eye catching so that people can see at a glance what's on," said centre manager Dave Armour.
31/03/78
Barry John Disco
Amington Band Room