Tamworth Bands History : 1978
October to December

06/10/78
Stealer
Tamworth Arts Centre
07/10/78
Mothers Worry
Kingsbury Working Mens Club
07/10/78
Gents
Two Gates Working Mens Club
07/10/78
Ledbelly
Austrey Working Mens Club
08/10/78
Sticky Fingers
Glascote Working Mens Club
12/10/78
Kidda
Polesworth Working Mens Club
Tamworth Herald - 13/10/78
Scene Around…
Brewster

Local music fans are in for a treat next week with Tamworth's "Brewster" returning to the local scene. The band line-up is: Gary Norris – Drums (Bolehall), Tony Beaumont – Vocals (Bolehall), Keith Buck – Guitar (Measham), Tony Stanley – Guitar – (Lichfield), Ron Allcott – Bass (Moira).
The band practise in the town and can be seen 'live' appearing once a month on a regular basis at the Chequers at Hopwas.
They play progressive rock and about 30 per cent of their set is their own. They're influenced mainly by Deep Purple and Thin Lizzie (sic.)
"I'd say we're a dedicated band," says Gary. "We aim to please the audience and any money we earn is ploughed back into equipment."
As well as playing at the Arts Centre on October 20, "Brewster" have concerts lined up at Measham Bottom Club tomorrow Saturday, and at the Troubadour, Burntwood, next Wednesday.
They've played at Bingley Hall, Stafford and in the Measham area last summer they entertained up to a thousand people at a time.
Local fans also saw them at the open-air concerts in the Castle pleasure grounds.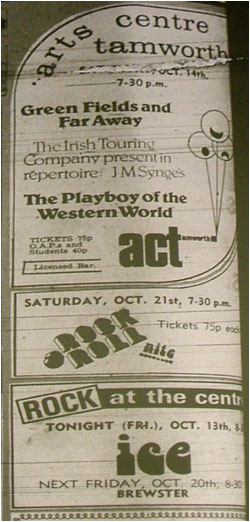 13/10/78
ICE
Tamworth Arts Centre
13/10/78
Andy Dwyer
Unicorn Public House
14/10/78
Beau Weavil
Belgrave Sports and Social Club
15/10/78
Kidda
Dordon Working Mens Club
18/10/78
New Folk Club – Jolly Sailor
Andy Dwyer
18/10/78
Allcock Brothers
Jolly Sailor Folk Club
21/10/78
Poetry
Tamworth Working Mens Club
21/10/78
Ed Doolan Disco
Tower Suite Drayton Manor
21/10/78
Red Leg
Gate Inn, Dordon
23/10/78
Paradox
Chequers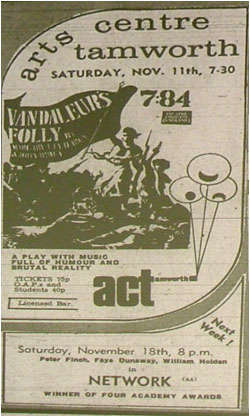 27/10/78
Musicbox - 'BULLETS' shoot into town
BIG BEAR recording artists "Bullets", who have just emerged victorious from their legal battle with the "Sun" newspaper, are in concert tonight, Friday, at Tamworth Arts Centre.
The Birmingham-based 1978 rhythm-and-blues band hit the national headlines when the "Sun" took exception to the title of their first disc – "The Girl On Page Three"
The newspaper finally backed down in its claim that the words "Page Three" were exclusive copyright..
But all the publicity worked wonders for the band, whose record was boosted into the New Wave chart.
27/10/78
Bullets
Tamworth Arts Centre
27/10/78
Peter Powell
Drayton Manor
31/10/78
Flash Harry
Tamworth Arts Centre
02/11/78
Ledbelly
Polesworth Working Mens Club
03/11/78
Sticky Fingers
Glascote Working Mens Club
03/11/78
Rits
Tamworth Working Mens Club
Tamworth Herald – 03/11/78
Court Story of Disco Fight
A 15-year-old Tamworth boy joined in a fight during a local disco when he saw a friend being attacked, the town's juvenile court heard.
Mr. Derek Wassall, prosecuting said that a fight broke out during a disco at the St. John's Catholic Club, Tamworth in which a number of people including the disc jockey and his assistant were involved.
The incident arose after the disc jockey had been trying to curb some bad language and at some stage during the fight the boy joined in, Mr. Wassall said.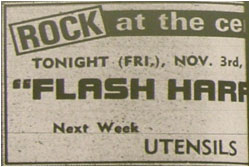 03/11/78
Flash Harry
Tamworth Arts Centre
04/11/78
Dazy Mae presents Disco
Johnny Green and Kippa
Assembly Rooms
09/11/78
Brewster
Polesworth Working Mens Club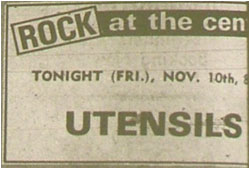 10/11/78
Utensils
Tamworth Arts Centre
11/11/78
Ledbelly
Austrey Working Mens Club
12/11/78
Rits
Coton and Hopwas British Legion Club
12/11/78
Ledbelly
Dordon Working Mens Club
16/11/78
Tranzit
Polesworth Working Mens Club
Tamworth Herald – 17/11/78
Disc Jockey left lying in pool of blood – court told - The Reliants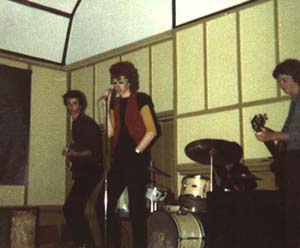 A Tamworth youth, who struck a disk jockey with a stick and left him lying in a pool of blood at a church hall 'disco was sent to detention centre for six months.
Tamworth magistrates heard that violence erupted at a church disco when punk rockers threw chairs and cans at a group of Tamworth youths.
Assistant DJ Stephen McDade was hit in the confusion as he went to break up the fight. He needed 14 stitches for head wounds after being hit with a piece of wood.
Gary Owen, aged 18, of Wordsworth Avenue, Leyfields, admitted possessing an offensive weapon, but denied a charge of malicious wounding.
DETENTION
He was found guilty of malicious wounding charge and given a total of six months detention.
David Yates, aged 18 of Stevenson Road, Leyfields denied a charge of assault occasioning actual bodily harm. But magistrates found the case proved and he was fined £150 with £40 costs.
John Young aged 18 of Claremont Road, Coton Green, who admitted a charge of assault occasioning actual bodily harm was ordered to do 120 hours community service. A charge of malicious wounding was dismissed.
Magistrates decided there was no case against Alan Emuss, aged 18 of Wordsworth Avenue, who was accused of assault occasioning actual bodily harm. However he was bound over for two years in the sum of £100.
STRAINED
The court heard – how the atmosphere was strained at a disco held at St. John's Church Hall, organised by the youth section of Tamworth's Roman Catholic Church.
Mr. Derek Wassall told the court there was some friction at the disco between punk rockers and other youngsters.
The DJ, Mr. John Ulliott, asked the crowd to calm down.
But Emuss made a very abusive remark to him which caused Mr. Ulliott to "ask him outside."
A fight then broke out between Emuss and the DJ. The assistant DJ, Mr. McDade, jumped off the stage to help Mr. Ulliott and in doing so kicked Young in the face, Mr. Wassall said.
Young and Owen then seriously attacked Mr. McDade – Young by kicking and punching him and Owen by striking him across the head with a piece of wood.
Owen said, "As soon as we started dancing, chairs and cans got thrown at us. I felt worried so went outside and picked up a stick and put it into my jacket. I had heard of the punks' reputation and took the stick for my own protection."
Yates claimed he went over to stop the fight, but when hit by an object "became wild and lashed out with his fists."
When the full lights were switched on, the sight of Mr. McDade's injuries brought some sanity to the situation and the fighting stopped, said Mr. Wassall.
The four accused claimed that they were all "disgusted and sickened" when they saw the injuries to the disc jockey.
Mr. Arnold Ward, presiding said, "It is the sort of thing one doesn't want to see in the town at any time at all."
17/11/78
Rits
Tamworth Working Mens Club
Tamworth Herald - 17/11/78
Youth club plan for teenagers who miss out
CATHOLIC teenagers who 'miss out' on after-school activities could soon have their own youth club in Tamworth.
There is no Roman Catholic Secondary school in the town and teenagers have to travel to St. Francis of Assisi, Aldridge – and often miss after school activities.
But now parish priest Father Sian Moran is planning a youth club in the old St. John's Scool, Moorgate to make up for it.
The school is being used as an annexe to the College of Further Education during the day and Father Moran has applied for permission to use it for a community centre during the evenings.
"About 400 teenagers travel to school in Aldridge and they tend to miss out on after school activities because the bus comes back early.
"We want to make up for that so we are asking Tamworth Council for dual use of the school until the college has found somewhere else to go.
"We don't want the teenagers to miss out on anything," he explained.
He is hoping to have the full use of the school for a community centre sometime in the late 80s.
23/11/78
Kidda
Polesworth Working Mens Club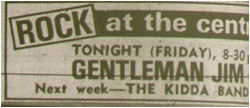 24/11/78
Gentleman Jim
Tamworth Arts Centre
24/11/78
Musicbox
Three Degrees
01/12/78
Rits
Tamworth Working Mens Club

01/12/78
The Kidda Band
Tamworth Arts Centre
Tamworth Herald – 01/12/78
Feast of Fireworks for FACT and TACT
Tamworth Herald – 01/12/78
Musicbox
Queen
02/12/78
Rits
Coton and Hopwas British Legion Club
Tamworth Herald – 08/12/78
Sacha Distel plants a tree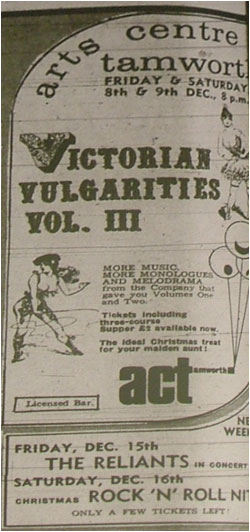 10/12/78
Alan Whittle
Bolehall Swifts
14/12/78
Gents
Two Gates Working Mens Club
14/12/78
Brewster
Polesworth Working Mens Club
15/12/78
The Reliants
Rikky Patrick Disco
Tamworth Arts Centre
Admission: 50p
Tamworth Herald – 15/12/78
The Reliants New Wave Band
"THE RELIANTS" a new-wave influenced band who have been together for nearly eighteen months now are to play at the Arts Centre tonight Friday.
The band have already played several dates in and around Tamworth including the Bowling Green, Lichfield and the Crown in Birmingham.
The four members are Edward Sutherland, vocals, Vince Watts, guitar, Sam Norchi, bass and John Higgins on drums.
We understand their music is fast, exciting and very original , the songs being mainly concerned with society and its problems. They detract from the usual concept and pop groups in that they do not project the idea of the perfect boy and girl.
The group are still looking for a manager, but hope to do some recording in the New Year.
17/12/78
Rits
Glascote Working Mens Club
20/12/78
Quill
Assembly Rooms
23/12/78
Ritz
Coton and Hopwas British Legion Club
24/12/78
Barry John
Tamworth F.C.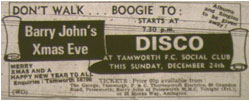 26/12/78
Rits
Tamworth Working Mens Club
28/12/78
Kidda Band
Polesworth Working Mens Club
30/12/78
Rits
Austrey Working Mens Club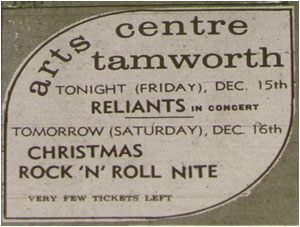 31/12/78
Ledbelly
Bolehall Swifts
31/12/78
Tranzit
Dordon Working Mens Club
31/12/78
Jentz
Dotshill Cosmopolitan Club
31/12/78
Poetry
Tamworth Working Mens Club