Tamworth Bands History : 1978
July to September

01/07/78
Bogart
Grendon Working Mens Club
01/07/78
Jentz
Glascote Working Mens Club
01/07/78
Mike Sheridan and the Nightriders
Elford Working Mens Club
01/07/78
Convention
Hurley Working Mens Club
02/07/78
Convention
Glascote Working Mens Club
Tamworth Herald – 07/07/78
Council debate
Should Advisory Council finance Arts Festival?
Moves to get Tamworth Arts Advisory Council to promote – financially – an arts festival in the future were narrowly blocked.
And the finances of the Advisory Council came under close scrutiny from Labour members at Tuesday's full borough council meeting.
Labour leader, Councillor Peter White, said the Arts Advisory Council's balance sheet showed balances approaching £4,000 – the majority being in a building society account.
He said that out of an income of £2,70 last year – some £2,400 came from a borough council grant.
Councillor White added, "I do feel perhaps that this position is not the best utilisation of money with regard to Arts in Tamworth.
"Tamworth Arts Advisory Council should be approached with a view to seeking their financial support for promoting an arts festival."
The move by the Labour ranks was defeated by only one vote.
Councillor Ron Watson had earlier called for an additional £1,500 for the arts festival to give a 1979 event a good start.
But in the end the members agreed to a provision of £1,000.
Tamworth Herald – 07/07/78
Tonic for wine bar drinkers who 'downed' 79 gallons of beer in a week
TOWN PUBS LOSE BITTER 'BATTLE OF REAL BOOZE'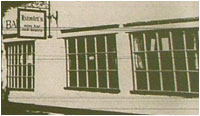 ANGRY Licensees have lost a bitter battle to stop a Tamworth wine bar selling draught beer for real ale fans.
Some publicans have found it hard to swallow plans by Hamlets Wine Bar to sell draught and keg beer.
They have claimed the toilets at Hamlets would not be able to cope with the extra "trade" when customers drank pints of beer as well as small glasses of wine.
And they say the town centre already has enough pubs selling draught beer, without Hamlets getting in on the act.
But after an inspection of the Bar, Tamworth Licensing Justices this week gave the go ahead for the real ale sale.
The granted Hamlets a new on-licence to include the sale of draught and keg beer and rejected the Licensed Victuallers Association plea to call time on the scheme.
Mr. Brian Barnsley, licensee and joint proprietor of Hamlets, said that at present the bar sells unusual beer by the bottle.
"We were delighted to find customers' demand for these beers has been dramatic," he told magistrates in the last week of June, customers drank their way through 79 gallons of bottled beer. He said there were no plans at the moment to sell normal beers.
"We would be providing beers that are not normally available at the moment – Sam Smith's real ale. It would be catering for a more specialist clientele," he said.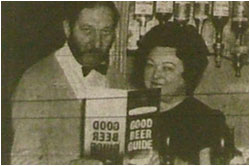 Mr. Colin Baker, chairman of Tamworth and District Licensed Victuallers Association and landlord of the Gate Inn at Amington – put the LVA side of the case.
"We feel there is adequate means of obtaining alcohol in the two centre," he said "Many pubs serve types of real ale. Real ale does not have to be hand pumped. It can be dispensed by electric pumps," he said.
"The Wine Bar is not suitable for any additional trade. With extra consumption of ale, I think the toilets will be used a lot more," Mr. Barber said.
Solicitor Mr. Jan Jellema said "…this is the thin end of the wedge."
"The wedge has the appearance of another public-house in the town…it would be taking bread from their mouths," he said. "Although all that is made mention of is real ale, there is nothing to prevent them going further and selling normal beer," he added.
09/07/78
Kidda
Dordon Working Mens Club
13/07/8
Kidda Band
Polesworth Working Mens Club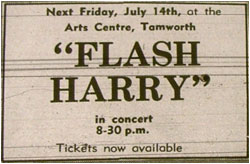 14/07/78
Flash Harry
Tamworth Arts Centre
15/07/78
Convention
Tamworth Working Mens Club
16/07/78
Ledbelly
Dordon Working Mens Club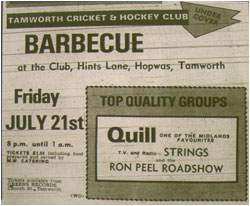 21/07/78
Quill
Tamworth Cricket and Hockey Club
Chicken Barbecue
22/07/78
Ledbelly
Austrey Working Mens Club
27/07/78
Brewster
Polesworth Working Mens Club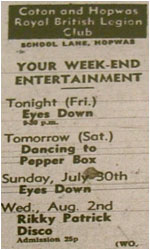 Tamworth Herald – 28/07/78
Plea for more Arts Festival money
A "MORE CASH" plea for Tamworth's new Arts festival has gone out to local councillors.
They have been told that not enough money is being put into the council's promotions budget used to finance various sports and entertainment in the town.
Councillor Phil Smith, told members of the Leisure Committee, "There is far too minimal amount of money for promotion.
"To plan an Arts Festival 12 months in advance you have to book artists and spend money. If we don't book soon we will be too late for next year."
Tamworth's first Arts Festival has been given the go-ahead for spring next year and £1,000 has been set aside to finance the plan.
A council report says that the promotions budget has been eroded by expenditure cuts and inflation.
Officials will be looking at the question of increasing the promotions budget to allow for inflation in their review of leisure policy in the borough, later this year.
02/08/78
Rikky Patrick Disco
Coton and Hopwas British Legion Club
August 1978
The Reliable Duo
Disco
St. John's Guildhall
Tamworth Herald – 04/08/78
Teenagers with grudge damaged DJs van
05/08/78
Poetry
Tamworth Working Mens Club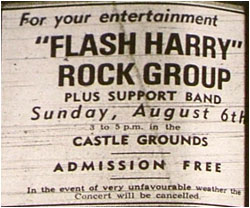 06/08/78
Flash Harry
Castle Grounds
09/08/78
Rikky Patrick Disco
Coton and Hopwas British Legion Club
13/08/78
ICE
Castle Grounds
16/08/78
Rikky Patrick Disco
Coton and Hopwas British Legion Club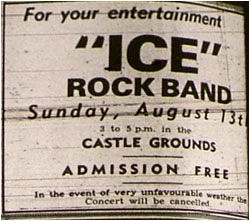 Tamworth Herald – 18/08/78
ELVIS, POETRY AND CRAFTS AT ARTS CENTRE
Look out those blue suede shoes…an Elvis Presley Memorial night is taking off in Tamworth tomorrow.
It's being put on at Tamworth Arts Centre – in response to demand from local fans.
FACT – Friends of the Arts Centre – are organising the rock 'n' roll evening, starting at 8pm, Admission is 75p.
POETRY
On a different not FACT are also hoping to arrange another poetry entertainment.
Their poetry evening early in June, featuring the work of poets from Shakespeare to Spike Milligan, drew an appreciative but small audience.
Meanwhile, FACT are busy with plans for a further craft fayre on September 16. There has been a big response from craftsmen wanting to take stalls, and inquiries are still coming in.
20/08/78
Brewster
Castle Grounds
25/08/78
Kidda Band
Austrey Working Mens Club
Tamworth Herald – 25/08/78
ON THE TRACK OF SUCCESS
The Dordon 'sound of music – from inside Dad's own garage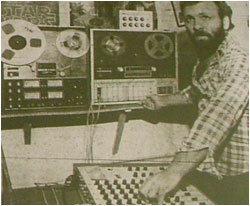 In their house there's a songwriter, a guitarist, a singer, and a pianist – Dad.
Given a bit of time, 31 year-old music maker, Mr. Ian Marklew will also "create" a rock band, a folk group or even a small orchestra.
He started experimenting with a multi-track tape recorder years ago. He'd tape himself singing his own songs and playing a whole range of instruments, and then put the different tracks together to make a single recording.
But now Ian is aiming to make his hobby his work – and help other local singers and musicians on the road to success.
FIRST
At his home at Long Street, Dordon, he's built a sound-proofed recording studio and fitted out a control room with thousands of pounds worth of equipment.
He believes the "Shilo Recording Studio" is the first of its kind in the Tamworth area.
"When I advertised it I was amazed at the response – the phone just never stopped ringing," said Ian. "It seems there really is a need for this here.
A married man – he and his wide Mary have four children – Ian used to play at clubs and dance halls all over the Birmingham area. He was singer and lead guitarist with "Chuckles", a Midland based group who backed Gene Vincent on a British tour.
"Then I started song writing, went on to buy a tape recorder, and just got completely addicted to recording work.
"I've collected enough equipment to completely fit out the studio, and much of it has been upgraded to my own specification. I've got lots more gear coming too.
SHORTAGE
"When I was playing in bands, there was plenty of work around and quite a shortage of groups.
"But things are different now. Groups have a harder time of it, and more trouble getting openings.
"What I want to do is encourage them by giving them a chance to get really good quality recordings made.
"We can do tapes with full stereo or quadraphonic reproduction, and we cam also get records pressed with our own "Shilo" label for use as demo discs."
Among other gear, his studio has a multi-track tape deck to do anything from eight to 16 tracks, a mixing desk, mastering machine, and a string machine to introduce violin and cello. Plus, of course, earphones, speakers and microphones.
"I used to work at Pebble Mill on the Charlie Chester show, and I've also had close contacts with managers of people like Tom Jones and Engelbert Humperdinck," Ian added.
PARTNER
His studio is housed in a garage extension and from the outside a garage is still all that can be seen by passers-by.
Ian already has a partner, whose main job is to "look after" groups and help put them at their ease.
Ian hopes to carry on writing, singing and playing his own songs too.
"When I started recording I learned to play a lot more instruments so that I could do practically everything myself.
"But I can't play drums and I did have a pretty disastrous affair with the violin – I just couldn't master it!"
Tamworth Herald – 25/08/78
Sue Fisher looks at…
Ten years of Little Theatre productions.
With over 40 major productions behind the, Tamworth Little Theatre have had their share of awkward moments – and headlines.
There was the time a leading man got back from abroad barely an hour before curtain up.
And there was the vicar who made the "News of the World" by appearing in close-up with a pretty young actress stripped down to bra and briefs.
But the show has always gone on and in ten years the Little Theatre have never cancelled a production.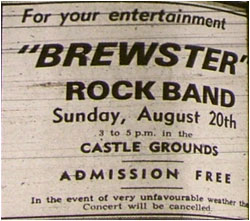 26/08/78
Idlevice
Bolehall Swifts
26/08/78
Bogart
Atherstone Working Mens Club
27/08/78
Tranzit
Dordon Working Mens Club
27/08/78
Sticky Fingers
Birchmoor Working Mens Club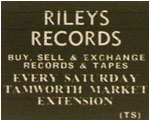 28/08/78
Tranzit
Elford Working Mens Club
31/08/78
Brewster
Polesworth Working Mens Club
30/08/78
Rikky Patrick Disco
Coton and Hopwas British Legion Club
03/09/78
Spectre
Dordon Working Mens Club
05/09/78
Mike Sheridan and the Nightriders
Wood End Working Mens Club
05/09/78
Eclipse
Elford Working Mens Club
06/09/78
Rikky Patrick Disco
Coton and Hopwas British Legion Club
07/09/78
Kidda Band
Polesworth Working Mens Club
Tamworth Herald – 08/09/78
Centres Book Scheme set for new chapter
THE "give a book, buy a book" service could start up again at Tamworth Arts Centre.
Organised by FACT – the Friends of the Arts Centre – the scheme came to a halt in the spring after running successfully for more than a year.
"We found our book stocks were becoming so depleted that we had to stop," said FACT treasurer Mrs. Enid Reffin.
The service would again run on Saturday mornings from 10am to 1pm when people could go in a buy a book for a few pence."
Anyone who can donate books can take them into the Arts Centre any week day between 10am and 2pm and from 10am to 5pm on Saturdays.
Proceeds from the scheme are ploughed back into Arts Centre funds to help improve facilities.
Winter haven will have something for all
A new programme of entertainment with the emphasis on something-for-everyone will be helping to keep the winter blues at bay in Tamworth.
The Arts Centre will soon be launching its October-March season of professional and amateur promotions.
Comedy, drama, music, films, dances and a traditional old-style variety show are lined up.
And Arts Centre Manager Dave Armour, sifting through dozens of requests from companies and artistes wanting to appear in Tamworth, will soon be filling in the few vacant spots.
"Up until Christmas we've got something to offer every week, and I certainly hope that we shall see the "House Full" sign going up quite frequently," he said.
"We've built up a regular following, with people coming in to ask for information as well as phoning."
14/09/78
Gentz
Polesworth Working Mens Club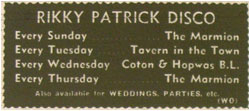 14/09/78
Rikky Patrick Disco
Coton and Hopwas British Legion Club
18/09/78
Paradox
Chequers
19/09/78
Cryer
Lichfield Bowling Green
Tamworth Herald – 22/09/78
Craft Fayre Proves Sellout
SATURDAY'S craft fayre at Tamworth Arts Centre was a big success.
"We're really thrilled," said Marion Stonier, secretary of the Friends of the Arts Centre who organised the fayre.
"Everyone who took part asked if they could come along to our next fayre in November, which will be the big one for Christmas.
"We're looking at the possibility of taking space upstairs at the arts centre as well as downstairs."
On Saturday, some of the craftsmen and artists had sold out by lunchtime.
All money made by the Friends is ploughed back into the arts centre to help improve facilities for the groups who use it and the public.
23/09/78
Kidda Band
Hurley Working Mens Club
24/09/78
Ledbelly
Dordon Working Mens Club