Tamworth Bands History : 1978
April to June
April 1978
The Reliants
St. John's Guildhall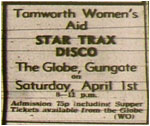 01/04/78
Star Trax Disco
The Globe
01/04/78
Eclipse
Elford Working Mens Club
01/04/78
Idlevice
Tamworth Working Mens Club
06/04/78
Jester
Polesworth Working Mens Club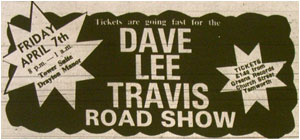 07/04/78
Dave Lee Travis Road Show
Tower Suite, Drayton Manor
07/04/78
Steve Adams (winner of EMI Folk Contest)
Globe Folk Club
Tamworth Herald – 07/04/78
Musicbox
Wings
Tamworth Herald - 14/04/78
Fayre response
THERE's been a huge response from local artists and craftsmen to the craft fayre being held at Tamworth Arts Centre tomorrow, Saturday.
Organised by FACT – Friends of the Arts Centre – it's a chance for the craftsmen to set up stalls to sell and demonstrate their work.
"Response has been absolutely marvellous and I've had so many inquiries from people wanting to come that it's impossible to fit everyone in," said FACT secretary Marion Stonier.
"The problem is that we are limited by space, but we hope the fayre will be held on a regular basis so that all interested artists and craftsmen have a chance to take part.
"All we need now is lots of support from the public. The side doors of the rear room will be open on Saturday, so people can come straight in instead of going through the coffee bar first".
Pottery, woodwork, macramé, bronze sculpture and copperwork and all kinds of needlework are among the crafts to be displayed.
Fifteen-year old Tamworth schoolboy Jan Faulkner will be there, painting on slate, and so will Mr. Neil Winfield, who paints traditional canal-boat hardware.
FACT is providing the stalls and hiring the room, and the craftsmen will pay a nominal sum – 10 per cent on sales and orders taken – to the group.
"Our object isn't to make money, but to encourage artists and give Tamworth people an opportunity to see and buy original work," Mrs. Stonier said.
The fayre will be open morning and afternoon.
14/04/78
White Island
Tamworth Arts Centre
14/04/78
All discos are cancelled forthwith
Kingsbury Working Mens Club
15/04/78
Dildo
Tamworth Working Mens Club
15/04/78
Paradox
Two Gates Working Mens Club
15/04/78
Jester
Hurley Working Mens Club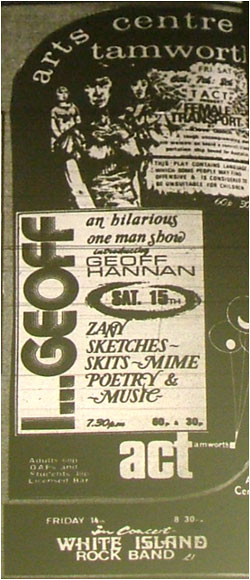 15/04/78
Bogart
Atherstone Miners Welfare Club
16/04/78
Kidda
Dordon Working Mens Club
20/04/78
Convention
Dordon Working Mens Club
Tamworth Herald – 21/04/78
"Window on the Arts" proves a big success
SIXTEEN-YEAR-OLD Tamworth painter Jan Faulkner had his first big "break" on Saturday.
Jan, of Clifton Avenue was among artists and craftsmen from all over the area who got together for a unique "window-on-the-Arts" display in the town.
It was chance for them to set up "shop" at the Church Street, Arts Centre, and introduce themselves and their work to the public.
The idea for the day-long craft fayre, came from FACT – the Friends of the Arts Centre. They want to help and encourage local craftsmen who are producing all kind of good work, yet don't often have an opportunity to show it.
The fayre was a big success and Jan, who paints on slate, was kept busy answering lots of questions from a steady stream of visitors.
"It was a marvellous idea because there are many people who are creating things, but who don't have an outlet for then," he said.
It is hoped the fayre will be held again, possibly on a regular basis.
"Trade was a bit slow although it picked up in the afternoon." Said secretary Marion Stonier.
"But lots of people came in to look around which was marvellous. And they really were interested – they didn't just dash in and out again.
Tamworth Herald – 21/04/78
Palace – Saturday Night Fever (X)
22/04/78
Poetry
Tamworth Working Mens Club
Tamworth Herald - 28/04/78
Join the Scoopers
Tamworth Herald – 28/04/78
FABULOUS FORTIES
FACT – Friends of Tamworth Arts Centre – are waltzing back into the dance scene tonight, Friday, with another "Fabulous Forties" get-together at the centre.
Tamworth Herald – 28/04/78
PC attacked in 'old Chicago' scene after disco – court told
A DISCO ended like a scene from the streets of old Chicago with a policeman being kicked as he wrestled on the floor with a man, it was claimed at Tamworth magistrates court.
Police reinforcements were called to Tamworth F.C. Social Club by the frightened club manager's wife, the court heard.
28/04/78
Tranzit
Kingsbury Working Mens Club
29/04/78
Tranzit
Glascote Working Mens Club
29/04/78
Paradox
Hurley Working Mens Club
May 1978
The Reliants
St. John's Guildhall
04/05/78
Kidda
Polesworth Working Mens Club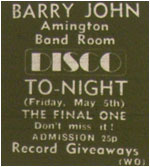 05/05/78
Barry John Disco
The Final One
Amington Band Room
Tamworth Herald – 05/05/78
Touch of Victoriana for town festival
A TOUCH of the Victorian era comes to Tamworth next week-end.
It is all part of the May festival in the Castle Grounds and plans to transform parts of the town into scenes from the last century are already underway.
Tamworth Herald – 05/05/78
Musicbox
Carnival organisers in Atherstone are aiming to attract thousands of Pop lovers to an open-air disco with one of Britain's top disc jockeys.
Officials are hoping that the Friday night disco to be hosted by Radio One's Paul Gambaccini will set the trend for a record-breaking event.
After last year's success story when another Radio One disc jockey, Dave Lee Travis brought his roadshow to town, organisers are betting on an even bigger money spinner on June 16.
06/05/78
Sticky Fingers
Atherstone Miners Welfare Club
07/05/78
Bogart
Two Gates Working Mens Club
The Chequers
Soulsational Sunday Sounds
Kippa, Pete Strange, Noel Walker, John Green, Funky Road Show
Tamworth Herald – 12/05/78
Scooper Club – Member No. 1
Philip Hunt, Wellesbourne, Browns Lane Estate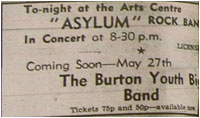 13/05/78
Asylum
Tamworth Arts Centre
14/05/78
Tranzit
Austrey Working Mens Club
14/05/78
Eclipse
Tamworth Progressive Club
Tamworth Herald – 17/05/78
St. Johns Youth Club
The newly formed St. John's Youth Club held their first Disco on Friday.
Although the night got off to a bad start when the booked disco unit developed a fault and fused the decks, the problem was overcome at the last minute by the "Just Dusk" disco from Polesworth. Due to a last minute cancellation they were able to turn what started out as a disaster into a successful night.
The club has booked the "Just Dusk" disco to play for them again on May 26.
18/05/78
Brewster
Polesworth Working Mens Club
Tamworth Herald - 19/05/78
It's 'Spring Fever' – despite the clouds


Tamworth Spring Festival managed to hold its own at the weekend – in spite of the cold overcast weather.
The organisers expect to make a profit in the region of £400 to £500 – about the same sum as last year.
The bright stalls and Victorian dress attracted a total of 6,000 people over the two days – and it seems they were all willing to spend, spend, spend at the Victorian bazaar.
Meanwhile, BRMB's disc jockey Les Ross gave a commentary of displays on the green below the gardens.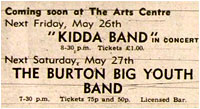 26/05/78
Kidda Band
Tamworth Arts Centre
27/05/78
Kidda Band
Hurley Working Mens Club
28/05/78
Tranzit
Austrey Working Mens Club
29/05/78
Jentz
Glascote Working Mens Club
June 1978
The Reliants
Rikky Patrick Disco
St. John's Guildhall
June 1978
The Reliants
Bowling Green, Lichfield
[Disc Jockey left lying in pool of blood – court told]
01/06/78
Kidda Band
Polesworth Working Mens Club
Tamworth Herald – 02/06/78
Arts Festival idea for town
IDEAS have started to come in for a big Tamworth Arts Festival which it is suggested could be held during April and May next year.
They include a flower arrangement exhibition and demonstration, "master classes" in singing and opera workshops, recitals and concerts.
It is suggested that local schools could get together to put on a concert and the local Archaeological and Historical Society thinks it could arrange a special lecture.
Organisers of Tamworth's annual Music Festival have said they would be "delighted" to be linked with an arts festival, although they would run their own show as usual.
The town's Drama Festival and Tamworth's Choral Society's major concert already planned for April – a performance of Bach's St. John Passion – could also be in with the event.
CRAFT FAYRE
The Male Voice Choir may take part and Friends of Tamworth Arts Centre will consider mounting another craft fayre featuring the work of local artists and craftsmen.
Other ideas include a brass band concert and modern music for young people.
Arts Advisory Council secretary Mr. Dan Gronow has been writing to affiliated societies for their thoughts and suggestions for a festival, which would be under the direction of Arts Centre Manager Dave Armour.
Tamworth Herald – 02/06/78
Musicbox - Exciting band at Arts Centre
A talented new band makes its debut at Tamworth Arts Centre on June 9th.
Called Ice, the five-piece band will be performing a stage version of their forthcoming album release "Saga of the Ice King."
Song-writing duo Mick Rutherford and Colin Richardson formed the band and both have five-year writing contracts with Patch Music, together with a three-year recording contract with Tabitha Records.
"We are planning to release the "Ice King" album as soon as possible," said Mick Rutherford.
"The album will have many different effects and we are hoping to have the Staffs Youth Orchestra helping us out on the record," he added.
The ban's line-up is: Mick Rutherford, lead vocals, acoustic guitar, percussion; Paul Watts, electric and acoustic guitars; Colin Richardson, bass and acoustic guitars, vocals; Andy Radek, electric and acoustic guitars; Steve Sheldon, drums, percussion and vocals.
Formed only two months ago, the band's first gig – at the Arts Centre – starts at 8.30pm a week tonight.
03/06/78
Tranzit
Austrey Working Mens Club
03/06/78
Zenith
Coton and Hopwas British Legion Club
03/06/78
Jester
Glascote Working Mens Club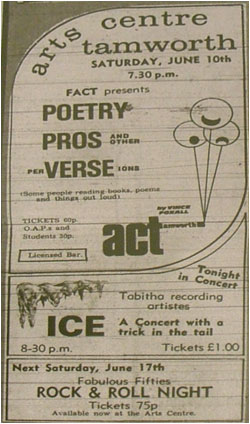 03/06/78
Bogart
Hurley Working Mens Club
04/06/78
Tranzit
Dordon Working Mens Club
09/06/78
ICE
Tamworth Arts Centre
Tamworth Herald – 09/06/78
Phil's numbers for stardom


TAMWORTH-born Phil Bates is taking his first steps to pop stardom.
For 25-year-old Phil who lived for many years in Wilnecote and Dosthill is lead guitarist in a band called Trickster.
And that band is currently supporting the superstar group Electric Light Orchestra on a world tour.
Trickster was signed as support band for ELO, and Phil, who takes the lead vocals, is hoping for a break into the 'big-time'.
Phil played in local bands many years ago, including The Teenbeats and helped form the ever-popular Quill group.
He was with Quill for two years before playing bass guitar on Duane Eddy's British tour, and then went solo.
SNAPPED UP
He then teamed up with keyboards player Colin Hewinson to form Trickster.
The band was soon snapped up by the United Artists recording company and then came the current tour with ELO.
Phil and Trickster have been with ELO to Sweden, Norway, Germany, Denmark, Holland, Belgium, Switzerland and France.
In Tuesday night ELO, a Birmingham-based band led by the talented Geoff (sic.) Lynn, was at Stafford's Bingley Hall…and so was Trickster.
London's Empire Pool is the venue for the last week of the ELO-Trickster British tour and then comes the United States.
Trickster visit the States in the hope of hitting the highspots. The band is talented, exciting and confident.
Phil Bates guitar playing is excellent…it could be a case of local lad makes good.
Tamworth Herald - 09/06/78
Rockin' around the band stand
SUMMER band concerts at Tamworth could be taking on a new sound this year.
For organisers want to encourage rock bands to take part as well as the traditional brass and military-type groups.
The weekend concerts are held in the Castle pleasure grounds.
"But, if there is sufficient demand it should be possible to put entertainment on in some local parks as well," said Tamworth Arts Centre Manager Dave Armour.
"If there are any rock bands who would be interested in performing in the open air I would be pleased to hear from them."
"We would be prepared to help out with facilities and expenses."
"We'd like to open things up a bit with music to appeal to young people as well as older age groups, and it would be very nice to see local bands coming forward."
Prompted by the borough leisure department, the concerts run through July and August.
10/06/78
An Evening of Poetry and Music
FACT
Tamworth Arts Centre
15/06/78
Tranzit
Polesworth Working Mens Club
16/06/78
Sticky Fingers
Glascote Working Mens Club
16/06/78
Bogart
Kingsbury Working Mens Club
Tamworth Herald – 16/06/78
Spring Arts Festival Planned
TAMWORTH is to have a Spring Arts festival next year.
Council officials hope to coordinate events from the town's music, drama, Spring and Theatre Dance festivals for a big festival in April or May next year.
Already £1,000 has been set aside in the council kitty for organising the festival and councillors will look at the possibility of making more cash available as the date gets nearer.
DETAILS
The Borough's Leisure Committee have given the official go ahead for the Arts Festival. Now council officials will be looking at details in co-operating with the Arts Advisory Council.
A report went before the town's Leisure Committee saying there is no indoor venue large enough to take people to break even on events costing over £500.
A show costing £500 in the Assembly Rooms would nee a full-house paying £1.60 each to break-even.
As well as coordinating events from other festivals council officials want to "top-up" the Arts Festival by injecting professional events between the other activities.
Leisure Committee member, Councillor Doug Bonas said "You have either got to go into an Arts Festival with the band playing and trumpets blasting, or not bother. If you creep in, nobody will see any difference to the way things normally are."
Tamworth Herald – 16/06/78
Musicbox - Steve set for repeat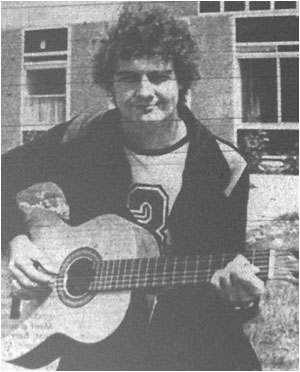 KIDS at Greeneacres School, Amington, must think they have got a wonderful teacher in Steve Adams.
Last year he won the National Melody Maker Rock Folk competition – and now he looks set to do it again.
Last Sunday he won the semi-finals at Barbarella's Club, Birmingham. And now he's hoping his luck will continue into the finals at The Round House, London on July 2.
Steve, 30, of Dormer Cottage, Green Lane, Birchmoor, Tamworth, got a lot of work in pubs and folk clubs after winning last year's contest.
And at the end of last year he bought out his LP, "Steve Adams".
He writes and sings his own compositions, and it is the top soloist award that he hopes to win for the second time.
But in spite of his success, Steve has no plans of turning professional. He is quite happy teaching at Greenacres Junior School where he has been since last September.
17/06/78
Rock and Roll Night
Tamworth Arts Centre
18/06/78
Gents
Belgrave Sports and Social Club
25/06/78
Ledbelly
Dordon Working Mens Club
29/06/78
Brewster
Polesworth Working Mens Club
Tamworth Herald – 30/06/78
New Broadside on Storage Problem
BOROUGH councillors have again come under attack from arts groups desperate for space to store props and costumes.
Societies hunting for a building which they can use for storage and painting scenery have still had no luck.
And now another blow has fallen.
Tamworth Arts Club, which runs opera and drama groups, could lose the only store it has outside the Assembly Rooms.
The "store" – a garage at the rear of shops in Middle Entry - is rented by the Arts Advisory Council from the Borough Council.
Now the Arts Club understands the garage will be needed to make way for an access to other property – and that they could be given 28 days notice to remove their equipment.