Tamworth Bands History : 1979
January to March
04/01/79
Brewster
Polesworth Working Mens Club
Tamworth Herald - 05/01/79
Tamworth Herald introduces a new slimline broadsheet for 1979 reducing the overall width of the newspaper by 2 inches.
Tamworth Herald – 05/01/79
"Grease" Dance Classes
Belgrave Recreation Centre
05/01/79
New Years Disco
Gilt Edge Roadshow
Edingale Village Hall
Admission: 75p
Proceeds to the NSPCC
06/01/79
Ragamuffin
Belgrave Sports and Social Club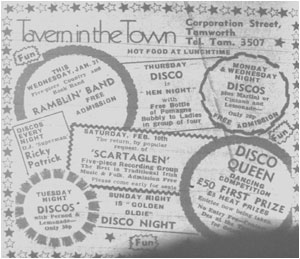 11/01/79
Tranzit Rock Band
Polesworth Working Mens Club
12/01/79
Barry John Disco
Polesworth Miners Welfare Club
13/01/79
Bogart
Atherstone Miners Welfare Club
18/01/79
Paradox
Polesworth Miners Welfare Club
Tamworth Herald – 19/01/79
Venue change for folk music club
FOR the past two years, Paul and Janet Owens from Glascote have been involved in running a folk music club in Birmingham.
Paul and Janet, along with Mike and Anne Blair, form the group "Rainbow's End" who run the Trees Folk Club.
One artist booked for the first concert on January 30, is Tamworth singer-songwriter Steve Adams.
"Steve very kindly came up to our opening night and judging by his reception, we should get a lot of people to his concert night."
Steve from Birchmoor, near Tamworth is prominent on the Midlands folk scene, not only does he sing and play his own songs at clubs in the area, he also runs a small recording studio, capable of producing a high standard 'master tape' of suitable quality to use directly for a record.
Of Rainbow's End, Paul says "We play mainly traditional folk music, but the arrangements are all our own. We'll be happy to see anyone, singers or listeners, at The Crown, every Tuesday.
Tamworth Herald – 19/01/79
Disco Queen Contest
GIRLS, fancy yourself as being a Disco Queen, now's your chance!!
Des and Mary Harkin new tenants of the Tavern in the Town public house in Tamworth are organising a Duisco Queen Dancing Competition with £50 as the first prize.
Preliminary heats will begin within the next few weeks, each with a £5 heat winners' prize. The Tavern has a disco every night of the week, so any would-be contestants can get some practice in.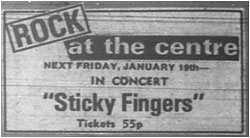 19/01/79
Sticky Fingers
Tamworth Arts Centre
19/01/79
Tamworth Young Farmers Disco
Dancing to Steve York
Hints Village Hall
Track 4 Disco
Now at the Marmion every Tuesday and Thursday
22/01/79
Paradox
The Chequers
23/01/79
Disco
Barry John
Polesworth Working Mens Club
25/01/79
Disco
Buttercup Show
Tamworth Progressive Club
Tamworth Herald – 26/01/79
'RAMBLIN SOUND' NOTE OF SUCCESS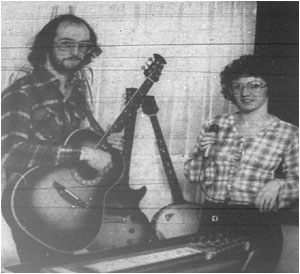 ALL set to go places on the entertainment scene are Tamworth's newest country-and-western group 'Ramblin' Band'
Launched just before Christmas, they're playing at pubs, clubs and American Air Force bases where the 'Ramblin' sound is proving a big hit.
The five-strong band was started by 19-year-old Steve Harrop, who lives at Calder. Stoneydelph, with his wife Janet and two young children.
Professional musician Steve, he plays pedal steel guitar, lead guitar and banjo – appeared with many different bands in the Birmingham area before moving to Tamworth just over 12 years ago.
"I felt it was time to have a go at forming a band of my own, and I'm really pleased at the way things have worked out," he said.
"We play country-and-western and country rock depending on the venue. We're different from most other groups at the moment – we're a lot closer to American country rock bands like The Outlaws..
"We offer traditional and contemporary music in our own particular style and I think we've achieved quite a distinctive sound."
In the line-up are a drummer called Stalkey, who lives at Ashby and two members from Coalville – bass player Colin and guitarist Graham.
Tamworth Herald – 26/01/79
'Curtain up' on theatre bar
A touch of luxury will be added to Tamworth Arts Centre with the completion of the new theatre bar.
26/01/79
Real Ale Jazz Festival
Organised by Tamworth and Sutton CAMRA
Tamworth Assembly Rooms
26/01/79
Dazy Mae Presents
Rock 'n' Soul Records Artistes
Jameson Raid (Backed names like Judas Priest, Dave Edmonds, Robert Plant
Kippa (King of Soul)
"Cum an Rock Ya Socks Off for a Pound"
26/01/79
The Avoca Sounds
St. John's Catholic Club
26/01/79
Disco
DJ Simon Cooper and his Gilt Edge Roadshow
Drayton Manor, Missanda Suite
Lichfield Jazz Club
Every Saturday The Old Crown, Bore Street
03/02/79 – Zenith Hot Stompers
10/02/79 – Dave Linds Syncopators
Tamworth Herald – 03/02/79
Bar is a centre FACT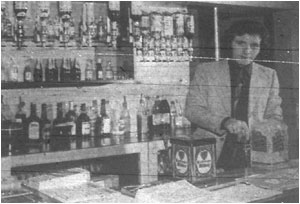 CHEERS! Tamworth Arts Centre manager, Dave Armour wearing his other hat as 'landlord', pulls a pint at the centre's newly-completed theatre bar.
All fittings, including security grilles, have now been put in and the bar should be open much more often for people meeting or rehearsing at the centre.
The bar was a joint project by Tamworth Arts Advisory Council and FACT – The Friends of the Arts Centre.
It will be officially 'opened' at a social evening on February 13.
FACT will continue to run it, and profits will be ploughed back to further improve facilities.
Tamworth Herald – 03/02/79
'Triple disco' is Grahame's plan for a night-life lift
A TAMWORTH disc-jockey has taken young people to task for failing to support dances in the town – and then complaining about lack of nightlife.
Grahame Wood – he works as a dee-jay under the name of "Kippa! – is now organising a make-or-break "triple disco" at the Assembly Rooms on Saturday next week, February 10.
He's lining up three local dee-jays for a night of non-stop music from eight o'clock till midnight.
"If this doesn't work, nothing will," he said. "I've put on discos with a bar for people aged 18 and over and they've been a flop in terms of members attending – even the last one when we had a top Midland recording band there, Jameson Raid, attracted only about 80 people.
COMPLAIN
"Yes, it's the same young people who complain there's nothing for them in Tamworth.
"The triple disco will be something new and I just hope it will go well. The Assembly Rooms are a pretty good venue, with good lighting."
Added Grahame: "Quite a lot of people have said why don't we get some of the really big-name groups down here. I'd be quite happy to do this, but you can't run before you walk. You've got to know the support will be there."
04/02/79
Chequers '79 Soul Scene
Dave Curtis
05/02/79
Paradox
The Chequers
05/02/79
All Wool Discotheque
Polesworth Working Mens Club
06/02/79
Sticky Fingers
Elford Working Mens Club
Tamworth Herald – 09/02/79
Unveiled…plans for a star-studied festival to remember
A star-studded line-up from stage, screen and concert hall is poised to help make 1979 a year to remember in Tamworth.
Big 'names' waiting in the wings include David Kossoff, George Melly, Donald Houston and Cy Grant.
They are coming to take part in the town's first major Arts Festival.
Planned over two months, the festival promises to be a something-for-extravaganza with drama, comedy, dance, song, films, crafts, paintings and music ranging from rock and folk to jazz, operetta and grand opera.
The programme will feature special events as well as regular favourites like the annual Music Festival and Drama Festival.
HIGH NOTE
And it will end on a high note with the town's Spring Fair being held in the Castle Grounds as usual.
"Things really are coming together now," said co-ordinator Dave Armour, Manager of Tamworth Arts Centre.
"Certainly there are some gems in the programme and the variety generally is very good.
"Given the resources we have and provided the attendances are what we expect it should be a festival that Tamworth will enjoy and remember."
DAVID KOSSOFF, actor and raconteur, has delighted millions of people nation-wide with his gift for story-telling both 'live' and TV.
He is coming on April 7, to present his highly-acclaimed one-man show called "A Funny Kind of Evening With…"
SPOTLIGHT
Pop music will be getting its share of the spotlight, and Dave Armour is hoping to organise an open-air rock concert on Easter Monday.

09/02/79
Droopies Disco
Nij Redfern
Assembly Rooms
10/02/79
Three Star Disco plus Revolution Roadshow plus Kippa
Assembly Rooms
11/02/79
Eternal Roadshow
14/02/79
Double Disco Valentine Supanite
Revolution Roadshow and Kippa
14/02/79
Valentines Disco
DJ Nij Redfern
Drayton Manor, Tower Suite
Tamworth Herald – 16/02/79
Ramblin' into regular venue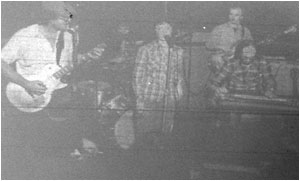 The Ramblin' Band …Tamworth's newest country and western group have got themselves a regular nightspot at the Tavern-in-the-Town.
The band – Steve Harrop of Calder, Stonydelph, his singer wife Janet, drummer Martin "Stalky" Gleeson, bass player Colin Howson and guitarist Graham Torn – are playing fortnightly on Monday evenings at the Corporation Street pub.
BOOKINGS
"A chance to play regularly for local people was just what we were looking for, although bookings are rolling in from other parts of the country." Said 29-year-old Steve, who plays pedal steel guitar, lead guitar and banjo.
"We hope this will lead to more bookings for gigs in the Tamworth area."
Ramblin' Band offer traditional and contemporary music in their own particular style, says Steve, and they're already travelling quite long distances to keep dates at clubs and American Air Force bases.
Tamworth Herald – 16/02/79
Musicbox – Stateside stardom for local guitarist


FORMER Mercian School pupil Charles Harrison is shooting up in the 'pop' world of fame and fortune – as bass guitarist in top USA group POCO.
The outfit's latest single "Crazy Love" has shot up to number 37 in the American singles chart and they have just released a new album entitled "Legacy"
Twenty-five-year old Charles, whose Mother live sin Milton Avenue, Leyfields made his home in Hollywood nearly three years ago and is presently touring the States.
Later this year, POCO intend to do a number of concerts in Britain.
Charles began his musical career at the age of 14, playing is local group Chapter 24. After a spell working as an apprentice at Tamworth's Percy Lane Company, he turned professional and joined Birmingham outfit Paradox.
There he was spotted by Carl Wayne of The Move and transferred to his first major group Judas Jump.
He later went to America to improve his chances of success and his gamble has certainly paid off.
During his career, he has played alongside top names of the music world like Al Stewart and Leo Sayer.
16/02/79
Special Clinic
Tamworth Arts Centre
16/02/79
Mike Sheridan and the Nightriders
Valentines Dance
Wood End Working Mens Club
16/02/79
The 'Scartaglen' Folk Group
St. John's Catholic Club
18/02/79
Noel Walker
19/02/79
Paradox
The Chequers
Tamworth Herald – 23/02/79
Introducing…Ernie and Murph as a folk duo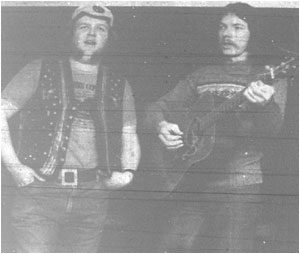 AFTER playing in bands on and off for the last 12 years musicmakers Phil Nield and Paul Hooke have decided to go it alone.
And now the pair have their own regular nightspot at "The Chalet" – part of The Belfry Hotel, Wishaw.
Known as Ernie and Murph – they're appearing every Tuesday evening.
Phil - he's the Ernie half of the folk duo is the singer and Paul also does vocals besides playing a variety of instruments including guitar, mandolin, banjo, fiddle and accordion.
"We do all sides of folk, but at The Chalet, we're concentrating on humourous and sing-along stuff," said Phil who lives at Wilnecote.
"We were booked for one night as part of a series of entertainment, then we were asked if we'd like to take over the resident spot."
"Up to a hundred come along and really seem to enjoy themselves," "We're having fun too and we're lucky to have a very good gaffer which counts for a lot."
Phil and Paul – he lives at Amington – have played in many bands together including the Gosselbury Firkin Band, Pig's Pudding and Rowton's Well.
At one time Phil sang with an old-time music hall group called the Empire … and Paul played with a traditional music group called Salmon Tail.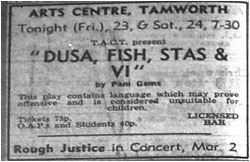 24/02/79
Beat Dance!
Reliant Sports and Social Club
25/02/79
Inter City
25/02/79
Jay Kays
Dordon Working Mens Club
Tamworth Herald – 02/03/79
Empty seats prompt a link idea for 'TACT'
Tamworth Herald – 02/03/79
Bigger bill for arts centre use
TAMWORTH Arts Advisory Council will have to pay more than £1,000 a year to rent the Arts Centre in future.
Tamworth Council's Leisure Activities Committee decided to increase the annual rent from £900, the figure which was set in 1975 to £1,055.
This follows the borough council's general policy decision to increase charges by an average of 15 per cent.
Councillor Ron Watson told the committee "The amount of money the increase will bring is neither here nor there to us as a council.
"It's nothing to the citizens of the town, but it is something to the arts council. Our job is to encourage the arts."
But Councillor Peter Knowles defended the increased rent "The charge has not gone up since 1975," he said, "We are helping them by charging £1,055 for the rent of the building – they are getting it at a very reasonable price."

02/03/79
Disco
Johnny Slade Roadshow plus LK Roadshow
Assembly Rooms
02/03/79
Rough Justice
Tamworth Arts Centre
05/03/79
Paradox
The Chequers
08/03/79
Buttercup
Tamworth Progressive Club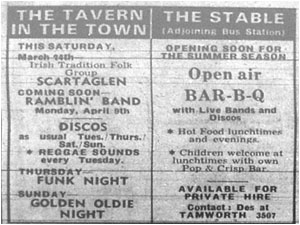 Tamworth Herald – 09/03/79
Disco notes for school trip
DISCO Fever resulted in £308 being handed over to Tamworth's Park Special School towards a fund to send seven children on a trip of a lifetime to Denmark.
The school hopes to raise £700 to send the pupils on a five day holiday.
DJ Johnny Slade and L.K. Roadshow gave their services free at the Assembly Rooms disco.
"It was a fantastic turnout," said headmaster of the school, Mr. Frank Bartlett, "It's very encouraging. We have made a real start towards reaching our target".
09/03/79
Gilt Edge Disco
David Hamilton and Simon Cooper
Drayton Manor
10/03/79
The Jay Kays
Polesworth Miners Welfare Club
Tamworth Herald – 16/03/79
Musicbox – Annette Witheridge
"Diddy" David Hamilton weekend disco spot was a sell-out success at Drayton Manor, Tower Suite. Hundreds are turned away.
17/03/79
Buttercup
Atherstone Miners Welfare Club

23/03/79
Ramblin' Band
Tamworth Arts Centre
24/03/79
Rits
Glascote Working Mens Club
24/03/79
One Flew Over the Cuckoos Nest
Tamworth Arts Centre
29/03/79
Netherseal Young Farmers
Summer Time Disco
Steve Bostock Roadshow
Tamworth Herald – 30/03/79
'Ice' – set to break into the big time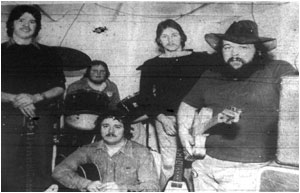 A local rock band launched just a year ago lost no time making their mark on the Midland music scene.
An now 'Ice' are heading for the big-time with a new album due out soon and offers of radio and TV work pouring in.
'Ice' got their name from a book about the legends of the Norselands. But they didn't stop there – they've based their new album on the same stirring stories.
Called "Saga of the Ice King", it was produced, written and arranged by the group, recorded at their own studio in Lichfield and mastered in Blackpool.
The five-piece band who play melodic rock, will be in concert tonight, Friday, at Tamworth Arts Centre.
And they are to top the bill at the open-air concert in Tamworth Castle Grounds on Easter Monday.
COVER
In the line-up are Mick Rutherford, lead voice from Baddesley, Colin Richardson, bass and Paul Watts lead guitarist, both from Lichfield. Andy Radek, second guitarist from Glascote and Steve Sheldon, drums, from Wilnecote.
The "Ice King" album should have been out today, Friday, but because of industrial problems beyond the band's control the cover isn't ready yet.
With strings and horn played by four members of the Staffordshire Youth Orchestra it should be out in a matter of weeks.
The band have lined up several gigs in Birmingham, Nottingham, Stratford and Leeds as well as at local centres.
And they've been appearing on Radio Derby's weekly rock show "Solid Air".
Aiming to turn fully professional, Ice have high hopes that the "Ice King" album will be released in Holland, Belgium, Luxembourg, France and Spain and their record company are also hoping to send them on a European tour before the end of the year.