Tamworth Bands History : 1979
April to June
Tamworth Herald – 06/04/79
Seeing stars…at Tamworth festival
Extravaganza with something for all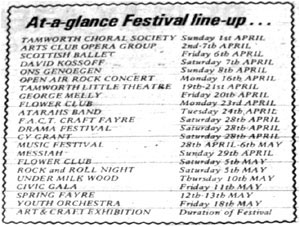 The spotlight turned on Tamworth this week as the town launched its first major Arts Festival – a springtime extravaganza promising entertainment for everyone.
The feast of music, song, drama and comedy is spread over two months and organisers have aimed to cater for all tastes.
Hear a Shakespearian actor and an international jazz pianist…toe-tap to the stirring strains of a top brass band…have fun with flowers…browse around an arts-and-crafts exhibition…get chuckling with master-of-comedy Alan Ayckbourne.
It's all happening in Tamworth over the next two months.
Well over 20 events, some of them spread over several days are lined up for the town's SPRING ARTS FESTIVAL.
On Easter Monday, rock and country-and-western fans can warm up at an Open Air Concert in the Castle Pleasure Grounds.
It will feature bands including Ice, whose new album should be out by then, the Ramblin' Band and Brewster.

12/04/79
Tamworth Herald published on a Thursday
14/04/79
Sticky Fingers
Amington Liberal Club
14/04/79
Rits
Birchmoor Working Mens Club
14/04/79
Mike Sheridan and the Nightriders
Elford Working Mens Club
15/04/79
Sticky Fingers
Elford Working Mens Club
15/04/79
Ledbelly
Dordon Working Mens Club
16/04/79
Rits
Grendon Working Mens Club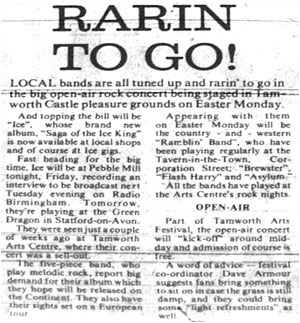 16/04/79
Arts Festival
Castle Grounds
Ice, Brewster, Ramblin' Band, Flash Harry, Asylum
16/04/79
Paradox
Chequers
19th/20th/21st April 1979
Confusion
Tamworth Little Theatre
Tamworth Arts Centre
21/04/79
Buttercup Roadshow
Atherstone Working Mens Club
Tamworth Herald - 20/04/79
Palace Cinema – Sgt. Pepper – Peter Frampton and The Bee Gees
20/04/79
George Melly and the Feetwarmers
Assembly Rooms
24/04/79
The Searchers
Two Gates Working Mens Club
Tamworth Herald – 27/04/79
Disco numbers take 'Rits' into the bright lights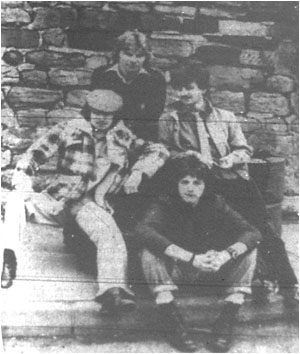 TAMWORTH pop group Rits, formed only last summer, have just made their first record.
And the A side of the new single, due out soon, is their own composition, "Disco Shuffle".
The record, on the double-B label, will be in local shops within the next few weeks and is also being released on the Continent and in Scandinavia.
And that's not all – things are happening in a big way for the group.
Radio and TV spots are in the offing, a 21-day tour of Germany and Scandinavian countries is coming up, and a national disc-jockey chain is taking a keen interest in the new disc.
And on September 8. Rits are supporting chart-toppers Showaddywaddy at an open-air concert in Atherstone.
In the Rits line-up are drummer Robert Horne (20), lead guitarist Ian Hatton (16), bass guitarist Tony Norchi (18) and 21-year-old Steve Hawker, who plays rhythm guitar and keyboard. Three of them also double as vocalists.
At the moment, Robert is devoting all his time to music, while Steve works as a draughtsman and Ian and Tony are still at Tamworth College.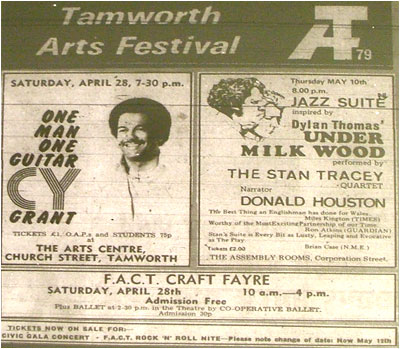 And they're not just based in Tamworth – they all live in the town, in St. George's Way and Comberford Road.
They took the first letters of their Christian names to make the name for the group.
Their on-the-spot manager is Robert's father, business man Mr. John Horne, and he's delighted at the way things are going for Rits.
"They are really doing well, but then they work very hard – they deserve their success," he said.
On the B-side of Rits' disc, being distributed by Lightning Records is another disco number "Evil Woman".
Tamworth Herald – 27/04/79
Scene Around - Tamworth's Open-air Rock Festival
MORE than 300 people converged on Tamworth's Castle pleasure grounds on Easter Monday to watch the town's first open-air rock festival.
Topping the bill were Tabitha recording artists Ice. The band who play melodic rock performed a selection of tracks from their debut album release "Saga of the Ice King."
The five-piece outfit received an enthusiastic reception from the crowd. Particularly impressive was drummer, Stephen Sheldon.
Appearing with them were the country-and-western "Ramblin' Band", "Brewster", "Flash Harry" and "Asylum" all of whom were warmly received.
The concert which was part of the Tamworth Arts Festival, lasted throughout the afternoon.
Ice have set their sights on a European tour later this year and have hoped that their album will be released on the continent.
28/04/79
Rits
Coton and Hopwas British Legion Club
01/05/79
Buttercup Roadshow
Coton and Hopwas British Legion Club
05/05/79
Rits
Dosthill Cosmopolitan Club
06/05/79
Sticky Fingers
Birchmoor Working Mens Club
Tamworth Herald – 11/05/79
Conservatives win the general election – John Heddle.
Tamworth Herald – 11/05/79
Musicbox
A top Tamworth rock band got a taste of charity concerts when they staged a show at Polesworth Comprehensive School in aid of the national Kidney Machine Week.
Sky Cycle – a four-man outfit who write all their own material – and lower sixth form pupils at the school organised the gig.
12/05/79
Rock 'n' Roll Nite
Tamworth Arts Centre
12/05/79
Jay Kays
Dordon Working Mens Club
14/05/79
Paradox
Chequers
19/05/79
Marmalade
Atherstone FC Social Club
20/05/79
Brewster
Dordon Working Mens Club
Tamworth Herald – 25/05/79
'PUNK' SHOW FOR CHARITY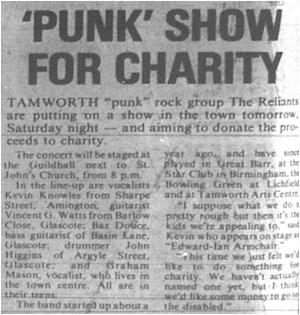 Tamworth 'punk' rock group The Reliants are putting on a show in the town tomorrow, Saturday night – and aiming to donate the proceeds to charity.
The concert will be staged at the Guildhall next to St. John's Church, from 8p.m.
In the line-up are vocalists Kevin Knowles, from Sharpe Street, Amington, guitarist Vincent G. Watts from Barlow Close, Glascote, Baz Douce, bass guitarist of Basin Lane, Glascote, drummer John Higgins of Argyle Street, Glascote, and Graham Mason, vocalist, who lives in the town centre. All are in their teens.
The band started up about a year ago, have since played in Great Barr, at the Star Club, Birmingham, the Bowling Green at Lichfield and at Tamworth Arts Centre.
"I suppose what we do is pretty rough but then it's the kids we're appealing to," said Kevin who appears on stage as Edward ian Armchair.
"This time we just felt we'd like to do something for charity. We haven't actually named on yet, but I think we'd like some money to go to the disabled."
Tamworth Herald – 25/05/79
Festival stock-taking
IT'S stock-taking time on the arts scene at Tamworth.
The town's major Arts Festival is over now, and organisers are reviewing its success and totting up the balance sheet.
And thoughts are turning to next year, when many people hope there will be another festival, not necessarily on the same lines.
Full reports will be going soon to the Borough Council's leisure committee. But in the meantime Festival Director Dave Armour has said that all the shows were very successful in that people who went along really enjoyed them.
However, the picture wasn't so bright as far as the size of the audiences was concerned.
"We lost money, but then this was anticipated and allowed for," Mr. Armour said.
"What disappointed me was that certain shows attracted fewer people than I had expected. For example, I had certainly expected the George Melly show to sell out and it didn't.
"I would also have thought there would be a better turnout for the Scottish Ballet performance at the start of the Festival."
But, it is thought that the guarantees put up will cover the Festival and there is optimism that not all the guarantees offered will actually be taken up.
Some criticism of the Festival came from people who were unable to go to some events because they were involved in locally-organised shows on the same days.
It has been suggested that events next time could be more spread out, but then there is a danger of losing continuity.
So will there be a festival in 1980? Said Mr. Armour: "This is very much a matter for the borough council.
"Probably, I see no reason why there shouldn't be one, though whether the format should be changed is another matter. There could be a case for organising it on rather different lines and perhaps setting up a special festival committee."
Tamworth Herald – 25/05/79
More top shows on centre bill
WITH the holiday season over, there'll be no more professional entertainment at Tamworth Arts Centre until the autumn – but already exciting things are in the air for next year.
And people who want to be sure of getting "what's on" information well in advance can apply to join the centre's mailing list.
Dance, including African dance, poetry and music, including folk, blues and modern jazz are being considered.
"I attended a meeting with West Midlands Arts and a lot of exciting ideas are under discussion," said Arts Centre manager Dave Armour.
"For example, there is talk of a possible Poets and Pints evening, and of putting on people like Roger McGough and Adrian Henry.
"Dance-theatre companies have been mentioned, and music could include big blues stuff, as well as jazz and folk.
"In fact, the whole spectrum of touring shows may be widened."
25/05/79
Brewster
Chequers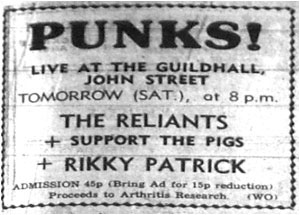 26/05/79
The Reliants
Plus Rikky Patrick
Guildhall
28/05/79
Ritz (sic.)
Tamworth Progressive Club
28/05/79
Paradox
Chequers
Tamworth Herald – 01/06/79
'Tighten discipline' youth club told
A Tamworth Church youth club has been told to tighten up on discipline after complaints that youngsters are shouting, screaming and drinking on the premises.
Tamworth council's planning committee deferred a decision to allow St. John's Youth Club in Ludgate to open every night of the week and to run discos and other activities.
The committee is to discuss opening times and other activities with council officers in the next fortnight. But the chairman, Cllr. Duncan Smith said: "There should be some very tight administration round there."
ANGRY
Angry residents have protested to the council about the noise of discos, car parking and the behaviour of club members.
One man described it as being "worse than a football match.", with youngsters screaming and shouting. Others said they could even hear snooker games in progress and another was pestered by young people in his garden.
People living nearby complained that youths had been seen taking bottles of Guinness into the club – and Cllr. Graham Talbot said he had witnessed an incident involving a bottle of wine.
Tamworth Herald – 01/06/79
Musicbox – 'Chico' heads for a new future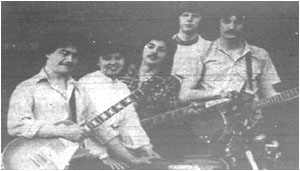 A TAMWORTH band launched at the end of last year are wasting no time in making their mark on the local music scene.
The band, Chico, are Tony Sadler, guitar and vocals, Debbie Barlow, lead vocals, Mark Allway, guitar and vocals, Steve Hastilow drums and Steve Hartley on bass.
Chico, formerly known as Berlin, played at The Warren and Suffield Lodge and are now seeking a regular venue in the town.
The semi-professional group, who describe their music as soft rock say that they are influenced by the Eagles, Fleetwood Mac and Steely Dan.
Already Chico are venturing beyond Tamworth and have recently played in Cannock.
If you would like to go along and support Tamworth's newest rock band then they are playing two gigs at the Chequers on June 9 and 23.
Chico (left to right) Mark Allway, Debbie Barlow, Steve Hartley, Steve Hastilow and Tony Sadler.
01/06/79
Rits
St. John's Club
03/06/79
Jentz
Glascote Working Mens Club
Tamworth Herald – 08/06/79
Letters to the Editor
St. John's Youth Club
We are but a few of the members of St. John's Youth Club and we have found it to be the best youth club in and around town as it has great facilities.
Our Youth Leader is tightening up on the discipline especially since we moved round to the school as we knew that there would be a few complaints. But the neighbours complain about everything that they can put their hands on, some of them sit at their window taking down every single detail.
As for the noise, they must have 'bionic hearing' to hear what they hear. There are a few screams but I mean you've got to have some fun in life. They would even complain if some one was screaming in agony.
So we would like them to think back into their own teens. Surely, they must have stood in a position where we are now. So why don't they give us a chance to prove we aren't all hooligans when we are in our teens.
JACKIE GOULD, ANGELA GLOVER, DIANE LIMM, HEIDI SATTERSTHWAITE, SUE INGRAM, KATE STOCKDALE
Dear Sir,
With reference to your article "Tighten discipline" youth club told.
I feel I must write and object at the way the youth club is being portrayed. From your story it makes it look as though St. John's youth club is a "free for all" of vandals and hooligans with Leaders who have no control over their members. This certainly is not the case.
No-one disputes that there have been problems in the past, particularly from the noise, but now the building has been insulated, this has been solved.
So let's stop looking for more faults and give the Leaders and members a chance to show what a good youth club they have. Where else in Tamworth can young people go every night of the week?
Thank goodness there are still some good-hearted people left, willing to give up their spare time to help others.
J.J. EGAN
Tamworth
Tamworth Herald – 08/06/79
Members answer residents and council noise protests
YOUTH CLUB HITS BACK OVER BAD MANAGEMENT ALLEGATIONS
A MAJOR row has erupted in Tamworth over a church youth club which has come under fire for bad management from angry town residents and borough councillors.
A storm of protest has come from members of St. John's Youth Club, Ludgate – which is at the centre of the controversy – after complaints that youngsters were shouting, screaming and drinking on the premises.
Youth Club leader, Mr. Mike Foley, said he had invited the council's planning committee to see for themselves how the club operated but that they had rejected the offer.
"The councillors and the residents making complaints are quite welcome to come to the club any time they like. I'm confident they would have nothing to moan about if they saw for themselves how the place was run," he said.
"The youth club is run on a voluntary basis and the work being done to help these youngsters is fantastic."
BANNED
Mr. Foley added that £1,800 had been spent on double-glazing and sound proofing to keep noise down. He said the club also had strict rules and that if youngsters broke them then they could be suspended or banned from the club.
The council's planning committee chairman Cllr Duncan Smith said councillors were not "knocking the club" but they had to see both sides to the argument.
INVITATION
"I'm for the youth club and think there's a tremendous need for it in the town, but I do feel the administration there needs tightening up," he said.
Councillor Smith added that although councillors had been invited to see the club in operation for themselves it was not their job to go round looking at sites. That was the role of planning officers.
The youth club issue is to be further discussed by planners and youth club leaders next week.
09/06/79
Rits
Dosthill Cosmopolitan Club
10/06/79
Tranzit
Dordon Working Mens Club
11/06/79
Paradox
Chequers
Tamworth Herald – 15/06/79
'Nuisance' youth club gets vote of confidence
A TAMWORTH youth club defending itself against allegations of rowdyism and bad management has won a vote of confidence from town planners.
The Borough Council's planning group agreed this week to grant full planning permission subject to conditions for St. John's church youth club, Ludgate.
Councillor Doug Bonas, told the plans group that he had been to the club three times without anyone knowing he was going and found nothing to complain about.
"When I made myself know I went into the place where records are played and asked them to turn up the volume to maximum power," he said.
"I went outside to listen to it and you would barely have known there was music there.
Councillor Ron Watson said, "The basic question is whether this place is suitable for a youth clu. If it is suitable and the club is well run and adequately supervised then we should give full planning permission."
Tamworth Herald – 15/06/79
Musicbox – Rockin' success with 'Ice King'
TAMWORTH Music fans have an opportunity to support their local rock band with the release of the first album from "Ice."
The album is called "The Saga of the Ice King" and it tells the story of a time when the earth was ruled by the Nordic Kings.
It is an ambitious concept for a debut, but "Ice" succeed remarkably well in capturing the feel of the story.
They never run short of ideas and the whole album is characterised by rapidly changing tempos and moods.
The individual musicianship of the five members is another praiseworthy factor.
Highlights are Andy Radek's beautifully flowing acoustic guitar on "The Bridge", "Dawn/The Battle" which is reminiscent of early Black Sabbath and the more commercial sounding "Journey into Exile"
The albums only let down is in the recording quality which is far below that of modern LPs.
However that should not detract from a fine first album – released by Tabitha – which could go some way to putting Tamworth on the rock music map.
17/06/79
Ledbelly
Dordon Working Mens Club
24/06/79
Tora
Tamworth Working Mens Club
25/06/79
Paradox
Chequers
Tamworth Herald – 29/06/79
More publicity a must for arts
IF Tamworth mounts another major Arts Festival, as expected, then publicity must be stepped up.
This is a message from organisers of this year's Arts Festival which failed to attract audiences in the numbers hoped for.
People who went to the various events enjoyed them, but the festival ended up making a loss of nearly £200.
In his final 'stock-taking' report Co-ordinator Mr. Dave Armour says the festival should certainly be repeated although not necessarily in exactly the same form.
But he says, "Publicity for the 1979 event far exceeded publicity for any previous arts promotion in the town. Yet the arrangements still left much to be desired.
EXTENSIVE
"It is recommended that extensive investigations be carried out into ways of deriving the maximum benefit from present resources both physical and material."
Mr. Armour also had something to say about people who claim to support the arts and yet failed to attend the festival.
"Perhaps most noticeable in so far as attendances were concerned was the absence of those people who would normally be expected to attend, that is, borough councillors, council officers, councillors, members of local arts organisations and Arts Advisory Council members.
COMMITTED
"Obviously many are already heavily committed. But it is surely not too much to expect that some token effort be made to attend as many events as possible."
Tamworth Herald – 29/06/79
Musicbox by Annette Witheridge
SINGER /songwriter Helpess Huw has taken a further step into the music world – with the release of his second single on his own record label.
Huw, who lives in Pilkington Avenue, Sutton Coldfield, hit on the idea of getting how own recording label when he met Tamworth folk singer Steve Adams and since then he hasn't looked back.
His debut single was released shortly after Christmas and received a lot of local recognition.
And now he has an E.P. out - on the US label – featuring the final days in the life of Sex Pistol's member Sid Vicious.
"I originally wrote the words when Vicious was arrested last October," said 19-year-old Huw. "I didn't intent to release it as a single for some time but then he died so I altered the words slightly and took it to a number of record companies.
"But most of them said it was far too controversial so I decided to release it on my own label.
"And so far it's doing very well. It has had a lot of plays on BRMB and is on sale in most of the record shops around the Midlands."
His Helpless Huw E.P. contains the track "Sid Vicious is Innocent" and "Baby We're Not In Love", "When You're Weary" and "Going Through The Motions".
29/06/79
Hog Roast
Quill and Gilt Edge Disco
Home Farm, Upton
30/06/79
Sticky Fingers
Glascote Working Mens Club