Tamworth Bands History : 1979
July to September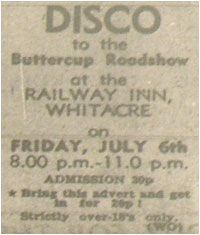 01/07/79
Ledbelly
Dordon Working Mens Club
06/07/79
Disco
Buttercup Roadshow
Railway Inn, Whitacre
06/07/79
Pork Barbecue
Quill
Union Jack Disco
Red House farm, Anstey
07/07/79
Sticky Fingers
Amington Liberal Club
08/07/79
Rits
Dordon Working Mens Club
Tamworth Herald – 13/07/79
Musicbox – Jim Capaldi
14/07/79
Gents (sic.)
Elford Working Mens Club
20/07/79
Brewster
Lichfield Arts Centre
Tamworth Herald - 20/07/79
ROCK AT THE ARTS CENTRE
LOCAL rock band "Brewster", who have a faithful following in the Tamworth, Ashby and Leicester areas, are to appear at Lichfield Arts Centre tonight, Friday.
It will be the first time they've played a gig in Lichfield and they're hoping for a good turnout.
Demonstration tapes recorded by the band have created a lot of interest and talks are now going on about the possibility of a recording contract.
Brewster hope to bring out their first album in the near future.
21/07/79
Sticky Fingers
Elford Working Mens Club
21/07/79
Scarab
Dordon Working Mens Club
Tamworth Herald – 27/07/79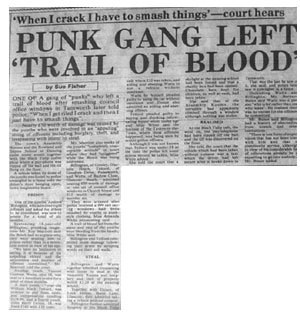 "When I crack I have to smash things" – court hears
PUNK GANG LEFT 'TRAIL OF BLOOD'
One of a gang of "punks" who left a trail of blood after smashing council office windows in Tamworth later told police "When I get riled I crack and then just have to smash things."
Nearly £70 worth of damage was caused by the youths who were involved in an "appalling" string of offences including burglary, theft and trespassing with intent to steal.
The town's Assembly Rooms and the Rowland and Sayers School of Dancing were targeted together with the Black Tulip coffee shop where a pay phone was ripped off the wall and the till flung on the floor.
A vehicle taken by some of the youths was found by police dumped in a field with the drivers door hanging open, town magistrates heard.
One of the youths AB who admitted eight offences and asked for others to be considered, was sent to prison for a total of six months.
Another youth VGW, also 19, was sent to a detention centre for a total of three months.
A third youth, WMT, was ordered to pay fines, costs and compensation totalling £224.94 and a fourth youth JBD was fined £100 with £10 costs.
Tamworth Herald – 27/07/79
Search goes on
ARTS groups in Tamworth still have nothing to show for their two-year search for somewhere to store their costumes, props and scenery.
They desperately need premises they can share as a theatre workshop, and although various possible buildings have been looked at all probed to be either unsuitable or too expensive.
So the societies are right back to square one.
But they haven't given up hope. They would be glad of any suggestion.
What they need are premises within easy reach of Assembly Rooms and the Arts Centre, with good height and access for scenery flats – and which are cheap to run.
28/07/79
Ramblin' Band
Elford Working Mens Club
03/08/79
Poetry Rock Band
Tamworth Working Mens Club
03/08/79
Disco Supreme
Nij Redfern and Paul Neil
Assembly Rooms
Tamworth Herald – 03/08/79
Musicbox – Andrew Metheson
05/08/79
Brewster
Dordon Working Mens Club
06/08/79
Paradox
Chequers
Tamworth Herald – 10/08/79
Musicbox – 'Ice' set for Dutch polish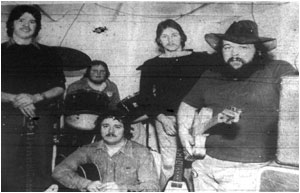 TAMWORTH's top rock band "Ice" are setting their sights high in a bold and ambitious bid for stardom.
The five piece band – who released their first album on Tabitha records at Easter – have planned an exhausting programme of events which they hope will launch them into the big time.
And the band's attempt to join the rock music elite has got off to an encouraging start with sales of the album "Saga of the Ice King" already exceeding their earliest expectations.
Now they have formed themselves into a company "Ice Limited" as another step towards successfully marketing the band to the music public.
There is also the possibility of adding another member to their line-up within the next few months.
A Dutch tour which had been arranged for next month is now likely to be postponed but the group will definitely be paying four visits to Holland next year.
By that time they hope to have recorded their second album in their back garden studio at the Lichfield home of bass player Colin Richardson.
SOPHISTICATED
Suvvess in Holland could mean a chance to release "Journey Into Exile" as a European singleand an opportunity to re-record the first album in a more sophisticated Dutch studio.
Lead singer Mick Rutherford said "We had a lot of problems recording "Saga", we weren't happy with it although it seems to have been well received by the public."
"We have just bought a new stereo mixing deck and this should make things a lot easier next time," Mick added.
But fans of the concept style of album are in for a disappointment, "The next album will not be a concept," Mick said.
Also in the pipeline is a special Christmas concert to be called "The Ice Christmas Party", but plans for this are still in a formative stage.
Another plan is to buy an old coach which they hope to convert into a mobile home for tours.
All this and it is only 11 months since the band first played together.
Three local gigs have been lined up in the next few months. This Saturday they play at the Chequers in Hopwas and on Friday August 17 at the Troubador in Burntwood. September 18 sees them at the Bowling Green, Lichfield.
10/08/79
Something Else
Kingsbury Working Mens Club
11/08/79
Austrey Sports Club Barbecue
Quill
Elms Farm, Appleby
11/08/79
Ramblin' Band
Dordon Working Mens Club
11/08/79
Ice
Chequers
12/08/79
Fretz
Dosthill Cosmopolitan Club
17/08/79
Ice
Troubador, Burntwood
18/08/79
Elvis Memorial Rock 'n' Roll Nite
Assembly Rooms
18/08/79
Jentz
Two Gates Working Mens Club
18/08/79
Warlock
Hurley Working Mens Club
18/08/79
Something Else
Coton and Hopwas British Legion Club
19/08/79
Ginty
Dordon Working Mens Club
20/08/79
Paradox
Chequers
23/08/79
Somethin' Else
Two Gates Working Mens Club
24/08/79
The Plague
Kingsbury Working Mens Club
25/08/79
Paradox
Elford Working Mens Club
25/08/79
Sticky Fingers
Birchmoor Working Mens Club
Tamworth Herald – 31/08/79
Band aims for a more Chequered career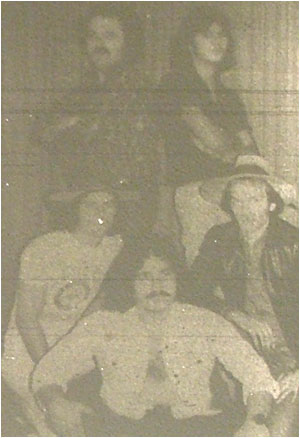 TAMWORTH rock band Brewster (pictured) are hoping to promote local interest in their music and have hit off with a regular venue at Hopwas's Chequers public house.
The five-piece outfit, who have a big following in Lichfield and Burntwood, plan to do more Tamworth concerts in the near future.
Drummer Gary Norris said this week that they had regular bookings at the Troubador in Burntwood and Measham Welfare Club and now played at the Chequers once a month.
"Obviously as a local band we would love to get a bigger local following," he said. "And we desperately want to get more Tamworth gigs going."
Brewster who play a wide variety of heavy rock numbers including "Funky Lady" written by the band, say their music has been heavily influenced by top group Thin Lizzy.
Gary explained that by having two lead guitarists it was relatively easy to get a similar sound to Lizzy.
"We do write some of our own stuff," he said. "And at one stage we went professional.
"But we are basically happy as we are and if we got the chance to turn professional again it would certainly have to be a concrete offer.
"Our plans at the moment are just to do more gigs and get a bigger local following".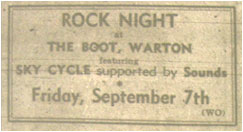 07/09/79
Rock Night – Sky Cycle and Sounds
The Boot, Warton
07/09/79
Folk Club
Globe Inn
Tamworth Herald – 07/09/79
Centre eye-catcher goes up – at last!
IT was quite an historic day when Tamworth Arts Centre manager Save Armour pinned the first poster up on the centre's brand new notice board.
APPOINTED
For the free-standing, eye-catching board has taken more than three years to get into its appointed spot just outside the centre on the corner of Church Street and Lower Gungate.
Money was no problem – Tamworth Flower Club donated the cash even before the Arts Centre opened.
PROBLEMS
But still problem followed problem – with arguments over design, siting and even colour. And when the colour was finally sorted out, it was discovered the right shade of paint wasn't available – and so the wrangle went on.
Now at long last the board is up – and Mr. Armour can hardly believe it.
"The history of this board is quite incredible," he said, "But we're delighted to have it at last.
"Ironically, there's not much to advertise at the moment, but it should certainly fill up within the next couple of weeks.
ESSENTIAL
"It is essential to have a focal point for advertising arts activities and I think the board looks pretty good where it is – it does something for the corner."
Tamworth Herald – 07/09/79
Friday folk date
IT'S folk-on-Friday once again at Tamworth's Globe pub, next to the cinema.
Folk singers Gail Lea, from Warton and Pete Hagen, from Coton Green, have teamed up to present another fortnightly series of folk evenings at the pub, starting tonight.
Admission is free – and any other singers who would like to join in, or do a solo spot, are welcome to go along.
Said 28-year-old Gail: We don't make any charge because we get the room free and we want to boost audiences.
"There's a nucleus of people who always come and really seem to enjoy it, but it would be nice to get more. We want to keep it going as there isn't any other folk night in Tamworth now.
"We do traditional songs, more recent things and the sort of jolly stuff that most people like to sing along with.
"It's all very free and easy – people can just come in with a drink and sit and listen or join in."
Gail and Pete, who were at school together, met up again a couple of years ago and since then have travelled around doing floor spots at Midland clubs.
"We don't do this now because petrol is so expensive," Gail said, "Instead we'd like to see folk really get off the ground in Tamworth."
Tonight's get-together will start at 8.30pm.
07/09/79
Brewster
Kingsbury Working Mens Club
Tamworth Herald – 14/09/79
Musicbox – SOUNDS SUCCESSFUL
TOP Tamworth singer/guitarist Phil Bates – one of the original members of local band Quill – is hitting the big time.
Twenty-six-year-old Phil, a former Wilnecote High School pupil joined London group Trickster three years ago and after four singles and an album the five-piece outfit are beginning to break into the music world.
Their current single "I'm Satisfied" – released by Jet Records – is receiving a lot of radio recognition and Phil predicts that if sales carry on as they are now, the single could soon be among Britain's top 100.
Last year Trickster toured the world with chart busters ELO and are presently supporting Boston on their European dates.
A new album "Back to Zero" is due for release next month to coincide with their British tour.
The single and 'B' side "Rock 'n' Roll Clown" are taken from the LP.
"This is the first record we've had that has received a lot of airplay," Phil said, "And we're very hopeful of it becoming a hit.
"However, our music does tend to be varied so if this one doesn't make it we could release others from the album.
"We have several people writing our material so it tends to vary as we don't want to lean on one style of music."
Phil started his musical career playing in local bands. He was one of the original members of Quill and stayed with the band for two years.
After moving to London he joined Trickster where he shares vocals and guitar with Mike Groth. Other members of the group are Colin Hewinson, on keyboards, John Fincham, on vocals and bass guitar, and Paul Elliott, on drums.
17/09/79
Sticky Fingers
Glascote Working Mens Club
18/09/79
Ice
Bowling Green, Lichfield
Tamworth Herald – 21/09/79
Palace Cinema – Quadrophenia
22/09/79
Dr. Jekyll and Mr. Hyde
Tamworth Arts Centre
Tamworth Herald – 28/09/79
Musicbox (half-page – Annette Witheridge)
Tamworth Herald – 28/09/79
Cannabis plants were growing in Albert Road garden
Tamworth Herald – 28/09/79
Musicbox – Sky cycle ride in at the Boot…

A TOP Tamworth rock band are out to expel the myth that the town is falling behind in all aspects of the music world.
Sky Cycle claim that there are few musical facilities in Tamworth and are now busy promoting their latest venture – a rock night at Warton's Boot Inn.
Bass player Peter Noel Ghent, who lives in the village, says that Tamworth is really behind in the rock scene and he hopes that their regular venues could encourage other groups to set up music evenings.
"By doing this the town's young people will have somewhere to go at nights and entertainments that they enjoy," he says.
Formed two years ago Sky Cycle write all their own material – to date consisting of 20 numbers which they intend to use to full capacity at their Boot Inn venues.
Three new members have recently joined the line-up and are busy learning the ropes before they begin to play live.
Comment by Annette Witheridge
For the sake of Tamworth's musical talents I hope that Sky Cycle's rock nights encourage other local bands to follow suit.
There are the facilities in the town yet the only other group to take the plunge is Brewster who play regularly at the Chequers, Hopwas.
Some years ago there was a hive of musical talent in Tamworth but now all our talent seems to be hidden away and our groups playing in other towns.
There was also a time when Tamworth got the top groups – remember the Beatles and the Rolling Stones at the Assembly Rooms or Black Sabbath at the town's college?
Those days might have gone but I still feel Tamworth could once again become a centre for striving young bands. Who knows, in a few years we could be producing the superstars normally associated with larger towns and cities.
I would also love to hear from any local groups or singers who have just set up or are doing anything special at the moment. Annette Witheridge
29/09/79
Something Else
Elford Working Mens Club
29/09/79
Sticky Fingers
Dordon Working Mens Club