Tamworth Bands History : 1979
October to December

01/10/79
Paradox
Chequers
Tamworth Herald - 05/10/79
AFTER 'CLIFF-HANGING' DEBATE
Arts Council backs 'dual-use' theatre complex at Belgrave
LOCAL arts groups have decided to back controversial plans for a brand new "dual use" theatre complex at Belgrave School – after being warned that it was a case of "Belgrave or nothing".
Failure to support the dual use scheme would mean that Tamworth could be doomed to stagnations for years to come they were told.
The decision was taken at a cliffhanger meeting of Tamworth Arts Advisory Council. And right up until the last minute it was touch and go whether supporters of the Belgrave scheme would clinch the vote.
Arts Centre Manager Dave Armour commented, "It seems crazy that we should be listening to someone from thee Sports Council begging us to take money."
Tamworth Herald – 05/10/79
Musicbox - Centre date
TOP rock band "Ice" play their first Tamworth gig for six months when they hit the stage at the Arts Centre tomorrow night (Saturday).
Anyone who has not yet seen the band live but who likes music in the Rush, Genesis and Yes vein should go along for an entertaining evening.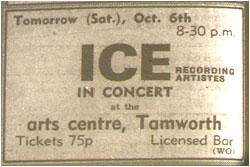 05/10/79
Something Else
Kingsbury Working Mens Club
05/10/79
Something Else
Kingsbury Working Mens Club
06/10/79
Ice
Tamworth Arts Centre
06/10/79
Something Else
Glascote Working Mens Club
06/10/79
Stealer
Tamworth Arts Centre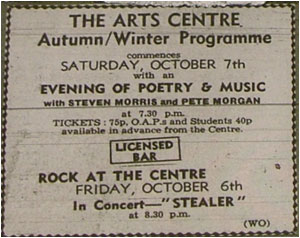 08/10/79
Sticky Fingers
Amington Liberal Club
Tamworth Herald – 12/10/79
Too much management
TAMWORTH'S Arts Centre manager is having to spend too much of his time on "mundane clerical matters, he said.
The claim comes from the town's Recreation and Amenities Officer, Mr. Brian Moore who says that 90 per cent of manager Dave Armour's time is spent on administration.
"Mr. Armour could be spending more time doing work connected with the arts if he had an assistant to deal with the clerical side of the centre," Mr.Moore said.
"At the moment his post is solely managerial." "He culd be concentrating on other things."
Members of the borough council's Leisure Activities Committee are now to ask the resources Planning Committee to employ a clerical assistant for the centre – at a cost of aboyt £3,500 a year.
They also plan to lease out the catering rights of the centre's snack bar to FACT (Friends of the Arts Centre Tamworth) in a bid to take some of the workload off Mr. Armour and his staff.
LONGER
The proposals form part of a plan to keep the centre open longer – at the moment it is open 48 hours a week – and volunteers from local arts organisations are being sought to help out as well.
Mr. Armour said that they already managed to keep the centre open longer with help from FACT and would be able to provide an even better service if they had more volunteers.
Tamworth Herald – 12/10/79
Musicbox – Local 'Lights' have high hopes
NEWLY formed Amber Lights are a local five-piece outfit with high hopes for the future.
The group, set up six months ago, already have a diary full of dates and play at Hopwas Working Men's Club on October 13 and will be at the Victoria Road Navy Club, Tamworth on the 27th.
MOMENT
At the moment, Amber Lights, who are lead singer Mandy Hughes, keyboards player, Lynette Durrant, drummer Nick Jones, lead guitarist, Les Jones and bass guitarist Andrew Tucker, are playing other people's music but have just started to write their own material.
They started out as a trio but since their formation they have gone from strength to strength and are now a five-piece playing a wide variety of music.
And their plans for the future – they hope to become better known and eventually do some recording.
12/10/79
Something Else
Wood End Working Mens Club
12/10/79
Ginty
Kingsbury Working Mens Club
15/10/79
The Kidda Band
Chequers
19/10/79
Brewster
Kingsbury Working Mens Club
02/11/79
Brewster
Kingsbury Working Mens Club
Tamworth Herald – 02/11/79
Musicbox – Richard Whitehead
Tamworth Herald – 09/11/79
Musicbox – Whitesnake and Hot Chocolate
Tamworth Herald – 09/11/79
Councillors clash over application to extend
Wine bar plan upsets newsagent – decision is shelved
A MAJOR row has broken out over plans to extend Tamworth's Hamlets Wine Bar
The Owners – Peters Barnsley Limited – want to add a first floor extension to the Upper Gungate building bit their proposals have met with disapproval from a nearby newsagents.
Members of Tamworth Council's Plans Group decided to defer a decision on the application after hearing that the extension would be 'six-feet away' from a bedroom window at W.M. Gilbert's shop living quarters in Little Church lane.
Further investigations are to be carried out before the decision is taken.
The meeting – on Tuesday – heard that Mr. Gilbert's flat was the only residential property left in the area.
Independent Councillor Ron Watson said they should think about the rights of the individual as Mr. Gilbert had lived and been in business on this site longer that the wine bar.
CENTRE
"This extension will be very close to his bedroom window and just because overlooking happens in other towns it does not mean we have to accept it," he said.
Tory Councillor Graham Talbott, said they should be encouraging people to use empty premises above shops and flats and it concerned him to think that the council could allow such overlooking.
"There are many buildings in the town centre that could be used as flats but a move like this could put people off," he said.
Group chairman Councillor Duncan Smith said it would be impossible to stop overlooking in any town.
"Mr. Gilbert should be thankful that his shop is on the corner of Little Church Lane otherwise he would be overlooking from all angels," he said.
10/11/79
Impakt
Kingsbury Working Mens Club
10/11/79
Something Else
Dordon Working Mens Club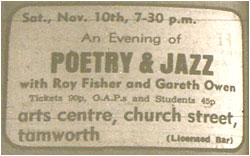 10/11/79
Evening of Poetry and jazz
Tamworth Arts Centre
Tamworth Herald – 16/11/79
Palace – Scum and Punk Can Take It
Tamworth Herald – 16/11/79
Musicbox – Gallagher and Lyle
18/11/79
Brewster
Austrey Working Mens Club
Tamworth Herald – 23/11/79
Annette Witheridge investigates the younger generation and their problems
'Bored youths are going from pub to pub and drinking heavily'
A TAMWORTH pub landlord has hit out at town planners for not catering for the young – after rival gangs of mods and rockers clashed in the town.
Edgar Mortimer, licensee of Bolehall's Amington Inn, has now received menacing phone calls from rockers threatening to smash up his pub – a popular meeting place for the mods.
"I think all the trouble can be put down to boredom among the kids," said Mr. Mortimer. "Let's face it, they've got nothing to do."
JUKE BOX
Mr. Mortimer said that Tamworth's youngfolk were "crying out" for a regular night-spot in the town.
"Tamworth is an overspill town and above all a young town," he said. "The youngsters need a place where they can go and switch onto instant entertainment."
The Bolehall landlord said his pub tried to give young people something different by providing an up-to-date juke box and flashing disco lights.
"We give them a bit extra at our pub because the kids don't really come here just to drink. They want continuous atmosphere – they don't want the night to end."
Mr. Mortimer's attack on the planners comes shortly after the mods and rockers film "Quadrophenia" hit the streets and revived the sixties movement.
Since its screening at Tamworth's Palace Cinema violence has flared in town centre pubs.
Hamlet's Wine Bar in Lower Gungate was the scene of one ugly confrontation between the two factions.
SMASHED
Windows were smashed and glasses broken when one of the gangs stormed the bistro and clashed with a rival gang.
A spokesman for Hamlet's said that rockers were not to blame for the attack, but said it was a group of youths who had not been previously seen in the wine bar.
But now leather jacketed rockers have been banned from the wine bar until further notice.
Mr. Mortimer admitted the scooter riding mods met at his pub, but said that they were regular customers long before the recent mod explosion.
I honestly think that the town planners are to blame for the situation.
"They seem to be very keen to build community centres for the elderly, which is a good thing. But there isn't anywhere young people can go and be entertained," he said.
Bikers – not rockers
THE TAMWORTH rockers don't want trouble.. And as they so rightly pointed out to me when I met a group of them playing pool in a town centre pub, there was a mod in the lounge and if they wanted trouble they would have "had him by now".
Their attitude seemed to be that they did not want to fight with the rival mods, they had no intention of going into the Amington Inn and they certainly had not made menacing telephone calls to the pub's landlord.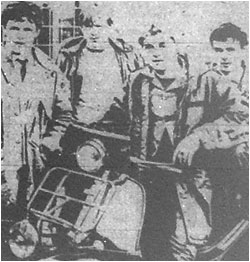 The star spangled scooter say it all!
The 20-pllus crowd in the corner of the Tamworth pub sit feet tapping to the strains of Secret Affair, The Who and the 60's sounds. To the onlooker they seem quite normal, short-haired lads out for a Sunday lunch-time drink and a chat with their mates.
But come closing time clad in three-quarter length green parka coats they make their way outside and onto their reconditioned Vespa and Lambretta motor scooters.
Tamworth Herald - 23/11/79
Wine bar extension plan is rejected
A PLAN to extend Hamlets – Tamworth's only wine bar – has been turned down after a row about it encroaching on a neighbours property.
Peter Barnsley Limited – who own the Lower Gungate bar – had hoped to extend their premises on the first floor, but nearby newsagent Winifred Gilbert complained one wall would be only six metres away from their bedroom window.
Tamworth Herald – 23/11/79
Musicbox – Chequers rates as top spot with award winning band
TOP Midland band Paradox gave their fans from Hopwas' Chequers pub more than a blast of music when they received a national award.
For the Birmingham based group – who won the "Vitavox Live Sound" trophy earlier this year – said they wanted to receive the award at one of their faviourite venues.
The award aims to encourage new bands whose music is performed mainly live and Paradox – who cam second in the regional finals in Erdington and first in the grand final in London – have now also claimed £1,500 worth of Vitavox sound equipment and a day's studio recording time.
The band received their trophy from Vitavox joint managing director Mr. Neil Young during a special concert at the Chequers.
They have recently returned from a tour of Cyprus backing Diane Solomon and have also taken part in a three-week nationwide tour of pubs and colleges.
Also on the cards is a Spring tour of West Germany with Diane Solomon and a full calendar of gigs up until the New Year.
SINGLE
Bass guitarist Alan Tallis said that things had really started to look up for them since winning the award.
They now plan to start recording in early December for a new single.
01/12/79
Disco
Nij Redfern
Assembly Rooms
Tamworth Herald – 07/12/79
COUPLE 'LIVING IN FEAR' OF YOUTH CLUB MEMBERS
Members of a Catholic youth club in Tamworth have made life "hell" for Leslie Eastwood – his wife is frightened to leave the house for fear of violent reprisals, a court heard.
On Wednesday, Mr. Eastwood told a rate valuation court that youngsters from St. John's youth club in Ludgate, The Leys had smashed his car lights, thrown curry sauce over his house windows and left greasy fish and chip papers outside his home.
Tamworth Herald – 07/12/79
Musicbox – THE NEW SOUND OF DHSS…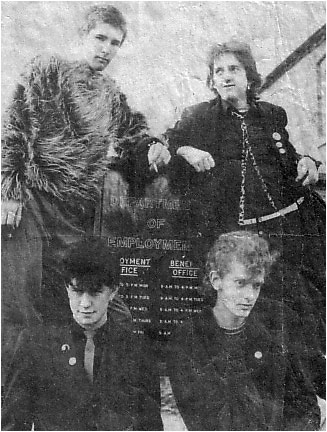 UNUSUAL is probably the only way to describe one of Tamworth's newest bands – the Department of Happiness and Self-Satisfaction.
Their music travels past the space-age Gary Numan style and well into computer rock and synthesisers – linking up into a totally new sound.
They have a cassette out on sale this week called "Packaged Pleasure" and their intention at the moment is to get it played on Radio One's Tony Blackburn Show!
The four members, 18-year-old Sam Norchi, Vincent Watts and Edward ian Armchair and Rikk Quay aged 24 have been friends for a long time.
Rikk is a former disc jockey who wanted to do something different because he says there were no facilities to "be outrageous" in Tamworth and the others played in the Reliants.
CONCENTRATED
They formed about six months ago and have concentrated on recording. But hopefully in the New Year they plan to do a few concerts.
"Packaged Pleasure" which is on sale for £1.25 at Green's Records, Church Street and Rocket records in the Victoria Arcade, Aldergate, is based on George Orwell's book 1983 and includes "The Factory", "Test Tube Adults" and Rewind Three"
They plan to bring out "The Factory" as a single and will start recording for an album or another cassette in a few months time.
OUTRAGEOUS
"We don't want to be totally outrageous," says Rikk. "We are just basic musicians. "We don't use drums or anything manual."
"The idea is to provide something totally new and different, a sort or new, new wave. I write the music and Ed writes the lyrics.
"We recorded the cassette at Steve Adams' studio, in Tamworth but we hope to interest some big recording company for our single."
And as for their ambition to get air play on the Tony Blackburn show: "Well if we don't manage that we'll try Jimmy Young," says Sam.
07/12/79
Sticky Fingers
Amington Liberal Club
08/12/79
Amber Lights
Amington Liberal Club
08/12/79
Something Else
Glascote Working Mens Club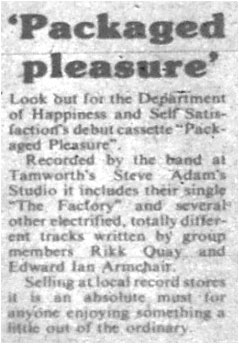 08/12/79
Sticky Fingers
Elford Working Mens Club
Tamworth Herald – 14/12/79
Musicbox - 'Packaged Pleasure'
Look out for the Department of Happiness and Self Satisfaction's debut cassette "Packaged Pleasure".
Recorded by the band at Tamworth's Steve Adam's Studio in includes their single "The Factory" and several other electrified, totally different tracks written by group members Rikk Quay and Edward Ian Armchair.
Selling at local record stores it is an absolute must for anyone enjoying something a little out of the ordinary.
Tamworth Herald – 21/12/79
Musicbox – Schoolboy band set for stardom
LOCAL schoolboy band the Fretz played their first official concert at Tamworth's St. John's Youth Club to an enthusiastic audience.
The band – who are aged 14 and 15 – are made up of Matthew Lees on vocals, Mark Mortimer, bass and vocals, Donald Skinner, on electric guitar; Philip Hobbins on drums and Des Goodwin, backing vocals, trombone, keyboards and dancing.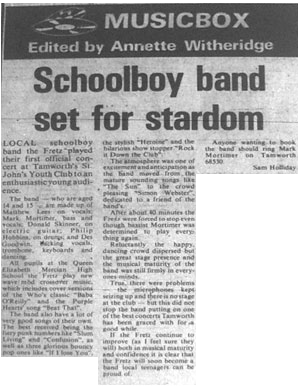 All pupils at the Queen Elizabeth Mercian High School, the Fretz play new wave/mod crossover music, which includes cover versions of the Who's classic "Baba O'Reilly" and the Purple Hearts' song "Beat That".
The band also have a lot of very good songs of their own. The best received being the fiery punk numbers like "Slum Living" and "Confusion", as well as three glorious bouncy pop ones like "If I Lose You", the stylish "Heroine" and the hilarious show stopper "Rock It Down The Club".
The atmosphere was one of excitement and anticipation as the band moved from the mature sounding songs like "The Sun" to the crowd pleasing "Simon Webster" dedicated to a friend of the band's.
After about 40 minutes the Fretz were forced to stop even though bassist Mortimer was determined to play everything again.
Reluctantly the happy, dancing crowd dispersed but the great stage presence and the musical maturity of the band was still firmly in everyone's minds.
True, there were problems – the microphones kept seizing up and there is no stage at the club – but this did not stop the band putting on one of the best concerts Tamworth has been graced with for a good while.
If the Fretz continue to improve (as I feel sure they will) both in musical maturity and confidence it is clear that the Fretz will soon become a band local teenagers can be proud of.
Anyone wanting to book the band should ring Mark Mortimer on Tamworth 68530.
Sam Holliday
Tamworth Herald – 21/12/79
Musicbox - Prize Sound
MIDLAND based Vitavox Live sound Award winners Paradox are expected to have their new single "Hollywood Bowl" out on general release in the New Year.
The four piece band have already laid down the backing track for the record at Coventry's Horizon Studios – using the day's recording time which was part of their prize.
Paradox won the Vitavox Award earlier this year for being one of the most promising groups in the country and they received their trophy at Hopwas' Chequers Inn last month.
Tamworth Herald – 21/12/79
Musicbox – Regular spot
FOUR piece Tamworth band Saracen – formerly Dynamite – have earned themselves a regular Monday night spot at the Mile Oak Hotel.
The funk/disco group now have a regular following around the town and are keen to expand their audiences.
Using material written by band member Philip Carter they will be appearing weekly at the Mile Oak from January 7.
22/12/79
Fretz
Elford Working Mens Club
24/12/79
Amber Lights
Shuttington & Alvecote Social Club
24/12/79
Sticky Fingers
Amington Liberal Club
24/12/79
Paradox
Chequers
Tamworth Herald – 28/12/79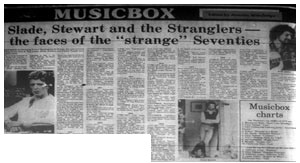 Musicbox - Slade, Stewart and the Stranglers – the faces of the "strange" Seventies.
1979
DECEMBER – Wings and the Police play at sell-out Birmingham concerts. Tamworth new wave band Department of Happiness and Self Satisfaction topped as the local band of the '80s.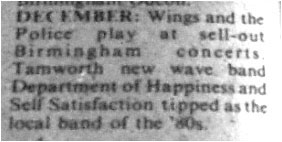 28/12/79
Brewster
Kingsbury Working Mens Club
30/12/79
Brewster
Dordon Working Mens Club
31/12/79
Something Else
Tamworth Progressive Club
31/12/79
Amber Lights
Coton and Hopwas British Legion Club