Tamworth Bands History : 1982 :
February
Tamworth Herald – 05/02/82


Dennis Taylor dies at 48
One of Tamworth's best known arts personalities died suddenly at home in Browns Lane. Dennis was a founder member of Tamworth Little Theatre and a long serving member of Tamworth Arts Advisory Council.
Tamworth Herald – 05/02/81
Centre Holding Its Own
TAMWORTH Arts Centre is holding its own.
It has been managed for almost a year now by the town's voluntary Arts Council and the financial situation so far is quite healthy, Treasurer Mr. Don Gronow says.
"Over five years we should just about break even," he told the Arts Council's monthly meeting on Thursday.
Looking to the future, Mr. Gronow added: "There is every chance of our being able to run this place as it is at the moment."
Said Chairman Mr. John Lane: "We started out with hope and a certain amount of charity. But now we are working from experience."
Tamworth Herald – 05/02/82
Success pointers for Y.P. Arts Festival
THE Tamworth Young People's Arts Festival which begins next week could become an annual event if it is as successful as the organisers hope – and all the signs are that it will be.
The competition being run as part of the Festival have attracted hundreds and hundreds of entries.
Tickets are in big demand for special events including puppet shows by famous companies.
Tamworth Herald – 05/02/82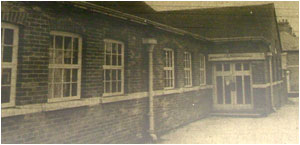 Musicbox – Burst is a big shock for club
TAMWORTH bans singing the burst pipes blues this week.
For Tamworth's bitter winter of deep freeze has taken its full toll on one of the most important rock venues in the town.
Leaders at St. John's Youth Club in Tamworth were horrified when they opened the building up after the big freeze to find several inches of water flooding the floor space and gaping holes in central heating pipes.
Youth club leader Andy Malkin said: "There's very little chance of us being able to afford a new heating system. The place is in a terrible mess."
This grim news early in the new year is a body blow to both Tamworth bands and punters.
The venue with it's high stage, impressive lights and good atmosphere, has become popular with local bands over the last few months and DHSS, Classified Ads, Thirty Frames a Second and Aardwolf to name but a few have played there.
It has become the ideal jumping off point for many younger groups and has nurtured the talents of some excellent young artists.
In the summer teams of volunteers worked tirelessly for two months to paint the room and set up the stage and lights.
The Youth Club has been moved to St. John's Guildhall and it is hoped that some gigs can also be staged there.
Tamworth Herald – 05/02/82
Musicbox – Don't be shy girls
THREE teenage lads are looking for the perfect girl!
But don't worry this is no computer dating service.
For the three lads in question, Ian, Chris and Richard are searching for the final piece in the jigsaw of another new Tamworth band.
Apparition have penned all their own material and are on the verge of beginning to make live appearances in the town.
But they are left with this problem of the perfect girl.
The band are hunting for a girl singer of about 17 in the mould of Siouxsie of the Banshees.
If any of you female Musicbox readers out there feel you could fit the bill ring Ian and he will be pleased to hear from you.
Tamworth Herald – 05/02/82
Musicbox – Vocalist wanted
NEW look Tamworth heavy band Badger are still on the look-out for a vocalist. Interested? Ring Stuart Pickett.
Tamworth Herald – 05/02/82
Musicbox – Rock Writer Mick is a Busy Man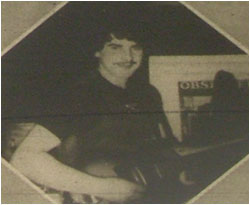 BUSY Tamworth rock journalist Mike Turner has launched himself into the New Year with a frantic publishing schedule.
Issue four of Tambeat – the town's independent music magazine – was launched two weeks ago and has been selling like the proverbial hot cakes.
Happy with the success of what at one stage seemed an unlikely project, Mike has turned his attention back to his first love – the Beatles fanzine "Every Little Thing."
Not satisfied with that, Mike brings out issue five of Tambeat just one week later with features on Linx, The Blues Band and Mari Wilson and the Imaginations plus the usual smattering of local chit-chat.
06/02/82
Futurist and Tamla Motown Night
Buttercup Disco
Flying Scotsman
07/02/82
Amber Lights
Dosthill Cosmopolitan Club
Tamworth Herald – 12/02/82
Young Peoples Arts Festival
1,600 entries for poetry, drawing, painting and photography competition.
Tamworth Herald – 12/02/82
Musicbox – The Ice Age is back with us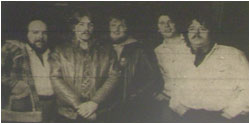 VETERAN Tamworth rock band Ice are hitting the road again this month at the beginning of their biggest-ever tour of the country.
The hard-working five piece had an uncomfortable year in 1981 with the departure of drummer Steve Sheldon and the last minute cancellation of their German tour.
But the new year resolution from Ice is to shake off that disappointment and start extensive gigging again as soon as possible.
Now with Paul Reeves firmly installed in Steve's old stool, they have put together this series of dates.
The tour began last Sunday at the Star Club in Stoke and continued at the New Tavern in Offord this week.
Tamworth Herald – 12/02/82
Musicbox – Hello, young lovers…
LIKE rock music, got a good singing voice and an extrovert personality.
Then you may be just the person a new Tamworth band – The Energetic Lovers – are looking for.
The recently-formed outfit will be gigging in a few weeks' time – and they need a vocalist quick.
Tamworth Herald – 12/02/82
Musicbox – White Raven – something to crow about
After a barren couple of weeks on the gig front, town punters can look forward to some live music over the weekend.
For tomorrow night (Saturday) there is another series of Breakthrough concerts at the Central Methodist Church in Aldergate.
White Raven – a husband and wife duo – are appearing at the hall.
The band describe themselves as – 'not so much heavy metal – more 'light aluminium' – and I'll leave you to work that out for yourselves.
Support will be the back to back drama group.
Breakthrough organisers have announced that Sphynx – the band whose town gig had to be called off thanks to our great British weather – will now be appearing in March.
14/02/82
Folk Night
Dandy
PIP Club, Fazeley
Tamworth Herald – 19/02/82
Musicbox – The Magnets
INSTEAD of pancakes, try the Magnets.
For a Shrove Tuesday disco at Tamworth Progressive Club will feature futurist band Those Attractive Magnets.
And despite the attraction of the Magnets there's no extra charge on the usual 7.30 start Barry John disco. It's all your for 50p.
And the Magnets will also be gigging at the Chequers, Hopwas, the following Tuesday, March 2.
23/02/82
Those Attractive Magnets
Barry John Disco
Tamworth Progressive Club
Tamworth Herald – 26/02/82
Festival is a sell-out
26/02/82
Flash Harry
Lichfield Arts Centre
27/02/82
Mike Sheridan and the Nightriders
Tamworth Progressive Club