Tamworth Bands History : 1982 :
September
Tamworth Herald – 02/09/82
Musicbox – A fine Exodus into recording


EXODUS – the local band formed by ex-Trojan members Dylan Haddon and Chris Price – have made their first venture into the recording studios.
And the result of their recent session at Steve Adams' studio in Birchmoor is an impressive two-track tape.
Their drummer and second guitarist recently quit the band leaving them with just the nucleus of Dylan, Chris and bassist Richard Banks.
At the moment the band are hunting for a drummer in an attempt to complete their line-up and start live work again as soon as possible.
For the recording sessions the band drafted in a temporary replacement.
Heavier
Said Dylan: "We wanted to do some of the heavier stuff we had written, but the drummer couldn't handle that material so we had to record two 'powerpop' tracks."
On the evidence of those two numbers, 'I'm All Right Now' and 'Clair', I don't think Dylan need have worried too much, for while both songs are very lightweight they both come over as highly enjoyable pop music.
'Clair' is particularly impressive with Dylan himself contributing some excellent vocal work.
Whichever direction Exodus decide to take their music they must find a drummer. Anyone who can fill the vacant seat should ring Chris…
Tamworth Herald – 03/09/82
Musicbox – Finale for the heavy guys?
TAMWORTH's top heavy rock outfit Omen return to their favourite venue the town's Arts Centre next Friday – and the gig could be their last.
The five-piece band who have played to sell-out crowds at the Arts Centre three times in their two-year career, are returning for what could be their farewell appearance.
At the moment they are unsure about their future. Guitarist Ted Wilson said: "We are not saying that Omen will definitely split up after this performance but it has been talked about within the band."
Drummer Daz Williamson agreed: "For a long time we have been apathetic about the group. We have not seized on opportunities we have had to play gigs outside Tamworth or promoted the band in the way we should have done."
But despite these rather gloomy comments, Omen are determined that the gig next Friday will be one to remember – whether it's their last or not.
They were stung by criticism of them in a recent live review by Troy Morgan and are determined to present a good live show as well as their normal impeccable musical display.
"Stage presentation is something we have been working on for some time and for this gig we have put even more effort in," said Ted.
"I also think we probably tried to write too many long, epic numbers too early in our career," he said.
Whatever the band decide to do – and I hope they opt to stay together at least in some form – there's no doubt that next Friday's (September 10) gig will be one to remember. Tickets are available from the Arts Centre.
06/09/82
Flash Harry
Polesworth Working Mens Club
Tamworth Herald – 10/09/82
Musicbox – Night of music and poems
TAMWORTH'S two alternative entertainers Dave Hewitt and Edward Ian Armchair have lined up an evening of their own particular brand of music and poetry at the town's arts centre tomorrow (Saturday) night.
This is the second such concert arranged by the pair and the last one a few short weeks ago was a 'tremendous success'.
Dave explains the aim behind the gig "We just want to present an evening of entertainment that's totally different from anything normally seen in Tamworth."
"The idea is that we should give people something they will enjoy and be entertained by," Dave added.
Edward will be presenting a half-hour to 40 minutes set featuring some of the material on his recently released cassette 'The Armchair Guide to Insanity'.
Anything
Dave's part of the evening will feature his own material – songs about politics, war and 'just about everything else', he says.
Musically Dave draws his influence from James Taylor and John Martyn and lyrically from the American Larry Norman.
His set also includes some Hendrix cover versions and Dave is hoping to persuade a number of 'special guests' to join him.
Admission for what should be an entertaining and highly original evening is 50p.
Tamworth Herald – 10/09/82
Musicbox – Two Man Local Band
THE Outback Hijackers sounds like the title of one of those X-rated video tapes which are so often in the news these days.
But don't worry the name has nothing really to do with blood and gore and you're not likely to see Mrs. Whitehouse on TV launching a 'ban the Outback Hijackers' campaign.
The distinctive name belongs to a new two-man Tamworth band formed by Mick Preston and Flash.
Mick and Flash recorded a seven track demo tape earlier this year at Steve Adams' studio in Birchmoor.
Flash explains the philosophy behind the OH approach: "We're really just interested in playing good, straight rock 'n' roll."
Influenced
The band are heavily influenced by the Dictators and Rose Tattoo and that influence is readily apparent when listening to the tape.
I found the songs enjoyable and entertaining but I couldn't help feeling that the band's talents would have been better showcased in a tape of around three tracks.
Like every other local band OH have problems penning material with enough diversity to keep the listener interested and over the seven numbers included on this tape the band's 'bad, boy boogie' approach and highly Americanised lyrical style becomes a little wearing.
Having said that, at least they haven't opted for the more obvious HM approach and Flash's guitar works adds some nice touches.
At the moment, Mick and Flash are looking for a drummer before starting on some 'live' work. Anyone interested in filling the vacant stool should ring Flash…
Tamworth Herald – 10/09/82
Musicbox – Two new players sought
A NEW Tamworth-based R and B outfit are on the look-out for two new members to complete their line-up.
Prophecy need a bass player urgently to establish a settled working outfit but would also like to add a keyboards player to the band.
The line-up at the moment is Kevin Fisher, guitar, Rob 'Guitar' Marshall, guitar, Dave Lee, drums and Mark vocals.
Kevin said: "We are basically playing R and B material with rock overtones." Anyone interested should contact Kevin…
10/09/82
Omen
Badger
Tamworth Arts Centre
11/09/82
Dave Hewitt
Edward ian Armchair
Tamworth Arts Centre
Tamworth Herald – 17/09/82
Musicbox – Artful Dodger's deal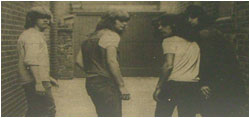 AN INTERESTING new Lichfield band join established Blitzkrieg merchants Bashful Alley for a double-header at the city's arts centre tonight (Friday).
Artful Dodger, an outfit formed four months ago, are playing their biggest gig so far with Bashful Alley.
AD have played a couple of sets at the Bridge Tavern and have been pleased with the response their material has received.
"Our material is very diverse and not really in any particular vein so we were worried about what audiences would think of us," said vocalist/guitarist Beaver.
The rest of the line-up is made up of Tim Perks on rhythm guitar, Ninzy on drums and Paul Green on bass.
First demo tape
Following the Arts Centre gig, the band are going into a local studio to record their first lot of demo tapes.
Meanwhile Bashful Alley have not been resting on their laurels since their mind-blowing display at Tamworth Arts Centre.
Their single 'Running Blind' has been receiving good reviews nationally and recently they travelled to London to play the Ruskin Arms, the venue where Iron Maiden cut their teeth.
Admission for what should be a good night over in Lichfield is £1.
17/09/82
Bashful Alley
Artful Dodger
Lichfield Arts Centre
Tamworth Herald – 17/09/82
Musicbox – Rich nights of fun, rock and song
Omen/Badger/Dave Hewitt/Edward Ian Armchair: Tamworth Arts Centre
TWO VERY different gigs at Tamworth Arts Centre provided two nights of really first class entertainment for the punters.
It is hard to imagine a greater contrast between the comedy and song of Dave Hewitt combined with the poetry of Edward ian Armchair and the heavy rock of Badger and Omen but both nights were rich in enjoyment though for totally different reasons.
Knowing it was their final gig, Omen pulled out all the stops to play their finest ever set. All the tension that has always existed between the members of the band had gone and they attacked their songs with real energy and passion.
Skilled
'Revelation', 'Searching', 'The Clouds', 'Castles', 'Get Out', 'Equilibrium', 'Through Different Eyes' and best of all 'Please Let Me Die' – all their great compositions – were played with really refreshing enthusiasm.
None of their movements were in the least bit choreographed, they just wanted to bow out with a gig to remember and at last silenced criticism of their lack of stage presence.
From the enthusiastic response from the audience I suspect I'm not alone in mourning the passing of Omen – they were a really innovative and skilled outfit and the local scene will be all the poorer for their break-up.
Badger on the other hand are just beginning to get going. Their material apart from one Bad Company sound-alike, was very metallic and very much in an 80s HM mould.
Vocalist Mick Swan, brother of Tytan front-man Norman was the most promising member. Although his voice needs time to mature, he showed considerable talent considering his lack of gig experience.
The theatre was less full on Saturday but not noticeably so, and the attendance was higher than Dave and Edward's last gig a few weeks ago.
Dave's mixture of blues, folk and protest songs together with his own brand of humour kept the crowd thoroughly entertained throughout his two sets.
His delivery and timing was impeccable, his guitar playing incisive and his singing superb as he went through a set of self-penned songs and his own versions of other artistes material.
Highlights were an acoustic version of Hendrix's 'Purple Haze' with the lyrics changed to suit Dave's commentary on British public transport entitled 'British Trains', a satirical look at HM, two punk songs performed with Jed Moore and a stunning instrumental called 'India'.
Edward, seated appropriately in an armchair, read some of his poems featured on his recently-released cassette 'The Armchair Guide to Insanity'.
His word pictures were vividly painted, his delivery was suitably dry and his social comment biting.
I particularly enjoyed 'Beach Ball and Swimming Trunks', a new poem vividly capturing a family day out at the seaside.
The excellent sound system was provided on both night by Tamworth's own PA hire company T.T. sound.
18/09/82
Bashful Alley
Artful Dodger
Lichfield Arts Centre
20/09/82
Flyte
Polesworth Working Mens Club
27/09/82
Flyte
Polesworth Working Mens Club