Tamworth Bands History : 1982 :
June
Tamworth Herald – 02/06/82
Musicbox – Another 'Rock for Jobs' Concert
TAMWORTH'S Unemployment Committee are organising another 'Rock for Jobs' concert in the town later this month.
The event which will be the first gig at Tamworth Assembly Rooms for nearly two years, takes place on Thursday, June 17.
HM Band, Badger and new wave outfit Classified Ads are the local bands who will be appearing with a disco thrown in for good measure.
For more details nearer the time, watch this space.
Tamworth Herald – 02/06/82
Musicbox – Folk festival venue and date fixed
A MAJOR folk event takes place near Tamworth later this month.
It is the first-ever Furnace End Folk Festival, which is being organised by the local Grimstocks Folk Club.
The event takes place over the weekend starting Friday June 25 and will be held at Over Whitacre Village Hall and its surrounding field.
Tamworth Herald – 02/06/82
Musicbox – Mosey on down to Shuttington for your good ol' country sound.
FANS of country and western music could do a lot worse than make their way down to Shuttington WMC tomorrow night.
For Ribbon, a Tamworth based, three-man C&W outfit, are appearing at the cub in the country.
The band members are, Fred Richards, rhythm guitar, Trevor Harper, bass and Brian Willis, drums.
Trevor and Brian have been in a number of working bands in the area, but this Fred's first venture into live work.
The band have been together for about six months and have played gigs in Birmingham and Droitwich.
03/06/82
Ribbon
Shuttington Working Mens Club
08/06/82
Roller Disco
Assembly Rooms
Tamworth Herald – 11/06/82
Musicbox – Badger to shine in 'metal' concert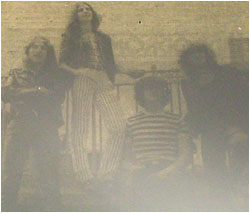 BADGER, the HM band formed out of the ashes of Aardwolf, are the main attraction at next week's 'Rock for Jobs' gig at Tamworth Assembly Rooms.
The gig will give the new-look heavies a chance to shine before what should be a large crowd.
Badger were formed by ex-Aardwolf members Andy Malkin, guitar, Stuart Pickett, drums and John Archer, bass.
But the really interesting part of their line-up is young vocalist Mick Swan – brother of Tytan front man Norman.
Since leaving Tamworth to join Tytan, Norman and the band have attracted considerable attention from all sides of the national music press and this makes his brother's prowess all the more interesting.
Andy Malkin said: "Mick is keen that people should forget about his brother. He wants to prove himself in his own right – obviously he is still very inexperienced."
Talented new wave outfit Classified Ads are also appearing and there will be a disco as well. Admission will be £1 and 50p for the unemployed.
Tamworth Herald – 11/06/82
Musicbox – Now for something very different…
PEOPLE who complain about a lack of variety at local gigs might like to put their heads around the door at St. John's Guildhall tonight.
For at the venue, three decidedly different artistes will be peddling their wares.
Dave Hewitt, solo songster and witty alternative entertainer, will bring his own brand of music and humour to the hall.
And if Dave's sense of humour and odd taste in trousers is not to your satisfaction, new HM outfit Badger are also on the bill.
Badger will be using this gig as a warm-up for their important Assembly Rooms date previewed elsewhere on this page.
Finally DHSS are due to play their first town gig for some time on the same bill.
The is only the second gig the band have played with their new quieter, more restrained sound and the results could well prove interesting.
Tamworth Herald – 11/06/82
Musicbox – Vizzion in town
VIZZION - a futuristic band from Solihull – make their debut in Tamworth tonight.
The synth dominated band who boast a female vocalist, play at St. Paul's Church, Fazeley in the latest gig organised by the Breakthrough group.

Tamworth Herald – 11/06/82
Musicbox – Three on the way to Wigginton
THREE of Tamworth's promising young bands make their well worn trek to Wigginton Village Hall tomorrow night.
Private Property – a sixties influenced three piece – are making their debut.
And the bill is completed by other town favourites Classified Ads and The Restricted.
11/06/82
Vizzion
St. Paul's Church
12/06/82
Private Property
Classified Ads
The Restricted
Wigginton Village Hall
12/06/82
Dave Hewitt
Badger
DHSS
St. Johns Guildhall
14/06/82
Tusk
Polesworth Working Mens Club
17/06/82
Rock for Jobs
Classified Ads
Badger
Tamworth Assembly Rooms
Tamworth Herald – 18/06/82
Musicbox – Let's get up and dance
Cheers to a bright young outfit
Private Property / Classified Ads / The Restricted : Wigginton Village Hall
SOME months ago Private Property's Mark Mortimer said he wanted his new band to put some much-needed excitement back into the Tamworth music scene.
Saturday night's enjoyable, dance-orientated set by the band went a long way to achieving this end.
The audience danced, sang and cheered more than any other seen by me since The Fretz's classic debut of three years past.
However it has to be said that the band relied too heavily on their repertoire of Jam cover-versions. Hopefully the group will use these songs less as they mature and their own songwriting talents will become somewhat more apparent.
However it seems that, by the end of this year, Private Property will be the most popular band in Tamworth – and for such a young outfit that's really saying something.
The Classified Ads appear to have problems. Their set, easily the most passionate, imaginative and inspiring of the night, was ignored by the crowd.
Simon Webster's brilliant, deft drumming, Sam Holliday's passionate vocal performance and Derek Goodwin's essential synth playing all contributed to a group who are becoming more introspective and refreshing by the month.
However, it seems that dance music was the order of the day and Private Property showed that 'Tears are not enough.'
Unfortunately, The Restricted's messy set was a great disappointment considering their brilliant seven-track demo tape recorded earlier this year.
Brian Pear, however, once again proved himself to be the best drummer in the area.
25/06/82
Grinstocks Folk Club
Over Whitacre Village Hall