Tamworth Bands History : 1982 :
January
08/01/82
Omen
Ethis
Tamworth Arts Centre
08/01/82
Electro Disco – New Romantic
Stripes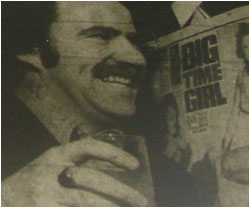 Tamworth Herald – 08/01/82
Erica busts Des's plans
A TAMWORTH landlord is out to score with the nation's latest rugby sensation.
The 40 inches charms of streaker Erica Roe made a conversion with Des Harkin licensee of the Tavern in the Town.
As the temptress of Twickenham flashed across TV screens during Saturday's England versus Australia match, Des had to admit it was love at first sight.
"I have sent her a letter asking her to marry me," said the tall dark and handsome divorcee.
"I swore I would never get married again. But I thought she had a really nice face, and I was so struck by her charms I couldn't resist.
"I've always been a rugby fan – so I had to make a try myself."
Tamworth Herald – 08/01/82
Musicbox – Tytanic chance for Swan's songs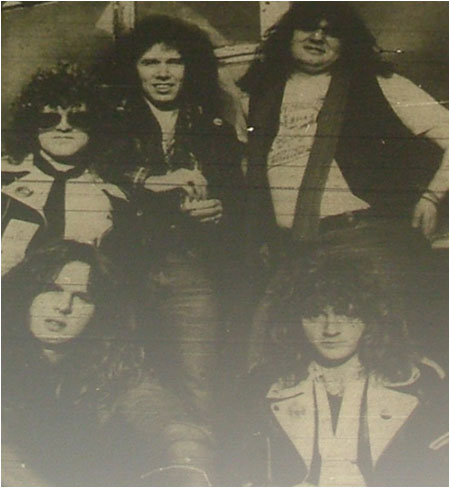 Caption: Tytan…before the addition of guitarist Gary Owens, Norman "Stormy" Swan is pictured front left.
TAMWORTH vocalist Norman "Stormy" Swan has broken through to the forefront of the national HM scene and joined forces with two members of cult heavy band Angelwitch.
The 19-year old ex- Mamma frontman beat off competition from established names in the music industry to get the coveted job.
The new band will be called Tytan – spelled with a Y – and are due to make their debut in London in the next couple of weeks with a prestige date at the famous Marquee venue on January 29.
Tytan have been put together by ex-Angelwitch members Kevin 'Skids' Riddles, bass, and Dave Dufort, drums.
Rather than be labelled as another 'New Wave of HM supergroup' like the ill-fated Lionheart, Riddles and Dufort decided to scour the country looking for new members.
The net result of this was the recruitment of Norman – who will be known as Kal for stage purposes and guitarist Steve Gibbs. Finding a second guitarist has been a problem until now, but finally they have settled on ex-A11Z axe-man Gary Owens.
Norman originally went after the vacant Samson job when Bruce Bruce quit to join Iron Maiden and although he was unsuccessful guitarist Paul Samson was so impressed that he recommended Norman to Riddles and Dufort.
For the last couple of months the band have been writing and rehearsing in London and Norman has written the lyrics for most of the numbers and some of the songs entirely himself.
Ironically, in light of his rapid and impressive success, Norman never considered vocals as a serious career until he joined Hamma less that a year ago.
"I'd always thought of myself as a guitarist not as a vocalist, until I joined Hamma," he says.
Norman, reckons Tytan's music will be a long way from the demonic HM of Angelwitch.
"It will have slightly more commercial appeal. We want to try to combine the harmonies of some of the top US bands like Foreigner with the raw edge of British rock," he says.

Tamworth Herald – 08/01/82
Musicbox – Ready for this shock?
A NEW band has been formed from the ashes of one of the most popular outfits ever to play around Tamworth.
Titan rocked onto the local scene and rocked off it again at the back end of 1980.
Now, former Titan guitarist Martin Schell has got together his own band – Schell Shock.
And the four-piece Schell Shock want to recreate the heavy metal mania that took hold of Tamworth during Titan's brief spell in the town.
Their full line-up is Martin Schell, vocals and lead guitar, Dave Raven, lead guitar, Pete Travis, drums and Dave Martin, bass and backing vocals.
Schell Shock have just recorded a promotion album at Ebony Record's Revl Studios in Hull, and have plans to release a single.
Tamworth Herald – 08/01/82
Musicbox – Busy Rockin' Weekend
MUSIC fans in Tamworth have lots to look forward to this weekend.
Tonight (Friday) sees the first of the two Omen/Ethis gigs at the Arts Centre. The second gig takes place tomorrow night.
Tickets are priced 60p for both nights and can be bought from the Arts Centre, Fazeley's One Stop Music, members of either band, or on the door.
And don't forget there is a fully-licensed bar.
As an alternative to heavy metal, Tamworth's Breakthrough group are tomorrow night (Saturday) presenting another in their successful series of concerts.
Sfynx, a four-piece rock band from Manchester, will be appearing at St. Paul's Church, Fazeley.
They will be supported by Birmingham-based theatre group Back to Back, who won this year's Greenbelt drama competition. The concert starts at 7.30pm and admission is 60p.
So there you are folks, a varied musical weekend – get out and enjoy yourselves!
09/01/82
Ethis
Omen
Tamworth Arts Centre
09/01/82
Mothers Worry
Kingsbury Working Mens Club
09/01/82
Sfynx
Back to Back
St. Pauls Fazeley
09/01/82
Buttercup Disco
Flying Scotsman
09/01/82
Bill Stickers
The Chequers
15/01/82
Kid Jensen and Simon Cooper
Drayton Manor Tower Suite
15/01/82
Those Attractive Magnets
Stripes
Tamworth Herald – 15/01/82
Musicbox – Red hot HM warms cold crowds
Ethis/Omen: Tamworth Arts Centre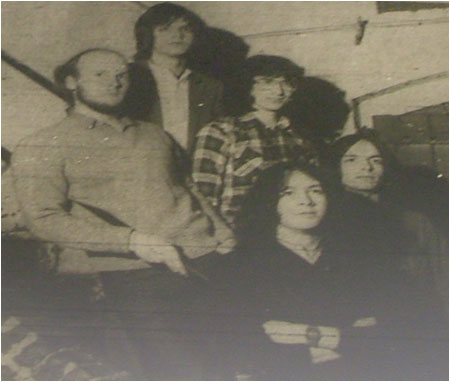 Caption: Omen…looking towards the future. Pictured are Ian Jenkins, Tim Latham, 'Daz' Williamson. Rick Liggins and 'Ted' Wilson.
SATURDAY night at Tamworth Arts Centre and, as Ethis take to the stage, we have lo and behold, a full house.
I'll repeat that for those of you are hard of hearing, or nervous disposition or just plain surprised – a full house.
On Friday, the blizzards kept the crowd down to a small number of hardy individuals, but the two-night gamble was proved worthwhile with Saturday's highly-encouraging turn-out.
And the unfamiliar experience of actually having an audience of strangers to impress, inspired these two fine young bands into dynamic action.
Ethis were in great form adding professionalism to their usual ultra-aggressive presentation. They won some appreciative applause for their own numbers as well as the cover versions.
Vocalist Roger "Budgie" Bird was in fine screeching form as usual, but for once the extrovert antics of 'Budgie' and bassist Ralph Sandland were upstaged by some searing lead work from Andy Higgins who stole the show.
Omen are a different kettle of fish altogether. Their brand of doom-laden sword and sorcery HM is light years away from the Ethis approach.
Much of their material and musicianship is stunning considering their comparative inexperience, 'Searching' illustrates the band at their best, wandering between slow vocal passages, hard riffing and brilliantly-executed tempo changes.
However, good material is not all that matters and the band do need to work on presenting their set more forcefully. That plus the inclusion of a few out-and-out rockers in among the epics would make them unstoppable.
Both bands will have gained a lot of confidence from the reaction they won from Saturday's audience.
The onus is now on them to carry their music forward from this success and extend their reputations beyond Tamworth.
Tamworth Herald – 15/01/82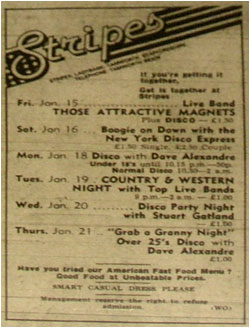 Musicbox – Stripes debut
TAMWORTH futurist band Those Attractive Magnets will be breaking new ground tonight (Friday) when they appear at the town's only night club – Stripes.
They will be the first-ever live band to perform at the venue.
Stripes' management are trying out new ideas to attract more people to the nightspot.
And the Magnets' performance could mark the start of regular live entertainment at the club.
It will be their first gig in Tamworth since they played at the Warren, Mile Oak, last summer.
Admission is £1.50 – be there!
Tamworth Herald – 15/01/82
Musicbox – Chequers date
TOP Lichfield band Ulterior Motives return to the Chequers in Hopwas on Tuesday (January 19).
The band, who cite The Cure as their main influence are making their first venture into the recording studios in February and may be touring Europe in the summer.
Support will be another popular Lichfield band Delta Control.
Tamworth Herald – 15/01/82
Musicbox
THREE former members of Thirty Frames a Second are on the look-out for a bassist and a drummer to form a new line-up.
Anyone interested in a band in The Cure, New Order, Echo and the Bunnymen, Combat Angels mould, should contact Matthew or Andrew.
Tamworth Herald – 15/01/82
Musicbox
TOP Radio One DJ David 'Kid' Jensen will be appearing at Drayton Manor tonight (Friday).
The show will also feature Tamworth record spinner Simon Cooper.
16/01/82
Chico
Amington Liberal Club
19/01/82
Ulterior Motives
Data Control
The Chequers
Tamworth Herald – 22/01/82
Des finds his own Erica
STREAKER Erica Roe seems to have given the big elbow to the Tamworth man who wants to marry her.
Pub landlord of the Tavern in the Town, Des Harkin, isn't going to be crying into his beer about it.
The rejected romeo – who has received no answer to his written proposal of marriage to the girl who revealed her 40 inch charms at Twickenham during a recent rugby international – has his own plans to cheer himself, and his customers, up.
Staff at the Tavern will have to move over tomorrow (Saturday) lunchtime to make room for a topless Erica look-alike barmaid.
"I've been broken-hearted that there has been no answer from Erica," said Des, aged 33.
"She told national newspapers she was looking for Mr. Right. I am obviously Mr. Wrong.
"I have spent the last week going round various agencies to find a girl like Erica to cheer us all up.
"It has been very hard work. It's given me eye strain. I keep on seeing double."
Tamworth Herald – 22/01/82
Musicbox – Magnets' Stripes gig – just the start?
Those Attractive Magnets: Stripes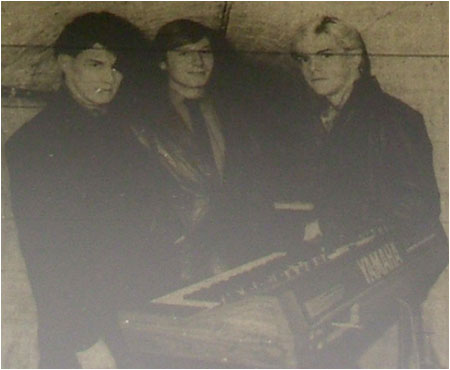 Caption: Those Attractive Magnets – minus Cris P. Kellogs – (left to right): Rikk Quay, Andy Baldwin and Gary Garrie.
IF you missed Those Attractive Magnets at Stripes on Friday, you missed, what I believe will be known as Tamworth's best gig for 1982 – even though we are only 22 days into the New Year – in a venue which has an exciting future potential.
It just couldn't have gone better for the band – Rikk Quay, Gary Garrie, Cris P. Kellogs (synth and backing vocals) and Andy Baldwin (synth and lead vocals).
The close, relaxed club atmosphere suited the group. They had most people on the dance floor to an unusual cover of Gary Glitter's "Rock 'n' Roll" – and kept them there.
And for people to dance to electronic/New Romantic music they have probably never heard before – and look as though they were enjoying it – shows the group's ability.
The crowd were just eating out of their hand. And that's because the Magnets at last seem to know what they are doing.
They look good, sound good, and by golly, it's easy to see why this talented group have been chosen out of hundreds to appear on a futurist compilation album due out at the end of this month.
The Magnets have gone through the post-punk and early romantic stuff, but still seem to keep their sound one step ahead of the rest of the music scene.
But the group sometimes get too concerned with minor technical details over the sound of a song.
"Fade into Secret Silence" – the album track – is one about which they always get paranoid.
Listen lads, your average punter isn't as clever, or worried, as you about that sort of thing.
Andy Baldwin's husky vocals seem to get better all the time.
Rikk Quay never fails to impress on stage.
The lad can certainly move.
And Gary Garrie's cool Gary Numan approach acts as a perfect foil to Rikk.
But they deserve a rap across the tape decks for not playing live very often. This was the first Tamworth gig for months.
The crowd got them back for an encore half-an-hour after the lads had left the stage and were about to settle down for a refreshing glass of beer, or two.
Credit must go to Stripes' manager John James, whose idea it was to bring live bands to the club. It must be the most professionally equipped and smartest venue in town.
It's the right size. The crowd can get close and bop if they want, yet there's also plenty of room for the band.
And the atmosphere was one of the best I've ever seen at a gig. It was electric.
In believe a permanent future for live bands – across all shades of the music spectrum – at Stripes depends – naturally enough – on audience response.
That means you, dear reader, getting up and going along to support the bands in future now that Tamworth has got another good live venue which it so desperately needs.
Tamworth Herald – 22/01/82
Musicbox – WANTED…PERSONNEL FOR NEW BANDS
TWO new HM bands have been formed on the fringes of the Tamworth area – and both are on the look-out for new members.
Former Trojan guitarist Chris Price and vocalist Dylan Haddon have joined forces with Dylan's brother Jeff and they want a full-time bassist and drummer.
At the moment, Qwark members Shaun Meier and Andy Meakin are standing in for dates already arranged – including one at Atherstone British Legion on February 7.
Anyone interested in joining Dylan and Chris should call Dylan.
Meanwhile, Pegasus – the band formed by ex-Trojan members Robert Hamilton and Chris Kelt – want a vocalist to complete their new line-up.
Pegasus want to know if there has ever been another HM band with that name. If you can answer that, or if you feel like becoming their new singer, ring Robert.
Tamworth Herald – 22/01/82
Musicbox – Charity gigs make £25
The pre-Christmas Tambeat tour raised £25 for charity.
Tour organiser Mark Mortimer said this week that only two of the gigs – at Polesworth and Mile Oak – had been called off because of the weather.
"We managed to raise £25 and that will be divided between Tamworth Nursery for Handicapped Children and the Third World via Oxfam," said Mark.
Meanwhile, Mark's new band Private Property are on the lookout for a drummer. So if you fancy playing drums for a band influenced by sixties music give Mark a call.
24/01/82
The Jay Kays
Dordon Working Mens Club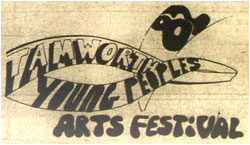 Tamworth Herald - 29/01/82
Jobless hits all-time high
6,154 people are unemployed in Tamworth – 29.1% of the working population.
Tamworth Herald - 29/01/82
Young Peoples Arts Festival
Including the Incubus Theatre Company's performance of The Revenger's Comedy and Roger McGeough (poet and ex-member of the Scaffold).
Tamworth Herald – 29/01/82
Musicbox – Classified Ads want record contract


ONE of Tamworth's most enterprising young bands, Classified Ads, have made their first venture into the recording studios and come up with a three-track demo tape.
The tape is part of a concerted bid by the 'Ads to win wider recognition in the form of a recording contract.
Recorded earlier this month in a small Birmingham studio, the tape features three tracks – "Black is the Night", "Summer of '81" and "Mr. Nobody".
Now the band plan to send a copy of the tape to large and small record companies in the hope that some A and R man will recognise their undoubted talents.
For such a young band, the quality of the tape is quite an achievement, and their rapid progress to this stage fully illustrates the great leaps the group has made in the last six months.
My live favourite "Black is the Night" opens up proceedings and, while it lacks the aggression of the live versions, newer listeners will still get a chance to hear what a fine song it really is.
It seems that in their efforts to get everything right, the band have forsaken some of the knock-about violence which makes them such a live treat – but this is entirely understandable. "Summer of '81" is the track the 'Ads are promoting as the potential 'A' side single. And while I remain a dedicated "Black is the Night" addict, I can see the reasons for that decision.
Sam Holliday's biting lyrics about last summer's riots fit neatly into guitarist Alan Turner's light, poppy music. Overall, it's an unlikely combination, but it works beautifully.
"Mr. Nobody" concludes the tape. Personally, I would rather they had included "Not Quite Black and White", "Aftermath", or even "Schoolboy Bands", but "Mr. Nobody" is still a fine track illustrating clearly their distinct new wave influence.
The main purpose of this 11-hour session in the studios is to secure that all-important recording deal, but some copies of the tape are on sale.
Anyone interested in purchasing a copy of the fairly modest price of £1, can write to Sam Holliday.
Tamworth Herald – 29/01/82
Musicbox – Badger boys beat cold
WHILE most of use were staying at home shivering a couple of week-ends ago – three Tamworth musicians were locked in the cold confines of St. John's Youth Club with only a mobile recording studio for comfort.
Andy Malkin, Stuart Pickett and John Archer spent two days at the club laying down two tracks for a demo tape.
The end result is the first burst of activity from the three former members of the now defunct Aardwolf.
Badger is the name the band have decided on for all future projects and at the moment they are hunting for a vocalist to complete their line-up before gigging in the summer.
Tamworth Herald – 29/01/82
Musicbox – Bill Stickers Welcome
AFTER a six-year break away from the sound of guitars and the crackle of amps, three Tamworth musicians are making a come-back.
In the heady days of the early and mid-Seventies, Dirty Bird forged a considerable reputation for themselves gigging around the semi-legendary hard rock pub venues of the West Midlands.
Now after that lengthy lay-off, Pete Chetwynd, drums, Martin Heames, guitar and Andy Heath, bass, have chosen a new name for themselves – Bill Stickers – and are all ready to hit the boards again in those same venues.
Bill Stickers have already played two warm-up gigs at the Chequers at Hopwas and have put together a set of new material.
In among the self-penned numbers, Bill Stickers will be playing their own versions of the Sex Pistols' "My Way" and the Moody Blues' "Ride My See-Saw."
They will also be performing a couple of numbers from the repertoire of that other noted Tamworth band of the mid-Seventies – Paradox.
At the moment, the band are considering adding a permanent vocalist to their line-up and hope to be playing live regularly again in a few months' time.