Tamworth Bands History : 1982 :
October
02/10/82
Mothers Worry
Tamworth Progressive Club
02/10/82
Chico
Sacred Heart Centre
Tamworth Herald – 08/10/82
Musicbox – Tytan single launch
THE FIRST two slabs of vinyl featuring Tamworth vocalist Norman 'Kal' Swan's band Tytan are now in the shops.
'Blind Men and Fools' is the title of Tytan's first single and is available on both seven-inch and 12-inch versions with the 12-inch featuring one extra track.
The band's first album is scheduled for new year release with the possibility of more British dates around Christmas.
Having found a permanent drummer, the band are now looking for another guitarist to cement their line-up.
Tamworth Herald – 08/10/82
Musicbox – Starr-trek in the dead of night
Edwin Starr, Hinckley Leisure Centre
THIS WAS the only all-nighter appearance of the current tour of 'Agent Double-O Soul' – and the place was packed.
Edwin came on stage at about 4am to sign autographs and listen to his favourite record, Lou Johnson's 'Unsatisfied'. He then disappeared to change for the big occasion.
He emerged larger than life at about 5.30am and kicked off the show with the classic 'Time', quickly followed by 'Backstreet'.
Edwin stayed with Ric-Tic sounds by singing SOS (Stop Her On Sight) followed by SOS (Scotts on Swingers), a radio jingle about a Detroit dee-jay.
Slowing the crowd down, he sand a tribute - 'Show Me' – to Joe Tex, who died recently.
Next on the agenda was 'War', during which the crowd joined in. He sang next his new single 'You Hit the Nail Right on the Head'.
Reverting back to his roots, he performed 'Agent Double-O Soul' and finished with '25 Miles'. For an encore he performed 'Contact' and a new song 'I Want To Keep You By My Side', rounding off with another airing of 'Show Me'.
LEIGH SMART
Tamworth Herald – 08/10/82
Musicbox
THE NEW season of folk nights at the Foseco Sports and Social Club , Tamworth kicks-off on Sunday night October 10th with a concert by singer/pianist Terry McCann. The thee times winner of New Faces has just completed a six-month American tour and will be supported by singer Mike James.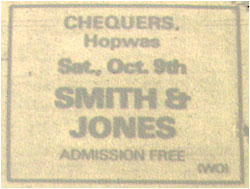 09/10/82
Smith and Jones
The Chequers
Hopwas
Free
18/10/82
Flash Harry
Polesworth Working Mens Club
Tamworth Herald – 22/10/82
Musicbox – Hoping for more Sway
TALENTED Lichfield band The Ultimate Sway are launching a big promotions drive for their debut single.
The single, recorded at Wednesbury's Metrosound Studios, comes out on the independent Intentional Records label.
It contains two excellent tracks, "Here We Stand" and "Always Waiting".
The band have undergone a recent line-up change and now consists of Chris Barlow, guitar and vocals; Brian Cropper, drums; Steve Thompson, guitar; and Stewart Jones, bass.
They are currently taking their single around local radio stations, including BRMB and Beacon Radio, in attempts to get it on playlists.
The band are also lining up gigs around the Midlands and recording a demo-tape.
Long-term plans include a short tour of Holland where fellow Lichfield band The Victorian Parents did so well.
Their own distinctive sound falls somewhere between Echo and the Bunnymen and U2 – emotional but danceable.
Both tracks on the single are commercial with the 'A' side "Here We Stand" just coming out on top.
Copies priced 99p are available from Rock-It-Records, Victoria Arcade Tamworth.
25/10/82
Tusk
Polesworth Working Mens Club
Tamworth Herald – 29/10/82
Musicbox – Happy Chaperones set to tour

Caption: Daryl and the Chaperones (from let to right): Ian Hewitt, Andy Redfern; James Woodward and Jyoti Mishra.
YOU ARE never alone with a chaperone! That's the clever slogan of a band featuring local drummer James Woodward.
James from Clifton Campville, near Tamworth, is a member of the four-piece Daryl and the Chaperones, who have just released their first single.
The double-A-sided single was recorded and produced at Steve Adams' Studios in Birchmoor.
The self-penned tracks are called 'My Baby's A Spy' and 'B Movies' and are released on the Shark Records label.
Formed around 12 months ago at an art school in Burton, the band has undergone one reshuffle when original member Daryl Ainsworth – after whom the band was named – left.
The present line-up is James, drums and percussion, Ian Hewitt, guitar and vocals, Andy Redfern, bass and Jyoti Mishra, keyboards.
Tuneful
The band are currently preparing for a series of confirmed dates in Birmingham, Burton, Derby and Leicester.
They describe their music as being modern, danceable and tuneful.
And after listening to their debut 45, that reputation stands up.
Of the two tracks, 'My Baby's A Spy' is by far the strongest and most commercial and the band would be wise to push it as the premier song.
It's a strident, rhythmic number which features some excellent vocal work. 'B Movies' is less accessible and tends to run out of steam before the end.
Nevertheless, the band deserve praise for trying to make their mark on the Midlands music scene.
Tamworth Herald – 29/10/82
Musicbox – Bands' festive plans
TWO Tamworth bands – Private Property and The Long Days – are planning a pre-Christmas tour around local club.
And they want club officials to contact them to arrange dates.
"The whole idea behind the tour is to gain valuable live experience," said Mark Mortimer, of Private Property.
"We are willing to play at any clubs, whether they're youth clubs or working men's clubs," he added.
Club officials interested can contact Mark…
Private Property have recruited two new members and the line-up now consists of Mark, Brian Lacey, Tim Goode and Ian Simpson.
The nucleus of The Long Days is Andrew Baines, Matthew Lees and Paul Clements.
The series of finalised dates will go under the banner of the 'Bop 'Till You Drop' tour.
One gig has already been arranged. It is at Polesworth Youth Club on December 1.
The bands are also hoping to stage a charity concert – possibly at Fazeley Town Hall – in aid of the June Sherwood cancer appeal.
Tamworth Herald – 29/10/82
Musicbox – Farewell – and hello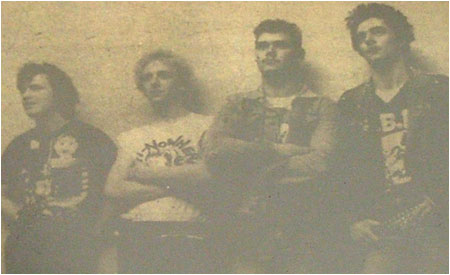 Caption: North Warwickshire punk band Corrupt Youth part of a four-band line-up.
A MAJOR four-band gig, including a farewell performance by the popular Exodus, is to take place at Polesworth School on November 12.
Other bands on the bill are Spirit of Water, Cosmic Emotion and Corrupt Youth.
Brothers Geoff and Dylan Haddon, of Exodus will be making two appearances at the gig, for they have each joined different bands.
Geoff has teamed up with his other brother Steve in Spirit of Water, while Dylan has formed Cosmic Emotion.
Spirit of Water also includes Terry Smith and Paul Lewis.
Cosmic Emotion, apart from Dylan, consists of Brad Riley, Tony Bradford and Tracey Wykes, while Corrupt Youth's line-up is Cooky, Aky, Clogger and Shazz.
Steve Wallbank, Chris Price and Richard Banks will be joining Geoff and Dylan for Exodus' final performance.
Looks like a great gig in store. Make sure you get there.
30/10/82
Ribbon
Tamworth Working Mens Club