Tamworth Bands History : 1982 :
March
02/03/82
Those Attractive Magnets
The Chequers
Tamworth Herald – 05/03/82
Musicbox – What's holding back these Magnets?
Those Attractive Magnets : Tamworth Progressive Club
THOSE Attractive Magnets are resting on their laurels.
I just wish it was holly – because the group need to be pricked into action.
The verdict comes after seeing the band at Tamworth Progressive Club.
If you were seeing them for the first time you would have thought they were good – which they were.
But as someone who has seen them live several times I found their performance sub-standard.
They let their audience – and themselves – down.
Old favourites like: "Memories", "1500" and "Venus" were churned out in a too relaxed manner.
Even their normal excellent cover version of "Rock 'n' Roll" got little audience response.
And "Tainted Love" was a cringe-making mistake from start to finish.
On the plus side they were visually excellent – as ever. And they did seem to come to life with their latest number "Survivors".
Unfortunately it was the last one of the evening.
But the audience – and there were plenty of them – seemed to go away happy.
For the Magnets have a knack of being good even when they are bad.
I just hope the band throw out their old material and come up with a new set at their next gig at the Chequers on Tuesday March 9.
Tamworth Herald – 05/03/82
Musicbox – Stick around for Bill Stickers gig
FANS of hard rock in the classic early-seventies mould could do a lot worse than make their way down to the Chequers tomorrow night.
For Bill Stickers – the recently re-formed outfit spotlighted in Musicbox a few weeks back – are returning to the Hopwas venue.
Readers with short memories may need reminding that Bill Stickers were formed by the three members of Dirty Bird, a band who gigged all over the Midlands in the middle of the last decade.
Tonight BS are part of a rock package at The Greet pub in Birmingham which will be a useful work-out for the Chequers gig.
Next weekend the band move into Steve Adams' busy Birchmoor studio to lay down four tracks – Bill Stickers, Timelord, Last Armada and Lucifer – for a tape.
The band are hoping to cut some singles from the best two tracks and there is a possibility that the disc might appear on a few local pub jukeboxes.
06/03/82
Bill Stickers
The Chequers
Tamworth Herald – 12/03/82
Musicbox – College date gives 'Ads chance on wider scene
ROCK returns to Tamworth College in a big way tonight, with what promises to be an exciting triple bill concert.
Data Control, a Lichfield-based new wave outfit, head a bill which also includes another top cathedral city band Ulterior Motives and our own favourites, Classified Ads.
FIRST
It will be the first gig in the area for Data Control, but Ulterior Motives have appeared before, at the popular Chequers venue.
DC have been going in one form for four years and last year went into a Worcester studio to record their first single.
"Prosecution Time", "Brainwash" and "Pig Mire" are three tracks the band laid down, and they are hoping that the single will be released in the next few weeks.
For the 'Ads, the presence of some Lichfield punters will give them a chance to impress their distinctive new wave pop sound on unfamiliar ears.
Admission for what promises to be a fine evening's entertainment is 75p.
Tamworth Herald – 12/03/82
Musicbox – Chequers for Ideal Husbands
MORE gig news…Sutton Coldfield band Ideal Husbands will be appearing at The Chequers pub in Hopwas tomorrow night (Saturday).
The band were formed about a year ago and play self-penned, modern, danceable pop.
Last year – under their previous name – The Utensils – they recorded a session at the Steve Adams Studio in Birchmoor.
The resulting tape, entitled "New Tunes" has received favourable reviews and earned the band lots of work.
Copies, priced £1.50, are available from Tambeat.
Tamworth Herald – 12/03/82
Musicbox – Entered Yet?
A second chance to enter the competition to win an autographed copy of the hit Magnum album "Chase the Dragon" reviewed last week.
Tamworth Herald – 12/03/82
Musicbox – Don't be so Bashful Alley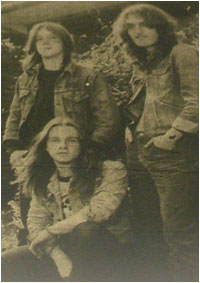 BASHFUL ALLEY : The Chequers
HEAVY Metal in its most raw, unbridled and raucous form was what Bashful Alley served up at the Chequers last week.
The pub was no place for faint hearts as the rampaging Lichfield three-piece stormed their way through a set of white-hot HM.
While it's true to say that I generally prefer my rock with some subtlety and imagination, that doesn't take away anything for my taste of the fiery talents of Bashful Alley.
And anyway it would be very wrong to give the impression that BA were all mindless boogie, for they showed themselves to be first rate musicians with a touch of humour which particularly shone through with a version of "Rudolph the Red-nosed Reindeer".
I know the members of the band weren't altogether happy with their set, but I don't think they should worry too much for when Tamworth's HM fraternity do finally witness BA they're sure to be foaming at the mouth demanding more.
Guitarist Rob Tidd took the honours for me with some great singing and some of the most devastating guitar work it has been my pleasure to witness for ages.
Bashful Alley gig extensively, are down to appear in the HM magazine Kerrang! Before very long and have a single out soon. Tamworth punters can catch them in the town on March 20 at the Arts Centre.
Tamworth Herald – 12/03/82
Musicbox – Ice Clear
We have been asked to point out that the reason for Ice being unable to go on their planned summer tour of Germany was nothing to do with the departure of drummer
Steve Sheldon.
12/03/82
Classified Ads
Ulterior Motives
Data Control
Tamworth College
13/03/82
Ideal Husbands
The Chequers
Tamworth Herald – 19/03/82
Musicbox – Beatle-mad Mike asked to help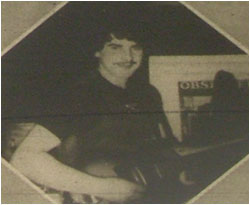 EXCITING times lie ahead for Tamworth music scribe Mike Turner.
For Mike, editor of both the town's independent music mag Tambeat and Beatle fanzine Every Little Thing could become involved in a BBC television project.
The Beeb are making a documentary on the Beatles and the impact of Beatlemania in the 1980's. And Mike, head of a Beatles club, ahs been asked to help out.
The film, which will feature Beatles fans, both young and old, is likely to be screened later in the year.
Tamworth Herald – 19/03/82
Musicbox
LICHFIELD band Ulterior Motives are appearing at The Chequers pub in Hopwas on Tuesday night.
The four-piece outfit have just recorded two songs, "Here We Stand" and "Always Waiting", for a double-A-side single to be released shortly.
So if you're bored with heavy metal and want to see a band in the Echo and the Bunnymen/Comçat Angels mould try to get along to the gig which starts around 8pm.
Tamworth Herald – 19/03/82
Musicbox – Flash Harry looking for support
SEASONED Tamworth rock band Flash Harry, are set to become a regular feature at The Warren.
They will be playing fortnightly gigs at the Mile Oak venue on Wednesday. And if the early gigs are successful other local bands could be drafted in to provide a double bill.
Bands interested in supporting Flash Harry should contact Pete. The next gig is March 29.
Tamworth Herald – 19/03/82
Musicbox – This Alley are on the right road…
IF BASHFUL ALLEY are not one of the top names in British heavy rock in 12 or 18 months I'll chew my way through a whole shop of headgear.
Quite simply the Lichfield-based three-piece, who will blast Tamworth Arts Centre tomorrow night, have got more potential for big time success than any local band I've seen.
For a start their gig list is impressive, taking in venues all over the north and Midlands, they release their first single in the next couple of weeks.
The demo tapes have already received the approval of Sounds HM kingpin Geoff Barton. Bashful Alley will appear in the HM mag Kerrang! Shortly, and three large-circulation HM fanzines, including on in Holland, are already raving about the band.
This, couple with the fact that Tamworth's own heavy favourites Omen occupy the support slot, should make tomorrow night one to remember.
Rob Tidd, guitar and vocals, Truff, bass and Robin Baxter, drums, came together last summer. Rob and Truff had formed the band while at Lancaster University, and after finding Robin 'under a table in a Lichfield pub' they set about bringing the name Bashful Alley into lights.
After the Tamworth date the band will be going back into the studios to cut the demos of their second single, but the lay-off from live performances will be a short one.
If you fancy catching some of the most blistering, earsplitting HM in the Midlands, or if you haven't yet witnessed the rich promise of Omen, wander into Rock-It Records, One Stop Music, or the Arts Centre on the night and buy a ticket.
But you needn't miss Bashful Alley just for the sake of not being able to get into the Arts Centre tomorrow, for tonight, BA are playing a double-header with recent Iron Maiden support act Steel at Lichfield Arts Centre.
19/03/82
Steel
Bashful Alley
Lichfield Arts Centre
20/03/82
Bashful Alley
Omen
Tamworth Arts Centre
22/03/82
Billy J. Kramer and the Dakotas
Amington Liberal Club
23/03/82
Ulterior Motives
The Chequers
Tamworth Herald – 26/03/82
Scene Around - Tribute to Dennis Taylor


A 'Tribute to Dennis Taylor' in music, song, drama and dance is to be presented at Tamworth Assembly Rooms.
The concert will be staged in June – the expected date is June 11 – and groups from all over the area will be contributing to the gala show.
"So many people have expressed a wish to take part that we are anxious not to leave anyone out," said Marion Pallett, secretary of the organising committee.
"Groups which can't contribute and time for the concert itself could still be involved in other ways – helping with programmes, perhaps, or front-of-house. We would be delighted to hear from them..."
The person to contact is Mr. Brian Nicholas, who is co-ordinating the show.
Among the many organisations already involved ate Tamworth Arts Club, the Little Theatre, Tamworth Arts Centre Theatre Company, the local branch of the Royal Air Force Association, Rotarians, the Male Voice Choir Barber Shoppers, Amington Band and the Flower Club.
Added Marion: "We're thinking of sub-titling the concert "It'll Be Alright On the Night" because that was something Dennis always used to say when he was doing a show.
"We want it to be a real gala occasion – a fitting tribute to Dennis."
Mr. Taylor's sudden death early in February at the age of 48, stunned Tamworth's arts groups and other societies with which he was concerned.
He was not only an accomplished actor and director but a supporter of the arts in the widest sense.
Chairman of Tamworth Little Theatre, he helped and encouraged aspiring actors, produced and compered shows for other groups, and taught drama classes at Swinfen Hall Prison for young offenders.
Tamworth Herald – 26/03/82
Musicbox – A restricted output might have been better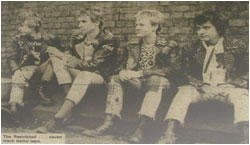 TAMWORTH'S one and only punk band, The Restricted, have made their first venture into the recording studios and produced a seven track demo.
Yes, that's right SEVEN. Not content with the usual three, four or even two tracks, The Restricted have gone predictably over the top and recorded seven numbers.
The tape was laid down in Castle Bromwich – where the Classified Ads recorded their tape – in a frenetic six hour session.
Now The Restricted will be going through the usual procedure of sending the tape off to punk fanzines and radio stations as well as small record companies in a bid to win wider recognition.
The Restricted – Roger Moore, guitar, Brian Pear, drums, Andy Tuffield, bass and Wiggall, vocals – have been going for six months with their current line-up but were well known to town punters as The Assets before that.
Their tape is raw, raucous and, I'm afraid, just a little too rough and ready for my ears.
It thunders along like a London to Glasgow express with no brakes, barely giving Wiggall time to breathlessly shout out the lyrics to numbers like "Terrorist", "Don't Believe in Anarchy", "Political Nightmare" and "State Execution".
"Political Con" is my favourite number, sounding just a little like the Classified Ads. It's a tiny but more restrained and for that reason the message comes over that much more clearly.
Overall it's a very creditable and praiseworthy effort by these four young lads, but I feel that perhaps three tracks done with more time to get things right would have probably produced a better final result.
The Restricted are one of Tamworth's most enthusiastic and dedicated bands, and for that reason alone they deserve some recognition.
Live they are, and always will be, a treat, and I feel that's still where their real strength lies.
Tamworth Herald – 26/03/82
Musicbox – Do we hear noises…
DOWN in the Polesworth, Warton and Atherstone area something is beginning to stir – at last!
Last summer the gigs at Warton WMC by bands like Trojan, Hamma and Qwark made the North Warwickshire area the centre of attention for the local scene.
But things have been quiet since then, with bands splitting up, getting new members in and generally having a shake-up.
Dylan Haddon and Chris Price have so far emerged with the fewest bruises and a completely new band.
Dylan, who now plays a synth as well as doing the vocals, and guitarist Chris have been joined by Dylan's brother Geoff on guitar, Dordon bassist Richard Banks and Atherstone drummer Steve Wallbank.
This new line-up have taken the name Exodus and played a successful debut gig at Polesworth school a couple of weeks back.
Although the band will play a couple of old Trojan numbers they are very anxious to shed the HM tag and much of the new set is commercial pop material.
Meanwhile Trojan's other guitarist the talented Chris Kelt has joined forced with Daz Milner and Dylan's other brother Steve to form a band who as yet have no name or drummer or bassist.
Night Gallery is the name of the new band formed by ex-Qwark members Andy Meakin and Shaun Meier, who have teamed up with Wilnecote guitarist Dave Ingram. Andy reckons the band will be playing 'powerpop', but won't be ready to make their debut before August.
And finally, whispers are drifting around the area that Mike Swan – brother of Tytan vocalist Norman – is set to form a band with Polesworth guitarist Daz Wright.
Tamworth Herald – 26/03/82
Musicbox – A night not to forget
Bashful Alley/Omen : Tamworth Arts Centre
THE foundations of Tamworth Arts Centre must have taken a bit of a bettering on Saturday night. In fact, if I was in charge of the building, I'd be inclined to order a full structural survey straight away.
When architects and designers drew up the plans for the A.C. building, I bet they didn't reckon on the combined power of two first-rate heavy rock bands in full rampant flight.
Once again, for the third gig running, the homely, convivial venue was packed and than can only be good news for live music in Tamworth.
Omen were first up, but really I'm fast running out of things to say about this band. I seem to have said before that if material and musicianship was all that counted, they'd be at the top already – and that's still true.
Their ideas, composing maturity and sheer skill are all a marvel, and on Saturday they added a slice of visual attack as well which was good to see. But, it's vital that they start to progress now.
They must start to play gigs outside Tamworth, cut a three or four track tape and promote it for all their worth. Omen are just too good to be allowed to die without ever having a smell of success, and the individuals within the band must ensure that they don't fold. That would be a tragic waste of talent.
Bashful Alley are another story. I make no apologies for the predictions I made about this band last week, for after seeing this display of awesome metallic power, I'm even more convinced of their big-time potential.
Flash-bombs, tortured guitar solos, powerhouse drumming, a bassist whi clambered on the seats and even a bass guitar which sprayed a firework all over the audience, are part of the Bashful Alley stock-in-trade.
The audience loved it, and so did I. Metal with no artificial preservations, nothing added, nothing taken away. It was, as the theatre critics say, a night to remember.
29/03/82
Flash Harry
The Warren
Mile Oak