Tamworth Bands History : 1982 :
May
04/05/82
Roller Disco
Assembly Rooms
05/05/82
Ultimate Sway
Lichfield Arts Centre
07/05/82
Quill
Dosthill Working Mens Club
07/05/82
Wilderness Laine
St. Johns Guildhall
07/05/82
The Platters
Glascote Working Mens Club
Tamworth Herald – 07/05/82
Musicbox – MISSING FANS, BUT IT'S NOT BAD OMEN
Omen, Flash Harry : The Warren
TAMWORTH music followers gained more points in their bid to win the national apathy league on this bright Wednesday evening.
But their effort was largely wasted for they must be so far in front of their apathetic rivals that any league table would be declared a white wash.
"Why don't they turn up?" said depressed Ethis vocalist Roger 'Budgie' Bird after Flash Harry's excellent set.
Well if I knew, I'd put him out of his misery, but I'm afraid I don't have the solution to that conundrum anymore than I do the rubic cube.
On the face of it here were two first class heavy rock bands – one of them young the other deeply experienced and in an area which broadly falls into the heavy rock orientated West Midlands they ought to have proved a sizeable draw.
Is it that today's HR followers are too young for pub venues? Could it be that none of them believe that local bands are good enough to entertain them? Is it that in these recession-hit times people just don't have any money on Wednesday evenings? Or is it just plain apathy?
My guess is that the true answer is somewhere between all of these. Either way it's sad and I really can't see an immediate solution.
Anyway that's enough of the gloom and doom. Omen – although not at their supreme best – were still immensely enjoyable.
At the moment the band are in the process of hunting for a vocalist and they must leave no stone unturned in their search.
A dynamic forceful front man would be just the tonic Omen need to lift them a few more rungs up the ladder and into the sort of company where their material decrees they should be.
Flash Harry already have a vocalist in the person of the excellent Trevor Mugglestone.
However, I must confess when I saw the band last year at Tamworth College I was not over impressed.
But things were very different tonight with FH turning on a display of majestic power with the aforementioned Mugglestone winning the honours for his superb, raunchy singing.
Tamworth Herald – 07/05/82
Musicbox – Quill – a new sound for an old time name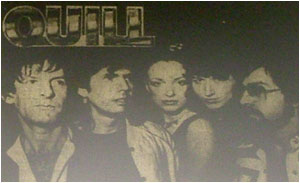 QUILL – a popular band with Tamworth music fans over many years – make a welcome return to the town tonight with a gig at Dosthill Working Men's Club.
In the five-piece will be local guitarist Phil Bates who re-joined the band six months ago after four years with London-based Trickster.
Quill were originally formed 10 years ago and since then have earned a solid reputation as a live act on the Midland rock circuit.
Musical styles have altered during the last decade and the band have been durable enough to keep pace with these changes.
They have noticeably moved away from their early folk roots and their sound now has a more contemporary streak.
Quill's line-up consists of Phil (guitar), Ben Brain (bass), Joy Strachan (lead vocals), Jo Edmonds (keyboards), and Gill Showell (drums).
They're a full-time, professional outfit playing up to five gigs a week at well-known pub-rock venues in the West Midlands.
The band are regularly pulling in crowds of around 250 – and audiences are right across-the-board.
Current plans for Quill include releasing their newly-recorded single "The Boys Are Alright" – and making a video to help promote it.
The band hope to follow-up the single with an album of their own material.
Quill's live show is a combination of their own songs plus a number of cover versions.
Do yourself a favour and be at Dosthill WMC tonight. The gig also includes a disco and admission is £1.50.
Tamworth Herald – 07/05/82
Musicbox – 'Laine' way to big things
ONE of Tamworth's most interesting young bands, Wilderness Laine, play at the St. John's Guildhall tonight.
WL made their debut last year and have spent their time since then trying to iron out the technical problems caused by their semi-acoustic approach.
Recently they played a trouble-free behind-closed doors set at the Guildhall and are hoping for a similar hitch-free evening tonight.
Tamworth Herald – 07/05/82
Musicbox – Ethis is support
ETHIS return to live action on Wednesday when they provide the support at Flash Harry's regular fortnightly spot at the Warren, Mile Oak.
The band have been slumbering since they played a double-bill with Omen at the Arts Centre back in January, but no band, fronted by Roger Bird, Ralph Sandland, and Andy Higgins could stay quiet for long.
12/05/82
Flash Harry
Ethis
The Warren
Mile Oak
14/05/82


New Tabloid Tamworth Herald and new Masthead
Tamworth Herald – 14/05/82
Soldier 'jumped' by gang after left Stripes nightclub

Man 'glassed' after works party disco at the Assembly Rooms

Youth fined after disco fight at Edingale Village Hall
Tamworth Herald – 14/05/82
Musicbox – Out of The Unknown and into the spotlight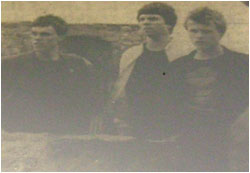 DOOM-LADEN vocals, mystic lyrics about the unexplained, a powerful sound from a young three-piece outfit…all this sounds like the cue for a new Tamworth heavy rock outfit, but in reality nothing could be further from the truth.
THE Unknown certainly have no HM pretensions. In fact, if you suggested that to them you might have to get out of the immediate vicinity pretty quickly.
The Glascote-based outfit are one of the most interesting outfits to emerge locally for some time.
A small but appreciative audience witnessed their debut set at St. John's Guildhall the other week, where they turned in a display which moved normally reserved observers, like Classified Ads drummer Simon Webster, to words of high praise.
Part of the reason for that impact was the band's total professionalism and sound which left most wondering just how long they had been together.
Drummer Ian Potts takes up the story: - "The three of us used to play together in a garage…old Clash songs and that sort of thing."
There then followed a period when the three-some tried to find a female-vocalist to further cement their Siouxsie and the Banshees influence.
"In the end we decided that the three of us had got used to each other's styles that we thought we would stay as we were," adds Ian.
Unlike many of the area's young bands, The Unknown were determined that when they first ventured into the spotlight, everything would be absolutely right.
"We didn't want to rush into playing gigs and appearing in the Herald until we were sure that we wouldn't fall flat on our faces," says Ian.
"Most of our songs are about things which are unexplained. We're not really into political songs – everything that needs to be said has been said before."
The Unknown who are completed by Ian's brother Chris on bass and vocals, and Richard Smith on guitar, hope to start gigging on a fairly regular basis in the summer.
Tamworth Herald – 14/05/82
Musicbox – A word about our new look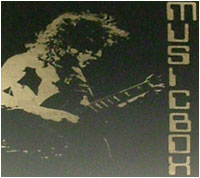 WELCOME to the new-look Musicbox in the new-look Tamworth Herald.
A changeover to tabloid production of the paper from the old broadsheet form puts our weekly music column in a different place.
But that doesn't mean there will be less of it.
In fact, the Musicbox team sees the changeover as a chance to step up our unrivalled coverage – as far as the local press is concerned – of what's happening musically.
Over the past couple of years there's been a heavy concentration in the column of news and opinion of the local music scene.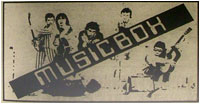 While we hope to maintain this, we'll also be looking to bring you items with a national flavour.
And that's where you come in…for we want readers to become more actively involved with the compilation of Musicbox.
Write, phone or pop into our offices with any ideas, viewpoints or articles you've written about gigs you've been to or records you've bought…and we'll be glad to think about including them in the column.
Tamworth Herald – 14/05/82
Musicbox – Quill in fine feather
Quill : Dosthill WMC
QUILL's first gig in Tamworth after a long absence was refreshing for two reasons.
Firstky, it was one of those few local live shows which didn't use crash-bang-wallop heavy rock as its base.
And secondly, it was actually well-attended – a rare sight indeed around these parts.
But above this, it was one of the best nights of live music in Tamworth for a long time.
They split their act between self-penned material, which stood up very well, and a string of well-executed cover versions.
These included songs by Judie Tzuke, The Cars, police, ELO and Foreigner. And they were not watered-down versions either.
Best of the bunch, to these ears at any rate, was Ms. Tzuke's "Stay With Me Till Dawn," beautifully sung by lovely keyboards player Jo Edmonds.
Each member of the band shone in their own right – showing a wealth of experience of live music.
And as a unit, Quill looked good, sounded exceptional – and proved themselves to be a highly-competent, professional outfit knowing how to win over a crowd and hold them there.
Maybe the music occasionally went over the heads of some of the audience, it wasn't the usual pub rock crowd Quill were accustomed to, but the majority loved it. People were actually dancing.
To sum up, a first-rate gig worth venturing out for. Come back Quill – Tamworth needs you.
21/05/82
The Couchelles
Country and Western
Wigginton Lodge
Tamworth Herald – 21/05/82
Spring Festival – the best yet
Tamworth Herald – 21/05/82
Musicbox – Live rock shock
TAMWORTH bands were this week facing a summer of discontent as two of the town's major rock venues closed their doors to live acts.
Tamworth Arts Centre, the setting for three sell-out gigs in the last 12 months, and the Warren at Mile Oak have decided that live rock concerts should no longer form part of their entertainment programmes.
Damage caused to toilets after the last Bashful Alley/Omen gig is the reason given by the arts centre chief Georgie Jackson.
"The toilets were sprayed with graffiti saying "Lichfield Punks" and damaged after the last concert here," said Mrs. Jackson.
"For that reason we have decided to cool it during the summer and look at the situation again later in the year," she added.
"I wouldn't attaché any blame to the bands themselves – Omen in particular are a smashing group of lads. I love heavy metal music and the concerts have been a great success" she added.
And in a full statement issued this week, Bashful Alley said: "We are obviously upset about this incident as this is the first time anything like this has happened as one of our concerts.
"We had no idea that there had been any trouble until we were informed by the Herald a few days ago and have no idea who is responsible. We can only assume that they were not regular Bashful Alley followers.
"We totally condemn this type of behaviour and it is unfortunate that the pathetic actions of a few mindless individuals can jeopardize the future of live music in Tamworth."
Poor support plus complaints about the noise from neighbouring houses were the reasons given by management at the Warren. Flash Harry had been playing fortnightly there.
Tamworth Herald – 21/05/82
Musicbox – An electric performance – at 4.30am
JUNIOR WALKER : Hinckley Leisure Centre
WHEN most people are asleep, some people are wide awake – especially soul music fans.
"Hundred turned up, many of them from Scotland to watch Junior Walker and the All Stars at an all-nighter at Hinckley Leisure Centre.
"Junior emerged onto stage at around 4.30am and got the crowd going with his first number, the immaculate "How sweet it is to be loved by you".
"Hands were clapping, cameras were flashing – and the atmosphere was already electric. Junior had got the crowd moving – and he intended to keep it that way.
"Next, he went into one of his more obscure numbers "Shake and Fingerpop". Considering the keyboards weren't functioning correctly, the band were coping very well.
"We then had "Roadrunner", quickly followed by a short version of the Northern classic "I ain't going nowhere".
"By now the crowd were buzzing, but Junior was starting to tire – he'd performed in Nottingham four hours previous."
"He rounded off the show with the Tamla biggie "What does it take to win your love", finishing with "Shotgun".
"These two numbers ended a tremendous night, not only for the fans but also for Junior, who told me: "I'd rather play one all-nighter than any nice nightclub 'cos that crowd really appreciate me and my music."
LEIGH SMART
Tamworth Herald – 21/05/82
Musicbox
Ethis make their debut in Lichfield tomorrow night with a gig at the Bridge Tavern. Travelling fans might like to know that the pub is in St. John Street on the Tamworth side of the Railway bridge.
Tamworth Herald – 21/05/82
Musicbox – Back down the Laine into the 70's
WILDERNESS LAINE : St. John's Guildhall
"Dear Fluff…Love the show especially the classical interludes between the album tracks. More Genesis, Yes, Floyd, Barclay James Harvest, Supertramp and Gentle Giant please, not forgetting Tangerine Dream and PFM of course.
"Would you please dedicate a number to all the hard-working girls and boys at the art college and wish them all the best in their exams. Oh, nearly forgot, more Jethro Tull and Roy Harper as well, thanks Fluff."
Those of you who learned their music after 1976 will have to forgive me for that brief whim of nostalgia.
That time of concept albums, Roger Dean and embroidered t-shirts was brought back to life when Wilderness Laine play at St. John's Guildhall.
There were few or no technical gremlins to mar their display, and the only bad spot was Andrew Thompson's sixth-form 'in' jokes with a section of the crowd between numbers.
Star performer was ace guitarist Sean Keogh who played a solo of stunning ability during "In and Out" and wrung some marvellous weird noises from his silver strat during "Wilderness Laine".
The 70s are dead – long live the 70s.
22/05/82
The DHSS
Animal and Stick Band
Dave Hewitt
Wigginton Village Hall
24/05/82
Tusk
Polesworth Working Mens Club
Tamworth Herald – 28/05/82
DJ in a Daimler shook off police
Disc jockey Paul Neale drove his faulty Daimler car at speeds of up to 70 mph along a narrow country lane to avoid being stopped by police.
Tamworth Herald – 28/05/82
Musicbox – Has a star risen from our midst?
DHSS, THE ANIMAL AND STICK BAND, DAVE HEWITT : Wigginton Village Hall
A SMALL but appreciative crowd turned up at Wigginton Village Hall on cup final night to witness three very different acts.
Dave Hewitt, an amazingly confident, Jasper Carrott-type performer opened the gig.
For the next 30 minutes the audience were treated to songs about HM, Moses, appendicitis and even Mrs Thatcher's drug habits.
Dave was both original and funny and his easy, relaxed rapport with the audience made me feel we might have a star in our midst.
The Animal and Stick Band, an equally bizarre looking prospect to the stage next. Their songs ranged from charming jigs to long, rambling, self-indulgent blues numbers.
All the songs appeared untitled, disorganised and unrehearsed and yet all remained strangely successful. It was also refreshing to see a band clearly enjoying themselves, particularly the ever-leering Donald Skinner.
Finally on stage were my old favourites DHSS.
They had altered quite a lot over recent months and their set is now shorter and more compact than before.
The old songs "The Grass is Greener", "Together" and the stunning "Holocaust 81" have been supplemented by new ambitious sings such as the brilliant "revenge" and the catchy "My Life".
In my opinion Vince, Barry and Martin just get better and better, and the sooner somebody signs them the sooner more people will realise that fact.
So closed an enjoyable evening's entertainment. The diversity of talent showed just how healthy the Tamworth music scene is – it's just a pity there are not more punters who can be bothered to find out for themselves.
SAM HOLLIDAY
Tamworth Herald – 28/05/82
Musicbox


FUNK band Jaquie Graham and Ferrari came up with another knockout performance at The Chequers, Hopwas.
It was one of the best gigs in the area for a long time – despite a few technical problems early on in the show.
The band simply ooze style and professionalism – and seem genuinely to enjoy every minute of being on stage.
In Jaquie Graham they have a vocalist of the highest order – and her rangy singing voice is backed by some extremely tight playing from the four-man Ferrari.
Their repertoire ranges from no-holds-barred, get-up-and-dance funk to slow, wistful ballads.
Perhaps when they play again at The Chequers tonight there will be few more punters there to watch them.
Tamworth Herald – 28/05/82
Musicbox – BOOK NOW
TICKETS are now available for the eagerly awaited debut gig by Tamworth three-piece Private Property.
The band featuring Mark Mortimer, Bryan Lacey and Donald Skinner, are co-headlining a gig with Classified Ads' and The Restricted at Wigginton Village Hall on June 12.
The tickets are available from members of the bands, priced 30p, but a limited number will be available on the night, priced 35p.
Tamworth Herald – 28/05/82
Musicbox – Clash of styles is album hit
THE CLASH : COMBAT ROCK
THE CLASH have come a long was since their pioneering days as Britain's premier punk band.
It is a record which proves to me that The Clash are still an almighty force and shows they are as good now as they ever were.
SAM HOLLIDAY
Tamworth Herald – 28/05/82
Musicbox – ULTIMATE DATE
TOP Lichfield outfit The Ultimate Sway play a major gig tonight at Lichfield Arts Centre.
The band, formerly Ulterior Motives, are hoping to rush-release their first single in time for the gig. Support will be provided by Birmingham band, Ubik.
28/05/82
The Ultimate Sway
Ubik
Lichfield Arts Centre