Tamworth Bands History : 1982 :
July
Tamworth Herald – 02/07/82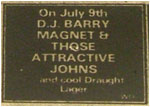 Musicbox – Rock bands head straight for the Top
THOSE enterprising officials at Polesworth Top Club have lined up an impressive series of Monday night heavy rock concerts for the summer months.
Following the shock decision to stop rock at Tamworth Arts Centre and The Warren, club committee member Tony Appleby moved quickly to attract local bands to the club.
Ethis, Pegasus, Exodus, Tusk and Flash Harry have already appeared at the club and audience levels are encouragingly high.
Tony said: "So far, we have been having some quite good crowds, but obviously we are always hoping to attract more people."
Dates already lined up for the coming months are: July12, Ethis; July 19, Rock 'n' Roll night; July 26, Tusk; August 2, Omen; August 9, Flash Harry.
And on Monday, Warrior – a local HM outfit – are the attraction.
"We want to turn Polesworth Top Club into the area's top venue for young bands," added Tony.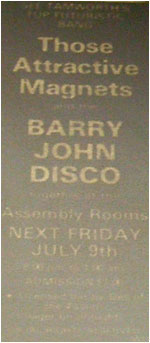 Tamworth Herald – 02/07/82
Musicbox – Ice want a voice…
HIGHLY experienced Tamworth band Ice are on the look-out for a new vocalist.
After several years treading the boards in some of the Midland's best-known heavy rock venues, the band have decided to go for a new approach.
Guitarist Andy Radek said: "We are writing a lot of new material with the aim of giving the band a new sound.
"Obviously there are prospects of regular work in the future. Ice have always been a working band and we hope that will continue," added Andy.
05/07/82
Warrior
Polesworth Working Mens Club
09/07/82
Those Attractive Magnets
Barry John Disco
Captain Green
Assembly Rooms
Tamworth Herald – 09/07/82
Musicbox – Magnetic sounds on showcase disc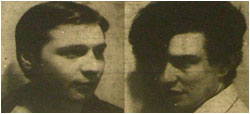 A NEW album – released this month – features tracks from two Tamworth bands.
The album entitled 'Synthetic Romance' features 11 groups and artistes from all over the country – among them local outfits Those Attractive Magnets and DHSS.
'Synthetic Romance' – released by Hull-based independent label Ebony Records – will appeal to fans of modern and futuristic music.
The groups featured are from all walks of life, but have one thing in common – the synthesiser.
The album is intended to promote new groups performing their own material.
'Fade Into Secret Silence' was the Magnets' choice for the LP while DHSS are to be heard playing 'Together'.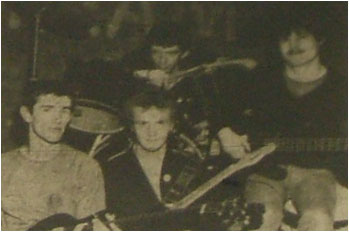 Robert Sly writes; 'Fade Into Secret Silence' has always been the Magnets' strongest song and was an obvious choice for the album.
It is probably the most commercial thing the group has ever done and deserves the privilege of being put out as a single rather than sandwiched between album tracks.
Nevertheless, it sounds as good as ever on 'Synthetic Romance' and is one of the brightest tracks on the album.
Richard Whitehead writes: 'Together' has undergone a total metamorphosis since I first heard it on the ban's three-track demo tape recorded at Steve Adams studio last year.
Sadly, though, the track doesn't appear to have progressed in any way at all.
The addition of a rather pale synthesiser for the album recording has taken away much of the passion which was a feature of the song and left it as little more that a shadow of its former self.
It's been hard work getting there, but at last two groups can now see their names on vinyl.
Three cheers for Those Attractive Magnets and DHSS is what we say – and let's hope they keep up the good work.
Tamworth Herald – 09/07/82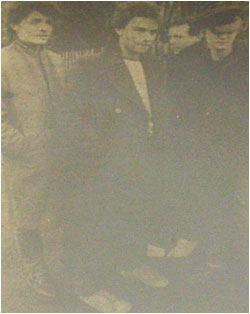 Musicbox – Debut single
CONGRATULATIONS to Lichfield band The Ultimate Sway on the release of their debut single.
Recorded at Metrosound Studios and released on International Records, the single contains two tracks 'Here We Stand' and 'Always Waiting'.
Both tracks feature The Ultimate Sway's distinctive rhythmic sound and stand chances of commercial success.
The A-side 'Here We Stand' is the best offering. It's infectious and grows on you with repeated plays.
'Always Waiting' is a strong B-side and has a good hook line.
The band consists of Chris Barlow, guitar and vocals; John Wilcox, guitar; Steve Thompson, bass; and Brian Cropper, drums.
Tamworth Herald – 09/07/82
Musicbox – Band promise a fun night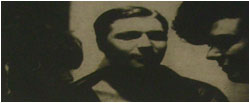 ELECTRONIC band Those Attractive Magnets make a return to Tamworth's live music scene tonight (Friday) with a gig at the Assembly Rooms.
The gig will be part of an evening of entertainment organised by top Tamworth DJ Barry John.
In between two sets by the Magnets, Barry John will be playing all the latest sounds – and there will be a special guest appearance by eccentric Tavern in the Town DJ Captain Green.
Doors open at 8pm and the fun lasts until 1am. Admission is £1 and there will be a licensed bar.
Tamworth's alternative poet Edward ian Armchair – who took our pictures of Magnet's songwriters Andy Baldwin and Rikk Quay (above) – will be making a video film during the night.
It will be the first gig in Tamworth by the new-look Magnets, Saxophonist Mick Duffy and percussionist Brett have been added to their line-up.
These are exciting times for the town's most original group.
A compilation album 'Synthetic Romance' featured above, includes one of their songs, and they now have a recording studio called Magnadrive.
The band will be shortly going into the studio to record a new 12-track tape which will go on sale in the town at £2.99
Rikk Quay said: "We hope there's going to be a great atmosphere at the gig and that everyone's in good spirits."
Tamworth Herald – 09/07/82
Musicbox – Bashful boys turn up the volume
BASHFUL ALLEY – the blistering Lichfield HM outfit who all but blew the roof off Tamworth Arts Centre recently – have released their first single.
'Running Blind', the A-side of the release, opens with some surprisingly gentle acoustic guitar-strumming before building into the sort of riff that could lay waste to many living room hi-fi's.
Riff-apart the highlights of the song are a highly commercial chorus and Robb Tidd's Schenkeresque guitar solo.
The B-side is 'My, My, My' a heavier number with a Scottish jig-style riff and a superbly relaxed middle section.
Bassist Truff said: To us the recording seems very old now because it was done last October.
Local punters can obtain copies from Rock-It Records.
Tamworth Herald – 09/07/82
Musicbox – Magnum
Fresh from their triumphant tour of the USA with Ozzy Osbourne – are back on home ground tonight for a 'welcome home' gig. The band fronted by Tamworth-based vocalist Bob Catley are appearing at the Carlton Cinema, Moseley, Birmingham tonight (Friday).
Tamworth Herald – 09/07/82
Musicbox – Ethis at Top
ETHIS bring their own particular brand of raucous heavy rock to Polesworth Top Club on Monday.
The band, fresh from their recent success in Lichfield and two earlier gigs at Polesworth, are promising their growing following a night to remember on Monday.
Remember, the only way Polesworth Top Club will continue as a local venue is if you the punters support the gigs there.
Tamworth Herald – 16/07/82
Musicbox – Nice colour, but where's the polish
Those Attractive Magnets : Assembly Rooms
IT promised to be a good night…and electronic band Those Attractive Magnets were not in a mood to disappoint.
The band overcame some drastic sound problems to serve up a gig full of colour, energy and originality.
They performed a largely new set of numbers, which had the audience on their feet from the start to finish.
Their music has become more commercial and danceable, but to these ears the best song of the night was the relatively old number 'Survivors'.
The Magnets have bags more stage presence with their expanded line-up – and the addition of saxophone and percussion has given their sound more depth.
But although their show was vivid, it lacked the sophistication of previous sets – a quality the Magnets' music demands.
Their act looked a little thrown together at times and the breaks between numbers were dire.
It was an enjoyable performance, but hopefully the band will exercise more control at future gigs.
Tamworth Herald – 16/07/82
Musicbox – Dates
On Monday, Omen make their first appearance at the town's new heavy rock venue, Polesworth Top Club, on a double bill with Exodus.
The next Friday night the band appear at Donisthorpe Miners' Welfare Club over at Measham along with Tusk. Finally on Monday, August 2, they return to Polesworth Top Club for another gig there.
Tamworth Herald – 16/07/82
Musicbox – Image Maker
A NEW publicity service for bands is being launched in the Tamworth area.
The service is the idea of local artist Kevin Murdoch.
For a charge of £15, Kevin will compile a comprehensive publicity package for bands wanting to promote their music in a professional manner.
The package includes a selection of posters and group photographs, and single, LP and cassette cover designs.
Individual items can be produced at a lower cost.
Band's willing to take up Kevin's offer can contact him through 'Musicbox'.
19/07/82
Exodus and Omen
Polesworth Working Mens Club
22/07/82
Silver Wings
Country & Western
Polesworth Working Mens Club
20/07/82
Tusk
Polesworth Working Mens Club
23/07/82
Omen
Tusk
Donnisthorpe Miners Welfare Club
Tamworth Herald – 30/07/82
Musicbox – Musicians Wanted
A NEW Tamworth band are on the look-out for two members.
The Jupiter Rhythm Kings – a band influenced by The B52s, The Buzzcocks and The Revillos – want a guitarist and a singer of either sex.
The band's current line-up is: Troy Morgan, guitar; Dory, drums and Crash Corrigan, bass, but they need tow new members before starting gigging.
Anyone interested contact Darren…
Tamworth Herald – 30/07/82
Musicbox – Drummer Ian is now Private Property
TAMWORTH band Private Property have at last found the drummer they've been hunting for months.
Seventeen-year-old Ian Simpson has stepped into the seat that was temporarily filled by Donald Skinner.
Also joining Mark Mortimer and Bryan Lacey is Tim Goode a harmonica player and percussionist. Tim will be guesting at PP's future gigs.
Tamworth Herald – 30/07/82
Musicbox – Help wanted
OMEN complete their series of three dates on Monday night with a gig at Polesworth Top Club.
The band are still on the look-out for a vocalist by the way and anyone interested should contact the band. Better still, go and see them on Monday.
Tamworth Herald – 30/07/82
Musicbox – Clash prove punk is not yet dead and gone
The Clash : Birmingham
PUNK rock is – at the moment – bad news. Bands such as The Exploited, Discharge and Anti-Pasti have made the whole 1977 movement seem distasteful and hopeless.
Thankfully, there are still a few bands who can turn all the anger, emotion and power of that era into some solid music.
The Clash, dismissed by the new breed of cynical punks are such a band…Joe Strummer was in fine voice throughout. If the word, hero, meant anything, Joe Strummer would fit the bill nicely.
Sam Holliday