Tamworth Bands History : 1983 :
May
Tamworth Herald – 06/05/83
Musicbox – Appealing bands
TWO local bands are on the look-out for new members.
Prophecy – the Curdworth based R and B/rock and roll outfit – need a singer. The band have a number of gigs lined up right through to the end of the year and it's vital they find someone to take over the vocalist duties. Anyone interested should ring Kevin…
Meanwhile Lichfield outfit Spring Auction Torture want a vocalist and drummer. Like Prophecy they have gig commitments to meet and need to replace two recently-departed members. They describe their sound as 'pop music, somewhere between new wave and rock' and anyone interested should ring Andy…
Tamworth Herald – 06/05/83
Musicbox – Unrestricted shivers down the spine!
The Restricted : Tavern in the Town
SOUL music is supposed to be full of passion, energy and belief, and above all, able to make your spine shiver. It must be said The Restricted play soul music.
Credit must be given to the band for remaining solid through three years of apathy and criticism. It seems to be paying off for them – at last.
The Tavern was packed with the many colours of the youth culture spectrum – a crowd that transcended all fickle barriers of fashion and ignored labels.
They enjoyed The Restricted for what they are – a very entertaining band.
Tightest
Using a good sound system, they played their tightest set to date.
Even the older songs were played with a new freshness. And their new songs are becoming stronger – 'Chaos' and 'El Salvador' being the highlights.
If this is the brontosaurus then where has the butterfly been hiding?
Paul Clements
N.B.: References to 'soul music' and the 'brontosaurus' are in reply to a recent reader's letter who claimed local bands played with no soul and dubbed The Restricted the Tamworth brontosaurus – Music editor.
Java, BHX : Tamworth Arts Centre
TAMWORTH'S rock fans could have done no better than to attend Friday's show at the Arts Centre.
Compered by the latest arrival on the alternative rock scene, Mr. Homie Parnham, the evening got off to a flying start with local band BHX receiving a good reception for their self-penned numbers from 50 or so punters who turned up for the event.
Java, a new band blending together a subtle mixture of youth and experience, headlined.
Their set consisted of a slick combination of cover versions and their own brand of distinctive Java treatment.
The band's own songs – the emotional 'Escape', 'Get it right' and 'Moonsong' among others – formed an excellent showcase for such obvious talent.
Let's hope local apathy doesn't make such a fresh band seek audiences elsewhere.
N.B.
06/05/83
East Park
Kill the Doctor
Town Arms
Leicester
13/05/83
Those Attractive Magnets
Lambent Lamella
The Chequers
Tamworth Herald – 13/05/83
Musicbox – Honest, Doctor – you're a tonic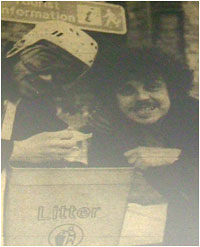 Kill the Doctor : Town Arms, Leicester
THE current line-up of Richard Bujak (guitar and vocals), Chippy Chipman (bass and vocals), Donald Skinner (of the Dead Captain Speaks on drum machine and percussion), Nick Lowe (flute) and , resplendent in clown costume, John Harris (ex-Animal Stick Band), played a highly praise-worthy set in front of a packed audience at the small but atmospheric pub in built-up Leicester.
The crowd was won over by the more up-tempo numbers like "Hindy-Kush" and "Another Planet I'm On." But the climax of the set, "Don't Go Cart That Ointment", saw the punters go crazy.
The honest and gutsy style of Chippy and Bujak, backed by the flawless rhythms of Skinner and Harris – and the melodic genius of Nick Lowe – provided the finest possible form of entertainment.
Headlining the gig were local band East Park, who added the finishing touches to a perfect evening.
Stephen McGinsky
Tamworth Herald – 13/05/83
Musicbox – Chequers 'double'
A SPECIAL double-header gig takes places at The Chequers, Hopwas, near Tamworth tonight (Friday).
Tamworth electronic outfit Those Attractive Magnets will be appearing with Atherstone three-piece Lambent Lamella.
It's the first of a couple of gigs at the Chequers featuring both bands. The other is next Friday.
Look out for a Musicbox focus on Lambent Lamella in next week's Herald.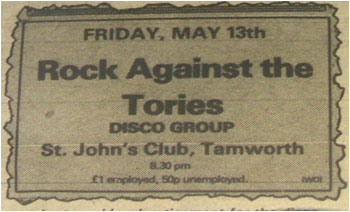 13/05/83
Rock Against the Tories
St. John's Club
Tamworth
16/05/83
Those Attractive Magnets
Stripes
20/05/83
Those Attractive Magnets
Lambent Lamella
The Chequers
Tamworth Herald - 20/05/83
Labour event banned by church – Red faces over anti-Tory disco
FACES were red at Tamworth Labour Party this week over a Tory bashing disco that was cancelled at the last minute by the town's Roman Catholic Church.
The disco to have been held on Friday (May 13) at the Catholic St. John's Club, was advertised "Rock Against the Tories" (£1 employed, 50p unemployed).
But when the church discovered its anti-Tory political bias it cancelled the event.
Tamworth Herald – 20/05/83
Musicbox – Badger's coming out at night


AFTER the success of the recent BHX/Java gig at Tamworth Arts Centre, another HM evening has been lined up.
Experienced Tamworth outfit Badger are appearing at the popular town centre venue on Saturday May 28.
The last time Badger appeared at the Arts Centre was last autumn when they supported Omen.
Now of course former Omen guitarist Tim Latham is a member of Badger.
Originally BHX were to have provided the support for the gig but personnel problems have forced them to pull out.
In a statement issued this week the band said: "We apologise for any trouble caused to Badger and wish them well on the night. We would also like to thank everyone for their support at last month's gig with Java."
The problems which have caused BHX to pull out are the loss of their bassist and drummer.
They are on the look-out for new members to fill the vacant spaces and anyone with a serious, long-term interest should contact Mick….
Tamworth Herald – 20/05/83
Musicbox – RETURN OF TALENTED 'LAMBENT'
TONIGHT (Friday) sees the second gig in a week at The Chequers in Hopwas by three-piece Atherstone band Lambent Lamella.
They will be appearing alongside Tamworth's popular Those Attractive Magnets.
Formed in Atherstone in August '81 – the trio of Chris Edden (bass and lead vocals), Steve Hayes (drums and backing vocals) and Pete Fulleylove (lead guitar and backing vocals) have had considerable live experience.
They have gigged regularly since their formation and their achievements include reaching the regional finals of a Musicians Union-sponsored talent contest for up-and-coming bands.
Their only previous gig in the area before last week's Chequers appearance was at Tamworth's Tavern in the Town – fast becoming the major live venue in the area.
The band have recorded a three-track demo tape – under the name of The Graphics – at Steve Adams' Birchmoor studio, which attracted tentative interest from a couple of major record companies.
Contract
Plans are in the pipeline for them to go back into the studio to record another demo tape, but this time the band hope to persuade independent labels to offer them a contract.
Unwilling
Although unwilling to be classified musically (so what's new!) the threesome say their music can be compared to Siouxsie and the Banshees and The Cure.
"But we prefer to call it Bohemian," said Chris.
The band follow up their Chequers gig with performances at Nuneaton Arts Centre tomorrow (Saturday) and on June 4.
21/05/83
Those Attractive Magnets
Lambent Lamella
Nuneaton Arts Centre
Tamworth Herald – 27/05/83
Two of the best make a dramatic scoop…
TWO Tamworth companies have collected major awards at Burton Drama Festival. Tamworth Arts Centre Theatre Company – TACT – won the trophy for best play and the In-B-Tweens – the youth theatre who meet at the Arts Centre on Fridays – carried off top prize for the best junior entry.
28/05/07
Badger
Tamworth Arts Centre