Tamworth Bands History : 1983 :
September
02/09/83
Classified Ads
Sitting Pretty
Masonic Rooms
Tamworth Herald – 02/09/83
FESTIVAL LINE-UP IS A REAL HOLIDAY WINNER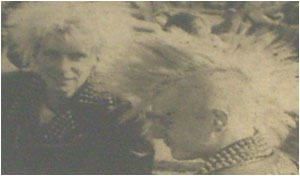 Rocking on…to the sound of music…Looking in on a day of sheer style
Tamworth Rock Festival : 1983

TAMWORTH'S rock scene had a shot in the arm on Monday when an estimated 700 people poured into the Castle Grounds for an exciting afternoon of local music.
Despite busy Bank Holiday events, in the town, Tamworth's rock fans turned up in strength to watch six different acts perform.
And the success of the event means that a Bank Holiday rock festival could become a regular date on the local music calendar.
The event – which was jointly organised by the band Hardware and Gary Holt of Tamworth Arts Centre – was a triumph for bands and fans alike.
Those Attractive Magnets, Tamworth's premier synth band, were selling copies of their debut single 'Nightlife' and all other bands gained new admirers from the sun-drenched crowds.
The first band to take the stage were Sitting Pretty. It was their first public gig in the town – but their newness didn't show.
Their sound is a nice mixture of 60s and the 80s music and looks set to be very popular with local audiences.
Their best number was 'Touch the Moon' which is one of four songs the band will be recording soon for their debut demo tape.
After a short break, Those Attractive Magnets played a short snappy set, full of their usual charisma, wit and style. The band enjoyed a great reception.
They were besieged after their set by young autograph hunters – a remarkable and refreshing sight for Tamworth's rock scene.
If the gig was a success for the Magnets, it was nothing short of a triumph for Hardware. For them, main organisers of the gig, it must have been a great sight to see the area in front of the bandstand completely filled.
"It all went very well," said drummer Garry Norris.
"The sound was good, the audience was marvellous and we couldn't have hoped for a better day."
Hardware's rock sound brought an excellent reaction from the crowd, who by this time were numbering well over 700. And then it was time for the Royal Family to put in an appearance. No it was not a surprise visit by Prince Charles, it was Tamworth's finest rhythm and blues outfit led by the incredible figure of David Smith in his role as the Buster Bloodvessel of the town's music scene.
The Royal Family are the sort of band it is impossible to ignore. They play wonderful toe-tapping tunes and never stop smiling – apart that is, from David Smith who contorted his face to magnificent affect during the group's set.
Variety
Omen 2 were up next and they proved to be a calming influence after the crazy sounds of the Royal Family. Omen 2 turned in a highly professional performance highlighted by some excellent keyboard work by Ian Jenkins and the normal faultless performance by Tim Latham.
The Time Bandits, a really offbeat trio, were last-on.
They turned in a glorious 'wall of noise' to the delight of the crowd and they brought the festival to a climactic end.
The police later complimented the crowd on their good behaviour.
It had been an afternoon of great variety from local bands and the musicians themselves were delighted at the smooth running of the festival.
The message from everyone was clear – let's do it again…and soon!
Tamworth Herald – 02/09/83
Musicbox – Reader's Letter
DEAR Musicbox,
As a regular reader of your music page I feel I have to bring to your attention a glaring omission in your coverage of the local music scene. What I am talking about is a forthcoming gig guide.
Only occasionally, and then only in the course of an article, are we told when and where a band is performing and as for the rest we have to rely on word of mouth or the odd poster dotted around the town.
This is not exactly the most reliable method of getting information. A small guide as to who is playing where and when each week would certainly boost attendances at concerts.
It would also enhance the quality of your music page and give local bands and venues much needed publicity.
R. Jones, 17 Wesley Avenue, Glascote.
NOTE: The idea of a gig guide is appealing, but to be honest we are rather pushed for space to make it a regular feature. However, we do try to let readers know about forthcoming gigs in the course of articles, or snippets and if we do sometimes 'miss' them it could be that the band concerned did not let US know they were doing a gig.
We can however guarantee to mention very gig in the town on the nearest Friday to the concert if bands let us know in writing at least two weeks in advance.
This way will help us not to miss gigs and help the bands to boost their attendances. Full details (and remember tow weeks in advance) should be sent to Sam Holliday.
Tamworth Herald – 02/09/83
Musicbox – Disco opener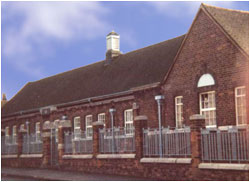 St. John's Youth Club – once the happy hunting ground of so many of the town's young bands – is set to re-open 12 months after it shut its doors.
The club, which out on dozens of gigs in its short history, is being re-opened by teenagers who are fed up at having nothing to do in the town.
And it all begins on a musical note with a disco and a live performance by the Classified Ads – one of the bands who grew up at the club.
The club will be opening its doors on Wednesday September 7 at 7.30pm
Tamworth Herald – 02/09/83
Musicbox – Synth or rock…it's a night to note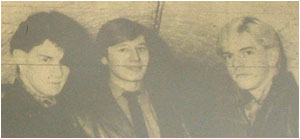 TAMWORTH's once-decaying rock scene seems to be finally coming to life. Not only did we have a bumper concert at the Castle Grounds on Monday but tonight fans have a choice of two great gigs to attend.
The first is at the Arts Centre where Those Attractive Magnets are playing with the new electronic duo Select Elect, in what promises to be an exciting night for fans of synth music.
But if more traditional rock is more to your taste, then the place to be is the Masonic Rooms in Lichfield Street where the Classified Ads will be lining up with Sitting Pretty in a gig to launch Tamdisk records.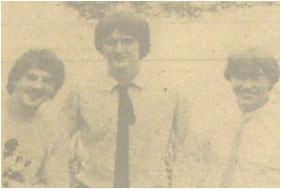 Both gigs will be a perfect combination of the old and the new. The Magnets are one of the town's oldest groups who now seem to be having a rebirth with the release of their excellent debut single 'Nightlife'. And in contrast it is the first time 'Select Elect', the young electronic duo, will take to a main town stage.
Meanwhile over the road at the Masonic Rooms, Tamworth veterans the Classified Ads – who were twice voted Tamworth's top band in the fanzine 'Tambeat' – will provide a nice balance with Sitting Pretty who made their debut on Monday.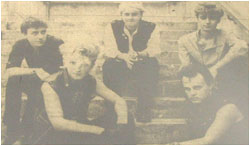 The Ads play new wave orientated pop music whereas Sitting Pretty describe their sound as 'music of the 80s with 60s overtones'.
Both gigs look intriguing and they reflect a general reawakening of the Tamworth music scene. All we need now is two bumper crowds to support these gigs so we can really get things moving again.
FOOTNOTE: The Ads will be back in action on Monday evening when they play at the popular Tavern in the Town.
02/09/83
Select Elect
Those Attractive Magnets
Tamworth Arts Centre
05/09/83
Classified Ads
Tavern in the Town
07/09/83
Classified Ads
St. John's Youth Club
Tamworth Herald – 09/09/83
Musicbox – Love on Board are going places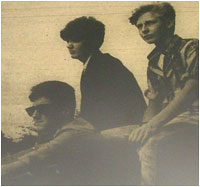 A NEW Tamworth band with a modern pop sound are all set to burst on to the local scene.
For Love On Board, a young quartet, are planning a tour of a host of venues in the town.
"We don't know when or where as yet, but we think it would be the best way to introduce ourselves to the area," said guitarist Neil Jones.
And the band's ambition doesn't end there. They already see the group as more than just a hobby and drummer John Twist in particular is keen to move on to bigger venues in Birmingham as soon as possible.
"We all see the group in different ways," said Neil, "but we all want to go forward and take this very seriously."
Love On Board – who must share the prize for the most intriguing name with the Dead Captain Speaks – were formed earlier this year and comprise Neil Jones, guitar and vocals, Nick Reed, lead guitar and vocals, John Twist, drums and John Clarke bass.
The band's influences are Orange Juice, Aztec Camera and the cult band Friends Again.
"We have a very modern sound which we think could become very popular in the town," said the 17-year-old Neil.
Confident
The band have already written a large quota of songs with titles like 'The Colour of Your Eyes' and 'Summer Sunday' and as well as taking their sound onto the road they also hope to get down to some recording in the near future.
And they feel confident that audiences in Tamworth – and beyond – will find there is plenty more interesting things about the band than their name…
"We hope to become one of the top bands in the area because we are playing music which has not been to well catered for up to now," said Neil.
Tamworth Herald – 09/09/83
Musicbox – Magnetic
THE debut single by Tamworth stalwarts Those Attractive Magnets has been selling like hot cakes throughout the town and looks set to be a successful venture for the town's top synth quartet. And the five free singles Musicbox offered readers have already been snapped up.
The lucky winners are: Margaux Brooks of Chestnut Avenue; Lucy Robinson of Mile Oak; Sally Caulkin of Telford Road; Paul Kowalski from Shelley Road and Derek Greenfield from Coton Green. All five winners will enjoy the exciting double 'A' side which comprises 'Nightlife' and 'Love Chimes'.
Tamworth Herald – 09/09/83
Musicbox – Sound Appeal
BHX, one of Tamworth's most promising bands, have sent out an urgent appeal to the town's musicians – we need a drummer.
The group have already made a big impact on the town and have future gigs and recording in the pipeline.
But they feel their progress is being hampered by a lack of a permanent drummer who can give them solid commitment.
If you like powerful rock music and would like the chance to join BHX the man to contact is Mick…
Tamworth Herald – 09/09/83
Musicbox – Date with Factory
TAMWORH Arts Centre is the scene tonight for the second major performance by Sixties band The Dream Factory.
Tickets to see the gig have been selling very well following the bands spirited debut at Tamworth Youth Club in July.
But the band this week suffered a major blow when they heard of the departure of guitarist Donald Skinner.
"He has promised to help us out in the next couple of gigs but after then I think he wants to concentrate on his own band," said bassist Mark Mortimer.
The gig at the Arts Centre begins at 8pm – but tickets are likely to be very scarce.
09/09/83
Dream Factory
Tamworth Arts Centre
Tamworth Herald – 16/09/83
Musicbox – Plenty to smile about at the Tavern
Laughter in Heaven – Tavern in the Town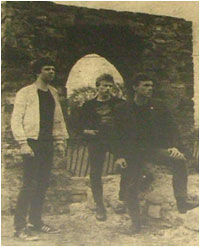 THE God's must have been smiling down on Laughter in Heaven when they played their first gig recently.
For not only did the band not put a foot wrong but they managed to pack out the Tavern and delight the large crowd with their original brand of new wave rock.
It was the first time the trio had played live since changing their name from the Unknown – but the sound remains as strong and powerful as ever.
They opened their hour long set with a blistering version of 'Dead and Buried' – for me the finest song they played all night.
It showed the band's finest quality – an ability to play hard-hitting rather doom-laden songs that still retain a commerciality that augurs well for the future.
All three members of the band turned in excellent performances but I was particularly impressed with the energetic display of drummer Ian Potts who seems to have come on leaps and bounds since the days of the Unknown.
After a well-structured set punctuated with moments of brilliance like 'Nemesis' the band were called back for two encores.
They played as they had done all night – with professionalism and spirit – and if they can sustain their new found confidence I feel sure they will finally come out of the Unknown and into something far more exciting.
Tamworth Herald – 16/09/83
Musicbox – Magnum's final opus
A LARGE question mark hangs over the future of one of the area's most popular and long serving bands Magnum.
The Birmingham-based pomp rock outfit whose vocalist Bob Catley lives in Tamworth and whose fan club is also Tamworth-based are undecided about their future.
But they have denied a story in Sounds which said that the band are definitely splitting up.
They want to point out that there is no problem within the band, but it is thought they have become increasingly frustrated with the way their record company Jet have handled their career.
They played a concert in Birmingham on Monday with Dark Star, Steel and Scorched Earth and this may have been their 'farewell' performance.
The band are to decide whether to soldier on or split up in the next few weeks.
Tamworth Herald – 16/09/83
Musicbox – Omen bounce back
OMEN 2 who made such an exciting debut at the Tamworth Rock Festival will be playing a gig in their own right tonight at the town's Arts Centre.
The band are the Omen of old with the addition of one of Tamworth's finest drummers Stu Pickett.
And they look set to follow former triumphs at the Arts Centre, which was their happiest hunting ground during their period as the town's top rock band.
The gig is likely to be another sell out so if you want a ticket you will have to hurry!
16/09/83
Omen 2
Tamworth Arts Centre
Tamworth Herald – 16/09/83
Musicbox – Members wanted for bands
TWO very different band shave approached Musicbox on the look out for new members.
The first is Sundance, a very ambitious band who are looking for a keyboard player to complete their line-up with a view to gigging almost immediately.
Sundance are made up of several very experienced and semi-professional musicians in their twenties and thirties who are keen to start playing in the area as soon as possible.
"We are looking for someone willing to play all types of music and take the band very seriously," said band spokesman Paul Harris – who has played support to bands like Thin Lizzy and Slade in his career.
The second band looking for a new member is the new wave outfit The Visitors.
The band are seeking a bassist to complete the trio who now boast an exciting set of originals.
If you think you fit the bill, Brian will give you more details…
Tamworth Herald – 16/09/83
Musicbox – School bands to star in second Fest
TAMWORTH is all set to have its second major rock festival this year – and it is hoped that it will attract a whole battalion of local schoolboy bands.
The two day event is being organised by the Tamworth Young Peoples Arts Festival and it is aimed particularly at giving a stage to young bands who may never have played in the town before.
"This is an ideal opportunity for all the youngsters in bands to get some exposure," said Geoff Beales from the council's recreation department.
The festival has been pencilled in to take place on two consecutive Sundays in October.
And it will take place at one of the town's premier venues – the Arts Centre: "The whole idea is to give the younger bands a chance where they won't have to be in the shadows of the older bands," said Garry Holt, who is helping to organise the event.
The decision to hold the event comes in the wake of the successful open air festival held on Bank Holiday Monday when six of the town's top bands brought 700 people flooding into the Castle Grounds.
This time the emphasis will be on Tamworth's up and coming acts – although there may be room for one or two of the town's more established bands to appear.
"We don't want to frighten any of the newer bands off by the more experienced groups, but if there is room, we may fit one or two on the bill," said Geoff Beales.
The indoor rock event is all part of the Tamworth Young People's Arts Festival which this year looks more ambitious and varied than ever.
The fact that rock music has found its way onto the line up reflects the increasingly healthy state of the local scene.
It is an ideal chance for younger bands like Bambu Curtain and Select Elect to make a real name for themselves and any band that wants to get on the bill is asked to contact Geoff Beales.
Tamworth Herald – 23/09/83
Musicbox – Come on, join the band!
A NEW Tamworth band boasting several top local musicians are on the lookout for a vocalist to complete their line-up.
Abacus is the name of a new rock band featuring former members of Exodus and Vulcan.
The band who write all their own material are looking for a good vocalist willing to sing all types of rock and to get involved in gigs and recording almost immediately.
The band looks an exciting addition to the scene and if you would like to be their vocalist the man to contact is Richard…
Tamworth Herald – 23/09/83
Musicbox – Alley are back…as a quartet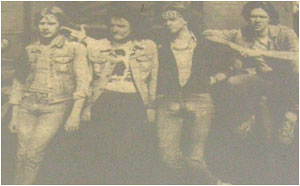 IT seems to have become normal procedure for bands to complain about Tamworth gigs both for the size of the audience and the generally unenthusiastic crowd reaction – so it's refreshing to meet a group who take entirely the opposite viewpoint.
Lichfield-based HM kings Bashful Alley played a memorably raucous gig at Tamworth Arts Centre some 18 months ago and bassist Truff remembers the evening with considerable affection.
"That night at the Arts Centre was one of the best gigs we have ever played. The place was packed out and the response was tremendous," he said.
And that coming from a band who have played at the legendary Marquee in London is high praise indeed for local punters.
Anyone who missed that previous Arts Centre gig has a chance to make amends tonight (Friday) when Bashful Alley return to the Church Street venue.
This is rather a special night for the band for it marks their debut as a four piece with new guitarist Blakoe Entergiser playing his first gig.
The rest of the line-up is still Truff on bass, Rob Tidd on guitar and vocals and Robin Baxter on drums.
The band promise a night of vintage HM and as one who has witnessed their live show a couple of times I can promise anyone interested in heavy rock a gig they will remember.
Arabia – also from Lichfield – are filling the support slot and the gig starts at 7.30pm. Admission is £1.30 or £1.00 for UB40 card carriers.
23/09/83
Bashful Alley
Arabia
Tamworth Arts Centre
Tamworth Herald – 23/09/83
Musicbox – Standing between a Dream and a nightmare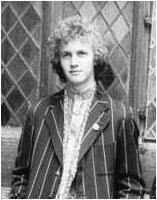 WHEN Paul Weller finally split the Jam last year it was the end of a great era.
But as Weller moved onto the potentially magnificent Style Council, he left behind the hope that younger bands would come through to fill the vacuum left by the mighty Woking trio.
And if he had been at the Arts Centre on a wet Friday evening recently he would have seen his vision coming true.
For the Dream Factory – Tamworth's top sixties outfit – embodies everything Weller stands for.
They are young, genuine and most refreshing of all, extremely popular. It was only their second gig in the town, but the Arts Centre was filled to overflowing and the band was given an enormous roar when they took to the stage.
The set they delivered made their first performance at Tamworth Youth Centre pale into insignificance.
Tim Goode put in a splendid vocal performance and bassist Mark Mortimer – who has had so many 'near misses' in the musical arena – looked more comfortable than I have seen him for a long time.
Their set – although still I feel too biased towards cover versions – was well structured and entertaining and the band's own numbers revealed a far more adventurous approach to songwriting than I once suspected.
Danger
The only problem that now faces the band – apart from a rather unfortunate section of their audience who seem fight hungry – is the imminent departure of guitarist Donald Skinner.
Donald is without doubt one of the best musicians in the town and when the band occasionally got lost in the gig he was always there to rescue them.
Without him there is always the danger that the Dream Factory could turn into a nightmare mess of idealistic youngsters without a stable musician to support them.
Dream
But this is not a time to be negative. The Factory have a lot going for them even though they are still a long way off competing with many of the more established acts in the town.
If they can build on this initial promise and get rid of the pathetic group of mods who attempted to turn the gig into a mini-battlefield, they can go right to the top.
In the meantime, they should concentrate all their efforts on finding a new guitarist and writing original material to bolster their set.
The perhaps we will finally see the dream coming true…
Tamworth Herald – 30/09/83
Musicbox – Sitting Pretty, and no mistake

WHEN Sitting Pretty announced that they were going into the studio to record three of their songs, I wondered if it really was a wise move.
The band only formed a couple of months ago with just two live concerts to their credit it seemed they were rushing into the studio far too quickly.
I result, I feared would be an instantly forgettable, perhaps even embarrassing release.
Happily, I was wrong. Sitting Pretty have made a quite excellent cassette which seems destined to be the first hallmark in a very exciting future.
The main drawback of the tape is without doubt the production. The band went all the way to London to record at Duffy's Studios where the Funboy 3 recorded 'It ain't what you do'.
But the sound quality varies from average to awful and I couldn't help feeling the band would have done better to record locally, perhaps at Steve Adams studio in Birchmoor.
But not even the dreadful sound quality could take away the fact that the songs are quite brilliant.
The best of the three is the spirited "We're Apart". It has a quite magnificent hook and is very reminiscent of a Spector type 60s tune. The only problem with the track is the rather cliché-ridden lyrics which bubble along in typical Lulu style with lines like 'you messed around with every guy in town – now we're apart'.
Following "We're Apart" is another punchy, very entertaining track entitled "Touch the Moon". Again the lyrics are best forgotten but the music is quite marvellous. The band have a very clear awareness of what makes a good pop song and I feel sure "Touch the Moon" will soon become a very big live favourite.
When you flip the tape over you find "Broken Glass Lies" which inexplicably has been billed as the 'A' side. Although "Broken Glass" Lies" is a superb song, it is the least commercial number and I suspect the band will soon regret making I the premier track.
It is a very thoughtful song with a hypnotic bass line and once again a crushingly effective tune. The only thing that lets the song down is ironically, a wailing backing vocal that goes 'you let me down' which never stops and becomes very irritating.
Taken as a whole this is a splendid achievement for the band. It follows the excellent debut single by Those Attractive Magnets and coincides with the Dream Factory and Talk Back returning to the studios, underlining the growing awareness within local bands of the importance of making a permanent record of their sound.
I hope local people buy this tape – available from Tamdisk – in its hundreds because it shows how good the new crop of Tamworth bands are.
As for Sitting Pretty, everything has so far gone right for them and it has not taken them long to become one of the town's top bands. Now we will just have to see if they can prolong the honeymoon and live up to their name.
30/09/83
Trevor Burton Band
Austrey Working Men's Club