Tamworth Bands History : 1983 :
July
Tamworth Herald – 01/07/83
Musicbox – Three plan a night full of fresh sounds
THREE OF the new bands who have emerged locally in the last few months are joining forces for a major concert at Tamworth Arts Centre.
Wild Child, the Royal Family and Marcus are appearing at the always popular town centre venue on Friday July 8.
At their gigs at the Tavern in the Town, Wild Child have impressed with their own brand of melodic rock with a hard edge provided by the guitar of Norman Yates and the vocals of Roger 'Budgie' Bird.
The Royal Family have also used the tavern as their stomping ground and they too have received favourable responses to their straight-down-the-line R 'n' B approach.
Marcus, on the other hand are an unknown quantity – see story on this page for more details.
Tamworth Herald – 01/07/83
Musicbox – Making their Marcus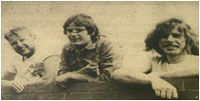 The band appear on the Arts Centre triple bill with Wild Child and the Royal Family and follow that up on Monday, July 11, with a gig at the Tavern in the Town.
While the name Marcus might be unfamiliar, the same can't be said for the band's guitarist/vocalist Dylan Haddon.
Dylan has become something of a veteran on the Tamworth scene with appearances in several bands over the last two years.
After undergoing the customary personnel problems in their early days Marcus have established the line-up as Dylan, with Tony Bradford on drums and Paul Lewis on bass.
Recorded
They have already recorded four tracks at Steve Adams' studio in Birchmoor for a demo tape.
'Gabriel', 'Planet Earth', 'River Blue' and 'Street Girl' are the four self-penned numbers they have recorded.
The general standard of the tape is high with the last track in particular being really outstanding.
Marcus would like to add a permanent keyboards player to their line-up and potential recruits should ring Paul…
Tamworth Herald – 01/07/83
Musicbox – MAGNETS ATTRACT A NEW RECORD DEAL
ENDURING Tamworth band Those Attractive Magnets are set to take two big steps forward in their career.
They are soon to release a single and hope to clinch a major record contract.
The Magnets are going into Steve Adams studio, Tamworth, at the beginning of July.
They have a distribution deal to get the record into the shops by early autumn.
The double-A-side will feature 'Night Life' and either 'Changed' or 'Love Chimes'.
The best
'Night Life is one of our more recent numbers and the best we have written," said Magnet Rikk Quay.
"Depending on how things go in the studio, we will choose the other A-side then.
"It's costing us £600 for the 1,000 copies but we feel we have more chance of getting noticed with something on vinyl.
"On top of that we are hoping to get a major recording contract sorted out.
"But we are not saying anymore about that for the moment."
In recent months the Magnets have been gigging in and around Tamworth and Nuneaton and have spent over £2,000 on new electronic equipment.
"The computers mean we can really do things with the sound," added Rikk.
"We also might be doing some more gigs locally.
"All in all the band's really gone forward in leaps and bounds in recent months and that's what we are going to continue to do."
Cathy Pettigrew
Tamworth Herald – 01/07/83
Musicbox – Bands in carnival mood
Scarab/BHX : Sutton Carnival
BHX came on stage for their support slot to an almost empty marquee but the numbers gradually built up as they played their own self-written songs like 'Mad Jack', '25th Century' and 'I Wanna be Alive'.
The band seem to have a new confidence in themselves and their music, which is aided by the addition of ex-Badger drummer Stuart Pickett to the line-up.
They introduced two new numbers 'Dance' and 'Straight to Hell' which had great promise for the future.
The PA was loud and clear and the band played their best set so far – all of them getting in the carnival spirit.
Scarab played their own brand of heavy metal which anyone who saw them at Polesworth Top Club will remember.
The lead guitar work was particularly impressive and they finished with a version of 'Love Potion No.9' and came back for two encores.
A.G.
08/07/83
Wild Child
Royal Family
Marcus
Tamworth Arts Centre
11/07/83
Marcus
Tavern in the Town
Tamworth Herald – 15/07/83
Musicbox – Band set to cause an explosion
EX-MEMBERS of two Tamworth bands have come together with a new sound.
Tony Lakin and Trevor Muggleston formerly of Flash Harry and ex-Ethis member John Haslam have joined up with Garry Dobson to form Depth Charge.
But the newly-formed rock band need a vocalist.
Another old Tamworth favourite, Brewster, have also got back together.
The band which went their different ways in January '81, have a gig at Tamworth Arts Centre on July 22.
Tamworth Herald – 15/07/83
Musicbox – Making dreams come true
TWO of Tamworth's most durable musicians Mark Mortimer and Donald Skinner have once again joined forces for a new musical venture.
The Dream Factory is an eight-piece outfit with Messrs. Mortimer and Skinner as the song-writing partnership at the heart of the band.
Trumpets
But they have been joined by former Private Property member Tim Goode, his sister Michelle, Graham Walters, Jason Farrow, Kerry Goddard and Mark's sister Nicola.
Direction
Graham and Kerry both play trumpets and Nicola and Michelle will be forming a backing vocal section – giving a clear idea of the direction of the band.
Mark explained: "We have a range of influences including R 'n' B, soul and psychedelic sounds."
Some of the titles the band have already come up with include 'The Haze', 'Red and Gold Pictures' and 'Belated Revenge'.
They play a gig at Tamworth Youth Centre on Thursday, July 21 and hope to play at a Tame Valley Road Runners scooter club disco shortly.
21/07/83
Dream Factory
Tamworth Youth Centre
22/07/83
Brewster
Tamworth Arts Centre
Tamworth Herald – 22/07/83
Musicbox – A new brew's coming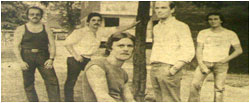 ONE OF Tamworth's most popular heavy bands, Brewster, who split two years ago, have re-formed with a new line-up and a new name.
Hardware, as they are now called, will be making their first appearance tomorrow night at the Arts Centre. The gig costs £1 – or 50p on production of a UB40 card – and begins at 8pm. For a further look at the band see next week's Musicbox.
22/07/83
Hardware
Tamworth Arts Centre
Tamworth Herald – 29/07/83
Musicbox – Back with a hard sound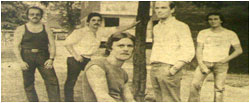 ONE of Tamworth's all-time popular band have returned to the local scene.
Brewster were considered by many heavy fans to be the greatest group of their kind ever produced by the town and there was a lot of disappointment when they split up two years ago.
But now they are back in business, with a new name – Hardware – and a new positive approach.
And their return to the scene began on Friday with their first gig at the Arts Centre.
"It all went very well," said drummer Garry Norris. "Everybody was shouting for more and considering it was our first gig in so long we were very pleased with how it went."
Although the band are essentially the Brewster of old, they have added a new guitarist – another well known local face, Steve Birch formerly of Flash Harry.
But why did the band decide to get back together after a two year absence? Garry explains: "Everybody was getting a bit fed up doing nothing, so we decided we had nothing to lose by reforming."
Garry says the sound hasn't changed a great deal although the band do now include more originals in their set. But one thing that has stayed the same is the band's loyal following who turned out in impressive numbers on Friday.
"It is all going very well," said Garry, "I am certainly glad we reformed."
The band will be back in action in two weeks time when they play the Chequers on Friday, August 12.
Tamworth Herald – 29/07/83
Musicbox – Review: Marcus/Royal Family/Wild Child : Tamworth Arts Centre
THIS triple bill featured three bands recently featured in the Herald with Marcus leading off, followed by the Royal Family and Wild Child topping the bill.
Marcus would benefit from some moths of practice and somewhat more imagination.
Royal Family, playing to a packed theatre, ran through their now familiar set of high energy R 'n' B to an enthusiastic response.
The band looked somewhat happier than in the cramped space of the Tavern in the Town, with Dave Smith having more room to mix his powerful vocals with his Quasimodo impressions.
Wild Child's set was well received by a small group of headbanging HM freaks, but the band's undoubted ability was not matched by their material.
A mention also for Dave Hewitt who assisted the Royal Family on harmonica.
Crink