Tamworth Bands History : 1983 :
April
02/04/83
Quill
Assembly Rooms
02/04/83
Dave Hewitt
Andy Dwyer
Three Tuns, Fazeley
Tamworth Herald – 08/04/83
Musicbox – Can these victims of apathy fight back now?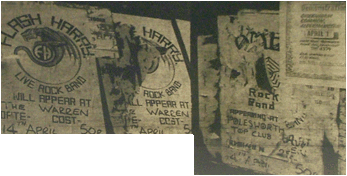 Musicbox special by Sam Holliday
YOU MAY HAVE noticed lately that Tamworth's once vibrant music scene has become very quiet indeed. Compared to the heady, exciting days of two years ago when everyone was clamouring to play live at various venues around the town and you couldn't walk a yard around the town centre without tripping over an enthusiastic musician, things have calmed down a great deal.
Apathy has replaced the excitement, stagnation has replaced the freshness and Tamworth's music scene has become a pale shadow of its former self.
But what has happened to all those bands that once gave Tamworth an air of musical activity? "Whatever happened to the heroes?" as The Stranglers once asked.
Thirty Frames a Second were once one of Tamworth's most exciting prospects. The Frames' ex-members now form the foundations of three bands in the town. Matthew Lees, Andrew Baines and Paul Summers are in the Long Days, a group whose potential far outweighs their workrate.
Mark Mortimer has realised his ambition to form a Jam-style dance band in the shape of The Visitors, but even his enthusiasm appears to be wavering. "We are doing nothing at all," said Visitors' guitarist Brian Lacey recently.
Fifth member of the band, Donald Skinner is probably the most active, having formed The Dead Captain Speaks.
Classified Ads - After being Tamworth's most hard-working band for 18 months, the Ads have had a very quiet time lately with three of their members away at college. All the promise of the group's thirty Tamworth gigs and their first well-received demo tape, appears to be sadly unrealised.
Omen - Another once-popular and promising outfit who have now gone their own separate ways. Only guitarist Tim Latham is active in the town with Badger. Ted Wilson and Darren Williamson are both currently bandless and frontsman Richard Liggins is now at a college in Leicester. Another band in the graveyard of the Tamworth scene.
Hamma - Another example of a band that split up to go several different ways and ended up nowhere. While vocalist Norman 'Stormy' Swan joined Tytan, none of the original group members seem to be doing anything at all in the town.
DHSS - Tamworth's favourite loud noise merchants have also been split down the middle. Barry Douce and Donald Skinner have formed the promising Dead Captain Speaks and Vince and Martin Watts are backing poet Norman Conquest.
The demise of DHSS must be one of the saddest aspects in the decline in Tamworth's music scene. Will we ever hear 'The Grass is Greener' and 'Go Mushroom Picking' again?
Ice - Once Tamworth's hardest working band, who were gigging on a regular basis all over the Midlands. But since their abortive German trip and the departure of singer Mick Rutherford, Ice's solid grip on the local scene appears to be melting.
Flash Harry - They split up two months ago and nothing has been heard of them since.
Those Attractive Magnets - Still with us thankfully but far quieter now than they have been in the past. Consistent line-up changes have made the band a far less secure prospect than was once hoped.
Trojan - A band who, since splitting into Pegasus and Exodus, appear to have disappeared completely off the music scene.
Wilderness Laine - like the Classified Ads, they left the Tamworth scene because they have all gone to various polytechnics and universities around the country.
These then are just ten victim's of Tamworth's present stagnancy. But why has it happened? It could be that local musicians have got fed-up with the non-response of the Tamworth public to attend their gigs.
In a town with so many young people, audience at concerts have ranged from disappointing to abysmal. Other towns in the area such as Lichfield suffered no such problems.
Tamworth is also relatively starved of good music venues. The youth club circuit, so important to the younger bands, has well and truly dried up and the loss of the breeding grounds for so much good local music, St. John's Youth Club, didn't help much either.
There is still room for cautious optimism. New bands such as Java and BHX are being formed and while excellent bands like The Unknown and The Restricted are still active, all is not lost.
More promising than this is that the Assembly Rooms is tentatively opening its doors for bands and Tamworth's Stripes nightclub has already shown a couple of bands which can do nothing but good.
The town has all the potential, musicians and ideas to once again become alive and musically exciting. Can we meet the challenge?
Tamworth Herald – 08/04/83
Musicbox – Norman Conquest to take the chair…
PUNTERS attending tomorrow night's 'evening of alternative entertainment' at Tamworth Arts Centre are likely to be in for a surprise.
For if they go along expecting to see singer/songwriter/comedian Dave Hewitt and poet Edward ian Armchair teaming up, then they'll be disappointed.
Dave will be there all right providing his usual mixture of song and laughs but Edward will not be appearing.
But lovers of modern poetry need have no fear, for another highly talented poet has been lined up.
Norman Conquest, another local poet, is now on the bill.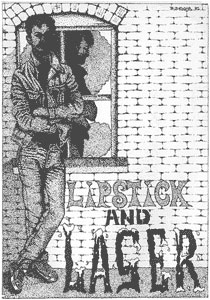 Norman explained his work: "I write mainly about very relevant subjects, the social climate, that sort of thing."
His work will be put to music and the former DHSS members Vince and Martin Watts – now called The Daffodils (Formaldehyde Daffodils – Ed.) - are providing the backing.
Meanwhile Edward ian Armchair, has entered two of his pieces in a competition organised by BBC Wales.
The theme of the competition is Castles and Ed has submitted 'Daytrip to the Seaside' and 'Englishman's Home is His Castle'.
Both have been put to music with the help of Dave Hawkins and Ed has also had one of his poems 'Adam and Eve' published in a BBC book 'Lipstick and Lager'.
08/04/83
Arabia
The Chequers
09/04/83
Dave Hewitt
Norman Conquest and the Formaldehyde Daffodils
Tamworth Arts Centre
Tamworth Herald – 15/04/83
Musicbox – New-name for Kidda
REMEMBER THE Kidda Band, the Nuneaton outfit who went very close to the big time in the latter part of the last decade.
Well you may be interested to know that the members of the band are playing an informal 'come-back' gig in the Tamworth area next week.
Calling themselves 'Guy Gibson's Flyers', they are playing at the Curzon Arms in Twycross on Thursday (April 21).
A spokesman for the 'Flyers' says: "We just thought it would be fun to get together again and play. It's not a one-off but it's not a steady band either.
"We will be playing basically rock and funk material."
Tamworth Herald – 15/04/83
Musicbox – No conquest for Dave and the Daffodils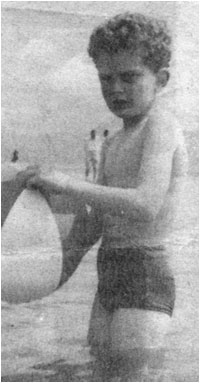 Dave Hewitt, Norman Conquest, The Formaldehyde Daffodils: Tamworth Arts Centre
SATURDAY'S 'evening of alternative entertainment' at Tamworth Arts Centre was, in some ways, a disappointment.
Mainly, I stress, because of the disappointing turn-out but also because the quality of the show didn't quite match up to that set in the previous 'evening' last September.
Because the Formaldehyde Daffodils were backing Norman Conquest, the stage set-up had to compensate for that and include drum kit and amps etc.
Sadly this meant that the more relaxed two chair set-up which Dave Hewitt and Edward ian Armchair used before had to be abandoned and to me that made all the difference.
Dave was forced to stand out in front of the audience for the first part of the show and although his customary humour and flair was still there for all to see the different stage set took away much of the easy-going atmosphere which was such a feature of the previous gig.
Norman Conquest turned out to be Edward ian Armchair with a new name and a new style. Although he read some of his old poems the accent was certainly on the new with a biting comment on the women of Greenham Common and a savagely violent piece 'Little Red Riding Hood' being the highlights.
Highlights
I'm less sure about the backing though. Too often Norman had to shout above the wailing guitar and the only poem where the music really added to the atmosphere was the aforementioned 'Little Red Riding Hood'. My advice to Norman would be to go back to his armchair.
The Daffodils were the latest project of former DHSS members Vince and Martin Watts. With Dave Cooksey on bass they performed one of their new numbers and this was one of the highlights of the night. I'm sure we'll be hearing more from them in the not too distant future.
The drum-kit disappeared before the beginning to Dave's second spot and with a better atmosphere the show improve immeasurably. Another CND send-up, this time with Jed Moore, a wonderful heavy metal skit with the assistance of former Omen guitarist Ted Wilson and some really hilarious poetry from Jed were the highspots.
It was quite a creditable show from all those involved. I don't blame Dave for trying to do something different but next time a little less change would be perhaps preferred.
Tamworth Herald – 15/04/83
Musicbox – LETTER – THOSE BRILLIANT MAGNETS
Being a fan of Tamworth group Those Attractive Magnets, I wondered why I had never seen them featured in Musicbox in the Herald.
I have been a fan of the group ever since I saw them at the under 18s disco at Stripes nightclub in Tamworth.
They have once appeared there again, and I know I am not alone in thinking that they are brilliant. My friends and I can hardly wait until April 18 (next Monday folks) when they are doing another gig at Stripes.
A few weeks back, in Musicbox, they were mentioned for their appearance at the Tavern in the Town pub on a Monday night, but no report was given about them.
My friends and I would be more than pleased if they were featured in the paper as we read Musicbox every week.
I would be very much obliged if you could do this for us and I think that one of their gigs would make a very interesting feature.
I will of course be at Stripes on April 18, looking forward to an excellent performance from Those Attractive Magnets.
Your sincerely
TAM fan, Mile Oak
- TAM Fan – thank you for your interesting letter. But it must be pointed out that reports and pictures of Those Attractive Magnets have appeared in Musicbox on countless occasions.
The group have been one of the most popular in the Tamworth area over the past few years – and their activities, live shows and studio work, have been publicised accordingly.
Admittedly, they have not been featured recently – and that's a situation we would like to rectify. But it's up to all bands, not just the Magnets, to contact the Musicbox team at the Herald offices and tell us what they are doing – music editor.
Tamworth Herald – 15/04/83
Musicbox – SOUND WITH A SIZZLE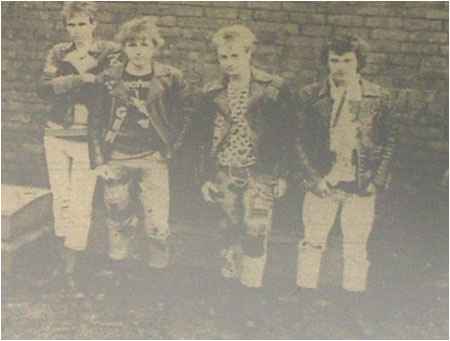 TAMWORTH'S top punk band, The Restricted have been back into the recording studio. They have just released a second demo-tape, which shows increasing musical maturity.
Recorded at Birmingham's Fairmorn Studios, that tape includes four tracks – 'El Salvador', 'Chaos', 'You're Condemned' and a re-work of the old favourite 'Terrorist'.
'El Salvador' is the pick of the bunch. The track has a guitar intro that sizzles.
If the band continues to play like these few moments, they could move into a new era of punk.
Perhaps the addition of a keyboard player would help by taking them away from their wild thrash approach into darker, layered sounds like those favoured by bands such as Killign Joke.
Production of the tape is far better than that on the first. It has kept a lot of their live sound, especially Andy Wiggall's unusual vocal style.
Copies are available by contacting members of the band. Let's hope a record company takes an interest in it so that The Restricted are able to release a single.
Paul Clements
16/04/83 (Cancelled)
Those Attractive Magnets
Stripes
21/04/83
Guy Gibson's Flyers
Curzon Arms
Twycross
Tamworth Herald – 22/04/83
Musicbox – Bill's request…
THE Musicbox team has received a letter from one of rock's VIPs.
Rolling Stones bassman, Bill Wyman, is compiling the definitive collection of the group's history – including all archive materials. And he called on the Herald to help him.
Bill and his staff are searching for missing information from the 1963/66 period.
Many of you will probably know that the Stones played in Tamworth in 1963 before they hit the big time. A review of their concert at the Assembly Rooms appears in one of the December editions of the Herald.
Needless to say, photo-copies of the review and other Herald snippets about the Stones are on their way to Bill.
Tamworth Herald – 22/04/83
Musicbox – When the Doctor was killed
THE absence on stage of 'Kill the Doctor' at a recent late-night set at Stripes, the Tamworth nightclub – despite widespread advertising of the event – has prompted the following.
WHAT was to be a memorable evening in the history of live entertainment in Tamworth became a scene of mass disappointment as local stars 'Kill the Doctor' were refused permission to play a late night set at Stripes.
Instead, only the under 18s witnessed the display of musical diversity between the hours of 8pm and 9pm.
The later performance, advertised widely, I must stress – was not to be.
Thanks to the individuals supposedly 'organising' entertainment for the younger sector of Tamworth, a lot of effort and preparation was wasted and many people who took the trouble to attend were robbed of a rare opportunity.
The earlier appearance, however, was nothing short of brilliant. Messrs. Bujak and Chipman performed without the aid of their saxophonist, such potential classics as 'No Cruise' and 'Underneath the Cables'.
Donald Skinner
Please could we express apologies to all the nice people who took the trouble to come and see us at Stripes.
As they well know, we could not play. We are very sorry,. We spent the whole day setting up equipment then a couple of hours before we were to start, we were told we could not play. No reason was given.
Richard Bujak, Chippy Chipman (Kill the Doctor)
A spokesman for Stripes said: "The band played a set earlier for the kids and a lot of the audience just left. We decided they just weren't good enough as a band to play for the later audience."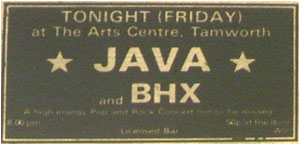 Tamworth Herald – 22/04/83
Musicbox
Two Tamworth bands BHX and Java, are appearing on a double bill of live music at Tamworth Arts Centre on Friday 22. The gig starts at 8pm and admission is 50p
22/04/83
BHX
Java
Tamworth Arts Centre
23/04/83
Java
Walton Village Hall
Tamworth Herald – 29/04/83
Musicbox – A PRESENT WITH REAL MAGNETISM
HERE'S AN offer Those Attractive Magnets fans won't be able to refuse. The band are offering to tape for free their latest tracks if fans send a blank cassette to them at the Tavern in the Town, Corporation Street, Tamworth.
"Call it an early Christmas present," said band member Rikk Quay.
He apologised for the band not playing at a Stripes gig on April 16 due to the indisposition of vocalist Andy Baldwin.
But you'll be able to catch the band at Stripes on May 16 and at the Chequers on May 13 and 20.
At the Chequers the group will be headlining with Atherstone band Lambent Lamella
Equipment
The two groups will also be playing at Nuneaton Arts Centre on May 21 and June 4.
New sets are expected from the Magnets who say they have recently spent £2,000 on new equipment – drum machines and computers.
And they hope to have a single out on their own Magnadrive label within the next three months.
Tamworth Herald – 29/04/83
Musicbox – Yawn men of Tamworth should all be ashamed!
Letter
MAY I through your column, express my views and ideals concerning the Tamworth and district music scene. I would like to say that Sam Holliday's piece on the decline of the scene was a pretty fair and just one on the whole.
All of the optimism and fresh-faced youth of 1981 seems to haven been misplace and misguided in 1983. The Classified Ads and Thirty Frames a Second were not all that professional, but in my mind, that's not what it was all about.
Sure, Omen, played their amazing guitar licks, but the Tamworth scene, and any music scene for that matter, should not be about banal cavemen who can play their instruments well, but afford no enthusiasm or soul.
Yawn menu
The problems of this town are well-known – a high percentage of unemployment and a high percentage of yawn men who would rather go down their local pub or watch telly in their best friend's house rather than groove and see their local music-makers sweat it out.
That's the crux – apathy breeds apathy. Local music-makers have been trying for years to get it moving, but have always been confronted by A1 apathy.
After three years and a lot of hard work, many of the young musicians have obviously become a little disillusioned. This town should be ashamed!
Quality acts have drowned because of apathy. But let's look to the future. Let optimism be the order of the day.
If you really dig the caveman syndrome then you've always got the Tamworth brontosaurus – The Restricted. But if you're into honest music, then look elsewhere. There is a group coming round the corner, who will be strumming and grooving.
Trash
Music isn't going to get better unless you get out there and put it right. Or perhaps you prefer throwaway trash such as Kajagoogoo, Duran Duran and The Maisonettes.
If you dig cavemen heavy metal, then we don't want you to be part of our thing. I'm sorry if this sounds elitist.
Revenge
Our music will hopefully move and get you moving. Our music is a belated revenge on all those who thought they could grind us into pulp, but failed in their own misery.
If you like music, then like GOOD music with colour, vitality and soul.
Optimist, (name and address supplied)
Music editor's reply: Many thanks for your thought-provoking letter. We agree with much of it, but find some of the statements, in your own words, elitist.
Surely it is wrong to exclude some of the groups whose styles you mention, because they are not personal favourites.
Music is a universal language and it takes all tastes to produce the vibrant, colourful, soulful scene you talk about.
Admittedly, the Tamworth 'scene' has died and we welcome your optimism and desire to see it revive.
But try to let everyone take part in a revival instead of being so single-minded.