Tamworth Bands History : 1983 :
October
Tamworth Herald – 07/10/83
Musicbox – Power…and sparks of real talent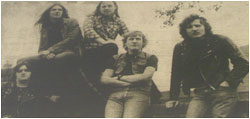 BHX – Tavern in the Town
BHX made a strong claim to being the town's top heavy rock band recently when they turned in a powerful performance at the Tavern in the Town.
The group played a set full of raw power which was highlighted by a remarkable performance by Mick Goodby.
Mick's voice is clearly the ban's greatest asset and there cannot be many Tamworth rock singers who can wail, scream and screech as well as he can.
Originals
What sets BHX apart from the seemingly hundreds of bands that play this style of music is that all their songs are originals.
Without pretending to enjoy 'heavy rock', I thought the band had a melodious streak which could make they very popular indeed. Songs such as '25th Century', 'Straight to Hell' and the uplifting 'Superstar' may not be in the same league as Richie Blackmore just yet but they are far more listenable that a lot of the pretentious, disgusting wall of noise that passes off as heavy metal.
Live debut
The set they delivered brought an enthusiastic response from a small but keen audience and the group were called back to play three encores.
Each member of the group performed creditably but a special mention must go to Richard Deane who had a remarkable live debut and delighted the audience with an excellent two-minute drum break at the end of the set.
All in all, an excellent night for the band, it is just a pity that in a town so full of heavy rock fans there wasn't a few more people there to witness the gig.
SH
09/10/83
Saracen
Dosthill Cosmopolitan Club
Tamworth Herald – 14/10/83
Musicbox – Bowing out – on a real treat of a night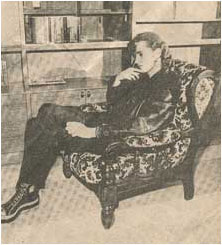 ONE of the Tamworth music scene's most colourful figures, Edward ian Armchair, will be playing his last gig in the town tonight.
And it could prove to be a nostalgic night for Edward who has been an active part of the local scene for more than six years after once singing with the legendary punk band The Reliants.
Edward, who is becoming well-known as an alternative poet, says he wants to concentrate on writing material but he has said his last live show will be a fitting farewell.
"I don't want to give too much away about my performance, but I would like to thank the Co-op for lending me the props." He said.
The gig also boasts the first live show by the Dead Captain Speaks.
The duo – Donald Skinner and Barry Douce – have been formed several months, but they have had to delay their debut because of various other commitments including Donald's much praised work with the Dream Factory.
Dead Captain Speaks are said to have an original sound which includes the use of backing tapes. If they are anything like the duo's former outfit – DHSS – then Tamworth fans are in for a real treat tonight.
And the treats continue with a headlining performance by local heroes Those Attractive Magnets.
The Magnets must be almost embarrassed at how well things are going for them at the moment, and they are sure to prove the night's biggest crowd pullers.
Line-up
The line-up is completed by Nick Lowe, the folk singer who has become a veteran of local gigs and seems to be an almost permanent fixture on certain stages.
With these four very different acts combining, there is no reason why the Arts Centre should not be packed to the rafters – and at 75p a ticket the gig is excellent value for money.
SAM HOLLIDAY
14/10/83
Nick Lowe
Edward ian Armchair
Dead Captain Speaks
Those Attractive Magnets
Tamworth Arts Centre
Tamworth Herald – 14/10/83
Musicbox – Sounds on Sunday
TAMWORTH rock fans can kiss goodbye to Sunday afternoon boredom this weekend when four of the town's young bands will be appearing in a special free concert at the Arts Centre.
The indoor festival is all part of the Young People's Arts Festival and the emphasis has been on relatively new groups. The four acts playing on Sunday are Sitting Pretty, the Mandettas, BHX and Select Elect.
Refreshments are available at the gig – which begins at 2pm and the organisers are hoping for a bumper turnout to ensure that rock music stays permanently on the Arts Festival line-up.
Tamworth Herald – 14/10/83
Musicbox – CHANGING FACES OF A DREAM
Dream Factory (debut tape)
TAMWORTH seems to be suffering from a very welcome outbreak of studio fever at the moment.
Those Attractive Magnets and Sitting Pretty have both emerged from the studio in recent months with excellent recordings and now we have yet another one to add to the list – the debut release by the Dream Factory.
On first hearing, I must confess I was rather disappointed with the tape. Compared to the band's powerful live performances the tape sounded almost like a weak and heavily-neutered parody of the Dream Factory sound.
But once you cast aside your preconceptions of what you thought the band sounded like, and actually listen to the songs, you can't fail to be impressed.
What the band have sacrificed in power they have made up for in structure and invention, to the point where you wonder whether the band will ever be the same again.
The tape contains three very different tracks which are preceded by a short unnecessary intro that in former times might, kindly, have been dubbed 'arty'.
The opening track is 'The Haze' which boasts the tape's finest tune and is an excellent example of how the band combine many diverse influences. Sadly, however the group chose to end the song after a pitifully short two minutes, I really hope they will extend the very interesting ideas on the track when they play it live.
The second track 'I Wanna Tell You' is even more remarkable and although the band probably won't admit it, has a clear disco/funk sound. It is almost like Wham without the gloss and with its inventive guitar work and funky bass line, it has the word 'hit' written all over it.
The tape closes with the track I expected would be the best – but turned out the worst – 'Remember Me'. Although it is a nice, bouncy song there is something missing in this taped version of the live favourite. It seems rather 'overproduced'.
The tape ends there – and so does your idea that the Dream Factory can be conveniently labelled a 'sixties' band.
What make the tape even more intriguing is that it is already history. Donald Skinner has now left the band to become a 'Dead Captain' and he has been replaced by the equally talented Andrew Baines on guitar.
Whether the band will now progress along the psychedelic road hinted at on the tape remains to be seen, but there is no doubt that they can all feel proud of this very impressive start to their recording career.
SH
Tamworth Herald – 21/10/83
Musicbox – In the chair for a grand finale!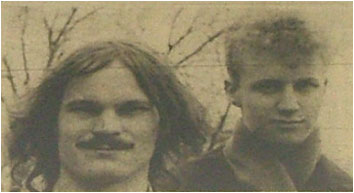 Edward ian Armchair/Those Attractive Magnets/Dead Captain Speaks/Nick Lowe : Tamworth Arts Centre
EDWARD Ian Armchair said goodbye to the Tamworth music scene in the best possible way on Friday night – with an excellent performance at the Arts Centre.
Edward gave a marvellously enlightening show of modern poetry, which delighted the audience and must have made him wonder whether he really should retire from live gigs.
His poetry was occasionally rude, occasionally witty and always perceptive. It revealed an incredibly alert mind at work and often delved into beautiful passages of prose.
Edward now looks forward to taking his poetry to a wider audience but his departure from Tamworth's music scene added a touch of sadness to an otherwise uplifting performance.
But such is the state of the local scene that as one flower dies another starts to bloom. The new bloom is the Dead Captain Speaks, a unique duo who played their first-ever set before Edward played his last.
The band gave a remarkable and intriguing show of music that has certainly never been heard in the town before. To put a label on their sound is as impossible as trying to describe the taste of water. Suffice to say this is not pop music!
But what certainly is pop music is the always interesting sound of Those Attractive Magnets. The Magnets had only 20 minutes to wind up the gig, but they did it magnificently. Every one of their five songs was a highlight in itself, but without doubt the outstanding track was "The Age of Innocence".
Straight after the gig and during the ensuing week-end there was unconfirmed rumours that the Magnets had split up. If this is true, it, will be a disaster for the town's music scene and we must just hope the band patch up their differences soon.
The evening was completed by another solo show by Nick Lowe who played an enjoyable, if perhaps overlong, set packed full of original folk numbers.
But the night undoubtedly belonged to Edward. It was a fitting end to a varied and enterprising live career and if he manages to translate his words into print we could have a major alternative star on our hands. In fact, this could just be the beginning…
SAM HOLLIDAY
Tamworth Herald – 21/10/83
Musicbox – TALK-BACK MOVE INTO TOP GEAR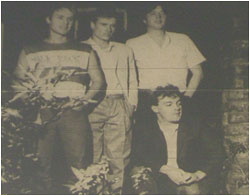 A TAMWORTH band who have been happy to stay on the sidelines until they were absolutely ready, have finally launched themselves on the local scene in a big way.
Talk Back introduced themselves to local people last week with a triumphant gig at the Tavern in the Town.
And now they are going to follow it up with a single, an appearance on a national compilation album and several prestigious gigs in Birmingham.
The remarkable speed with which things are now happening for the band is in sharp contrast to the last two years when the group have been happy to stay in the wilderness. But now they have decided to come out of the darkness because they believe they have seen the light at the end of the Tamworth music tunnel.
"We were never very interested in playing in the town, but there now seems a new mood around and we are looking for the support of people to help us on our way," said guitarist Nigel Dalton.
And they certainly got that support in their show at the Tavern. Playing a set full of originals, the band gave an energetic performance that shows them to be an exciting addition to the local scene.
Describing the band's sound is very difficult, but if you can imagine a bigamous marriage between Men at Work, Flock of Seagulls and Duran Duran you would come quite close to understanding Talk Back.
"We are very ambitious and we now want to go on to play more gigs and gain a good reputation," said Nigel.
And with a single due out shortly, and a track on an album that launched the Thompson Twins also set for release, the future can only be bright for Talk Back, the band who have finally decided to talk out.
SH
23/10/83
Tamworth Young People's Arts Festival
Sitting Pretty
Select Elect
BHX
Tamworth Arts Centre
Tamworth Herald – 28/10/83
Musicbox – Suddenly Sunday's a whole lot brighter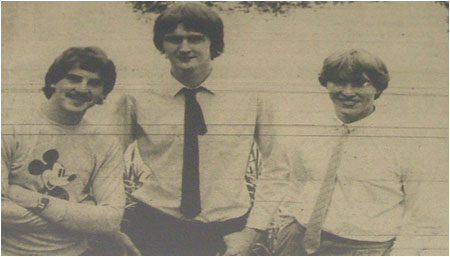 SUNDAY is traditionally known as a day of rest, peace and hangovers. It is also – frequently – extremely boring and so the decision to stage Tamworth's first-ever indoor rock festival on Sunday afternoon was a master stroke.
A healthy sized crowd turned up for the Arts Centre concert which – marred only by the non-appearance of the Mandettas – was a highly enjoyable showcase of new Tamworth music.
First up were Sitting Pretty who have done so much since forming a few months ago that they already seem like local veterans. The set they delivered – although perhaps not quite as sharp as previous performances – was extremely impressive and you could not help but be engulfed by their all-consuming enthusiasm.
Awesome
The best song on the day was a moving, slow ballad called 'Inspiration' which showed that the band are already diversifying from the clean pop sound that dominates their set.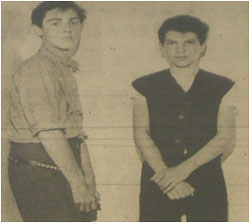 Next up were the undoubted show-stealers Select Elect. For a band so young – the duo are aged 14 and 15 – their short set was quite a revelation. Their songs were tuneful, well structured and very accessible.
With youth, a nice modern image and confidence on their side, the potential of Select Elect is awesome. If they can continue to build on the great strides they have already made, there is no reason why they should not become one of the top bands in the area.
Finally up came BHX for another powerful assault on the listeners' ears. Despite an extremely poor PA system, BHX battled on and clearly won over the large group of rockers in the audience.
Message
All five members of the band performed creditably with songs such as 'Tales of Modern Romance' and 'Superstar' in their set. BHX really have thrown down the gauntlet to other heavy rock bands in the area. Their message is clear – beat that!
BHX's energetic performance closed a unique and enjoyable afternoon. Outside it was still boring old Sunday but somehow with all the energy, spirit and potential of the three acts on view it didn't seem to matter any more…
SAM HOLLIDAY