Tamworth Bands History : 1983 :
June
Tamworth Herald – 03/06/83
Musicbox – SUPERB MAGNETS
Those Attractive Magnets, Lambent Lamella: The Chequers
WHEN Those Attractive Magnets announced that the last song in their set at The Chequers was called 'We're Survivors', the irony of the title hit me immediately.
The Magnets are without doubt Tamworth's most resilient musical survivors. For seemingly years they have been trying hard to get the Tamworth public behind their own brand of synth-pop and they have stuck at their task with impressive determination.
And even more impressive than that is the fact that their sound, rather than decaying, really sounds fresher and more entertaining than ever. The performance at The Chequers, which incidentally, the band thought was below standard, was quite superb and certainly the most enjoyable concert I have ever seen from them.
The sound was skilfully layered and precisely mixed and they really appeared as a very tight and professional group. They also seemed to be more relaxed and positive about their music and clearly enjoyed the concert allowing their personalities to show through more than ever.
Rikk Quay even reminded me of Ten Pole Tudor at one stage with his lively banter and the enormous grin that was a permanent fixture on his face.
Success
The band's best numbers on the night were 'The Age of Innocence', 'Survivors' and best of all 'Nightlife' which was simply excellent.
I hope The Magnets continue to 'survive' because surely it is only a matter of time before they achieve the success they deserve.
I was looking forward to seeing Lambent Lamella, the second band on The Chequers' bill, for a number of reasons.
They have released a demo tape which I had been told was 'brilliant' and they listed among their influences Siouxsie and the Banshees and The Cure. Would they be another Unknown, I asked myself?
No, I answered shortly after. Lambent Lamella's half-hour set proved to be as exciting and inspiring as a visit to the Bull Ring.
They chose to hide a bunch of good ideas behind an ear-piercing wall of noise that succeeded in making about three-quarters of the audience head for the exit.
This was a shame because Lambent Lamella are a band with a lot of talent – if not at choosing a name for the group.
Guitarist Steve Fullylove is particularly promising and inventive and the band appear to have a good sense of togetherness and stage presence.
I think they should concentrate on getting the same effect live as apparently tey do on tape.
Tamworth Herald – 03/06/83
Musicbox – 'Royals' – at the Tavern


THE Royal Family will be appearing at Tamworth's Tavern in the Town pub on Monday evening.
But don't worry, this is no trip from the folks from Buckingham Palace, nor will Corporation Street be full of security guards and jostling press photographers.
This version of the Royal Family is a new Tamworth band with some faces familiar to regular Musicbox readers and some perhaps not quite so well-known.
The band's line up is: Dave Smith, vocals and harmonica; Gary Bell, rhythm guitar; Graham Blunt (Eddie), bass and Les and Nick Jones on guitar and drums respectively.
The Jones brothers have both been on the local scene in various bands before, but for the others, the debut at the Tavern recently was their first gig.
Rhythm and blues is the band's speciality with the bulk of their set coming from the catalogue of bands like Dr. Feelgood and The Blues Band.
"We play other people's material, but it's strictly our own interpretation of it," explains Dave.
Opinions very within the band about the seriousness of their approach to the whole project, with "just for a laugh" being the most popular answer.
Don't forget Monday night (June 6) at the Tavern in the Town.
04/06/83
Those Attractive Magnets
Lambent Lamella
Nuneaton Arts Centre
06/06/83
Royal Family
Tavern in the Town
Tamworth Herald – 10/06/83
Musicbox – Promise of a 'Wild' night


A NEW Tamworth rock band are the live attraction on Monday evening (June 13) at the Tavern in the Town pub.
Looking at the name of the band 'Wild Child' you might be forgiven for expecting a dyed-in-the-wood heavy metal band.
But in fact if you go along to the gig under that impression you might be surprised.
Guitarist Norman Yates explains: "We're not a metal band. We play rock certainly, but we tend towards more melodic numbers."
The remainder of the band's line-up is Chris Orton, drums, Daydo on bass and Roger 'Budgie' Bird on vocals.
Readers with long memories will remember Budgies as a vocalist of great talents from his days with Ethis.
He explains how he came to link up with Wild Child: "I have known the other members of the band for ages and when Ethis stopped gigging I went to a practice one night and decided to join."
Norman takes over the story: "We have had several line-ups in the past and never managed to get anything together."
Daydo was once a member of Flash Harry so although the band are essentially a new outfit there's plenty of experience in the line-up.
They have already played twice at the Tavern and at the Star Club in Birmingham.
Tamworth Herald – 10/06/83
Scene Around Special
New-look centre with a breath of French air
TAMWORTH ARTS Centre, closed for a month for major improvements is back in business – with a completely new image.
The Centre in Church Street has undergone a transformation.
Its old coffee bar has been swept away. Instead it boasts a French bistro-style café with carpet on the floor, check cloths on the tables, magnolia paint on the walls and space for up to 28 people to lunch in comfort.
A new 14 feet brick-built bar, topped with quarry tiles, runs along one wall. The pints pulled there will be real ale.
Gary would also like to see a canopy fixed over the new entrance to the café – completing the French look.
"It would mean applying for planning permission, but it would add a nice finishing touch – especially in green, as we intend to call the new café The Green Room."
Tamworth Herald – 17/06/83
Musicbox – Wanted: man to work like a Trojan
TWO ex-members of Polesworth-based band Trojan are back together again and on the look-out for new musicians.
Guitarist Chris Kelt and Chris Price have joined forces with Dick Banks and are currently immersed in rehearsals.
The only problem is that they don't have a drummer as yet and need one urgently to complete the line-up.
Chris Kelt explains: "We need someone who is not too eager to start gigging just yet but wants to work hard."
Anyone interested can contact Chris Price…
Tamworth Herald – 24/06/83
Musicbox – Vacancies
TALENTED former Hamma and Tusk guitarist Frank Ingley is back on the local scene once more and on the look-out for musicians..
Frank is working with his guitar partner in Tusk Richard Arundel and former Ethis drummer Mick Onions.
But they need a bassist and a vocalist to complete their working line-up before gigs become a probability.
Anyone with an interest in good, honest rock music should contact Frank…
Ramblin' Band
Well established local outfit Ramblin' Band are on the look-out for a roadie.
Anyone interested in filling the vacancy should have a van or a car and a tow hook. Interested? Contact Steve…
Tamworth Herald – 24/06/83
Musicbox – A band to talk about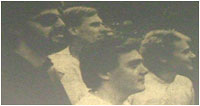 TALK BACK – an Atherstone-based band – are wasting no time making their mark on the music scene.
The four-piece outfit were formed about a year ago and already they have secured a place on a compilation album to be released shortly.
Talk back's line-up is Nigel Dalton, guitar and lead vocals, Steven Mason, bass, Alan Watkins, synthesiser and Ian Pritchard, drums.
All of the band members have played in other groups before, but have managed to keep pace with the times.
Their sound is much in keeping with what's happening on the music scene now – modern, uptempo and sometimes danceable.
They have recently recorded a two-track demo tape at a Midlands studio.
One of the songs 'Guessing Games', has been chosen for the aforementioned LP, which will feature up-and-coming bands from all over Britain.
It's by far the stronger of the two, benefiting from a solid rhythm and an instantly-recognisable hook line.
Drums and bass combine well and the presence of the synth gives the track its modernity. The guitar work and quality of Nigel Dalton's voice are also good.
'So Lonely' is similar in style, but falls way short of the mark. Musically and lyrically it's OK, but the song starts in a rut and never recovers.
The tape is a fine effort though and hopefully it will be a success for the band.
Tamworth Herald – 24/06/83
Musicbox – Letters
AFTER reading the review in Musicbox (June 3) of the gig by Those Attractive Magnets at The Chequers, Hopwas, I would just like to say how much I agreed with Sam Holliday's comments.
After a superb performance, which I thoroughly enjoyed, his review contained the praise that the Magnets deserve.
I thought every word of it was true.
I also hope that the Magnets continue surviving until they achieve their well-deserved success.
L. Robinson, Tamworth.
Tamworth Herald – 24/06/83
Musicbox – A Wild night out
Wild Child : Tavern in the Town
IF YOU missed Wild Child's gig at the Tavern in the Town on Monday night I feel sorry for you – it was mindblowing!
The sheer power, talent and professionalism of the band seemed to rock the pub to its very foundations.
There was Roger 'Budgie' Bird singing with soul and showing a more relaxed approach than before. Norman Yates rarely looking at his fretboard but still playing the best rock guitar in an original style that I've seen in years.
Daydo on bass never fails to amaze with his bouncy playing driving the band and the latest recruit, drummer Chris Orton – complete with solo spot – played like he'd invented rock drumming.
The set could have been improved with a few self-penned compositions as the ones they did play were really stunning.
But even cover versions like 'Shakin' All Over' and 'Summertime Blues' were done with a fresh Wild Child sound that made them sound as if they were written by the band.
The gig was made complete with a large excited crowd, smoke bombs and flashing lights. If you want class entertainment from a local band get up and boogie with Wild Child.
Vince Watts