Tamworth Bands History : 1983 :
February
Tamworth Herald – 04/02/83
Musicbox – Ferrari rev up with a new sound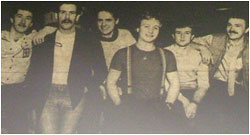 FERRARI –Tamworth's top funk band- are back in town.
The six-piece band are back at the Chequers, Hopwas, tonight (Friday February 4) with a new line-up and a new sound.
The new line-up sees the addition of Colin Edwards on drums, Steve Whitehead on keyboards and Dee on keyboard and vocals, along with regulars Dave, Jaques and Tony on guitars.
Repertoire
The band have had time away from the Tamworth scene to pen a few new numbers and they have introduced a semi-rock sound to their funk repertoire.
Rated by Musicbox as one of the best bands around, we suggest you get along to the Chequers – we'll be there too.
Tamworth Herald – 04/02/83
Musicbox – Magic from the Ric-Tickers
Ric Tic Revue: Hinckley Leisure Centre
AS EDWIN STARR'S tribute to the Northern Soul scene, he and his manager Lillian Ryle brought over the "Ric Tickers" from Detroit, USA.
LEIGH SMART
Tamworth Herald – 04/02/83
Musicbox – 'Top club' gigs
FOLLOWING their considerable coup in attracting Harvest Moon to Polesworth Top Club organisers have lined up two more entertaining gigs.
On Monday (February 7) Scarab are on the bill and Tamworth band Badger follow them on February 14.
Tamworth Herald – 04/02/83
Musicbox – Double-bill draw
A RED-HOT double bill involving two of Lichfield's biggest names is sure to prove a major draw at Lichfield Arts Centre tonight (Friday).
Heavy rock outfit Jury are joining forces with the Victorian Parents for a gig that should provide something for everybody.
Rumours circulating around the cathedral city indicate that this may be VP's last gig – strange considering the bright predictions that were made when they signed to Polydor Records last year. [Note: The Victorian Parents appeared on the Old Grey Whistle Test on BBC2 on 25/02/82 – Ed.]
Tamworth Herald – 04/02/83
Musicbox – X marks the debut spot
LICHFIELD's Morgan Bryan has released a debut solo single under the name of V-Sor, X.
Morgan used to be a member of a band called V-Sor, X and decided to keep the name when it split up.
His first single, which contains three tracks, 'Authors 2', 'Station' and 'Backroom Commentator', is an entirely one-man effort.
Music, lyrics, production, photography and label and cover design are all his own work.
Recorded at a four-track studio and released on the Dox music label, the tracks will appear to fans of the new avant-garde electronic sound.
Copies of the single can be obtained from Tamworth's Rock-It Records and Smith's in Lichfield.
07/02/83
Scarab
Polesworth Working Men's Club
Tamworth Herald – 11/02/83
Landlords stop wine bar's bid for beer licence
LICENSEES IN Tamworth have won a court battle to stop a town wine bar selling beer and spirits. Corvettes Wine Bar, Lichfield Street, applied to Tamworth licensing court for a full justices on-licence to allow them to sell other types of alcohol apart from wine.
But magistrates refused the application.
Corvettes said the licence would be used only for the sale of lager brands which were not available in local pubs, and spirits for cocktail making.
But Tamworth Licensed Victuallers Association objected to the application, claiming it would cause a slump in pub trade which was already bad because of the recession.
Tamworth Herald – 11/02/83
Musicbox – Go funky with a new Ferrari
FRIDAY night at the Chequers looks like being a must for funk fans.
For new-look Ferrari have said they will make the place a regular venue after a well-attended opening gig at the weekend.
At least 60 people turned up to see the new-look band minus singer Jacqui Graham who has amicably departed to pastures new.
The band still produces a very tight rhythm section and can't be faulted.
Vocalist Dee showed he had a strong voice. But some of Ferrari's songs are geared to a female voice, especially the haunting, bluesy "Living In Memories".
Altogether an enjoyable evening and you could do worse than drag out 50p for tonight's gig.
CATHY PETTIGREW
Tamworth Herald – 11/02/83
Musicbox – Quill pins hopes on single success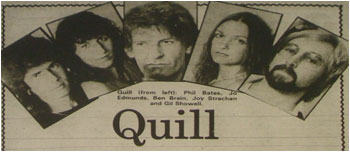 Caption: Phil Bates, Jo Edmunds, Ben Brain, Joy Strachan and Gil Showell.
MIDLANDS band Quill, who have proved very popular with Tamworth audiences over the years, have just released their first single under their new line-up.
Recorded at Metrosound Studios, in the West Midlands the single's called "Say It Ain't So" and produced by Tamworth's Phil Bates, who is also a member of the band.
It has been released on the band's own label Kite Records and is a commercial item which should fare well.
Quill have moved away from their folk roots and their sound has become much more contemporary.
Currently
They currently play four live gigs each week at popular Midlands venues.
Sunday evenings they can be seen at The Three Crowns at Aldridge, while Tuesdays see the band at The Mackadown in Kitts Green.
On Wednesdays, the band appear at The Hen and Chickens in Oldbury and The Boldmere at Sutton Coldfield completes the weekly routine on Thursdays.
The band's line-up now consists of Joy Strachan, lead vocals; Ben Brain, bass guitar and vocals; Gil Showell, drums and vocals; Jo Edmunds, keyboards and vocals; and Phil, guitar and vocals.
Do yourself a favour and get to one of their gigs – you won't be disappointed.
14/02/83
Badger
Polesworth Working Men's Club
Tamworth Herald – 18/02/83
Musicbox – 'Live' route to a cheap night out
THE organisation that brought top funk outfit Gonzalez to Tamworth has come up with a new scheme to try and promote more live gigs and discos in the town.
Michael Wilkins, landlord of the Wigginton pub, in conjunction with Goldstar promotions of Birmingham, brought first Gonzalez then Spud to the Assembly Rooms.
The first gig was fairly successful but the second was a 'catastrophe' causing the organisers to have to rethink.
Starting tomorrow (Saturday) night and fortnightly they will be holding a disco for over-18s at the Assembly Rooms with 25p off the £1 normal admission for people producing their UB40 cards.
Discount
And every other Friday a disco will be held at Wilnecote Village Hall with the same discount operating between 8.30pm and 9.30pm.
A free bus from Tamworth bus station at 8pm will take people via Sheepcote Lane and Marlborough Way to the village hall.
Once a month at the Assembly Rooms a live band will form part of the evening's entertainment.
Nothing
Mr. Wilkins said: "Everyone in Tamworth says there is nothing for the kids to do and we accept that. But also there's not a lot for the over-18's except going to pubs and clubs.
"We are trying to give people a fairly cheap night out and get some community spirit going again," he said.
Tamworth Herald – 18/02/83
Musicbox – TAMBEAT – WITH JAM ON IT!
TAMWORTH'S own independent music magazine Tambeat is back on the streets.
Mike Turner's well produced publication is available for the first time in 1983.
Issue number eight features the Jam on the front cover and a discography of the recently disbanded three piece.
Other items are a singles review spot, a crossword, an interview with The Visitors, album reviews plus a chance to vote in a best of '82 poll and a competition to win the new Fun Boy Three album.
Copies at 32p are available from Rock-It Records, Victoria Arcade.
Tamworth Herald – 18/02/83
Musicbox – You'll know the line-up, not the name
A NEW name with some familiar faces…that's The Visitors.
The Visitors are Brian Lacey, Mark Mortimer, Tim Goode and Ian Simpson and if you think that line-up seems rather familiar then your right.
The band are a new incarnation of Private Property and while the line-up is the same the outlook is somewhat different.
Just before Christmas, you may remember, Brian and Ian left PP on the eve of the band's mini youth club tour.
Gamely Mark and Tim enlisted the temporary assistance of some mates and managed to complete the dates unscathed.
Differences
Now Brian and Ian have reconciled their musical differences and are well truly back in the fold.
Brian said: "We have chosen a new name to try and get away from the old Private Property image."
PP relied to a great extent on Jams versions for their popularity but The Visitors will not rely on such a tried and tested formula.
Mark said: "We have found the right sound at last and now our own material is good enough to stand on its own.
"We hope our gigs will be more exciting and that people will enjoy themselves more," he added.
21/02/83
Scarab
Polesworth Working Mens Club
Tamworth Herald – 25/02/83
'Please, Please Me'…but they didn't please everybody!

"IT WAS 20 years ago today" – Those are the opening words of one of the Beatles' most famous songs 'Sergeant Pepper's Lonely Hearts Club Band'.
And it's exactly 20 years since the fab four from Liverpool came to Tamworth and played to a packed house of teenagers at the Assembly Rooms.
At that time the group were just a few months away from the massive explosion of popularity that came to be known world-wide as Beatlemania.
It was considered quite a coup to bring the band to the town and an advert in the Herald on Friday February 1 proudly announced: "Tonight (Friday), Rock and Twist Sensational dance and show and stars of TV, radio and stage – The Beatles'.
The following week the Herald carried a story on the front page in which many young fans claimed they did not get their money's worth.
A group of teenage lads had written to the Herald criticising the girls whose moans had been published the week before.
We managed to find one of the letter writers, Mr. James Bristoll, who now lives in Barcliff Avenue, Glascote.
He was surprised to be reminded of the Beatles concert and the letter that followed: "Twenty years is going back a bit and the anniversary had not even crossed my mind.
"I remember two years before I had seen Ringo Starr with Rory Storm and the Hurricanes at Butlin's so when the Beatles came on the scene I was interested straight away.
" I remember that 'Please, Please Me' had just been released and it was quite a crush in the Assembly Rooms," he says.
Mr. Bristoll also remembered sitting down with his friends and writing to the Herald.
"We thought the girls were wrong to say it was a let down after watching such a big name group in the town. We used to get some of the top name splaying in Tamworth at that time but it seemed to die out."
There was interesting footnote to the Beatles' trip to Tamworth. After their fantastic reception in Tamworth the Beatles promised to come back to the town possibly in June, 1963 but it all depended on their TV and recording fates.
But by that time superstardom had meant they would never need to play in towns like Tamworth again.
Tamworth Herald – 25/02/83
Musicbox – New spark from The Restricted
The Restricted : Tamworth Youth Centre
AFTER a period of Tamworth music falling into a sadly apathetic state, a sudden spate of live performances has brought a new injection of enthusiasm.
The Restricted gig was one of the more refreshing dates.
For a long time the band has seemed to be in a rut, but the enthusiasm of 18 months ago returned at this gig. They played a set with plenty of new songs plus some old material and showed that they have a long way to go before their song-writing talents are exhausted.
All four band members now seem very competent musicians, with the great Bryan Pear still showing he is one of the town's best drummers.
Handful
The only sad thing about what was a very entertaining performance, was that only a handful of Tamworth's numerous punks bothered to turn up. The Restricted need and deserve their support.
Let's hope other local bands follow suit with performances as creditable as this.
Paul Clements
Tamworth Herald – 25/02/83
Musicbox – ROCK ON, IT'S THE NEW BHX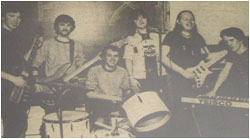 MEET BHX, a new Tamworth based rock band who have been together in various forms for over two years.
Although the adjective 'new' is quite correct to use about BHX, it also needs to be stressed that various line-ups have already been together for some little time.
Now the band feel for the first time that they have a stable base to work on.
The line-up is: Kevin Wooton, synthesiser; David Thomas, drums; Julian Amos, guitar; Keith Edwards, lead guitar; Neil Thomas, bass and Mick Goodby, vocals.
They rehearse regularly at Belgrave Comprehensive School and have played gigs there and at Wilnecote Youth Club.
Like most young local bands they look uncomfortable when asked about influences, preferring the usual "We try and have our own sound," answer.
Eventually under pressure, they admitted that most of them liked 'Rush' but quickly added that didn't mean they were like the Canadian mega-stars.
They would like to record some of their numbers on a tape but reckon that's not really a priority.
Another gig at Wilnecote Youth Club may be in the offing – watch this space.