Tamworth Bands History : 1983 :
August
Tamworth Herald – 05/08/83
Arts Centre bar packs 'em in
The new-look bar at Tamworth Arts Centre has become almost too popular.
Centre administrator Gary Holt told the annual meeting of the Arts Advisory Council that the bar – which provides coffee, alcoholic drinks and lunchtime snacks – was becoming very successful.
"We are packed out most of the time with no spare tables or chairs to be had," aid Mar. Holt.
"One day there were so many people that we ran out of everything – we ran out of plates and we ran out of cutlery. We just couldn't cope."
"We are even busy on Wednesdays, which is traditionally a dead town in the town because of half-day closing."
The bar is now selling real ale, but Mr. Holt said there was a problem because there was no cooling system in the cellar.
"But we are hoping this problem will be overcome shortly," he added.
Tamworth Herald – 05/08/83
Musicbox – Eyes look for new pupils
A NEW Tamworth band – Eyes – are on the look out for a vocalist to complete their line-up.
The band say they have a soft-rock sound with a contemporary feel.
"It is quite original. A bit like Pink Floyd I suppose," said drummer Stu Pickett.
Flexible voices
And the type of vocalist the band are after?
"He must have a strong, flexible voice and he must be prepared to take the band seriously," said Stu.
And that means in, Stu's words, "no time-waters and no Lemmy's!"
If you think you might fit the bill contact Stu…
Tamworth Herald – 05/08/83
Musicbox – A Select company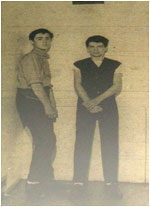 MUSICAL duets are currently proving to be very popular indeed. Yazoo, Wham and Blancmange have all shown that in musical terms two is a rock band but three can be a crowd! And one young Tamworth band certainly hope that duets stay in fashion.
They are Select Elect formed by two ambitious pupils at Belgrave Comprehensive School.
With a combined age of only 29, 15-year-old Mark Brindley and 14-year-old John Yates may not be the oldest group in the town but they display an impressive amount of confidence and maturity.
Already they have released a two-track demo tape, recorded by their mentors Those Attractive Magnets.
And now they are looking to do a series of dates throughout the town.
"We haven't got many songs at the moment, but we hope to have a big enough set by the end of the summer," said Mark.
The band list their influences as the Human league, Thompson Twins, Heaven 17 – and Those Attractive Magnets.
"We saw the Magnets live and really enjoyed their performance, so we gave them a tape we did at home," said Mark.
Following this Rikki of the Magnets asked the band to record two of their numbers on their own portable recording studio.
The songs – "We Live in Silence" and the excellent "Modern Land" – took 25 hours to record and show a great deal of promise.
"We are very pleased with the overall sound. And we hope to do some more recording soon," said John.
The band's sound is very synthesiser orientated and is likely to go down well with a wide audience.
"We would like to do it full-time one day, but we are taking one step at a time," said Mark.
And the next step after a couple of dates at school is a busy summer break writing songs.
12/08/83
Hardware
The Chequers
Tamworth Herald – 12/08/83
'Operation arts centre' takes off – Promotion drive for members
A BIG drive is on to promote Tamworth Arts Centre. The aim is not only to attract bigger audiences but also to encourage more local people to use the centre to meet friends, enjoy a drink and find out what's coming up in the entertainment line.
Major changes have taken place at the centre, including improvements for the benefit of both theatre groups and the public.
The most important improvement over the last year was the complete refurbishment of the coffee bar area into a bistro-style real ale and wine bar.
Tamworth Herald – 12/08/83
Musicbox – Debut went like a dream
DREAM FACTORY – Tamworth Youth Centre
THE SCENE at Tamworth Youth Centre was set like Liverpool's Cavern in the Sixties. It was small and compact and the large crowd was waiting in anticipation for the debut performance of a new band – the Dream Factory.
And their set turned out to be a nice mixture of originals and cover versions.
First up was 'The Place' a nice taster for 'In The Midnight Hour' which was particularly well handled by vocalist Tim Goode.
The first original, Mark Mortimer's 'Belated Revenge' followed and this was highlighted by the superb guitar work of Donald Skinner who was playing up to his normal high standard.
By now the band were well and truly composed and the appreciation of the crowd of Sixties followers proved to be a tonic for Tim Goode whose vocal work became steadily more passionate.
Highlights
The band had decided to do two sets and the real highlights were saved until the second half.
'Remember Me' with its shades of 'Treason' began an impressive series of originals that included the instrumental 'Red and Gold Pictures' and the immaculate 'Haze'.
An encore was called for and the band duly obliged.
So closed an excellent set which I will remember mostly for the brilliant performance of drummer Steve Quilton who with only four hours of practice, put in a performance worthy of Keith Moon.
LEIGH SMART
Tamworth Herald – 12/08/83
Musicbox – Hardware follow up their successful first gig at the Arts Centre with another performance tonight at the Chequers in Hopwas. The gig begins around 8pm and rock fans who remember Brewster – from whom Hardware were formed – are in for a treat.
12/08/83
Hardware
The Chequers
Tamworth Herald – 19/08/83
Musicbox – Fame or bust, say Bambu Curtain


MANY Tamworth bands seem content to stay in the area plugging away at their music in the hope of being 'noticed'.
But not Bambu Curtain.
Because here is a Tamworth band who have set their aims on the top – and intend to get there.
"We have given ourselves three years to become famous, and we think we can do it," declares vocalist Rob Bowker.
And as if to prove their serious intentions, Bambu Curtain have already built up a staggering total of 60 songs.
"WE take the whole group very seriously," said Rob. "We like to practice four times a week and we are waiting until we are really ready before gigging."
The band, who have been in their present formation for 12 months, categorise themselves as a 'new' band and they feel their sound should particularly appeal to fans of Japan and Tears for Fears.
Diverse
But the band are not content just to be labelled as a 'new romantic' group.
"Our influences are very diverse and I want our sound to constantly change and be adventurous," said Rob.
And one of Rob's own big influences is Tamworth front-man Julian Cope, who he says, he admires greatly.
All the band are aged between 15-18 and the full line-up is: Rob Bowker, vocals; Simon Mills, bass; Anthony Mear, Ray Heath and Daz Boyce, synths and Sam Master, backing vocals.
Tamworth people will get a chance to see this exciting new combo later in the year when they put on a special concert which will include a fashion show and disco.
Tamworth Herald – 26/08/83
Musicbox – New record centre spins onto the scene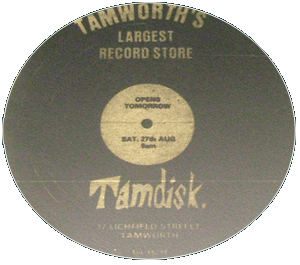 IT'S a big day for Tamworth record buyers tomorrow when a new record shop selling posters, videos and badges will be opening in the town.
Tam-Disk is the name of the new shop in Lichfield Street, at the former site of Selectric, which will be opening its doors at 9am tomorrow.
And one of the owners of the store, Mike Turner, has promised that in time, Tam-Disk will become more than just a record shop.
"We have got rooms upstairs which we would like to convert into practice rooms and maybe even a recording studio," said Mike.
Tam-Disk will also be producing their own weekly magazine discussing new releases on sale at the shop – and the local music scene.
"We hope to become a focal point of the local scene, as well as a record store," said Mike.
And the shop will be sponsoring their first gig on Friday September 2 when the Classified Ads will line up with Sitting Pretty at the Masonic Rooms.
Tamworth Herald – 26/08/83
Musicbox – Local line-up for a holiday rock special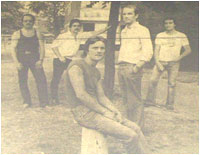 THE Castle Grounds is the setting on Monday for the biggest rock event in Tamworth this year.
Five local bands have already been confirmed for a Bank Holiday rock festival – the first in the town for four years.
And the formidable line-up promises to make it an afternoon that has something for everyone.
Hardware will be headlining the show and they have already enlisted Those Attractive Magnets, The Royal Family, Omen 2 and Sitting Pretty as support.
The whole event has been organised by Hardware and Gary Holt from the Arts Centre.
"We decided it would be nice to get a few bands together and we just hope there will be a lot of people there," said Garry Norris of Hardware.
The gig begins at 2pm and is completely free. No running order has yet been made but there is likely to be a DJ to host the afternoon and introduce the bands.
The afternoon promises to be extremely varied ranging from the synth pop of Those Attractive Magnets to the more traditional rock of Hardware.
As well as these two well-known local bands, the festival will also provide an excellent opportunity for three newer outfits to make an impression on the local scene.
Great acclaim
Omen 2 are the follow-up to the once popular men and they have promised a totally new sound.
The Royal Family are a talented blues rock band who have already gained great acclaim following performances at the Tavern.
And the gig will be the first major outing for Sitting Pretty, a new band recently formed by 'Tambeat' editor Mike Turner.
There is also a chance that other bands will be added to the line-up – the Classified Ads have still to confirm – and it all looks set to be an excellent afternoon for the town's rock fans.
All it needs is for Tamworth people to pack the Castle Grounds and ensure that the Bank Holiday festival becomes a firm date for the local music scene.
Tamworth Herald – 26/08/83
Musicbox – Magnet-ising offer from you-know-who
THOSE Attractive Magnets fans are being given the chance to tune in to the band's latest sounds.
The group is offering a free copy of their hot-off-the-presses single to the five people whose applications are opened first by Musicbox.
The disc features 'Night Life' on the A-side and 'Love Chimes'. It's available at Rock-it Records and W.H. Smith at £1.15 from today.
The single was recorded at Steve Adams studio, Tamworth and cut at Abbey Road Studios, London.
"It was a greta experience going to Abbey Road," said band member Rikk Quay.
"We hope that cutting the disc there will bring us as much lick as it did a certain other band who used to use the studio in the 60s."
To get your free copy of the disc, write to 'Musicbox', Tamworth Herald, 10 Aldergate and mark the envelope 'Magnets single'.
CATHY PETTIGREW
Tamworth Herald – 26/08/83
Musicbox – Badger's watch
TWO of Tamworth's best heavy musicians are on the look out for a bass player and drummer to form a new band.
Andy Malkin and Mick Swan formerly of Badger, are looking for talented individuals who like all types of heavy rock music.
29/08/83
Tamworth Rock Festival
Sitting Pretty
Those Attractive Magnets
Hardware
Royal Family
Omen 2
Time Bandits
Tamworth Castle Grounds