Tamworth Bands History : 1983 :
November
Tamworth Herald – 04/11/83
Musicbox - Local snips
THE Dream Factory have added another guitarist to their rebuilt line-up following the departure of Donald Skinner. The new guitarist is Lloyd Barrett, a new name on the local scene, who will be joining Andrew Baines in the band who are currently working on new material.
Tamworth Herald – 04/11/83
Musicbox
Simon Hewin, an ambitious and enthusiastic guitarist, who one played with top local rock band the Antidote, is on the lookout for musicians to form a new band in the area. Simon, a dedicated fan of glam rockers Slade, is seeking musicians who are interested in playing all types of contemporary rock.
Tamworth Herald – 04/11/83
Musicbox – Magnetic attraction
THOSE Attractive Magnets have got together again after a split-up lasting only 24 hours.
The band are now busy rehearsing for a prestigious gig at Faces nightclub on November 14 while their single 'Nightlife' has become a big hit on the dance floors of several of London's top nightspots.
Tamworth Herald – 04/11/83
Musicbox – La Grange lift the blues
La Grange : Tavern in the Town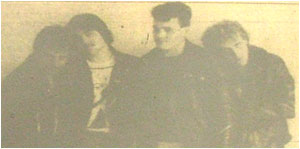 NUNEATON'S version of our very own Royal Family came to the Tavern in the Town recently for an enjoyable night of blues rock.
La Grange are a band who have made enormous strides since forming in July and with a set bursting full of original songs they were destined for a good reception from the small but enthusiastic crowd.
The band's sound has echoes of the Rolling Stones and early Status Quo and has enough well-constructed melodies to ensure a potentially massive audience.
What I particularly liked about the band was their enthusiasm which stood out in every song played.
While some bands play as if it is a chore, La Grange obviously get a great deal of pleasure out of taking their music to live audiences.
Given more time – it is clear that the band will create quiet a cult following for their charming and sometimes quite dynamic sound.
After all the Rolling Stones were never exactly original and they haven't done too bad for themselves over the years.
Tamworth Herald – 11/11/83
Musicbox – Here's an Eye opener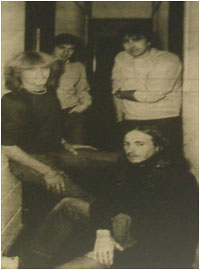 SINCE the untimely demise of Wilderness Laine, fans of music in the Genesis and Camel genre have had little to cheer about in Tamworth. But a new quartet of experienced musicians are set to change all that by bringing the sound of melodic progressive rock to a town currently besotted with new music and traditional heavy rock.
Eyes formed earlier this year when drummer Stuart Blain teamed up with Robin Bowen, Nigel Rowe and Tony Cole to form a band they hoped would be completely different to anything else in the town.
And they have clearly succeeded.
"It is impossible to put labels on what we play because we are influenced by so many varied acts," said Stuart.
Among the band's possible soundalikes are Camel, Manfred Mann and the artiste they feel is closest to their sound Peter Gabriel.
"I suppose it could be viewed as soft rock but there is more to it than that and I think we could appeal to quite a cross-section," said Stuart.
As all the band are very experienced, they enjoy making their songs as challenging as possible by constantly adding pieces and complicating them. But won't this turn a crowd off?
"I don't think so," claimed Robin. "I think a lot of people want to see good, well-structured rock music played well and that is what Eyes is all about."
The band have so far written about eight mini-epic songs and believe that songwriting is something that should take time and care.
"We all want to take this band a long way and so it is essential that we start as we mean to go on by being as good as we can be at this stage," said Stuart.
The band will make their debut on Saturday, November 26 when they will line up with the town's top heavy band BHX at the Arts Centre. Before then, the band hope to carry the Tamworth banner into a 36-band contest held in Burton which in former years has featured the Classified Ads and Aardwolf.
"There is a need for this sort of music in Tamworth and we hope we will get the support from local rock fans to help us on our way," said Robin.
Tamworth Herald – 18/11/83
Musicbox
Things are really taking off for the Dream Factory at the moment. Despite losing the services of guitarist Andrew Baines the band have been praised by two national figures – Peter Powell and Julian Cope. Radio One DJ Peter Powell heard the group's excellent debut cassette and was so impressed that he range the band for more details. And Tamworth's most famous musical protégé Julian Cope gave the Dream Factory a boost by mentioning them in a recent interview in Smash Hits magazine. The band who now boast a different set to what Tamworth fans will have heard before will be returning to their 'home' ground on Thursday when they play Tamworth Youth Centre. The gig begins at 8pm.
Tamworth Herald – 18/11/83
Musicbox
Another local band attracting national interest are Sitting Pretty. The hard working trio sent copies of their debut tape to various record companies and were delighted to get a reply from the giant WEA label who have invited the band down for talks. Six months ago on one had heard of Sitting Pretty and now they are attracting interest from everyone they come into contact with. Who says there is no such thing as a meteoric rise?
Tamworth Herald – 18/11/83
Musicbox – Come on, join the bands
SEVEN Tamworth bands will be battling next week to win the prestigious Burton Musicians Union rock and pop contest.
This year the contest – which has included several top Tamworth bands over the years – features 24 groups from all over the East Midlands.
The contest is divided into four separate heats from Monday to Thursday and the top two bands on each night will be asked to appear at the grand final on Friday.
The amount of competitors from Tamworth is the highest ever – reflecting the increasingly healthy local scene.
On Monday night the town's sole representatives are Talk Back who with their professional and commercial sound are sure to take some beating.
The following day tow Tamworth bands will be opening the proceedings – Vince Watts' new band Formaldehyde and the rock band Prophecy, who line up alongside two bands oddly-named A5 and Minnus Tyreth.
Final
On Wednesday night two of the town's top bands, Laughter in Heaven and the Royal Family, should guarantee that at least one local act makes the final. Laughter's gothic sound and the Royal Family's blues could not be further apart musically but they are both certain to excite the panel of judges.
Thursday night throws up a very unusual coincidence. BHX and Eyes will both be appearing – the night before the two groups will be playing together in a previously arranged gig at the Arts Centre.
With such a varied selection of local bands playing, by the time you read this it is possible that three or four Tamworth bands will be getting ready to play at the grand final for a variety of prizes.
One things that all bands could certainly do with is support. In previous years Tamworth acts have suffered because they took no followers with them while groups from Burton and Derby particularly seemed to bring armies of fans.
Entrance to the Burton Town Hall on all five nights is just 50p – a remarkably small sum to see six new bands a night in action. It would do the Tamworth music scene enormous good for one of our bands to win 'away from home' and we must all keep our fingers crossed for local success.
SAM HOLLIDAY
Tamworth Herald – 18/11/83
Musicbox – Patchwork get it together – anywhere!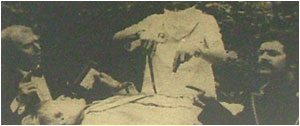 TAMWORTH'S only folk group – the Patchwork Band – has declared a 'play anywhere, anytime' philosophy that typifies the free spirit of their music.
For the seven-piece outfit of locally based musicians say they will set up and play at any venue at any time.
They are strong on tradition – from the working class ballads of last century to medieval songs and carols
Founder
One of the founder members, Peter Backen sums up their approach: "It's very spontaneous and flexible. We just get together and start playing wherever people want us to."
The players are self-taught. There's Pete on banjo, guitar and mandolin, Dave Clempson, whistle, Bob Bull, percussion and vocal, bass guitar Paul Hook, Gail Lea, vocalist, John Priest, fiddle and Brian Cotterill on other string instruments and fiddle.
Play
They mainly play in pubs in the Tamworth area – including The Gate, Amington, The Bull's Head, Two Gates and the Queen's Head, Wilnecote.
Every Friday there's a concert at the folk club, run by Andrew and Dorothy Dwyer, at the Three Tuns, Fazeley, which is where the players first got together.
Tamworth Herald – 18/11/83
Musicbox – 'Final' steps
TOMORROW NIGHT (Saturday) the Assembly Rooms plays host to the grand final of the Appleby Glade local disco dancing championships.
19/11/83
Those Attractive Magnets
Faces
24/11/83
Dream Factory
Tamworth Youth Centre
Tamworth Herald – 25/11/83
Musicbox – Well, who's YOUR flavour of the year?
THIS week Musicbox is proud to launch what we hope will be one of the biggest tests of local musical taste seen in Tamworth. In former years we have been happy just to ask readers for their top five singles and albums of the year which has always produced a great amount of entries.
But this year, for additional interest, we are going to ask all poll-voters to name not only their favourite records of the year on the form printed below, but also their top national – and local – band or artiste.
So much has happened this year – many local tapes and records released and two Tamworth rock festivals for example – that the local scene now looks healthier than ever.
But after careful deliberation the Musicbox writers have chosen Those Attractive Magnets as our local band of the year. Their continued interest and participation in the Tamworth scene – as well as their excellent 'Nightlife' single – makes them worthy winners in our eyes.
Whether you agree with us or not, we hope you will react! Please fill in the form below and get those entries flooding in.
Tamworth Herald – 25/11/83
Musicbox – When a band on top form meets apathy…
How Magnets won over disco kids
Those Attractive Magnets : Faces Nightclub
WHEN Those Attractive Magnets made a return last week to one of Birmingham's top nightspots Faces' they looked all set for another triumph in what must be their best ever year.
They had a slightly different set, a large travelling contingent of followers and barrel-loads of confidence. Nothing, it seemed, could go wrong – and then they let the audience in.
The hordes of faceless people who poured in through the doors made it abundantly clear that they were here to 'disco' and the Magnets were very much a sideline.
They sniffed, yawned and scratched their heads while the Magnets gave an excellent performance deserving a far better reaction.
The set was the normal mixture of simplistic, well-executed pop songs plus more involved and hard-hitting numbers.
Particularly impressive was a new song 'Broken Man' – sung brilliantly by Andy Baldwin – which is certain to become a live favourite.
Dynamic
But once again the track that stood out above all was the cheering and dynamic 'Art of Innocence' which had Rikk Quay doing somersaults and the audience actually clapping!
Preparing
The Magnets are now preparing to record a second single in February but one thing is certain – it won't sell too well at Faces. Just to prove the fact, during the set the Magnets began throwing our free copies of their first single 'Nightlife'. One chap stepped out of the audience and gave his free copy back.
Laugh? I could have cried.
SAM HOLLIDAY
Tamworth Herald – 25/11/83
Musicbox – Snips…Snips…Snips…
EYES, Tamworth's new progressive rock band, have pulled out of tonight's hig at the Arts Centre with BHX. The gig will still go ahead as planned but BHX are now searching for another support act. Entrance is only 40p and the gig begins at about 8pm.
26/11/83
Eyes
BHX
Tamworth Arts Centre