Tamworth Bands History : 1983 :
January
Tamworth Herald – 07/01/83
Musicbox – Bands set for studio session
TWO OF TAMWORTH'S most hardworking bands – The Classified Ads and The Restricted – will be returning to the studios in the spring to record new demo tapes.
The Restricted, Tamworth's finest punk band, released a powerful seven-track cassette last year to a decidedly mixed reception, but the band are convinced that their next venture into the studio will show considerable musical progress.
The Classified Ads, meanwhile, have been quiet of late because three of the band's members have gone to college. However, the band are still very much alive and keen to return to the studio.
They intend to add the new tracks to the previously-released cassette, making a six-track maxi-demo which should be available in April.
Tamworth Herald – 07/01/83
Musicbox – Jam put on a fine farewell spread
The Jam: Bingley Hall, Birmingham
Starting with the number one hit, "Start!", The Jam played a fabulous set that displayed the band's development from the early days' frantic, hurried, power to their present, more soulful brand of music.
Songs that really touched the soul were the ballad "Ghosts", the all-time classic poetic anthem "Down in the Tube Station at Midnight", their present number one hit, "Beat Surrender", their first single, "In The City" and "The Gift", plus a whole lot more.
For me it was undoubtedly one of the most emotional evenings ever, and it is now hoped that up-and-coming young bands will follow The Jam's fine example.
As the title of the new live album says "Dig The New Breed". And, as Paulo Hewitt said, "The Jam are dead, long live The Jam!"
Mark Mortimer
Tamworth Herald – 07/01/83
Musicbox – How you voted – Poll Results
Best single: Dexy's Midnight Runners – "Come on Eileen" and Dionne Warwick – "Heartbreaker"
Best album: Dexy's Midnight Runners – "Too Rye Aye"
Best Group: New Order
Best Solo Artiste: Matt Johnson (of The The)
Best Live Show: U2
10/01/83
Classified Ads
Tamworth Youth Centre
Tamworth Herald – 14/01/83
Wine bar goes ahead – Two-floor bistro complex to cater for total of 600


AN AMBITIOUS SCHEME to open a new wine bar and nightclub in Tamworth has been given the final go-ahead – despite fierce oppositions from town licensees.
The Bolebridge Wine Bar and Night Moves club could be open by the summer. Marie Buckley-Hatton of Gillway Lane, Tamworth had already won planning permission to convert two 19th century shops in Bolebridge Street into a wine bar and club.
And this week she applied for two licences – one to sell wine only in the wine bar and the other for the sale of all types of alcohol in the club.
Slumped
Tamworth Licensed Victuallers' Association and the co-partners in Corvettes Wine Bar Lichfield Street objected to the application.
Magistrates heard that 300 people could be catered for on each level – and a total of 21 new jobs would be created.
Tamworth Herald – 14/01/83
Musicbox – Variety from the 'Ads
THE Classified Ads made a spirited return to the local scene last week, with a one off gig at Tamworth Youth Centre.
The band who hadn't played together for three months, produced a varied set combining old standards such as 'Telephone' and 'Black is the Night' with newer, stronger material like 'Nostalgia Time' and 'I Fear the Outcast'.
A new song written especially for the gig – 'Where?' – was also performed and it received a warm response from a small crowd.
Tamworth Herald – 14/01/83
Musicbox – Farewell…
MONDAY night (January 24) is a sad one for fans of Tamworth music. For veteran heavy rock band Flash Harry are playing their last-ever gig together at Polesworth Top Club. Go along and take your handkerchief.
17/01/83
Scarab
Witch Craft
Polesworth Working Mens Club
Tamworth Herald – 21/01/83
Musicbox – Top funk band head for town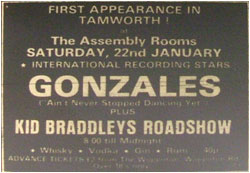 TOMORROW (Saturday) is a red letter night in the history of live music in Tamworth. For top funk outfit Gonzalez will become the first 'name' band to play at Tamworth Assembly Rooms for years.
Gonzalez are best known for their late seventies hit "Haven't Stopped Dancin' Yet" although the roots of the band go well back beyond that.
They were formed in 1971 after a jam session at Ronnie Scott's club in London and released three EMI albums before that commercial breakthrough.
The band have a new single "(I Want to Get) Closer to You" recently released.
Tickets for what should be a good night are £2 and are available from the Wigginton pub or on the door tomorrow night.
22/01/83
Gonzales
Assembly Rooms
23/01/83
Mothers Worry
Tamworth Progressive Club
24/01/83
Flash Harry
Polesworth Working Men's Club
Tamworth Herald – 28/01/83
Arts Centre's Georgie moves on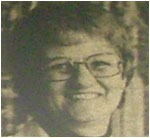 TAMWORTH Arts Centre is looking for a new Administrator following the resignation of Mrs Georgie Jackson.
Administrator for almost two years, Mrs. Jackson is leaving the part-time post to take up a full-time secretarial job in Solihull.
"I told the Arts Centre management committee I would be leaving at the end of March anyway, so it is not a sudden decision," Mrs. Jackson said.
"Now I have been offered this job with a company in Solihull and will be starting work next Monday.
"Although it is a full-time post, it means I shall actually have more time to myself, I won't be working evenings and weekends.
I have enjoyed the Arts Centre job itself very much, and the other two staff here and the people who help on a voluntary basis have been marvellous.
"But it is very demanding and I think that after almost two years in the post it is time for someone else to have a go."
She has organised the town's annual Drama Festival, sponsored by the Arts Club, for several years.
"I shall still be very much connected with the Arts Centre, because I have so many friends here," she said.
Tamworth Arts Advisory Council's management committee, who run the centre, are advertising for a new Administrator.
The job involves the day-to-day administration of the centre, including bookings, promotions, publicity, liaising with amateur and professional companies, general paperwork and dealing with inquiries from the public.
Tamworth Herald – 28/01/83
Musicbox – Funky Gonzalez
THIS promised to be a memorable night…and funk outfit Gonzalez were in no mood to disappoint.
Despite poor sound quality, they served up a great show that gave a big boost to the live music scene in Tamworth.
Gonzalez are a versatile, 11-piece outfit who play together tightly and certainly know how to bring out the best in themselves and the crowd. The accent was very much on dance music from start to finish.
Highlights were versions of Al Jarreau's, 'Easy', 'The Dramatics', 'Watcha See is What You Get' and their own chart hit, 'Haven't Stopped Dancin' Yet'.
Tribute must also be paid to the organisers of the gig for bringing the first 'name' band to the Assembly Rooms for many years.
Tamworth Herald – 28/01/83
Musicbox – Mini-tour's strong start
Private Property, The Unknown, Long Days – Tamworth Youth Club
FIRST on stage were Private Property who started the 'mini tour' set off with 'Ghosts' – a song well-known to Jam fans – which went down very well.
Next came two numbers wrapped together very nicely by Tim Goode's vocals and some ace spadework from the rest of the band, first 'Kevin' and then 'I Want to Tell You that I Love You' both in a more up-tempo vein.
Similarly, 'A-Bomb in Wardour Street' was another Jam tune and next on the agenda was the best song of the night, The Kinks 'You Really Go Me'.
The classic 'In the Midnight Hour' followed and the place was really buzzing as the band played a self-penned number 'Howard'.
Private Property signed off with 'The Gift' which ended a really good set. They had two stand-ins in the line-up, and with the addition of Lacey and Simmons, the show would have been a whole lot tighter.
The other bands, The Unknown and Long Days both played fine sets which were a credit to Tamworth and themselves – in the words of Paul Weller 'That's Entertainment'.
Tamworth Herald – 28/01/83
Musicbox
Live music in Tamworth gets its third major shot in the arm in just over a week when a top HM band play Polesworth Top Club on Monday night.
Harvest Moon from Liverpool bring with them an impressive pedigree. They won Radio City's Battle of the Bands competition last year, they have supported the likes of Gillan and Tigers of Pan Tang in their native city and their last single made some impact in the national HM charts.
They will be bringing with them an impressive PA and lighting rig. The Polesworth date is part of a mini-tour of venues in the Birmingham area designed to get the band more widely known outside their home town.
Tamworth Herald – 28/01/83
Musicbox – Bold move brings band via the tube
A MAJOR modernist outfit who have recently appeared in Channel 4's rock show 'The Tube' are appearing at Tamworth College tonight (Friday). The gig is the second major live event in the town inside a week following the Gonzalez gig at Tamworth Assembly Rooms on Saturday.
Michaelangelo's David appeared on the New Year's Eve edition of 'The Tube' and are one of the most promising acts on the modernist scene.
Local outfit 'The Unknown' are supporting the band and it's also an ideal opportunity for them to show their undoubted talent.
The gig is in the Perrycrofts Hall building and admission on the door is £1.
Tamworth Herald – 28/01/83
Musicbox – LETTER – Come on fans – show support
WILL YOU please through your column, which most youngsters of Tamworth read, strongly stress what the Students Union of Tamworth are doing for them by organising a gig by Michaelangelo's David on Friday, January 28 at the college.
Heavy criticism was made by the college principal Mr. Jaeger of Tamworth adults when a jazz evening was poorly supported, so come on youngsters – show him and others that we appreciate the chance to see top groups.
They are supported by 'The Unknown', a local group which, I hear, is great.
It should be well worth the £1 entrance fee. I know we Lichfield fans will be there – how about Tamworth?
Tina Marshall
Beacon Road, Lichfield