Tamworth Bands History : 1983 :
March
Tamworth Herald – 04/03/83
'Jobless theatre' plan for young
Plans are under way to launch a new 'community theatre' group in Tamworth – made up entirely of young unemployed people.
The idea is to bring together out-of-work young people in the 18 to 25 age group and form a theatre group which would take productions to schools, youth clubs, old people's centres and perhaps pubs well.
Masterminding the plan are Gary Holt, new Administrator at Tamworth Arts Centre and the Centre's technician Jed Moore.
Gary was a member of Tamworth Arts Club before going on to college and then to university, and Jed is a member of TACT – Tamworth Arts Centre Theatre Company.
They hope that unemployed young people interested in the idea will ring them at the Centre in Church Street – phone 53092 – or call in.
If there is sufficient interest, they will get a group together to meet two afternoons a week – Tuesday and Thursday from about 2pm onwards.
Said Gary: "Jed has had the idea for some time and we have just decided to try and get it off the ground.
"The aim is to do something positive to help young people user their leisure time and to take entertainment out into the community, especially to schools.
Enthusiasm
"The most important thing is that members of the group should be really committed.
"We want young people in their late teens and early twenties, with drive and enthusiasm, who would come along regularly and produce ideas of their own.
"We don't want to impose our thoughts on them – we aren't going to shove a script in their hand and say get on with it.
"We want to hear what they have to say and what they think a community theatre group could do.
"Experience isn't necessary – ideas and commitment are."
Gary said entertainment put on by the group would have to be relevant to the audiences for whom it was being performed.
Professional
"We are going to circulate all schools in the area to find out what kind of things they would like to see.
"We could set up a programme especially for schools, and I would like to see this supplemented with professional productions which could be put on in school halls or here at the Arts Centre.
"Once established, the group could also go out to youth clubs and perhaps to clubs for the elderly and pubs."
Tamworth Herald – 04/03/83
Musicbox – BHX: a local gig and an offer.
BHX, the new Tamworth band featured last week, have lined up a local gig.
The band will be appearing at Wilnecote Youth Club on Tuesday March 22, at 8.30pm
BHX have also said they are willing to act as a support group to any local outfit. Anyone interested should contact Mick.
Tamworth Herald – 04/03/83
Musicbox – LETTER
I SHOULD like to correct the impression given by Music Box in the February 25 issue, that the current line-up of BHX has played gigs at the Belgrave Comprehensive School and at Wilnecote Youth Club.
In fact, it was the previous incarnation of the band (Keith Edwards, Mick Goodby, Dave Thomas and myself on bass) which played those gigs.
As far as I know, the new BHX hasn't yet gigged, but I wish them luck when they start.
Mike Fleming
Cringlebrook
Belgrave
Tamworth Herald – 04/03/83
Musicbox – Now a classic from a real live major
Major Lance: Live at Hinckley
AVAILABLE at long last is the album recorded by Major Lance on that memorable night at Hinckley Leisure Centre.
On Torch Records side one kicks off with "I Never Found Me A Girl Who loves Me Like You Do," the Eddie Floyd/Booker-T. Jones number.
This is followed by all of Major's classics "The Beat", "My Girl", "Ain't No Soul", "Monkey Time", "You Don't Want Me No More" and "Everybody Loves a Good Time".
If you love a good time, invest in this album. It's limited to 1,000 copies. Around 50, priced £4.99 plus 50p postage and packing are available from Clive Jones…
Forthcoming attraction at Hinckley is the "Okeh Roadshow" from the States. It will feature Billy Butler, The Autographs, Ted Taylor, Walter Jackson, Major Harris and The Triumphs.
LEIGH SMART
14/03/83
Scarab
Polesworth Working Mens Club
Tamworth Herald – 18/03/83
Musicbox – A high speed welcome to Java
AIMING TO LAUNCH themselves in a big way on the local music scene are a new four-piece band – Java. They have already played two recent gigs at the Warren, Mile Oak, and Tamworth Youth Centre and are hoping to arrange a string of dates in the area to get their music across to as many people as possible.
The band members, Kevin Briggs and Graham Eccleshall, lead guitars, Clarke Stewart, drums, and Paul Leedham on bass, all live and work locally.
Their musical influences are wide, ranging from the crunching heavy metal of the Michael Schenker Group to the distinct tones of U2.
"We like to think of ourselves as a high-energy rock and pop outfit," said Kevin. "We are all quite experienced, having played in other bands, and want to launch ourselves in the Tamworth area in a fairly big way".
Asked about the unusual name for the band, Kevin said: "We just liked it. It's got obvious Eastern connotations, but that's nothing to do with the music."
Next date to watch: Walton village hall (on the Stafford road) on April 23.
Tamworth Herald – 18/03/83
Musicbox – Bands turn on to the Tavern scene
THE TAVERN in the Town pub in Corporation Street is turning into the town's premiere centre for live music. Recent Monday night gigs at the pub have proved a great success with bands attracting large crowds.
The gigs were started after an initiative by electronic outfit Those Attractive Magnets and Chip and Richard Bujak – last heard of locally in the Lounge Lizards.
The aforementioned duo have in fact played one gig their themselves and are the next attraction on Monday March 21.
"We're using a different name for every gig, for the next one it's "Kill the Doctor," said Chip.
"The gigs have been going really well and we have met none of the apathy that other local bands talk about," added Richard.
The duo recruit several 'friends' to help out for the gigs and play all their own material apart from one Lou Reed cover version.
19/03/83
Mike Sheridan and the Nightriders
Tamworth Progressive Club
21/03/83
Harvest Moon
Polesworth Working Men's Club
21/03/83
Lounge Lizards
Tavern in the Town
22/03/83
BHX
Wilnecote Youth Club
23/03/83
Java
Walton Village Hall
25/03/83
Quill
Atherstone Memorial Hall
Tamworth Herald – 31/03/83
Musicbox – DHSS die – long live the Captain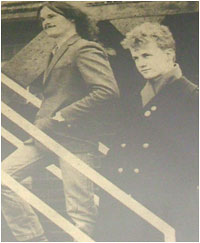 THERE IS A peculiar significance about the name of a new Tamworth band 'The Dead Captain Speaks'. For in a way the band is a voice from the dead – the remains of one of the most durable Tamworth bands ever, DHSS.
DHSS – in one form or another – slogged around the local circuit for a number of years before finally calling it a day towards the end of 1982.
Now, 'The Dead Captain Speaks' is one half of the old DHSS.
Long-standing bassist Barry Douce and keyboards man Donald Skinner stayed together after the demise of DHSS with the intention of sticking to the two-piece format.
Barry takes up the story: "Since then we have written about seven songs and we reckon that after a couple more we will be ready to play live again."
United
Don added: "We will stay as a two-piece and probably use backing tracks when we play live.
"The advantages of being a duo is that you tend to have a more united direction musically and not get bogged down in arguments," said Don.
"We're just trying to get off the ground first and then see where we go from here," said Barry.
Tamworth Herald – 31/03/83
Musicbox – Alternatively, it's two of the best
TAMWORTH'S top two alternative entertainers are back on their old stomping ground on Saturday April 9.
Folk singer/comedian Dave Hewitt and poet Edward Ian Armchair are presenting their own unique brand of entertainment at Tamworth Arts Centre on that evening.
The previous two shows have produced good attendances and a rich mixture of music, poetry and humour.
Dave said: "The format will be the same as the other gigs we have done together and I promise there will be something for everyone."
A couple of well-known local guests have also been lined-up to appear during the performance.
"I've got a few surprises lined-up but that's all I'm saying at the moment," said Dave.
There will be a bar and the doors open at 7.30pn with admission 50p.
Dave is also appearing at the Three Tuns, Fazeley this Saturday (April 2) in a special folk bill which also includes Andy Dwyer. Admission is 75p.
Tamworth Herald – 31/03/83
Musicbox – A-quiver for Quill
LIVE MUSIC returns to Tamworth Assembly Rooms this weekend when Midlands band Quill are the attractions on Saturday night.
Quill – including Tamworth guitarist and vocalist Phil Bates – had a single released recently and should provide a considerable holiday weekend attraction for local punters.
Tickets are available at the Wigginton Hotel at £1.50 and a late bar has been arranged.