Tamworth Bands History : 1984 :
July
02/07/84
Dream Factory
Tyburn House
Birmingham
05/07/84
Dream Factory
Bubbles
Hinckley
Tamworth Herald – 06/07/84
Musicbox – Set for a blast at the Furnace
NEARLY a score of top folk acts have been lined up for the area's biggest folk festival at Furnace End later this month.
The three-day event, which has been successfully run twice before, runs from June 13 to 15 and this year features acts including Tommy Dempsey's Folk Group, Scartaglen, Dave and Betty Campbell, Slipjig and Lorna Campbell Trio.
The whole event has been staged by the popular Grimstocks Folk Group who have become known throughout the Midlands as one of the busiest and most successful clubs of their type.
They are hoping that a record number of people will attend this year's festival which will be held at the Over Whitacre Village Hall and field on the Coleshill-Nuneaton road just a few miles outside Kingsbury.
Camping space is available for anyone who requires it and with the good humoured atmosphere that tends to prevail at folk festivals, hundreds of people are expected to attend. Weekend tickets cost £4 or by the day, Friday costs £1.50, Saturday £2 and Sunday £1.25.
06/07/84
Sitting Pretty
Love On Board
Tamworth Arts Centre
06/07/84
BHX
Lichfield Arts Centre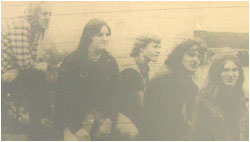 Tamworth Herald – 06/07/84
Musicbox – A carnival of bands spread music gospel
IT'S going to be another hectic weekend for Tamworth gig-goers with two totally different concerts tonight and a unique one tomorrow night.
For tomorrow, celebrated songwriter Chris Eaton – who wrote the number one smash hit 'O Little Town' for Cliff Richard – will be appearing at a special Youth for Christ Concert at QEM School on Ashby Road.
Tomorrow night's gig – which also features Steve Thompson – begins at 7.30pm and with tickets costing just 50p it could turn out to be a pleasant surprise for anyone who fancies a very different night out.
Tonight sees three of the town's busiest bands in action with rock outfit BHX travelling to Lichfield Arts Centre and Love On Board and Sitting Pretty lining up at Tamworth Arts Centre.
BHX find themselves on a bill of several top local rock bands plus a visiting German group, who are hoping to draw not only the enthusiastic Lichfield crowds but also a few curious onlookers from the Tamworth area. The event kicks off at 7.30pm.
At the same time in Tamworth, the curtains should be going up at the Arts Centre to greet band-of-the-moment Sitting Pretty and band-of-the-future Love On Board.
Pretty, who seem to be living at the Arts Centre these days, will be promoting their excellent single which has so far been snapped up by literally hundreds of local people. The single 'The Inspiration' sells at £1.25 and the band will be having a special autograph-signing session tomorrow morning at Tamdisk Records in Lichfield Street.
For Love On Board, the gig will give them another chance to win over followers to their endearing form of modern pop. With every gig the band grow in confidence and they are hoping tonight's event makes amends for their last show at the Arts Centre just a few weeks ago.
New songs are promised and the quartet are looking forward to trying their new-look set on their 'home' audience.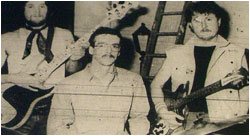 Just to complete the hyper-active weekend, the superb Breaking Point will be making their first town appearance in two months when they will be appearing at the Polesworth Carnival tomorrow afternoon at 4pm. It will probably give the exciting trio their biggest crowd yet and it will be an ideal opportunity for people to discover their hard-edged modern sound, in contrast to the cheery carnival atmosphere.
So there is something for everyone over the weekend and with the wide variety of music on offer, Tamworth gig-goers should find plenty to keep them amused if they drag themselves away from the antics of Messrs. McEnroe, Lloyd and Coe.
Tamworth Herald – 06/07/84
Musicbox – Snips
ONE ON ONE would like to say thank-you to all the people who turned out to see them at Wilnecote Carnival recently – where severe sound problems hampered their performance.
A surprising outbreak of rain clogged up the sound system producing a somewhat neutered version of One On One's normal rock sound and they hope people were not too disappointed.
NB…We hope to be featuring the band's new demo tape in next week's Musicbox.
TAMWORTH'S Outdoor Rock Festival appears to be progressing well with 18 bands now emerging as the final tally to take part in the event. The current plan is to allow the town's most popular bands The Dream Factory and Sitting Pretty to headline a night each with a variety of music on both days. The main concern of organisers at the moment is that the groups involved should begin paying their £5-a-member levy which will pay for promotion, insurance and a PA system. The money must be paid in by July 22 otherwise the bands involved will lose their place in the event. Money can be paid by visiting festival treasurer Rikk Quay at the Tavern in the Town.
THE CROWD are no longer The Crowd. The young, promising Sixties orientated outfit have dropped their name after hearing that another act has already got that same monicker. From now on the band will be called Dance Stance – an altogether more agreeable name and for the sake of the uninitiated, a Dexy's Midnight Runners standard.
07/07/84
Breaking Point
Polesworth Carnival
07/07/84
Chris Eaton
Steve Thompson
Youth for Christ
QEMS
08/07/84
Mothers Worry
Belgrave Sports and Social Club
13-15/06/84
Tommy Dempsey's Folk Group
Scartaglen
Dave and Betty Campbell
Slipjig
Lorna Campbell Trio
Folk Festival
Furnace End
Tamworth Herald – 13/07/84
Come on in it's yours, says arts centre boss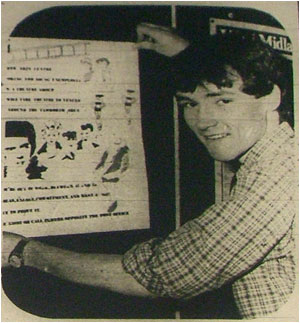 NICHOLAS EWBANK wasn't quite sure what he wanted to do when he graduated from Durham University.
He went for one interview and found himself talking enthusiastically and at length about the theatre. Since the kind of work he was being interviewed for had nothing whatever to do with the theatre, he wasn't surprised when he failed.
But he had no regrets.
The experience had at least shown him where his real interests lay.
And it was a different story when Nicholas, 23, applied for the post of administrator of Tamworth Arts Centre. He was chosen from 40 applicants from all over the country, and has now been in the job for three weeks.
"What I'd like to see is the centre becoming much more of a community centre," he sys.
"One thing I've been thinking about is drama workshops for unemployed young people, possibly leading to street theatre."
"The rock concerts here are very popular, but we need to get the same people who come to them coming to other things as well."
"It's a question of getting over the message that the arts centre is definitely not some sort of elitist club – it is here for the benefit of Tamworth as a whole."
Tamworth Herald – 13/07/84
Musicbox – Getting it taped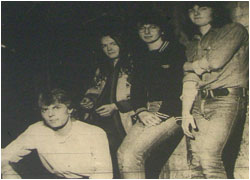 One On One – debut demo cassette
IN JUST a few short months, One On One have managed to completely conquer Tamworth. Every gig they play in the town is nearly always a sell-out as people from punks to rockers, loyally turn up to cheer on this hard-working and very ambitious quartet.
But what is the secret of One On One's undoubted pulling power? Well the answer is simple – they have a healthy capacity for writing lively and original songs which cut straight across normal rock and pop barriers and should appeal to most people who like modern, varied rock.
At times, for example, this tape reminds me of Genesis, but then at the other extreme, some of the guitar work (and I doubt whether this will have struck the band at all) sounds very much like that adopted by latter day Stiff Little Fingers.
The unpredictability of sound makes One On One's set – and this tape – constantly interesting. The demo opens with the tune that reminds me of an uptempo Genesis – 'Alibi Smiles'.
With the addition of Ralph Sandland on keyboards, this track coasts along comfortably, undulating and changing like an erratic symphony, but reaching a well balanced climax.
The only thing I was not sure about were the lyrics – one of which, 'spiral staircase compromise is overwhelming you' is either very clever or pointless. Either way, it adds to the feel that you are listening to a Fish or Collins' composition.
But it's all change for the next track which is a far more commercial, pop-orientated number called 'Hold On'. This is superbly sung by Dave Ingham and has a very nice feel to it throughout. It is here where the conflicting guitars of Dave Ingham and fret-master Tim Latham remind me of SLF and it adds to the intrigue of trying to suitably label this very varied outfit.
Over on side two of the tape, we find the more traditional rock of 'Midnight Man' which, as the title perhaps indicates, is very much in the Rainbow mould. However it is brightened up completely by a short but effective Brian May-style guitar break at the end of the track.
And so to the fourth and final track – which to my ears is by far and away the best, 'Poppy Red' is based around a memorable, punchy chorus which is the natural climax of a series of subtle and always threatening verses.
It has the sort of tune that is just so simple and wholesome that it makes you wonder why no-one else has used it before and if I had to criticise One On One's judgement, I would say that putting this track last is an unwise move.
Record company bosses who are not impressed by the first minute or two of a tape rarely give it a chance to get better, and although opener 'Alibi Smiles' is my second favourite number 'Poppy Red' should have held the premier place because it is so immediate that few people could dislike it.
Still, that apart, this is another fine example of just how a studio can really bring out the best in a band. The tape has a crisp lively, well-produced feel and as well as satisfying their own army of supporters, it should convince the people that matter in this business that One On One are a band to be taken seriously.
Copies of the tape should be available from members of the band and when you're buying them, would you do me a favour by asking what the heck a 'spiral staircase compromise' is?
SAM HOLLIDAY
Tamworth Herald – 13/07/84
Musicbox
Tamworth Borough Council Leisure Committee were due to discuss Tamworth's proposed August Bank Holiday open-air rock festival last night (Thursday).
As their decision is crucial to the whole event, it is vital that all members of the organising committee attend a meeting at the Tavern in the Town this Sunday at 8pm.
Tamworth Herald – 13/07/84
Musicbox – Making news in fine style
TAMWORTH's two most active bands – The Dream Factory and Sitting Pretty – both seem on the verge of gaining the national recognition they have craved for so long.
For the Factory, a support slot with the mighty Style Council could be on the cards, and for Sitting Pretty, next month will see them enjoying a double-page spread in the popular national music paper, "No.1".
The Dream Factory's possible appearance with Paul Weller and Co. became a possibility last week when bassist Mark Mortimer had a chat with the former Jam singer at his rehearsal studios.
Mark had written to his life-time hero, Weller, to tell him all about the Factory and to ask if there was any chance of the band supporting the Style Council. The chance arrived when Weller decided he would like to do a Miners' benefit concert at Nottingham during the summer.
If this goes ahead, with the Style Council headlining, Weller has said he would like kindred spirits the Factory on the bill and understandably, Mark Mortimer is delighted.
"I couldn't believe it when I rang up and spoke to him because he seemed to know quite a bit about the band and he seemed genuinely interested," said Mark. The band are now eagerly awaiting developments in what would easily be the most prestigious gig a Tamworth band has ever achieved.
And this sort of national exposure will soon be coming to Sitting Pretty, who spent most of last Friday with a reporter from the glossy pop magazine "No.1".
The band will be featured in a special new bands section of the magazine and they ended up being photographed no less that 216 times for the spread.
Drummer Mike Turner has assured Musicbox that he has given Tamworth a big plug and with the thousands of readers the magazine has, that can only be a good things.
The band's hectic schedule continues on Saturday when they step out to play their very own single-release party at the Assembly Rooms. This all-ticket, guest-only venture promises to mark something of a watershed in the band's career.
By the time you read this, the band's single 'The Inspiration', will have become the biggest selling single ever at Tamdisk Records in Lichfield Street leaving behind such money-spinners as 'Uptown Girl', 'Karma Chameleon' and even 'Relax'.
For both the Factory and Pretty, this run of success looks as though it might continue on a new plane. People who think getting out of Tamworth is an impossibility, please take note.
SH
15/07/84
Mike Sheridan and the Night Riders
Dosthill Cosmopolitan Club
20/07/84
Dream Factory
Austrey Working Mens Club
Tamworth Herald – 20/07/84
Musicbox – Shock for band as Ralph quits
ONE ONE ONE received a shock last week when bassist Ralph Sandland announced that he was quitting the band – just days after the release of the group's excellent new demo cassette.
Ralph's decision is apparently based around musical differences with the rest of the group, but his decision to leave while the band were on such a high is the biggest surprise.
The remaining three members of the band – Stu Blaine, Dave Ingham and Tim Latham – immediately had to cancel a number of gigs, but they say they will hope to go ahead with the concert with glam-rockers Wolfsbane, pencilled in for July 28 at the Arts Centre.
By then the group hope to have replaced Ralph and anyone who would like to fill the vacancy is asked to ring Stu.
BHX, who are hoping to make their first venture into the recording studio this week-end have formed an information service whereby anyone interested in the group's activities can find out all the latest news.
The BHX Information Service hope that t-shirts and badges will also soon be available.
THE Dream Factory will be playing one of their most important gigs of their current batch tonight when they step out at Austrey Working Men's Club.
The gig is so important to the band because they will be watched by several members of the Edwin Starr Band including the manager.
The Factory are all set to play with the great singer at a scooter rally later this year and they are hoping to make a good impression tonight.
Tamworth Herald – 20/07/84
Musicbox – Council says yes to town bands' holiday festival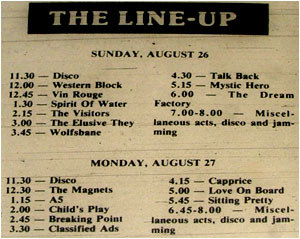 Delight as two-day rock event gets go-ahead
TAMWORTH Borough Council has given it's blessing to the outdoor Bank Holiday Rock Festival so now the town can brace itself for its biggest and best-ever pop bonanza.
THE LINE-UP
Sunday August 26 1984
11.30 – Disco
12.00 – Western Block
12.45 – Vin Rouge
01.30 – Spirit of Water
02.15 – The Visitors
03.00 – The Elusive They
03.45 – Wolfsbane
04.30 – Talk Back
05.15 – Mystic Hero
06.00 – The Dream factory
07.00 – 08.00 – Miscellaneous acts, disco and jamming.
Monday August 27
11.30 – Disco
12.30 – The Magnets
01.15 – A5
02.00 – Child's Play
02.45 – Breaking Point
03.30 – Classified Ads
04.15 – Capprice
05.00 – Love On Board
05.45 – Sitting Pretty
06.45 – 8.00 – Miscellaneous acts, disco and jamming.
Despite some fears that the council may erect stumbling-blocks to the two-day festival, the leisure committee voted unanimously to allow the event to go ahead exactly as planned.
And this means two days of solid, varied music which is hoped will bring young people in their hundreds to the Castle Grounds.
The council's decision has delighted all the festival organisers who can now get down to the nitty-gritty of arranging the event.
One of the main problems is actually deciding the venue of the event. Original plans were to have it on the lower lawns beneath the Castle bandstand – where the festival has traditionally been held. But council officers are said to prefer the idea of using the space in front of the Bolebridge 'Egg' where large, sloping banks would create a natural 'amphitheatre' for spectators.
Either way, the bands have agreed to sue one stage, split into two, which will all eb connected up to the same powerful PA system. It has also been agreed that, although the festival will be entirely free, collections will be made for local charities so that more that just the rock fans involved can gain pleasure from this ambitious event.
The final line-up for the two days was thrashed out on Sunday night.
Rikk Quay and the Tavern Roadshow will handle the disco during the course of the two days and it is hoped that there will be stalls and refreshments available on site.
More details about the whole event will be available in the near future, but in the meantime, the message from Tamworth's often-neglected rock scene is simple – thank you council!
SAM HOLLIDAY
21/07/84
Fancy Dress Punk Night
Elford Working Mens Club
Tamworth Herald – 27/07/84
Young Folks' festival plans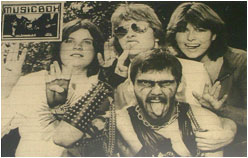 Tamworth Herald – 27/07/84
Musicbox – Presenting…the curse of Wolfsbane
You are awful but we might like you!
HEAVY METAL will return to Tamworth with a vengeance tomorrow night when one of the most bizarre young bands the town has ever seen will step out to try and win over the crowds at the Arts Centre.
Wolfsbane, who claim to hail from Transylvania, say they are totally different in sound, look and attitude to anything Tamworth has ever seen before – and they are looking forward to blitzing the town with a barrage of colour and noise.
Although the group refuse to name any influences, they clearly fit into the glam rock heavy image currently undergoing something of a revival in both metal and extreme punk circles.
They believe in hitting all the senses of their listeners and claim that they are not the sort of band anyone is likely to forget in a hurry.
"We are not trying to be clever – we are just trying to be heavy metal," enthuses youthful guitarist Jase The Ace.
The band, who in just three active months have built up a strong 45-minute set, boasts sings such as 'Dracula's Daughter' and 'Clutching At Straws' and believe in keeping much of what they have to offer firmly under wraps.
"We are trying to maintain some sort of mystique so people who want to see what we are all about will have to come and see us," said Jase The Ace.
Jase, who is still very much a teenager, is joined in the line-up by hyper-enthusiastic bassist Jeff Hateley and the extraordinary frontsman Bayley Cook. Bayley is certainly not a man for the squeamish – preferring to hand out 'Wolfsbane' curses to pleasant good mornings – and like the rest of the band, believe in looking the part.
Completing the line-up on drums is the curiously named Poo-Poos. Although she prefers to remain anonymous, let us just say that she is the only rock drummer I know whi is the current Pearl Queen.
If Wolsfbane are as over-the-top on stage as they are off, tomorrow night's shindig at the Arts Centre should prove eye-opening to say the least. Another reason why it looks like being a good night is that the band will be joined by more seasoned outfit Child's Play.
Child's Play, who burst onto the scene earlier this year, play heavy music which allows a touch of modern U2 sounds creeping in. They are definitely a band to keep your eye on and they are sure to bring an enthusiastic response from tomorrow's heavy dominated audience.
Tomorrow's gig kicks off at around 7pm.
Tamworth Herald – 27/07/84
Musicbox – Sitting Up for Pretty New Ideas
SITTING PRETTY look set for the most dramatic line-up change in their 12-month history.
For the band who have now signed a vitally important management deal have been told that they need to totally alter their line-up – pulling vocalist Mike Turner from behind his drumkit and adding two female vocalists at the same time.
The switch to put Mike at his rightful station as frontman, has been on band members' minds for a while but it was only when their new manager said it was a necessity that they decided to act.
It will leave Mike with just his vocals to worry about – and will also create a vacancy for an ambitious drummer to join a band clearly on the verge of success.
Pretty fan Anice Byfield has already agreed to join as one of the female vocalists but now the band are looking for a second to supplement their line-up. As an indication of what the new members will find themselves involved in, the group soon look set to sign a contract with an undisclosed label and are also intending to return to the studios in September to record their second single.
Video
In addition the band will this week be releasing a 30-minute edited video which will retail at £9.99 from Tamdisk Records in Lichfield Street,
The shop has also started selling tickets for the bands next Tamworth gig at the Arts Centre on August 24 when they will line-up with the Classified Ads.
All this is helping to keep the band well on the boil and as Mike Turner put it: "Things are really looking good now." If you want to see just how good, prospective drummers or singers are urged to ring Mike.
28/07/84
Wolfsbane
Child's Play
Tamworth Arts Centre