Tamworth Bands History : 1984 :
September
01/09/84
Prophecy
Glascote Working Mens Club
07/09/84
BHX
Austrey Working Mens Club
Tamworth Herald – 07/09/84
Musicbox – Confident four set out on a long star trek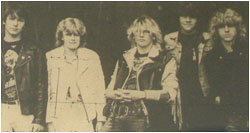 A NEW EHTHUSIASTIC young rock band have just burst onto the local scene bringing with them a fresh wave of confidence and enthusiasm.
Sacred Oath are a quintet of teenagers who have been fuelled by the new spirit to be found in Tamworth music circles and are determined to take the town by storm.
"We hope a lot of people are going to like us – you don't have to have long, greasy hair to enjoy us," said guitarist Paul Keeton.
Sacred Oath so far have two gigs under their belts, the first a bash at their school (QEMS) and the second last Saturday at the Arts Centre with Birmingham band Scarab.
They have several more lined up for the future and say they are hoping to build up a good following before they have a special 'metal battle' with their inevitably linked kindred spirits Wolfsbane.
"Obviously Wolfsbane are a really good band so we would like to be ready to offer a real challenge to them when we link up," said Paul.
Sacred Oath got together earlier this year after Paul, a guitarist, had hit on the idea for a band with bassist Niz Concannon.
The duo enlisted the wonderfully monickered Star Trek on vocals, another guitarist Murray Pickett and then finally female drummer Vick The Viking to complete the picture. Now the band are keen, confident and raring to go.
"We all see the band as a career and not just a bit of fun so we are taking it as seriously as possible," said Star Trek, a vocalist who no doubt intends to boldly go where no vocalist has been before.
"We may not be the best ban in the world at the moment but we are confident we will be very good indeed," he said.
As all the band are keen on groups such as Iron Maiden it would be easy to pigeon-hole them as another glammy heavy metal band – but they are quick to refute this.
"We are influenced by a lot of people and yet we don't really sound like any of them. We see ourselves as an original band who will appeal to a whole variety of people," said Paul.
Ambitious
The band's ultimate musical aim is as ambitious as it is confident – "We are all looking forward to the day when Iron Maiden are supporting us at Hammersmith Odeon," said Paul, "then we will really know that we have arrived."
For those of you who missed the band on Saturday (we hope to carry a review next week) they will be on show again on September 22 alongside The Visitors, a band who it appears are on the verge of changing their name.
"We all like making the music that we like – now we must just hope that other people like it," said Star Trek.
SAM HOLLIDAY
Tamworth Herald – 07/09/84
Musicbox – Ferocious…that's the 'new' BHX
BHX – Demo Tape


BHX, a band still trying to hold onto their rock band in Tamworth tag, have just come out of the studio with a tape that aids their cause no end.
With bands like Wolfsbane grabbing all the limelight at the moment, BHX have hit back in the best possible style with a four track tape overflowing with ideas and sheer dynamism.
The band sound more powerful than ever on this tape and any of the group's old comparisons with softer outfits such as Rush are completely swept aside by pure ferocity in the four numbers.
The first song is my personal favourite because it sounds like it has been recorded 100mph too fast. 'The Reaper' rips out of the speakers with a sound that is so brash and confident that it will probably make BHX's rivals quake – a real case of DO fear 'the reaper'!
The next number 'Gypsy Woman' suffers just a little from rock clichés but is still so powerful and threatening that it won't let you dislike it. It has a flavour of Iron Maiden with just a touch of Deep Purple thrown in for good colourful measure.
The third number 'Flashing Knife' is another instantly hard-hitting song which is let down only by the surprisingly low vocal mix. I have always thought that Mick Goodby's wide-ranging vocals were one of BHX's strongest weapons and I can't help feeling that stronger vocals would have aided the whole tape – and 'Flashing Knife; in particular.
The cassette winds up with the slower, more anthemic 'The Warriors' a track I have not yet made up my mind about. It has a certain endearing quality but its over-grandiose sound comes over as just a little pretentious and it has only a slice of the power of numbers such as "The Reaper".
So closes and intriguing tape. I would have preferred to see some of their older numbers recorded but as it is, you couldn't ask for a better first attempt in the studio.
If you would like to judge for yourself about the tape, they are available from the BHX Information Service for just £1.25.
SAM HOLLIDAY
STOP PRESS
Elusive They and Love On Board two of the town's keenest young bands, will step out tonight to play at Tamworth Arts Centre. The gig, which starts at 8pm looks like being another enjoyable night from two of the town's most enthusiastic outfits.
08/09/84
Elusive They
Love On Board
Tamworth Arts Centre
08/09/84
Dream Factory
Dordon Working Mens Club
14/09/84
BHX
Wolfsbane
Tamworth Arts Centre
Tamworth Herald 14/09/84
Musicbox – Rock favourites take their corners
BATTLE OF THE HEAVIES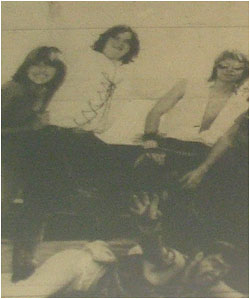 TAMWORTH'S top two rock bands will tonight stage a unique battle to try and see who is the heaviest group in the town.
For seasoned favourites BHX have accepted the gauntlet from Wolfsbane to have a public musical battle at the Arts Centre to see just who is the raunchiest, heaviest and loudest rock outfit in Tamworth.
The battle which begins at 8pm is certain to be lapped up by the town's swarm of rock fans and a capacity ring-side audience is expected as he bell goes off signalling the title fight to begin.
In the red corner will be BHX, still proud of the fact that they were the highest placed heavy band in last year's Musicbox poll. BHX have gone through many ups and downs in recent times, but lately the band seem to have had a succession of ups.
A gig at the Tavern several weeks ago brought them five encores and universal praise and last week they released their dynamic new cassette which proved a culture shock to many people – myself included – who thought BHX were made of lighter stuff.
Trying to describe them is very difficult because they have achieved that much-sought heavy distinction – originality. At times they show periods of mood and Rushesque inventiveness and the next moment they will be back to ear-slaying mayhem
Their vast experience and wide range is sure to give them a lot of punching power tonight and Wolfsbane will have their work cut-out to take the heavy title.
Wolfsbane – in the very blue corner – have several obvious weapons lined-up for their challenge.
Their first weapon is their musical might. They try and hit their audience on every front but they know that if you don't get them in the ears, the rest is academic.
Their music is again hard to define as it ranges from the Van Hale style 'Love Doctor' to the slow, tortuous delights of 'Clutching at Straws'.
Like BHX they are great believers in the maxim that variety is the spice of life and their set is packed with songs of all shades, styles and speeds.
Another vital piece of equipment in the Wolfsbane armoury is their image. The band spend so long making sure they look the part as they do trying to sound it, and they are determined to out-pose their audience if all else fails.
So there you have it, the two battlers out to win the heaviest band in Tamworth title. They both look good, sound good and play well and there is no reason why tonight should not be one of the most exciting nights the local music scene has had in a long, long time.
I will go along tonight and act as official referee and next week I will give my own personal decision on who has grabbed the title.
Come along yourself and make your own mind up. Ringside tickets are still available.
SAM HOLLIDAY
Tamworth Herald 14/09/84
Musicbox – Mobile Dreams
THE Dream Factory will tonight embark on their scooter-convoy to Weston-Super-Mare. The reason is that the popular fivesome are headlining an all-night scooter rally in front of people form all over the country.
Band and fans will be joining the special convoy which promises to grow in ture Quadrophenia style as it reaches its destination.
15/09/84
Edwin Starr
Dream Factory
Weston-Super-Mare
Tamworth Herald 21/09/84
Musicbox – Sharp Rock Flies in the battle of equals
BHX/Wolfsbane – Tamworth Arts Centre
THERE was a time, not so very long ago, when I would have thought it impossible that I could go to a heavy rock concert and thoroughly enjoy myself.
Personally I have always thought that heavy metal was the musical equivalent of watching someone being whipped – obnoxious to the eye, obnoxious to the ear and painful for all concerned.
But then came the BHX and Wolfsbane enigma. Suddenly there were two acts that I actually enjoyed seeing, bands who realised that rock is all about fun and fun is all about rock.
A packed-to-overflowing Arts Centre witnessed this 'Battle of the Bands' and few, I feel, will disagree with my assessment that the battle ended in an honourable draw.
At the start it seemed as if Wolfsbane would slay their opponents straight away. They hit the stage to an ecstatic reception (the sort I have only ever seen once before locally – for The Dream factory) and played a dynamic set in which they never put a note wrong.
The magnificent guitar work of Jase The Ace was again the highlight for me, but like most of the audience I just couldn't help being transfixed by lead singer Baylet Cooke's writhing and posturing which left nothing to the imagination. What amazes me is that this bloke can actually sing – superbly – at the same time as he enacts the motions of a man possessed by something deliciously sinister.
Wolfsbane played a tight entertaining set which embraced all the influences from traditional heavy music right through to the gritty rock and roll of Johnny Thunders and the New York Dolls.
As Wolfsbane left the stage to a standing ovation (yes at the Arts Centre) it seemed BHX were on a hiding to nothing but it wasn't to be. The moment they hit the stage, you knew they meant business. They all looked the part with Rob Rea doing the seemingly impossible of looking better and cooler than all of Wolfsbane and guitarist Keith even added by wearing a live snake as a necklace.
Musically they played it straight, hard and heavy and won an equally enthusiastic response from their own contingent of die hard followers. Best song of all – inevitable – was the superlative 'Superstar' which is still my favourite BHX number and was rightly given two airings.
When I left, BHX were still playing encores which for me summed up the whole night. The bands had loved it, the fans had loved it and it had been the only battle I have ever attended where EVERYONE won.
S.H.
21/09/84
Delusions of Grandeur
A5
Select Elect
Tamworth Arts Centre
Tamworth Herald 21/09/84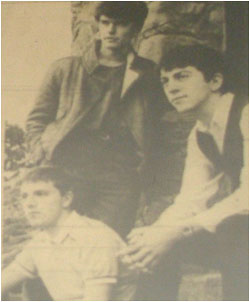 Musicbox - On Parade for a busy weekend
TAMWORTH'S ROCK FANS can look forward to another Arts Centre 'double-header' this weekend when the venue plays host to two very diverse gigs.
Tonight energetic Burton trio Delusions of Grandeur will return to the centre to play alongside two acts which they say reflect the dual side of their music – new wave band A5 and synth duo Select Elect.
And then 24 hours later there won't be a synthesiser in sight when new trio The Parade will play alongside youthful power rock outfit Sacred Oath.
Delusions of Grandeur will be coming to the Arts Centre for the second time this evening when they hope to build on their first show a few months ago.
Then the band impressed everyone with their tight modern pop sound – but turned a few people off with their onstage verbosity. But tonight lead singer Geoff Noble has promised more music and less verbals and hopes his band will win over everyone to their powerful entertaining music.
Supporting Delusions to night will be A5, a band who made considerable impression at Tamworth's pop festival recently. A5's sound was described by everyone at the time as being new wave meets Hawkwind, which seems to be an apt description of a band who combine very modern touches with effect-induced psychedelia.
Back-up
Select Elect will need no introduction but they have promised a more 'live' set than ever before. Th eband say they have become increasingly wary of letting tape recorders do their back-up work so tonight the band will be aiming at playing live as much as possible.
Tonights gig begins around 8pm and tickets from the Arts Centre cost 60p or £1 on the door.
Then on Saturday night the Arts Centre will pay host to two guitar-based bands who couldn't be further apart musically. Sacred Oath, the young and enthusiastic new heavy group will be playing their second gig in about a month at the centre and will no doubt be out to catch the legions of rock fans who have recently taken Wolfsbane and BHX to their hearts.
Playing with Sacred Oath will be a band new to most people – The Parade. The band, formerly known as The Visitors, are a powerful trio influenced by bands such as Stiff Little Fingers, The Buzzcocks and The Stranglers. As this probably implies, they play new wave orientated music – but the story doesn't end there.
"We are influenced by a lot of people but we have a sound all of our own," said guitarist Brian Lacey.
The Parade are a band who feel they have a point to prove and are determined to get away from the image that most people have tried to hang on them that they are a Jam-copy band.
"I never even listen to The Jam anymore and we sound nothing like them. I can't understand why people think we do, unless it's just because we are a trip," said Brian.
The Parade play a set of originals that vary in speed, feeling and sound and they are not sure who they will appeal to.
The Parade will be playing alongside Sacred Oath tomorrow night in a gig that kicks-off at 8pm. Tickets are just 50p and like tonight's show, an intriguing night is in prospect.
Tamworth Herald 21/09/84
Musicbox - HAPPY BAND REV UP FOR NEW ERA
Love On Board – Arts Centre
THIS is possibly the most endearing and warm band I have ever seen. As individuals they are happy-go-lucky, friendly and completely genuine and as a band they are exactly the same.
The moment they hit the stage you WANT them to play well and be successful simply because they have an innate purity that travels all the way through their music. It is a sound full of passion and style packed with modern influences such as Aztec Camera and Lloyd Cole and the Commotions. What made their recent Arts Centre show all the more enjoyable was the clear musical mix which let the audience hear – almost for the first time – the stylish and very skilful lead guitar work of Nick Read.
Unfortunately for the band the PA was a little less reliable. Neil Jones seemed to have a sponge between him and the microphone.
Despite this, the whole gig was a triumph for the band and certainly one of the best performances I have seen from the group. Shortly after the gig they announced they would be changing their name and it seems Love On Board will now be know as The Austin Healeys. So it is bye bye to Love On Board, it a sad bye, bye now we must wait ands see what the Healeys have to offer.
Sam Holliday
Tamworth Herald 21/09/84
Musicbox - Snips
The Dream Factory last week tuned in an impressive set in front of 1,000 people at Weston-Super-Mare scooter rally.
21/09/84
Dream Factory
Austrey Working Mens Club
(Cancelled)
22/09/84
Sacred Oath
The Parade
Tamworth Arts Centre
28/09/84
Soul Exit
20/20 Vision
Tamworth Arts Centre
Tamworth Herald 28/09/84
Musicbox - 'Alternative' night as the visitors move in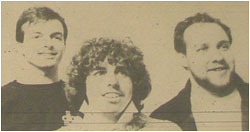 TAMWORTH ARTS CENTRE which has been under virtual siege from local bands recently, will this weekend welcome three groups from outside the Tamworth area. Tonight it will be the turn of two of Lichfield's finest acts Soul Exit and 20/20 Vision to attempt to take the town by storm and then tomorrow sees Leicester-based Redshift teaming up with One On One for a double rock package.
Tonight's show looks like being one of the most original the town has seen for quote a while. Headliners Soul Exit describe their sound as a form of 'psychedelic jazz' influenced by everyone from Simon Garfunkel to The Teardrop Explodes.
They say their sound is normally most popular with 'art-college types and by all accounts it is rarely, if ever, heard in this town.
Already they have quite a following in Lichfield and their set of original and sometimes very uplifting numbers has led Lichfield Mercury music writer Alan Boughey to describe them as his favourite local band.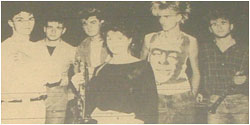 Playing alongside Soul Exit are another band who – if their influences alone are anything to go by – should prove a tasty treat. 20/20 Vision are an experienced powerful pop band whose sound is said to have undertones of The Buzzcocks, Velvet Underground and The Doors.
It is a sound that is based on power first and they have a reputation for hitting their audience hard. All in all it looks like being a great night for all the various strands of Tamworth's 'alternative' sector for just 75p.
Beautiful assets
But if it's rock you want, then the Arts Centre is the place tomorrow night when arguably the town's most musically advanced band One On One will play alongside powerful trio Redshift.
One On One's bountiful assets are well know to everyone but tomorrow will probably be the first chance for most people to see new bassist Andy Malkin in action following the departure of Ralph Sandland earlier this year
Andy, who used to front Badger and Aardwolf, is a well-respected musician and there is no doubt that if anyone can fill the great gap caused by Ralph's departure, it is him.
Playing with One On One, will be Redshift – who like One On One have a strong link with former Tamworth favourite's Omen. For Redshift are fronted by ex-Omenite Rick Liggins who discovered how tow fellow musicians Tim Myers and Richard Chapman whilst studying at Leicester and has now developed a strong bond with the duo.
Rick is quick to point out that Redshift – who are actually making the debut tomorrow – are a far cry from Omen and have numbers influenced by acts as extreme and varied as Rush, Kiss and Triumph. They describe their sound as original rock which is very powerful in its approach and sound.
"We have spent a long time getting the music as tight and powerful as we can and now we are ready we are looking forward to testing ourselves out at Tamworth," said Rick.
The trio are now hoping to take their sound all round the Midlands and they say a good reaction in Tamworth will really set them on the right road.
"I feel we could go down pretty well because our music is powerful and exciting," said Rick.
Tomorrow's two-band affair costs just 50p and tickets are available from the Arts Centre, band members and on the door.
SAM HOLLIDAY
Tamworth Herald 28/09/84
Musicbox - Switching on to videos
A PROFESSIONAL Tamworth photographer has decided to set up a live video service due to the overwhelming interest by local bands in seeing themselves on screen.
David Tighe placed an advert in the Herald saying he was interested in producing a promo video for a Tamworth band – and he received 18 replies.
Last week David made videos of both BHX and Wolfsbane in their impressive confrontation and he is also currently working with Talk Back a band which he feels could go very far.
David's ideas seem just what Tamworth's band have been drying out for,
Tamworth Herald 28/09/84
Musicbox - Musicians go on register
AS MUSICBOX has recently been inundated by requests from bands for new members, we have decided to take up an idea of Lichfield entrepreneur Tetley and make a register of available musicians in this area.
What we want is any musician or would-be musician in the town, write in ti MUSICBOX saying what instrument or instruments they can play and what sort of band they would like to be in.
Then when a group contacts us saying they want a vocalist, for example, we can look to the register and give them a few names and telephone numbers of people who may fit the bill.

29/09/84
One On One
Redshift
Tamworth Arts Centre