Tamworth Bands History : 1984 :
October
Tamworth Herald 05/10/84
Musicbox – Making music simply great
Bands aim for a pure magic
The Parade – Sacred Oath
IN these days when the music profession is regarded as a multi-million pound business, it is sometimes all too easy to forget the real values involved in creating sound.
Music has nothing to do with the pound in your pocket or the record company moguls, it should be all about creating a sound that you love to play and hoping that as many people as possible will love to hear it.
That is why it is always refreshing to see young bands starting out full of enthusiasm and anticipation and as yet untainted by the ugly, industrial reality of the pop biz.
Two such bands are Sacred Oath and The Parade – groups that could not be further apart musically, but who both share a common heartfelt belief in the music they make and the effect it can have on people.
Take Sacred Oath, probably the youngest band in the area, they have a pure non-cynical approach to their sound which makes them enjoyable to watch and very enjoyable to listen to. Their sound is straight and heavy and owes much to ancient punk rock riffs which they have metallised into epic, fully-blown rock numbers.
Musically, they play with an enthusiastic mania made all the more palatable by the admirable democracy of letting both guitarists – Paul Keaton and Murray Pickett - share the inevitable guitar solos. Both have considerable talent and as poseurs, they are even more adept.
Add to this the searching and sometimes very emotional vocals of Star Trek, the bruising bass of Niz Concannon and the almost overwhelming power of female drummer Vick the Viking and you have got a truly winning combination.
They all looked good, smiled a lot and treated the audience to a wonderfully crazed ending when people were diving into the centre of the stage with buoyant glee. All in all a terrific show packed full of potential.
Potential is also a word that sticks in mind about The Parade.
After starting with a little uncertainty, they just got better and better and the crowd became increasingly excited at their music. The music had overtones of The Clash, The Quads and yes, The Jam.
I can't really understand the group's claims that they sound nothing like The Jam – it's as if sounding like one of the greatest groups EVER is a bad thing!
Still, influences or no influences, The Parade are still very much their own band. Some of their songs have infectious tunes and meaningful angry lyrics and if there was one criticism I would make of an otherwise superb night, I would say the band failed to get their true power across by keeping the bass and drums at a disappointingly indistinguishable level.
So two bands to watch out for in the future. Both have a lot to say and a lot to play and until they feel the beckoning clutches of the outside world, they should delight a lot of people with their sheer, honest approach to music.
SAM HOLLIDAY
Tamworth Herald 05/10/84
Musicbox – Snips
A TAMWORTH man has just set up a management organisation aimed at taking local bands into the studio and onto the country's stages.
Mr. Mike Adcock believes Tamworth has a lot of good bands itching to break out in the area and with his many contacts – particularly in the South and West – he says he can do it.
The agency, named The Organisation, has already succeeded in helping Nuneaton band Dickens, record a single and gain many prestigious gigs and now Mike, and his fellow music fanatics, are looking to do the same for Tamworth acts.
THE Dance Stance, the lively and enthusiastic young Atherstone band were forced to pack in their prestigious gig at Atherstone Memorial Hall when a riot broke out which ended with glasses being thrown onto the stage. Dance Stance were understandably said to be shattered by the trouble and MUSICBOX would like to add its condemnation of the violence which ruined what the band hoped would be a triumphant night. The Dream Factory have already cancelled a proposed show at the club and the few who caused the trouble should realise they could kill Atherstone as a live centre altogether. N.B. The Dance Stance are on the lookout for a new brass section or saxophonist.
JUST a few date of up and coming gigs for your diary: October 10: DREAM FACTORY at Wilnecote Youth centre; October 12: SCARAB at Tamworth Arts Centre; October 13: BREAKING POINT ands CAPRICE at Tamworth Arts Centre; October 14: BHX at The Park Inn; October 17: DREAM FACTORY at Embassy Leisure Suite. More details of future gigs next week.
07/10/84
St. Ruffin's Well
Glascote Working Mens Club
10/10/84
Dream Factory
Wilnecote Youth Centre
12/10/84
BHX
Scarab
Tamworth Arts Centre
Tamworth Herald 12/10/84


Musicbox – Rock solid and real heavy…
FOUR hard-hitting rock bands will descend on the Arts Centre this weekend for two power-packed concerts.
Tonight promises to be a fierce assault on the ears as highly rated Birmingham band Scarab and ever-active Tamworthian BHX.
Then, 24 hours later, just as your ears have stopped ringing, relative new boys Caprice will be handing out their own brand of rock alongside passion-wielding Breaking Point.
Tonight's double-header looks set for another Arts Centre sell-out date due to the increasing popularity of both bands on view.
Scarab have done what few non-Tamworth bands have managed to do in the town by picking up quite a following. Their fans are bowled over by the band's manic and very powerful sound.
One reliable gig watcher told me that Scarab were the best heavy band that has ever played at Tamworth, the group's own determination to play gigs in this area shows that they really have built up a goods rapport with Tamworth crowds.
As well as promoting themselves, Scarab should be promoting their new single 'Poltergeist', and so anyone who wants to hear good heavy metal tonight – and then take some of it home with them – is urged to bring some extra cash for the single!
BHX, of course, need no introduction, having spent the last 12 months picking up fans with every gig they do. Their last powerful performance at the Arts Centre revealed how direct and menacing their sound has become and one thing that fans can always find comforting about the band is that they rarely – very rarely – disappoint.
Dynamic
Another band for whom disappointment is a null word, is tomorrow night's headliners Breaking Point. They stole one of the best reactions at the Bank Holiday Festival and have a thumping, dynamic sound full of modern influences such as U2, The Alarm and New Model Army.
It is, in essence, a rock-orientated sound with a heavy dose of passion and spirit. Guitarist and vocalist Kevin Briggs has promised a new and exciting show tomorrow, bursting with energy and musical vitality. And Kevin is the sort of man you believe.
New trio, Caprice made their debut show at the Festival several weeks ago. Caprice are an amiable trio who find it very difficult to describe exactly what they sound like.
"I suppose it is Seventies music which will particularly appeal to the older generation, as well as Breaking point fans," said bassist, cat-fanatic and well-known wit Mike Fleming.
Caprice's 'Seventies sound' incorporates everything from Santana and Dire Straits to much harder songs. Even the odd bit of pop is thrown in to surprise people.
Helping out in the pop department are 'The Girls From The Bus Stop' – the girlfriends of guitarist Steve Shepherd and drummer Adrian Goodman, who provides the occasional backing vocals.
Caprice believe they should appeal to quite a wide audience and I, for one, will be keen to see how their lively, endearing sound is received by the Arts Centre crowd.
So there we have it, two very entertaining-looking gigs which promise a lot and will no doubt deliver the goods. Both gigs begin at 8pm and two sell-out concerts seem likely.
Tamworth Herald 12/10/84
Musicbox – Snips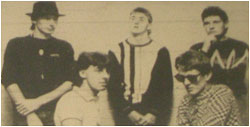 THE Dream Factory have decided to turn their latest batch of gigs into a full-scale mini-tour. The Autumn Breeze Tour has been snowballing ever since the first gigs were arranged, as more and more venues have said 'yes' to the town's most popular band.
The dates are being arranged all the time but the ones we can give you so far are: Wednesday October 17, Tamworth Embassy Suite; Saturday, October 20, Warton Working Mens Club, with The Parade; Tuesday October 23, Blue Posts, Burton; Wednesday, October 31, Nethersole Youth Centre; Wednesday, November 7, Winshill Youth Centre, Burton; November 10, The Barley Mo, Birmingham.
OUR MUSICBOX register of available musicians has already provoked a good response, so this week we are repeating the details. If you are a local musician, currently out of a band, but itching to get back into one, please send MUSICBOX full details about yourself, your musical influences and the sort of band you would like to play for.
13/10/84
Breaking Point
Caprice
Tamworth Arts Centre
14/10/84
BHX
Park Inn
17/10/84
Dream Factory
Embassy Leisure Suite
Tamworth Herald 19/10/84
Musicbox – Factory head off on the dream trail
First single on the way
TAMWORTH'S hardest working band the Dream Factory are all set to record their first ever single.
The band have landed a one-off deal with Burntwood-based northern soul label Inferno Records who are hoping the disc will be a springboard for the group to get a national record contract.
For the band, the single – which will actually be a multi-track E.P. – comes at the end of 18 months of solid
"WE know the record is not going make us and Inferno records any money but it is what it could lead to is what is important," said bassist Mark Mortimer.
The deal with Inferno records came about when label chief Neil Rushton, a northern soul fanatics, began to hear enthusiastic rumours about the band.
He then saw the band at the Powerhouse in Birmingham and was so impressed with them that he decided to give them the deal they have long deserved.
Tamworth Herald 19/10/84
Musicbox – Gigging great, the Well is a big draw
TAMWORTH'S only full-time folk outfit, Ruffins Well, have reported that folk is enjoying a big boom in the local area.
The band, who used to be known as Patchwork, have reached the stage where they are now playing three gigs a week and according to one of their members, John Priest, things really are going ruffing well!
"It is great at the moment because we are doing some good gigs and gaining enthusiastic reactions wherever we go. The great thing about folk is that everyone can enjoy it and we seem to go down well with people of all ages, " he said.
Ruffins Well changed to their new name when they enlisted new guitarist Steve Edkins and Steve Swoffer and since then, they have literally been inundated with requests for gigs.
"We are thoroughly enjoying it at the moment and it is nice to see folk is still so popular," said John.
20/10/84
Dream Factory
The Parade
Warton Working Mens Club
23/10/84
Dream Factory
Blue Posts, Burton
Tamworth Herald 26/10/84
Musicbox
'People can just some along to our gigs and join in'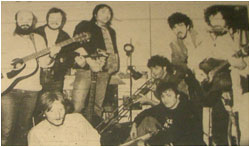 If there is one criticism that can be levelled at a lot of Tamworth bands, it is that they are simply too serious.
A bad gig or a bad reaction can lead to an entirely overboard depression and it seems that some groups try to suffer for their art simply because they think that is what is expected of them.
But no so one Tamworth act. To the independently names "Ha, ha, Ha It's The Folk Circus" music is all about going into unconventional venues, tuning up their guitars and then letting rip with a wide assortment of impromptu folk songs.
The 'Folk Circus' is made up of an ever-increasing amount of well-known local musicians including Norman Yates, Donald Skinner, Dave Smith, Joe C, Richard Bujack, Nick Lowe, John Priest and ever-enthusiastic "Mr. Chapman".
"The whole idea of the group is to present a show where anyone who comes along can get involved," said Mr. Chapman. "The great thing about folk is it is so easy for people to bring along their own guitar and join us on the stage," he said.
The group have a totally original view of how and where to play their music and so far they have played 'gigs' in pubs such as the Boot Inn, the Stone Cross, the Market Vaults and inevitably The Tavern where they set up a café-style atmosphere.
'Fantastic'
"We like to play at places where no-one has played before and the reactions so far have been quite fantastic," said Richard Bujack.
The wonderful thing about the Folk Circus's format is that they have no format!
They merely go to any pub or club where they are invited and present a variety of sngs which feature various members of the group at different times.
The band punctuate their set by asking people to come up on stage and do a turn. What this format means is no two gigs are ever the same and that is why the Circus clearly enjoy themselves every time.
"The reactions so far have shown us that people of all ages like this sort of thing and we all get a great deal out of it," said Mr. Chapman.
The Circus's appeal certainly seems to be catching on and they have already lined up several more 'concerts'. On October 28 they are at Bolebridge Street Club, on November 11 they are off to the Old Stone Cross and then on November 18 they are back at The Tavern.
"This whole idea is another example of the strength of Tamworth's music scene. A few years ago we had nothing and now with things like this the scene is just getting bigger and better all the time," said Richard. "People can just come along to our gigs and join in and for me that is what it is all about."
Tamworth Herald 26/10/84
Musicbox – Roaring in with the fun
SCARAB/BHX Tamworth Arts Centre
SCARAB'S lead vocalist, recently said: "A boring band get a boring audience, and a boring audience get a boring band." I don't think that either of the two bands double heading this show could be described as being boring.
The first band to assault our ears was the experienced Tamworthians BHX, lead by black haired Mick Goodby on vocals and Peter the Python on lead guitar.
They burst into a powerful heavy rock set which put paid to any claims that they are a gentle Rush type band. Of course, they do have their Rush leanings, as was shown in "Journey to Asgard", now a BHX classic, (ever heard of "La Villa Strangiato"?)
Their new songs, the dramatic "Sudden Curve" and the powerful "Alienation" give hope for a new era of metallic classics for the band.
The band finished with the manic "Flashing Knife" and unfortunately were allowed to leave the stage without an encore.
I haven't seen BHX so powerful and confident in a long time and I think that their future is looking brighter than ever.
There was no doubt about Scarab. For a band who play 'only for fun' and who have recently discovered that they don't have to change their name after all, they have certainly reached a standard of excellence which is capable of putting them among the top national bands.
They roared through a powerful set with such old favourites as "Hell Hotel" and "For Whom The Bell Tolls" until they were brought to a halt by the PA system, which was silence by an Arts Centre plug blowing a fuse. Unperturbed, they went ahead with a drum solo while roadies struggled to get the sound back.
Problems over, Scarab hammered their way into the new single "Poltergeist" due for release next week.
The set continued and ended with a total of three well-deserved encores.
K.E.V
Tamworth Herald 26/10/84
Musicbox – Sleaze, murk…and lots more Hallowe'en treats!
HALLOWE'EN is just around the corner and for two of Tamworth's most atmosphere conscious bands, the occasion will be celebrated in style.
For in Sunday night the dynamic Wolfsbane will be joined by fellow 'ghostbusters' The Classified Ads for a night that promises to be a visual and musical extravaganza.
The bands both of whom enjoy creating dark, sinister images, are expecting a packed Arts Centre to join in the low-down spirit of the night and there is likely to be a prize for the most bizarre looking person on view.
The Hallowe'en Party will kick off at around 8pm on Sunday night when the leather, bleach and whips of The Classified Ads will hit the stage. The Ads, who are now nearly fiver years old, believed their rambling post-punk sleaze with traditional Wolfsbanians who share a similar murky outlook.
The Ads who may have a big surprise up their sleeves, will be playing a set combining older numbers with more recent creations, such as "The Wonderful World", "Anger Can Be Power" and "Derek Don't Wear Hats".
There is even a possibility that the old favourite "Black IS The Night" may be resurrected to fit into the atmosphere of the band's set.
Shortly after the Ads' set Wolfsbane will hit the stage hoping to continue their run of successful gigs which stretches back to their opening show just a few months agao.
The band have gone from strength to strength, filling out everywhere they play and almost bringing the house down at The Tavern recently.
Their set boasts ultra-powerful numbers like "Save Our Souls" (an anthem for a generation if I ever heard one) and more mellow bursts such as "Clutching At Straws".
They have an effect of having a perfect excuse to dress up – they will no doubt go even further over the top than usual.
The bands are hoping to create a good on stage show and they are expecting a full Arts Centre to relish both the unique atmosphere of the hallowe'en gig and the unusual pleasure of a Sunday night gig.
The doors open at 7.30pm and judging by recent attendances at Wolfsbane gigs, the message is – get their early.
26/10/84
The Parade
Ideal Standard
Tamworth Arts Centre
Tamworth Herald 26/10/84
Musicbox
THE ARTS CENTRE will be under the spotlight again tonight when two energetic young bands will bring their fresh, powerful sound to Tamworth.
Headlining will be the always interesting Parade and playing with them will be Coleshill's finest outfit Ideal Standard who are said to have a Jam/U2 sound.
For Ideal Standard, who we intend to feature in a future MUSICBOX, it will be their second gig after they recently made a strong impression with The Dream Factory. The band are said to be young and very enthusiastic and although their set is mainly cover-orientated, it is hoped they will play some original numbers on the night.
The Parade meanwhile are hoping the gig will further enhance their growing reputation which will continue when they go into the studio shortly for their first ever demo tape. All in all an intriguing night is in prospect and the action begins at 8pm.
28/10/84
Ha, Ha, Ha It's the Folk Circus
Bolebridge Street Club
31/10/84
Dream Factory
Nethersole Youth Centre